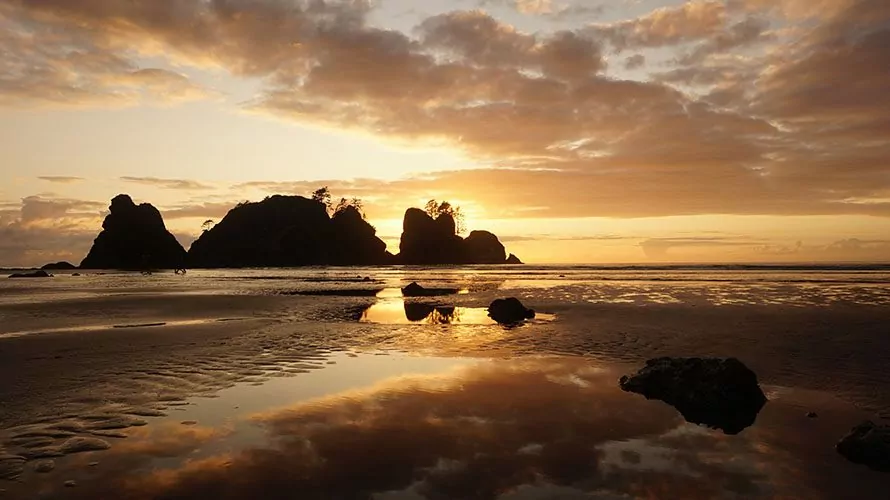 North Coast Trail
General Description
The North Coast Trail runs from the Northwest tip of the Olympic Peninsula along the rugged Pacific coastline. Towering sea stacks, ancient Sitka spruces, and sandy beaches make this one of the most beautiful–and difficult–stretches of beach in Washington. Beginning at Shi Shi Beach near Neah Bay, the route follows the beach south, rounding rocky headlands that can only be passed at low tide, up steep ladders and overland trails, and past tidepools brimming with strange sea life. Whether you only head out for a short dayhike or want to backpack all the way to Ozette or beyond, the North Coast has something fantastic for you. Just make sure you learn about tides, and grab an up to date tide chart before you head for the beach!
Explore Olympic NP with Expert Guides
Getting to Shi Shi Beach
From Highway 112, turn left on Backtrack Road and then left on Hobuck Road, and then follow signs to the Shi Shi Beach Trailhead on Fish Hatchery Road. Overnight parking is not permitted at the trailhead, so if you're planning on camping bring some cash to pay for overnight parking at a private lot nearby.
History of the North Coast
Washington's coast has been continuously inhabited by indigenous peoples for thousands of years, living off of the bountiful harvests of the Pacific Ocean and coastal forests, and trading and traveling far up and down the West Coast. European exploration of the area began in 1592, when a Greek pilot named Juan de Fuca claimed to have found a passage between Vancouver Island and the Olympic Peninsula–now called the Strait of Juan de Fuca. Later European explorations confirmed the existence of the Strait in the 1787, and trade and exploration by sea and by foot grew throughout the 19th century. But the North Coast has long been a multicultural site of encouter–the Makah tribe regularly found metal artifacts washed ashore from shipwrecks from Japan, and today one can still find petroglyphs, shipwrecks, and more. In 1970, erosion revealed a fully preserved Makah longhouse settlement dating back to the 1500s; the ensuing archeological studies culminated in the Makah Cultural Research Center and the Makah Museum, well worth a visit on your way to or from a hike on the coast.

3 Best Day Hikes on the North Coast Trail
Hike to Shi Shi Beach for a pleasant day of tidepooling, head all the way to Point of Arches for a longer exploration, or start further south and explore Cape Alava near Ozette.
Below are the primary options for day hiking on the North Coast
| | | | | | |
| --- | --- | --- | --- | --- | --- |
| | Destination | Miles | Elev | Difficulty | Style |
| | Shi Shi Beach | 4 mi | 200 ft | Easy | Out and Back |
| | Point of Arches | 8 mi | 200 ft | Moderate | Out and Back |
| | Cape Alavaa | 9.4 mi | 100 ft | M0derate | Loop |
1. Shi Shi Beach
The Shi Shi Beach trail winds through coastal cedar and spruce forests, over boardwalks and through deep mud, and finally down to Shi Shi Beach. Appreciate the giant spruce trees and abundant salmonberries during the start of the hike, and keep an ear out for the pounding surf as you near the beach. The second mile of the trail tends to be quite muddy throughout the summer, so wear your boots and gaiters and prepare to get dirty. The final descent to Shi Shi Beach takes you down 200 feet, where you'll emerge from the trees into the wide open expanse of Shi Shi Beach. Rocky outcroppings near the trail provide excellent opportunities for tidepooling at low tide. Keep an eye out for whales, seals, bald eagles and more in the distance, or inspec the tidepools for the brilliant colored starfish and anemone that call Shi Shi Beach home. Head back the way you came to finish out the day.
2. Point of Arches
When you emerge from the forest onto Shi Shi Beach, you'll see a long line of sea stacks extending out into the ocean to your south. If you're feeling adventurous, you can hike all the way to Point of Arches and back for a total of 8 miles round trip. Plenty of beach walking means plenty of beach combing and opportunities for wildlife, and Point of Arches itself is a playground of sea-carved arches, sea-caves, tidepools, and more. If you time your visit right, you can walk far out along Point of Arches at low tide–just make sure to watch your tide tables and don't get caught by an incoming tide!
3. Cape Alava
The other end of the North Coast is accessed further south, from Ozette Lake. This 9.6 mile loop takes you out along a boardwalk through  dense coastal forest until you reach the ocean at Cape Alava–the furthest west point of the continental United States. Keep an eye out for Tskawahyah Island to your west, and for the abundant wildlife in the area. To continue the loop, head south along the beach, and look for petrogylphs near Wedding Rocks. At Sand Point, turn back inland to return to Ozette Lake and your vehicle. Along your way, listen for the high-pitched calls of bald eagles, look for the tell-tale spouts of gray whales and orcas, and appreciate the explosion of life in the tidepools at low tide.
Maximize Your Visit to Olympic National Park on a Hiking Tour
Multi-day packages allow visitors the opportunity to make the most of their time in Olympic National Park and to do it hassle-free. Guided tours include gear (backpack, trekking poles, crampons in winter), meals, accommodations on multi-day tours, local transportation, and a professional Washington hiking guide. Through their knowledge, stories, and personal passion, guides can bring a place to life in a way that's much more difficult to do on your own. Read more about Olympic Hiking Tours.
Award Winning USA Hiking Vacations

3 North Coast Trail Backpacking Trips
The North Coast contains backpacking trips for all levels–get out there and explore!
| | | | | |
| --- | --- | --- | --- | --- |
| | Route | Miles | Difficulty | Campgrounds |
| | Point of Arches | 8 mi | Easy | Shi Shi Beach |
| | Shi Shi Beach to Ozette | 19 mi | Strenous | Shi Shi Beach, Seafield Creek, Ozette River |
| | Ozette Triangle | 9.6 mi | Easy | Ozette River, Sand Point, Cape Alava |
1. Point of Arches (2-3 days)
Point of Arches is a wonderful destination for a family backpacking trip, or if you're looking to get away and relax without too much work. Follow the Shi Shi Beach Trail out to Shi Shi Beach, and then head south as far as you like–camping is allow anywhere along the beach, though discerning backpackers tend to choose the pleasant sites carved into the edge of the coastal forest. Less sand in your tend means more fun for everybody! Spending two nights out there gives you plenty of time to explore Point of Arches and to round some of the headlands to the south, or to build driftwood castles on the beach. Relax with a driftwood fire in the evening (make sure to build it on the beach, not up in the trees, where the heat can damage the exposed roots of trees), watch the sun set over the Pacific Ocean, and fall asleep lulled by the waves.
2. Shi Shi Beach to Ozette
This trip is ideal for the rugged backpacker looking for adventure. While the mileage is short, the slippery rocks, steep overland trails, and short time window at low tide make it an exciting trip. You'll need to plan your itinerary carefully for this one–long stretches of the trail can only be completed at low tide, so look at the tide charts and consult a park ranger at the Port Angeles Wilderness Information Center for trip-planning advice. And don't worry–the difficulty is more than matched by the payoff–you'll see remote coves, beautiful sunsets, long expanses of uninhabited beaches, and more on this 3 or 4 day backpacking trip. From Shi Shi Beach you'll head south along the coast all the way to Cape Alava, then turn inland on the boardwalk trail to reach Ozette Lake. You'll need to arrange a shuttle, or build a return hike into your trip to get back to your car.
3. Ozette Triangle
The Ozette Triangle is as popular a backpacking trip as it is a dayhike. The beach at Sand Point is famous for its beauty, and the diversity of the coastline along this trail keeps you guessing at every turn. From Ozette Lake, head west on the Cape Alava trail, and then camp at Cape Alava, or head north to Ozette River or south to Sand Point. There are plenty of campsites available in this region, so you can make your trip as long or as short as you want.
Join a Guided Olympic National Park Backpacking Trip
Joining an Olympic National Park backpacking tour  is a worry-free, adventurous way to experience [national park]. With your gear, meals, local transportation, permits, and fees taken care of for you, you can travel light and focus 100% on enjoying the hiking experience, while the guide company takes care of everything else. Also, by going with local experts you'll enjoy a greater level of safety and gain a much better understanding of the history and ecology of this remarkable region. Read more about guided Olympic backpacking trips.
All-inclusive Olympic NP Backpacking Adventures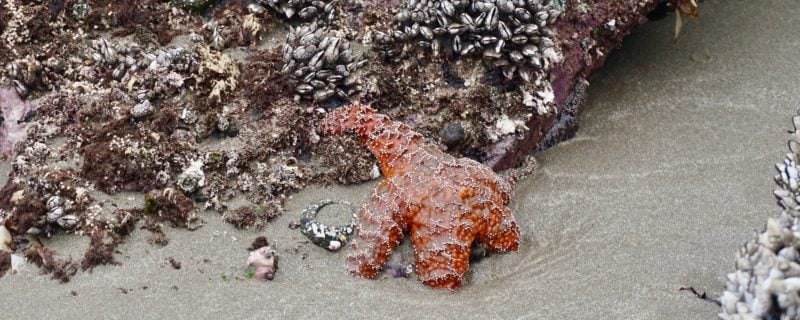 When to Hike and Seasonal Considerations
Olympic National Park has a reputation for rain, but summers tend to be dry, warm, and very pleasant. The North Coast Trail tends to have good weather June through September, but rain is always a possibility, so come prepared with a warm layer and rain jacket in your pack. Make sure to check the weather before you plan your trip.
Necessary Permits
Day Hike Permits
No permits are needed to day hike in Olympic National Park. If you're starting your hike at Shi Shi Beach, you'll need to pick up a Makah Recreation Permit. They can be obtained at most stores in Neah Bay.
Backpacking Permits
Self-serve permits are available from Olympic National Park at the trailhead, and at Port Angeles Wilderness Information Center. Shi Shi Beach trips don not require advance reservations, but all campsites south of Shi Shi Beach do require reservations, so contact the park ahead of time, or ask if there are any walkup permits available at the WIC in Port Angeles. The Park Service also provides bear canister rentals for a small donation. For more information on Olympic National Park's permit system, click here.
Suggested Packing List
Day Hike Packing List (edit)
Lightweight hiking shoes or hiking boots
Waterproof rain jacket and pants
Warm wool or fleece top
Warm hat and gloves (Spring, Fall, Winter)
Water bottles or bladder (2 liters total capacity)
Sunhat
Headlamp
Sunglasses, sunscreen and lip balm
Salty, calorie-rich snacks
lunch
backpack
trekking poles
1st aid kit
Backpacking Packing List
all items listed for day hikes PLUS
multi-day backpack
3-season tent
sleeping bag
sleeping pad
backpacking stove and fuel
backpacking meals
3 pairs wool socks
extra t-shirts
Please Respect Our National Parks – Leave No Trace
We strongly recommend abiding by all Leave No Trace ethics guidelines and practices so that our national parks and public lands are preserved for the enjoyment of future generations and for the people and animals who call these places home. Simple things like packing out your trash, obeying national park rules, and respecting the peace and quiet of our national park trails is a great start. If you're going on a backpacking trip, you can read about more about the 7 Leave No Trace Principles.