Best Olympic Hikes Overview
Learn About the Best Hikes at Olympic National Park
Olympic National Park is home to over 600 miles of trails that range from easy to strenuous, and from no elevation gain to 3,000 feet elevation gain. The beautifully-unique thing about Olympic National Park is that it is really like three parks in one, featuring mountains, rainforests and coastline. Each of these environments is diverse, with unique landscapes and wildlife. Below we have listed our ten favorite hikes in the park.Washington Trail Association has a comprehensive list of all the trails in the Olympic Peninsula, including over 360 trail descriptions. And, as always, make sure you are up-to-date on trail conditions before strapping on your boots and heading out.
1. MAIDEN PEAK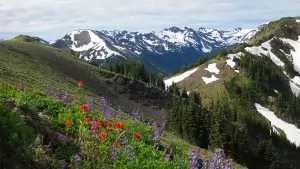 Start your hike at the Obstruction Point Trailhead, just before the Deer Park Ranger Station. This is a moderately-strenuous, 9 mile roundtrip hike, taking you on one of the highest trails in Olympic National Park. Obstruction Point trail descends 400 feet in the first mile, and then gains it back, climbing 700 feet in the second mile. As you reach the base of Green Mountain, you are treated to remarkable vistas, but this is just a small glimpse of what is yet to come. Traversing Green Mountain, the meadow starts to open up, and you get broad and expansive views on all sides. To get to the summit of Maiden Peak, you will have to scramble up a boulder field with no trail, but once you get to the top, the views are incredible. You can look down on the Grand Ridge trail winding up the side of Elk Mountain, as well as Mount Angeles, Klahhane Ridge, Hurricane Ridge and the Strait of Juan de Fuca.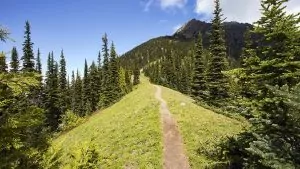 Starting on the Switchback Trail, you will climb 1,500 steep feet in just over 1.5 miles. It ascends through a conifer-spruce forest via a series of short, steep switchbacks—just as it's name suggests. Once at the top of the crest, the trail winds through an open meadow, abundant with lively wildflowers in the late spring and summer. Wildlife, including mountain goats, black bears and marmots, is also common in the meadow. Eventually, you will reach the junction for the Mount Angeles Trail. Take a right here and follow Klahhane Ridge to the base of Mount Victor, rising above you at 5850 feet. This is a great place to turn-around and head back down the mountain, or you can continue for another 1.5 miles to a 6046 foot knoll—view from which are spectacular.