Visiting in Winter Overview
Learn About Visiting Olympic in the Winter
Visiting Olympic National Park in the winter gives you an entirely unique perspective of it's diverse landscape. There are many benefits to visiting in the winter, as well as some drawbacks. In this guide, we will go in to detail about what to expect when you visit in December, January or February, so you can plan the best trip possible.
BENEFITS OF VISITING IN WINTER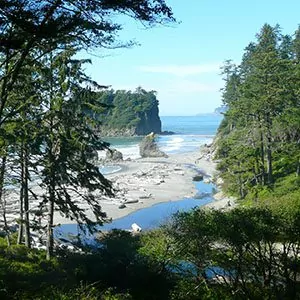 There are so many benefits to visiting in winter; first, we've said it over and over again, but this park is so diverse. With three major ecosystems—coast, rainforest and alpine, you are able to spend time in the snow, and then drive down to the coast and walk along beach. Now, you may be thinking of a drastic transition from being bundled up in snow coats, to walking in a bathing suit on a warm, sunny beach… but, the coast in Olympic will likely be gray, and you will likely still have some layers on. It's still quite the transition, it can be 20 degrees warmer along the coast than in the mountains. Second, you can visit Hurricane Ridge for epic and dynamic views. There are many trails at Hurricane Ridge, as well as the Hurricane Ridge Ski and Snowboard Area. While you're there, you can learn a new hobby, snowshoeing! Pick some up for rent the Ski and Snowboard Area, and try them out on the 6 mile jaunt to Hurricane Hill. Hurricane Ridge Road is closed typically from November to March, but is scheduled to be open every Friday, Saturday and Sunday, and holidays that fall on Monday. You can make sure the road is open by looking at the current road conditions. Lastly, the crowds disappear by the fall, and you are left with a National Park to yourself at times. Friday, Saturday, and Sundays bring the Weekend Warriors, but it is so easy to escape into a winter wonderland of your own. Choose a hike to go on and you will experience the tranquility and silence of the park.
DRAWBACKS OF VISITING IN WINTER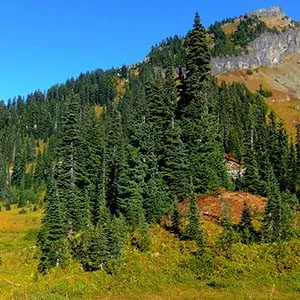 The biggest drawback to visiting Olympic National Park in the winter is the weather, November to April marks the rainy season for the Olympic Peninsula. The park receives an average of 140 inches (12 feet!) of rain throughout the year, and the majority of that falls during the winter and spring. Don't let that deter you though! Surprisingly, the rainforest is a good place to be during the rain, as the dense canopy above creates a bit of a natural cover. Just make sure that you always have your rain jacket and rain pants nearby, they are crucial this time of year.