Olympic Visitor Guide
Learn All About Visiting Olympic National Park
Olympic National Park encompasses an extremely diverse ecosystem; with rugged coastline, lush and vibrant rainforests, crystal-clear lakes, alpine peaks, hot springs, glaciers, and more. Each environment is unique and phenomenal, and gives you a chance to experience the magic of the Pacific Northwest. Nature-lovers, wildlife-watchers, hikers, climbers, kayakers and every other type of person will find something to enjoy in Olympic National Park. There are 611 miles of trails to explore, and the landscape changes drastically from one area to another, giving you the feeling of being in many parks within this one park. No matter what you are looking for, you are sure to find it in Olympic!
WHAT MAKES IT UNIQUE?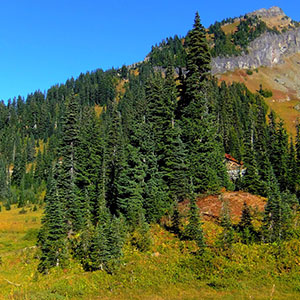 The amount of diversity in Olympic National Park's landscape makes it so unique. The park hosts the longest stretch of wilderness coastline in the contiguous United States—73 miles of rugged and pristine coast. It's coast is noted for towering sea stacks, old-growth forests and the wisdom that seems to flow from it's ancient rocks. 95% of the National Park is congressionally-designated wilderness, meaning that it will remain untrammeled by man. The park is amazing with over 3,500 miles of rivers and streams, and 60 named glaciers. Mount Olympus rises high in the Olympic Mountain range, standing tall and proud at 7,980 feet. Because of the drastic differences in each environment, Olympic National Park is home to a wide array of wildlife—including 300 species of birds, 56 species of mammals (this includes marine and terrestrial mammals), 37 types of fish, and over 1,200 species of native plants.
Olympic National Park has something for everyone—whether you want to see the sights from your car and drive from area to area, embark on a five day backpacking trip retracing the footsteps of the historic Press Expedition, or something in-between, you are bound to find something that sparks your interest!
WHERE TO GO IN THE PARK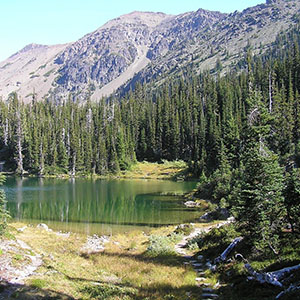 Olympic National Park is over 1,400 square miles. It hosts many unique ecosystems over very diverse environments in the park. You can check out the Getting Around page on the National Park Service's website for mileage and time estimates between each area of the park. There are ten main areas to visit in Olympic, they are each described below:
Elwha Valley: Located in the northern section of the park (11 miles west of Port Angeles), this area is characterized by it's watershed restoration. A dam was installed in the early 1900s, but as time progressed, environmentalists realized that the dams were effecting the native salmon populations. After Congress passed a law in 1992 authorizing the removal of the dams, the watershed has slowly been restored to it's natural state—both dams were removed by 2004. Now, Elwha Valley is noted for it's sparkling river surrounded by towering mountains, and is one of the most popular destinations in the park.
Hoh Rainforest: Located on the western section of the park, Hoh Rainforest is a vibrant, old-growth forest. Throughout the year, this area can receive 140 to 170 inches of rain, creating an environment of lush deciduous and coniferous trees, with mosses and ferns that cover all other surfaces. Hoh Rainforest is picture perfect, with many great hiking trails. Check out the Hoh River Traverse backpacking trip—taking you through temperate rainforest, to alpine lakes and dramatic glaciers.
Sol Duc Valley: Located in the northwestern region of the park (about 40 miles west of Port Angeles), the Sol Duc River is a highway for Coho salmon, running the river to get to the lakes in the surrounding mountains. The valley contains an old-growth forest, subalpine lakes and is surrounded by snow-capped peaks. In a special section of the Sol Duc River, you will find the Sol Duc Hot Springs, where the water is warm and filled with minerals. Check out the Alpine Lake and Hotsprings backpacking trip, which traverses the Seven Lakes Basin, giving you dramatic vistas of the Olympic Mountains.
Hurricane Ridge: Located in the northern section of the park (17 miles south of Port Angeles), Hurricane Ridge is the most easily-accessed mountain area in the park. When the weather is clear, the views are absolutely incredible. The road to Hurricane Ridge is open everyday in the summer, but in the winter months, it is only open Friday through Sunday, and holidays that fall on a Monday—weather permitting. This area has a ton of fantastic hiking trails that take you up ridgelines, and to subalpine lakes and valleys. A ski, snowboard and snowshoe area is open from December to March for winter recreation.
Quinault Rainforest: Located in the southeastern area of the park, the Quinault Rainforest is a temperate rainforest that leads to alpine meadows and glacial-carved lakes. In 1889, an expedition, sponsored by the Seattle Press, left Port Angeles in hopes of exploring the wilderness of the Olympic Wilderness. Six months later they arrived at Quinault Lake. Nowadays, it takes backpackers only four to five days to complete the same journey, known as the Historic Press Traverse. This area is a great place to see the largest mammal in the park—the Roosevelt Elk.
Lake Crescent: Located in the northern section of the park (17 miles west of Port Angeles), Lake Crescent, a cold, clear and pristine lake, is tucked in the foothills of the Olympic Mountains. The lake is high in nitrogen, causing a brightly blue-green color in the water. Approximately 7,000 years ago, a landslide isolated Lake Crescent from it's neighbor, Lake Sutherland. Because of this isolation, there are two species of fish—the Crescenti and the Beardslee trout, that have uniquely adapted to this new environment. Popular activities in this area include: hiking, fishing, and kayaking.
Lake Ozette: Located on the northwestern tip of the Olympic Peninsula, Ozette is home to a very diverse landscape, including: ancient sea stacks scattered along the coast, crystal clear waters of Lake Ozette and lush old-growth forests. This area is also rich in history—the Makah Tribe lived alone in the region, until the 1700s, when Europeans arrived. Popular activities in this area include: hiking, backpacking, wildlife viewing and boating. Check out the backpacking trips offered in the Ozette area: North Coast Route, or Point of Arches.
Mora/ Rialto Beaches: Located on the western coast of the park, these beaches are home to infamous sea stacks, crashing waves, tidepools alive with color and texture, and an abundance of marine mammals. Olympic National Park protects the longest stretch of wilderness coast in the United States, as evidenced here at Mora and Rialto Beaches. There are excellent hiking trails along this rugged coast, but make sure you familiarize yourself with a tide chart before you head out.
Kalaloch/ Ruby Beaches: Located on the southern coast of the Olympic Peninsula, Kalaloch and Ruby Beaches are one of the most popular destinations in the park; and for good reason—the sights are incredible. The rugged coast remains untouched by man, and it's ancient rocks and forests seem to be alive with wisdom. While walking along the coast, you have great chances to see tidepools full of colorful sea urchins or sea cucumbers, or nesting birds, including puffins, bald eagles, gulls, and about 297 other species.
Staircase: Located in the southern section of the park (60 miles north of Olympia and 100 miles south of Port Angeles), Staircase is characterized by the gigantic tree trunks of old-growth Douglas-fir that populate this region of Olympic National Park. There are a variety of hiking trails in Staircase. A great way to learn about this unique and diverse ecosystem is on a guided day hike, led by a local and professional guide who will share their knowledge of this extraordinary region.