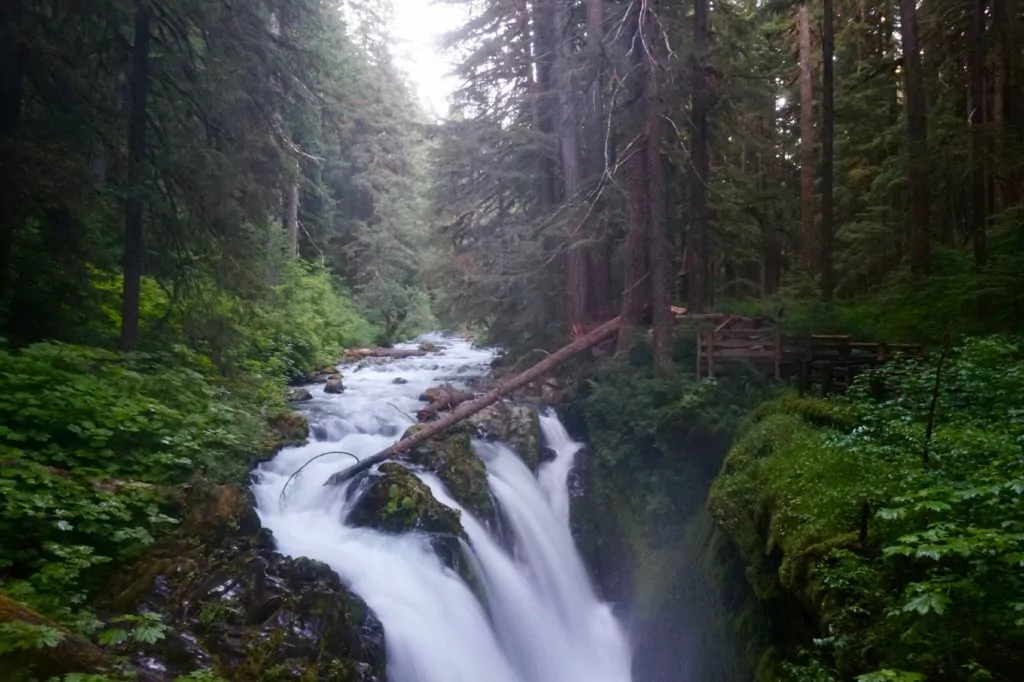 Sol Duc River Trail
The Sol Duc River is a beautiful, cascading salmon stream that begins high in the Olympic Mountains. Most famous for the Sol Duc Hot Springs formed by geothermal activity in the Olympics, it is also a world-class hiking destination. With ancient forests and the famous triple Sol Duc Falls awaiting close the trailhead, it's a popular destination for a reason. But the waterfalls and the hot springs aren't the only attractions the Sol Duc River Trail has to offer. Hiking further in will take you to the stunning alpine landscapes of the High Divide, the Seven Lakes Basin, and Appleton Pass. You can cross a ridge and drop into the Hoh River, gain incredible views of Mount Olympus, and swim in crystal-clear alpine lakes on this magical trail.
Explore Olympic NP with Expert Guides
History of the Sol Duc River
Sol Duc means "sparkling waters" in the Quileute language, and they're right about that–the waters are crystal clear, sparkling, and gorgeous. The Sol Duc River is an important salmon stream, supporting runs of all five major species of salmon as well as winter steelhead and cutthroat trout. Like much of the rest of Olympic National Park, the Sol Duc River has been inhabited and visited by indigenous peoples for thousands of years. European explorers began logging the area in the early 1900s, and in 1912 Michael Earles opened a luxurious resort by the hot springs, drawing visitors from near and far. While the resort burned down only 4 years later, the hot springs and accompanying river grew in reputation. The resort was rebuilt multiple times, until it was purchased by Olympic National Park in 1966 and is now managed as a park concession. Along with the protection of valuable old-growth and salmon habitat, the Park helped to develop the impressive network of trails that now follow the Sol Duc River.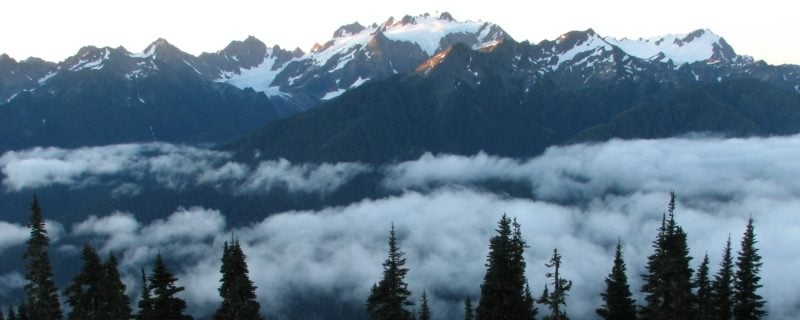 3 Best Day Hikes on the Sol Duc River Trail
Walk to Sol Duc Falls for incredible photos, hike up to beautiful Deer lake, or stroll along Lover's Lane for an easy loop hike.
Below are the primary options for day hiking along the Sol Duc River
| | | | | | |
| --- | --- | --- | --- | --- | --- |
| | Destination | Miles | Elev | Difficulty | Style |
| | Sol Duc Falls | 1.6 mi | 200 ft | Easy | Out and Back |
| | Lover's Lane | 6 mi | 200 ft | Easy | Loop |
| | Deer Lake | 8 mi | 1,650 ft | Moderate | Out and Back |
1. Hall of Mosses
Sol Duc Falls is a beautiful triple water fall, with three channels pouring into a deep canyon cut through dark rock. It's one of the most heavily photographed falls in Olympic National Park with good reason. The trail out is a mellow dirt path winding through towering Douglas firs, hemlocks, and more; keep an eye out for nurse logs sprouting huckleberry bushes, and for Oregon grape and salal near the ground. You'll come to a shelter just before the falls–a great place to take a break if it's raining. Then descend to a footbridge over the Sol Duc River, stare up at the waterfalls, and let the images (and spray) soak in. There are observation platforms above and to the right of the falls, but the best photos come from then footbridge itself. Return the way you came.
2. Lover's Lane
If you want to see Sol Duc Falls but don't want to stop there, consider hiking there entire Lover's Lane loop. Follow the trail to Sol Duc Falls, then cross the footbridge and turn downstream. The trail meanders through forests and over creeks, displaying the diversity of plant and animal life in Olympic's grand forests. It ends by the Sol Duc Resort, where you can take a break and dip in the hot springs, or loop back through the campgrounds and along the lower Sol Duc River to return to the trailhead and your vehicle.
3. Deer Lake
If you want a challenge, a longer hike, and a bigger reward, head to Deer Lake. You'll pass Sol Duc Falls, and then hang a left, following signs for Deer Lake and beginning to climb. Enjoy hiking alongside the beautiful Canyon Creek, and watch the forest change as you gain elevation. After a steep climb you'll emerge by Deer Lake, a beautiful lake nestled just below treeline. Fish, birds, and–of course–deer abound here, and there are lovely campsites and beach to enjoy a lunch and a nap at. You can hike around the perimeter of the lake, bring a fishing pole, or just relax and take in the views before heading back down to the trailhead.
Maximize Your Visit to Olympic National Park on Hiking Tour
Multi-day packages allow visitors the opportunity to make the most of their time in Olympic National Park and to do it hassle-free. Guided tours include gear (backpack, trekking poles, crampons in winter), meals, accommodations on multi-day tours, local transportation, and a professional Washington hiking guide. Through their knowledge, stories, and personal passion, guides can bring a place to life in a way that's much more difficult to do on your own. Read more about Olympic Hiking Tours.
Award Winning USA Hiking Vacations

3 Sol Duc River Trail Backpacking Trips
Want to spend a night tucked under ancient trees next to a beautiful river? What about a high mountain loop scattered with alpine lakes and mountainous views? Whether you're out backpacking for a night or a week, the Sol Duc River Trail has options for you.
| | | | | |
| --- | --- | --- | --- | --- |
| | Route | Miles | Difficulty | Campgrounds |
| | Sol Duc River | 10 mi | Easy | Appleton Junction CG or Rocky Creek CG |
| | Seven Lakes Basin | 17 mi | Moderate | Deer Lake CG, Heart Lake CG |
| | Sol Duc-Hoh River Traverse | 25 mi | Moderate | Deer Lake CG, Hoh Lake CG, Olympus Guard CG |
1. Sol Duc River (2 days)
Follow the gentle grade of the Sol Duc River upstream as far as you like before the climbing starts and camp in a beautiful forest. This trip is ideal for kids, families, or first-time backpackers. Begin at the Sol Duc River Trailhead, hike to Sol Duc Falls for the view, then backtrack slightly and turn left, following signs for Appleton Pass. The trail climbs gently up through deeper and larger forests; keep an eye out for huckleberries sprouting from nurse logs, banana slugs, giant fir and spruce trees, and more as you stroll through this enchanted forest. Campsites are abundant, so you can go as far as you like; camp by one of the many Sol Duc River camps, at Rocky Creek, or head all the way to the Sol Duc Crossing camp. Enjoy a night under towering trees and by a tumbling river. If you're feeling strong, consider a dayhike up to beautiful Appleton Pass from your camp; stunning wildflowers and views of Mount Appleton greet you after a 2,000′ climb. Return the way you came to finish out the trip.
2. Seven Lakes Basin (3 days)
Mount Olympus, Bogachiel Peak, alpine lakes, wildflowers, mountain goats… the Seven Lakes Basin has a little bit of everything, and it's all stunning. Most people complete the loop counter clockwise; begin at the Sol Duc River trailhead, crossing the river at Sol Duc Falls. Follow signs to Deer Lake, climbing steeply up past Canyon Creek and through bountiful forests. Spend your first night at peaceful Deer Lake, then prepare for another big climb on day 2. You'll climb up to the High Divide, the ridge separating the Hoh River valley from the Sol Duc River, and gain jaw-dropping views of Mount Olympus and the interior of the Olympics. The trail can be steep, rocky, and exposed in places, so leave your fear of heights behind. Follow the spine of the ridge, peering down into the Hoh River valley on one side and at the rocky, lunar landscape of Seven Lakes Basin on the other. An old glacial cirque, Seven Lakes Basin is a wide expanse filled with tiny alpine lakes. Drop down into Heart Lake for a refreshing swim and your last camp, then continue dropping down into the Sol Duc River basin. Elk are common on the slopes here, so keep an eye out for these beautiful beasts. Round out the trip by following the Sol Duc River back to your car.
3. Sol Duc-Hoh River Traverse (4 days)
If you can arrange a shuttle and have the time to do it, you can link up the two most famous rivers in Olympic National Park with this trip. Abundant lakes and views are a reward for this challenging trip. Observe the differences between the drier Sol Duc forests and the dripping wet giants of the Hoh River, and the different characteristics of the two rivers–one clear and fed by rain and snow melt, the other gray-blue and fed by silty glaciers. Start at the Sol Duc River Trailhead, spend your first night at Deer Lake as above, climb towards the High Divide and Bogachiel Peak, then turn South at the junction, following signs for Hoh Lake. Spend a night at Hoh Lake, keeping an eye out for bears and other wildlife, then descend into the Hoh River Valley. Camp at the Olympus Guard Station or Five Mile Island, and follow the Hoh River Trail out, marveling at the giant trees and deep moss.
Join a Guided Olympic National Park Backpacking Trip
Joining an Olympic National Park backpacking tour  is a worry-free, adventurous way to experience [national park]. With your gear, meals, local transportation, permits, and fees taken care of for you, you can travel light and focus 100% on enjoying the hiking experience, while the guide company takes care of everything else. Also, by going with local experts you'll enjoy a greater level of safety and gain a much better understanding of the history and ecology of this remarkable region. Read more about guided Olympic backpacking trips.
All-inclusive Olympic NP Backpacking Trips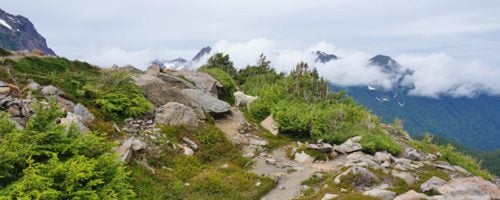 When to Hike and Seasonal Considerations
Olympic National Park has a reputation for rain, but summers tend to be dry, warm, and very pleasant. The Sol Duc River is a low-elevation destination that can be hiked as early as May without having to worry about too much snow, but if you're hoping to cross the passes or day hike into the high country, you'll want to wait until late June or July. Glacier lilies start to unfold as soon as the snow melts, and abundant berries and fall colors in August and September make it a spectacular location all summer long. Make sure to check the weather before you plan your trip.
Necessary Permits
Day Hike Permits
No permits are needed to day hike in Olympic National Park
Backpacking Permits
Permits are available from Olympic National Park at the Port Angeles Wilderness Information Center. Since the Sol Duc River and the Seven Lakes Basin are such popular destinations, reservations are limited. Advance reservations are your best bet, but some walk-up permits are available. The Park Service also provides bear canister rentals for a small donation. For more information on Olympic National Park's permit system, click here.
Suggested Packing List
Day Hike Packing List (edit)
Lightweight hiking shoes or hiking boots
Waterproof rain jacket and pants
Warm wool or fleece top
Warm hat and gloves (Spring, Fall, Winter)
Water bottles or bladder (2 liters total capacity)
Sunhat
Headlamp
Sunglasses, sunscreen and lip balm
Salty, calorie-rich snacks
lunch
backpack
trekking poles
1st aid kit
Backpacking Packing List
all items listed for day hikes PLUS
multi-day backpack
3-season tent
sleeping bag
sleeping pad
backpacking stove and fuel
backpacking meals
3 pairs wool socks
extra t-shirts
Please Respect Our National Parks – Leave No Trace
We strongly recommend abiding by all Leave No Trace ethics guidelines and practices so that our national parks and public lands are preserved for the enjoyment of future generations and for the people and animals who call these places home. Simple things like packing out your trash, obeying national park rules, and respecting the peace and quiet of our national park trails is a great start. If you're going on a backpacking trip, you can read about more about the 7 Leave No Trace Principles.
Getting to the Sol Duc River Trailhead
From Highway 101, turn South on Sol Duc Hot Springs Road, follow it past the resort and campground, and park at the end of the road at the Sol Duc Trailhead.