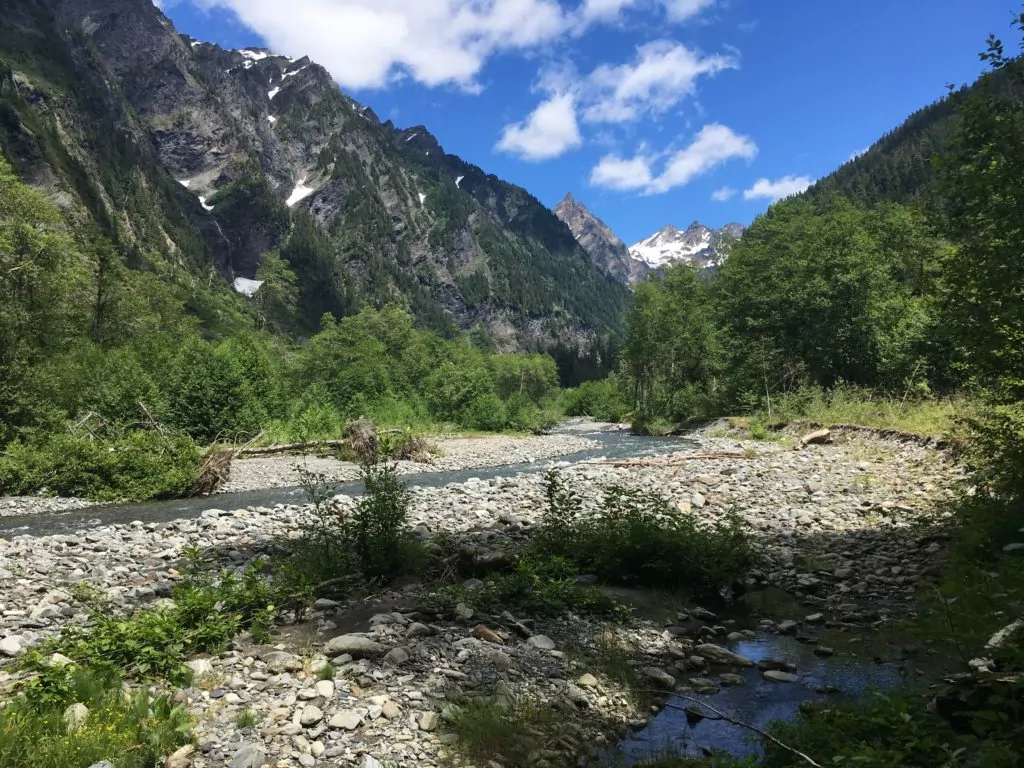 Enchanted Valley Trail
The Enchanted Valley Trail is one of those rare trails that takes you deep into the Olympic Mountains with very little elevation gain. The trail winds along the East Fork of the Quinault River through ancient old-growth forests, and eventually, delivers you to the eponymous Enchanted Valley, where a guest chalet sits along the river. This chalet is a reminder of the many generations who have explored and visited the Enchanted Valley for rest, rejuvenation, and an escape from the city. Today, it is boarded up and no longer open for use. Traveling through the towering old-growth forests will deepen your appreciation for the age and mystery of Olympic National Park, and the ever-changing forest and meadow flowers keep the trail colorful all summer long.
Whether you only head out for a short stroll to Pony Bridge to see the blue-green waters of the Quinault River, or head all the way into the valley and up to the expanse of Anderson Pass, this trail has rewards for all visitors. And it's perfect for kids and families: the mellow elevation changes and plentiful campsites make it a great choice for a day hike or a first-time backpacking trip with the whole family. And due to its low elevation, you can access the Enchanted Valley early in the year — no need to wait for snow to melt or rivers to shrink.
Explore Olympic NP with Expert Guides
History of the Enchanted Valley Trail
The Enchanted Valley was popularized in the 1930s. In 1931, Tom E. Criswell built the guest chalet and welcomed guests hiking and horseback riding into the Olympics. After construction, the chalet was operated intermittently from 1931 to the mid-1980s, under the ownership of Tom Criswell, the Olson Family, and eventually, Olympic National Park. As the East Fork of the Quinault River continues to cut back towards the chalet, it currently stands unused. In fact, the Park Service dragged the chalet back from the river to save it once already!

2 Best Day Hikes on the Enchanted Valley Trail
Take a short jaunt up to a deep  and dramatic chasm overlooking the Quinault River, or wander deeper into the wilderness on a day hike up the Enchanted Valley.
Below are the primary options for day hiking the Enchanted Valley Trail:
| | | | | | |
| --- | --- | --- | --- | --- | --- |
| | Destination | Miles | Elev | Difficulty | Style |
| | Pony Bridge | 4.8 mi | 400 ft | Easy | Out and Back |
| | O'Neil Creek | 13.2 mi | 600 ft | Moderate | Out and Back |
1. Day Hike Option 1: Pony Bridge
Hiking to Pony Bridge is a perfect introduction to the Quinault River and the ancient rainforests of Olympic National Park. From the parking area, follow the bridge over Graves Creek and continue on the main trail. You'll wind through towering Sitka spruce trees, ferns, mosses, and abundant huckleberries. In early summer, keep an eye out for delicate trillium and bunchberry flowers. Later in the season, red huckleberries provide refreshing trailside snacking opportunities. The trail climbs up and over a small ridge, and then drops steeply down towards the Quinault River. Here, a short spur trail provides a dramatic overlook of the blue-green river swirling through a narrow gorge. Meanwhile, the main trail descends to the bridge and offers a closer view and a good location for a picnic lunch–a perfect turnaround spot for a short and easy day hike with high rewards.
2. Day Hike Option 2: O'Neill Creek
If you're up for a longer jaunt, continue past Pony Bridge and follow the Quinault River all the way up to O'Neill Creek Camp. As you continue, the giant spruces give way to even older Western Hemlocks. These magnificent trees are the climax species of Washington's old-growth rainforests (and a sign that the forests here have been undisturbed for thousands of years). The trail weaves alongside and away from the river, providing ample opportunities to refill water with an appropriate filter, or to soak your feet during a well-earned lunch break. Eventually, you'll reach O'Neill Creek Camp. It's a perfect place for lunch, with giant moss-laden bigleaf maples for shade and easy access to the river for a short mid-day nap. To finish out the day, return the way you came.
Award-Winning USA Hiking Vacations
Maximize Your Visit to Olympic National Park on Hiking Tour
Multi-day packages allow visitors the opportunity to make the most of their time in Olympic National Park and to do it hassle-free. Guided tours include gear (backpack, trekking poles, crampons in winter), meals, accommodations on multi-day tours, local transportation, and a professional Washington hiking guide. Through their knowledge, stories, and personal passion, guides can bring a place to life in a way that's much more difficult to do on your own. Read more about Olympic Hiking Tours.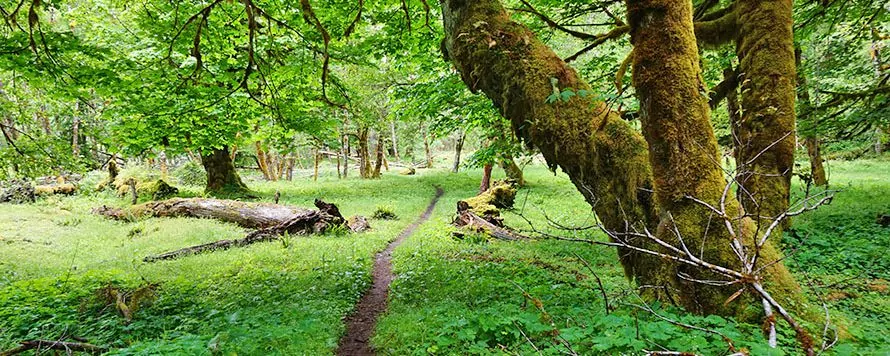 3 Enchanted Valley Backpacking Trips
Enchanted Valley is a perfect beginning backpacking trip, with options ranging from an easy overnight with a family to an epic West-East traverse through the Olympic mountains.
Route
Miles
Difficulty
Campgrounds
O'Neill Creek
13.2 mi
Easy
O'Neill Creek CG
Enchanted Valley
26 mi
Moderate
O'Neill Creek or Pyrites Creek CG
Enchanted Valley CG
O'Neill Creek or Pyrites Creek CG
Quinault-Duckabush Traverse
46 mi
Strenuous
Enchanted Valley CG
Marmot Lake CG
Upper Duckabush CG
Ten Mile CG
1. O'Neill Creek (2-3 days)
O'Neill Creek is the perfect destination for a family backpacking trip. Due to its short distance and bellow elevation gain, it's a great introduction to backpacking in Olympic National Park. Black bear, deer, and elk are plentiful along this trail, so make sure to keep your eyes open and your food secured in bear canisters when you stop. And along with wildlife, there are prolific wildflowers and edible berries–look for the magenta blossoms of salmonberries in the spring, or snack on huckleberries and black cap raspberries later in the summer.  O'Neill Creek CG is outfitted with bear hang wires and an outhouse, but you'll need to bring your own way to purify water. O'Neill Creek is a great destination for a short overnight trip. Alternately, you can spend two nights there and take a day hike all the way up to the Enchanted Valley for dramatic views of waterfalls and mountains.
2. Enchanted Valley (4 days)
This trip takes you all the way to the hidden splendors of Enchanted Valley. Dubbed "the valley of 10,000 waterfalls" by locals, Enchanted Valley is a paradise of meadows, forests, and towering cliffs shrouded in mist and draped with waterfalls. Although it's possible to day hike here from O'Neill Creek, taking the extra time to camp overnight is well worth it. Depending on the endurance of your group, you can camp at O'Neill Creek the first night and then hike to Enchanted Valley, or push on to Pyrites Creek. And once you reach the valley, the historic chalet adds a touch of human history to an otherwise wild trip. Additionally, ample campsites at Enchanted Valley give you plenty of room to spread out, sit by a fire, and enjoy the ever-changing views. Keep an eye out for elk herds across the valley, and for curious black bear munching on shrubs and berries on the valley floor.
To finish the trip, return the way you came, stopping at Pyrites Creek or O'Neill Creek for an easier 2-day exit from the valley. Alternately, you can spend a second night in Enchanted Valley. This gives you the option to day hike up towards Anderson or O'Neill Pass, and take in the high alpine views above the valley.
3. Quinault-Duckabush Traverse (5-7 days)
Looking for a challenge? This trip will take you all the way through Enchanted Valley, up and over Anderson and O'Neill Passes, and out the Duckabush River on the eastern edge of the park near Hood Canal. It's no easy feat, but the long miles and steep elevation will pay off with dramatic views, alpine lakes, and a feeling of accomplishment. However, this trip is a one-way traverse, so you'll need to arrange transportation with friends or a shuttle service. Depending on your schedule and endurance, you can complete this trip in 5-6 days.
The first stretch of trail to Enchanted Valley is easy enough. But once you leave Enchanted Valley you'll begin climbing steeply, navigating stream crossings, and gaining epic views of the surrounding mountains. A high camp at Marmot Lake is a pleasant break, but be prepared to ford the Duckabush River on your descent. Finally, follow the Duckabush River down and out. Because it's on the east side of the Olympics, this river valley has a different feel and ecosystem than the Quinault. This trip can be done in either direction and is best done no earlier than July to allow snow to melt in the passes.
All-inclusive Olympic NP Backpacking Adventures
Join a Guided Olympic National Park Backpacking Trip
Joining an Olympic National Park backpacking tour is a worry-free, adventurous way to experience the Olympic Peninsula. With your gear, meals, local transportation, permits, and fees are taken care of for you, you can travel light and focus 100% on enjoying the hiking experience, while the guide company takes care of everything else. Also, by going with local experts you'll enjoy a greater level of safety and gain a much better understanding of the history and ecology of this remarkable region. Read more about guided Olympic backpacking trips.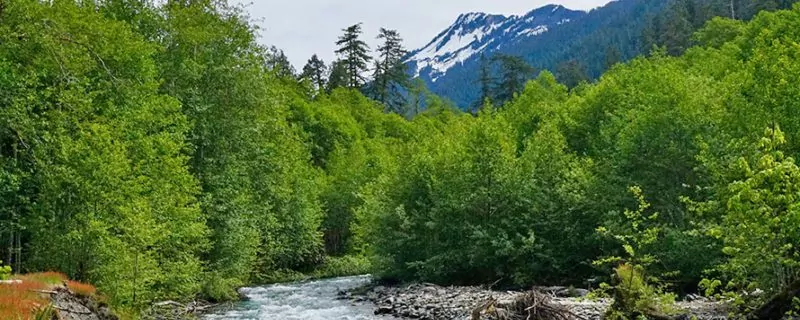 When to Hike and Seasonal Considerations
Olympic National Park has a reputation for rain, but summers tend to be dry, warm, and very pleasant. Enchanted Valley is a rare low-elevation destination that can be hiked as early as May without having to worry about too much snow, but if you're hoping to cross the passes or day hike into the high country, you'll want to wait until late June or July. The waterfalls are most dramatic in early summer, but abundant berries and fall colors in August and September make it a spectacular location all summer long. Make sure to check the weather before you plan your trip.
Necessary Permits
Day Hike Permits
No permits are needed to day hike in Olympic National Park.
Backpacking Permits
Self-serve permits are available from Olympic National Park at the Lake Quinault Ranger Station or the Port Angeles Wilderness Information Center. Enchanted Valley trips don't require advance reservations, but if you want to talk to a ranger about trail conditions it's worth stopping in at the ranger station to get your permit in person. The Park Service also provides bear canister rentals for a small donation. For more information on Olympic National Park's permit system, click here.
Getting to the Enchanted Valley Trailhead
From Highway 101, turn East onto South Shore Drive and follow it 19 miles to the Graves Creek Trailhead.
Suggested Packing List
Day Hike Packing List
Lightweight hiking shoes or hiking boots
Waterproof rain jacket and pants
Warm wool or fleece top
Warm hat and gloves (Spring, Fall, Winter)
Water bottles or bladder (2 liters total capacity)
Sunhat
Headlamp
Sunglasses, sunscreen, and lip balm
Salty, calorie-rich snacks
Lunch
Backpack
Trekking poles
1st aid kit
Backpacking Packing List
For a backpacking trip, you'll need all the items listed for day hikes PLUS:
Multi-day backpack
3-season tent
Sleeping bag
Sleeping pad
Stove and fuel
Meals for every day of your trip
3 pairs of wool socks
Extra t-shirts
Please Respect Our National Parks – Leave No Trace
We strongly recommend abiding by all Leave No Trace ethics guidelines and practices so that our national parks and public lands are preserved for the enjoyment of future generations and for the people and animals who call these places home. Simple things like packing out your trash, obeying national park rules, and respecting the peace and quiet of our national park trails is a great start. If you're going on a backpacking trip, you can read more about the 7 Leave No Trace Principles.