Best USA Trekking Destinations for Late Summer & Early Fall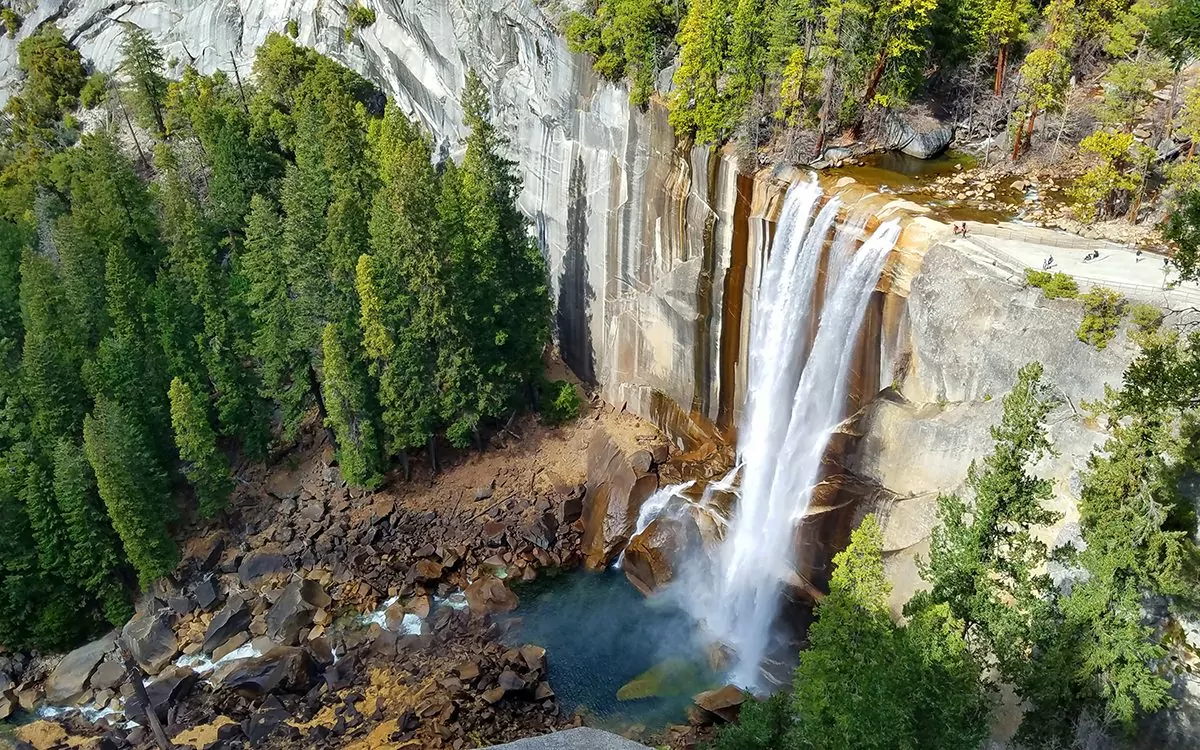 Late summer through early fall is one of the best hiking seasons of the year in the United States. (For clarification, we are considering the months of August and September to be late summer through early fall.) Perhaps surprisingly for many, September is our busiest month at Wildland Trekking, and August is no slouch either – it constitutes roughly 14% of our total annual guest count. There are many reasons we feel late summer and early fall are so great, but they boil down to these main points:
Mountain destinations are ripe with great temperatures and a rapidly declining bug season.
In many areas around the US, school starts in early August, so peak summer crowds are thinning out by mid-August.
Wildlife tends to be more active this time of year as they prepare for winter, which increases potential sightings.
Evenings and nights are cooling off, making for great sleeping temperatures.
The days are still relatively long, especially in the north, so you'll have drawn out, beautiful days in the wilderness.
Water levels are down from the peak early summer flows, so river crossings are easier.
Also because the water flows are down, the fishing is at its prime for those who like to wet a line in the backcountry.
Fire season is also often on its downslope, which can mean less smoke if there has been a significant fire season.
Pre-trip and post-trip lodging is at off-peak rates in some places, especially as we move into September.
We have outlined our five favorite destinations for August and September hiking and backpacking trips below. We invite you to take your time, peruse our recommendations, and if going on a guided trip sounds like a good fit for you, give us a ring to get started!
Or, if you're a DIY type adventurer, then check our blog to get more insights on planning and preparing for your trip!
1. Yellowstone National Park

Why Yellowstone?
Yellowstone is most well known for being America's first national park, and for having incredible geysers, hot springs, and other thermal features. It's also known for its wildlife (of course) including elk, deer, moose, black bears, grizzly bears, wolves, and much more. From our perspective, however, those elements just barely scratch the surface of what makes Yellowstone amazing.
Planning a hiking trip to Yellowstone is, for us at Wildland Trekking, more about the Park's vast, pristine backcountry. With massive lakes, unencumbered rivers, rolling meadows, and dramatic mountain ranges, Yellowstone is a hiking and backpacking dreamland. You could literally spend a lifetime exploring the areas in and around Yellowstone and never see it all.
Finally, while the tourist crowds and wildlife viewers jam up roadways and make for disturbing photographs, most people don't know that hiking just a couple of miles off the roads takes you into a completely different world. The crowds dissipate, the wilderness swallows you, and the next thing you know, you're looking at breathtaking landscapes in their most natural states.
Yellowstone in August and September
Yellowstone in late summer and early fall is truly magical. There's an almost sleepy feel to the backcountry, while the short northern summer starts winding down. Days are warm and nights begin cooling off significantly. In September, you could see the first snowfall of winter, but don't worry! If it does snow, it will melt quickly.
One of the biggest benefits of this time of year in Yellowstone is the lack of bugs. June and July can be very buggy, and even early August sees the continuation of this summer trend. But by mid-August, the mosquitoes have normally died off from the dipping temperatures at night and the vanishing of pools of stagnant water. This wonderful change means you can soak up the beauty of America's first national park in its most peaceful and enjoyable time of year.
Tour Styles to Consider
Backpacking Trips and Llama Treks
A Yellowstone backpacking trip or Yellowstone llama trek is an excellent choice for this time of year. If you go in very early August, be aware that the mosquitoes could still be pretty active. If you go in late September, you could be potentially hiking and camping in snowy conditions. Most of August and most of September, however, will be wonderful for a backpacking trip.
Camping Tour
A Yellowstone camping tour is another fantastic way to enjoy Yellowstone in August and September. Because you sleep at established campgrounds on basecamp tours, you'll tend to stay at lower elevations than on backpacking trips. This means warmer temperatures during the day and at night. Early to mid-August will still be very busy in Yellowstone, but if you do your camping tour after that time, you should see much lighter crowds than earlier in the summer. Camping tours will hit the iconic highlights like Old Faithful, Grand Prismatic Spring, and the Grand Canyon of the Yellowstone while mixing in more obscure hikes and features.
Inn-based Tour
A Yellowstone Inn-based tour is another great way to enjoy the end of summer and the beginning of autumn. Staying in lodges at night allows you to sleep very comfortably (which you'll greatly enjoy by mid-September), and still get out to explore all there is to see. Inn-based tours, like camping tours, will offer a mix of iconic and obscure hikes and features.
Explore Your World. Award Winning Hiking Guides
2. Rocky Mountain National Park

Why Rocky Mountain National Park?
Rocky Mountain National Park ("Rocky") is an attractive destination for many reasons.
Let's start with the least sexy: it's easy to access. With Denver just an hour and a half away, Rocky is one of America's most accessible national parks. Regardless of where you're coming from, you can easily fly into Denver International Airport and catch a quick shuttle to Estes Park, the jumping-off point for trips in Rocky.
It's stunning. Rocky is a gem of a park, with incredible alpine terrain, waterfalls, wildlife, even some glaciers.
The sleepy west side. Rocky can be divided into two parts – the busy eastern half and the quiet western half. It's dramatic actually how tremendously different the two halves are. The sleepy west side offers a wonderful respite from the busyness of the east side, so be sure to visit both!
The rut. No, we're not talking about a muddy dirt road. The rut is when the male elk bugle and put on a show to attract mates before the winter. It's an active, exciting time to be in the Colorado Rockies!
Why Rocky in August and September?
Colorado in general does not have nearly the mosquitoes that Wyoming does, but it does have people — and lots of them. With a city of nearly three million people just 90 miles away, solitude is a relative concept in the Front Range as compared to more remote destinations. It's important to understand that August and September are still going to be quite busy in Estes Park and the gateways surrounding Rocky.
However, do not fret – the backcountry during these months is wonderful! The key is avoiding weekends. Once school starts again in early August, the weekday traffic dies down significantly. So plan your trip with long hikes that get you far from trailheads, and plan it for weekdays. If you do these two things, you're going to love Rocky!
Tour Styles to Consider
Backpacking Trips
Rocky Mountain backpacking trips are an excellent, adventurous way to experience the Colorado Rockies, and August and September are ideal for this type of trip. Some great options include a loop hike across the Continental Divide, an ascent of Longs Peak, and a shorter trip (4 days) into stunning Wild Basin and Thunder Lake.
Portered and Llama Treks
On these trips, porters or llamas do the heavy lifting while you enjoy exploring the Rockies with just a light day pack. Similar to a backpacking experience, these treks are backcountry hiking and camping excursions but without the heavy backpacks. August and September are perfect for Colorado Llama and Portered Treks.
Basecamp and Inn-based Tours
Another option is a camping-based tour or inn-based tour that features amazing day hikes to quintessential features of Rocky Mountain National Park. These tours are fantastic in August and September, especially – like mentioned above – if you plan your trip over weekdays. If you're going to be visiting over a weekend, we recommend going with one of the backcountry options (backpacking trip, llama trek, or portered trip) because you'll be able to enjoy solitude and avoid the crowds.
3. Olympic and North Cascades National Parks

Why Olympic or North Cascades?
The Pacific Northwest is a dream destination. The easy-to-fly-into city (Seattle) is worth a visit itself, and you'll have beautiful drives to the national parks, dramatic scenery, vast wilderness, and an incredible diversity of options. In these two parks, you can hike along seashores, across alpine terrain, through rainforests, on glaciers, or to the tops of jagged peaks. You can visit remote beaches, plunging waterfalls, lush rainforest-laden valleys, icy mountain cirques, and remote alpine lakes. There are few places that offer an array of options like the Pacific Northwest!
Why Olympic or North Cascades in August and September?
Similar to the other destinations mentioned in this article, the Pacific Northwest is going to have fewer bugs, smaller crowds, and great temperatures in the late summer and early fall. However, another factor plays into this being one of our top suggestions: it is the end of the dry season. The Pacific Northwest's rainy season is a fall through spring endeavor. The summers tend to dry out, with July and August averaging the lowest rainfall levels, but September sees clear skies, as well. When you visit at the end of the dry season, you are taking full advantage of Washington's beautiful summers! The temperatures, especially in September, are dipping back down from their highs. The skies are blue and clear. The flowers are out and the wildlife is active.
Tour Styles to Consider
Backpacking Trips
Backpacking trips are a popular choice in the Pacific Northwest in August and September. They offer the opportunity to explore far away from the roads and crowds of the front country parts of these national parks.
Olympic National Park backpacking trips cover an amazing array of options: you can choose from trips that traverse remote Pacific shorelines, cross the alpine ridges of Olympic's high peaks, follow in the footsteps of 19th-century explorers, and explore old-growth rainforests.
In the North Cascades backpacking trips are the only type of trip we offer there, and they're phenomenal! The North Cascades have some of the most impressive views, campsites, and backpacking routes in the Pacific Northwest. If you're up for the adventure, buckle your seatbelts because this place will likely blow you away!
Inn-based and Basecamp Tours
Our inn-based and camping-based tours are exclusively in Olympic National Park and Mount Rainier. We do not offer these trip types in the North Cascades. Olympic and Rainier both feature a fantastic wealth of wonderful day hikes, which we carefully select and string together with lodge-based or camping accommodations for all-inclusive hiking packages. Olympic has so much to offer in terms of different types of ecosystems, that these tours are incredible journeys through varying and diverse landscapes. Late summer and fall are a perfect time for these trips as well as the backpacking trips.
4. Yosemite National Park

Why Yosemite?
Yosemite National Park is worth visiting any time of year. Each season offers unique benefits and features, which is part of what makes Yosemite such a world-class destination. In the spring, the waterfalls are raging and dramatic. In the summer, the high country is open and breathtaking. In autumn, Yosemite Valley temperatures are falling and the high country remains fantastic. In the winter, even the Park's busiest areas are quiet and pristine, and the snow accentuates the iconic features.
Yosemite also offers world-class trekking, whether you're embarking on a backcountry journey or enjoying the Park's many possible day hikes. You can explore Yosemite's massive granite domes, fascinating glacial history, incredible waterfalls, abundant wildlife, stunning high country, and deep wilderness.
Why Yosemite in August and September?
August and September are amazing in Yosemite for several reasons:
Yosemite gets very crowded in the summer, and in mid-August, the crowds begin to die down on weekdays. Weekends are still very busy, and you'll want to avoid 3-day weekends at almost all costs!
Tuolumne Meadows and the high country are open for backpacking. Permits may also be a bit easier to secure this time of year, again especially on weekdays.
Yosemite Valley and the high country are great this time of year. In peak summer months, Yosemite Valley is quite hot but begins to cool down in mid-August. September is beautiful. What's special though about these months is the high country is also still wonderful, as winter hasn't yet set in. This means you can combine hikes in the Valley and the high country all in one trip.
The bugs are usually thinned out by mid-August.
The fire season has often died down by mid-August. Yosemite, and California in general, have become hot spots for wildfires in recent years. This is a significant consideration. Often (but not always), the fires are on the decline by late summer and early fall.
Tour Styles to Consider
We offer many ways to discover and explore Yosemite in August and September.
Backpacking and Portered Trips
Yosemite backpacking trips and portered treks are backcountry hiking and camping excursions. We take all we need for 3-7 days at a time to leave civilization behind and set off into the wilderness. These trips are highly, highly recommended in late summer and early fall. Yosemite requires the use of bear canisters, which increases pack weights a bit. So if you're concerned about pack weight, then the portered trips may be a great alternative for you.
Inn-based Tours and Basecamp Tours
Inn-based Yosemite hiking tours and Yosemite camping tours are absolutely fantastic in late summer and early fall! As mentioned above, one of the major reasons is that Yosemite Valley is great this time of year as is the high country. Our itineraries feature hikes in both areas, giving you a fantastic all-around taste of Yosemite.
5. Lost Coast
Why the Lost Coast?
California's Lost Coast is one of America's most amazing, more obscure treks. The King Range National Conservation Area (managed by the Bureau of Land Management) encompasses a section of the Northern California coastline that was too rugged for Highway 1 to go through. So instead, the road was built around it, creating a wild and pristine section of the coastal range and the Pacific Coast itself. On the Lost Coast, freshwater creeks trickle out of the mountains and into the ocean. Remote, abandoned lighthouses mark the path as we trek for days through tidal zones and rugged coastlines. We'll enjoy land-based wildlife like elk, black bears, coyotes, as well as over 300 species of birds. And we'll also enjoy marine wildlife like seals, sea lions, and whales.
This area is not for the unfit or the faint of heart. It requires traversing tidal zones that are deadly if you don't time it correctly or get across quickly enough. And the hiking, on rocks and gravel, is extremely rugged.
Why the Lost Coast in August and September?
The California coastline is notorious for being rainy in the winter and foggy year-round. August and September have the best conditions if you're looking to avoid rain and have clear days to enjoy the ocean, coastline, and mountains. Also, this trek can be quite popular and you will see fewer other people in August and September than in July. Avoid 3-day weekends, and try to backpack this route during the week.
Lost Coast Backpacking Trips
The only trip we offer in the Lost Coast is a backpacking trip. It is a 5-day, 25-mile excursion that begins and leaves from Sacramento, California.
Guided Trekking Adventures
Wildland Trekking Hiking Adventures
As the world's premier hiking and trekking company, Wildland believes in connecting people to fantastic environments in amazing ways. Wildland Trekking Company offers an array of incredible hiking and trekking experiences in 9 states and 11 countries. Read more about our world-class destinations.
To learn more about our guided backpacking trips and all of our award-winning hiking vacations, please visit our website or connect with one of our Adventure Consultants: 800-715-HIKE.