Leading backpacking trips is a wonderful job if you love wilderness, and are passionate about sharing that love with others. It has many benefits and, of course like all jobs, some less savory aspects. Becoming a backpacking guide is something that requires thought, research and self reflection, as it shouldn't be taken lightly. Loving to hike and backpack is only about 20% of what it takes to be a great guide, so read on and learn whether it's right for you!
Backpacking Guide Jobs with Wildland Trekking
WHY WORK AS A BACKPACKING GUIDE?
FACILITATE VERY MEANINGFUL EXPERIENCES FOR PEOPLE

Leaving behind all that is familiar and striking out into the wilderness with only what they can carry on their backs is a powerful experience for people who haven't done it before. As a guide you get to be a huge part of that journey for your guests. They look to you for leadership, information, safety, connection, encouragement and more as you explore the wilderness together. Watching nature transform them is often a very gratifying experience.

WORK IN STUNNING SURROUNDINGS

Guiding backpacking trips for a living means you're in beautiful, wild places most of the time you're working. Places like Grand Canyon, Yellowstone, Yosemite, the Colorado Rockies, the Great Smoky Mountains and more are literally your workplace. For guests these places are like bright flashes of light – they're exciting, overwhelming, intense. For guides they become like a soft, diffused light that feels like home – comforting, meaningful, powerful. It is a tremendous honor to develop a relationship like this with our world's remaining wild places.

DEVELOP A DIVERSITY OF SKILLS AND COMPETENCIES

Guiding is a job with a significant amount of responsibility (especially if you are the sole trip leader with a group of 5-6 paying guests). Learning to trust yourself and effectively lead trips can be a deeply meaningful personal growth process, even for people who have been in many other professional positions. An effective guide is a great leader, teacher, cook, nurse, counselor, servant, driver and more. What other job requires such an array of skills?

STAY PHYSICALLY ACTIVE

Guiding requires that you remain in great shape, and of course while working you are very physically active. This is a far cry from the typical office job that many people endure. If being healthy, fit and active are priorities for you, getting a backpacking guide job could be a great choice.

SEASONAL WORK WITH MONTHS OFF IN THE WINTER

Most backpacking destinations are less popular, or closed, in the winter. What this means for guides is a mini, months-long vacation every year. Many staff choose to travel to other countries, go on climbing trips, step into full-time skiing or take on other adventurous pursuits. This freedom to work seasonally is a phenomenal benefit for the adventurous minded.
CONSIDERATIONS TO Keep in Mind
WE'RE IN THE PEOPLE BUSINESS

The first thing to consider about guiding is that it's not adventure business, or nature business – it's people business. We are in the people business. Guests can be demanding, ungrateful, needy, anxious, judgemental, unprepared and more. They can also be – and often are – wonderful. But you must be ready for both, because you will get difficult guests. And the organization you work for will expect that they leave satisfied. That means being able to swallow your pride, be professional and humble, and put the client experience ahead of your personal expectations.

PHYSICALLY DEMANDING WORK WITH POSSIBILITY OF INJURY

Taking a backpacking guide job means putting significant strain on your body, particularly your knees and back. But common injuries also include ankles, shoulders and hips. Trip leaders carry much heavier backpacks than when on personal trips or than what guests carry. Expect to carry a 60-80 pound backpack at times.

POTENTIALLY INCONSISTENT WORK

Guided backpacking is a tiny niche corner of the travel industry, in fact even of the adventure travel industry. Peak months are May through September, which means work can be spotty in the spring and fall, and dry up completely in the winter months. If you're willing to also lead hiking tours (inn-based, camping-based, portered trips, llama treks…etc.) then you'll have a much better chance of filling up more a more consistent schedule.

PART OF THE SERVICE INDUSTRY

Guiding is 100% part of the service industry – think waiting table, bartending, cleaning hotel rooms…etc. While the skillset required by guiding is much more strenuous and diverse than most service industry positions, there is still significant overlap. You will be cooking for guests, cleaning up their messes, washing dishes, driving, cleaning gear, taping blisters…etc. As mentioned above, being able and willing to put the client experience first is critical.

PROFESSIONALISM REQUIRED

Being on a backpacking trip with a group of people for 3-7 days is a very intimate situation. Everyone is eating together, sleeping in close proximity, disappearing in the woods to "take care of business," sharing intimate details about what's going on with their bodies…etc. It can be easy for a guide to get overly comfortable and betray the professional relationship they are in with the guests. This can be done in a thousand different ways, and so it must remain constantly at the forefront of your consciousness that you are working and that professional conduct is required at all times.
TOP AREAS FOR BACKPACKING GUIDE JOBS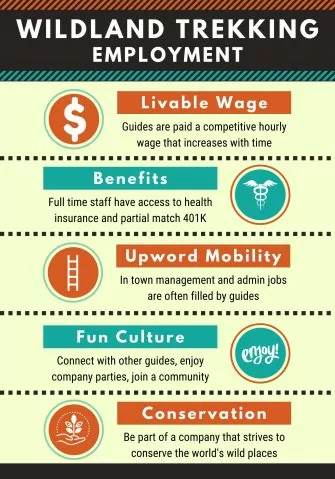 Top areas to work as a backpacking guide include: