Five Epic Hiking Vacations of 2020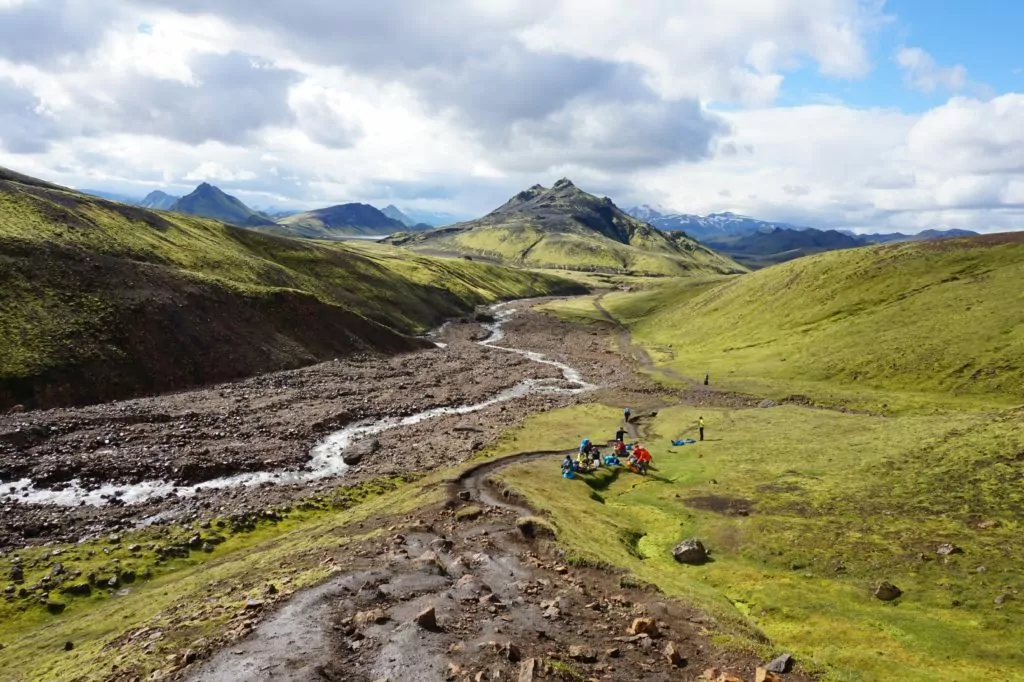 The endless natural beauty and array of incredible cultures on our planet make choosing a hiking vacation destination a challenge. We've narrowed down your list of destinations for 2020 – five locations across four countries that have world-class trekking and are worthy of a lengthy trip.
These places take you across the map, from Vietnam to Utah, and through a variety of landscapes, from black sand beaches to Andean mountain passes. Several expedition types allow you to experience these unique locations in a variety of ways: from portered treks, to lodge-based hiking tours, to hut-to-hut backpacking. These hiking vacation itineraries are hand-selected, which allows you to experience these locations through local knowledge while seeing the best that each destination has to offer.
| | | | |
| --- | --- | --- | --- |
| Trip | Difficulty | Days | Miles |
| Escalante-Bryce Inn-Based Tour, Southern Utah | Moderate | 5 | 25 |
| Sapa Trek & Ha Long Bay, Vietnam | Moderate | 10 | 30 |
| Laugavegur Skogar Hut-to-Hut Backpacking Trek, Iceland | Strenuous | 9 | 55- 65 |
| Lost Coast Trek, California | Strenuous | 6 | 25 |
| Cordillera Huayhuash Portered Trek, Peru | Strenuous | 10 | 36 |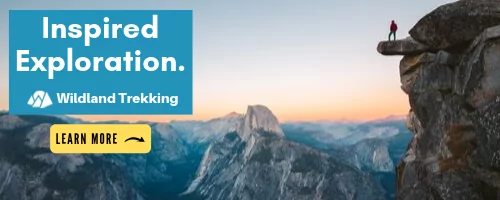 1. Escalante-Bryce Inn-Based Tour, Southern Utah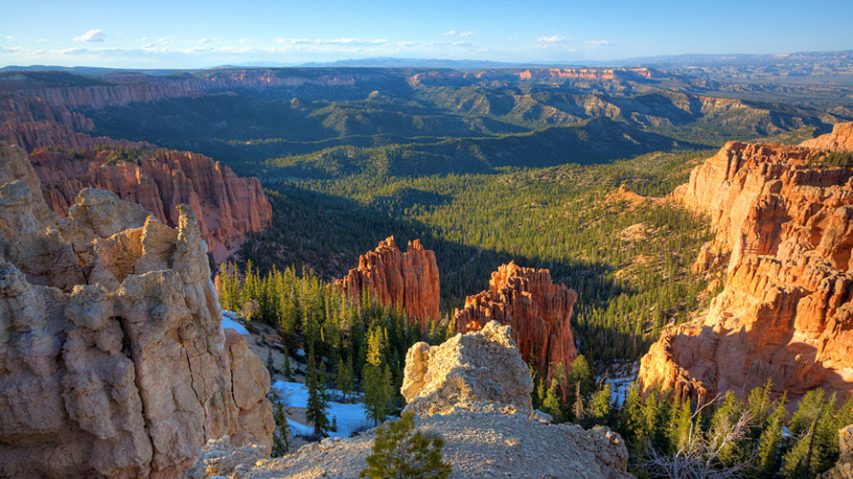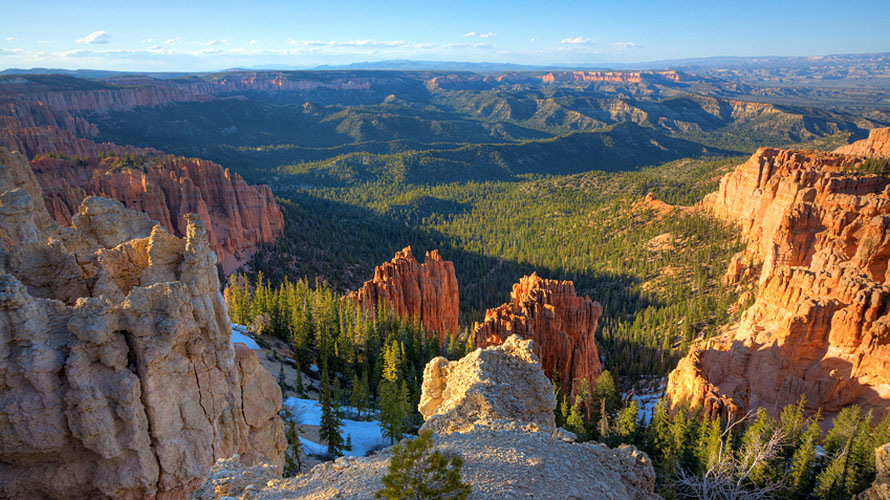 Trip Overview
A seemingly-impenetrable region the size of Delaware sits isolated in the middle of the Utah desert. Nevertheless, the canyons of Escalante hide a labyrinth of trails amongst sandstone cliffs. The whirling red slickrock and cottonwood-filled washes of the Southern Utah canyons are a worthy hiking destination for those of all ability levels. This region is remote and mysterious: it was the last place in the continental United States to be mapped. As the Escalante River carved its way through the desert, choosing the path of least resistance, it left narrow slots and hidden arches in its wake. Signs of ancient streams and recent floods exist in the form potholes and grottoes, while present-day creeks and falls are sought-after oases in the dry summer heat.
Sure, Grand-Staircase Escalante National Monument is more secluded than other desert destinations (like the Grand Canyon). However, with proper planning and a spirit of adventure, this small slice of the world provides endless opportunities for exploration.
Itinerary
Day One: Upper Escalante Canyon
This mild first day offers splendid scenery as you hike two miles into the Upper Escalante River canyon. Follow the trail upstream as you wade through creeks and cross sandy river beds. After a mile and a half of hiking, you approach Escalante Natural Bridge, an impressive formation spanning a side canyon that merges with the Escalante River. This bridge formed over thousands of years as water rushed through the valley, carving out the soft sandstone. If you hike a little further down the trail, you can spot a natural arch along the skyline. Return the way you came, admiring the towering canyon walls above you and enjoying the aromas of sagebrush.
Day Two: Calf Creek Falls
Calf Creek Falls drops 126 feet as it crashes over a sandstone cliff and into a pool below. This desert oasis is accessible via a 6-mile roundtrip hiking trail. The trail starts along Calf Creek and traverses through a lush riparian habitat surrounded by Navajo sandstone. This habitat allows plant and animal species to flourish, so keep an eye out for wildlife. Once you reach Calf Creek, consider taking a cold dip in the emerald-green pool below the falls.
Day Three: Phipps Arch
Today's hike follows Phipps Wash as you descend towards Phipps Arch, a seldom-visited destination in the Escalante region. This trip requires route-finding and desert hiking experience, as this hidden arch does not have official trail access. Hike over slickrock and sand towards the arch. Spot streaks of desert varnish: dark lines that signify deposits of iron and manganese left by wind and rain. Be mindful as you approach the arch and hike only on durable surfaces. Fragile cryptobiotic soil has taken decades to form and can be killed in one step.
Day Four: Devil's Garden and Peek-a-boo and Spooky Canyons
A trip to Peek-a-boo and Spooky canyons is one of the most unusual hiking experiences around. Start high on the plateau as you make your way towards Dry Fork Wash. Hike along the wash, keeping an eye out for a series of steps cut into the sandstone at the entrance Peek-a-Boo canyon. Climb these steps to enter into the enchanting world of water-carved arches and potholes. Work your way through natural obstacles to the end of the canyon and turn right to make a loop hike.
A short hike across a plateau brings you to Spooky Canyon: the aptly-named dark, narrow slot which can bring out claustrophobia in anyone. Scramble down rocks wedged between the canyon, and you may have to take off your daypack and shuffle sideways between the canyon walls. If there's still time after this short adventure, stop at Devil's Garden on the way back to your lodging. The strange assortment of hoodoos and wave-like rock formations will have you feeling like you've stepped into a faraway fairyland.
Day Five: Navajo Loop, Bryce Canyon
On the last day of this lodge-based trip, you'll pack up, leave the inn and drive towards Bryce Canyon National Park. Here, you'll hike down from the rim into the canyon as you marvel at the soaring cliffs of the Wall Street formation. Wander between hoodoos of the Silent City and make your way back up to the top of the amphitheater to end your short but steep trek.
Trip Details
During this lodge-based desert adventure, you will stay at the Slot Canyons Inn B&B in Escalante, Utah. All meals are included, from picnic lunches prepared by your guide to hearty meals at the farm-to-table Hell's Backbone Grill. Wildland Trekking Company takes care of all logistics in trip planning so you can focus on hiking and relaxation. If you prefer to run this itinerary independently, there are a variety of accommodations in Escalante and Boulder, including inns and campgrounds.
When to Hike
Desert hiking is most enjoyable in the spring and fall when temperatures drop and water is more plentiful. However, take caution in the spring as higher water levels can make stream crossings more difficult. In late summer and during other rainy seasons, be mindful of flash floods if you enter canyons and hike in washes.
Learn More About This Trip
Get information on what's included (almost everything!) , dates, prices, travel information, packing lists and more on the Bryce and Escalante Inn-based Tour page.
2. Sapa Trek & Ha Long Bay, Vietnam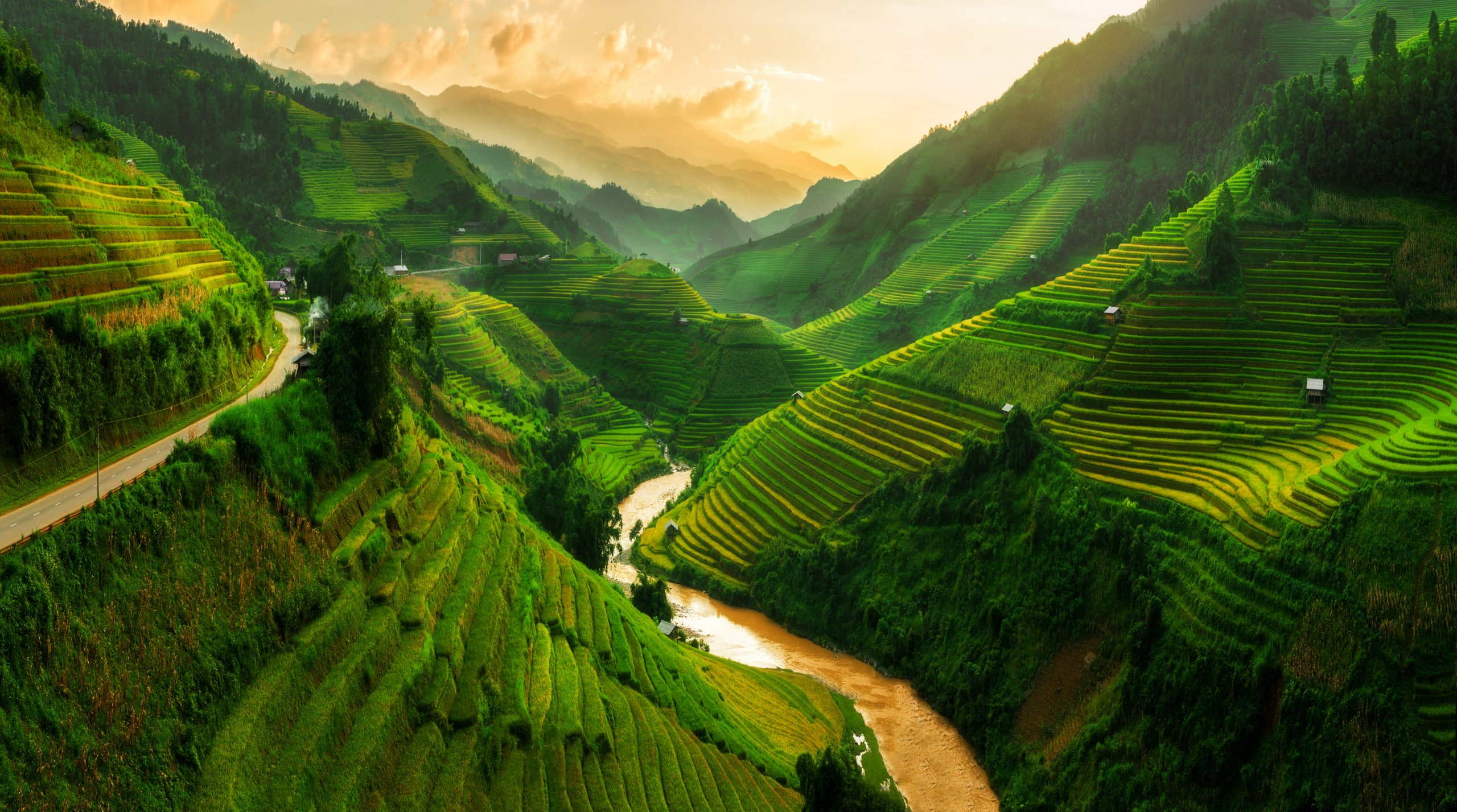 Trip Overview
Vietnam's rolling mountainsides and vibrant culture draw many visitors a year, for a good reason. Its epic natural beauty, colorful markets, and friendly locals are undeniably compelling. In Vietnam, you can hop between the bustling city life of Hanoi to the dramatic coastline of Ha Long Bay in less than three hours. Excellent public transit, mesmerizing beaches, and delicious cuisine make this a traveler's dream destination. Top that off with extraordinary hiking through terraced rice fields, and you have the makings for an unforgettable trip.
Itinerary
Days 1 & 2: Hanoi
This trip starts in Hanoi, the cultural center of Vietnam and a vibrant city characterized by narrow streets and bustling marketplaces. Spend two days acclimatizing and sightseeing, taking in the rich history that Vietnam has to offer. Tour the Ho Chi Minh Mausoleum and the Hỏa Lò Prison Museum, where prisoners of war were held during the Vietnam-USA war. Admire traditional architecture as you marvel at the Temple of Literature, which, designed in 1070, is one of the most picturesque buildings in Vietnam. Enjoy a free afternoon and evening until you embark at 10 PM on a night train towards Sapa.
Days 3: Sapa
Sapa (Sa Pả) sits nestled amongst emerald green terraced mountainsides in northwestern Vietnam. After arriving in the early morning, take the opportunity to explore Sapa by foot at a casual pace. The Sapa Market offers opportunities to browse handmade goods, as well as interact with friendly locals. The impressive scenery surrounding Sapa will hold your attention as your excitement builds for your upcoming trek. 
Days 4 – 6: Sapa Village Trek
This three-day trek takes you through rice paddies, past misty mountains, and into scenic villages in the Hoàng Liên Son Mountains. Hike from Sapa to Ta Van Village where you will settle in for the night at the Ta Van Ecologic Homestay. These homestays are a quintessential part of a trek through the countryside surrounding Sapa, where you experience multi-generational family life and learn to cook local cuisine. 
Continue onwards, hitting the villages of Giang Tai Chai and Ba Ho, where a range of people across ethnic minority hill tribes live. You will meet people from the Black Hmong, Red Dzao, and White Tay tribes, among others. The locals are incredibly friendly, and it is a highlight of the trip to get to know individuals along the trail and at the homestays. On the final day, walk through Nam Tong as you make your way towards Thanh Phu where you end your trek.  
Day 7: Sapa
After a night in Sapa at the end of your three-day trek, set out on a 4-mile day hike towards Lech, a Red Dzao village. Here, you will learn about the Red Dzao people, their history, and way of life. After returning from this short hike, a five-and-a-half-hour bus ride takes you back to Hanoi. 
Day 8: Ha Long Bay Cruise
No trip to Vietnam is complete without a visit to Ha Long Bay, a premier tourist destination in northeast Vietnam. Here, cruise towards the Da Chong Islet aboard the Orchid Cruises ship. Towers of limestone, topped with lush rainforest, rise from the emerald waters. A quick side trip to Trung Trang cave allows you to explore a unique ecosystem on one of these verdant islands. Hop back aboard the ship and spend the evening soaking in the sun and views in Lan Ha Bay, a spectacular region with hidden coves and beautiful beaches. Learn news skills in the evening with an optional traditional cooking class.
Day 9: Ha Long Bay
The culmination of this trip begins with an early start to see Ha Long Bay at sunrise. Set out on wooden rowboats and sea kayaks to get an up-close experience of this gorgeous region. Return to the quay and take a ride back to Hanoi, where you will end your trip. Spend your final evening in Hanoi, taking in the bustling sights and sounds of the city, a welcome contrast after your days of relaxation in Ha Long Bay.
Trip Details
This Wildland trip balances luxury with local experience. During the trekking days in Sapa, a guide from the Black H'Mong tribe will accompany the group. This guide's firsthand knowledge is crucial to understanding the way of life in this spectacular region. You will stay in homestays where everyday life of the locals surrounds you– it truly is an immersive experience. In Hanoi, Sapa, and Ha Long Bay, stay at luxurious accommodations, from ecolodges to hotels and spas. You'll leave this trip feeling both accomplished and refreshed, with a deep appreciation for the people and places of Vietnam.
When to Hike
Spring (March – May) and Autumn (August – October) are the best times to plan a trip to Vietnam based upon local weather. Wildland Trekking's Vietnam Trek only runs during these months.
Learn More About This Trip
Get information on what's included (almost everything!), dates, prices, travel information, packing lists and more on the Vietnam: Sapa Trek and Ha Long Bay trip page.
Explore Your World. Award Winning Hiking Guides
3. Laugavegur Skogar Hut-to-Hut Backpacking Trek, Iceland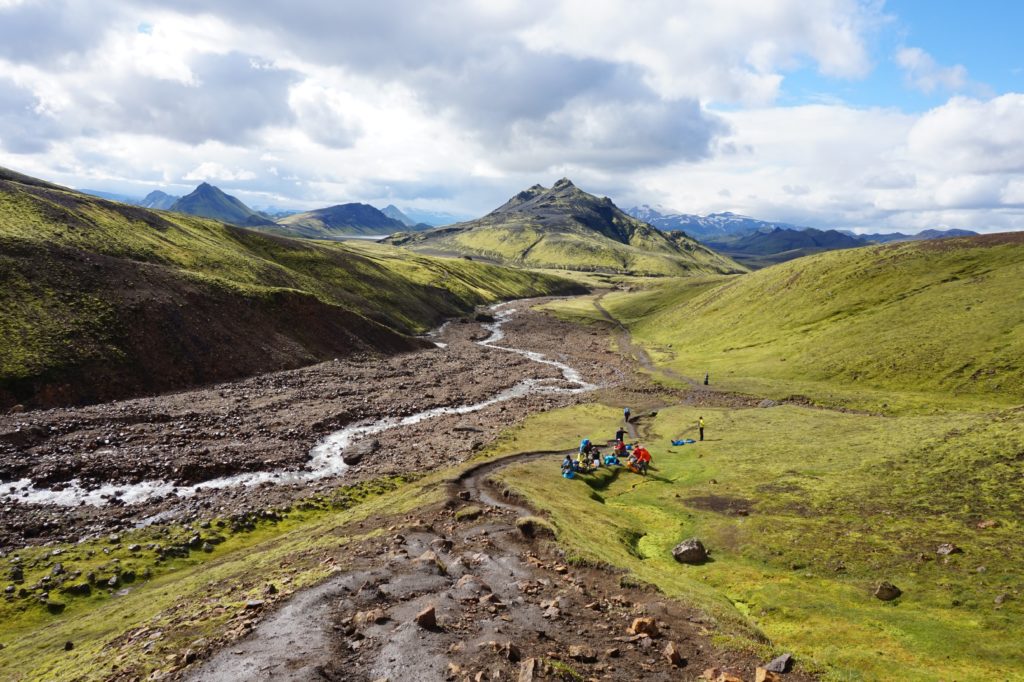 Trip Overview
In the past few years, Iceland has skyrocketed as a tourist destination. Even if you're a traveler who enjoys a more solitary experience, don't let its popularity deter you. Iceland is home to an incredible landscape of velvety moss-covered mountains, turbulent rivers, and a rainbow of rhyolitic rock. The hut-to-hut hiking immerses you in an otherworldly landscape as you walk between rustic mountain refuges. Observe geothermal features in action, cross rolling black sand deserts, and watch torrents of water cascade over jagged, green cliffs. The spectacles and memories from this Laugavegur Skogar Backpacking trek are sure to stay with you for years to come.
Hiking Itinerary
Days 1 & 2: Arrival & Landmannalaugar
Start your Iceland trek by arriving in Reykjavik. This capital city is subtly buzzing with life yet offers unique serenity for an urban environment. Take the afternoon to explore the small city center on foot. The next morning, hop on a bus as you journey over four hours to the town of Landmannalaugar. Check into your mountain hut accommodations before setting off on a day hike through colorful rhyolite peaks and lava fields. Once you return from your walk, soak in the geothermal creek that runs by the hut. The hot spring water feels fantastic, especially on a drizzly Iceland evening.
Day 3: Trek to Hrafntinnusker
Today's trek covers approximately eight miles across rolling terrain. Gaze in awe at the rainbow of hues on Brennisteinsalda, colored by sulfur, iron, and multiple types of volcanic deposits. On a clear day, gaze at Mt. Hekla and various icecaps in the distance. Be prepared for foggy, damp conditions which characterize Iceland trekking. Eventually, reach the rustic Hrafntinnusker Mountain Hut high on a dark, rocky obsidian dome overlooking the land.
Day 4: Crossing the Hrafntinnusker Plateau
Hike across the Hrafntinnusker plateau for around seven to ten miles (depending on your hut for the night) as you enjoy open views throughout your entire day. Be prepared: the exposed nature of the trail means the wind can become intense! Start by crossing through the velvety hills where snow lingers for most of the year. Spend your second night along the trail in another rustic mountain hut, where you can relax and enjoy a nutritious dinner prepared by your guides.
Day 5: Trek to Emstrur
Emerge from the mountains and watch the landscape transform from green to black as you enter a seemingly endless black sand desert. Ford rivers and utilize bridges over rushing streams as you witness the power of water in this landscape. Stay at the Botnar huts in the Emstur valley. If time allows, set off on a day hike towards the impressive canyon Makarfljotsgljufur and its neighboring icecaps.
Day 6: En Route to Thorsmork
Today's trek covers a moderate ten miles through a diversity of terrain. Descend steeply to cross the Emstrur River, pass the edge of epic glaciers, and enter into a birch forest. This newly vegetated landscape contrasts the volcanic hills through which you have trekked. Take respite in the overhanging birch limbs as a different shade of green engulfs you. Stay the night at the Langidalur in Thorsmork, a charming hut set along the confluence of two rivers.
Day 7: Magni and Modi
The hike up to Fimmvordurhals Pass makes this leg of the journey the steepest of the whole trek, with a total of 2950 feet of elevation gain. Spot striking views of the tumbling Mýrdalsjökull Glacier. Hike along ridges and across plateaus, sometimes using chains to aid with your ascent. Soon, you'll be standing at the site of the 2010 eruption, where two new craters, Magni and Modi, formed. To witness such recent geologic history is a treat. From here, it's a short trek to tonight's small mountain hut.
Day 8 & 9: To Skogar & Departure
Arise to a view of the ocean, if the morning is clear. Enjoy your last morning at a mountain hut set between two glaciers of epic proportions. Start your hike across barren plateaus until you reach the Skoga River, where over 23 waterfalls liven the landscape as you trek down to Skogar. Water ricochets from mossy green cliffs on your final trail miles. Arrive at the town of Skogar, where you await a bus back to Reykjavik.
Trip Details
Laugavegur Skogar Hut-to-Hut Backpacking Trek crosses the incomparable landscape of Southern Iceland. The huts are rustic and communal, yet offer a cozy feel and refuge from potentially harsh weather. Guides prepare all meals on the trek– from breakfast on day two to lunch on your last day. Guests are required to carry backpacks, averaging 30-40 lbs, with group food and personal gear. Wildland takes care of all the logistics necessary to make this an enjoyable yet physically-challenging hike.
When to Hike
Summer offers ideal weather conditions for this trek, although you can encounter cold, rainy, and windy weather year-round. June and July in Iceland stay light at all hours, so make sure to bring a buff or something comparable to aid with your sleep.
Learn More About This Trip
Get information on what's included (almost everything!), dates, prices, travel information, packing lists and more on the Laugavegur-Skogar trip page.
4. Lost Coast Trek, California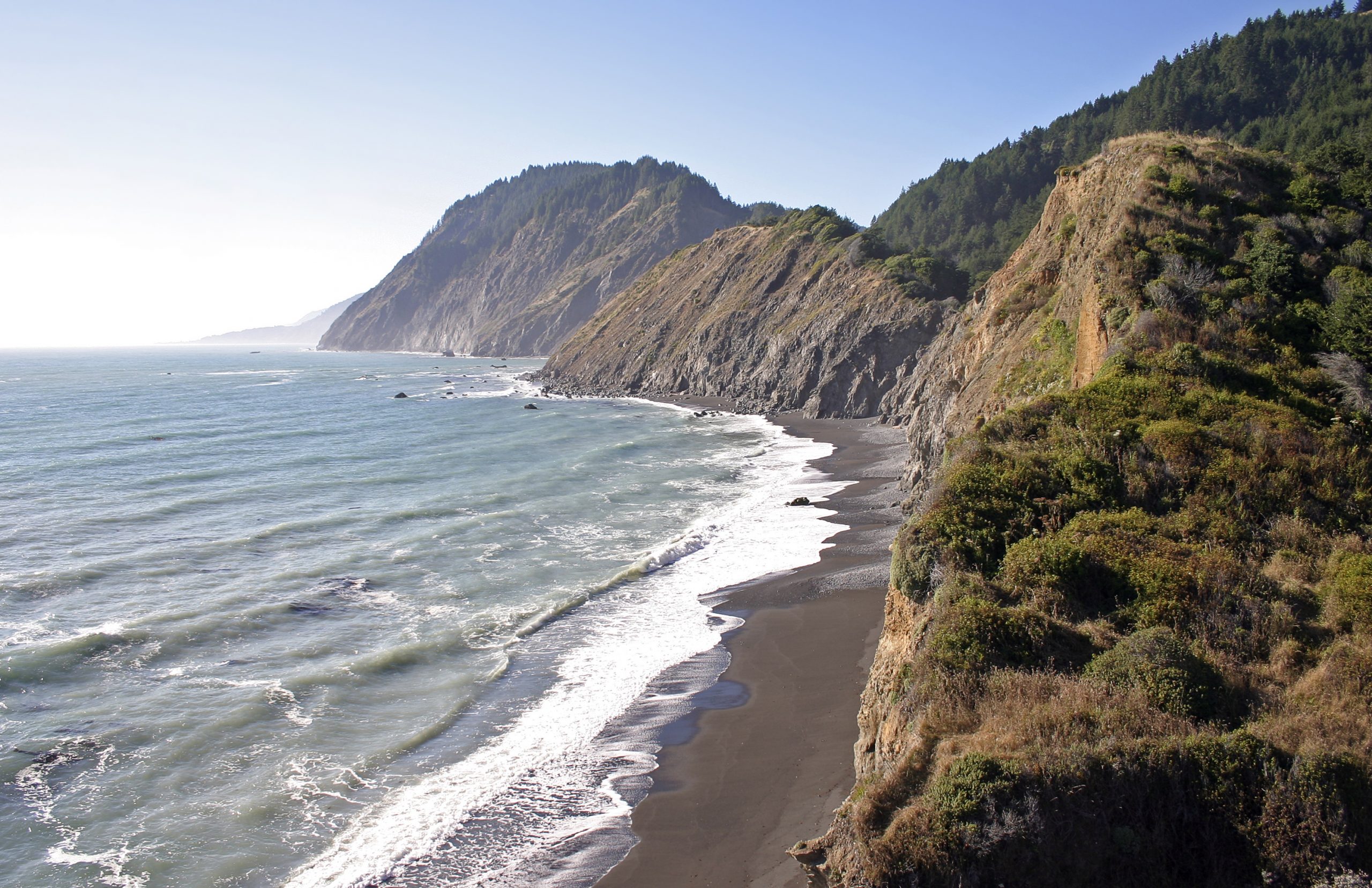 Trip Overview
This remote 25-mile trail follows the stretch of California coastline that is so rugged that it is only accessible to hikers. One of the last remaining sections of undeveloped shore on the West Coast, the Lost Coast Trail is a gem of preserved wilderness. The King Range, looming tall as a guardian over the Pacific Ocean, hosts an abundance of plant and animal species. Hikers might catch sight of forest creatures such a deer or bears, marine life such as seals or whales, and intertidal species such as sea stars and urchin. Here on the Lost Coast, the solitude of this unmarked landscape captivates you, and the sound of crashing waves lulls you to sleep.
Hiking Itinerary
Day 1
After spending the evening camping and exploring near Clear Lake the previous day, set off towards the Hidden Valley Trailhead. This trailhead sits in the King Range National Conservation Area, and the half-day hike up to Chemise Mountain makes a great addition to a Lost Coast trek. Keep an eye out for Roosevelt elk as you travel through an idyllic meadow. A five-mile roundtrip hike takes you to the summit of Chemise Mountain where you have panoramic views of the Pacific coastline below you. This birdseye view gives you a unique perspective on the terrain you will be crossing. After you descend back to the car, drive to the Shelter Cove Trailhead where you will take a shuttle to the Mattole Trailhead, the northernmost point of the Lost Coast trail.
Day 2
Today begins the hike along the Lost Coast Trail. Hike for two miles through wisping dune grass. After this quick stretch, there is a tidal zone which is only passable at low tide. Plan this part of the trek carefully. Shortly after crossing the tidal zone, you arrive at the Punta Gorda lighthouse. Famous for its isolated nature, this lighthouse was in use until the 1950s. Now, it is on the National Register of Historic Places and managed by the Bureau of Land Management. After Punta Gorda, the cliffs steepen, forcing hikers up and over the 200-foot bluff. Camp on this bluff overlooking the ocean and take in fantastic sunsets views.
Day 3
This section of trail takes you through your second tidal zone, which is four miles long. Careful planning is necessary to navigate this tricky portion before the tides come in. Watch your step as you hike over rugged sand and rocks to Randall Creek. The numerous freshwater creeks you encounter along the trail provide excellent sources of drinking water but make sure to bring a filter. Continue for a few miles onto a forested ridge and past another creek until you reach camp for the night, nestled under forest cover with magnificent views of the ocean.
Day 4
Continue along the beach, watching the foaming waves crash on the shore. Hike through Miller Flat— a vast expanse of abandoned driftwood and polished rocks. Quickly, you reach the last tidal zone of your journey. Here, at high tide, the raging ocean meets the forest. Hopefully, you've planned accordingly and are crossing this terrain at low tide. Despite your planning, you may have to time your crossings between the crashing waves. Shortly after, approach Gitchell Creek and let your mind rest; you can now enjoy hiking without worries of tide charts. End your day at Buck Creek and celebrate your hike over a delightful camp dinner.
Day 5
A 6-mile hike out awaits you on your final day along the Lost Coast trail. Hike casually along black sand beaches and through stands of Douglas fir trees. Soon, civilization comes into view as you approach Shelter Cove and spot houses and other signs of everyday life. Soak in the last moments of solitude (and the sounds and smells of the sea) before returning to the parking lot where your car awaits.
Trip Details
Wildland's Lost Coast Trek follows the entire northern portion of the trail along the dramatic California coastline. Wildland plans all the logistics for you — from the permit, to the food, to the tides — and you are accompanied by a knowledgeable guide who will help you get the most out of your experience. This is a stress-free, exciting, and adventurous way to hike the Lost Coast Trail.
If you choose to hike without a guide, permits are required year-round for all overnight hikes along the Lost Coast Trail. You need to make reservations in advance, as the BLM does not issue walk-up permits. Your best chance of getting the permit you want is on October 1st when permits are issued for the following year.
When to Hike
May through October are the most enjoyable months to hike this trail, however, you can hike the Lost Coast Trail year-round. If you plan on hiking from November through April, be prepared with extra layers and rain gear. Plan your trip according to the tides, because this trail becomes inaccessible during certain times of the year.
Learn More About This Trip
Get information on what's included (almost everything!) , dates, prices, travel information, packing lists and more on the Lost Coast Backpacking Trip.
All Inclusive Backpacking Trips
5. Cordillera Huayhuash Portered Trek, Peru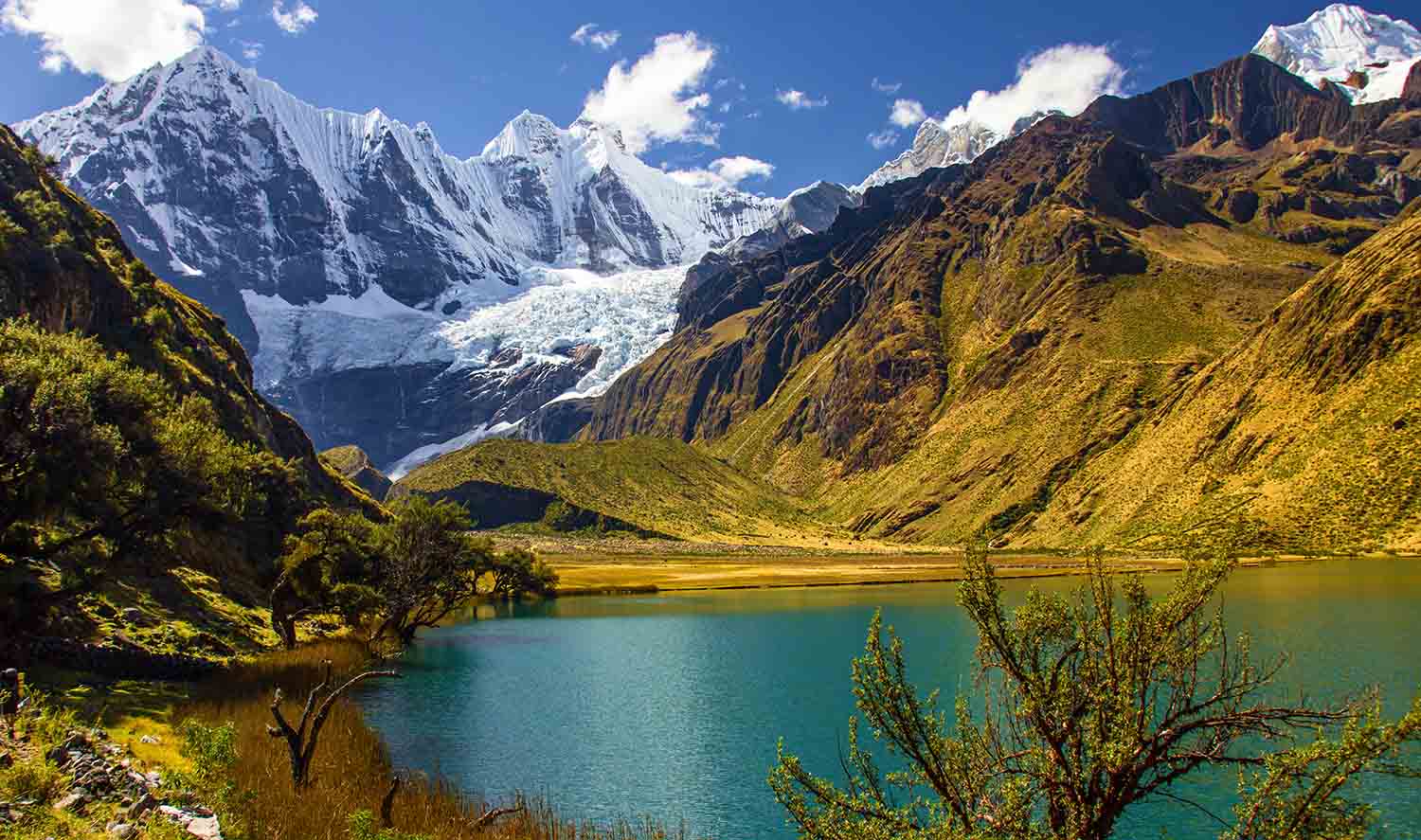 Trip Overview
The Cordillera Huayhuash is a subrange of the Peruvian Andes, a stunning 18-mile long collection of impressive snow-capped mountains that stand high above turquoise alpine lakes. The entire circuit is above treeline, giving hikers non-stop views of grand mountainous scenery. This trek is remote and rugged, and hikers will enjoy the relative solitude comparable to nearby treks. Experience the wonder of the Andes as you roam through valleys that lie beneath 20,000-foot monoliths. This adventure is not for the faint of heart—high elevations and rugged terrain tax even the most experienced hiker—but for those looking for a challenge, the Cordillera Huayhuash is an exceptional destination.
Hiking Itinerary
Days 1 & 2: Acclimization Days
After arriving at the high elevations of Huaraz, Peru, it is crucial to take a day to acclimatize. Today, set out on a short 3-mile day hike to Wilcacocha Lake to stretch your legs and test your body. At the lake, take in panoramic views of the Cordillera Blanca. The second day serves as an additional acclimatization day. Hike to Churup Lake near Pitec: a slightly longer and more scenic trek than day one. The lake sits at 14,599 feet, so take it slow and pay attention to your body. Ascend a steep trail, with adventurous sections where you climb a fixed rope up rocky terrain. The aquamarine hues of Churup Lake reflect the ragged ridge of Mount Churup. Descend along a different trail, and eventually, return to Huaraz for your final hotel evening before the trek.
Day 3
Leave Huaraz and drive four hours to the ruins of Wanuku Pampa for a rest day. Spend time wandering around this intriguing archaeological site before hopping in the car for an additional four-hour drive. Queropalca, where camp is set up, will serve as the starting site for the Cordillera Huayhuash trek.
Day 4
Break down camp, load up the mules, and set out on your first six-mile hike along the Cordillera Huayhuash trail. The destination for today, Carhuacocha Lake, is set amidst expansive, grassy fields with an epic mountain backdrop. Siula Grande, Yerupaja, and Ninashanca shadow over you. If you have the energy to spare after setting up camp, take a short side hike up the valley towards Laguna Quesillococha, Laguna Siula, and Laguna Jancacocha. Here, glacially-carved peaks reach towards the skies from the valley floor. Return to camp where you will enjoy a hearty camp dinner before falling asleep beneath thousands of shimmering stars.
Day 5
Start the day with a Peruvian breakfast prepared by your guides before packing up camp. Hike past Incan ruins towards Carhuac pass. At the pass, the high peaks envelop you, and you can feel their power and magnitude. Enjoy a picnic lunch before descending to Mitucocha camp for the night. Sunset casts golden hues on the rolling hills and cracking glacial ice of Mount Jirishanca.
Day 6
Get an early start because the six miles on this day's hike are strenuous. As you begin your trek, keep an eye out for vicuñas—an animal related to the llama—grazing in the grassy hills. Cacanan Pass, which sits at 15,419 feet, offers breathtaking views into the valley below. This section of trail is one of the highlights of the trip; the remote scenery is both inspiring and humbling. Descend 2000 feet to camp at Cuartelhuain in a lush meadow beside a babbling creek.
Days 7 & 8
Another day of epic hiking takes you up and over your third and final mountain pass: Sambuya Pass at 15,583 feet. Sweeping views of Lake Solterachocha display shades of blue not often seen in the natural world. Spot the striated rock and snow-fluting on Yerupaja's west face. Once you descend from the pass, head to your final night's camp at Jahuacocha Lake. On your last morning, a flat, meandering trail eases you back into real life as you make your way towards Llamac Village. After two hours of hiking, arrive in town, repack your gear, have lunch, and then hop in the car for a five-hour drive back to Huaraz where you will celebrate your final night in Peru.
Trip Details
This Wildland Trekking multiday hike is portered, so you can expect to carry only a day pack as you traverse through incredible, high-altitude terrain. Although it is a ten-day trip, multiple acclimatization days allow you to feel your best when you're on the Cordillera Huayhuash trail. All meals along the trail and at camp are prepared by your guide.
When to Hike
May through September. In other seasons, snow often prevents hikers from traveling over mountain passes. No matter the time of year, cold temperatures are frequent in the high mountains of the Andes, so go prepared.
Learn More About This Trip
Get information on what's included (almost everything!) , dates, prices, travel information, packing lists and more on the Cordillera Huayhuash Trek page.
Wildland Trekking Hiking Adventures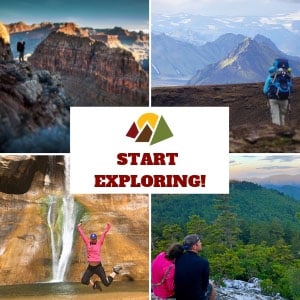 As the world's premier hiking and trekking company, Wildland believes in connecting people to fantastic environments in amazing ways. Wildland Trekking Company offers an array of incredible hiking and trekking experiences across 9 states and 11 countries. Read more about our United States destinations and International treks.
To learn more about our guided backpacking trips and all of our award-winning hiking vacations, please visit our website or connect with one of our Adventure Consultants: 800-715-HIKE