Why Guide For Wildland Trekking?
Guiding is a fulfilling and meaningful career and we take great pride in fostering a professional, supportive and fun work culture. As a guide you'll help fulfill our mission of connecting people with the natural world through powerful hiking experiences. We are looking for employees who are passionate about nature, love people, and want to work hard doing meaningful work in beautiful places.
If you're passionate about nature, travel and adventure; and sharing that passion with others sounds exciting to you, then guiding at Wildland could be a great choice. We are all about introducing guests to the magic of the outdoors, and we are looking for people who thrive on this mission.
With our entry level guides averaging $186/day in 2022, plus excellent gratuities, Wildland is a very competitive employer in terms of compensation. We also offer a 401K plan, pro-deals, paid sick leave and more. See more about benefits below.
With 8 field offices or 'branches' across the USA, which each have a program manager and other support personnel, we offer a unique level of support to our guides and guests. Every trip is outfitted with emergency communication devices, and we have a 24/7 line for round the clock support.
With so many stellar guides spread out across the country, Wildland is an incredible community of outdoor professionals. You will meet some of the most caring, fun and adventurous people through training, co-guiding, prepping and de-issuing, and at company events. Before you know, you will have the best friends around!
GUIDE OPENINGS (Updated 6/27/23)
We are fully staffed for 2023.
We are gathering applications for 2024.
Candidates meeting all our qualifications below are encouraged to fill out an application! We will confirm receipt of the application within 1-2 week during this off-season time and reach back out around November of 2023 when we have more clarity on our hiring needs and begin our interview process for 2024.
Candidates who don't currently meet all our criteria are encouraged to keep acquiring more experience and submit a more complete and updated application November through January of 2023/24.
We anticipate needing to hire multi-day guides and day-hike guides in many of our program areas for 2024. Check back for more details of available positions in fall of 2023.
International
We are not hiring for international trips. Our international positions are filled internally.
GUIDE RESPONSIBILITIES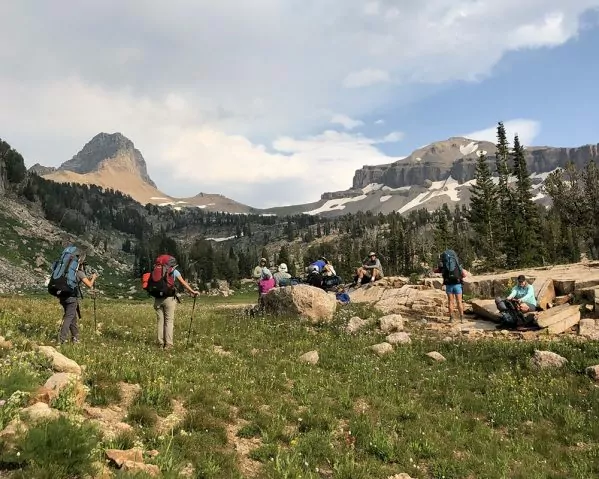 The guides' primary responsibility is to enhance the lives of our guests by doing everything in their power to lead and facilitate a safe, fun, positive, unforgettable outdoor adventure experience while fostering a respect and appreciation for the special places we travel in.
Multi-day trips with Wildland Trekking range from 3-7 days with mileages that range from 5-12 miles per day.
Responsibilities include (but are not limited to) guest email correspondence before the trip, gear and food preparation, pre-trip orientation meeting, assist guests in learning basic skills (backpack adjusting and putting up tents, etc), natural and human history interpretation, risk management, first aid, cooking and clean-up, gear repair in the field, meaningful post trip wrap up with guests, post trip gear de-issue and trip debrief. Some trips require guides to drive groups to and from the trailhead, possibly including pulling a trailer.
In program areas where we offer llama trips, guides are trained as llama wranglers in addition to our guide training, and assume all llama related responsibilities in addition to guide duties described above.
GUIDE QUALIFICATIONS AND SKILLS
Job Requirements:
21 years old or older in order to guide and drive
Able to pass a background, motor vehicle record check, and a drug test (CA only)
Able to obtain a Backcountry Food Manager's Certification
Able to obtain a Leave No Trace certification (location dependent)
Able to obtain WFR (Wilderness First Responder) or WEMT (Wilderness EMT)
Please note: Wildland Trekking accepts Wilderness First Responder (WFR) courses that are 70-80 hours of in-person curriculum that include written examination and practicals. We do not accept fully online WFR courses. If you have a question on whether your certification is accepted, please email [email protected].
Able to hike up to 15 miles per day with a pack weight up to 55-65 pounds

20-35 pounds for day hike only positions

Able to attend pre-season guide training
Willingness for multi-day guides to lead all trip styles (Backpacking, Llama/stock supported, Basecamp, Inn-based) offered in the program area one is applying.
Willingness to get llama-trained and work llama trips for all multi-day guide positions in Colorado, Utah, and Idaho/Montana/Wyoming.
Required Qualifications:
A minimum of 50 field days in a professional outdoor guide/leader position (touring, hiking, backpacking or other activities) and/or professional experience in outdoor education (i.e. NOLS, Outward Bound, Wilderness Therapy, etc.).
Extensive personal backpacking experience in a variety of conditions.
Strong back-country skills (i.e. maps, compass/GPS, route finding, river crossings, water purification, bear country, camps stove use, back-country cooking, etc.).
Interpretation knowledge of the area one is applying or commitment to learning through self-study.
Ability to work independently and use good judgment for decision making in a variety of situations.
Speak and write English fluently, excellent verbal communication skills and interpersonal skills.
Strong customer service skills.
Preferred Qualifications:
1-2 years of experience in a professional outdoor guide/leader position (touring, hiking, backpacking or other activities) and/or professional experience in outdoor education (i.e. NOLS, Outward Bound, Wilderness Therapy, etc.).
Background in geology, ecology, biology, native and modern history or expertise in at least one of our program locations.
Excellent outdoor cooking skills and ability to create a fantastic menu factoring food allergies, restrictions and preferences.
Two years of commercial driving experience (any job where you had to at least occasionally transport passengers).
Fluent in French, German, Spanish, Mandarin, Japanese a plus.
Guiding at Wildland
"Guiding for Wildland has been rewarding beyond measure. From the staggering amount of parks, monuments, and forests in which Wildland operates, to the unrivaled logistical support received before and during trips, Wildland offers a unique workspace under the stars to hone my outdoor skills, instincts and to share the wonders of nature with clientele." - Jordan D. (since 2016)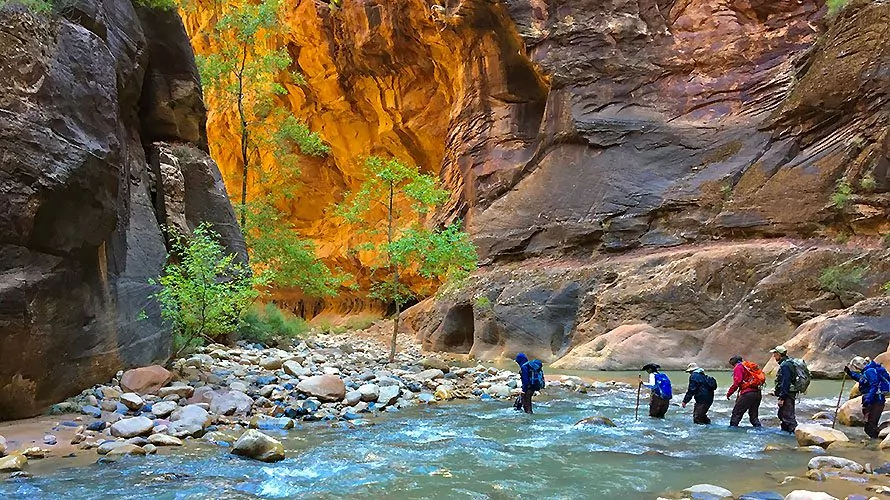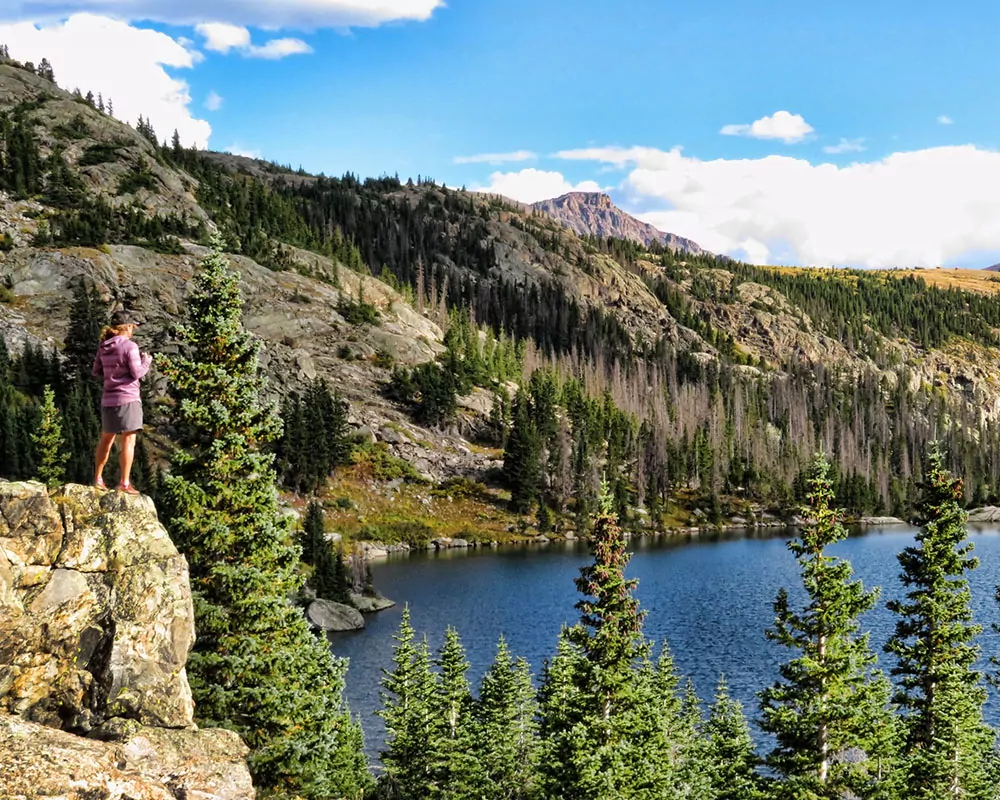 WHAT WE PROVIDE
A multi-day, field-based guide training course and shadow trip process
Comprehensive trip support (including satellite phones, InReach Garmin devices and access to 24/7 trained emergency staff and resources)
Use of Wildland Trekking gear for trips (backpacks, tents, sleeping pads, trekking poles, etc.)
Temporary, seasonal housing opportunities in select programs for pre and post trip
Increased flexibility in scheduling as seniority is gained
Competitive compensation
Commission opportunities for referring non-Wildland guests to our tours
Opportunities to guide in multiple program areas
Opportunities for advancement/professional growth within the organization
A fun and supportive work environment with lots of high quality people to work alongside
Industry pro deals
Housing and travel
Lodging is provided while guides are leading a trip (room on Inn-based trips, campsite and/or permit on Basecamp, Llama, Backpacking trips, etc.). Shared housing is also provided in some of our select program areas (Mariposa, CA; Estes Park, CO; Driggs, ID). Communal housing opportunities in those select program areas for our field staff is available to all field staff free of charge while working, but is only available for pre and post trips. If you have questions on our temporary housing opportunities, please ask in the hiring process.
Guides are responsible for getting to and from our program areas, but once on a trip all expenses (food, lodging/camping and transportation) are covered.
Compensation
One of our goals at Wildland Trekking is to create a home for outdoor professionals who want to make a living guiding. It continues to be our focus as regulatory and practical considerations alter the landscape of what it means to be compensated as an outdoor guide in today's world. We hire our field staff as employees versus independent contractors.
Wildland pays field staff by the hour*, but Wildland guides receive a significant portion of their income from guest gratuities. With an annual average of 10,000 guests and an average field staff schedule of 15 days working a month, our guides have the potential to making a good living. Guide pay is included in more detail below.
*The Wildland hourly pay system complies with all federal and state laws. Historically most outdoor adventure companies paid by the day. Regulatory changes at the federal and state levels have changed, making the practice of daily rates illegal for most companies. Paying by the hour allows employees to accrue overtime earned and sick leave.
BENEFITS
401k and/or Roth 401k Retirement Savings Plans with vested employer contributions
Employee-Sponsored College Savings Plan: for parents, we offer a CollegeAmerica 529 College Savings Plan.
Paid Sick Leave
Staff Trip Discount Policy

Staff can join domestic or international trips at wholesale costs
Staff's family members and significant others can join trips with a discount on a case by case basis

Company Prodeals and Discounts
When available, company-sponsored or access to discounted certification courses (LNT Master Course or WFR recertification courses)
More Resources
Office Locations
WILDLAND TREKKING Office Locations
The Wildland Trekking Company, founded in 2005, is a premier adventure travel (backpacking and hiking) tour company headquartered in Flagstaff, AZ. Our program areas include 12 US states, 25 US national parks and wilderness areas, and 13 countries. We have been featured in Backpacker Magazine, The New York Times, Men's Health, Sunset Magazine, Lonely Planet Traveler and the Discovery Channel. As a guide, you have the opportunity to work from any or all of our domestic office locations and associated National Parks, forests and recreation areas:
Flagstaff, AZ: Grand Canyon National Park and Havasupai Falls, Sedona &  Moab, UT area: Canyonlands National Park and Arches National Park (through fall/winter 2023)
Moab, UT: Canyonlands National Park and Arches National Park (beginning spring 2024)
Mariposa, CA: Yosemite National Park, Inyo National Forest, Lost Coast, Lassen Volcanic National Park, Sequoia- Kings Canyon National, Joshua Tree National Park
Olympia, WA: Olympic National Park. Mount Rainier National Park and North Cascades National Park
Pleasant Valley, near Estes Park, CO: Rocky Mountain National Park and Flat Tops Wilderness
St. George, UT: Death Valley National Park, Joshua Tree National Park, Zion National Park, Bryce Canyon National Park, Glen Canyon National Recreation Area, Paria Canyon-Vermillion Cliffs Wilderness, Grand Canyon National Park (North Rim), Capitol Reef National Park and Grand Staircase- Escalante National Monument
Driggs, ID: Yellowstone National Park, Wind River Range, Jedediah Smith Wilderness, Bridger-Teton Wilderness and Absaroka- Beartooth Wilderness
Asheville, NC: Great Smoky Mountains National Park and the Blue Ridge Mountains
Morrisville, VT: White Mountains National Forest and Green Mountain National Forest
COVID Protocols
COVID- 19 Protocols
Based on guidance from the CDC, WHO and World Travel and Tourism Council, Wildland Trekking developed guest and guide safety protocols designed to protect staff and guests to the greatest extent possible while continuing to provide work for our staff and show guests the majesty of the world's wild places.  Click here to read more about what we're doing to maximize safety.
Frequently Asked Questions
FAQs
What are the main seasons Wildland Trekking guides work?
Wildland Trekking's main guiding season lies between mid-March and end of October. As a company we operate year round, but rarely hire for winter positions (November – February) as our current employees can almost always accommodate this reduced volume.
Seasons available to work are defined as follows:
-Full season: Field staff that work mid-March through end of October and with the opportunity for occasional winter work
-Spring and Fall: Field staff that work March through end of May and then again in September and October
-Summer: Field staff work from June to mid/late September
---
How much work can I expect with Wildland Trekking?
Multi-day guides are generally hired to work 1-3 multi-day trips per month. We consider 'part-time' field staff to be guides that only work 1 – 2 multi-day trips a month and 'full time' field staff to be those that work 2-4 multi-day trips a month. Trips can be anywhere from 4-8 days of work.
In some branch locations, field staff work day hikes to fill in their schedule or as their main trip style of choice. Guides who desire more work also have the opportunity to do shuttle driving for trips, porter trips, and do warehouse work on an as-needed basis.
As an incoming guide to Wildland Trekking, the key to getting all the work you want is leaving your schedule open. Last minute staffing needs are a near constant in our busy seasons, and if your schedule is clear you're all but guaranteed to get as much work as you'd like. It may take some time to build up to a full advanced schedule as you advance through the staffing levels. During slower times when a guide may not have a full schedule of trips, we encourage field staff to scout trip routes in their program area so they are increasingly qualified to lead as many trips as possible.
---
What does the hiring process entail for a guide position?
A successful candidate will:
1.) Complete an online application
2.) Fill out a Skills Self Assessment form upon request
3.) Participate in 1 video and 1 phone interview
4.) References contacted by our team
5.) Pass a background and motor vehicle check
6.) Must have a valid driver's license and no DUI type infractions within 5 years
6.) Currently have or obtain before the first day of work, a Wilderness First Responder or EMT
7.) A Backcountry Food Handler's Certification
NOTE: Some program areas, such as Rocky Mountain National Park, Sedona, AZ, and Zion National Park to name a few, require additional certifications or area specific quizzes in order to guide there. If interested in leading tours there, these requirements will be told to you.
Upon acceptance and completion of the above 7 steps, a newly hired guide must also successfully complete a training and shadow trip process.
---
What sort of training does Wildland provide newly hired guides?
Wildland provides new guides with a 3-part training process. All training time is paid at each program area's base guide wages.
Part 1:  Self-directed reading, videos and information to be completed before in-person training.
Part 2:  In-person field based training; The field based training is generally 5-6 days total with 3-4 days in the field and 1.5 – 2 days at a warehouse location or in a front country setting.
Part 3: Shadow Trip Process:  Join a senior guide and guests in the field for more training while helping run a trip. The shadow process is the backbone of Wildland Trekking's training as this is when a newly hired guide will get to interface with guests in the field and apply what they have learned in the trainings. As a shadow guide, you will not only observe the senior guide in their preparation of the trip, execution of the trip and their skills in the field managing the trip,  you will experience first-hand the expectations of what it means to run a Wildland Trekking trip so you are set for success.
Newly hired guides shadow at least one trip of any trip type they wish to lead, i.e., Day Hikes, Backpacking trips and/or Front Country (basecamp and inn-based) trips. Senior guides must sign off on the trainee/shadow guide before he or she begins leading trips. The senior guide will evaluate the trainee/shadow guide based on criteria set forth by management in an evaluation form. Evaluation of the trainee/shadow guide includes pre-trip communication, preparation for a trip including packing of gear and food preparation, and how the shadow guide interfaces with guests in education and group management.
How are GUIDES STAFFED TO TRIPS AT WILDLAND TREKKING?
We have a Staffing Department that assigns guides to trips. Staffing of trips is based on criteria such as Staffing Level, seasonal home program, availability and performance. Guides manage their availability, seasonal home program, preferred trip types, and other pertinent details through an online Guide Portal. Guides are expected to maintain their portals as far out as possible and ​at least ​three months in advance. If a guide shows availability in their portal and a trip that needs to be staffed within those dates exists, that trip may be assigned to an eligible guide without consultation. Guides receive their schedules typically 3-4 months in advance. There is also an opportunity to interface with the Staffing Department to relay your preferred trips.
---
Am I expected to use my own gear when leading trips?
All Wildland Trekking field staff can utilize company-provided gear. This includes use of tents, sleeping pads, tents, cookware, stoves, fuel, trekking poles, etc. You are not expected to utilize your own backcountry gear. However, many guides prefer to use their own equipment and can take advantage of pro-deals for purchasing or replacing gear.
---
I applied for a Driver or Guide position at Wildland Trekking, now what?
Thank you for applying! Our Hiring Department will be in touch to coordinate an interview if your credentials and experience match what we are looking for. If you have any additional questions about our hiring process, employment requirements or application, please reach out to [email protected]
Apply Today
We are gathering applications for the 2024 season! Candidates meeting all our qualifications below are encouraged to fill out an application anytime! We will confirm receipt of the application within 1-2 week during this off-season time and reach back out around November of 2023 when we have more clarity on our hiring needs and begin our interview process for 2024.
Candidates who don't currently meet all our criteria are encouraged to keep acquiring more experience and submit a more complete and updated application November through January of 2023/24.
We anticipate needing to hire multi-day guides and day-hike guides in many of our program areas for 2024. Check back for more details of available positions in fall of 2023.