Outdoor guiding is an exciting, adventurous and fulfilling way to earn a living. The excitement of these outdoor jobs comes from the very nature of the activities you're engaged in on a day to day basis. Whether you're interested in leading hiking and backpacking trips, climbing courses, rafting trips, or any of a long list of options, leading outdoor adventure trips and tours is something almost no one ever regrets.
It's worth noting that the information provided here is most applicable to commercial guiding. I.E. Outdoor ed, science education schools, summer backpacking camps, conservation crews, trail work, field research, college outdoor recreation teaching, etc will share similarities but trip types, pay, staff ratios, level of experience needed to enter and responsibilities will differ from this information.
Hiking Jobs with Wildland Trekking
WHY AN OUTDOOR ADVENTURE JOB?
ENRICHING PEOPLE'S LIVES

The Adventure Travel Trade Association did a survey of adventure travel guests in 2019 to find out what people gained from their experiences. The number one answer was "transformation." What other product or service in the world would get that response? Bottom line, it's a privilege to work in an industry that has a profound impact on people's lives. We help get people out of their comfort zones where they can learn about and connect with the natural world. When they return home, many of them are different people – they've discovered something new in themselves that they will never forget.

OPPOSITE OF AN OFFICE JOB

Working in the outdoor adventure industry, especially if you're guiding or working in the field, is the polar opposite of having a conventional office job. Office jobs, while fine for many people, are not for everyone. For those of us in the world who prefer to have some level of excitement, adventure and risk in our day to day lives, guiding offers a wonderful alternative to your average indoor jobs.

STAY IN GREAT PHYSICAL CONDITION

Guiding also offers work that will keep you in good physical condition. Regardless which area of outdoor adventure you work in – hiking, rafting, kayaking, skiing…etc. – you will be using your body in strenuous ways that keep it strong and youthful. This is a tremendous benefit for people who want physical activity to be part of their everyday lives.

SEASONAL WORK WITH MONTHS OFF IN BETWEEN

Guiding tends to be seasonal, which means months off in between seasons. On top of that, many guiding jobs are well paid and receive tips, so staff can save up money while they're working and then in the off-season travel and enjoy adventures on their own. Seasonal work is a huge advantage of guiding – it basically leads to short "retirements" every year as people enjoy their lives without the day to day responsibility of a job.

COMMUNITY ORIENTED

Finally, a significant reason guiding is such a popular job option is the people you get to work with. Guiding attracts physically active, nature-loving, adventurous people who can (much of the time) be a true joy to work with. Does this mean it's all peaches and roses? Of course not – people are people. But you're much less likely to find the power-loving narcissists in guiding that you find in many professions.
TOP GUIDING JOBS
Top activities for guiding include:
Rafting
Climbing
Mountaineering
Road cycling
Mountain biking
Sea kayaking
Surfing
Wildlife safaris
Skiing
Snowshoeing
Outdoor photography
Summer camps
Naturalist trips
Horseback riding
Hunting
Fishing
THE ELUSIVE KEY TO BEING A HIGHLY SUCCESSFUL GUIDE
Many people get into guiding because they love the outdoors, or they love a certain outdoor sport. There's nothing wrong with those reasons, but it has to go deeper than that to be a highly successful guide. And here's the key – instead of loving a sport, or loving the outdoors, you must be equally passionate about sharing that love with others. Guiding is all about people. It's not about hiking, or backpacking, or skiing, or surfing, or climbing – it's about people. You must love sharing your passion with others (in a lot of cases beginners), and the joy you get from your job must be significantly about seeing those people with big smiles on their faces.
If the paragraph above gives you pause, you may want to consider an alternate path. Guiding is not for the faint of heart, and it's not for people who don't love people.
HOW MUCH DOES AN OUTDOOR GUIDE MAKE?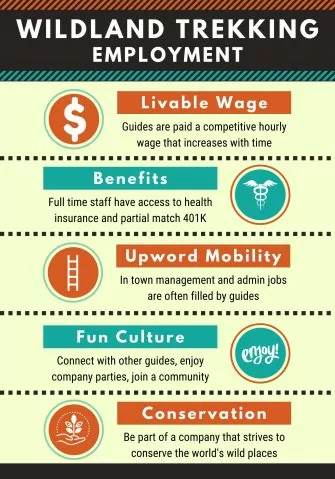 Compensation varies significantly depending on what activity you're leading, the area you're working in, and the company you're working for. In the United States you can expect to make between $100 and $250 per day (plus tips if applicable). Some companies pay by the day, and some pay by the hour, but it's easiest to categorize the compensation by looking at the per day average since these are not 40 hour a week jobs.
Professional guide positions are likely to pay a higher rate than outdoor instructor positions like those with the National Outdoor Leadership School (NOLS) or Outward Bound, and with those positions trip leaders do not get gratuitites. Summer camps and ski areas are also more likely to pay lower rates and not include gratuities of any kind.
Finally, multi-day professional guiding is the highest paid category in the industry. Day guiding (such as one day rafting tours, day hikes, horseback riding…etc.) is generally compensated at a lower rate.
CAN I DO IT ON MY OWN?
There is no law or rule stopping anyone from guiding on their own versus for a company. However, you are required to have permits to operate any commercial activity on federal or state lands. These lands include national parks, United States Forest Service lands, Bureau of Land Management lands, state parks, tribal lands and more.
These public lands agencies are clamping down on illegal guiding. Penalties for illegal guiding include prison, significant fines, and being banned from entering specific national parks or public lands.