Visiting Bryce Canyon in June
Learn all about what to expect visiting Bryce Canyon National Park in June (Written by Erin McCarthy)
The month of June ushers in the official kick-off to the summertime season in Bryce Canyon National Park—warm, sunny days and the full gamut of activities. All facilities and restaurants are once again open to the public after being closed all winter. Summertime also means significantly more visitors— Bryce Canyon sees sixty percent of its annual visitors in the months of June, July, August, and September. There are several benefits to visiting Bryce Canyon in June, as well as some drawbacks to be aware of. Read on for our complete guide for visiting Bryce Canyon in June.
Top Rated Bryce Canyon Hiking Tours
benefits of visiting bryce canyon in June
There is a reason why Bryce Canyon is busiest in the summer. The weather in June is spectacular. Warm, sunny days are followed by cool nights since Bryce Canyon is at a high elevation (8,000-9,100 feet). In June there are countless activities, trails to be hiked, and vistas to be marveled at. Hiking, biking, ATV tours, canyoneering, and ranger activities are right at your fingertips. There are even full moon hikes and constellation tours. Be sure to bring your camera—sunrise and sunset are marvelous as the light in Bryce Amphitheater dances around the pink and orange rock formations. It's a natural show that's not to be missed.
drawbacks of visiting in june
The biggest drawback of visiting Bryce Canyon in June is the number of visitors. Parking spaces are at a premium, and the trails are quite crowded. When visiting Bryce Canyon in the summer, here are a few ways to avoid the crowds:
Use the free park shuttle. Park your vehicle outside the park and get the shuttle into the park from Bryce Canyon City. The shuttle stops at the Visitor Center and several viewpoints along Bryce Amphitheater.
Check out other areas. The vast majority of visitors will be in the Bryce Amphitheater area, so it would be wise to travel south to see the remainder of the Park.
Go off the beaten path. Sign up for a guided horse trip that takes you into Bryce Amphitheater and away from the crowds.
things to do in june
Hiking: The conditions for hiking are ideal in Bryce Canyon National Park in the month of June. All trails will be open, unlike in the winter months. There are options for all fitness levels and time frames. Traveling on foot is one of the best ways to marvel at the truly spectacular rock formations and the largest concentrations of hoodoos in the world.
Biking: Imagine yourself experiencing the landscape of Bryce Canyon on two wheels— the wind in your hair and the open road before you; peering up at the red sandstone cliffs towering above. Booking a guided tour can pair you with other enthusiastic cyclists on an adventure through southern Utah. Bicycle Adventures offers a six-day all-level cycling tour through Zion and Bryce Canyon. If you're looking to rent a bicycle and hit the road on your own, there are options for that too. Nearby Ruby's Inn in Bryce Canyon City has high-quality mountain bikes to rent and a shuttle service to get to the trailhead. Keep in mind these mountain bike trails are outside the National Park borders. Within Bryce Canyon National Park, bicycles are only permitted on paved bike trails and paved roads.
ATV Tours: A guided ATV tour through the Bryce Canyon area is a chance to see scenery that few others do —spectacular vistas, red sandstone cliffs, and an adrenaline rush to boot. Travel through Ponderosa pines and along the plateau on a guided ATV sunset ride offered by Ruby's Inn. Helmets, goggles, ATVs, and instruction are all provided. If you're an experienced ATV rider, rentals are available through Bryce Wildlife Adventures.
Ranger Activities: Take advantage of the free activities offered by the Park rangers in Bryce Canyon National Park. Choose from geology talks about the hoodoos and the larger Grand Staircase, or learn about the cultural history of the Park on a guided rim walk. In the evenings, constellation tours and full moon hikes offer an unforgettable interstellar experience. Finally, if you're on a family vacation, there are several ranger activities specifically geared toward children.
Canyoneering: Southern Utah is home to the densest population of slot canyons in the world. Slot canyons are narrow, deep channels typically formed from eroded sandstone. You can explore slot canyons through an activity called canyoneering— rappelling down, exploring on foot, and rock scrambling your way out of the canyon. If you're the adventurous type, then canyoneering into a slot canyon is a fantastic way to get your adrenaline pumping. This activity is most safely completed during good weather and of course with a guiding company. Since the Bryce Canyon area is so dry, the surrounding soil doesn't absorb water and when afternoon thunderstorms arrive, flooding is an issue in these slot canyons. However, no matter your experience level, there are guided canyoneering trips for both beginners and expert adventure-seekers.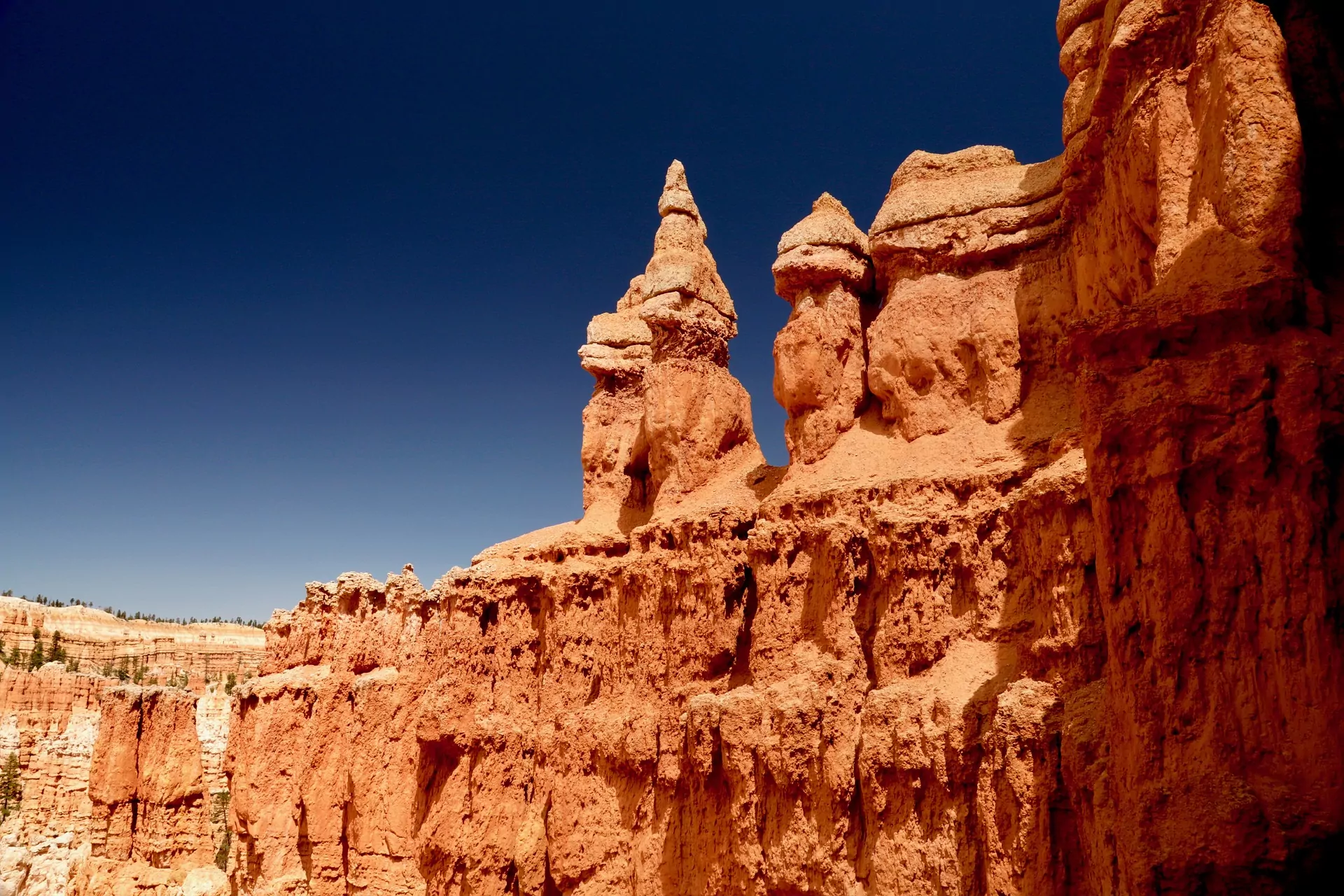 hiking in june
Set yourself up for an epic, memorable adventure by exploring one of the many hiking trails in Bryce Canyon. It is advised to hit the trail as early in the day as possible during the month of June to avoid the midday crowds. Check out our ten best hikes list for Bryce Canyon if you need some guidance. Remember to bring plenty of water and snacks on the trail. Aim for four liters per person and high-calorie foods with a good amount of protein for long-lasting energy.
Guided hiking tours help you to maximize your time in the Park and travel along some of the best trails with a knowledgeable, local guide. Wildland Trekking offers private guided day hikes year-round. Let a local, knowledgeable guide teach you the natural and cultural history of Bryce Canyon while you take in the expansive views. Picnic lunch and trail snacks are provided and trips run 5-7 hours.
If you are looking for more than a day trip, Wildland Trekking offers inn-based tours that will take you to Bryce Canyon, Escalante, and Zion National Park and then back to a beautiful lodge for a gourmet meal. There are also camping tours if you'd rather sleep under the stars. All necessary gear will be provided— tents, sleeping bags, daypacks, and more.
Backpacking in the park is permitted, but only the most experienced backpackers should venture out in these conditions. There are no commercial backpacking trips allowed in Bryce Canyon National Park. Check-in with the rangers at the Visitor Center and make sure to purchase a backcountry permit.
weather in june
June in Bryce Canyon is typically very pleasant with the exception of possible afternoon thunderstorms. However, July and August have more precipitation than June. The average high is 75 and the average low is 45 degrees Fahrenheit (24/7 degrees Celsius). Be prepared for hot and mostly dry conditions by bringing plenty of water, high-calorie snacks, and a sun hat.
JOIN A GUIDED HIKING ADVENTURE
Booking a trip to Bryce Canyon National Park is the opportunity to experience one of the most scenic hiking vacations in the United States. The biggest advantage to booking a guided tour is that it will allow you to focus your energy entirely on enjoying this iconic area. Permits, local transportation (excluded on some day tours), meals, and gear are all figured out for you on a Wildland Trekking tour.
Wildland Trekking offers several options for guided inn-based and camping tours in the southern Utah area. You'll have the chance to see magnificent rock formations, learn about the cultural and natural history of the area, and enjoy some solitude all while having the adventure of a lifetime.
BRYCE CANYON ADVENTURE TOURS
About the Author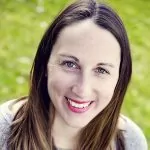 Erin McCarthy is a freelance writer and former Colgate University Outdoor Education Leader. When Erin isn't writing, she is exploring the mountains and rivers of the Greater Yellowstone Ecosystem. You can view her complete portfolio at www.erinannmccarthy.com.