Visiting Rocky Mountain National Park in August
Learn all about what to expect visiting Rocky Mountain National Park in August (Written by Erin McCarthy)
August in Rocky Mountain National Park is busy and beautiful. The weather is spectacular, all of the roads and facilities are open, and activities exist for every fitness level, timeframe, and interest. However, there are some drawbacks to be aware of when planning an August visit, as well as tips and tricks to avoid the summer crowds. Not sure if August is the right time for you? Below is our complete guide to visiting Rocky Mountain National Park in August—benefits, drawbacks, typical weather, things to do, and more!
benefits of visiting in august
By August, the snow has completely melted in the alpine tundra and the landscape is filled with wildflowers. There are slightly fewer people than the month prior, with visitor numbers averaging just below 800,000. There are endless options for activities and sightseeing in August and the weather is fantastic for day hiking or a backpacking trip. Rocky Mountain National Park has 355 trails ranging from mellow, flat strolls amongst the meadows to challenging, steep climbs up peaks reaching 12,000 feet. There is truly something for everyone in Rocky Mountain National Park in August.
drawbacks of visiting in august
One of the biggest drawbacks to an August visit is the potential for wildfires. The hot and dry conditions in the American West are the perfect breeding ground for wildfire activity by late summer. With that being said, August is still an extremely popular month to visit Rocky Mountain National Park due to summer vacation and good weather— if it isn't smoky. Always check the most current conditions before you head out on the trail. If you choose to brave the crowds for a visit in August, here are some tips for navigating the busy Park:
Ride the shuttle bus: On the east side of the Park, there is a free shuttle bus that takes you to the many popular trailheads in this area. It'll guarantee more time on the trails and less time trying to find a parking space at the busy trailheads.
Use the Grand Lake entrance: Over eighty percent of visitors enter Rocky Mountain National Park through the east side entrances (Estes Park, Beaver Meadows, Fall River, and Wild Basin). The west side of the Park is stunning— including lots of hiking trails and wildlife sightings.
Be an early bird: Get a head start on your day and watch the sunrise over the Continental Divide. Hitting the more popular trails before most people are even awake certainly has its perks.
Hike a less popular trail: with 355 trails in Rocky Mountain National Park, there are truly plenty of options for less crowded trails.
things to do in august
There is certainly no shortage of activities in August at Rocky Mountain National Park. From scenic drives to fishing or rock climbing, there is something for everyone in the summer. Below are a variety of options for things to do in August:
Take a Scenic Drive:
Old Fall River Road: Old Fall River Road (pictured left) is a gravel road that first opened in 1920, its purpose was to allow motorists up to the high country. Each year, it is open from July – October. It is a one-way, narrow 11-mile-long road with sharp curves that makes a steady climb. It also has no guard rails, thus the speed limit is 15 mph, for good reason! Old Fall River Road begins at Horseshoe Park, near the Fall River Entrance, where it climbs up steadily to Fall River Pass at 11,796 feet. It ends at the Alpine Visitor Center, where you can take Trail Ridge Road back to either Estes Park or Grand Lake.
Trail Ridge Road: Take a once-in-a-lifetime drive along the 48-mile "highway to the sky" — the highest continuous paved road in the nation. Travel up through montane meadows, subalpine forests, up to Milner Pass on the Continental Divide, and finally above the treeline. At its highest point, Trail Ridge Road reaches above 12,000 feet to breathtaking alpine vistas. Make sure to pack the right gear as it can be windy at the top and twenty to thirty degrees colder!
Rocky Mountain Half Marathon & 5K: This race is held annually and is widely considered one of the most scenic races in the country. You can get more information here.
Ranger Activities: Sign up for a bird-watching program, wildflower hike, guided tour along Trail Ridge Road, and interactive ranger-led wildlife talks at any of the Park's visitor centers. Check out the programs here.
Stay at Shadowcliff Mountain: Finding economical lodging during the peak season is incredibly difficult. Shadowcliff Mountain, located in Grand Lake is a non-profit lodge and retreat center that offers affordable cabins, and a hostel. Relax at these peaceful accommodations after a busy summer day in the Park.
Fishing: Trout fishing in the lakes and streams of Rocky Mountain National Park is one of the most popular activities in the summer months. Keep in mind that there are possession limits, catch and release regulations in some areas, and you need a Colorado fishing license for anyone 16 years of age and older. Before you head out read the full list of rules and regulations here.
Horseback Riding: Horses have long been a traditional part of Rocky Mountain National Park. In fact, 260 miles of trails are open to horse use. There are two stables located within the park: Glacier Creek Stables and Moraine Park Stables which are open for private and commercial horse use. Plan your route and check the trail conditions if you plan to travel this way.
Take a Guided Tour: If you're short on time for planning, let a guided tour show you the sights. Wildland Trekking has options for guided backpacking tours and guided day hikes through Rocky Mountain National Park.
Rock Climbing: Whether it be bouldering, big wall climbing, or mountaineering, Rocky Mountain National Park is a popular location for climbing. Longs Peak is a desirable climb for many. There are several rules and regulations for climbing within the Park boundaries, and it is always imperative to follow leave no trace principles when entering the backcountry.
Backpacking: If you're looking for more than a day hike, Rocky Mountain National Park has plenty of spectacular routes for multi-day backpacking trips. The weather in August is ideal for backpacking but it is essential to pack warm layers for the chilly nights in higher elevations. Backpacking permits are required and can be purchased at the Wilderness Offices located at the Beaver Meadows Visitor Center or the Kawuneeche Visitor Center.
Bicycling: Experience the wonders of Rocky Mountain National Park on two wheels! Biking options in Rocky Mountain National Park vary, so you can choose your own adventure. If you don't have a bike, you can rent one in Estes Park.  All paved roads are open to cyclists, but bear in mind that there will be a large number of cards on the roads in the summer, so be careful. In August, you can bike on Trail Ridge Road and Old Fall River Road for a nice challenge. Keep in mind that Trail Ridge Road gains over 4,000 feet over elevation over its 48 miles and Old Fall River Road is gravel, so you'll need a mountain bike. Depending on your time constraints and fitness level, you'll likely need a "shuttle"—another car to pick you up if you choose to bike either road only one way.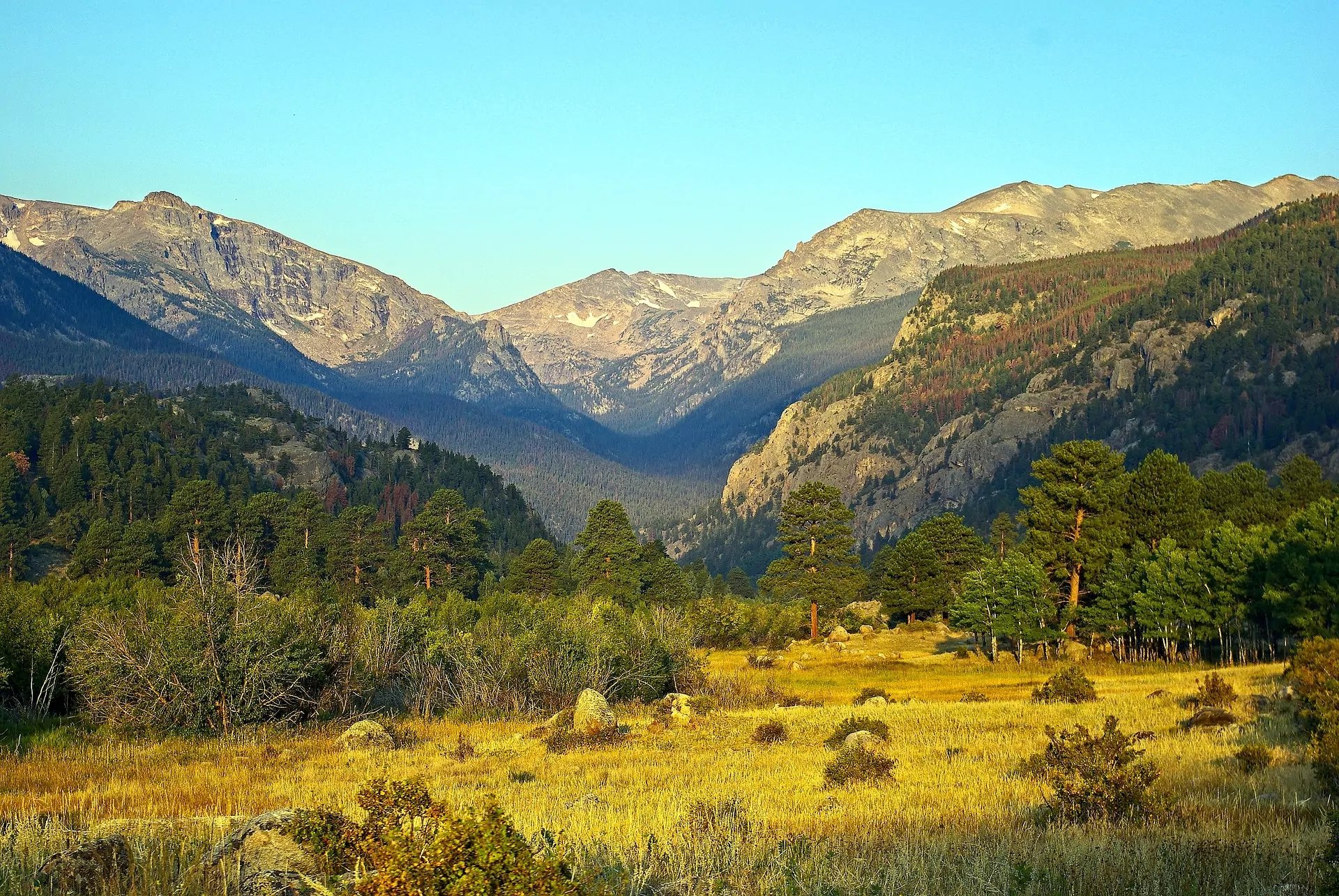 hiking in august
The options for hiking in August range from mellow, short-day hikes to bagging epic peaks. If you're looking for a high-elevation challenge, check out our complete guide to hiking the 14,259 Longs Peak. We have also compiled a list of recommended day hikes in Rocky Mountain National Park ranging from easy to difficult and everything in between. Below are five popular mellow summer hikes in Rocky Mountain National Park:
1. Emerald Lake
Mileage: 3.5 miles
Elevation Gain: 650 feet
Trailhead: Bear Lake
It is highly recommended to use the park shuttle to reach this trailhead in August. Take the fork to the left just beyond the Bear Lake trailhead. Climb your way up to Nymph Lake and keep your eyes peeled for views of Longs Peak along this paved section of the trail. Next, you'll reach Dream Lake, which sits amongst an abundance of summer wildflowers. From the shores of Dream Lake, travel another 0.6 miles and you'll reach the 10,000-foot subalpine Emerald Lake located in Tyndall Gorge. Look to the west for spectacular views of the 12,713-foot Hallett Peak.
2. Alberta Falls
Mileage: 1.7 miles
Elevation Gain: 200 feet
Trailhead: Glacier Gorge
It is highly recommended to use the park shuttle to reach this trailhead in August. As you begin on the trail, you'll first cross Chaos Creek and briefly join the Glacier Creek Trail. The trail splits shortly after so make sure to turn right— a left turn will take you to Bear Lake. Travel through pines and aspen groves for 0.8 miles to the 30-foot Alberta Falls. This waterfall plunges into Glacier Creek — a perfect sight for an afternoon picnic.
3. Bierstadt Lake
Mileage: 2.4 miles
Elevation Gain: 675 feet
Trailhead: Bierstadt Lake
It is highly recommended to use the park shuttle to reach this trailhead in August. You'll begin with a one-mile 600-foot climb along switchbacks, through lodgepole pines and aspens, to reach the top of the Bierstadt Moraine. Along the way enjoy stunning views of the mountains of the Continental Divide. At the top of the moraine, you'll reach the Bierstadt Lake Loop Trail junction. Turn right at the junction, and in another 0.3 miles, you'll reach the southwestern shore of Bierstadt Lake, encompassed by pine forest. Here you have the option to travel around the entire lake (another 0.7 miles). Either way, you slice it, you'll enjoy stunning views before heading back to the trailhead.
4. Adams Falls
Mileage: 0.9 miles round trip
Elevation Gain: 113 feet
Trailhead: East Inlet
The Adams Falls hike is a fantastic option on the less crowded, west side of the Park.  Begin on the East Inlet trail. You'll hike one-third of a mile through a forest of pines and aspens until you reach the Adams Falls Trail. Turn right, and hike towards the overlook of Adams Falls— plunging 55 feet into a gorge below. From here you can climb to the top of the waterfall, and on a clear day, you can see into the town of Grand Lake.
5. Bear Lake
Mileage: 0.8 miles round trip
Elevation Gain: 45 feet
Trailhead: Bear Lake
On this short but sweet hike, one of the most popular hikes in the summer, you'll travel through the subalpine forest filled with spruce, fir, lodgepole pine, and aspen. It is recommended that you travel in a counterclockwise direction along Bear Lake. Near the beginning of the trail, near the eastern shore of Bear Lake, is a fantastic view of Hallett Peak. On the north side, of the lake you'll see Half Mountain and Longs Peak.
weather in august
Rocky Mountain National Park in August is filled with warm, sunny days followed by chilly nights. Keep in mind that the west side of the Park at Grand Lake has more precipitation— afternoon storms and potentially high winds are possible. At Grand Lake in August, there is a high of 73ºF (22ºC) and 35ºF (1ºC) and an average of eight to nine days of precipitation. In Estes Park in August, you can expect a high of 76ºF (24ºC) and a low of 48ºF (8ºC).
JOIN A GUIDED COLORADO HIKING ADVENTURE
Rocky Mountain National Park is home to some of the most epic and amazing hiking vacations in the world. Wildland Trekking offers trips with the best of Rocky Mountain: waterfalls, mountains, views, wildlife, solitude, adventure, and fascinating natural and cultural interpretation.
Guided Rocky Mountain treks are all-inclusive which covers permits; local transportation (excluded on certain tours); meals; equipment; safety systems and professional hiking/wilderness guides; all of which allow visitors to maximize their time in Rocky Mountain and focus entirely on enjoying the Park.
ROCKY MOUNTAIN ADVENTURE TOURS
About the Author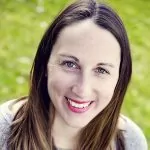 Erin McCarthy is a freelance writer and former Colgate University Outdoor Education Leader. When Erin isn't writing, she is exploring the mountains and rivers of the Greater Yellowstone Ecosystem. You can view her complete portfolio at www.erinannmccarthy.com.