Visiting Rocky Mountain National Park in February
Learn all about what to expect visiting Rocky Mountain National Park in February (Written by Erin McCarthy)
February in Rocky Mountain National Park is a special time with fewer crowds, quiet trails, and unique opportunities not available in the busy summer months. The Rocky Mountains in February is a winter wonderland with snow-capped peaks, frozen waterfalls, and days with the deepest, bluest skies.  If you've never experienced a place that truly celebrates all that winter has to offer, consider a visit to Rocky Mountain National Park in February. Snowshoe or cross-country ski during the day and soak in a natural hot spring in the evening. Be advised that a visit to the Park in the winter months requires a good amount of preparation. Food, water, extra layers, and a reliable vehicle are imperative as the free shuttle in the Park only runs from October – May. Read on for our complete guide to Rocky Mountain National Park in February.
benefits of visiting in February
The biggest benefit of visiting Rocky Mountain National Park in February is that there are significantly fewer visitors during the winter months. In fact, the month of February sees the lowest number of visitors—around 84,000 total. The many hiking trails in the Park can be explored by snowshoes or cross-country skis and are less crowded. Depending on which entrance you choose, there are rentals for both activities available in Estes Park (east entrance) and Grand Lake (west entrance).
If you're new to high elevations and alpine and sub-alpine exploration, consider booking a guided snowshoe tour. Wildland Trekking offers luxurious lodge-based tours as well as winter day hikes to Emerald Lake and Black Lake. No prior experience is needed. You'll trek across frozen mountain lakes and through alpine meadows. Keep your eyes peeled as you may spot an elk or a bighorn sheep! When you return to the lodge after a day of winter exploration, cozy up with a home-cooked meal and enjoy a good night's sleep in a luxurious bed.
DRAWBACKS OF VISITING IN february
The biggest drawback of a February visit to Rocky Mountain National Park is road closures. Trail Ridge Road is only open for seven miles (up to Many Parks Curve) and Old Fall River Road is completely closed to vehicular traffic. However, you can snowshoe or cross-country ski Old Fall River Road in the winter. Of course, any of the roads in the Park present winter driving conditions— slippery ice and blowing snow. A trip to Rocky Mountain National Park is likely a more stressful trip in the winter than in the summer as there is inherently more to prepare and more that could go wrong. To this end, it is wise to have a reliable vehicle and always pack extra food, water, flares, and blankets in case of an emergency. It is imperative to check the current road conditions before you head out.
THINGS TO DO IN february
February is a winter wonderland at Rocky Mountain National Park. No matter your fitness level or cold tolerance, there are plenty of options for various activities. Below are our recommendations for things to do in January:
Snowshoeing: a visit in February will almost guarantee that you need snowshoes for hiking in Rocky Mountain National Park. Estes Park Mountain Shop has rentals and many of the lodges in town provide free snowshoes for their guests. Hiking in the winter is a chance to experience the Rocky Mountains at their most majestic—snow-covered peaks, frozen alpine lakes, and evergreen branches bowing to the snowpack.
Cross-country skiing: Since Trail Ridge Road is closed up to Many Parks Curve, it is a perfect place to ski and see snow-capped peaks and views from some of the highest points in the Park. Keep in mind you'll be at an alpine tundra elevation, so be prepared for changing weather and potentially high winds. A second option is Sprague Lake, a 3.3-mile loop that is perfect for the beginner skier since it is mostly flat. Right outside the Park is the Grand Lake Nordic Center which has twenty-one miles of groomed cross-country ski trails with stunning views of the Continental Divide.
Ice climbing: Rocky Mountain National Park is a world-class destination for ice climbing—a challenging activity that requires patience and the right conditions. If you're new to the sport you can book a trip with a guide in Estes Park, the Colorado Mountain School, or Kent Mountain Adventure Center.
Ice fishing: Within the Park borders in the winter months, ice fishing is permitted with a valid Colorado fishing license. Brown, brook, rainbow, and cutthroat trout abound. Keep in mind there is no machinery allowed—only hand augers are permitted to cut the ice.
Soak in Hot Springs: After a long winter's day, there is nothing better than defrosting in a natural hot spring. Though there are no hot springs within the national park boundary, 20 miles southwest of the Grand Lake entrance sits Hot Sulphur Springs. Soaking in 200,000 gallons of naturally steamy spring water will ease your every ache and pain.
Sightseeing on a Bus Tour: If you'd rather stay warm and dry to see the sights, there is an option to book a winter bus tour with Rocky Mountain Conservancy. Enjoy a cup of hot cocoa while you peak at grazing elk and snow-capped peaks.
Winter wildlife watching: The quiet winter months are a spectacular time to spot wildlife. On the east side of the Park, elk descend down to the montane meadows and even into the town of Estes Park. In the west, moose can be found in Kawuneeche Valley. Peep the cliffs in the Northern area at Many Parks Curve of the park to spot bighorn sheep.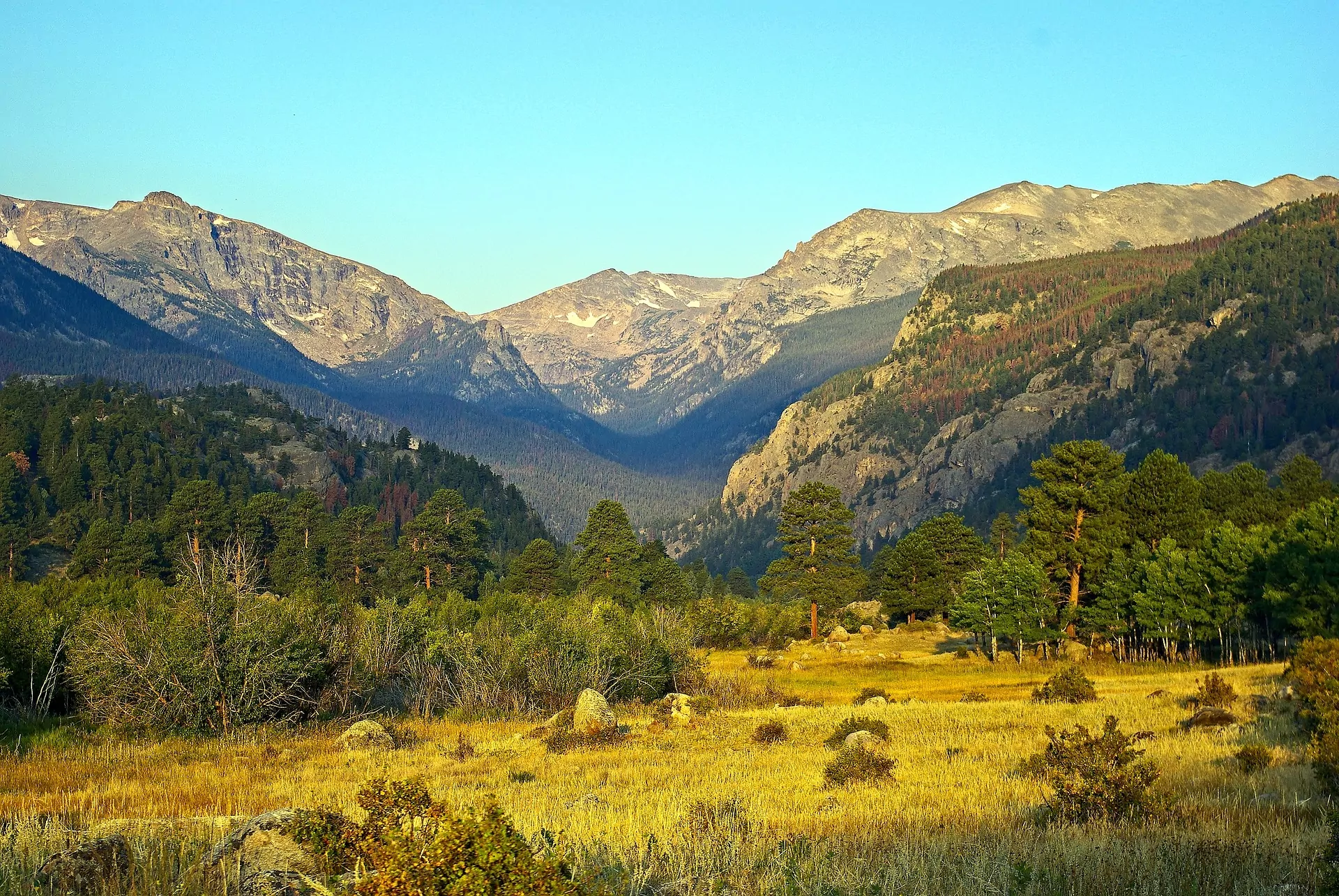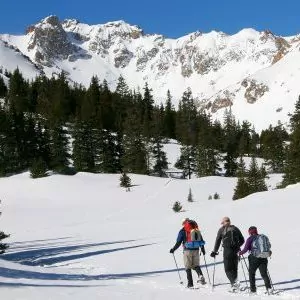 The large meadow valleys and gentle slopes of the montane ecosystem in Rocky Mountain National Park are the most accessible and arguably the most approachable for winter hiking. When setting out on the trail in temperatures at or below freezing, be prepared with plenty of extra warm layers, a waterproof jacket and pants, and hiking shoes/boots for your snowshoes. Synthetic (non-cotton) socks are essential for keeping your feet warm even if they get wet. Make sure to pack more food than you think you need. Choose snacks that are high in calories as your body will be burning calories to keep you warm in the cold weather. Finally, bring at least 3 liters of water. You can still get dehydrated even when it's cold out! The hikes below are all at a relatively high elevation where the snow will be reflecting back at you, so make sure to put sunscreen on to protect your skin. If you've never been hiking or skiing in deep snow, beware that avalanche conditions could exist. The state of Colorado has a fantastic resource to check the current avalanche conditions.
Below are five recommendations for lower-elevation winter hiking in Rocky Mountain National Park:
1. Bear Lake 
Mileage: 0.8 miles round trip
Elevation Gain: 45 feet
Trailhead: Bear Lake
On this short but sweet hike, normally one of the most popular hikes in the summer, you'll travel through the subalpine forest filled with spruce, fir, lodgepole pine, and aspen. It is recommended that you travel in a counterclockwise direction along Bear Lake. Near the beginning of the trail, near the eastern shore of Bear Lake, is a fantastic view of Hallett Peak. On the north side, of the lake you'll see Half Mountain and Longs Peak. If you're new to snowshoeing, this is a perfect short hike to get you started.
2. Cub Lake
Mileage: 4.8 miles round trip
Elevation gain: 570 feet
Trailhead: Moraine Park
As you begin your hike, you'll cross the Big Thompson River and travel along the western edge of Moraine Park. Turn right at the trail junction a half mile in marked Cub Lake Trail. Continue west alongside Cub Creek and Beaver Ponds. About two miles in, the trail begins to climb through aspen groves and rocky terrain and eventually to the pine-covered shores of Cub Lake. Make sure to look west for a view of the snow-capped 12,922 ft Stones Peak.
3. Dream Lake
Mileage: 2.2 miles round trip
Elevation gain: 450 feet
Trailhead: Bear Lake
From the Bear Lake trailhead, you'll branch off to the left to join the Dream Lake trail. The trail begins to climb up to Nymph Lake with views of Longs Peak. Continue along the trail or across Nymph Lake if it's frozen. Stunning views of Hallett Peak and Flattop Mountain can be seen from the east shore of Dream Lake. If you're seeking more miles, at this juncture you have the option to continue to Emerald Lake (0.6 miles) or to Lake Haiyaya (0.9 miles).
4. Gem Lake
Mileage: 3. 2 miles round trip
Elevation gain: 1,000 feet
Trailhead: Lumpy Ridge
The Gem Lake trail is a steep climb up to a picturesque alpine lake at the top of a ridge. You'll travel along switchbacks amongst ponderosa, aspen, and fir trees. About 1.5 miles along the trail is "Paul Bunyan's boot"— a rock formation in the shape of a giant hiking boot with a hole in the sole. At this point, it's a good idea to take a quick water and snack break, as the trail soon becomes very steep. The stone steps in the trail can be 15-20 inches high. This climb is certainly worth it to reach the stunning views of the quiet, frozen Gem Lake.
5. Deer Mountain
Mileage: 6.2 miles round trip
Elevation gain: 1,210 feet
Trailhead: Deer Ridge Junction
This is one of the most popular trails in Rocky Mountain National Park with good reason. In the winter, it will be much less crowded and all the more breathtaking. You'll hit a trail junction about a tenth of a mile in. Continue straight along the ponderosa pines and open meadows for the first mile, keeping an eye out for deer and elk. You'll have views of Little Horseshoe Park and the Mummy Range on your left as you travel east. On the right, you'll have views of Moraine Park, Longs Peak, Hallett Peak, and the Continental Divide. The next mile climbs up the western slopes of Deer Mountain along switchbacks. The trail then flattens out and drops a bit before reaching the summit trail junction. After the third mile, you'll arrive at the summit trail junction. Turn right where a steep climb to the summit and stunning 360° views await you.
WEATHER IN february
February in Rocky Mountain National Park is cold and snowy. The east side of Rocky Mountain National Park at Estes Park (7,500 feet) has less snow but still has cold temperatures even at lower elevations. The west side of the park at Grand Lake (8,300 feet) has more snow, but less wind. In Estes Park in February, you can expect a high of 36ºF (2ºC) and a low of 7ºF (- 8ºC), and an average snowfall of 6.3 inches. At Grand Lake in February, there is a high of 34ºF (1ºC) and 2ºF (-16 ºC) and an average snowfall of 12.6 inches.
Rocky Mountain National Park has three ecosystems and the riparian ecosystem that runs throughout each of these. Above 11,000 feet sits the alpine tundra, with strong winds, cold temperatures, and extreme weather patterns that can change quickly. Winter at this elevation lasts from October through May and constitutes one-third of the Park. The subalpine areas (9,000- 11,000ft) are also extreme in winter. The montane areas (5,600 – 9,500 ft) are usually more moderate and warmer and drier in the winter.
JOIN A GUIDED WINTER HIKING ADVENTURE
Our Rocky Mountain National Park Snowshoe tours include:
Lodge-based Rocky Mountain Snowshoe Tour – this is a 4-day adventure with local lodging in Estes Park, transportation into the Park each day, snowshoe, backpacks and ski poles, all meals and snacks (including hot drinks on the trail), and a professional Colorado mountain guide.
Emerald Lake Half-Day Snowshoe Tour – this tour is 4-5 hours and includes snowshoes, ski poles, snacks, hot drinks, local transportation, and a professional Colorado mountain guide.
Black Lake Full Day Snowshoe Tour – this 7-8 hour tour includes snowshoes, lunch, snacks, hot drinks, local transportation, and a professional Colorado mountain guide.
ROCKY MOUNTAIN ADVENTURE TOURS
About the Author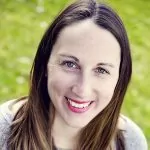 Erin McCarthy is a freelance writer and former Colgate University Outdoor Education Leader. When Erin isn't writing, she is exploring the mountains and rivers of the Greater Yellowstone Ecosystem. You can view her complete portfolio at www.erinannmccarthy.com.