Visiting Rocky Mountain National Park in April
Learn all about what to expect visiting Rocky Mountain National Park in April (Written by Erin McCarthy)
April marks when springtime officially hits Rocky Mountain National Park. Lush meadows dotted with wildflowers, grazing elk, and snow-capped mountain tops are breathtaking sights in April. A quiet respite before the busy season with less snow and milder temperatures— spring is a wonderful time to visit Rocky Mountain National Park. With that being said, there are some drawbacks to visiting in the spring. Read on for our complete guide to visiting the Park in April to decide if it is the right time for you.
BENEFITS OF VISITING IN april
The biggest benefit of visiting Rocky Mountain National Park in April is the low visitation numbers. The number of visitors in April is similar to March, but doubles by May. April is a sweet spot between winter and early summer where the trails are less crowded, the weather is mild, and there is plenty to do and see.
In late April, spring thaw will begin and the snowpack will start to melt at higher elevations in the Park resulting in rushing rivers. The montane meadows are lush emerald green. Wildlife give birth in the springtime and elk can be seen with their young on the valley floor.
DRAWBACKS OF VISITING IN april
Unfortunately, hiking accessibility to higher elevations is difficult. A lingering snowpack and treacherous conditions present a situation only the experienced backpacker should attempt. In higher subalpine and alpine elevations, you basically guarantee snow through June. It is recommended to stick to hikes in the lower montane ecosystem. Wildland Trekking offers multi-day snowshoe tours through the month of April.
The other drawback for an April visit is closed roads and facilities. The popular Trail Ridge Road is closed until Memorial Day and the Alpine Visitors Center and Fall River Visitor Center are closed through April.
THINGS TO DO IN april
Spring in Rocky Mountain National Park offers several options of activities to fit all fitness levels and timeframes. Winter conditions are still possible, but there will also be warm, sunny days peppered in between. Below are some recommendations for things to do in April:
Snowshoeing/Hiking/Cross Country Skiing: Depending on the trail conditions, you may be doing any of these! Shoulder season hiking is all about being prepared for any type of weather or trail conditions. Try out Upper Beaver Meadow Loop, Deer Mountain, or Little Horseshoe Park Trail (more on hiking below).
Tour the famous Stanley Hotel: The Stanley Hotel, located in Estes Park, is over one hundred years old, with lots of stories to tell. During select evenings, a 60-minute walking tour is offered to learn about the ghosts of the past. Most notably, this is the hotel that Stephen King based his film, The Shining on. Sign up if you dare.
Walk amongst the wildflowers:  Springtime in Rocky Mountain National Park means the wildflowers awake from their slumber and dot the landscape with bright colors. In April you can expect Indian Paintbrush, Forget-Me-Nots, and Alpine Avens. Keep your eyes peeled for the fleeting Alpine Sunflower, found only in Rocky Mountain National Park. Check out Tundra Communities Trail for an especially beautiful trail this time of year.
Wildlife watching:  April in the Rocky Mountains is a time when animals give birth and visitors can spot elk with their babies. They are commonly found grazing in the montane meadows in April. With over 1,000 elk in the Park, the likelihood of spotting a cow and her calves is high.
Fishing: though the peak season for catching trout is Mid-June to Mid-October, there is still a possibility of catching trout at the pools in Moraine Park.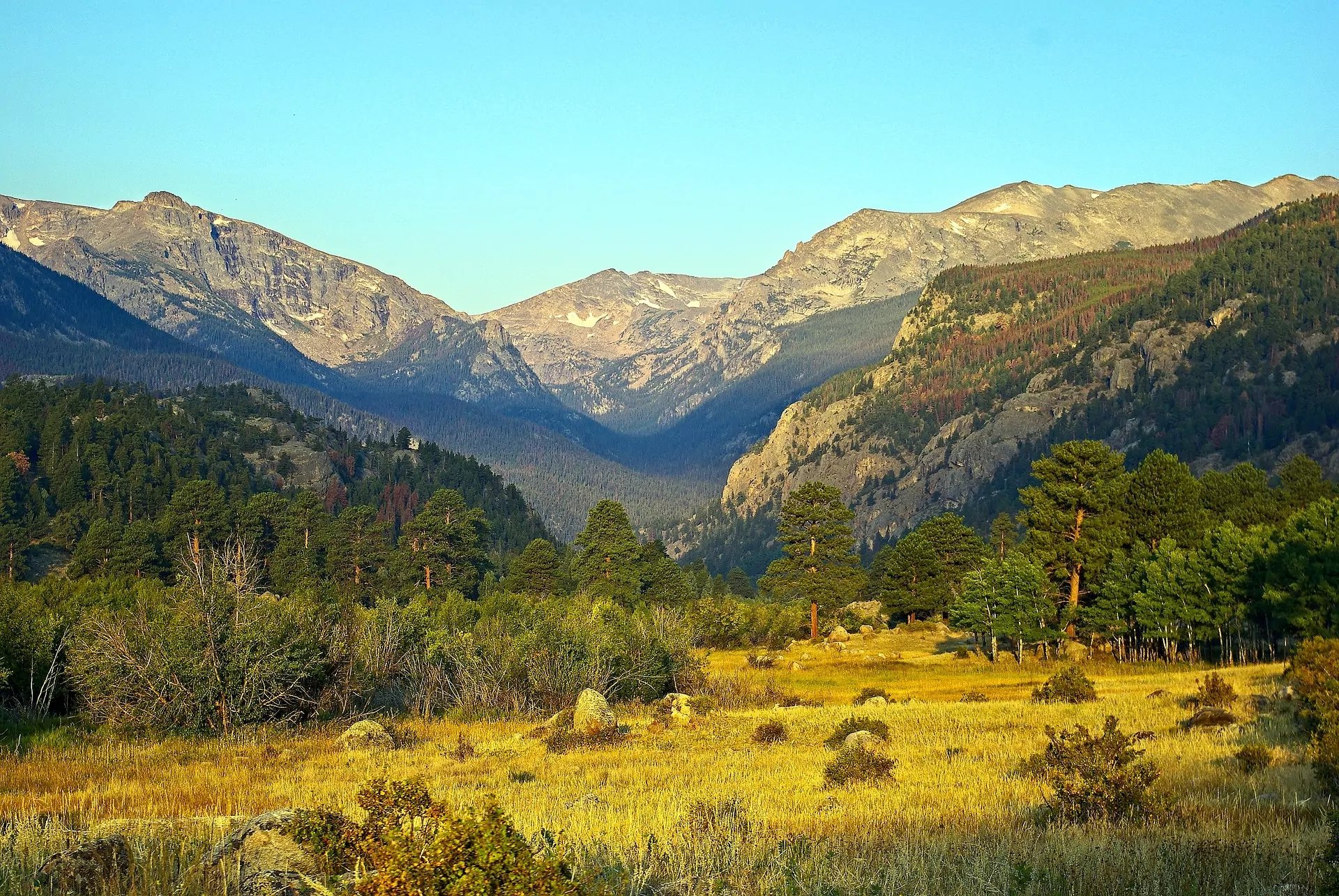 hiking in april
The lower elevations in the montane ecosystem of Rocky National Park are (usually) dry by April. Higher elevations will still have snow through June. The popular trails in this area will be much less crowded than in the summer months. Below are a few recommendations for hiking in April:
1. Upper Beaver Meadows Loop
Mileage: 5.0 miles round trip
Elevation Gain: 935 ft
Trailhead: Upper Beaver Meadows
This hike can be completed in either direction, but most choose a clockwise direction that promises breathtaking views of Longs Peak and the mountains along the Continental Divide. Shortly after the trail begins, there is a "loop within a loop" so don't get tripped up. Take the left fork at the junction. This trail is quite open at the beginning and then meanders through ponderosa pines. After that, the trail then climbs steeply to reach the highest elevation of the entire route. During the next half-mile, you'll enjoy fantastic views of Moraine Park, Longs Peak, and the surrounding mountains. This trail is both challenging and rewarding as you'll have incredible views and wildlife sightings, especially in April. The final destination is a stunning panoramic view of the peaks of the Continental Divide.
2. Little Horseshoe Park Trail
Mileage: 6.3 miles round trip
Elevation gain: 748 ft
Trailhead: Lawn Lake
From the Fall River entrance, travel west on Route 34 until you reach the Lawn Lake trailhead. In the first mile of this trail, you'll have views of the three beautiful alpine lakes known collectively as Sheep Lakes. Travel on to cross Hidden River and Valley Creek, and continue through Little Horseshoe Park up until the ridge at Deer Mountain.
3. Deer Mountain
Mileage: 6.2 miles round trip
Elevation gain: 1,210 feet
Trailhead: Deer Ridge Junction
This is one of the most popular trails in Rocky Mountain National Park with good reason. In the off-season, it will be much less crowded and all the more breathtaking. You'll hit a trail junction about a tenth of a mile in. Continue straight along the ponderosa pines and open meadows for the first mile, keeping an eye out for deer and elk. You'll have views of Little Horseshoe Park and the Mummy Range on your left as you travel east. On the right, you'll have views of Moraine Park, Longs Peak, Hallett Peak, and the Continental Divide. The next mile climbs up the western slopes of Deer Mountain along switchbacks. The trail then flattens out and drops a bit before reaching the summit trail junction. After the third mile, you'll arrive at the summit trail junction. Turn right where a steep climb to the summit and stunning 360° views await you.
weather in april
April is true spring, mostly mild with the potential of temperatures at or below freezing. The east side of Rocky Mountain National Park at Estes Park (7,500 feet) has less snow but still has cold temperatures even at lower elevations. The west side of the park at Grand Lake (8,300 feet) has more snow, but less wind. In Estes Park in April, you can expect a high of 51ºF (10ºC) and a low of 28ºF (-16ºC) and an average snowfall of 4 inches. At Grand Lake in April, there is a high of 49ºF (9ºC) and 20ºF (-6ºC) and an average snowfall of 8.5 inches.
JOIN A GUIDED COLORADO HIKING ADVENTURE
Rocky Mountain National Park is home to some of the most epic and amazing hiking vacations in the world. Wildland Trekking offers trips with the best of Rocky Mountain: waterfalls, mountains, views, wildlife, solitude, adventure, and fascinating natural and cultural interpretation.
Guided Rocky Mountain treks are all-inclusive which covers permits; local transportation (excluded on certain tours); meals; equipment; safety systems and professional hiking/wilderness guides; all of which allow visitors to maximize their time in Rocky Mountain and focus entirely on enjoying the Park.
ROCKY MOUNTAIN ADVENTURE TOURS
About the Author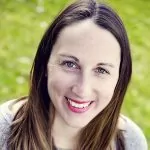 Erin McCarthy is a freelance writer and former Colgate University Outdoor Education Leader. When Erin isn't writing, she is exploring the mountains and rivers of the Greater Yellowstone Ecosystem. You can view her complete portfolio at www.erinannmccarthy.com.