Visiting Rocky Mountain National Park in November
Learn all about what to expect visiting Rocky Mountain National Park in November (Written by Erin McCarthy)
November is a tricky month in Rocky Mountain National Park. Late fall means colder temperatures and potential snow in the mountains. If you're planning a visit in November, keep in mind that depending on the current weather will predict whether you need snowshoes or skis or can hit the trails with sneakers. Read on for our complete guide to visiting Rocky Mountain National Park in November—benefits, drawbacks, things to do, and more!
benefits of visiting in november
The biggest benefit of visiting Rocky Mountain National Park in November is the low visitor numbers. In fact, they are less than half what they are in October—averaging around 125,000. A visit in November presents an opportunity to hike on trails that in the high season are incredibly crowded.
drawbacks of visiting in november
The biggest drawback of a November visit to Rocky Mountain National Park is road closures. The famous Trail Ridge Road closes beginning at Many Parks Curve in mid-October. Depending on weather and the date of your visit, it is important to keep this possibility in mind and plan accordingly. You can check the most current road conditions in the Park here.
things to do in november
Bicycling: Experience the wonders of Rocky Mountain National park on two wheels! Biking options in Rocky Mountain National Park vary, so you can choose your own adventure. If you don't have a bike, you can rent one in Estes Park.  Trail Ridge Road closes to vehicular traffic in mid-October, but it is open to bicycles until November 30th. Old Fall River Road may or may not be open so please check the current conditions. Trail Ridge Road gains over 4,000 feet over elevation over its 48 miles. Old Fall River Road is gravel, so you'll need a mountain bike. Depending on your time constraints and fitness level, you'll likely need a "shuttle"—another car to pick you up if you choose to bike either road only one way.
Hiking/Snowshoeing: Depending on the snowpack you may need snowshoes or cross country skis when hitting the trails in November. In the next section we highlight some of our favorite late fall hikes in Rocky Mountain National Park.
Backpacking: If you're looking for more than a day hike, Rocky Mountain National Park has plenty of spectacular routes for multi-day backpacking trips. The weather in November is ideal for backpacking but it is essential to pack warm layers for the chilly nights in higher elevations. Backpacking permits are required and can be purchased at the Wilderness Offices located at the Beaver Meadows Visitor Center or the Kawuneeche Visitor Center.
Take a Guided Tour: If you're short on time for planning, let a guided tour show you the sights. Wildland Trekking has options for guided backpacking tours and guided day hikes through Rocky Mountain National Park.
Fishing: Trout fishing in the lakes and streams of Rocky Mountain National Park is the best in the fall months. Keep in mind that there are possession limits, catch and release regulations in some areas, and you need a Colorado fishing license for anyone 16 years of age and older. Before you head out read the full list of rules and regulations here.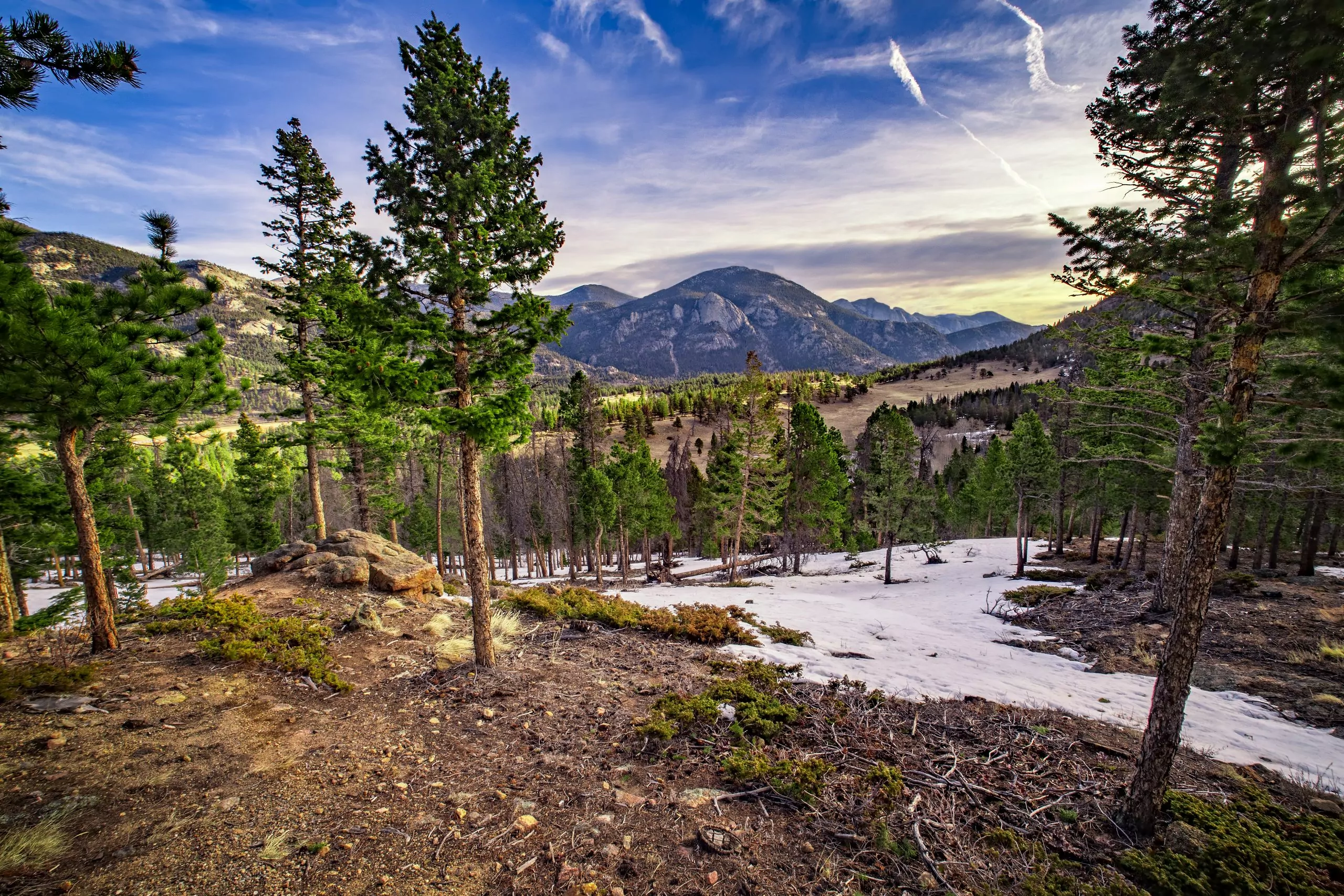 hiking in november
Hiking in November in Rocky Mountain National Park can present winter conditions on trail. The west side of the Park receives significantly more snow, so if you're venturing out on a hike in the Grand Lake area, you'll need to be mindful of conditions. Below are two of our favorite hikes in November—the first is near Grand Lake and the second is near Bear Lake, on the eastern side of the Park:
1. Cascade Falls 
Mileage: 6.8 miles round trip
Elevation Gain: 430 feet
Trailhead: North Inlet
This is one of the most scenic hikes in the Kawuneeche Valley. Keep in mind this hike is near Grand Lake, on the west side of the Park so in November there is likely to be snow. In the fall, there is plenty of brook trout in the North Inlet Creek, so you can bring along your fishing rod. This hike runs along the North Inlet trail, which is part of the larger Continental Divide National Scenic Trail. Though this hike is almost seven miles, it has an easy elevation profile. It takes you through an open meadow of aspens, lodgepole pines, and the occasional marmot.  An evergreen forest grows ever thicker up to the three mile mark. Take the junction to the right to reach the 40 foot Cascade Falls which can be viewed from above or below. Be careful with the rock scramble up to the top if you choose to do so especially if there is snow and ice. A large meadow is just beyond the falls, a good place for a picnic lunch, but beware of wildlife as moose and elk are often spotted here.
2. Sky Pond
Mileage: 9.0 miles round trip
Elevation Gain: 1780 feet
Trailhead: Glacier Gorge
Begin your hike at the Glacier Gorge trailhead in the Bear Lake area. In November, there may or may not be snow on this hike so check the current conditions before you hit the trail. Your first destination is the 30 foot plunging Alberta Falls, located within the first mile of this hike. Within the next mile you'll reach two trail junctions, North Longs Peak Trail (turn right) and Mills Junction (continue straight). Next you'll climb up switchbacks through a beautiful gorge till you reach the subalpine lake Loch Vale at 2.8 miles. At the foot of the lake you'll have spectacular views of Taylor Peak. After leaving Loch Vale, you'll climb again for another 0.8 miles and take the trail junction to the left to continue on to Sky Pond. Climb the next half mile to reach to base of Timberline Falls. The next section of the trail runs along Timberline Falls where you'll have to rock scramble up 100 feet. Be careful if there is snow and ice. If you so choose, Glass Lake will be your reward. A rocky trail around the west side of the lake takes you 0.4 miles to Sky Pond at 10,900 feet with sheer cliffs of granite towering above you. It will be worth the effort to see this magnificent sight.
weather in november
The temperatures in November can be quite cold and snow begins to fall in Rocky Mountain National Park. Keep in mind that the west side of the Park at Grand Lake has more precipitation, thus more snow in these colder months. At Grand Lake in November, there is a high of 41ºF (5ºC) and 9ºF (-12ºC) and an average snowfall of 9.4 inches. In Estes Park in November, you can expect a high of 44ºF (6ºC) and low of 25ºF (-3ºC) and an average of 3.7 inches of snow.
JOIN A GUIDED COLORADO HIKING ADVENTURE
Rocky Mountain National Park is home to some of the most epic and amazing hiking vacations in the world. Wildland Trekking offers trips with the best of Rocky Mountain: waterfalls, mountains, views, wildlife, solitude, adventure and fascinating natural and cultural interpretation.
Guided Rocky Mountain treks are all-inclusive which covers permits; local transportation (excluded on certain tours); meals; equipment; safety systems and professional hiking/wilderness guides; all of which allows visitors to maximize their time in Rocky Mountain and focus entirely on enjoying the Park.
ROCKY MOUNTAIN ADVENTURE TOURS
ABOUT THE AUTHOR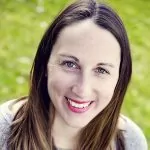 Erin McCarthy is a freelance writer and former Colgate University Outdoor Education Leader. When Erin isn't writing, she is exploring the mountains and rivers of the Greater Yellowstone Ecosystem. You can view her complete portfolio at www.erinannmccarthy.com.