Best Smoky Mountain Tours
Hiking Tours Overview
Great Smoky Mountains National Park is America's most visited national park, and for good reason. It's stunningly beautiful and has an abundance of recreational options for the active or adventurous visitor. Read on to find out about our recommendations for the best tours to join this wonderful part of America's national park system.
HIKING TOURS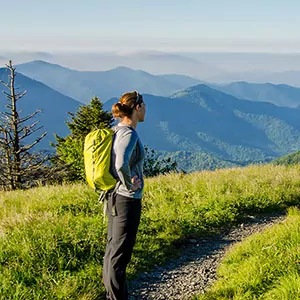 Guided day hikes are available for many of the most popular trails in Great Smoky Mountains National Park. These trips are led by an expert guide, who will provide knowledge about the geology, wildlife and human history of the Smokies, while taking you up to scenic overlooks and past historic homesteads. The company takes care of all the planning, and provides the appropriate gear and food, so you can soak in the natural and cultural history of this extraordinary region. Day hiking tours are fantastic year-round—the vibrant spring, crisp and clear summer, kaleidoscopic fall and majestic winter are all wonderful seasons to hike. Make your trip to Great Smoky Mountains memorable by booking a guided day hike!
BACKPACKING TRIPS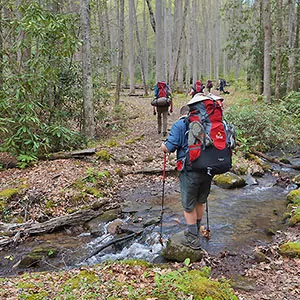 One experience you'll never forget is backpacking in the Great Smoky Mountains. Backpacking is one of the best ways to see the Smokies, and escape the crowds. By getting up and away from the busyness of the park, you are able to fully appreciate your surroundings and the majesty of the mountains. Wildland Trekking offers exceptional guided backpacking trips, ranging in difficulty, from moderate to strenuous, and in distance, from two days to seven days—so all levels of experience are welcome! The company provides top-of-the-line gear (including tents, backpacks, sleeping bags and pads, trekking poles, etc.), local and expert guides, world-class backcountry meals, and a commitment to safety. Backpacking through Great Smoky Mountains National Park is one thing you don't want to miss out on!
KAYAK TOURS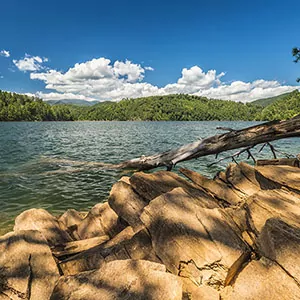 Paddle and Hike Adventures combine two of the best things to do in the Smokies—hiking and kayaking. Trips are all-inclusive, so the company provides all of the gear, as well as an expert kayaking and hiking guide. Day paddle trips are available on historic Fontana Lake—where the lush green mountains tower over the calm blue waters of the lake to create some of the most scenic views of the park. The company also offers a 3-day paddle to the stunning Hazel Creek, where you will camp for two nights on an island—it doesn't get much better than that!
Guided whitewater kayak trips are available, as well, on the Pigeon River. This inflatable kayak is made for both experienced and novice kayakers, and gives you the freedom of controlling your own boat, with the safety of a guide to lead the way and assist you.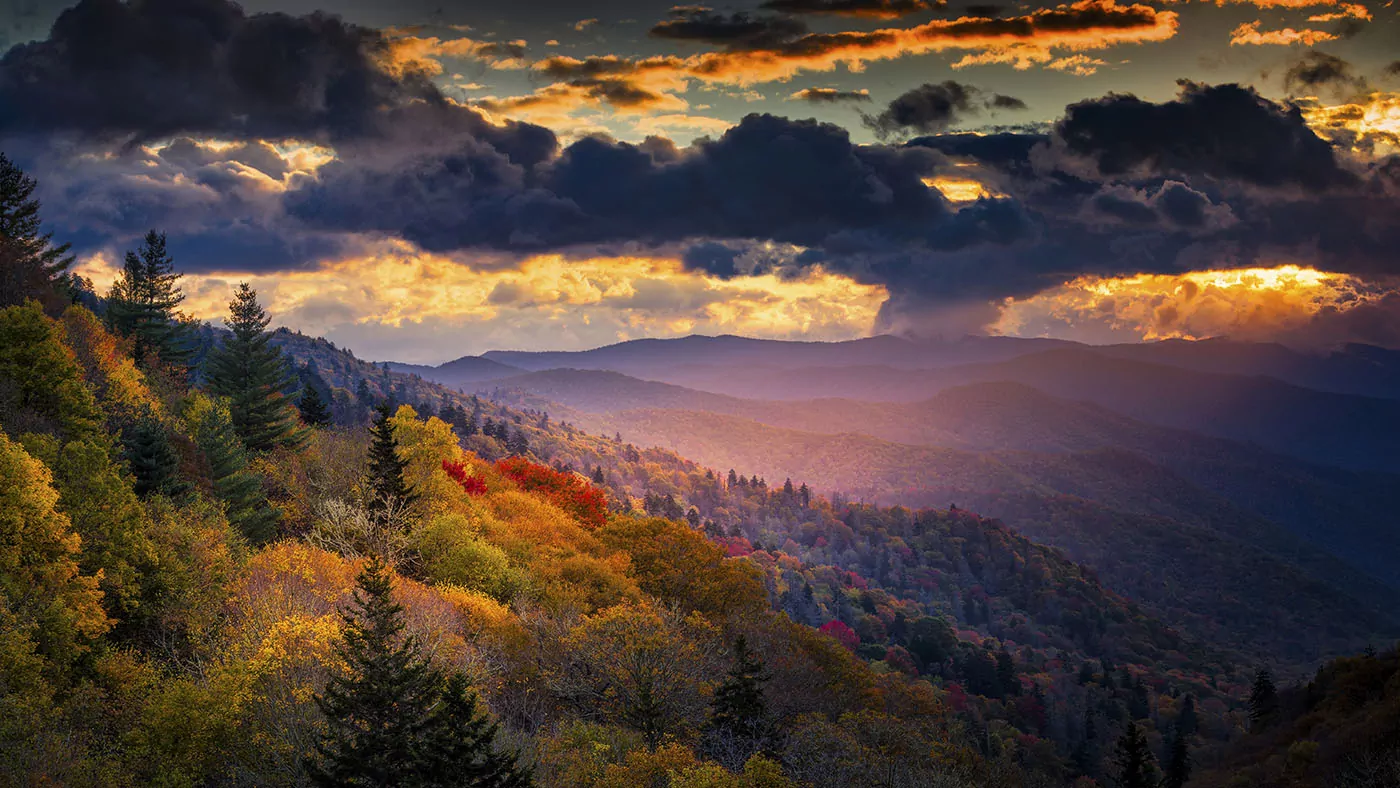 GUIDED FISHING TRIPS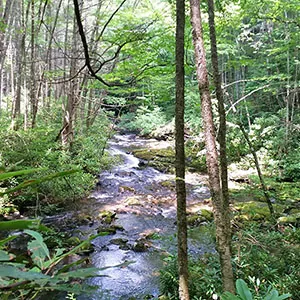 Great Smoky Mountains National Park contains 730 miles of fish-bearing streams, and is home to 67 species of fish in 12 different families—making the Smokies the trout capital of the world. A great way to find the best locations and gain insider knowledge about the streams and their residing fish is to go on a guided fishing trip. Fly Fishing the Smokies offers private, all-inclusive fly fishing trips in Great Smoky Mountain National Park and the surrounding areas. Trips start out of Gatlinburg, TN and Bryson City, NC, and are available May to October.
RAFTING TRIPS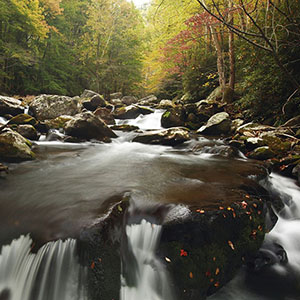 The Smokies have wonderful, clear and swift rivers that offer exciting whitewater rafting through class 2-4 rapids. Smoky Mountain Rafting runs trips on the Upper Pigeon River—with class 3 and 4 rapids, and the Lower Pigeon River—a scenic and calmer section of the river. Trips leave every 30 minutes in the summer months, and as the weather permits in spring and fall. They also offer guided whitewater kayak trips May through September.
HORSEBACK RIDING TRIPS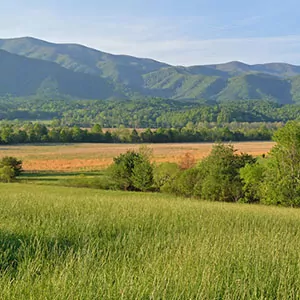 There is something special about experiencing the Smokies via horseback. Many stables operate out of Gatlinburg, Tennessee—just outside the National Park. Smoky Mountain Riding Stables offers guided trips on trails inside Great Smoky Mountain National Park, giving you a very unique perspective of the park. Whether you are an experienced rider, or this is your first time, you are sure to have a wonderful time horseback riding in the Smokies!
ZIPLINE TOURS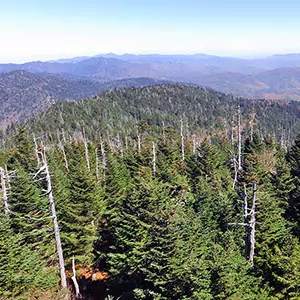 Located in Gatlinburg, Tennessee, and right across from Great Smoky Mountains National Park, Climb Works offers "guided, educational, immersed-in-nature, 5-star, oh-my-goodness-look-at-that-view, step-out-of-your-comfort-zone" zipline experiences. Two tours are available: the Mountaintop Zipline Tour, and the Treetop Zipline Tour. Both offer incredible, panoramic views of the Smokies while soaring through the air. With a top safety rating, this company is voted the best in Appalachia.
JOIN A GUIDED HIKING ADVENTURE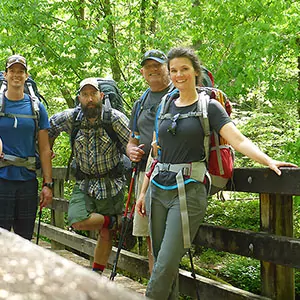 Great Smoky Mountains National Park is a rich, pristine wilderness with abundant wildlife, amazing views and unforgettable opportunities for hiking vacations. Wildland Trekking offers a variety of ways to enjoy the Smoky Mountains, including backpacking trips, portered treks, inn-based tours and day hikes.
Guided Smoky Mountain treks are all-inclusive meaning the following is included: local round trip transportation from Asheville; wonderful meals; top-of-the-line equipment; risk management systems; professional hiking/wilderness guides and more.