SMOKIES BACKPACKING PERMITS
Learn about securing backpacking and backcountry camping permits in Great Smoky Mountains National Park
Backcountry permits are required for each person, at each campsite or shelter in the backcountry. There is a fee of $4 per person, per night, with a maximum of $20 per person. Reservations can be made up to 30 days in advance of the first night of your trip, and can be done online, or in person at the backcountry office at the Sugarlands Visitor Center.
The online reservation system is very easy to use. Take a look at the park's trail map to get familiar with the layout of backcountry campsites throughout the park; the online reservation system uses this same map. You simply enter the number of people in your group, look at the trail map and click on the sites you desire, and a calendar shows what dates the campsites/ shelters are available for.
If you are planning a trip in a particularly busy month, an can't obtain the permits you desire, consider joining a guided backpacking trip. Wildland Trekking secures all of the permits, so you don't have to stress. In addition, trips are all-inclusive, meaning that all appropriate gear, transportation and delicious backcountry meals are provided.
BACKCOUNTRY SHELTERS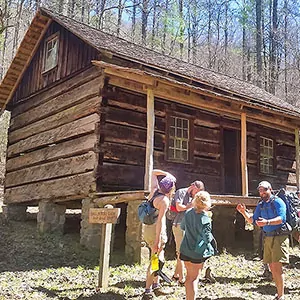 One of the unique things about backpacking in Great Smoky Mountain National Park is that depending on where you decide to camp, you may run into thru-hikers of the Appalachian Trail. The park has a backcountry shelter system along the Appalachian Trail that you can stay in, even if you're not thru-hiking. The shelters are designated on the park's trail map, so you can find one along your route. Staying in backcountry shelters is an exciting way to experience the comradery of backpacking, and may provide a good respite from your tent for a night or two. Reservations are required, and are obtained the same way a backcountry campsite is reserved; there is a fee of $4 per night, per person. You are not permitted to stay more than one night at any shelter in the park.
HIKER SHUTTLE INFORMATION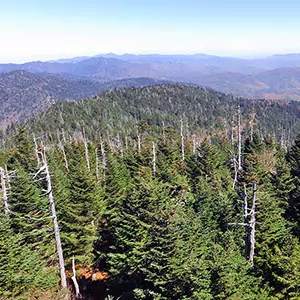 There are many trails in Great Smoky Mountains National Park that are best done as a thru-hike—hiking from Point A to Point B, that way you don't have to see the same scenery on an out-and-back trail. Deciding to go on a backpacking adventure from one point to another takes just one extra step—figuring out how you're going to get back to your car when you're finished. Many of the surrounding communities have hikers' shuttles that will drop you off at the trailhead or take you back to your car after your trip.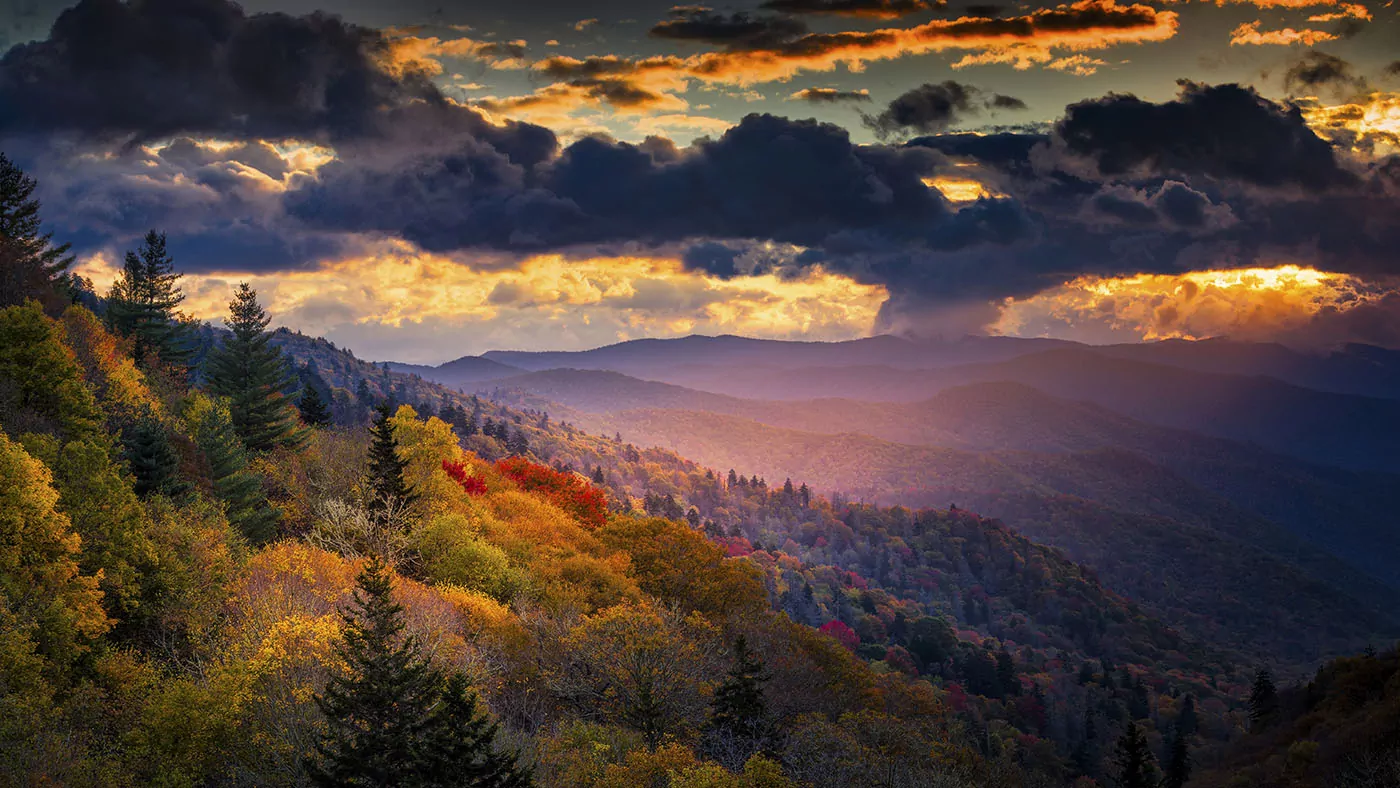 BACKPACKING IN BEAR COUNTRY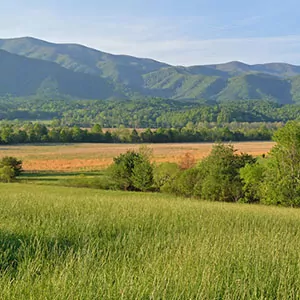 When backpacking in Great Smoky Mountain National Park, you have a good chance of seeing black bears. Biologists believe there are approximately 1,500 bears in the park—that's about 2 bears per square mile. Seeing a black bear in it's wild habitat is one of the most rewarding sights in the Smokies. While most of the time they are passive and want nothing to do with humans, bears are wild animals and therefore, unpredictable. If you see a bear in the back country, respect their space by:
Staying at least 100 yards away—if your presence causes the bear to change it's behavior, you are too close. A bear is more likely to react if it is stressed or feels intimidated.
Remaining calm—if the bear is demanding more space by swatting the air or making loud noises, you must remain calm, and slowly back away from the bear, increasing the distance between you and the animal.
Read all about safely hiking with bears in Great Smoky Mountain here.
Bear-proof cables are provided at all backcountry campsites for backpackers to hang their food and all scented items. It is essential that you hang your food correctly, because with bear's keen sense of smell, they are very attracted to food odors, and it could ruin your trip, as well as the bear's life if they get in to your food.
THRU-HIKING THE APPALACHIAN TRAIL IN GREAT SMOKY MOUNTAINS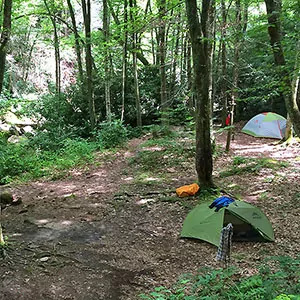 Thru-hikers on the Great Smoky Mountains section of the Appalachian Trail are required to obtain a permit for the time they spend hiking through the park. The permit is valid for 38 days from the day you purchase it, and is available for up to 8 days in the park (most hikers take 7 days to hike the Great Smoky Mountains section of the trail). Thru-hikers are required to stay at backcountry shelters throughout the trail, 4 spaces per shelter are reserved for thru-hikers each night, and if there are no spaces left, you may pitch your tent outside the shelter (only thru-hikers are permitted to tent outside shelters). For more information on Appalachian Trail hiking permits, click here.
LEAVE NO TRACE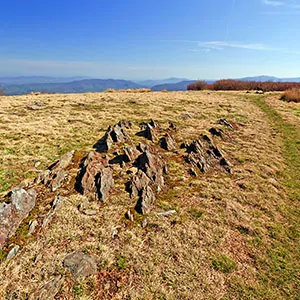 Help preserve the backcountry for any visitors who come after you by following the 7 Leave No Trace Principles. These will provide a safe and successful trip for you, as well as protect the land for other visitors and for the wildlife that reside in the backcountry. Below are ways you can leave no trace:
1. Plan ahead and prepare
2. Travel and camp on durable surfaces
3. Dispose of waste properly
4. Leave what you find
5. Minimize campfire impacts
6. Respect wildlife
7. Be considerate of other visitors
JOIN A GUIDED HIKING ADVENTURE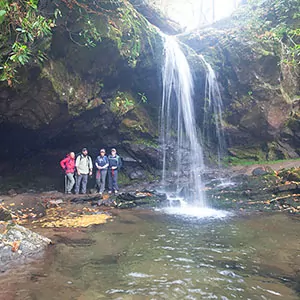 Great Smoky Mountains National Park is a rich, pristine wilderness with abundant wildlife, amazing views and unforgettable opportunities for hiking vacations. Wildland Trekking offers a variety of ways to enjoy the Smoky Mountains, including backpacking trips, portered treks, inn-based tours and day hikes.
Guided Smoky Mountain treks are all-inclusive meaning the following is included: local round trip transportation from Asheville; wonderful meals; top-of-the-line equipment; risk management systems; professional hiking/wilderness guides and more.