When To Visit Overview
Learn all about visiting Great Smoky Mountains National Park
The Great Smoky Mountains comprise America's most popular national park in terms of visitation and justifiably so. Part of the reason for this popularity is the proximity of the Park to major population centers along the East Coast and in Appalachia, but that is only a very small part of the story. The Smokies are a beacon for nature lovers across the world and a refuge where visitors can immerse themselves in a world of history, biodiversity, natural beauty, pristine wilderness and fantastic hiking, camping, rafting, fishing, canoeing, cycling, backpacking and more.
The first reason to make a trip to the Smokies is because it is one of America's major national parks, up there with Yellowstone, Yosemite, Grand Canyon, Glacier, Denali, Zion…etc. Second, if you enjoy outdoor adventure, the Smokies is full of it and has options for almost every type of adventure you could want. Third, the fall colors are some of the best in the world and are not to be missed. Fourth and final on our abbreviated list is the tremendous beauty the Smokies offer, with phenomenal Appalachian views, stunning biodiversity, unique wildlife and more.
WHAT MAKES THE SMOKIES SO UNIQUE?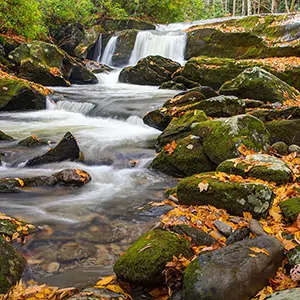 The Great Smoky Mountains are some of the oldest mountains in the world; the oldest sedimentary rock forming between 545 and 800 million years, and the youngest rock formed between 450 and 545 million years ago. These extraordinary mountains were built when the North American tectonic plate collided with the African tectonic plate. The collision of these two great plates caused the uplift of the Appalachian Mountains. You can read all about the geology of the park here. Among these old mountains and rugged ridgelines, are five distinct forests, many of which are old-grown forests. Eighty-percent of the park is comprised of deciduous trees, making them a true spectacle in the fall.
With so many trees and layers of terrain, you take notice of the meadows in Great Smoky Mountains. Most of the year, these meadows are blooming with wildflowers. The earliest wildflower—spring ephemerals, emerge from February to April, and the latest—the witch-hazel, blooms until January. Containing more than 1,600 flowering plants, some refer to the park as "Wildflower National Park".
Another thing that makes Great Smoky Mountains so unique is that it is the most visited National Park in the United States, hosting more than 11 million visitors annually. Although there are many areas of the park that are overly crowded, there are still many places to escape the crowds and feel a sense of solitude and peace. More than 850 miles of trails cover the 800 square mile park, so finding a trail with less people is easy enough. You can read our hand-picked list of best Smoky Mountains hikes for recommendations. While hiking in Great Smoky Mountains National Park, you will experience dramatic diversity—as the lowest point in the park, 876 feet, varies greatly from the highest point in the park, 6643 feet. The park is home to 67 species of fish, 65 species of mammals, over 200 types of birds, and 80 species of reptiles and amphibians. And if you're lucky, you may even see a black bear—more than 1,500 reside in the park, so that's nearly two per square mile!
GATEWAY CITIES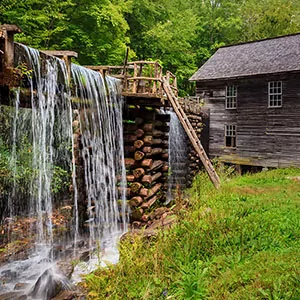 The Smokies are accessible from multiple gateway cities, all of which offer unique lodging and wonderful restaurants with classic Appalachian cuisine. Whether you come to the Smokies from Tennessee or North Carolina, you'll have several options. On the Tennessee side, the primary gateway cities are Gatlinburg and Townsend. On the North Carolina side, the primary gateway cities are Asheville and Hot Springs. Asheville is the largest of all of these with an airport, plenty of restaurant and lodging options, breweries, museums and more.
Below are the major gateway cities and directions to enter the Park from each of them, and a brief description of each town.
GATLINBURG, TN – Gatlinburg is one of the Southeastern United States' most popular tourist destinations. It is surrounded by towering mountains with rocky ridges; deep, lush forests; and pristine creeks. There are plenty of great hotel and restaurant options in Gatlinburg. More about Gatlinburg.
TOWNSEND, TN – Townsend is a small town about 30 miles from Gatlinburg. It's a smaller town than Gatlinburg but with great restaurants and lodging. It is very close to Cades Cove, one of the Smokies' most popular destinations. More about Townsend.
HOT SPRINGS, NC – This wonderful Appalachian town offers a soothing soak in natural hot springs, great hotels and restaurants, and is only 75 minutes from the famous Catalooche area of the Park. More about Hot Springs.
ASHEVILLE, NC – Asheville is where Wildland Trekking bases all of our Smokies hiking and backpacking tours out of. It is a larger, wonderful city not far from the Park. It is home to amazing lodging, restaurants and breweries. More about Asheville.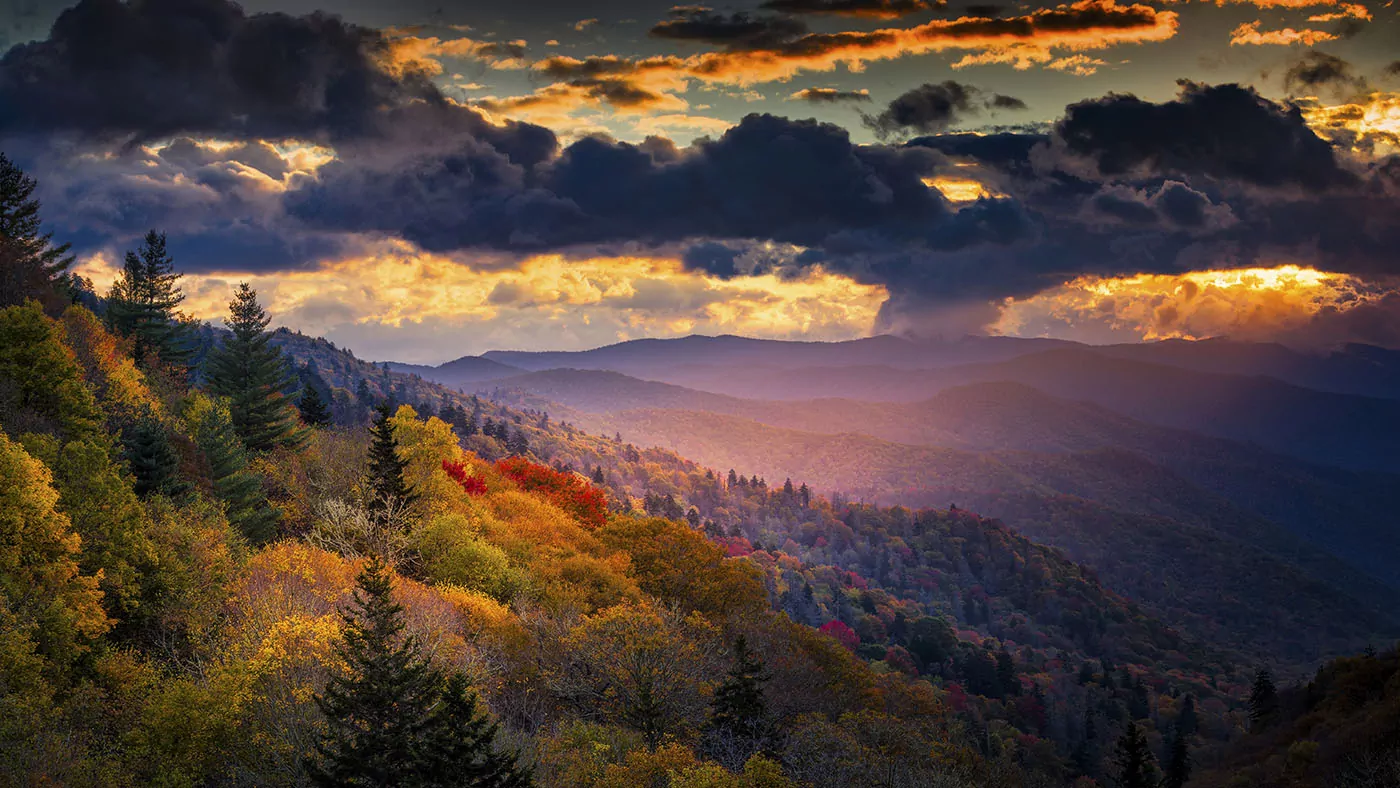 WHEN TO GO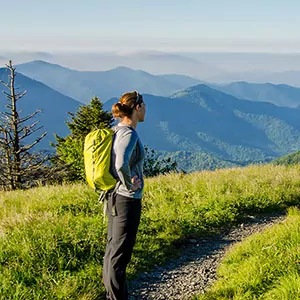 When determining when to visit Great Smoky Mountains National Park, you should take the following into consideration:
1. The crowds: June, July, August and October are the busiest months to visit the park, with one million people entering each month. The winter months of December through March have less traffic and are much more accommodating to those with a lower crowd tolerance.
2. The areas you want to visit: Newfound Gap and Cade Cove Loop are the most frequented areas of the park. There are more off-the-beaten-path destinations near Fontana Lake, Abrams Creek and Balsam Mountain.
3. The activities you want to do: Each season brings dramatic change to the park, and fun and exciting activities with it. Depending on what you want to do while in Great Smoky Mountains National Park should determine when you should visit.
4. The weather: The drastic difference in elevation from the base of the mountains to their top has a huge impact on the temperature and climate in Great Smoky Mountains National Park. Below is the typical weather (including highs, lows, and days of precipitation) for Sugarlands Visitor Center, at 1,462 feet, and for Clingman's Dome, at 6,643 feet:
Month
Sugarlands Visitor Center
Clingmans Dome
Days of Precip
Avg Hi
Avg Lo
Avg Hi
Avg Lo
January
49°F (9°C)
26°F (-3°C)
35°F (1°C)
19°F (-7°C)
10-12 Days
February
53°F (11°C)
29°F (-1°C)
35°F (1°C)
18°F (-6°C)
9-12 Days
March
62°F (16°C)
35°F (1°C)
39°F (3°C)
24°F (-4°C)
10-12 Days
April
71°F (21°C)
42°F (5°C)
49°F (3°C)
34°F (-4°C)
8-10 Days
May
77°F (25°C)
51°F (10°C)
57°F (13°C)
43°F (6°C)
10-11 Days
June
83°F (28°C)
59°F (15°C)
63°F (17°C)
49°F (9°C)
9-11 Days
July
86°F (30°C)
63°F (17°C)
65°F (18°C)
53°F (11°C)
11-13 Days
August
85°F (29°C)
62°F (16°C)
64°F (17°C)
52°F (10°C)
10-12 Days
September
80°F (26°C)
56°F (13°C)
60°F (15°C)
47°F (8°C)
7-8 Days
October
71°F (21°C)
44°F (6°C)
71°F (21°C)
39°F (3°C)
6-8 Days
November
61°F (16°C)
35°F (1°C)
42°F (5°C)
28°F (-3°C)
7-9 Days
December
52°F (11°C)
29°F (-1°C)
37°F (2°C)
21°F (-6°C)
9-10 Days
WHAT TO DO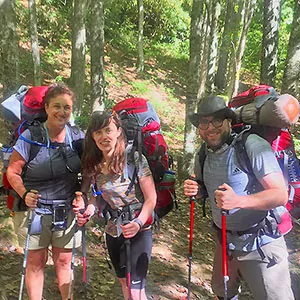 There are so many activities to do in the Smokies. Whatever your interests are, you are bound to find something that lights your fire inside Great Smoky Mountains National Park. Whether you want to drive to as many scenic overlooks as possible, hike to the tallest peak in Tennessee, kayak on a wild and scenic lake or river, or backpacking through the mountains without seeing another person for days… there is something for everyone in the Great Smoky Mountains!
Below are the most popular activities in Great Smoky Mountains:
Hiking: With over 850 miles of backcountry trails inside the park, there are so many great hikes to choose from. Strap on your hiking boots, because this is one of the best ways to see the Smokies—to immerse yourself in the lush forests, and the magnitude of the mountains. For recommendations on incredible places to hike in Great Smoky Mountains, click here. Hit the trail on your own, or join a guided day hike for insider knowledge about this incredible region.
Backpacking: There are numerous trails that you can string together for a fantastic multi-day backpacking trip in the park. With over 100 backcountry campsites, there are many fantastic locations to call home for the night. Read how to obtain Great Smoky Mountains Backpacking Permits, so you know when and where to apply for permits, in order to get the itinerary you desire.
Fishing: There are approximately 730 miles of fishable streams inside the boundaries of the Great Smoky Mountains. For recommendations on the best locations to fish in the Smokies, click here. You may fish everyday, from half an hour after sunrise to half an hour before sunset. All fishers are required to carry a fishing license from either North Carolina or Tennessee.
Bicycling: One of the most popular activities in the Great Smoky Mountains is bike riding on the 11-mile, one-way road through Cades Cove. This historic area is lush with greenery, a great place to spot wildlife, and takes you past historic log homes and mills. Bicycles are available for rental at the Cades Cove Campground.
Kayaking: The historic Fontana Lake is perfect for a day paddle. Paddle on your own (rentals available in Bryson City, NC), or join a guided Hike & Paddle Trip, where you will experience the best of the Smokies, on land and on water—this is a fantastic way to enjoy the two best activities in the park!
Wildlife Viewing: The forested-mountain ecosystem of the Smokies provides an excellent sanctuary for many kinds of wildlife. Inside the boundaries of the park are 65 species of mammals, over 200 types of birds, 67 species of fish and 80 species of reptiles and amphibians. Wide, open spaces like Cades Cove and Cataloochee provide great opportunities for wildlife viewing.
VISIT THE SMOKIES ON YOUR OWN OR WITH A TOUR COMPANY?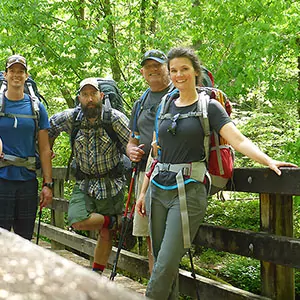 Many people visit the Smokies on their own and many join guided tours. If you're primarily interested in sightseeing, enjoying gift shops and natioanl park eateries…etc. then a guided tour is not normally necessary. If you'd like to have more of an adventure, for example with hiking, backpacking, rafting, climbing, fishing….etc. then a guided tour might be for you. Multi-day tours normally include gear, necessary permits, meals, transportation and more, allowing you to have a truly stress-free experience of the Smokies. With rafting and backpacking tours, part of the value is not having to travel with gear and letting professional guides handle the logistics of executing the trip. Also, guides have the ability to really bring a place to life through natural and cultural interp, story telling and through their personal passion for the area.
BEST TIME OF THE YEAR FOR RAFTING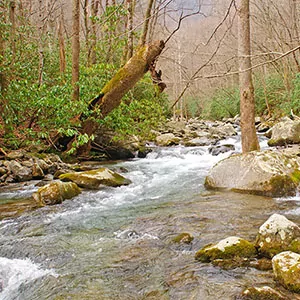 Rafting on the Pigeon River, just outside Great Smoky Mountains National Park is a great spring, summer or fall activity. There are multiple companies that operate on the river—most run the Upper River, full of whitewater and class-4 rapids, as well as the Lower River, which is scenic and more calm. Trips leave every 30 minutes, everyday in the summer; and depending on the water level, they will run trips in the spring and fall—beginning in March and ending in October.
JOIN A GUIDED HIKING ADVENTURE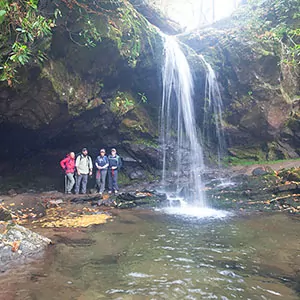 Great Smoky Mountains National Park is a rich, pristine wilderness with abundant wildlife, amazing views and unforgettable opportunities for hiking vacations. Wildland Trekking offers a variety of ways to enjoy the Smoky Mountains, including backpacking trips, portered treks, inn-based tours and day hikes.
Guided Smoky Mountain treks are all-inclusive meaning the following is included: local round trip transportation from Asheville; wonderful meals; top-of-the-line equipment; risk management systems; professional hiking/wilderness guides and more.