When To Visit Overview
Learn all about the best times to visit the Great Smoky Mountains
While planning a trip to the Great Smoky Mountains, there are many things to take into consideration when trying to determine the best time of year to visit. First, you should take an introspective look on how you handle crowds. Great Smoky Mountains National Park is the most visited park in the United States, with 11 million visitors each year. Summer is the busiest time of year—but, if this is the only time of year that you can visit, we will share some tips about how to avoid the crowds and still make the most of your vacation in Great Smoky Mountains.
Secondly, you should take into consideration what activities you want to do while in the park. There is so much to do in Great Smoky Mountains National Park, and each season brings it's share of fun and excitement—from hiking and backpacking, to horseback riding and whitewater rafting. Determining what you want to do will help you decide what time of year is best for you to visit.
WEATHER AND TEMPERATURES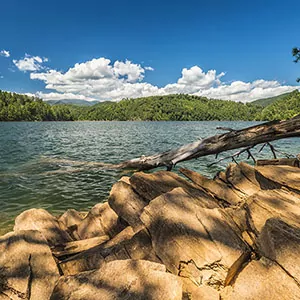 The drastic changes in elevation in the park (from 875 to 6,643 feet) play a huge role in the climate of Great Smoky Mountains National Park. Temperatures can vary 10-20° from the base of a mountain to it's top. Spring and summer bring almost daily thunderstorms, and sometimes tornadoes, so bringing rain gear is essential. It is important to know the weather patterns and to stay up-to-date on the weather while you are in the park.
Below is the typical weather (including highs, lows, and days of precipitation) for Sugarlands Visitor Center, at 1,462 feet, and for Clingmans Dome, at 6,643 feet:
Month
Sugarlands Visitor Center
Clingman's Dome
Days of Precip
Avg Hi
Avg Lo
Avg Hi
Avg Lo
January
49°F (9°C)
26°F (-3°C)
35°F (1°C)
19°F (-7°C)
10-12 Days
February
53°F (11°C)
29°F (-1°C)
35°F (1°C)
18°F (-6°C)
9-12 Days
March
62°F (16°C)
35°F (1°C)
39°F (3°C)
24°F (-4°C)
10-12 Days
April
71°F (21°C)
42°F (5°C)
49°F (3°C)
34°F (-4°C)
8-10 Days
May
77°F (25°C)
51°F (10°C)
57°F (13°C)
43°F (6°C)
10-11 Days
June
83°F (28°C)
59°F (15°C)
63°F (17°C)
49°F (9°C)
9-11 Days
July
86°F (30°C)
63°F (17°C)
65°F (18°C)
53°F (11°C)
11-13 Days
August
85°F (29°C)
62°F (16°C)
64°F (17°C)
52°F (10°C)
10-12 Days
September
80°F (26°C)
56°F (13°C)
60°F (15°C)
47°F (8°C)
7-8 Days
October
71°F (21°C)
44°F (6°C)
71°F (21°C)
39°F (3°C)
6-8 Days
November
61°F (16°C)
35°F (1°C)
42°F (5°C)
28°F (-3°C)
7-9 Days
December
52°F (11°C)
29°F (-1°C)
37°F (2°C)
21°F (-6°C)
9-10 Days
Best time of the year for sightseeing
Each season brings beauty and a change in the scenery, making them all great for sightseeing. Any time of year, you can expect to an abundance of wildflowers blooming in the park. There are over 1,500 different types of flowering plants in Great Smoky Mountain National Park—more than any other park. Spring ephemerals—the earliest wildflower—begin blooming in the lower elevations in February, and witch-hazel—the latest wildflower—continue blooming until January. The vibrant colors of wildflowers throughout the year make the landscape constantly remarkable.
In the spring, there are many trails that treat you to extraordinary wildflowers (you can read the full list here). Great Smoky Mountain Association hosts an annual Wildflower Pilgrimage, with seminars and guided wildflower walks. Another amazing sight in spring and summer is the Synchronous firefly. This is one of the 19 species of fireflies in the park, and the only species in the United States that synchronizes it's flashing light pattern as part of a mating display. Their mating season lasts two weeks, and can occur from the middle of May to the middle of June.
Summer is a great time to sightsee in the park. The weather is typically warm, with clear blue skies, so you can see for miles and miles from certain viewpoints. When you get to higher elevations, like Newfound Gap, or Clingman's Dome, you gets views for as far as the eye can see.
As early as mid-September the fall colors put on a fantastic show throughout the park. Because of the elevation and climate of the park, the colors displayed are similar to New England's autumn spectacle. To take in the expansive views of red, orange and yellow trees, drive Clingmans Dome Road, the Blue Ridge Parkway or the Foothills Parkway.
Snow is likely to fall at higher elevations in January and February, covering the ground with up to two feet of snow at times. The scenery is magnificent and magical with snow-dusted trees, frozen waterfalls and creeks, snow-covered historic cabins and white ridgelines. Winter is perfect for sightseeing and photography because of it's low lighting and ideal conditions.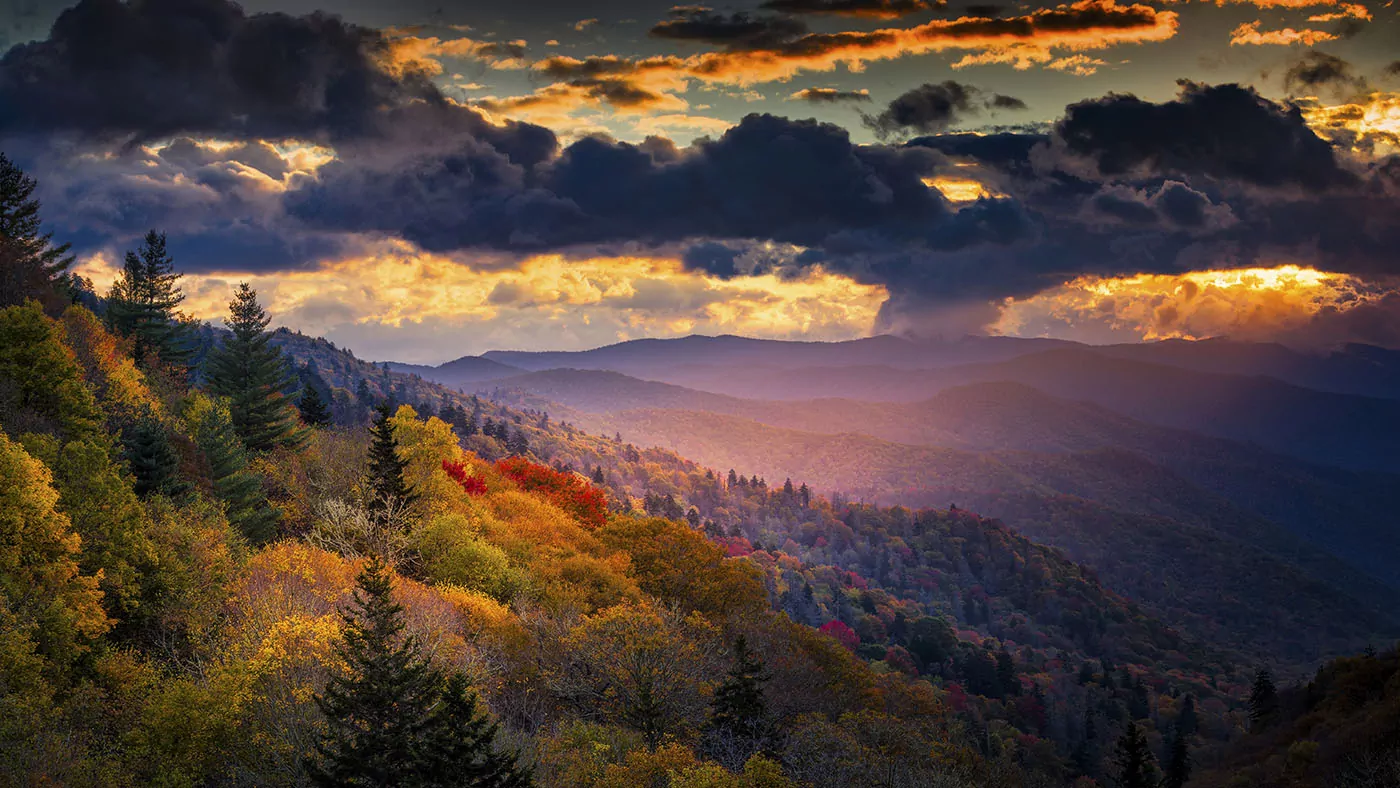 BEST TIME OF THE YEAR FOR HIKING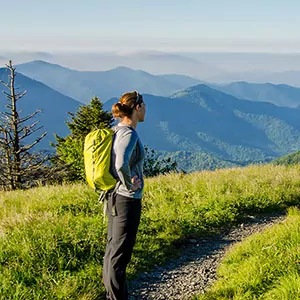 Hiking in Great Smoky Mountains is ideal during all seasons. If you want to get up to higher elevations, winter may not be the best choice because there could be as much as two feet of snow at some points. However, there are numerous trails at lower elevations that are perfect for hiking in the winter. If you are planning a trip any other time of the year—spring, summer or fall—you are in for a treat when it comes to hiking. There are over 850 miles of trails, so you are bound to find one that suits your interests and gives you an escape from the crowds during the busy times of year.
Be sure to bring warm layers and rain gear when hiking, no matter what season. The weather can change drastically at higher elevations, and afternoon thunderstorms are common in the summertime. Check the trail conditions and road closures prior to beginning any trail.
BEST TIME OF THE YEAR FOR BACKPACKING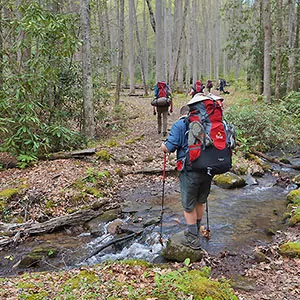 Backpacking in Great Smoky Mountains is best in spring, summer and fall. Since you will likely be spending most of your time in the high country, which give you the best and most panoramic views, you will want to plan a backpacking trip for when there is less snow on the ground. Winter can experience bitter temperatures at higher elevations, as well as snow storms. Every other season, however, is ideal for backpacking. Depending on whether you want expansive views overlooking the bright autumn colors, or to meander through meadows of wildflowers, you are sure to find a trail and itinerary that fits your interests.
Summer is the busiest time of year to be in Great Smoky Mountain National Park, so it could make obtaining backcountry permits difficult for popular trails. The best way to secure the itinerary you want is by planning in advance and being flexible. Another option is booking a trip with Wildland Trekking; the company takes care of all the permits, transportation and logistics, so you can focus on the backpacking itself!
BEST TIME OF THE YEAR FOR BICYCLING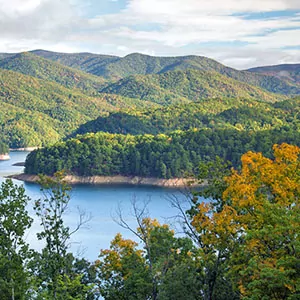 Bicycles are permitted on all roads throughout Great Smoky Mountains National Park, although with steep grade, narrow lanes and heavy traffic, most riders are not comfortable on the majority of roads in the park. However, Cades Cove is perfect for biking. The 11-mile loop takes you through vibrant and lush meadows, where wildlife is plentiful, and past historic homesteads. The best time of the year for biking is early May to late September; the road is closed to motor traffic until 10 am on Saturdays and Wednesdays, allowing bicycles and pedestrians to enjoy the cove without vehicles. In summer and fall, bikes are available for rent at the Cades Cove Campground.
BEST TIME OF THE YEAR FOR RAFTING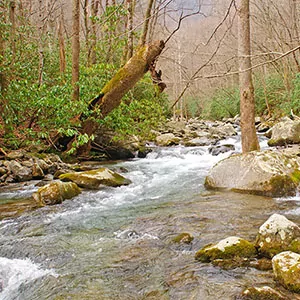 Rafting on the Pigeon River, just outside Great Smoky Mountains National Park is a great spring, summer or fall activity. There are multiple companies that operate on the river—most run the Upper River, full of whitewater and class-4 rapids, as well as the Lower River, which is scenic and more calm. Trips leave every 30 minutes, everyday in the summer; and depending on the water level, they will run trips in the spring and fall—beginning in March and ending in October.
 BEST TIME OF THE YEAR FOR FISHING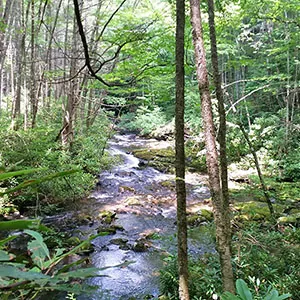 Great Smoky Mountains and the surrounding area has one of the most diverse fish populations in the country. Because the best fishing occurs when the temperature is cooler, the best time of year to fish in the park is in April and May. The hot temperatures of the summer tend to stress out fish, as the oxygen in the water decreases as the temperature rises. You are likely to have better success catching trout in the spring when the water and air is cooler.
Fishing is permitted 30 minutes after sunrise to 30 minutes before sunset every day of the year. If you are planning to visit in the summer, it is best to get an early start. With over 2,000 miles of streams and rivers in the park, you have many options to choose from. The best locations for fishing are: LeConte Creek, Abrams Creek, Douglas Lake and Budley Creek.
BEST TIME OF THE YEAR TO AVOID THE CROWDS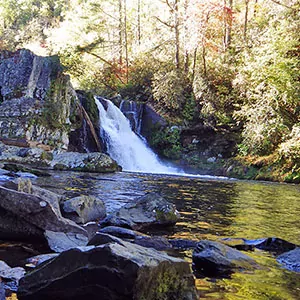 The busiest months to visit Great Smoky Mountains are June, July, August and October (for the fall colors), with one million visitors entering the park during each month. Visiting in the winter is the best time of the year to avoid the crowds. Winter is a great time to see the park covered in snow and ice formations, and this beauty in the park can be appreciated in moments of peace and solitude.
However, if summer is the time of year that you decide to visit, there are many tips and tricks to avoid the congestion of the park:
1. Go on a hike: There are over 850 miles of trails in the park, giving you plenty of space to get away from the crowds. You can look at a full list of best Great Smoky Mountains trails for hand-picked recommendations.
2. Visit a different area of the park: Cades Cove Loop Road and Newfound Gap Road are the most visited areas in the park. However, there are other great places that are quieter and provide more opportunity for solitude. More off-the-beaten-path locations include: Balsam Mountain, Greenbrier Cove, Fontana Lake, and Abrams Creek.
3. Get an early start: Most day visitors are in the park from 10:00 to 6:00. If you are able to get an early start in the park, you have a better chance to miss the crowds.
4. Book a guided hike: A guided day hike is a great option if you want expert knowledge while visiting some of the most historical features in the park.
JOIN A GUIDED HIKING ADVENTURE
Great Smoky Mountains National Park is a rich, pristine wilderness with abundant wildlife, amazing views and unforgettable opportunities for hiking vacations. Wildland Trekking offers a variety of ways to enjoy the Smoky Mountains, including backpacking trips, portered treks, inn-based tours and day hikes.
Guided Smoky Mountain treks are all-inclusive meaning the following is included: local round trip transportation from Asheville; wonderful meals; top-of-the-line equipment; risk management systems; professional hiking/wilderness guides and more.