VISITING THE SMOKY MOUNTAINS IN WINTER
Learn what to expect when visiting Great Smoky Mountains National Park in the Winter
Great Smoky Mountains National Park is open 365 days a year. Whether you are planning a trip for Christmas, winter solstice, or just as a chance to get away, the Smokies are a perfect winter wonderland. It is typical for snow to cover the tops of mountains—the higher elevations receiving 2-6 feet of snow each season. On roads that you'll be driving, and trails that you'll be hiking, the snow accumulation is less, but still very present. The Great Smoky Mountains become even more of a special place when there is snow.
There are many ways to enjoy winter in the Smokies, as well as some drawbacks to visiting in winter. When planning a trip, it is important to gather as much information as possible. Below, we have categorized the most common "when to go" and "what to do" questions to help you determine if winter is the best time for you to visit the park.
BENEFITS OF VISITING GREAT SMOKY MOUNTAINS IN Winter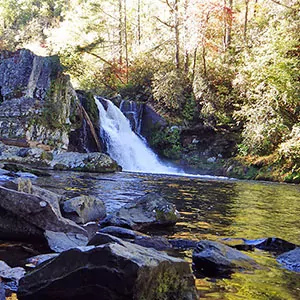 The best thing about visiting Great Smoky Mountains in winter is the lack of crowd, and the opportunity to experience solitude. Most of the park's 11 million visitors go in the summer, so the winter is much more quiet. The best chance for peace and solitude is when you take a hike. In winter, Gatlinburg hosts winter activities (especially in December—there are Christmas light displays and other festive events), so there aren't too many people on the trails, giving you the chance to take in the magical scenery without the crowds.
Another benefit of visiting in winter is the beauty of the mountaintops covered with fresh snow, and the trails and trees at lower elevation powdered white. There are also many waterfalls in the park, and during extended periods of cold temperatures, they freeze into amazing ice formations. The scenery of these forested ridgelines is truly spectacular in the winter. Also, wildlife can be easier to spot in the winter because the deciduous trees have lost their leaves.
DRAWBACKS OF VISITING GREAT SMOKY MOUNTAINS IN Winter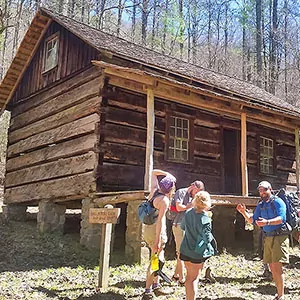 The main drawback to visiting in the winter is many of the roads close for the season. Primary roads, such as Highway 441, Cades Cove Road Loop and Little River Road remain open, weather permitting. But, secondary roads close through the winter, you can look at the full list of seasonal road closures here. Clingmans Dome Road closes to vehicle traffic from December 1st to March 31st. Because it is the highest elevation in the park, and can experience temperature differences of 10-20° from the bottom of the mountain to it's top. (But, just because the road is closed doesn't mean you can't still get to the top for amazing views. You can hike on the Appalachian Trail from Newfound Gap to the top of Clingmans Dome. This 15-mile hike will take you to the tallest peak in the park, giving you outstanding views of the Smokies; and when the air quality is high, you can see into seven states!)
Another drawback to visiting the Smokies in the winter is the unpredictable precipitation. On average, per year, the lower elevations experience 55 inches of rainfall, and higher elevations could see as much as 85 inches of rainfall. Sometimes the temperature is not cold enough to turn that precipitation into snow, so you get a cold, wet rain in the winter—which most people don't find ideal for hiking. Always have rain gear with you, in case the weather changes drastically, as it often does.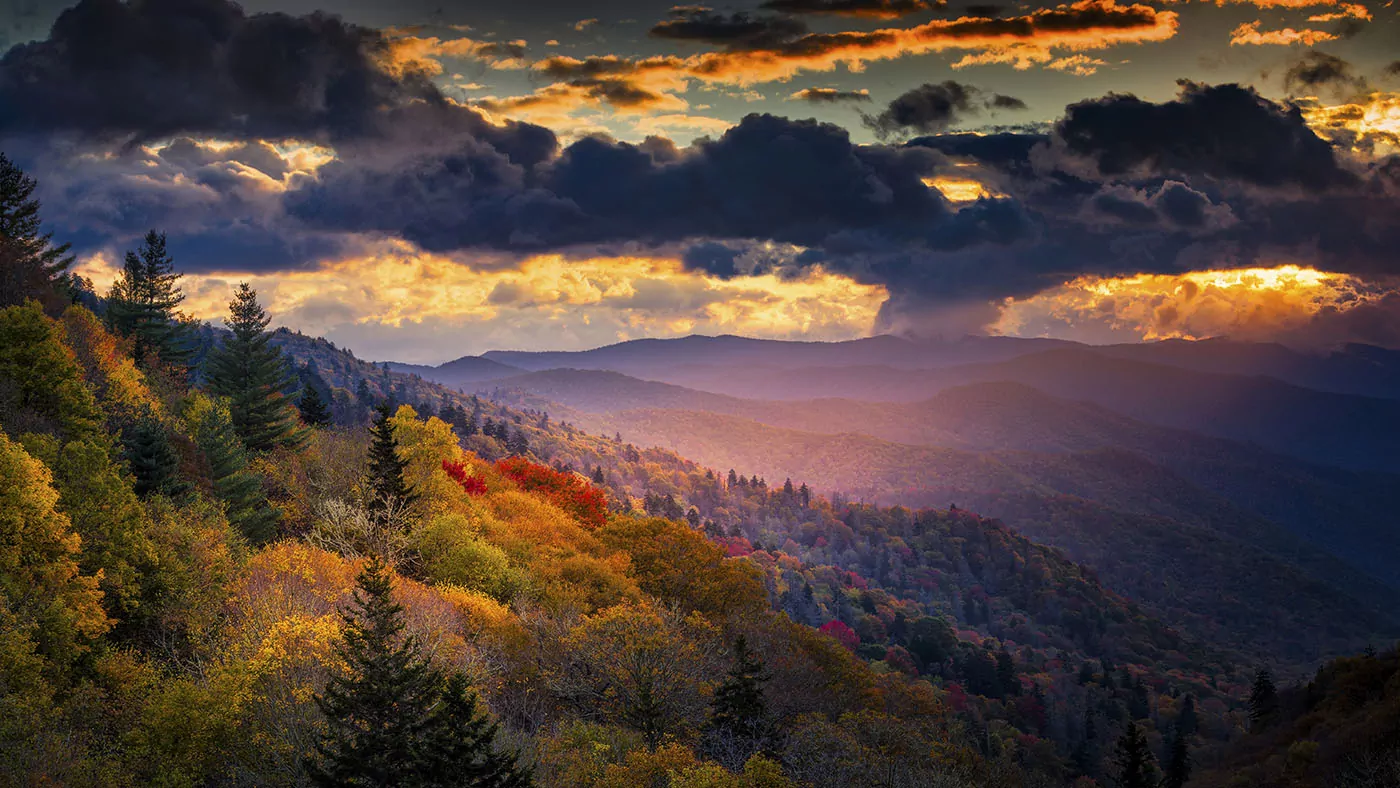 THINGS TO DO IN Winter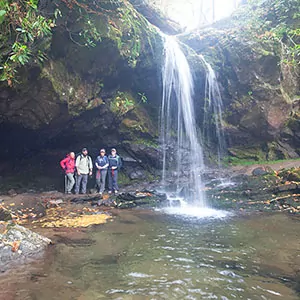 There are countless things to do in the winter wonderland of the Smokies. Below are the most popular things to do during December, January and February:
Hiking: Winter is the season for chasing frozen waterfalls, and looking down on the snow-covered Smokies. There are many incredible trails that become even more wonderful in the winter—we have listed a few of our favorites below. Trails range from easy with little elevation gain, to strenuous with 2500 feet of elevation gain; there is something for everyone in Great Smoky Mountains National Park. No matter which trail you choose, you will be rewarded with majestic views of this winter wonderland.
Cross Country Skiing: Nothing beats the thrill of crushing the uphills, and cruising the downhills on a pair of cross country skis. Since Clingmans Dome Road is closed to vehicles for the entire season, it is a great place to try cross country skiing to the tallest peak in Tennessee. You can rent a pair of skis at Ober Gatlinburg, just outside the park. Check the seasonal road closures before entering the park, as well as the temporary road closures (Newfound Gap Road closes occasionally, if the weather is poor enough).
Downhill Skiing: Just outside the park is Ober Gatlinburg, which offers fantastic downhill skiing, and other winter activities. Here, you have the chance to experience the rush of skiing down the scenic Smokies.
Sightseeing: Winter is a great time to drive around the park and see all the sights. Newfound Gap Road is open the whole season, weather permitting, and provides incredible vantage points to the mountains. Cades Cove is a great loop to drive in the winter, as well as visiting the other historical sites in Oconaluftee and Cataloochee.
HIKING IN Winter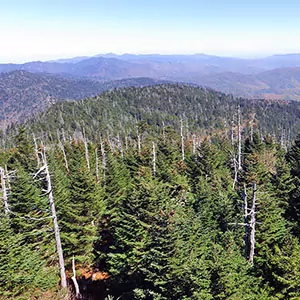 Hiking in the winter is absolutely magical in Great Smoky Mountains National Park! Most of the time you are walking in a winter wonderland. The trail is often dusted with snow, and many trails take you to impressive vantage points of the snow-covered mountains, while others take you to beautifully frozen waterfalls. It is a time of peace and solitude on the trails, and you are rewarded with picture-perfect scenery.
The best trails to hike in winter are:
Ramsey Cascades: Start on the Ramsey Cascades TrailRamsey Cascades Trail in Greenbrier, and hike 4 miles, through a beautiful old-growth forest, up to Ramsey Cascades, a fantastically cascading 100-foot waterfall—the tallest cascading waterfall in the park. The trail is strenuous with an elevation gain of 2200 feet.
Rainbow Falls: Start at the Rainbow Falls trailhead on the Roaring Fork Motor Nature Road, and hike 2.7 miles on steep steps and narrow paths until you reach the 80-foot waterfall—this is the tallest single drop waterfall in the park. During winter months, spectacular ice features form along the side of the falls. The trail is moderate to strenuous with an elevation gain of 1685 feet.
Andrews Bald: Start on the Forney Ridge Trail at Clingmans Dome, and hike for 1.7 miles to the large grassy meadow of Andrews Bald. From here, you have a great vantage point to Fontana Lake and the southern Smokies, most likely dusted with snow in the winter. The trail is moderate with an elevation gain of 900 feet.
Hen Wallow Falls: Start at the Gabes Mountain trailhead at the Cosby Picnic Area, and hike 2.2 miles to Hen Wallow Falls. With freezing temperatures, this 90-foot waterfall is often seen with beautiful ice formations, creating a picture-perfect winter scene. The trail is moderate with an elevation gain of 900 feet.
What to bring with you on a winter hike:
Layers: Wearing warm, moisture-wicking, layers (and bringing extra with you) is essential on any day hike in the Smokies. The weather changes as you gain elevation, so being prepared is key to a fun and successful hike.
Trekking Poles: Because the trails may be covered in snow and/or ice, having a pair of trekking poles is helpful for stability.
Water: Even though you may not be sweating, you should still bring (and remember to drink) 3 liters of water with you; it is still very possible to become dehydrated in the winter.
Snacks: The best foods to eat while hiking are nutrient-dense snacks that provide lasting energy. Snacking while hiking will also keep your body warm when the weather is cold.
First aid kit: This is handy for small injuries that you may obtain while hiking. It should include: small bandages, antiseptic wipes, pain relief pills, blister treatment, and gauze. You can read over a first aid kit checklist to make sure you are prepared.
Headlamp: The sun sets early in the winter, so having a headlamp is a great peace-of-mind, and will become essential if your hike takes a little longer than expected.
BACKPACKING IN Winter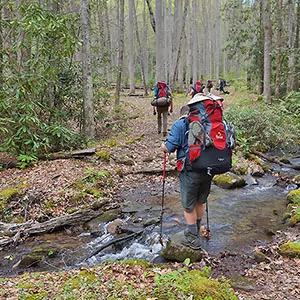 Backpacking in the Great Smoky Mountains is ideal in the winter. There are exponentially less crowds in the winter, and even less as you hit the trail on a multi-day backpacking trip. The best thing about backpacking in the winter is experiencing the solitude of the season, while taking in some of the best scenery in the Smokies. Read how to obtain backcountry permits, and know which backcountry campsites you are interested in before setting up an itinerary.
Guided winter backpacking trips are available, where you will travel past impressive (and sometimes frozen) waterfalls, historical sites, and meandering streams and rivers, on the historically rich route used by Native Americans, and then the settlers, loggers and miners that followed. Wildland Trekking's guided trips are all-inclusive; the company providing all appropriate gear, gourmet backcountry meals, and transportation.
WEATHER AND TEMPERATURES IN Winter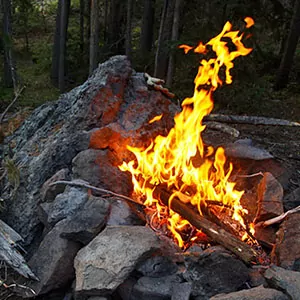 The drastic change in elevation from a mountain's base to it's top, has a huge impact on the climate and temperature. At low elevations, you can experience temperatures ranging from 50° to 70° during the days, and at high elevations, you can experience up to two feet of snow during a storm. Make sure you keep an eye on the weather at both Sugarlands Visitor Center (1,462 feet elevation), and Clingmans Dome (6,644 feet elevation). You can also check out the Park Service's webcams for Clingmans Dome and Look Rock for up-to-date views on the weather, and air quality.
Below are the typical weather patterns for Great Smoky Mountains:
Month
Sugarlands Visitor Center
Clingmans Dome
Days of Precip
Avg Hi
Avg Lo
Avg Hi
Avg Lo
December
52°F (11°C)
29°F (-1°C)
37°F (2°C)
21°F (-6°C)
9-10 Days
January
49°F (9°C)
26°F (-3°C)
35°F (1°C)
19°F (-7°C)
10-12 Days
February
53°F (11°C)
29°F (-1°C)
35°F (1°C)
18°F (-6°C)
9-12 Days
JOIN A GUIDED HIKING ADVENTURE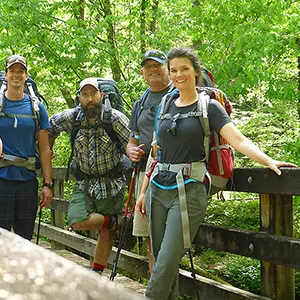 Great Smoky Mountains National Park is a rich, pristine wilderness with abundant wildlife, amazing views and unforgettable opportunities for hiking vacations. Wildland Trekking offers a variety of ways to enjoy the Smoky Mountains, including backpacking trips, portered treks, inn-based tours and day hikes.
Guided Smoky Mountain treks are all-inclusive meaning the following is included: local round trip transportation from Asheville; wonderful meals; top-of-the-line equipment; risk management systems; professional hiking/wilderness guides and more.