15 Best Places to Hike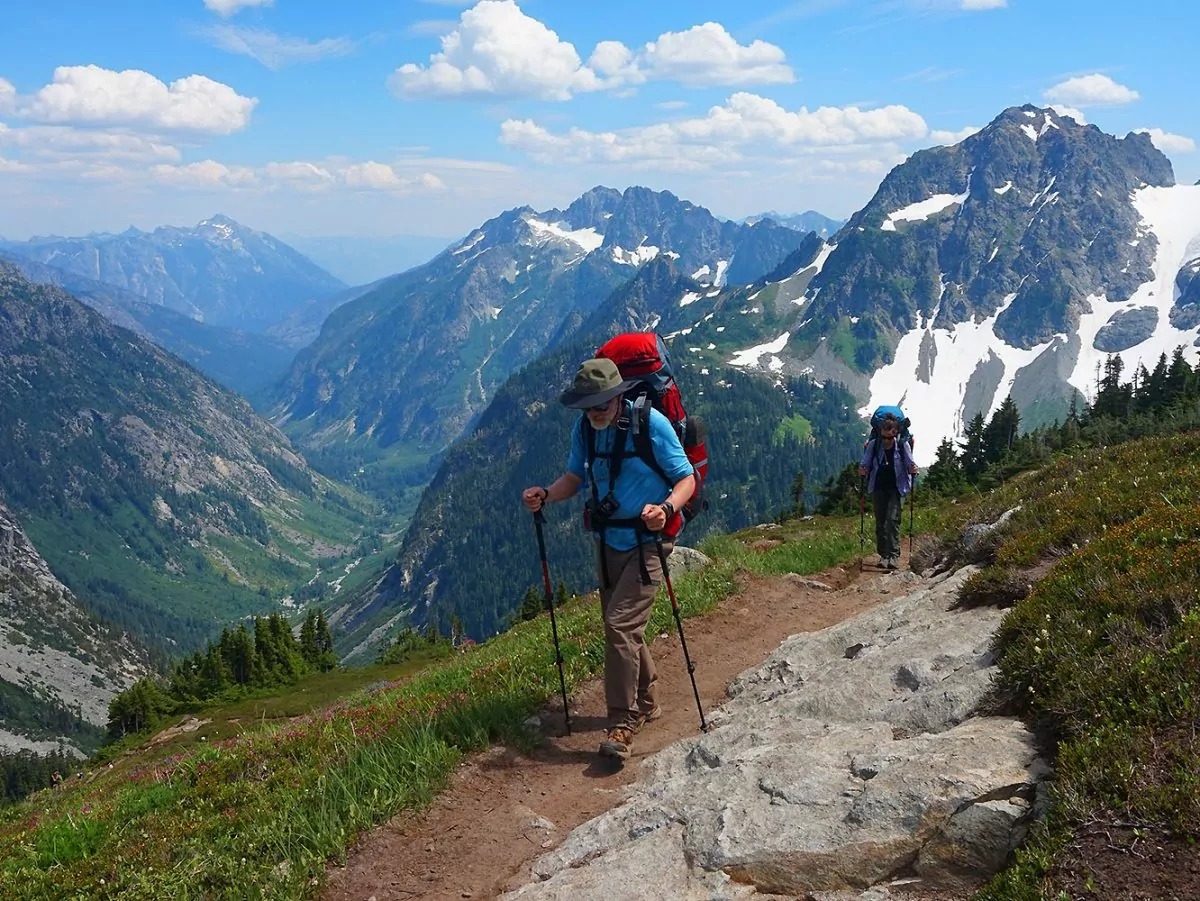 Updated: 12/20/22
What is the best place to go hiking?
There are many amazing places to go hiking, so we would say there isn't really one best place. But there are some locations that spectacularly lend themselves to exploration on foot versus others that are more easily or enjoyably explored by boat, bicycle, or car. A great trekking destination has specific characteristics that make it so good for hiking.
In this article, we are focusing on truly world-class places to hike. We're not interested in average, or even good, here. We're interested in the best. Below we elaborate on what to look for in a great place to hike and then we list our top 15 picks for the best places to hike in the world.
Award Winning Hiking Adventures
Characteristics of a Great Place to Hike
Great places to hike meet common criteria. We believe the following five things are needed to make a truly excellent hiking destination. Each location in this article will be rated on a scale for each of these criteria. To learn more about our rating system, click here.
Stunning Scenery
One of the most rewarding aspects of trekking is the scenery you get to experience. A truly great place to hike is going to be richly gratifying in this regard. Whether you're hiking through mountains, deserts, canyons, oceans, forests, or prairies, the scenery should be spectacular. And of course, you have to be able to see the scenery, which means there must be views of the surrounding landscapes.
Expansive Space
You should really be able to cover some ground. Even if a place is stunningly beautiful, if the longest hiking trail in the area is just a couple of miles, it is not – in our minds – a great place to hike. You should be able to choose between a half-day hike or a multi-day hike. Options must include trail hiking as well as off-trail hiking or "bushwacking." One of the great joys of hillwalking, as it's referred to in Europe, is the sense of freedom that people experience. Expansive amounts of space are a key factor in accessing that amazing feeling of freedom.
Walkable terrain or trails
A key characteristic of a great place to hike is that the terrain is walking friendly. Some places are stunningly beautiful and massive, but they aren't good for hiking because the foliage is too thick, they're swampy or watery, or they don't have developed hiking trails.
Ability to Find Solitude
Not all hikers are looking for solitude, but many are, and for this reason, the ability to have a place mostly to yourself is essential. At the world's best hiking destinations, you probably will not find an abundance of solitude on popular day hikes, but on more obscure trails and/or on multi-day trips it should be an option.
Ecological Integrity
Finally, a great trekking destination will be wild and well preserved. "Ecological integrity" means the natural systems are largely undisturbed, at least to the extent possible in today's world. The native plants and animals will be healthy, and the landscape as a whole will be intact, not divided or broken up by roads, clearcuts, mines…etc.
1. Grand Canyon National Park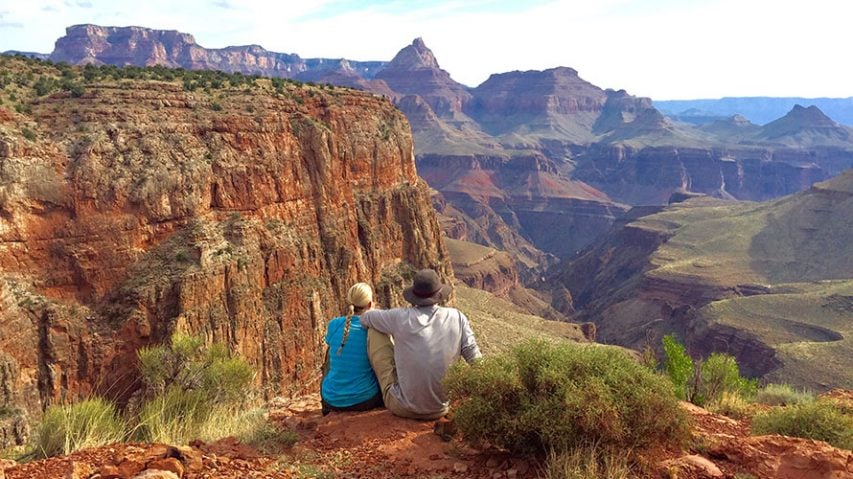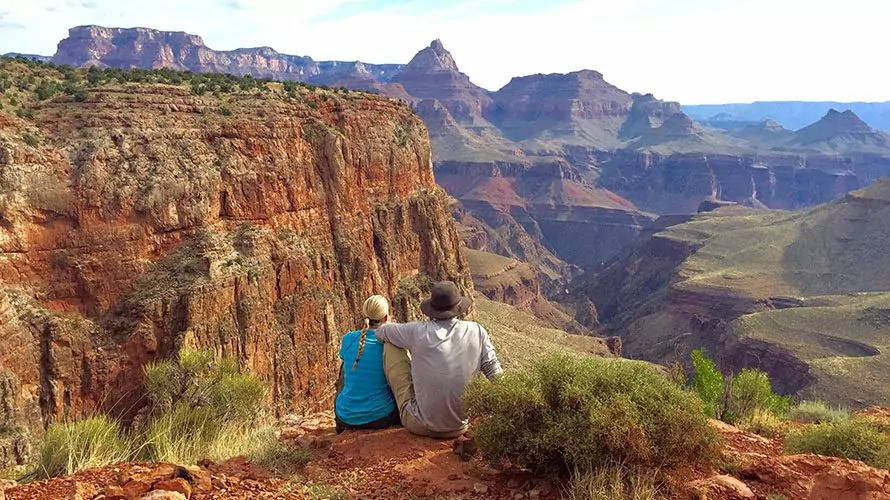 Overview
There's nowhere else on earth like the Grand Canyon, and Grand Canyon National Park is the heart of this 277-mile long geological phenomenon. It is also one of the best places in the world for hiking as it has all of the major characteristics of a great trekking destination. You can make the most of the Park by embarking on a day hike to a viewpoint or a backpacking trip down to the Inner Gorge and the Colorado River.
In Grand Canyon National Park, you can choose from many trails or even off-trail adventures. The most popular area — the Corridor  — is home to the most moderate trails and also a lodge at the bottom of the Canyon called Phantom Ranch. But beyond the Corridor, you'll find many more obscure trails to experience amazing desert wilderness and soak up soul-nurturing solitude. The bottom line is that — from a hiking perspective — the Grand Canyon has it all, and it deserves to be near or at the top of every avid hiker's to-visit list.
Ratings
Scenery: 5 
You can't find the sweeping, panoramic views that you will at the Grand Canyon anywhere else on earth
Space: 5
This national park offers many options for multi day backpacking trips as well as some off trail hiking.
Terrain: 5
You've got the best of both world's here with well maintained trails and options for off-trail hiking 
Solitude: 2-4
How much solitude you will find in Grand Canyon National Park will depend on when and where you visit, but there are many opportunities to find solitude despite the crowds on the rims. See here for more information about visiting Grand Canyon.
Ecological Integrity: 4

 
A ranger or two "lives" at the bottom of the canyon, but other than that there are no human residents in the park and no roads at the bottom of the canyon. Many native species still thrive here and few have been driven out by humans.
Visiting Grand Canyon Guided Hikes in Grand Canyon
---
2. The Alps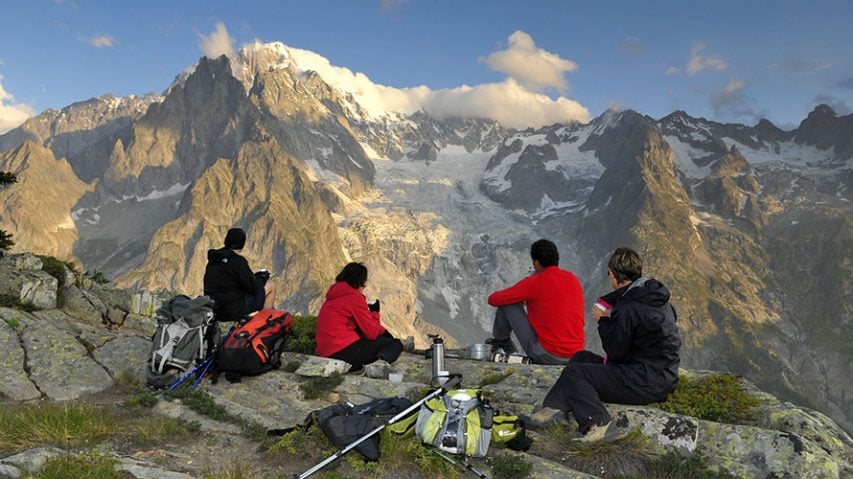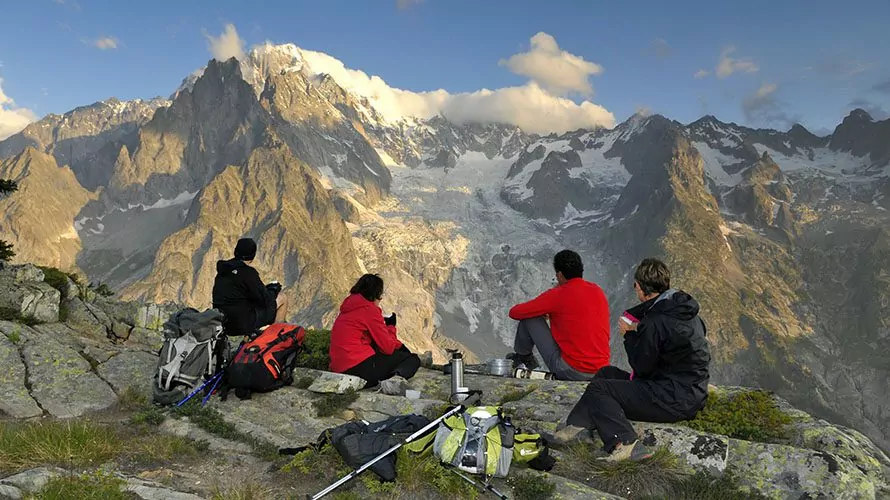 Overview
The Alps are hard to beat in terms of scenery, space and walkability. It feels like they were created specifically for trekking. One of the most amazing ways to enjoy the Alps is to link up mountain villages or huts on multi-day trips. You will experience not only breathtaking scenery, wildlife, and amazing hill walking but you'll also get to enjoy delicious European cuisine, charming lodging and different cultures.
The ecological integrity and ability to find solitude in the Alps are not as high as in some our other top picks. If those characteristics are very important to you, then you may want to keep looking. If you want to soak up stunning views, tackle some world class hikes, have a cultural experience and eat like a queen or king, then the Alps are a phenomenal place to hike.
Ratings
Scenery: 5
No matter where you go in the Alps, it's difficult to argue that the scenery is not one of a kind. Expect stunning vistas and overlooks in these unique mountains
Space: 5
As the most extensive mountain range in Europe with sections into Italy, Switzerland, France, Austria, and Germany and encompassing more than 115,000 miles, you could say that the Alps has sufficient space for hiking.
Terrain: 5
You'll have all the options in the Alps from walking paved paths, maintained trails, and off-trail hiking.
Solitude: 3-4
How much solitude your experience in the Alps will depend on when and where you go, but generally the accessible areas of this mountain range are not the places to find complete and utter solitude. 
Ecological Integrity: 2-4
Again, ecological integrity will vary throughout the Alps, but for the most part the mountains are speckled with towns and criss-crossed with roads and railways that interrupts the landscape of the more accessible regions. While there are sections that are completely ecologically preserved, they are most often inaccessible to hiking. 
---
3. Colorado Rockies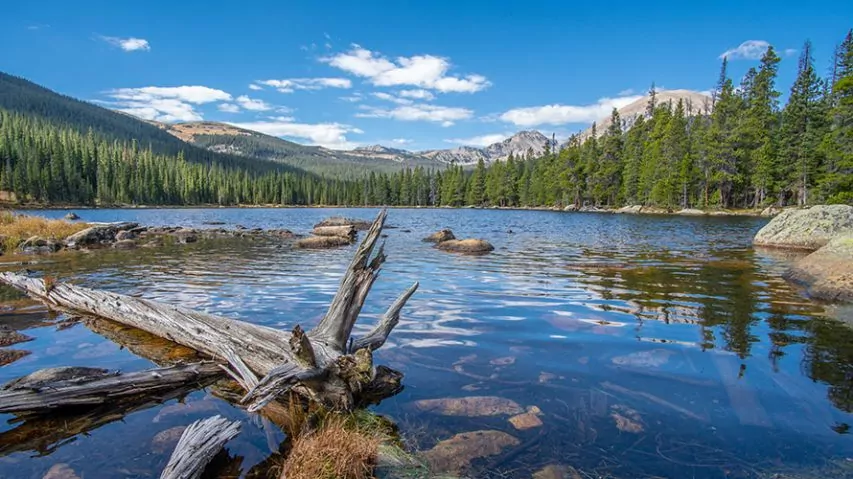 Overview
The state of Colorado offers world class hiking and backpacking, and an almost endless supply of it. With Rocky Mountain National Park and other wilderness areas covering more than 3.5 million acres (approximately the size of Connecticut), Colorado is a true hiking gem. You can camp, stay in any number of iconic mountain towns (Crested Butte, Winterpark, Telluride, Aspen, Steamboat…etc.), or go on a multi-day backpacking trip.
The scenery is out of this world. There is immense space to lose yourself in. Colorado has plenty of hiking trails including major ones like the Colorado Trail and the Continental Divide Trail. With so many options Colorado is truly one of the best places for hiking in the world and draws many people to its scenic destinations.
Ratings
Scenery: 4
While Colorado is spectacularly beautiful, it's main feature, the Rocky Mountains, extend all the way up in to Canada and thus aren't unique to the area. 
Space: 5
A major national park and 44 wilderness areas give lots of opportunities for hiking; there's plenty of space here. 
Terrain: 5
You'll have all the options in Colorado from from walking paved paths, maintained trails, and off-trail hiking.
Solitude: 2-4
Like many other places, solitude will come and go depending on where you are in Colorado, but there are many opportunities for solitude if you are willing to hike longer or explore some lesser known trails.
Ecological Integrity: 3-4
This will also vary depending on where you're hiking in Colorado, but the presence of a large human population now and in the past has stripped the land of some ecological integrity by eradicating the native wolves and grizzly bears that used to roam here. 
Visiting Rocky Mountain National Park Colorado Hiking Adventures
---
4. Peru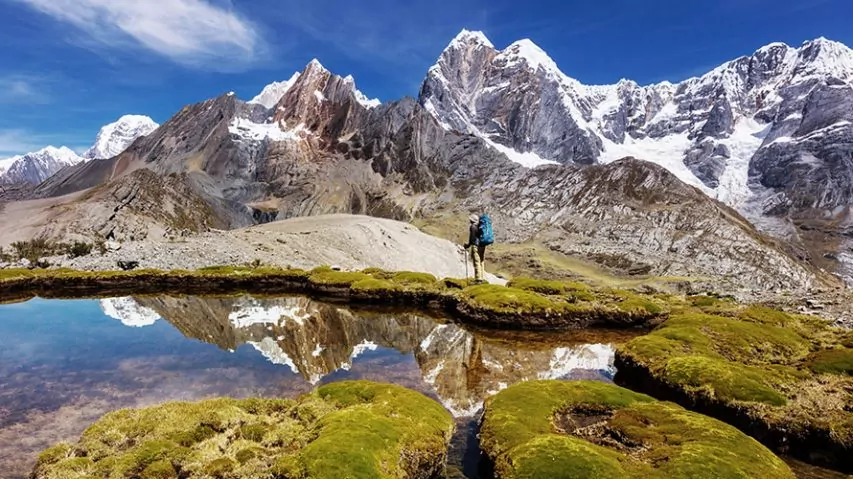 Overview
Peru is a big country with tremendous hiking for the eager adventurer. It really offers almost anything you could ask for. From the famous Inca Trail and Machu Picchu to the second highest mountain range in the world (Cordillera Huayhuash), to coastal deserts, cloud forests, the Amazon Rainforest and more. The scenery is without question world class, particularly in the high Andes. The mountains are vast and expansive with plenty of trails and alpine treks to choose from. Solitude is available if you seek it out, and many ecosystems of the Andes are still quite wild with native wildlife and pristine wilderness.
One of the most compelling aspects of Peru is its fascinating cultural history. Remnants of the Inca civilization are visible across the Andes, and are a part of nearly every trekking route. The Inca Trail is very worth doing if the cultural history is your primary interest, and solitude is less important to you. Otherwise, we recommend looking at more off-the-beaten-path hikes like Salkantay, Cordillera Huayhuash and Rainbow Mountain.
Ratings
Scenery: 4-5
The Andes are certainly unique to Peru, and the country's other landscapes are also stunning to behold. 
Space: 5
There are many options for long distance hiking, especially the Inca Trail.
Terrain: 3-5
The terrain is walkable in Peru in most destinations, although there are some areas that require in depth planning before attempting a traverse. 
Solitude: 2-4
The Inca Trail is a popular hike with quite a few visitors, but other lesser known trails will give a hiker solitude from others. 
Ecological Integrity: 3-4
The mountainous regions of Peru still boast fairly intact ecosystems with few roads and little human impact on the wilderness. 
Planning a Hiking Trip in Peru All-inclusive Peru Hiking Adventures
---
5. Washington State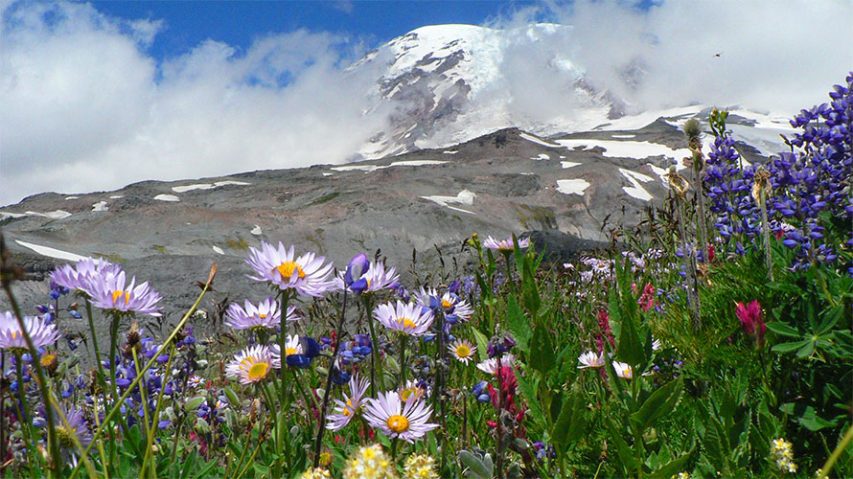 Overview
Washington State has 3 major national parks – Mount Rainier, Olympic and North Cascades – all of which offer tremendous hiking opportunities. Beyond the national parks, Washington has 31 wilderness areas with varying landscapes of lush rain forests, iconic peaks, wild rivers, plunging waterfalls, pristine meadows and more. Washington has it all!
The must-see highlights of Washington are the three national parks listed above: Mount Rainier, Olympic and North Cascades. All three offer amazing day hikes as well as great camping and/or lodging and extended backpacking trips. If stunning mountain landscapes, rich forests, waterfalls, wildlife, volcanoes, glaciers, seashores and wildflowers sound like a great combination then plan your next hiking vacation in Washington!
Ratings
Scenery: 3-5
Washington state is incredibly diverse with spectacular scenery in many areas and a few places with unique views you could find nowhere else on earth. 
Space: 5
While not all places in Washington offer expansive hiking areas, the 3 national parks and the many other wilderness areas provide opportunities for long distance backpacking and hiking
Terrain: 5
Washington is well developed for hiking and walkable, and chances for more rugged, off-trail hiking 
Solitude: 2-4
Washington is a busy state and some of the national parks can become very crowded in peak season, but solitude is still available here depending on what time you year and where you go. 
Ecological Integrity: 2-4
Despite the large cities in this state, much ecological integrity remains in the national parks with wolves and even some grizzly bears recently returning to their original range. 
Visiting Olympic National Park Pacific Northwest Trekking Adventures
---
6. Nepal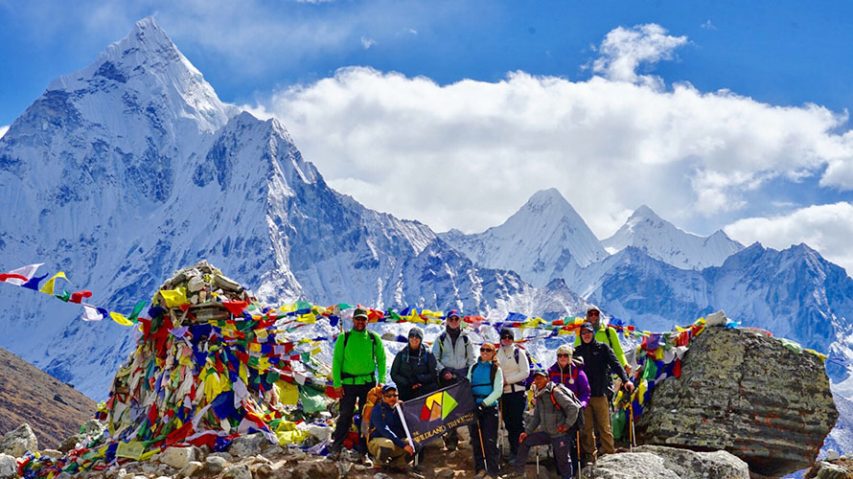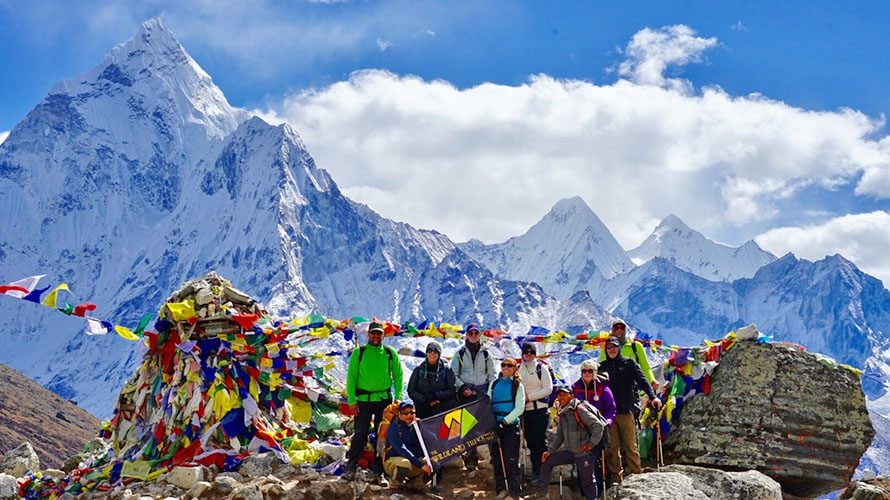 Overview
Nepal is home to the world's tallest mountain range, the Himalayas. This fact alone makes it a worthwhile trekking destination, but there are many other reasons to add Nepal to your must-hike list. Nepal is home to rich mountain cultures, Buddhist monasteries and fascinating mountaineering history. On a trek to Everest Base Camp or Annapurna Base Camp, you will follow ancient walking paths used by the locals for centuries. It's almost as if you can hear the voices of the people who walked these trails long ago in the winds and rivers that sweep through these mountains.
In Nepal, the scenery is stunning, with towering, glaciated peaks framing nearly every view. The Himalayas are expansive, but for the most part the treks follow well-established routes between villages and mountaineering base camps. So when it comes to sheer beauty, cultural immersion, the quality of the trekking and the uniqueness of the region, it is profoundly engaging.
Ratings
Scenery: 5
The Himalaya Mountains are unmatched on earth. Definitely worth visiting here for the scenery. 
Space: 5
The Himalayas are expansive and provide many options for multi day treks
Terrain: 2-5
While trekking in some areas (such as up Mt. Everest), require special gear and guides, much of the Himalayas are accessible on well maintained and marked roads. 
Solitude: 2-3
Because most of your hiking will be hut to hut instead of traditional backpacking and due to the popularity of the region, Nepal isn't your go to location for extreme solitude. 
Ecological Integrity: 3
While the Himalayas of Nepal are still very much wilderness with few roads, there are many trails and mountains villages that dot this landscape, making this area less than perfectly ecologically preserved. Many native species are threatened or endangered
Planning a Hiking Trip to Nepal All-inclusive Nepal Treks
---
7. Yosemite National Park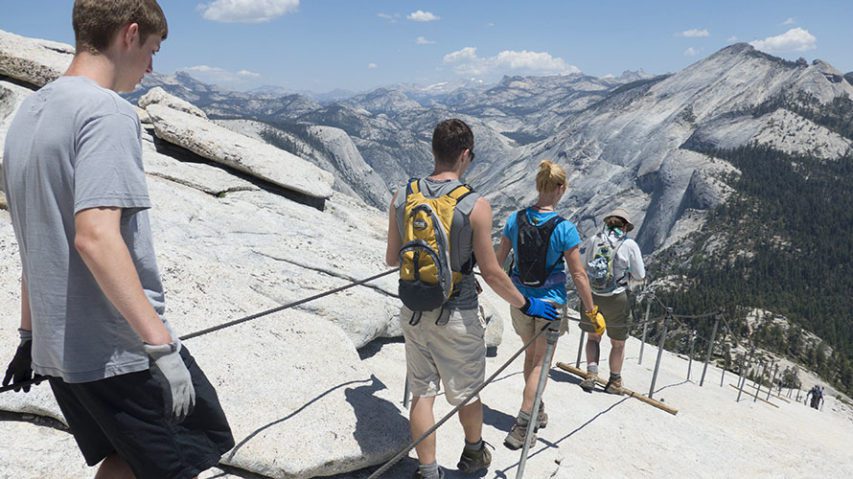 overview
Yosemite National Park in California's iconic Sierra Nevada Mountain Range is one of the most photographed places in the world, and justifiably so. Beyond its photogenic allure with towering, glacial-sculpted granite domes; thundering waterfalls and pristine meadows, Yosemite is also a diverse and very compelling place to hike. Many people camp or stay in lodges in or around the Park and embark on day hikes to a variety of world-class destinations. Others secure permits, load up their backpacks and set off into the wilderness for days of backpacking in the backcountry. Either way, Yosemite has many fantastic options.
When it comes to scenery, Yosemite is absolutely wonderful. Its wilderness, especially in the high country surrounding Yosemite Valley, is vast and expansive with plenty of room to lose yourself. There are plenty of trails, and if you're willing to hike more than 1-2 miles from the trailhead, you can find solitude. Finally its ecological integrity is good but – like Colorado – its native populations of wolves and grizzly bears are long extinct, making it a partially intact ecosystem. Regardless, Yosemite is a must-visit national park for anyone who loves to hike.
Ratings
Scenery: 5
As one of the most photographed places in the world, you can't find scenery like Yosemite's anywhere else in the world 
Space: 5
There is a common misconception that Yosemite National Park is only Yosemite Valley, but the entire national park reaches into the high country and is very extensive, providing plenty of room to trek for many days. 
Terrain: 5
There is an excellent mix of maintained, walkable trails and rugged off-trail hiking in Yosemite.
Solitude: 1-3
Yosemite is known as one of the busiest national parks with crowds and traffic. However, if you are willing to visit during the off season or want to get farther onto the trail, you can find relative solitude.
Ecological Integrity: 3
Between the abundance of visitors, roads, trails, and villages, and the eradication of grizzly bear and wolf populations in this area, Yosemite is a partially intact ecosystem. 
Yosemite Visitor Guide Yosemite Hiking & Backpacking Trips
---
8. Iceland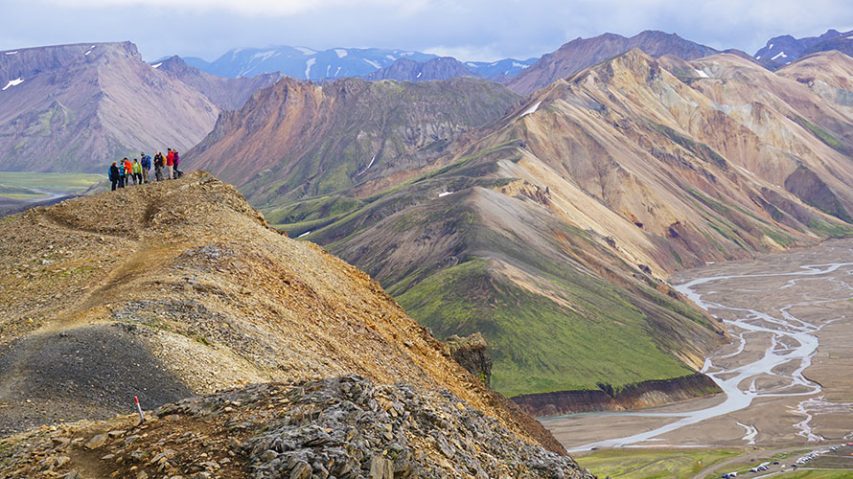 Overview
Iceland is the "Land of Fire and Ice." With active volcanoes, glaciers, waterfalls, black sand beaches, arctic wildlife, marine wildlife and more this place flat out rocks! What makes it even better? The hiking and trekking. Iceland has phenomenal hikes that show visitors the best of its multi-colored and diverse landscapes. There are fantastic day hikes, but hotels can be very expensive and the camping can be touch and go with harsh and unpredictable weather. The real gems in Iceland are the hut to hut treks. Iceland's huts are remote and rustic, communal accommodations but they are warm, dry and cozy. After long hikes in wind and rain, these huts are wonderful, welcome sights.
In terms of our five criteria, Iceland hits them pretty darned well. Breathtaking scenery and viewpoints to take it all in – check. Vast and expansive wilderness – check. Walkability with good trails – check. Ability to find solitude – check. Ecological integrity – semi check because Iceland has been impacted by centuries of European settlement including widespread logging and sheep grazing. Overall though, Iceland is a place of profound and unique beauty that we recommend adding to your list of must-visit hiking destinations.
Ratings
Scenery: 5
You don't have to go very far before finding one of a kind scenery in Iceland.
Space: 5
Iceland is a vast and expansive wilderness giving trekkers plenty of opportunities for multi day treks.
Terrain: 3-5
There are many options for walkable trails in Iceland along with some more rugged terrain that is inaccessible to the typical trekker. 
Solitude: 4
Iceland isn't a hugely popular destination, so finding solitude in this wilderness is relatively easy. Since most treks are hut to hut instead of traditional backpacking, you will be seeing other trekkers most nights. 
Ecological Integrity: 3
While some of Iceland remains a pristine wilderness, this land has had long years of exposure to European settlers that brought with them non-native species such as horses, sheep, and goats. 
---
9. Asheville, North Carolina Area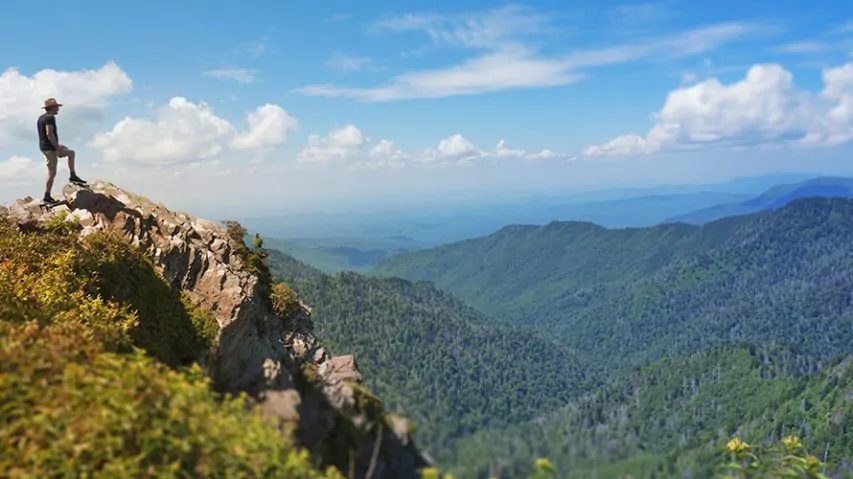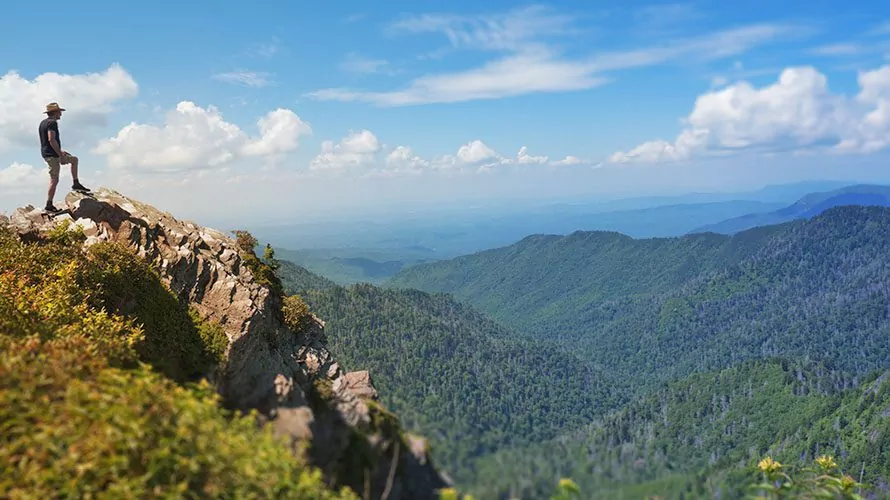 Overview
The United States has a handful of really fun, character-filled small mountain cities that are worth visiting themselves, much less for all of the amazing country that surrounds them. Jackson Hole, Wyoming; Bozeman, Montana; Durango, Colorado; Bend, Oregon; Boulder, Colorado; Flagstaff, Arizona; and – wait for it! – Asheville, North Carolina. Asheville is surrounded by two hallmark features of the Appalachian Mountains – Great Smoky Mountains National Park and the Blue Ridge Mountains. This area boasts the most ecologically diverse forests in North America, mountains with huge vertical relief, stunning viewpoints, the famous Appalachian Trail, unique wildlife and much, much more.
Our recommendations for enjoying this area are to stay at a hotel in Asheville and enjoy day hikes to the various areas around the city, or to secure permits and embark on a backpacking trip in Great Smoky Mountains National Park. The Appalachian Trail is very worth hiking, as it often follows the highest ridges with the best views, but  in terms of overnight camping it requires staying in shelters that are crowded and often overrun with rodents. Instead, we advise choosing routes that follow the Appalachian Trail but have you in campsites without shelters. Bottom line, Asheville is a phenomenal hiking destination and one we strongly recommend adding to your master list of adventure.
Ratings
Scenery: 4
This area between the Smokey Mountains and the Blue Ridge Mountains is stunning, but extends further from this region and isn't entirely unique.
Space: 4
There is plenty of space in this area although there are not as many options for thru hikes as in some of the National Parks in the west. 
Terrain: 5
Everything from easy, walkable terrain and maintained trails to rugged, off-trail hiking can be found in this area. 
Solitude: 2-3
This region can be popular and if you opt to stay in shelters on your multi day treks, expect them to be crowded. 
Ecological Integrity: 3
This region has preserved some ecological integrity, but the presence of many residents and the eradication of native predators such as red wolves make the area less than pristine.
Smoky Mountains Visitor Guide Award Winning Appalachian Hikes
---
10. Chilean Patagonia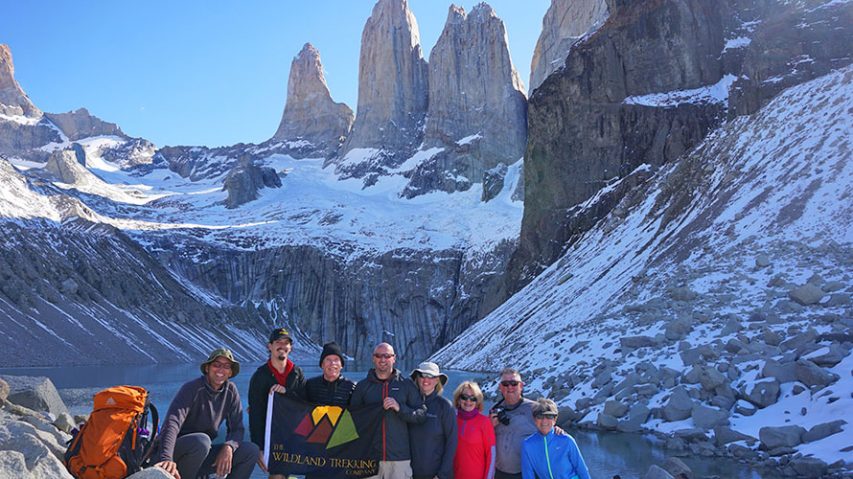 Overview
Patagonia is a region at the southern tip of South America that spills over the border between Chile and Argentina. Both sides of the border are wonderfully scenic and wild. In this article we are focusing specifically on the Chilean side of Patagonia as one of the best places to hike in the world, although the Argentinian side is excellent as well. In Chile, Patagonia has two major national parks very much worth visiting and trekking through: Torres del Paine and Patagonia National Park. Torres del Paine is a well-established park with amazing hut to hut treks, the two most popular famously called "The W" and "The O" for the shapes of the hikes. Most of the huts in Torres del Paine are full-service accommodations with cafeterias and dorm-style, co-ed lodging. The hiking in Torres del Paine takes you through a pristine wilderness with glaciers, glacial-fed lakes, soaring granite spires, unique wildlife, waterfalls, and much more.
Patagonia National Park is a very new, innovative park in the Aysen region of Patagonia donated to the Chilean government by American conservationists Kris and Doug Tomkins. Roughly the size of Yosemite National Park, it is largely unknown as of this writing, and now is the time to see it. Its scenery is out of this world, with towering alpine peaks, glaciers, turquoise lakes, unique wildlife and much more. Solitude is not difficult to find in Patagonia National Park, and it is an ideal setting for an adventurous backpacking trip or horse-supported trek. For rating purposes, we'll average out the two national parks and give ratings for both, but make sure to do your own research about which park you are visiting and what kind of conditions you'll experience there.
Ratings
Scenery: 5
You can't beat Patagonia in terms of one-of-a-kind scenery
Space: 5
The two parks together give trekkers more than 1,500 square miles of open land to explore. 
Terrain: 3-5
While much of the terrain in Torres del Paines is very walkable with established trails, Patagonia National Park still has some developing to do in terms of maintained trails and walkable areas. 
Solitude: 3-5
Because Patagonia is so remote despite being popular, trekkers can find substantial solitude while in the wilderness. Although many of the treks in Torres del Paine are hut to hut, there are backpacking options and Patagonia National Park may give options for the highest levels of solitude. 
Ecological Integrity: 3-4
The remote location of this area as well as its relatively recent surge in popularity have allowed Patagonia retain much of its ecological integrity.  
Everything to Know About Visiting Patagonia Patagonia Trekking Adventures
---
11. Utah National Parks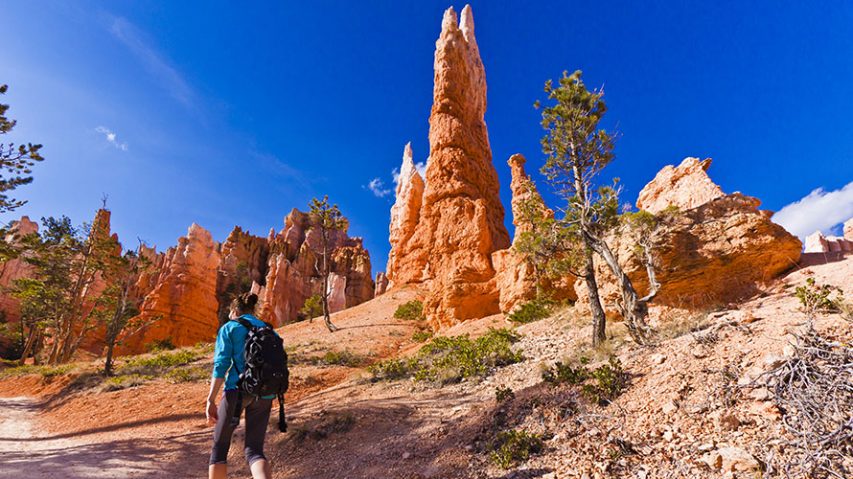 Overview
Utah's "Mighty Five" national parks are best explored on foot. Zion, Bryce Canyon, Capitol Reef, Arches and Canyonlands are the five parks that make up the "Mighty Five," Utah's clever marketing slogan for its slate of canyon country destinations. All five of these parks are high desert gems with amazing cultural history, wonderful geology, unique rock formations including arches and hoodoos, desert wildlife like desert bighorn sheep, slot canyons, vibrant oases and more.
In terms of scenery, all of these parks are mind blowingly beautiful. They are all expansive with plenty of open space, but with limited numbers of trails through that space, and many discourage off-trail hiking because of its impact on native soils. You can find plenty of solitude in Capitol Reef and Canyonlands, but Zion, Bryce Canyon and Arches are more difficult. And finally, from an ecological integrity standpoint, these national parks are strong. If you haven't been, take some time to visit Utah and make the most of these world-class areas with a series of day hikes or a well-planned backpacking adventure.
Ratings
Scenery: 5
Much like many of these destinations we have labeled as one of the 15 best places to hike, the desert national parks of Utah are truly unique and boast stunning scenery. 
Space: 4
These parks of expansive but do not offer as much off-trail hiking or long backpacking trips are other areas. 
Terrain: 3
The terrain in Utah's national parks doesn't exactly fit into our rating system. While there are a fair amount of well maintained trails, off-trail hiking is very limited and discouraged. 
Solitude: 2-4
Depending on the park you visit and the time of year, you can find anything from large crowds and traffic to relative solitude under the desert stars. 
Ecological Integrity: 3-4
These parks have maintained a large amount of ecological integrity despite the roads and extensive trail system. 
Zion Visitor Guide Award Winning Utah Hiking Tours Bryce Visitor Guide
---
12. Canadian Rockies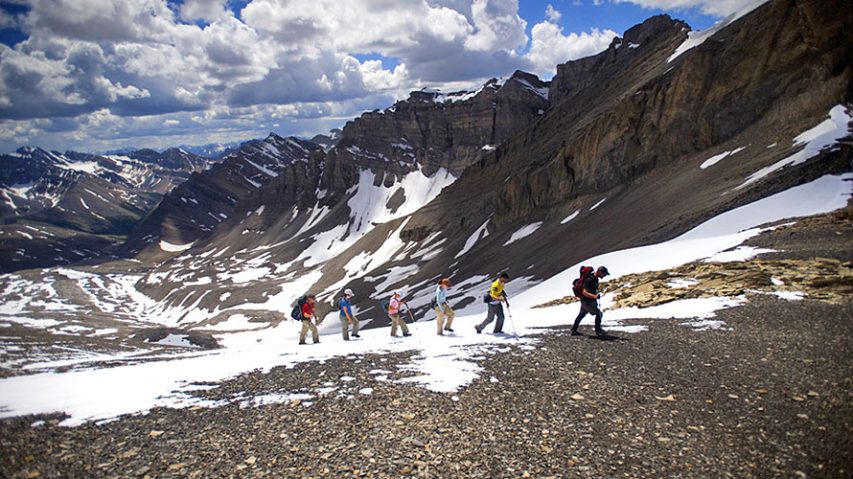 Overview
The Canadian Rockies are a wonderland of adventure for people who love to hike and explore in the mountains. The Canadian Rockies are made up of four major national parks: Banff, Jasper, Kootenay and Yoho. Together, these four parks preserve nearly 8,000 square miles (more than 5,000,000 acres) of pristine mountain wilderness. These mountains are profoundly beautiful, with turquoise glacial-fed rivers and lakes, thundering waterfalls, massive peaks, glaciers, deep forests and more. They will feel a bit harsher and wetter than America's Rocky Mountains, but have excellent networks of hiking trails. Solitude is not difficult to find, and the ecological integrity is high with the major predators of the region – Grizzly Bears and wolves – still very much a part of the habitat.
In the Canadian Rockies you can base out of any number of mountain towns or hotels and embark on daily hikes into the mountains, or you can secure permits and enjoy a backpacking trip of almost any length you prefer. In terms of size, Alberta's national parks go from largest to smallest as Jasper (4,335 mi2), Banff (2,564 mi2), Kootenay (543 mi2) and Yoho (507 mi2). Banff is the most famous, but all four are stunning and well worth exploring.
Ratings
Scenery: 4
The scenery in these areas is breathtaking and gorgeous, but not entirely unique as the Rockies extend down in the US.
Space: 5
These parks are huge! You won't have any trouble finding a hike of your preferred length
Terrain: 4-5
Most of the Canadian Rockies have extensive and walkable trail systems although there are some areas that are inaccessible without special equipment and training. 
Solitude: 3-4
Solitude isn't difficult to find in these parks as the expansive area and extensive trails provides ways to escape the more crowded areas. 
Ecological Integrity: 4
While there are towns and villages in these areas, the ecological integrity is still high in the Canadian Rockies as grizzly and wolves still roam here and there are many areas with no access roads. 
All-inclusive Canadian Rockies Treks
---
13. Southern California Deserts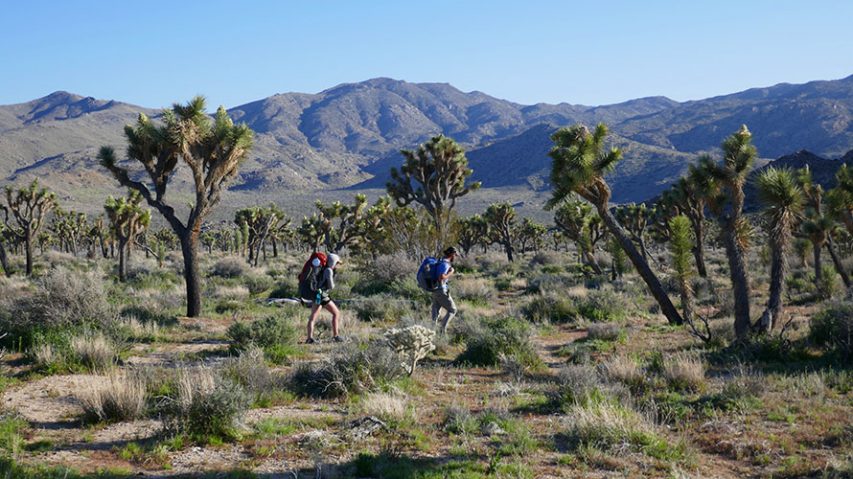 Overview
Southern California has two national park gems (Joshua Tree and Death Valley) as well as a massive state park that is in fact the largest of its kind in the United States, the Anza-Borrego Desert State Park. These three destinations are very much in the desert category, and are best visited and hiked in the winter or shoulder season months. They are extremely arid with sporadic oases that are difficult to not completely fall in love with. Backpacking in these parks may require "dry camping," depending on which route you do which mean hiking with enough water for one or more camps.
In terms of scenery, these parks are stunning if you like desert landscapes. Joshua Tree is arguably the most scenic of the three. In terms of space, you'll find more than you could possibly want in these parks, and the hiking is either on good trails or is pleasant off-trail hiking. Solitude is very easy to find if you're willing to leave the highway and set out on foot. Finally, the ecological integrity is high with the caveat that climate change has exacerbated the aridity of these parks with severe drought. Springs that were reliable are now unpredictable, making some backpacking routes more difficult and dangerous. But don't let that stop you – these parks are phenomenal, especially in the winter, so load up your backpack, tie up those boots and make the journey!
Ratings
Scenery: 4
While these parks are stunning, some would argue that they are not entirely unique. In addition, desert scenery does not inherently appeal to as many as stunning mountains or crystal lakes. 
Space: 5
There is no lack of space in these parks. It takes hours to drive through them let along walk one of the many trails. 
Terrain: 5
The terrain in these parks is a mixture of well maintained trails and great options for off-trail hiking— exactly what we are looking for on this list of best places to hike. 
Solitude: 4
While these areas are no more than two hours from the SoCal metropolitan area, solitude is not difficult to find here especially if you are willing to hike even a few miles onto a trail. 
Ecological Integrity: 4
Much ecological integrity has been preserved in these parks with few human residents and vast untouched wildernesses. However, the area has become drier in recent years than it has been in the past. 
Death Valley Hiking Tours Joshua Tree Hikes
---
14. New England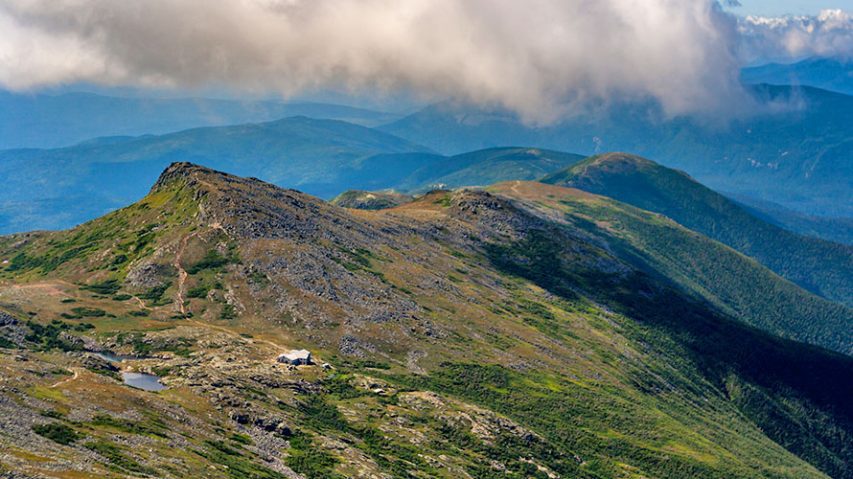 Overview
New England is a collection of states including Connecticut, Maine, Massachusetts, New Hampshire, Rhode Island and Vermont. In this article we are specifically referring to three of those states: Maine, New Hampshire and Vermont. Maine – which is the home of the northern terminus of the Appalachian Trail at Mount Katahdin, Maine's highest mountain – is wild by Eastern standards and has a plethora of great hiking opportunities. It is also where Acadia National Park lives, a stunning spot on the Atlantic Coast. New Hampshire is similar to Maine in its weather and amount of mountains you can hike, the most famous of which are the White Mountains. In "The Whites" you can link up mountain huts for treeline traverses that reward with phenomenal views. And finally in Vermont, it's similar to Maine and New Hampshire with big mountains and plenty of hiking trails. The Green Mountains are probably the most famous area of Vermont, with the spectacular Long Trail snaking across their high ridgeline.
In terms of scenery, these mountains are beautiful but be prepared to do a lot of forest hiking. Often a full day's hike will include hours in the forest with a final reward at the top of views out above the trees. The mountains in these states are not as vast as their Western counterparts, and are best hiked on trails. The trails tend to be well maintained, but can be very steep compared with the switchbacking horse trails of the Western USA. Solitude is accessible during certain times of year, but not a hallmark feature of New England. And in terms of ecological integrity, these mountains have been settled by – and therefore impacted by – European descendants for centuries. Expect healthy wildlife populations and vibrant forests, but not untouched wilderness.
Ratings
Scenery: 3-4
The scenery here, especially in autumn, is stunning but not particularly unique. Depending on which state you visit, much of the trails are forest hiking with open vistas being less common. 
Space: 4
Wilderness areas in the east are typically less expansive than in the west, but you'll find there are still options for overnight backpacking trips in northern New England. 
Terrain: 4-5
There are many trails in these areas but they can be steep and lack the switchbacks that many western trails have. There is limited off-trail hiking in these areas. 
Solitude: 2-4
Due to the large population in the surrounding region, solitude can be difficult to find, but is manageable at certain times of year.
Ecological Integrity: 2-3
The eastern Untied States was populated before preserving wilderness areas was a large concern and thus the ecological integrity of this area has been marred by the long influence of settlers as well as the eradicated of many bears and wolves.
White Mountains Treks Vermont Fall Foliage Tour
---
15. New Zealand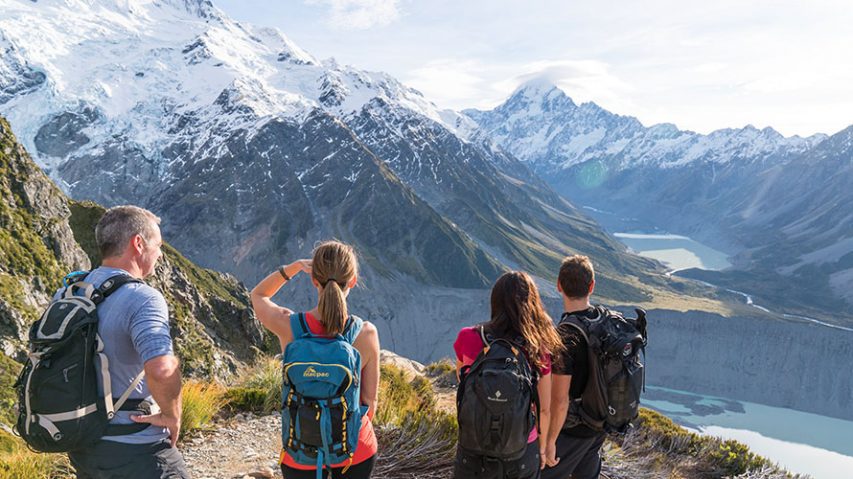 Overview
New Zealand has exploded in popularity over the last decade and a half, at least partially in part to a series of very popular movies being filmed there (Lord of the Rings and the Hobbit trilogies). These movies put on full display the fantastic beauty of the Kiwi homeland, which combines towering, glaciated mountains with rugged coastlines. New Zealand is made up of two islands, creatively referred to as the North Island and the South Island. The North Island is where Auckland, the largest Kiwi city resides, and is a more temperate and less mountainous landscape. The South Island is where more of the hiking gems are located. The most famous hikes are the Milford Track, the Routeburn Track and the Kepler Track. But beyond those classics, there is an almost unlimited amount of walking and trekking to choose from. New Zealand has 13 national parks that preserve more than 30,000 square kilometres of land.
In terms of scenery, New Zealand is world class and stunning. In terms of open space, you will find plenty of room here to explore and access that invigorating feeling of freedom. The hiking trails are excellent, and many areas have backcountry huts you can sleep in which vary but can be very nice. Solitude is something you can find in New Zealand if you are willing to work for it. And from an ecological integrity standpoint, New Zealand is in pretty good shape, but does have a problem with introduced species (like rabbits) that don't have natural predators and have reproduced dramatically. All in all, New Zealand is one of the best places to hike in the world and definitely one to add to your list.
Ratings
Scenery: 5
In short, the scenery in New Zealand is unique and world-class.
Space: 5
You won't have trouble bumping into towns or villages as there is much expansive wilderness area in this country, particularly on the South Island. 
Terrain: 5
The trails are walkable here and there are options for more rugged off-trail hiking for those wanting more adventure. 
Solitude: 3-4
You might have to work a little bit for it, but solitude can be found in Newland in some of the more remote areas. 
Ecological Integrity: 3-4
For an entire country, Zealand has done pretty well, but introduced species such as rabbits that have no natural predators have negatively impacted the ecosystem. 
All-inclusive New Zealand Treks
Rating System
For the sake of clarity, we have outlined our criteria and provided examples for each of the rating categories in this article. Five isn't necessarily the best and one isn't necessarily the worst. Instead, it is a matter of what each hiker is looking for. For instance, an area with complete ecological integrity (no trails, no roads, no residents) probably isn't a good place to hike. Such a place would be an uninhabited island or the deep amazon rainforests with a terrain rating of one or two. 
Of course, many of the best places to hike that we talk about will have areas that cross over into various sections of these criteria. We've rated destinations that vary in one or more of the categories as a scale. For instance, the Grand Canyon can be a very crowded but some areas of the park and certain times of year can offer solitude. Therefore it would receive a solitude rating of 2-4. Each rating is also accompanied by notes to further clarify meaning.
Scenery
5. Unique scenery that you won't find anywhere else on earth with open panorama views (Grand Canyon National Park)
4. Gorgeous scenery that isn't unique to the area with panoramic views (Rocky Mountain National Park)
3.  Beautiful surroundings that generally lack open views and vistas (Old growth or dense forests)
2. Natural beauty you have to journey into a park or preserve to see (Your local wilderness area) 
1. Natural beauty you might see in your backyard or around town (Your neighborhood or a city park)
Space:
5. Multi day hiking options that included "bushwhacking" or off-trail hiking  (Denali National park)
4. Multi day hiking options with limited off-trail hiking and/or camping (Asheville Area)
3. Options for nothing longer than full day hikes (Expansive local wilderness preserve)
2. Options for nothing longer than half day hikes (Medium local wilderness preserve)
1. Options for a few hours of hiking (Small local wilderness preserve or city park)
Terrain:
5. Options for hiking maintained trails and rugged off-trail hiking (High Sierra Nevadas)
4. Options for hiking unmaintained trails and rugged off-trail hiking (Channel Islands National Park)
3. Rugged terrain and/or some unmaintained trails that can be traversed with planning (Denali National Park)
2. Extremely rugged terrain and trails that can be traversed by those in excellent condition with a guide (Mount Everest)
1. Inaccessible to those without special equipment or training (Amazon Jungle or ice climbing)
Solitude:
5. Go days without seeing others on multi day hikes (Channel Islands National Park)
4. Go hours or spend the night with no other trekkers on multi day hikes (Gallatin Mountains, Yellowstone National Park)
3. See a few other trekkers within an hour on day long or multi day hikes (Eastern Sierra Nevadas)
2. See many other trekkers within an hour on day long or multi day hikes (Local wilderness preserve on a weekend)
1. See crowds on day hikes (Yosemite Valley)
Ecological Integrity:
5. Near or complete ecological integrity with minimal or no roads and trails and no human residents. All known native species still inhabit the area (Uninhabited islands or the deep Amazon rainforest)
4. Most ecological integrity preserved with maintained trails and some roads but no human residents. A species or two may have been eradicated (Grand Canyon NP)
3. Some ecological integrity preserved with a few maintained roads and trails and a few human residents. A few species may have been eradicated (Montana plains)
2. Little ecological integrity preserved with many roads and human residents (Local wilderness preserve surrounded by housing)
1. Manmade ecological area (local or city park)