Best Time to Visit Sedona
Find out when to visit and what to do in Sedona (Written by Erin McCarthy)
Deciding when to visit Sedona will depend on your preferred activities, tolerance for crowded trails, and desire to plan. The spring is the most popular time to visit, with fall a close second. In the spring, visitors from northern states seek out sunshine and dry trails. In the summer, visitors from hotter cities such as Phoenix seek out cooler temperatures. The winter is considered slow season in Sedona, where you can score deals on lodging and reservations at the many fantastic restaurants in town. Read on for our complete guide to choosing a time to visit Sedona (hint: there is no bad time).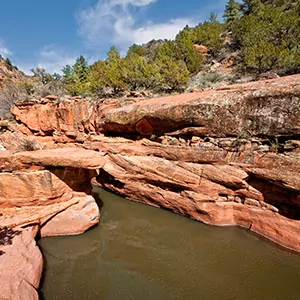 WEATHER AND TEMPERATURE
Sedona sits at an elevation of 4,350 feet, so it doesn't get as hot as other popular places in Arizona such as Phoenix and Tucson. The fall and the spring are largely considered ideal times to visit; temperatures sit comfortably in the 70s and 80s with low precipitation amounts.
The summer in Sedona can get quite hot; it is also monsoon season. Monsoons in this part of the United States are a pattern of increased thunderstorms and rainfall. They typically occur during the late afternoon into early evening as the heat of the day builds. They can last into the night and are finished by early morning, and the cycle may repeat itself the following day.
Winter in Sedona has temperatures ranging from the low 30s to the low 60s. The red rocks will often see a dusting of snow, but it won't accumulate in town or on the trails.
Below are the average monthly temperatures and precipitation amounts for Sedona.
| | | | |
| --- | --- | --- | --- |
| Month | Avg Hi | Avg Lo | Avg Precip |
| January | 56°F | 31°F | 2.09″ |
| February | 61°F | 33°F | 2.17″ |
| March | 65°F | 37°F | 2.48″ |
| April | 73°F | 42°F | 1.14″ |
| May | 82°F | 49°F | 0.71″ |
| June | 93°F | 58°F | 0.35″ |
| July | 97°F | 64°F | 1.65″ |
| August | 94°F | 63°F | 1.89″ |
| September | 88°F | 58°F | 1.93″ |
| October | 77°F | 48°F | 1.65″ |
| November | 64°F | 36°F | 1.38″ |
| December | 57°F | 31°F | 1.5″ |
BEST TIME OF THE YEAR FOR SIGHTSEEING
The best time of year for sightseeing in Sedona depends on your tolerance for crowds and your desired activities.
The fall and the spring are the most popular times to visit, due to the pleasant temperatures. However, you will be sharing trails and roads with many others. If you don't like planning or crowds, it would be wise to choose another season for your visit.
The summer in Sedona is quite hot, so if you don't like hiking when temperatures in 90s, aim for another season. If you do choose a summer visit, plan to hit the trails earlier in the day.
The winter is chiller in Sedona, so it is a perfect time to drive the Red Rock Scenic Byway — 7.5 miles of stunning scenery featuring red rock formations and plenty of lookout points to take it all in. The local outdoor recreation outfitters are open all year, so you can still rent a bike, take a jeep tour, or book a hot air balloon ride over the canyons.
BEST TIME OF YEAR FOR HIKING AND BACKPACKING
Hiking is often the number one reason people choose to visit Sedona. The most popular season to visit are the spring and the fall, with temperatures ideal for outdoor activities. Keep in mind you'll be sharing the trails with other folks, so if you looking for a slower time, aim for summer or winter. If you're planning on a summer hike, remember that bringing plenty of water is essential. For winter hiking, make sure to bring extra warm layers. If you're not sure where to go, you can book a guided day hike.
Wildland Trekking offers options for guided backpacking tours in the Sedona area. This is a chance to experience true desert wilderness with a local, experienced guide, all while having the adventure of a lifetime.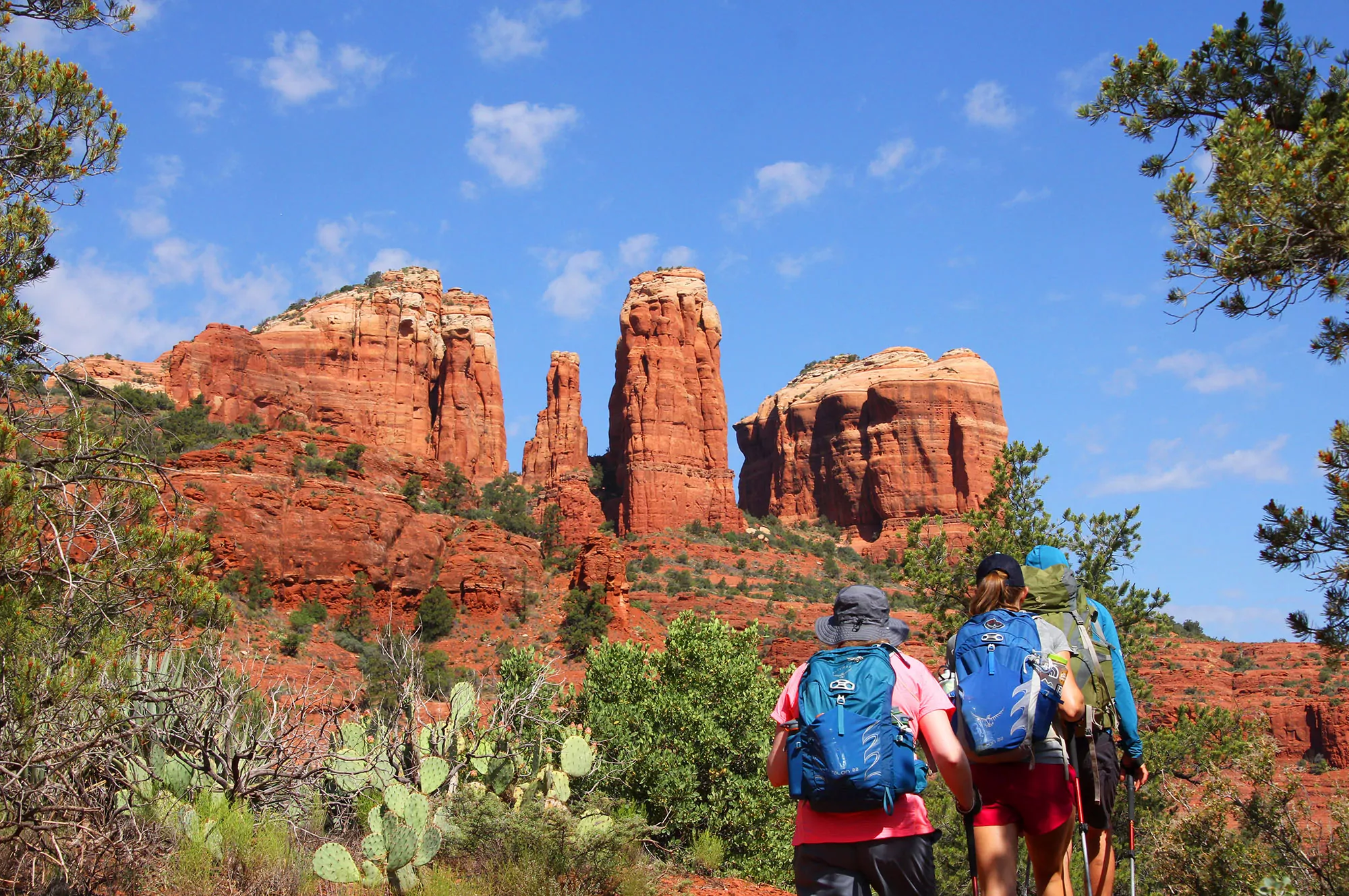 BEST TIME OF YEAR TO AVOID THE CROWDS
The best time of year to avoid the crowds in Sedona is the winter (December through February). Though the temperatures are chilly, the trails will be significantly less crowded. Enjoy a gorgeous, scenic hike below a bright blue sky with a dusting of snow on the red rocks. Another advantage to visiting in Sedona in the winter is that lodging options aren't booked months ahead of time. The various hotels, bed and breakfasts, cabins offer even offer discounted rates during the winter.
JOIN A GUIDED HIKING ADVENTURE
Sedona is home to some of the Western United States' most iconic and scenic hiking vacations. Wildland Trekking offers trips that highlight the must-see features of Sedona and the Grand Canyon: other-worldly rock formations, views, solitude, adventure, and fascinating natural and cultural interpretation.
Guided Sedona treks are all-inclusive which covers permits; local transportation (excluded on some day tours); meals; equipment; safety systems and professional hiking/wilderness guides; all of which allows visitors to maximize their time in Sedona and focus entirely on enjoying Red Rock Country.
ABOUT THE AUTHOR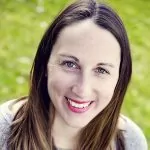 Erin McCarthy is a freelance writer and former Colgate University Outdoor Education Leader. When Erin isn't writing, she is exploring the mountains and rivers of the Greater Yellowstone Ecosystem. You can view her complete portfolio at www.erinannmccarthy.com.