Guide to combining Sedona with your Grand Canyon trip
Learn more about the best way to experience Sedona and the Grand Canyon (Written by Erin McCarthy)
The Grand Canyon, considered one of the seven natural wonders of the world, sees six million visitors annually. At 227 miles long and ten miles wide on average, a visit to the Grand Canyon is the trip of a lifetime. If you're planning a trip to this stunning natural feature and you have extra time, why not combine it with a side trip to Sedona? Sedona will be much less chaotic than a National Park, and with hiking trails, mountain biking, delicious restaurants, and a vibrants arts scene, there is plenty to see and do. Read on for our complete guide to adding a Sedona side trip to your Grand Canyon adventure.
why combine sedona with a grand canyon trip?
Sedona is only a two hour drive from the South Rim of the Grand Canyon (Grand Canyon Village). As soon as you leave the National Park, you will feel a sense of calm—leaving the crowds behind will allow you to fully experience the rest of the beautiful state of Arizona. In Sedona, there are endless amounts of hiking trails that will be, relatively speaking, far less crowded than the popular trails in the Grand Canyon. Sedona is known for its healthy and delicious food scene, so it will be a welcome change from the limited options in a National Park.
best time of year for a sedona/grand canyon trip
Choosing the best time of year for a trip to the Grand Canyon and Sedona depends on your tolerance for crowds and weather (both hot and cold!). In the summer months, Sedona and the Grand Canyon see very hot temperatures and it is also monsoon season (more on that below). In the winter, the Grand Canyon sees significant snowfall. Sedona has some snow, but mostly a dusting on the red rocks, and no accumulation in town. Below are the pros and cons, by season, for a combination trip to the Grand Canyon and Sedona:
Summer (June – August): It is no surprise that summer in the Grand Canyon is the most popular time to visit. Trails and facilities will be at their capacity, so it requires a lot of planning ahead. Between the South Rim and the North Rim there can be a 20 degree temperature difference, but one thing you can guarantee is that the days will be hot. June through August in Sedona is also extremely hot, and it is monsoon season in both places. Monsoons in this part of the United States are a pattern of increased thunderstorms and rainfall. They typically occur during the late afternoon into early evening as the heat of the day builds. They can last into the night and are finished by early morning, and the cycle may repeat itself the following day. If you choose a summer visit, keep in mind that midday will be hot on trail in both the Grand Canyon and Sedona, and afternoon thunderstorms are possible. If your main reason for a Grand Canyon visit is to sightsee, then summer is the best season as both the South and the North Rim will be open.
Fall (September-November):  The North Rim of the Grand Canyon is closed from early November through mid-May, so keep this in mind if you're planning a fall visit, and aim for September or October. The fall is ideal for hiking and backpacking in both the Grand Canyon and Sedona. Temperatures have cooled down in both places from the scorching summer months. If you're seeking other outdoor activities besides hiking, you can go mountain biking or rock climbing in Sedona in the fall.
Winter (December-February): Winter in the Grand Canyon is far less crowded due to the winter weather conditions and the fact that the North Rim is closed. The South Rim, which remains open year-round, sees an average of 58 inches of snow annually. If you're looking to sightsee, winter is not your best option. However, it is a fantastic time to avoid crowds and see the snow contrast against the canyon colors and deep blue sky. Winter is also considered the slow season in Sedona. Temperatures sit in the mid 50s and there can be a dusting of snow on the red rocks. The best deals on lodging and dining can be found this time of year.
Spring (March-May): The spring months in the Grand Canyon are ideal for hiking and backpacking. Keep in mind the North Rim won't open until mid-May, however, so your options are more limited this time of year. In Sedona, the spring is the most popular season to visit. Temperatures are warm, but not too hot, and the desert blooms with colorful flowers. The weather is great for hiking and mountain biking. While this is a beautiful time to experience Red Rock country you will be doing so with a lot of other folks. If you prefer a quieter time, aim for another season.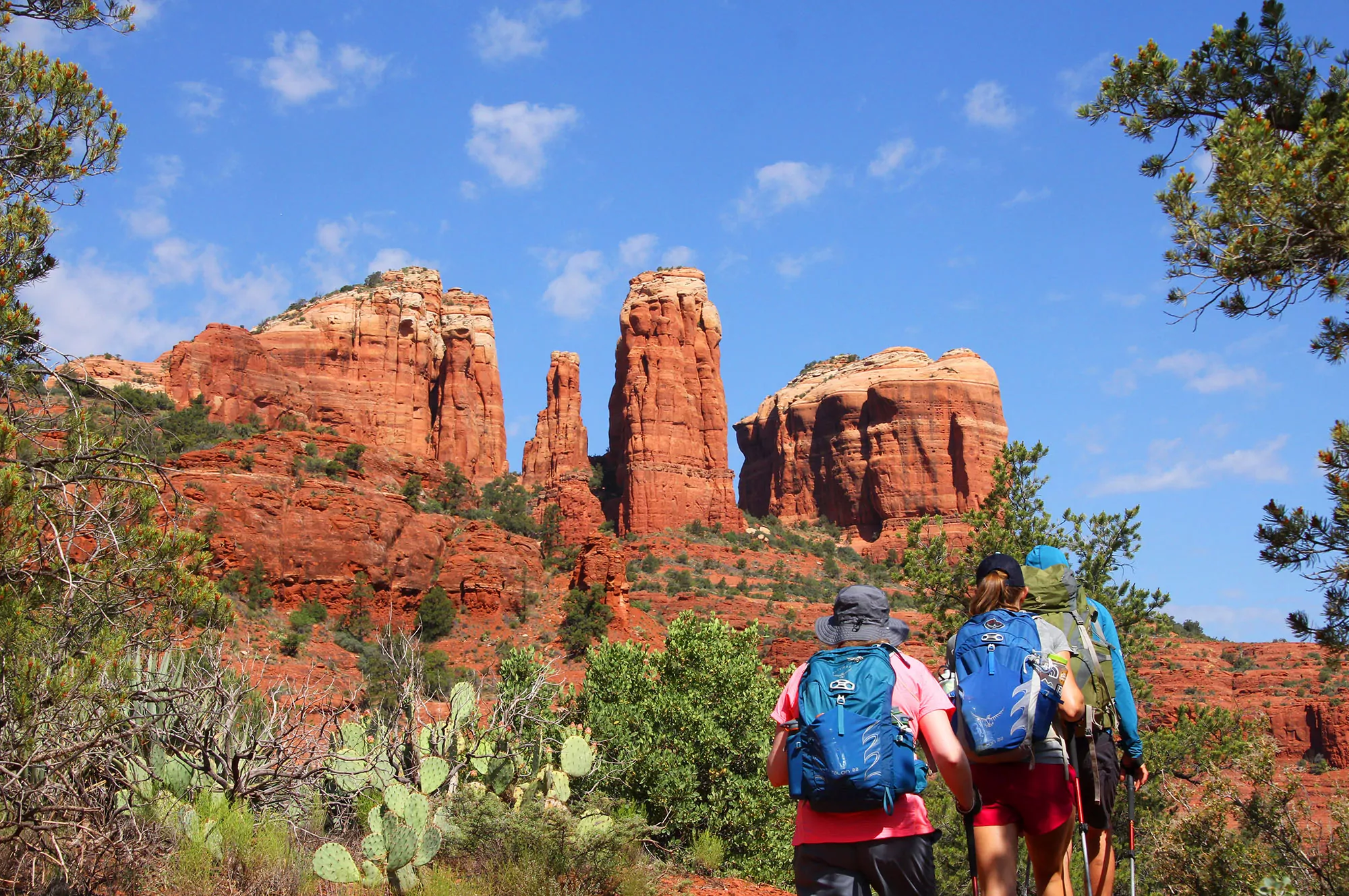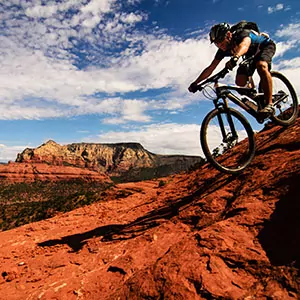 what to do in Sedona
There are plenty of activities for all fitness levels and interests in Sedona. Since the weather is relatively mild throughout the year, the options for outdoor activities are available all seasons. The fantastic dining options are also one of the main attractions of a Sedona visit. There are options for those on a budget, those who are health-conscious, and those who want to splurge. A full list of restaurants can be found here. Below are options for a variety of activities and sightseeing:
Outdoor Activities:
Arts and Culture:
Tlaquepaque Arts & Shopping Village: Sedona is a city with a vibrant arts and crafts scene. A landmark since the 1970s, it was designed to look like a traditional Mexican village. Art galleries and shops amongst the sycamore trees make for a pleasant, relaxing afternoon.
Chapel of the Holy Cross: This church was inspired by the architecture of Frank Lloyd Wright. It jets right out of the red rocks and offers stunning views of the Verde Valley. The Chapel of the Holy Cross is open everyday to visitors from 9am to 5pm. Parking is extremely limited so you may have to park further down the road and walk. Aim for a morning visit if you can.
Sedona International Film Festival: Each February, lovers of the arts descend on Sedona to enjoy the film festival that brings over 160 films. The festival takes place over two weeks and it is highly recommended to book accomodations ahead of time if you plan to attend.
Cliff Dwellings: Sedona is the native land of the Hopi, Pueblo, Hohokam, and Western Apache peoples. The cultural history of this area is fascinating. The ancient cliff dwellings and pictographs of the Hopi can be experienced at the Palatki Heritage Site. An 800-year-old cliff dwelling, Montezuma Castle, was deemed a National Monument in 1906 by then president Teddy Roosevelt.
VISIT SEDONA/grand canyon ON YOUR OWN OR WITH A TOUR COMPANY?
The iconic scenery of Northern Arizona can either be experienced on your own or with a guided tour. Depending on your timeframe and interests, both options are wonderful. If you prefer to be your own schedule and enjoy planning, then venturing out on your own makes the most sense.
On the other hand, if you prefer to leave logistics such as meal planning, transportation, and booking lodging to someone else, it would be wise to book a guided tour. Furthermore, you'll be able to maximize your time in the outdoors. Let the local experts show you the best trails and teach you about the cultural and natural history of the area. A guided tour is a scenic and educational experience without any of the hassle.
Guided tours range from the more luxurious to the more rustic. If you'd like to camp during your trip but you don't have the gear, there are options for camping-based tours. Booking a tour with a company is especially beneficial if you're looking to visit both the Grand Canyon and Sedona.
JOIN A GUIDED HIKING ADVENTURE
Sedona is home to some of the Western United States' most iconic and scenic hiking vacations. Wildland Trekking offers trips that highlight the must-see features of Sedona and the Grand Canyon: other-worldly rock formations, views, solitude, adventure, and fascinating natural and cultural interpretation.
Guided Sedona treks are all-inclusive which covers permits; local transportation (excluded on some day tours); meals; equipment; safety systems and professional hiking/wilderness guides; all of which allows visitors to maximize their time in Sedona and focus entirely on enjoying Red Rock Country.
ABOUT THE AUTHOR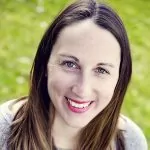 Erin McCarthy is a freelance writer and former Colgate University Outdoor Education Leader. When Erin isn't writing, she is exploring the mountains and rivers of the Greater Yellowstone Ecosystem. You can view her complete portfolio at www.erinannmccarthy.com.