Discover the 10 best hikes in Sedona
Learn about Sedona's best hikes and find which one is right for you (Written by Erin McCarthy)
Sedona has an endless amount of hiking trails—in fact, hiking is the number one reason people choose to visit Red Rock Country. Furthermore, Sedona has relatively mild weather year-round, so if you are prepared, you can hike 365 days of the year. In the winter, bring extra layers; in the summer, start your hike earlier in the day to avoid the scorching midday heat. In the spring and the fall—the most popular times to hike in Sedona—be prepared to share the trails with others, especially if you choose to hike some of the must-see trails. Below is our guide to the ten best hikes in Sedona, from easy to challenging, and everything in between.
1. cathedral rock
Cathedral Rock—a natural sandstone butte—is one of the most photographed places in the entire state of Arizona. This hike is one of the most popular in Sedona due to its length at 1.5 miles round trip. A short but sweet ascent takes you up to the mystical, towering spires. Make sure you have sturdy footwear as it becomes a rock scramble about halfway up the trail. Cathedral Rock has some of the most stunning views in all of Sedona. Make sure to stay and watch the sunlight dance across the red rocks at the summit—it's a sight you won't soon forget.
2. bell rock loop
The trail up to the top of Bell Rock should be at the top of your list. Begin at the base of Bell Rock to ascend approximately one mile to the top via the Bell Rock Loop Trail. This short hike is another extremely popular one in the Sedona area, so keep this in mind and plan accordingly. Bell Rock offers some of the most picturesque  panoramic views of Sedona.
3. west fork of oak creek
This 6.5 mile out and back trail with an elevation gain of 567 feet makes for a nice stroll through the canyon floor. Beware there are a few stream crossings so wear appropriate footwear. This hike is an wonderful option 365 days of the year— in the fall, maple trees turn a bright red; in the winter, icicles dangle from the red rocks.
4. devil's bridge
Devil's Bridge is the largest natural sandstone arch in Sedona—walk across it if you dare! This is popular hike due to the fact that you do have the option walk out onto the top of the arch (you'll likely have to wait your turn, however). This hike can be challenging to access. The Coconino National Forest lists two recommended routes to get to the Devil's Bridge Trailhead if you don't have reliable transportation. The first is Mescal to Chuckwagon to Devil's Bridge trails (4 miles round-trip) from Long Canyon Road, or the Chuckwagon Trail to the Devil's Bridge Trail from Dry Creek Road (5.8 miles round trip).
5. bear mountain
Bear Mountain is one of the tallest peaks in Sedona and you can reach the top of it via this trail. It's a strenuous 5 mile round trip hike with an 1,800 foot elevation gain. Make sure to bring plenty of water and have sturdy footwear for this hike. Juniper trees and cacti dot the desert landscape as you steadily climb up Bear Mountain. Since this trail is so challenging, it isn't nearly as crowded as other shorter trails in Sedona. Give yourself about 4-5 hours to complete this hike.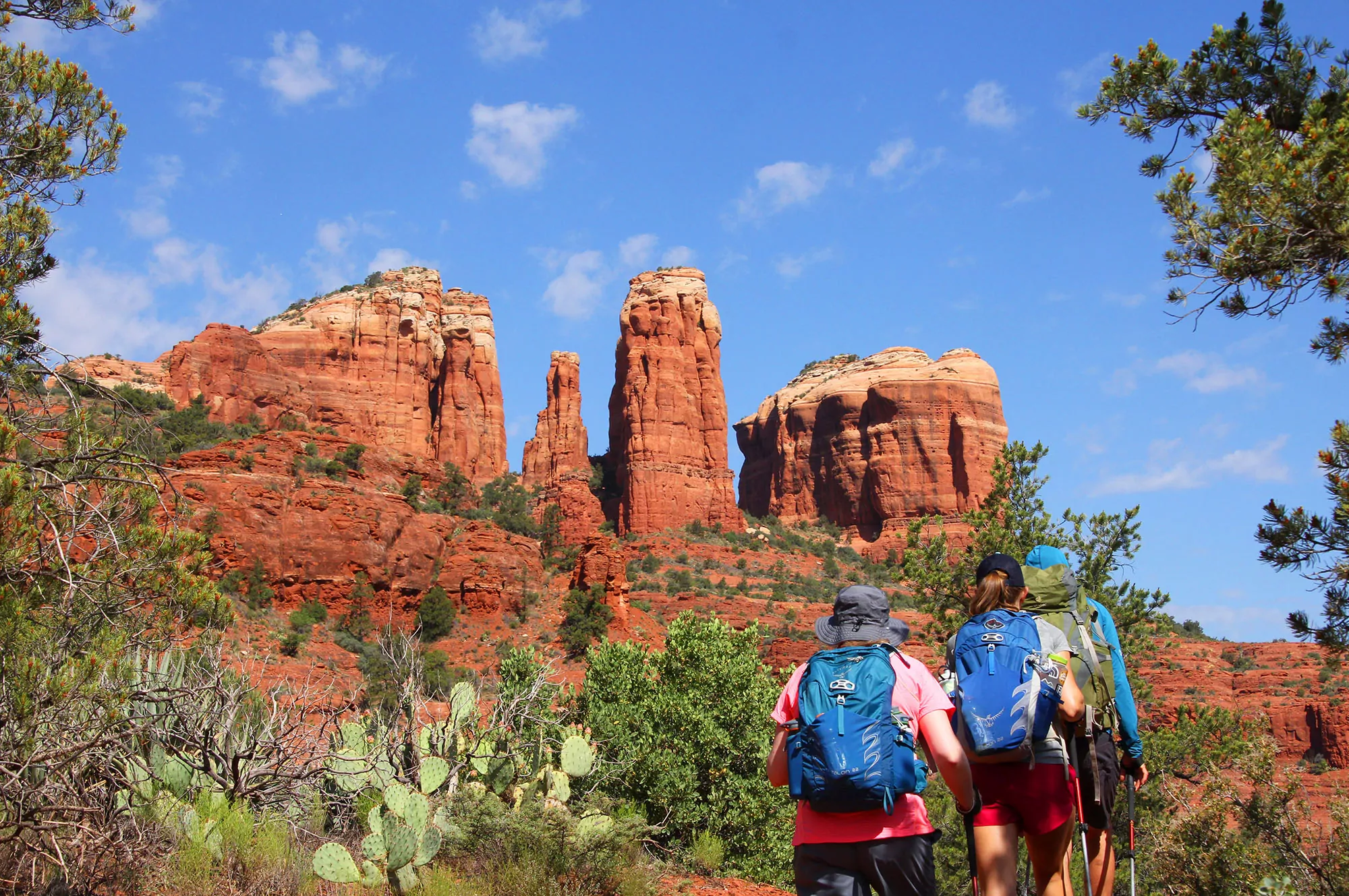 6. soldier pass
This 4.5 mile round trip hike is easily accessible because it begins right from the town of Sedona. The Soldier Pass trailhead is at the northern end of town and leads you into the backcountry and through the Red Rock Secret Mountain Wilderness. The total elevation gain is slight at 450 feet. In the first half mile of the trail you'll encounter the Devil's Kitchen (a sinkhole) and the "Seven Sacred Pools"— pools carved into the rock filled with murky water. In the next section you'll enjoy shade from the Arizona cypress forest before a steep climb to the top of Brins Mesa. Sweeping vistas of Sedona are your reward at the top.
7. loy canyon
The Loy Canyon Trail is named after the Samuel Loy family. It is a wide, well-managed path first used in the 1880's to move the family's cattle to and from Sedona and the canyon rim. This trail is 10 miles round trip with a 1680 foot elevation gain and leads up a desert canyon to fantastic views at the top. The first three miles have a moderate elevation profile. You'll walk along the canyon floor among prickly pear cactus and below towering sandstone cliffs. The landscape in this section has been carved by flash floods, and if there has been rain in recent days, there's a chance a natural pool will form. The last two miles present a more strenuous climb up to the saddle of Secret Mountain. The Loy Canyon Trail offers beautiful riparian hiking and plenty of carved out natural features to rest, enjoy a trail snack, and continue on.
8. Boynton Canyon 
This is perhaps the most scenic hike in all of Sedona. The combination of easy access and breathtaking desert scenery of towering sandstone buttes and desert foliage make this hike popular year-round. Boynton Canyon has also developed a reputation for being an energy vortex, increasing the desirability of this hike. An energy vortex  is "thought to be a swirling center of energy that is conducive to healing, meditation and self-exploration. These are places where the earth seems especially alive with energy. Many people feel inspired, recharged or uplifted after visiting a vortex." Don't be surprised if you see fellow hikers meditating or doing yoga along the way. This hike is 5 miles round trip with an elevation gain of 450 feet. The Boynton Canyon Trail actually begins by skirting a luxury resort, and then dropping to the canyon floor for a mile below towering orange cliffs. At the end you'll climb your way out to the reach the plateau and enjoy sweeping vistas of Red Rock Country.
9. broken arrow
The Broken Arrow Trail is a total of 3 miles out and back and has an elevation gain of 300 feet. Keep in mind the entirety of this trail is exposed, so it gets steamy in the summer. It is highly recommended to start this hike early in the day. Make sure to bring a hat, sunscreen and plenty of water. This is also a popular mountain biking trail so be aware and practice good trail etiquette. After only half a mile into this trail, you'll be staring down into a fenced-off sinkhole called the Devil's Dining Room. The trail then gradually climbs to red rock outcroppings adjacent to Twin Buttes. Choose to travel another 1.5 miles to Chicken Point, or when you reach mile 3, take a side trail to see Submarine Rock, a flat rock above the trees—that you guessed it—looks like a submarine. This side trip will add only a half mile extra to your journey, so it is worth it for the views.
10. fay canyon
The Fay Canyon Trail is a mellow stroll through the red rock canyons. At 2.2 miles round trip with only 150 foot elevation gain, this hike is a wonderful option for the whole family. Red sandstone cliffs tower above, and a natural arch greets you a half mile into the trail. This journey through the canyon has vibrant desert flora and a red Supai sandstone cliff at the end. Here you can choose to climb the cliff or marvel at it from below.
JOIN A GUIDED HIKING ADVENTURE
Sedona is home to some of the Western United States' most iconic and scenic hiking vacations. Wildland Trekking offers trips that highlight the must-see features of Sedona and the Grand Canyon: other-worldly rock formations, views, solitude, adventure, and fascinating natural and cultural interpretation.
Guided Sedona treks are all-inclusive which covers permits; local transportation (excluded on some day tours); meals; equipment; safety systems and professional hiking/wilderness guides; all of which allows visitors to maximize their time in Sedona and focus entirely on enjoying Red Rock Country.
ABOUT THE AUTHOR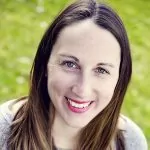 Erin McCarthy is a freelance writer and former Colgate University Outdoor Education Leader. When Erin isn't writing, she is exploring the mountains and rivers of the Greater Yellowstone Ecosystem. You can view her complete portfolio at www.erinannmccarthy.com.