Visiting Sedona
Use this resource to plan the perfect trip to Sedona! (Written by Erin McCarthy)
Sedona is one of the most picturesque places in the entire state of Arizona. The Sedona area is referred to as Red Rock Country, due to the unique red sandstone formations that are featured throughout. Nestled within the Coconino National Forest, Sedona is filled with ponderosa pines and red sandstone formations that color the landscape with deep red and auburn hues. Sedona sits at an elevation of 4,350 feet, which makes the weather relatively cooler than other cities in Arizona. Phoenix and Tucson get scorching hot in the summer months and city dwellers flock to Sedona at this time of year. Read on for our complete guide to visiting Sedona—what to do, what to see, when to go, and more!
WHat makes sedona unique?
Sedona is a charming city with a magnificent backdrop. Sedona is the native land of the Hopi, Pueblo, Hohokam, and Western Apache peoples. The cultural history of this area is fascinating. The ancient cliff dwellings and pictographs of the Hopi can be experienced at the Palatki Heritage Site. An 800-year-old cliff dwelling, Montezuma Castle, was deemed a National Monument in 1906 by then president Teddy Roosevelt.  Sedona boasts 278 days of sunshine with mostly mild temperatures, making it a desirable destination year-round.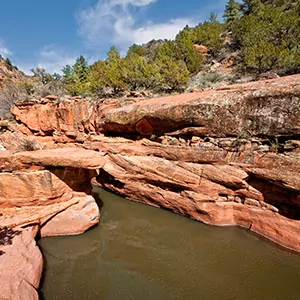 HOW TO GET THERE
Sedona is conveniently located two hours north of Phoenix, and two hours south from the South Rim of the Grand Canyon. Below are specific directions from both locations:
From the South (Phoenix): Take I-17 North for 101 miles. Take exit 298 for AZ-179 N towards Sedona for 14.9 miles.
From the North (Grand Canyon Village): Take 64 South for 57.2 miles till you reach Williams. Take I-40 East toward Flagstaff. In Flagstaff head south on State Route 89A till you reach Sedona (about 56 miles).
WHEN TO GO
Choosing the best time of year to visit Sedona depends on a few factors. It is important to keep in mind what you like to do, your tolerance for crowds, and your ideal weather scenario. Below are the pros and cons of visiting Sedona by season:
Spring: The most desirable time to visit Sedona is in the spring—March through May. Temperatures are warm, but not too hot, and the desert blooms with colorful flowers. The weather is great for hiking and mountain biking. While this is a beautiful time to experience Red Rock country you will be doing so with a lot of other folks. If you prefer a quieter time, aim for another season.
Summer: June through August in Sedona is extremely hot, and it is also monsoon season. Monsoons in this part of the United States are a pattern of increased thunderstorms and rainfall. They typically occur during the late afternoon into early evening as the heat of the day builds. They can last into the night and are finished by early morning, and the cycle may repeat itself the following day. Visitors in the summer are mostly from nearby Phoenix and Tucson who come to escape the scorching temperatures.
Fall: Second to spring, fall is a popular time to visit Sedona. Temperatures have cooled down and are ideal for hiking, mountain biking and rock climbing. Daytime temperatures sit comfortably in the 70s and 80s.
Winter: December through February is considered the slow season in Sedona. Temperatures sit in the mid 50s and there can be a dusting of snow on the red rocks. The best deals on lodging and dining can be found this time of year.
| | | | |
| --- | --- | --- | --- |
| Month | Avg Hi | Avg Lo | Avg Precip |
| January | 56°F | 31°F | 2.09″ |
| February | 61°F | 33°F | 2.17″ |
| March | 65°F | 37°F | 2.48″ |
| April | 73°F | 42°F | 1.14″ |
| May | 82°F | 49°F | 0.71″ |
| June | 93°F | 58°F | 0.35″ |
| July | 97°F | 64°F | 1.65″ |
| August | 94°F | 63°F | 1.89″ |
| September | 88°F | 58°F | 1.93″ |
| October | 77°F | 48°F | 1.65″ |
| November | 64°F | 36°F | 1.38″ |
| December | 57°F | 31°F | 1.5″ |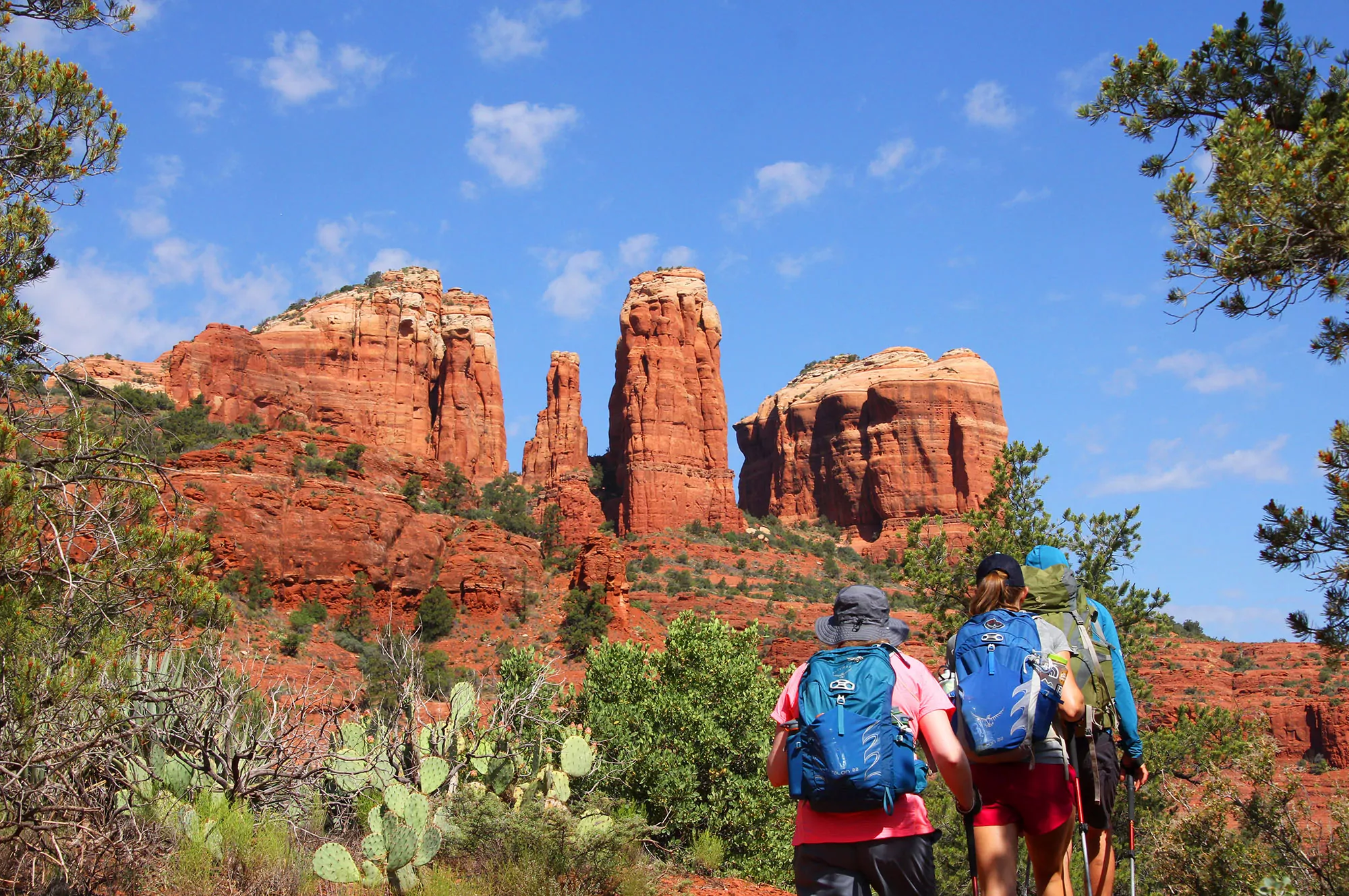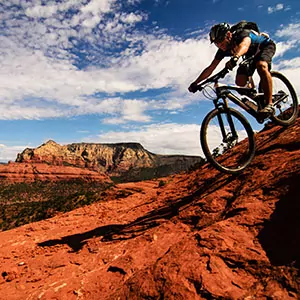 WHAT TO DO
Hiking: One of the primary reasons people visit Sedona is for the many beautiful hiking trails. Check out our curated list of the top ten hiking trails in Sedona.
Tlaquepaque Arts & Shopping Village: Sedona is a city with a vibrant arts and crafts scene. A landmark since the 1970s, it was designed to look like a traditional Mexican village. Art galleries and shops amongst the sycamore trees make for a pleasant, relaxing afternoon.
Rock Climbing: Sedona sits on the southern end of the Colorado Plateau, with endless sandstone spires perfect for climbing. If you're looking for a guided rock climbing tour, check out this local outfitter.
Jeep Tour: This is one of the more popular ways for adventure seekers to see the landscape of Red Rock Country. Check out A Day in the West, a local company that organizes private Jeep tours.
Mountain Biking: This is an exhilarating way to experience the desert landscape of Sedona. Nearby Bike & Bean has rentals available. You can even enjoy espresso while you wait for your bike!
Chapel of the Holy Cross: This church was inspired by the architecture of Frank Lloyd Wright. It jets right out of the red rocks and offers stunning views of the Verde Valley. The Chapel of the Holy Cross is open everyday to visitors from 9am to 5pm. Parking is extremely limited so you may have to park further down the road and walk. Aim for a morning visit if you can.
Backpacking: Wildland Trekking offers guided backpacking tours in Sedona. Travel through Red Rock country with a local guide and learn about the natural and cultural history of this area. All meals, logistics, and equipment are included.
Take a Hot Air Balloon Ride: Imagine yourself towering above the red rocks of Sedona, enjoying views that few others get to experience. One of the more popular activities in Sedona is to book a hot air balloon ride across the canyons.
Sedona International Film Festival: Each February, lovers of the arts descend on Sedona to enjoy the film festival that brings over 160 films. The festival takes place over two weeks and it is highly recommended to book accomodations ahead of time if you plan to attend.
VISIT sedona ON YOUR OWN OR WITH A TOUR COMPANY?
The iconic scenery of Northern Arizona can either be experienced on your own or with a guided tour. Depending on your timeframe and interests, both options are wonderful. If you prefer to be your own schedule and enjoy planning, then venturing out on your own makes the most sense.
On the other hand, if you prefer to leave logistics such as meal planning, transportation, and booking lodging to someone else, it would be wise to book a guided tour. Furthermore, you'll be able to maximize your time in the outdoors. Let the local experts show you the best trails and teach you about the cultural and natural history of the area. A guided tour is a scenic and educational experience without any of the hassle.
Guided tours range from the more luxurious to the more rustic. If you'd like to camp during your trip but you don't have the gear, there are options for camping-based tours. Booking a tour with a company is especially beneficial if you're looking to visit more than one destination in this spectacular area of the United States.
JOIN A GUIDED HIKING ADVENTURE
Sedona is home to some of the Western United States' most iconic and scenic hiking vacations. Wildland Trekking offers trips that highlight the must-see features of Sedona and the Grand Canyon: other-worldly rock formations, views, solitude, adventure, and fascinating natural and cultural interpretation.
Guided Sedona treks are all-inclusive which covers permits; local transportation (excluded on some day tours); meals; equipment; safety systems and professional hiking/wilderness guides; all of which allows visitors to maximize their time in Sedona and focus entirely on enjoying Red Rock Country.
ABOUT THE AUTHOR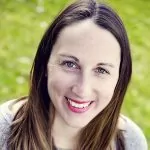 Erin McCarthy is a freelance writer and former Colgate University Outdoor Education Leader. When Erin isn't writing, she is exploring the mountains and rivers of the Greater Yellowstone Ecosystem. You can view her complete portfolio at www.erinannmccarthy.com.