How to make the most of one day in Sedona
Learn about all the things you can do in Sedona in just one day (Written by Erin McCarthy)
Sedona is a two hour drive from both the Grand Canyon and Phoenix, making it an ideal day trip from either location. If time constraints leave you with only one day to experience the city of Sedona, not to worry, we have recommendations for the must-see highlights of this unique area of Arizona. From day hikes, to restaurants, to arts and culture, we've got you covered. Read on for our complete guide to what to see and do in Sedona in just one day.
THE BEST WAY TO SEE sedona IN JUST ONE DAY
Sedona is a city full of stunning vistas, hiking trails, delicious restaurants, and a vibrant arts scene. You could spend a week there and still not experience everything there is to offer. If you only have one day in Sedona, here is a sample  itinerary to consider:
Hike Cathedral Rock: get an early start on the most stunning hike in Sedona, the Cathedral Rock Trail. This challenging, 1.5 mile hike is worth the effort for the sweeping vistas at the summit.
Lunch at Wildflower: grab a refreshing salad or a hearty sandwich at this local hot spot. The bread is baked fresh daily and the sweet treats are hard to resist!
Drive the Red Rock Scenic Byway: 7.5 miles of stunning scenery featuring red rock formations and plenty of lookout points to take it all in. It only takes about 30 minutes to drive it, but we recommend carving out an afternoon to stop at all the viewpoints.
Go Stargazing: Sedona is one of the best places in the entire United States to marvel at the night sky. In fact, it is one of only twenty certified Dark Sky Communities in the entire world. Sedona has made significant efforts to reduce its light pollution, which is not only good for the environment, but fantastic for seeing the nighttime sky. We recommend driving west out of Sedona and out on to Dry Creek Road for the best views. You can also book a Sedona Stargazing tour to learn about the constellations.
SUNRISE IN sedona
Going out for a hike and watching the sun rise in Sedona is an opportunity to view the red, purple, and orange light show that creeps across the landscape. If you're visiting Sedona in the summer, it is highly recommended to get an early start on the day to avoid the summer heat. It is not uncommon in July and August for the temperatures to climb up to 100 degrees. Below are two recommended locations to view sunrise:
Airport Mesa: Enjoy panoramic views of Bell Rock and Cathedral Rock and Courthouse Butte from the easily accessible Airport Mesa overlook. You also have the option to hike the 3.2 mile Airport Loop trail to get even more views of the Verde Valley.
Devil's Bridge: View sunrise from the largest natural sandstone arch in Sedona, Devil's Bridge. This 1.8 mile round trip hike is rated as moderate. A natural rock staircase up to the Devil's Bridge will be challenging, but worth it. To access the Devil's Bridge trailhead you'll need a high clearance vehicle, otherwise you'll have to begin from the Mescal trailhead, making it a 4 mile hike round trip.
SUNSET IN sedona
What better way to cap off your day than watching the sun dip below the red rocks and morph the landscape into a kaleidoscope of desert colors. Below are two recommended hikes to enjoy a Sedona sunset:
Courthouse Butte/Bell Rock: the Courthouse Butte Loop Trail around Bell Rock and Courthouse Butte is a 3.9 mile loop around the base of both rock features. If you choose, you can hike up Bell Rock for views of sunset by taking the Bell Rock Loop Trail that ascends one mile up the north face of Bell Rock.
Cathedral Rock: The Cathedral Rock trail is a mere ten minute drive from the city center. At 1.5 miles round trip with a 600 foot elevation gain, this hike is more of a rock scramble than a leisurely walk, so be prepared. However, it is worth the effort to watch the red rock spires beam with lingering sunlight. This is one of the more popular trails in Sedona, so depending on what time of year you visit, you may have some company. If you're visiting in summer, aim to do this trail as close to sunset as possible as it is exposed and can get quite hot. Make sure to bring plenty of water, snacks, sunscreen, and a hat.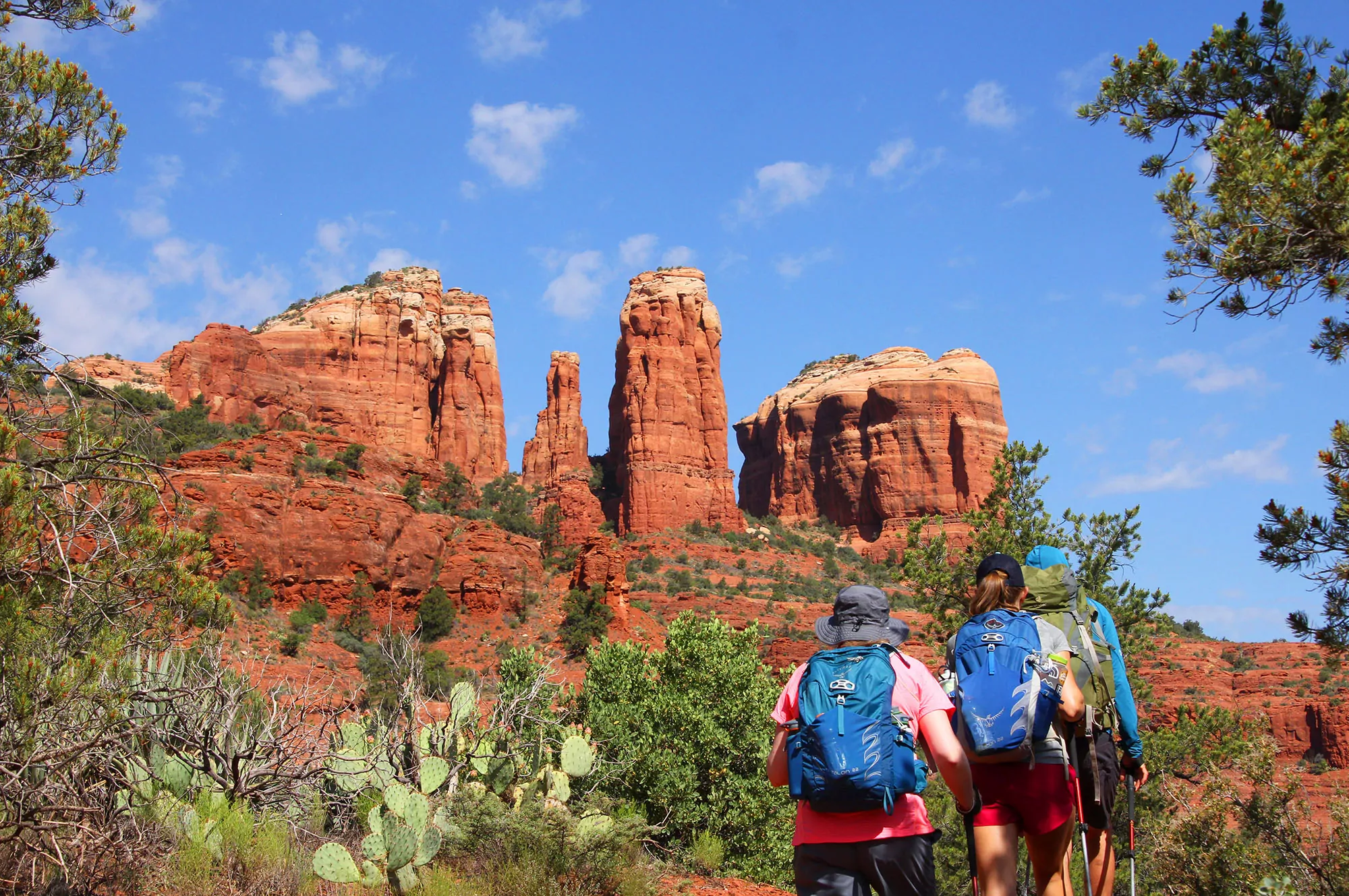 TAKE A HIKE IN sedona
Day hikes in Sedona offer some of the most stunning scenery in the entire state of Arizona. It is an ideal way to take in the desert vistas. When you hit the trail, make sure to bring plenty of water and snacks. It's best to be prepared so you can fully enjoy your day. Always adhere to safety guidelines and leave no trace principles when on trail.  Below are the five recommended day hikes in Sedona:
Cathedral Rock Trail: Cathedral Rock is a natural sandstone butte that is one of the most photographed places in the entire state of Arizona. This hike is one of the most popular in Sedona due to its length at 1.5 miles round trip. A short but sweet ascent takes you up to the mystical, towering spires. Make sure you have sturdy footwear as it becomes a rock scramble about halfway up the trail.
Bell Rock Loop: Begin at the base of Bell Rock to ascend approximately one mile to the top via the Bell Rock Loop Trail. This short hike is another extremely popular one so keep in mind the day of time and season you're visiting. Bell Rock offers some of the most stunning panoramic views of Sedona. This is a must-do hike.
West Fork of Oak Creek: This 6.5 mile out and back trail with an elevation gain of 567 feet makes for a nice stroll through the canyon floor. Beware there are a few stream crossings so wear appropriate footwear. This hike is an wonderful option 365 days of the year— in the fall, maple trees turn a bright red; in the winter, icicles dangle from the red rocks.
Devil's Bridge: Devil's Bridge is the largest natural sandstone arch in Sedona. This is popular hike due to the fact that you have the option walk out onto the top of the arch (you'll likely have to wait your turn, however). As mentioned earlier, this hike can be challenging to access. The Coconino National Forest lists two recommended routes to get to the Devil's Bridge Trailhead if you don't have reliable transportation. The first is Mescal to Chuckwagon to Devil's Bridge trails (4 miles round-trip) from Long Canyon Road, or the Chuckwagon Trail to the Devil's Bridge Trail from Dry Creek Road (5.8 miles round trip).
Bear Mountain: You'll reach the top of one of the tallest peaks in Sedona on this strenuous 5 mile round trip hike with an 1,800 foot elevation gain. Make sure to bring plenty of water and have sturdy footwear for this hike. Juniper trees and cacti dot the trail as you steadily climb up. Since this trail is so challenging, it isn't nearly as crowded as other shorter trails in Sedona. Give yourself about 4-5 hours to complete this hike.
food and other attractions
Sedona Restaurants: The fantastic dining options are one of the main attractions of a visit to Sedona. There are options for those on a budget, those who are health-conscious, and those who want to splurge. A full list of restaurants can be found here.
Tlaquepaque Arts & Shopping Village: Sedona is a city with a vibrant arts and crafts scene. A landmark since the 1970s, it was designed to look like a traditional Mexican village. Art galleries and shops amongst the sycamore trees make for a pleasant, relaxing afternoon.
Take a Hot Air Balloon Ride: imagine yourself towering above the red rocks of Sedona, enjoying views that few others get to experience. One of the more popular activities in Sedona is to book a hot air balloon ride across the canyons.
Cliff Dwellings: Sedona is the native land of the Hopi, Pueblo, Hohokam, and Western Apache peoples. The cultural history of this area is fascinating. The ancient cliff dwellings and pictographs of the Hopi can be experienced at the Palatki Heritage Site. An 800-year-old cliff dwelling, Montezuma Castle, was deemed a National Monument in 1906 by then president Teddy Roosevelt.
JOIN A GUIDED HIKING ADVENTURE
Sedona is home to some of the Western United States' most iconic and scenic hiking vacations. Wildland Trekking offers trips that highlight the must-see features of Sedona and the Grand Canyon: other-worldly rock formations, views, solitude, adventure, and fascinating natural and cultural interpretation.
Guided Sedona treks are all-inclusive which covers permits; local transportation (excluded on some day tours); meals; equipment; safety systems and professional hiking/wilderness guides; all of which allows visitors to maximize their time in Sedona and focus entirely on enjoying Red Rock Country.
ABOUT THE AUTHOR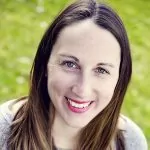 Erin McCarthy is a freelance writer and former Colgate University Outdoor Education Leader. When Erin isn't writing, she is exploring the mountains and rivers of the Greater Yellowstone Ecosystem. You can view her complete portfolio at www.erinannmccarthy.com.