Visiting Sedona in February
Learn all about what to expect visiting Sedona in February (Written by Erin McCarthy)
The months of December, January, and February are considered the slow season in Sedona. Taking a trip to Sedona in February is an opportunity to visit one of the most picturesque places in Arizona with significantly fewer visitors. The temperatures are much cooler and a dusting of snow coats the famous red rocks. A trip to Sedona in the winter requires less planning ahead due to the availability of hotels, restaurant reservations, and guided tours. Read on for our complete guide to visiting Sedona in February — benefits, drawbacks, weather, things to do, and more!
BENEFITS OF VISITING IN february
The biggest benefit to visiting Sedona in February is being able to hike the popular trails with less crowds. By midday in the spring and the fall, there is hardly a parking spot to be found at the popular trailheads. Not the case in the winter. Another advantage to visiting Sedona in February is that there are incentives offered by many of the hotels and restaurants. Since winter is considered the slow season, Sedona businesses offer these deals as an effort to stay afloat until the spring. Be sure to check out the best deals on lodging at the many Sedona hotels, cabins, and bed and breakfasts.
DRAWBACKS OF VISITING IN february
The biggest drawback to visiting Sedona in February is the wintery weather. Since Sedona sits at an elevation of 4,350 feet, temperatures can hover around freezing; and if you're in the mountains you may encounter snowy trails. If winter isn't your thing, aim for visiting Sedona another season.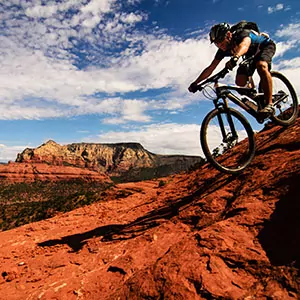 THINGS TO DO IN february
Most of the guided tour companies in Sedona operate run year-round so there are plenty of options for sightseeing either on your own or with a guide. Below are several options for things to do in Sedona in February:
Go Stargazing: Bring along some hot cocoa for a winter night you won't soon forget. Bundle up and enjoy one of the best places in the entire United States to marvel at the night sky. Sedona is one of only twenty certified Dark Sky Communities in the entire world. Sedona has made significant efforts to reduce its light pollution, which is not only good for the environment but fantastic for seeing the nighttime sky. We recommend driving west out of Sedona and out onto Dry Creek Road for the best views.
Drive the Red Rock Scenic Byway: 7.5 miles of stunning scenery featuring red rock formations and plenty of lookout points to take it all in. It only takes about 30 minutes to drive it, but we recommend carving out an afternoon to stop at all the viewpoints.
Take a Jeep Tour: One of the more popular ways for adventure seekers to see the landscape of Red Rock Country is by taking a guided Jeep tour. There are several local companies that organize private Jeep tours. A guided Jeep tour through Sedona is the chance to take an exhilarating trip through the desert canyons and red rocks. Leave the driving up to someone else, the views will be all your own. Pink Adventure Tours is a popular company that offers several tour options in the Sedona area including Broken Arrow, Diamondback Gulch, and the Honanki Heritage Site to see ancient ruins of the Sinagua people. A Day in the West, the oldest family-owned Jeep Tour company in Arizona offers private Jeep tours and combination Jeep and horseback riding tours as well.
Pamper Yourself with a Spa Day: Sedona is well-known for being a community that values physical and spiritual wellness. There are several spas in Sedona that will allow you to relax and rejuvenate yourself. You're on vacation after all!
Arts and Crafts: Sedona is a city with a vibrant arts and crafts scene. A landmark since the 1970s, the Tlaquepaque Arts & Shopping Village was designed to look like a traditional Mexican village. Art galleries and shops amongst the sycamore trees make for a pleasant, relaxing afternoon.
Take a Hot Air Balloon Ride: Imagine yourself towering above the red rocks of Sedona, enjoying views that few others get to experience. See Sedona from the air and book a hot air balloon tour of Red Rock County. A quiet, aerial tour gliding over the desert canyons and red rocks is a peaceful way to experience the landscape of Sedona. Red Rock Balloon Adventure only runs their tours at sunrise due to weather and conditions, so plan accordingly.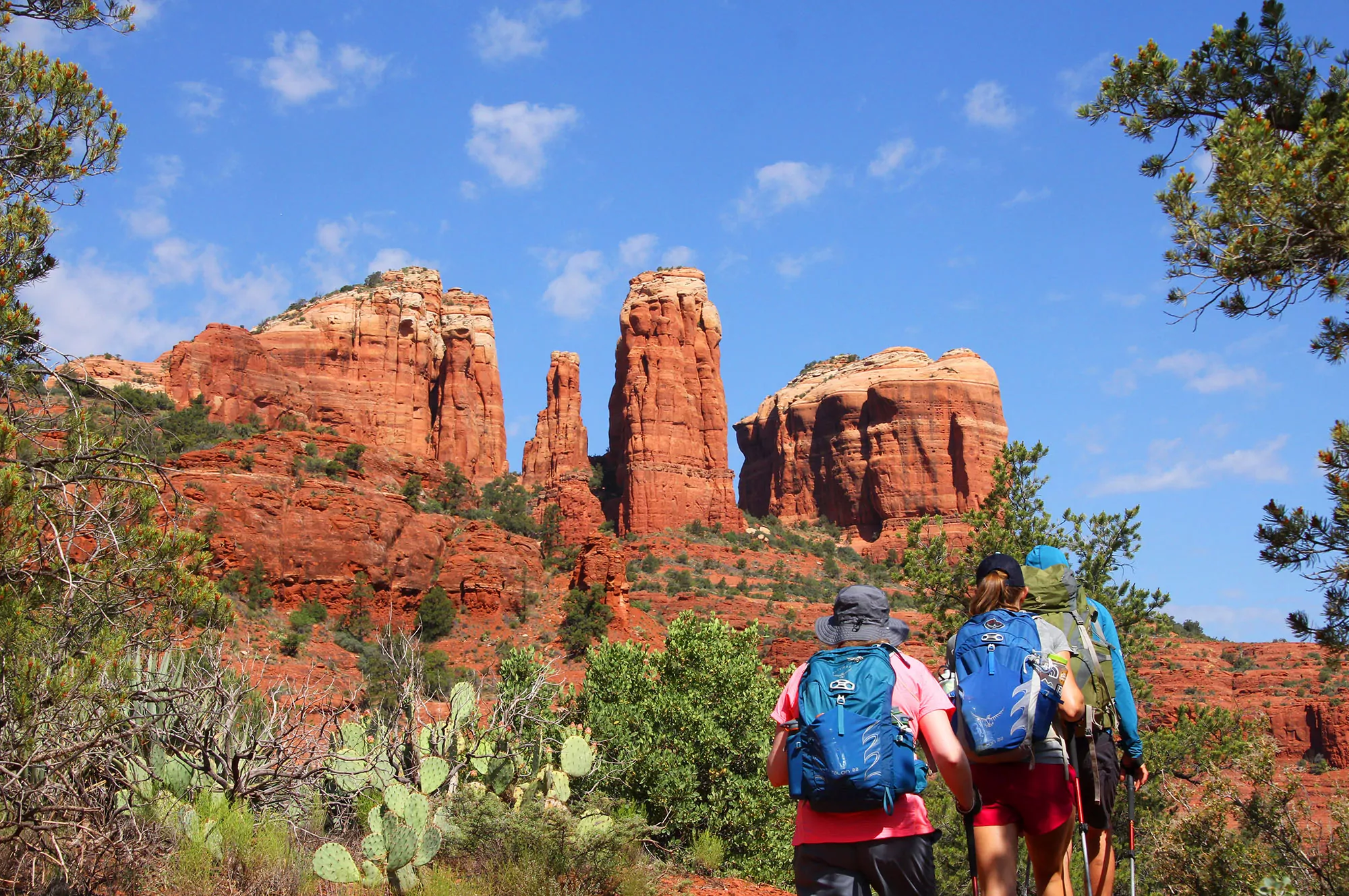 HIKING IN february
One of the most highly recommended things to do in February in Sedona is to hike. The popular trails will be significantly less crowded and offer a chance for desert solitude and quiet reflection. If you're looking to book a guided adventure, Wildland Trekking runs guided day hikes and backpacking trips in Sedona in February. Keep in mind that temperatures on the trail will be chilly so bring extra layers, water, and plenty of snacks. Below are a few suggestions for day hikes and be sure to check out our top ten list for even more.
Cathedral Rock Trail: Cathedral Rock is a natural sandstone butte that is one of the most photographed places in the entire state of Arizona. This hike is one of the most popular in Sedona due to its length of 1.5 miles round trip. A short but sweet ascent takes you up to the mystical, towering spires. Make sure you have sturdy footwear as it becomes a rock scramble about halfway up the trail.
Bell Rock Loop: Begin at the base of Bell Rock to ascend approximately one mile to the top via the Bell Rock Loop Trail. This short hike is another extremely popular one so keep in mind the day of time and season you're visiting. Bell Rock offers some of the most stunning panoramic views of Sedona. This is a must-do hike.
West Fork of Oak Creek: This 6.5-mile out-and-back trail with an elevation gain of 567 feet makes for a nice stroll through the canyon floor. Beware there are a few stream crossings so wear appropriate footwear. This hike is a wonderful option 365 days a year— in the fall, maple trees turn a bright red; in the winter, icicles dangle from the red rocks.
Devil's Bridge: Devil's Bridge is the largest natural sandstone arch in Sedona. This is a popular hike due to the fact that you have the option to walk out onto the top of the arch (you'll likely have to wait your turn, however). As mentioned earlier, this hike can be challenging to access. The Coconino National Forest lists two recommended routes to get to the Devil's Bridge Trailhead if you don't have reliable transportation. The first is Mescal to Chuckwagon to Devil's Bridge trail (4 miles round-trip) from Long Canyon Road, or the Chuckwagon Trail to the Devil's Bridge Trail from Dry Creek Road (5.8 miles round-trip).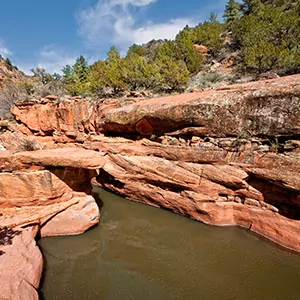 WEATHER IN february
The average high in Sedona in February is 61°F (16°C) and the average low is 33°F (0°C). The average monthly precipitation is 2.17 inches; either falling as snow or rain. Be prepared for winter conditions on the trail by bringing extra layers, plenty of water, and snacks.
JOIN A GUIDED HIKING ADVENTURE
Sedona is home to some of the Western United States' most iconic and scenic hiking vacations. Wildland Trekking offers trips that highlight the must-see features of Sedona and the Grand Canyon: other-worldly rock formations, views, solitude, adventure, and fascinating natural and cultural interpretation.
Guided Sedona treks are all-inclusive which covers permits; local transportation (excluded on some day tours); meals; equipment; safety systems and professional hiking/wilderness guides; all of which allow visitors to maximize their time in Sedona and focus entirely on enjoying Red Rock Country.
ABOUT THE AUTHOR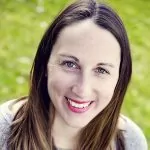 Erin McCarthy is a freelance writer and former Colgate University Outdoor Education Leader. When Erin isn't writing, she is exploring the mountains and rivers of the Greater Yellowstone Ecosystem. You can view her complete portfolio at www.erinannmccarthy.com.