Best Hikes in Peru
Learn about the best day hikes and multi-day hikes in Peru.
Peru is a hiker's dream. The Andes Mountains – the second highest mountain range in the world – cut a nearly straight north-south line through Peru. Multiple smaller ranges comprise the totality of Peru's Andes: ranges like the Cordillera Huayhuash, Cordillera Blanca, Cordillera Oriental and others. Buttressing the mountains on both sides are extensive foothills with cloud forests, vibrant farmlands cultivated by the ancient Quechua peoples, rushing rivers and more. Whether you're here to hike the famous Inca Trail or to explore more off-the-beaten-path treks, Peru is a place you'll never forget!
Top Peru Multi-day Hikes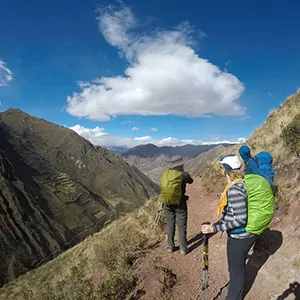 Along with day hikes are multi-day hiking and trekking adventures, for which Peru is quite famous. Of course, the most well-known trek is the Inca Trail but Peru is home to an almost infinite number of amazing hiking routes. Many follow the paths of the ancient Inca who roamed, cultivated and settled the Peruvian Andes long ago. Because many hikes follow these ancient paths, cultural sites and Inca ruins are a common highlight of hiking in Peru.
Most multi-day trips in Peru are available as guided treks, and some – like the Inca Trail – are only available guided. These trips are most often mule-supported or porter-supported.
INCA TRAIL, Machu Picchu
The Inca Trail is of course the most famous trek in Peru and justifiably so. This world-class hike takes you up high in the Andes to nearly 14,000 feet where the views are outstanding. This trek passes multiple ruins before even getting to the Sun Gate and Machu Picchu. One advantage to the Inca Trail is that it ends at Machu Picchu, whereas some of the other treks in the area end close but require train rides to the ruins themselves. If you're looking for the classic Peruvian trek, this one is it. At Wildland Trekking we offer 3 ways to do the Inca Trail. We offer a 5-day classic trip, an extended 9-day version that includes acclimatization days and pre-/post-trip accommodations, and a 6-day Short Inca Trail Lodge-based Tour.
Salkantay Trek, Machu Picchu
The Salkantay Trek is a 9-day guided trip that includes a hike along an alternative, yet incredible, route to Machu Picchu. This route consists of an original section of the Inca Trail, which once connected Machu Picchu to the city Vilcabamba. Now, this trail passes Llaqtapata ruins and offers views of Machu Picchu from the southwest. This trek immerses hikers in diverse ecosystems and terrain—from lowland cloud forests to high alpine passes. Your hard work along the trail will be rewarded when you reach Salkantay Pass at 15,091 feet.  In the following days, you'll pass by waterfalls and through canyons, and wake up the next day to fresh coffee from a local coffee plantation run by Freddie, a Quechua native. On the final day, the group will board a train to Aguas Calientes, where you'll take a bus into Machu Picchu proper. As your Peruvian guide tells you about the incredible ruins, the views will feel even sweeter knowing that you observed these mountains from a different perspective a few days prior. We offer this tour as either a short 5-day classic version or an extended 9-day trip with acclimatization days and all-inclusive amenities.
Cordillera Huayhuash Trek
The Cordillera Huayhuash is a stunning 18-mile long collection of impressive snow-capped mountains that lie deep in the Andes Mountains and tower high above turquoise alpine lakes. This trek is entirely above treeline (so the mountain scenery is spectacular). The entire 81-mile circuit is remote and rugged, and hikers will enjoy the relative solitude comparable to nearby treks. And while 81-miles might not be for everyone, this 5-day, 30-mile guided Huayhuash trek packs in the best that this circuit has to offer without the excessive mileage.
The entire guided tour is 10 days, including a few acclimatization hiking days in the surrounding mountains. During these acclimatization days, you'll hike to remarkable destinations, such as Wilcacocha Lake and Churup Lake. Then, when you're ready to tackle high altitudes, you'll head to Queropalca for a night at camp before you start your backpacking trek. This trip is portered, so although the days are challenging, you'll only be carrying a day pack. As you arrive at Sambuya Pass, at 15,583 feet, you'll sure be glad you aren't lugging your overnight gear.
Ausangate (Rainbow Mountain) Llama Trek
Rainbow Mountain in Peru is a popular day-hike destination for many travelers. But few venture beyond, into the Vilcanota Mountains, for an epic four-day trek through incredible high mountains. The trek is named for the highest mountain in the Cusco area—Ausangate—which touches the sky at an impressive 20,954 feet. This sacred mountain becomes a constant companion on your trek, as you can see its broad snow-covered summit from all angles.
This multi-day adventure is physically demanding: you'll cross many mountain passes, two of which sit at over 16,000 feet, as you circumnavigate Ausangate.  On the second day, you'll arrive at Rainbow Mountain, where a splash of colors decorates the velvety peaks. But the challenges are rewarded with uninterrupted views and few other people beyond Rainbow Mountain.
The Ausangate/Rainbow Mountain Trek has it all: high mountains, remote villages, llamas, and even some backcountry hot springs. The 9-day itinerary offered by Wildland Trekking even incorporates acclimatization days and caps off the adventure with a trip to Machu Picchu. This Wildland Llama Trek allows you to hike in some of the highest trail elevations Peru has to offer, without the weight of an overnight pack. Not only are they helpful for transporting gear, but the llamas are sure fun to have around. Each llama has a unique personality, and you'll quick fall in love with these fluffy pack animals.
Gran Vilaya Trek
When you think of ancient Peruvian ruins, your mind probably goes to Machu Picchu. But to the north, the Chachapoyas, a pre-Incan civilization, constructed fortresses and walled cities amid cloud forests. These archaeological sites are the highlight of the Trek Gran Vilaya, but the sense of solitude that you'll find along the trail is equally memorable.
This four-day trip will have you weaving between small towns in the cloud forest of Northern Peru. However, unlike the Inca Trail, there won't be another tourist in sight. Here, where the Andes meets the Amazon, you'll cross expansive valleys and marvel at ruins deep under the forest canopy.  Your adventure will culminate with a trip to the Fortress of Kuélap, a fortified city high on a mountain top overlooking the Utcubamba River. As you walk between the narrow walls, look out for the orchids blooming between the cracks.
Many tour companies offer multi-day tours of this region, and guides can give rich insight into the culture and history of the Chachapoyas people. However, it is possible to hike this trail independently, and permits are not required.
Santa Cruz Trek in the Cordillera Blanca
The Santa Cruz Trek is a stunning four-day, 24-mile backpacking trip that transports hikers to a dazzling world of steeply-carved mountains and aquamarine alpine lakes. This high-altitude trek is considered one of the most impressive trails on earth, as the densely-packed mountains of the Cordillera Blanca surround you. In this subrange of the Andes, many summits top out at over 18,000 feet. Hikers camp in flower-filled meadows beneath towering peaks, and follow rolling trails along tumbling rivers. You will gain elevation as you cross two 15,000-ft mountain passes, Point Union Pass and Portachuelo Pass.
The entire guided excursion is 8 days, including a few acclimatization days in Huaraz and the surrounding area. The acclimatization days include hikes to alpine lakes in the Huaraz region—Wilcacocha Lake and Churup Lake.
Best Peru Day Hikes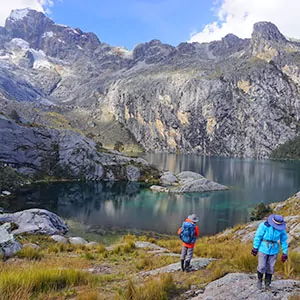 Peru offers wonderful opportunities for city exploration, culture discovery, culinary enjoyment and day hike experiences that will add short, fun, scenic adventures to your vacation. Peru day hikes can be done on your own or as guided tours. They can be stand-alone experiences or ones that are added to a multi-day adventure like the Inca Trail or Salkantay Trek. Options include hikes to stunning mountain lakes, dramatic alpine landscapes, unique rock formations, cultural sites and more. Make the most of your time in Peru by exploring on foot!
Many of these hikes will be at moderate-serious elevations, so it's important to make sure you're properly acclimatized for your chosen hike.
Humantay Lake
Humantay Lake mesmerizes visitors with its crystal-blue waters and remote mountain setting. This trail clocks in at 4.5 miles roundtrip, making it the perfect acclimatization hike for one of your first trekking days near Cusco. Begin your hike in a rolling green valley, where horses graze, and glaciated peaks tower in the distance. Steeply gain 1400 feet of elevation as you ascend the trail under the watchful gaze of Mount Salkantay and Mount Humantay. When you arrive at the lake at 13,779 feet, catch your breath in the thin air as you observe the freezing water cascades from the glacier above.
The trailhead for Humantay Lake is about 3 hours from Cusco. Many tour companies offer day hikes or include this trek as part of a longer itinerary. If you hike this trail with a guide, they will arrange transportation to and from the trailhead. However, if you choose to hike alone, you will need to rent a car or hire a private taxi to get to the trailhead.
Rainbow Mountain
Rainbow Mountain is quickly becoming a must-see destination near Cusco. You may have seen photos of the vibrant, rainbow-colored alpine ridges surrounded by towering, glaciated peaks. This is Rainbow Mountain. It is at an elevation of over 17,000 feet so the elevation on this hike is a very serious consideration. We recommend people add this day hike tour onto the end of one of our multi-day treks because you will already be acclimatized. Another option is to add Rainbow Mountain on to the end of your time in Cusco, which is over 11,000 feet in elevation. The hike is moderate length at about 5.5 miles. It climbs approximately 2,200 feet each way though, which makes this a steep hike. If you're able to acclimatize and you're up for an unforgettable one-day adventure, Rainbow Mountain is a great choice.
Kinsa Cocha
Kinsa Cocha, which means "three lakes" in Quechua, is a stunning hike just 45 minutes from Pisac in the Sacred Valley. The first lake is accessible from the parking area; however, as you traverse through the rocky valley, the views only get better.  You'll likely see more alpacas than tourists on this trek, so carry adequate water, food, and gear. Hikers should account for about 3-4 hours on the trail.
Some tour companies offer day hikes to this region, but it is a lesser-visited destination, so these trips can be difficult to book. Hiking groups can also hire a taxi from Pisac to reach the trailhead. The highest point on the trail is around 15,000 feet, so make sure to acclimatize before attempting this remote hike.
Laguna 69
Laguna 69, an icy blue glacier-fed lake, sits deep in the Cordillera Blanca. As one of the most stunning day treks in the region,  it's no surprise that Laguna 69 is also one of the most popular. You certainly won't be alone on the trail, but the nonstop views will distract you from the hoards of people. When you arrive at the lakeshore, take some time to relax by the turquoise waters under Chacraraju's snow-covered face.
The lake sits at just over 15,000 feet, so be sure to acclimatize before attempting this trek. If you want a little more solitude on the trails, avoid peak season from July through September.  Many tour companies run full day-trips to Laguna 69, so it is very affordable. However, many local tours don't include a guide and only offer transportation to and from the trailhead. If you want to escape the crowds, take a taxi to the trailhead. If you arrive before 11 AM, you'll be ahead of the tour groups. This option is quite expensive but beneficial for travelers who want to move at their own pace. Just make sure you secure a ride back to town, too!
Marcahuasi
Marcahuasi is a bit of an oddball in this list of mountain treks: this "stone forest", just east of Lima near the town San Pedro de Casta, is home to many strange and mystic rock formations. This unique destination is the perfect weekend getaway from the bustling city of Lima. Hikers can reach the rock formations in a day from San Pedro de Casta, however, many hikers opt to throw on backpacks or load up donkeys and camp beneath the Amphitheatre—a beautiful rock fortress that shelters a grassy plateau from harsh weather. Marcahuasi gets much less rain and has more moderate temperatures than other classic Andes trails, so it is a great year-round trekking destination.
From Lima, take a collectivo to Chosica. Once in Chosica,  you'll change buses and catch another to San Pedro de Casta. The entire journey takes between 3 – 4 hours. Once you arrive in town, the trail to Marcahuasi is easy to find.
Join a Guided Hiking Adventure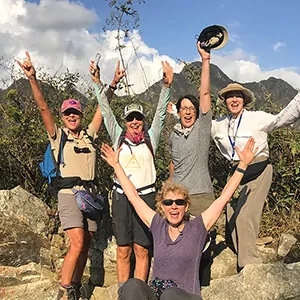 Peru is home to some of the most epic and amazing hiking vacations in the world. Wildland Trekking offers trips with the best that Peru has to offer: from classic Inca Trail lodge-based trekking to high-altitude Cordillera Huayhuash adventures. You'll see ancient ruins, turquoise lakes, glacier-covered peaks, and some of the tallest mountains in the world.
Guided Peru treks are all-inclusive: they cover permits, local transportation, meals, lodging, equipment, safety systems and professional hiking/wilderness guides. All of these trip features allow visitors to maximize their time in Peru and focus entirely on enjoying the country and parks.