25 Best Backpacking Trips in the World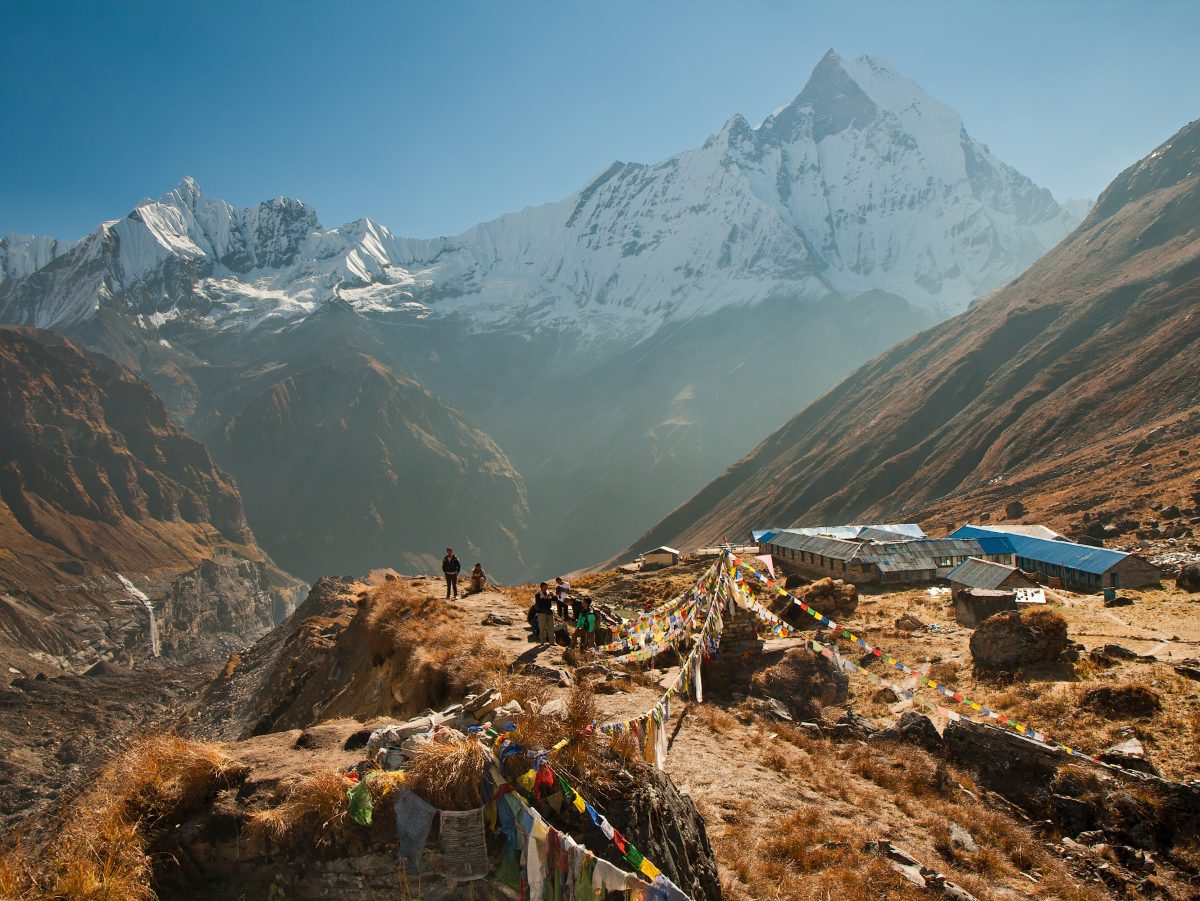 Earth is expansive, beautiful, and diverse. From windy mountain tops to narrow desert canyons, the sights are limitless. Walking trails cover our planet, allowing travelers the opportunity to intimately connect with their environment. This list of 25 of the best backpacking trails in the world takes you across the globe, spanning over 20 countries and dozens of ecosystems. We've sprinkled in a little bit of everything: overnight adventures, off-trail excursions, and long-distance thru-hikes. Anyone—from the beginner hiker to the experienced backpacker seeking more technical terrain—will find joy in this list. Below, you'll find trails that inspire us. They're listed by mileage because, let's be real, we can't choose just one favorite.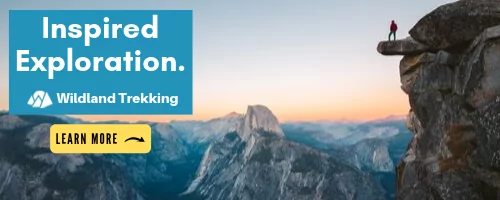 1. Kamikochi-Yari-Hotaka Circuit, Northern Japanese Alps, Japan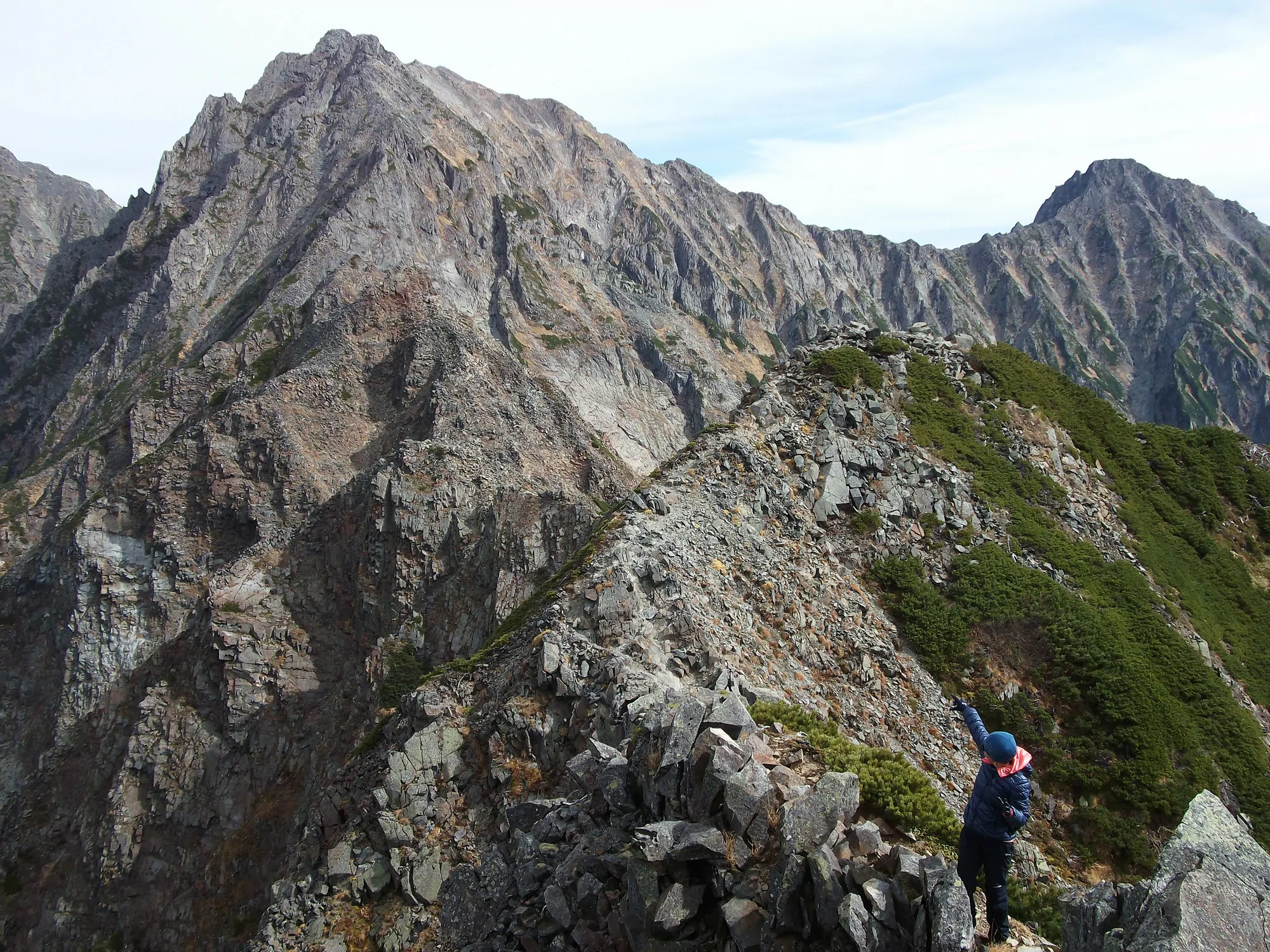 Trail Overview
Mileage: 21 mi roundtrip |  Length: 3 days  |  Difficulty: Strenuous  |  Elevation Gain: 5500 ft
This quintessential Northern Japanese Alps hike may be short, but it is undoubtedly an undertaking. The trail traverses from the low mountains to the highest peaks, from the serene river valley of Kamikochi to the windy summit of Mt Yarigatake. After a lazy walk through the deciduous forest along the Azusagawa River, the path steepens and heads into the alpine. The pinnacle-like summit of Yarigatake is within sight as hikers use their hands to cling to old metal ladders attached to vertical rock faces. An exhilarating ridgeline, the Daikiretto (meaning "the big cut"), awaits bold hikers with chains to help navigate the knife-edge. Backpackers do not need technical skills for these sections but would benefit from confident footing and unwavering nerves.
Mountain lodges situated high in the alpine, create a network of shelters that host all hikers attempting these trails. Step outside to gaze at the stars before retreating inside to cozy up by the wood-burning stove at night. In the mornings, watch as blankets of clouds roll among the rocky peaks and enjoy a leisurely breakfast before setting out on the trail once again.
Logistics
Accommodations and Reservations
Mountain huts along the route provide hikers with shelter from potentially harsh mountain conditions. Many lodges do not require reservations for parties under 3 people, but you can make reservations before you hike. (These reservations must be made over the phone; the huts do not accept email reservations.) Tent sites are also available at many of the huts and do not require reservations. Camping outside of designated areas is prohibited.
Hot breakfast and dinner are available at the mountain lodges for an added fee. Embrace the communal nature of these huts and take the opportunity to interact with hikers from all over the world.
Seasons
Late July through September are most likely to be snow-free. However, the mountain huts open their doors from April through November. Those visiting outside of the summer climbing season should be prepared for snow mountaineering. Due to the alpine nature of this route, the weather is highly variable. September and early October see the best conditions: fewer crowds and an array of colors as the fall foliage transforms the landscape.
All Inclusive Backpacking Trips
2. Kalalau Trail, Na Pali Coast, Hawaii, USA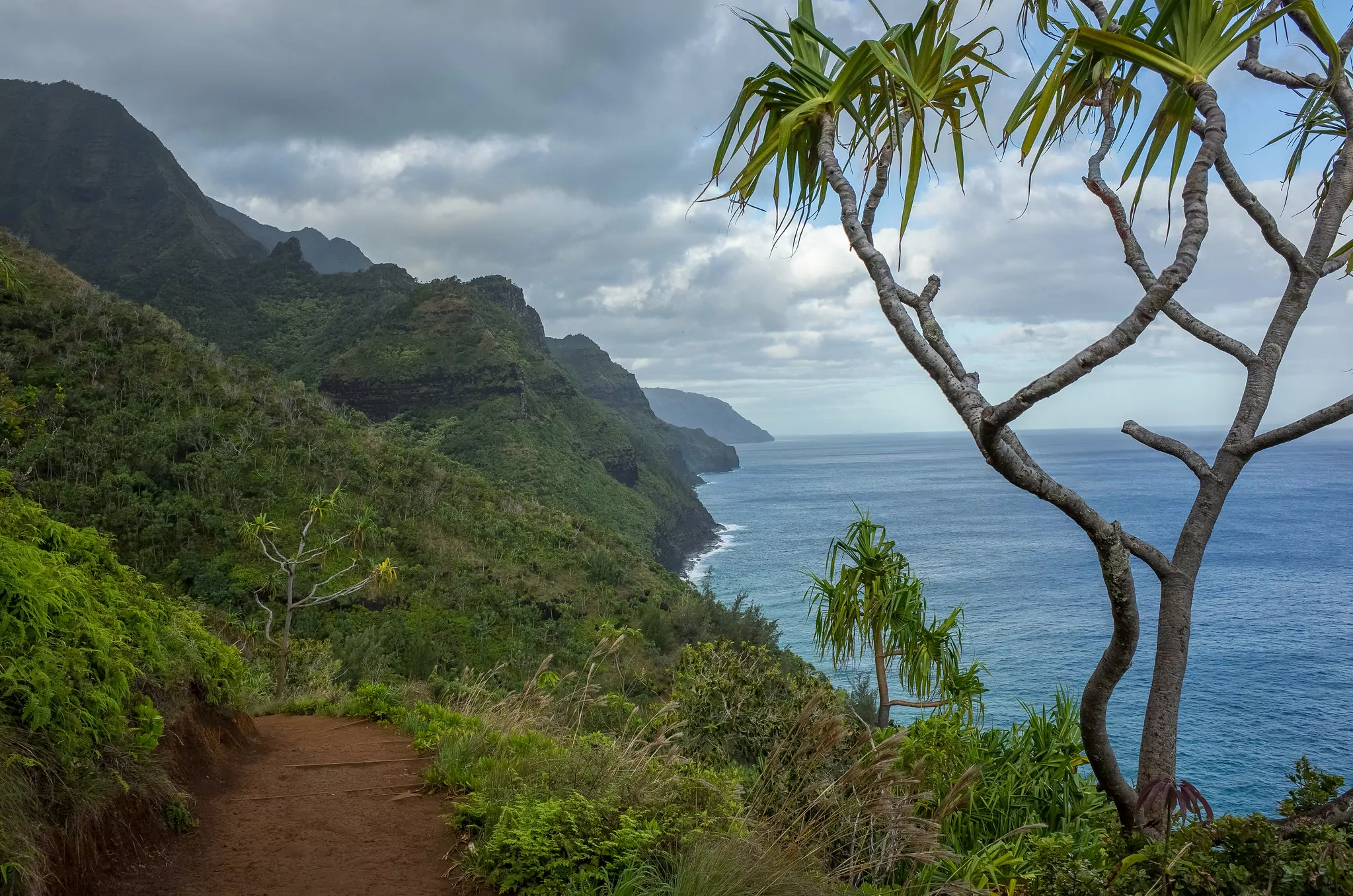 Trail Overview
Mileage: 22 mi roundtrip  |  Length: 3 days  |  Difficulty: Moderate  |  Elevation Gain: 800 ft
The Nā Pali Coast is a little slice of paradise along the northwestern shore of Kauai. The rugged grandeur of the pali, or sea cliffs, becomes apparent as you hike along the famed Kalalau Trail. Dramatic, fluted cliffs enclose Kalalau Beach, adding a touch of remoteness to this adventure. This pristine landscape looks much like it did when native Hawaiians traveled this stretch of land to connect their settlements. Campsites tucked in beneath the trees are sprinkled along the coast. Most hikers opt for three nights on the trail, stopping at Hanakoa for their first and third nights, and then ultimately at Kalalau Beach. You'll want to pack light for this backpacking trip. A heavy pack will only weigh you down along the more strenuous sections of trail, such as Crawler's Ledge.
For hikers who can secure permits, dazzling ocean, towering waterfalls, rushing streams, and steep spires surround this trail as you hike. Experienced swimmers will have many opportunities for body-surfing, while avid hikers will enjoy the chance to head into the Kalalau Valley.
Logistics
Permits & Reservations
Due to previous overcrowding, the State of Hawaii created a strict system for visiting this incredible region. Reservations are required for any visitors, even day-use, to enter Hāʻena State Park. There is one caveat: Hawaii residents may visit without a reservation. If you wish to stay overnight or even hike past the Hanakāpīʻai Beach on the Kalalau Trail, you will need a Nāpali Coast State Wilderness Park camping permit. You can reserve these $20 per person per day permits online up to 90 days before your trip.
Parking
If you've obtained a permit to camp along the Kalalau Trail, you will need to arrange a shuttle or private drop off in the park, as no overnight parking is allowed.
Seasons
This hike is accessible year-round, but summer weather (May through October) is drier and more predictable. Be sure to check weather and trail conditions before heading out. Flash floods can dramatically raise stream levels, making essential river crossings impassable. Occasionally, these unpredictable storms cause trail closures.
3. Long Range Traverse, Newfoundland, Canada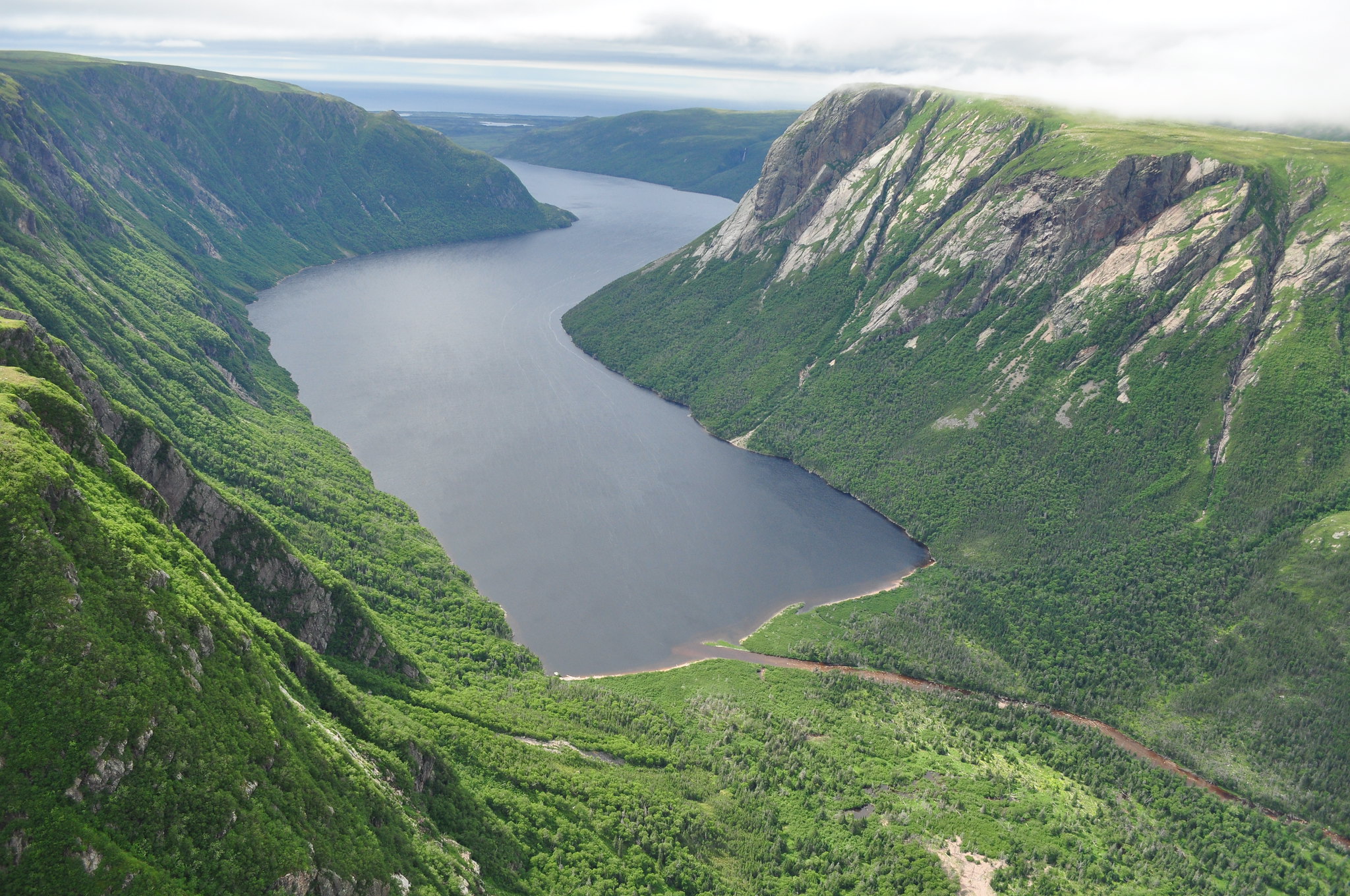 Trail Overview
Mileage: 22 mi point-to-point  |  Length: 4-5 days  |  Difficulty: Strenuous (& requires navigation skills)  |  Elevation Gain: 2300 ft
This rugged, unmarked cross-country route takes hikers deep into the Gros Morne National Park wilderness. Sparkling freshwater fjords weave beneath soaring granite cliffs. Caribou, moose, and black bears meander across the high plateau and near marshy ponds. The alpine tundra of western Newfoundland is stunning, wild, and raw: the ideal physical and mental challenge for bold backpackers willing to attempt this traverse. Take your time and settle into the wilderness: five days in the Long Range will allow you side trips to summit Gros Morne Mountain, or to take in the views on the precipice overlooking Ten Mile Pond.
Logistics
Permits and Reservations
Quotas exist to minimize the impact of hiking groups on this mountainous environment. Three groups per day are allowed to attempt the Long Range Traverse, so reservations are recommended and can be made starting in mid-January for the upcoming season. Hikers can only make reservations for trips between June 25th and September 30th. During peak months, from mid-July through August, reservations should be made well in advance. There is a $25 reservation fee per group, as well as $85 in backcountry travel fees per person.
Technical Skills
Parks Canada requires hikers to participate in an orientation session before attempting the Long Range Traverse. These orientations are offered daily at 2:30 PM at the Visitor Center and must be completed the day prior to your departure.
Backcountry navigation skills (including the use of a map and compass) are essential to completing this traverse. Potential backpackers have to pass a navigation exam before obtaining their permit. A GPS device can help avoid navigation errors in frequent low-hanging fog.
Seasons
September is one of the best months in the Long Range Mountains. Moderate temperatures, fewer bugs, and low precipitation create ideal hiking conditions. Accessibility to the Long Range Traverse is only guaranteed from June 25th through September 30th. Weather conditions and boat availability dictates whether or not backpackers can access this terrain.
4. Rim to Rim, Grand Canyon National Park, Arizona, USA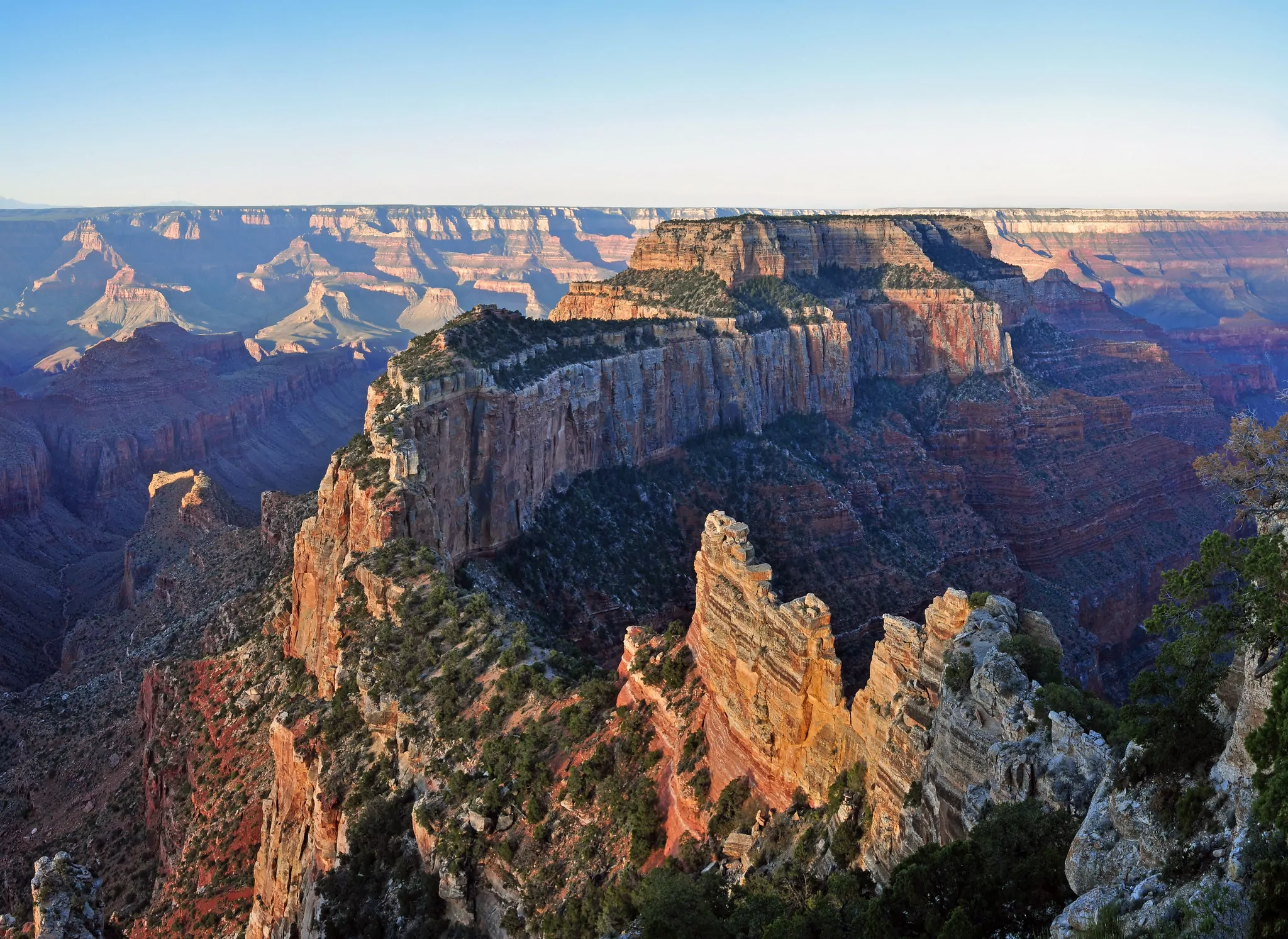 Trail Overview
Mileage: 24 mi point-to-point  |  Length: 3-4 days  |  Difficulty: Strenuous  |  Elevation: 5000 ft gain, 5500 ft loss
The Grand Canyon is an Arizona iconic, and at GCNP there is no hike more all-encompassing than the Rim-to-Rim. Starting at the North Rim, hikers descend to the canyon floor, and cross over the Colorado River before climbing steep switchbacks to the South Rim. While the views from atop the rim are mind-blowing, three nights spent in the canyon will fully immerse you in this unique place. Watch the layers of sandstone change colors in the setting sun at Plateau Point. Chat with fellow hikers at the historic Phantom Ranch, and revive your sun-parched body at Ribbon Falls. As soon as your trip is over, you'll be daydreaming about the hidden hanging gardens of side canyons, the red dirt in your shoes, and the smell of sagebrush along the trail.
Logistics
Permits & Reservations
Backcountry permits are required for all overnight trips in Grand Canyon National Park (except at the developed car camping sites along the North or South Rim). Reservations are made in advance and are so popular that the NPS organized a cheat sheet for when to apply. Last-minute walk-up permits are available for some of the corridor campsites along this route (along with a wait list system), so you could always try your luck by visiting a Backcountry Information Center the day before you intend to hike.
Parking & Shuttles
Most backpackers hike from the North Rim to the South Rim, but either direction requires a shuttle. Drop your car at the South Rim then, at the end of your adventure, you'll be able to hop in the car. Various shuttle services bring hikers between the rims. Reserve your transportation in advance.
If you're staying at the Grand Canyon Lodge or embarking from the North Rim Visitor Center,  a free shuttle takes hikers to the trailhead two miles away. It runs a couple of trips each morning, so talk to the reception desk at the Grand Canyon Lodge to put your name on the list.
Seasons
The road to the North Rim is generally open from mid-May through December.  Spring and fall are ideal for hiking in the canyon, as summer temperatures have dropped, but winter conditions have not yet set in.
From May to September, heat precautions should be taken, and backpackers should avoid hiking at mid-day between 10 AM and 3 PM.
In winter months, backpackers can access the canyon from the South Rim. However, ice could be encountered near the top of the canyon, so microspikes are advised. Temperature changes from the rim to the canyon bottom can be extreme, so hikers should be prepared for differing weather conditions.
Hike the Grand Canyon with a Guide
Guided Grand Canyon backpacking treks are available and are a stress-free, exciting way to hit the trail. The four-day Rim-to-Rim trip should be booked well in advance, but additional iconic Grand Canyon hikes are also available. The tour company handles gear, snacks, and lunch, and provides a professional, knowledgeable guide so you can focus 100% on enjoying your adventure.
5. Coyote Gulch, Glen Canyon National Recreation Area, Utah, USA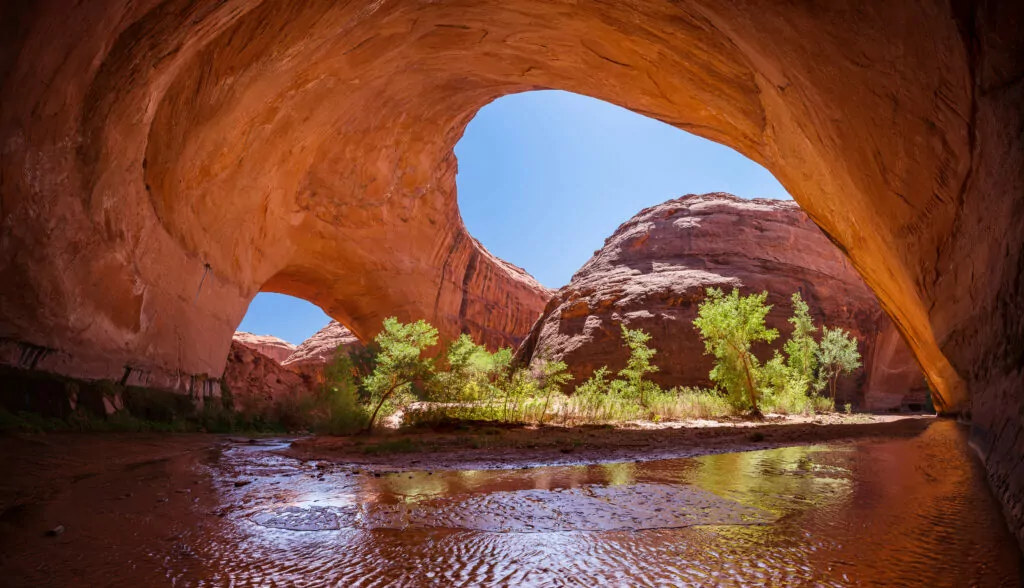 Trail Overview
Mileage: 26 mi point-to-point  |  Length: 3-4 days  |  Difficulty: Moderate  |  Elevation Gain: 1600 ft
The Jacob Hamblin Arch in Coyote Gulch is a sight to behold. This 100-ft natural feature spans a narrow canyon and sunlight beams through its cathedral-esque windows, sending an orange glow onto the sandstone walls. This is an arch that commands your attention, but it isn't all this renowned backpacking trip has going for it. A hike into Coyote Gulch gives backpackers a glimpse at what life was like before Glen Canyon was flooded by the dam. This trek back in time reveals natural sculptures of Jurassic sandstone and ancient Fremont dwellings and pictograph panels. Water flows plentifully in this lush desert oasis, and small cascades pour over red cliffs, adding a little bit of magic to an already magnificent landscape.
Logistics
Permits & Reservations
Permits are required for all overnight trips and can be obtained at the Escalante Interagency Visitor Center in Escalante, Utah, or at the trailhead. Picking up your permit at the Visitor Center is advised, as local staff can update hikers on water availability, route descriptions, and weather and trail conditions. If you choose to pick up your permit at the trailhead, refresh your knowledge on backcountry etiquette before you head out. This fragile desert is unique and vulnerable to human impact, so specific features of this landscape (such as cryptobiotic soil) should be respected.
As of the time of this article, no reservations are required.
Seasons
This hike is accessible year-round but requires special considerations in certain seasons. Spring (March to June) or fall (late-September through early-November) are the best and most popular times to hike Coyote Gulch.
Summer heat can be hazardous, so avoid hiking mid-day if you attempt this backpacking trip in the summer. Late summer brings rainstorms to the desert, and flash floods happen frequently. Check weather conditions before you go and do not hike into Coyote Gulch if there is a risk for a flash flood.
In winter months, cold temperatures can sweep through the region, so winter backpackers should be prepared for freezing temperatures and potentially icy conditions.
Avoid the Stress: Go Guided!
Guided Coyote Gulch hikes are available and are a stress-free, exciting way to do this hike. The tour company handles gear, snacks, and meals, and provides a professional, knowledgeable guide so you can focus 100% on enjoying your adventure. Additional treks in the Escalante region are also available, including the adventurous Boulder Mail Trail.
6. Cordillera Huayhuash, Peru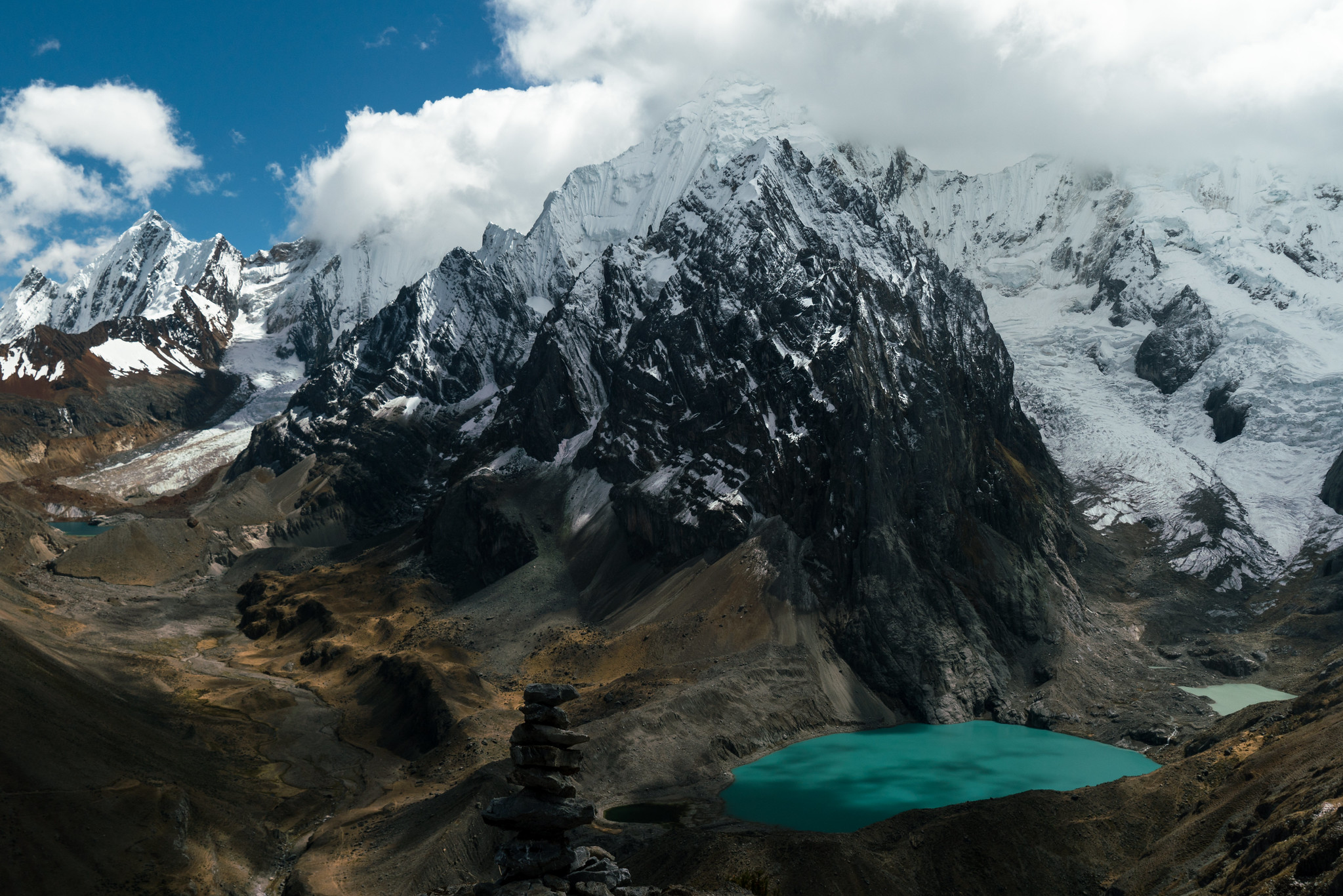 Trail Overview
Mileage: 36 mi roundtrip (up to 81 miles roundtrip)  |  Length: 7-14 days  |  Difficulty: Strenuous  |  Elevation Gain: over 15000 ft
The Cordillera Huayhuash is a subrange of the Peruvian Andes, a stunning 18-mile long collection of impressive snow-capped mountains that stand high above turquoise alpine lakes. The entire circuit is above treeline, giving hikers non-stop views of grand mountainous scenery. This trek is remote and rugged, and hikers will enjoy the relative solitude comparable to nearby treks. Experience the wonder of the Andes as you roam through valleys that lie beneath 20,000-foot monoliths. This adventure is not for the faint of heart. High elevations and rugged terrain tax even the most experienced hiker. For those looking for a challenge, the Cordillera Huayhuash is an exceptional destination.
Many route options exist, making this loop customizable to your preferences. The entire Huayhuash loop is 81 miles; however, many guided treks shorten the mileage but pack in the best scenery of the circuit.
Logistics
Acclimatization
Sections of this trail weave through alpine terrain that sits at over 15000 ft, so acclimatizing to high elevations is necessary before starting your trek. Guided trips extensively plan rest days and hiking days around proper acclimatization. If you decide to hike this trail without a guide, know the signs and symptoms of acute mountain sickness before you go, and allow yourself sufficient time in Huaraz before trip departure.
Permits & Reservations
No permits or reservations. However, bring money to pay campsite/land use fees that are charged by the mountain communities (totaling around $60-$70.)
Seasons
May through September (aka the dry season). In other seasons, snow often prevents hikers from traveling over mountain passes. No matter the time of year, cold temperatures are frequent in the high mountains of the Andes, so go prepared for freezing temperatures.
Join a Guided Cordillera Huayhuash Trek
Guided Cordillera Huayhuash treks are a stress-free, exciting way to do this hike. The tour company handles gear, snacks, accommodations, transportation, and meals. It also provides professional, knowledgeable guides so you can focus 100% on enjoying your adventure and learn about the region you are visiting.
Explore Your World. Award Winning Hiking Guides
7. Copper Ridge Loop, North Cascades National Park, Washington, USA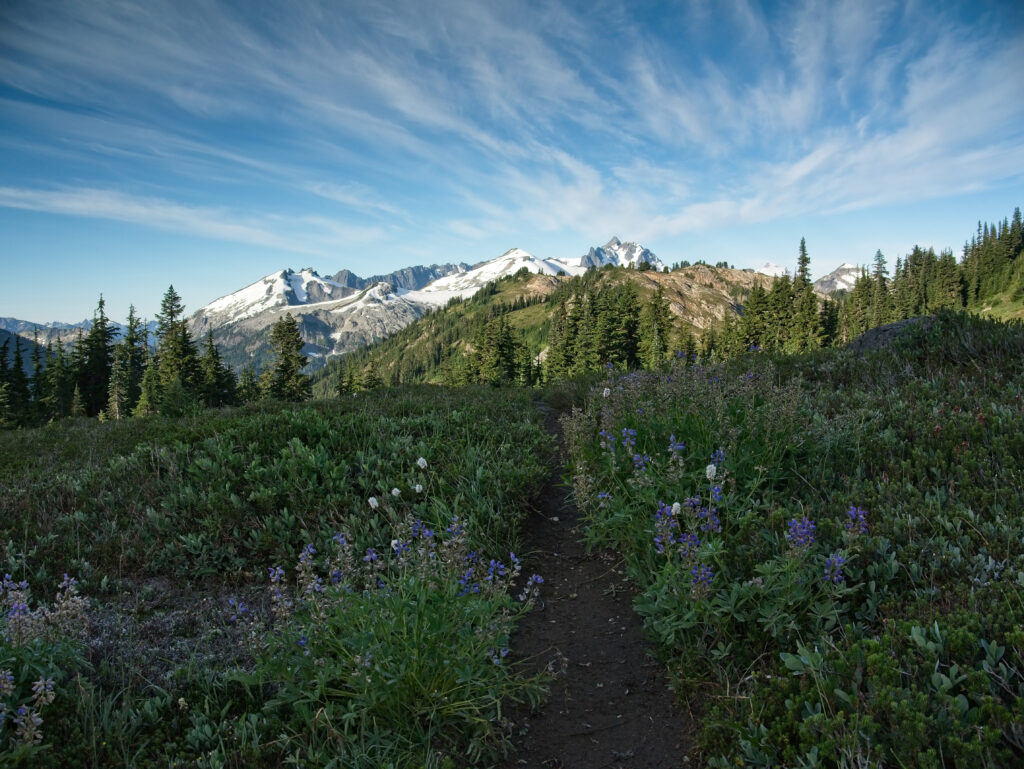 Trail Overview
Mileage: 34 miles roundtrip  |  Length: 4-5 days  |  Difficulty: Strenuous  |  Elevation Gain: 8600 ft
The North Cascades is a range of dark, jagged spires and glacier-capped summits that sprawls as far as the eye can see. Lush wildflower-filled meadows give way to expansive views of icy blue hanging glaciers and striated granite boulders, evidence of past glacial eras. Nowhere in the continental US is there such a high concentration of glaciers as the North Cascade range in Washington. The Copper Ridge Loop takes backpackers high into the alpine, through miles of meadows amidst these peaks, without the necessity of technical skills.
Waltz through wildflowers, your face glued in a permanent grin, as lofty views of Mount Shuksan, Mount Baker, and the ominous Picket Range stare you head-on. Lower elevation sections of the trail weave through old-growth forests, across crystal clear streams, and even involve a cable car river crossing. By the end of the trip, you'll be wondering why most people have never heard of the North Cascades.
Logistics
Permits and Reservations
Backcountry permits are required and can be difficult to obtain during busy periods—summer weekends and holidays. Walk-up permits are first-come, first-served the day before or day of your desired trip. Hikers can reserve some campsites in advance, and reservations can be submitted from March 15 to April 15 for the upcoming summer season. Either way, head to the Wilderness Information Center in Glacier, WA, to grab your permit before hitting the trail.
A parking pass is required at the trailhead.
Hiking Season
This trail is best hiked from late-July through September. Snow lingers in the mountains late into the summer, and sections of this trail are often impassable without an ice ax until late-July.
Hike the North Cascades with a Guide
Guided Copper Ridge Loop backpacking trips take the stress out of trip planning, and allow you to relax while your guide provides meals, gear, and permits for this trip.
8. Kepler Track, South Island, New Zealand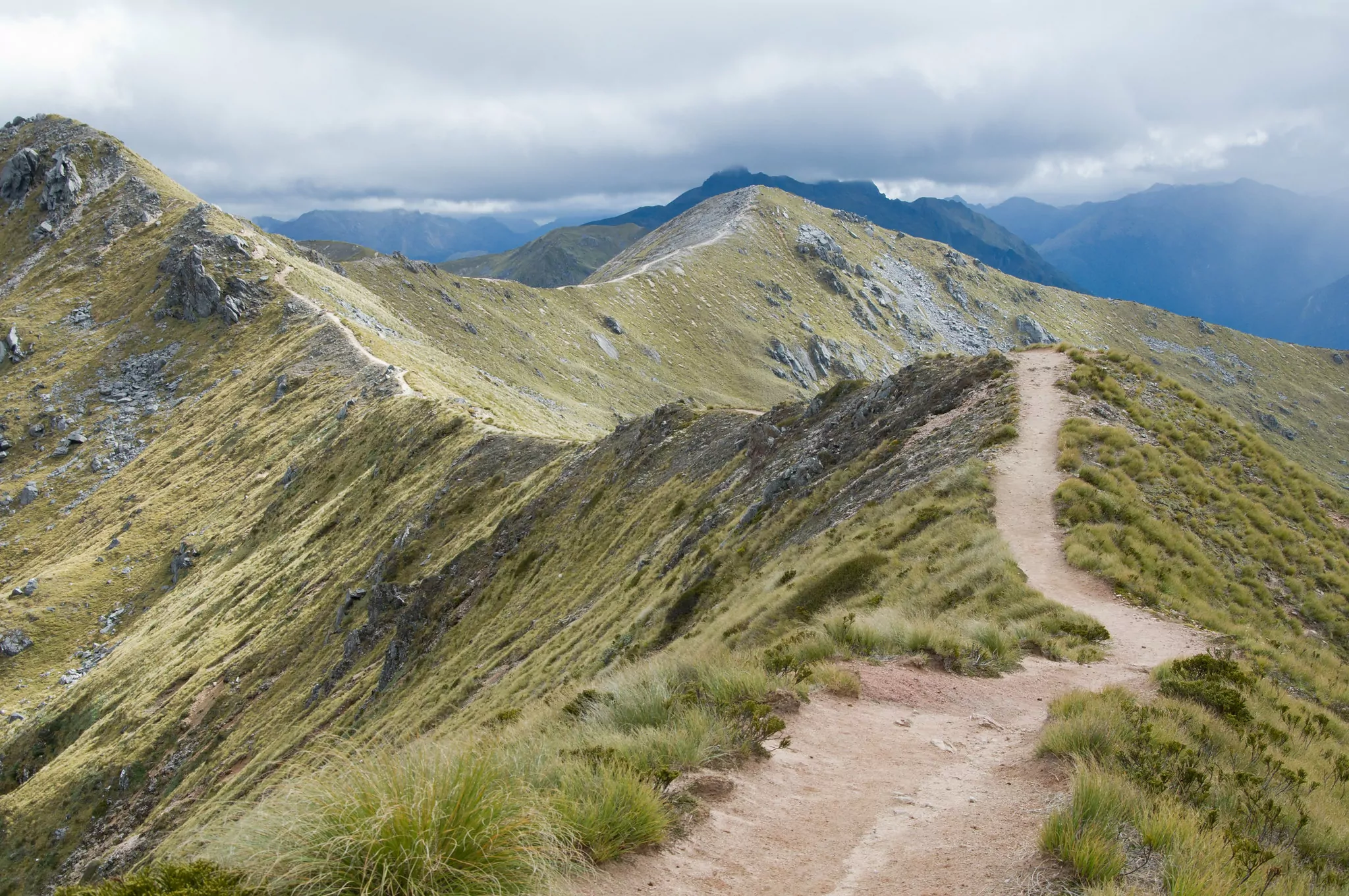 Trail Overview
Mileage: 37.3 miles roundtrip  |  Length: 3-4 days  |  Difficulty: Moderate  |  Elevation Gain: around 3600 ft
New Zealand has nine iconic "Great Walks" (all worthwhile destinations), but of those, the Kepler Track was designed to pack the best of Fiordland National Park into one trail. Better yet, this exquisite hike is accessible to all backpacking levels. Relatively gentle grades mix with long ridgeline miles, giving hikers endless alpine views without too much elevation gain.
Tussock grasses wave in the breeze, clouds settle on high peaks, and the fiord of Lake Te Anau glistens far below you. Keep an eye out for birds along the trail: kea—curious alpine parrots—swoop in to say hello, while kārearea—New Zealand falcons—zip overhead.
Logistics
Permits & Reservations
Hikers must reserve huts or campsites in advance. For international visitors, huts are $130/person/night, while campsites are $40/person/night. New Zealand residents pay $65/person/night for the huts and $20/person/night for camping. These prices drop significantly in the off-season, but off-season hiking should only be attempted by very experienced backpackers.
Seasons
The Great Walks season runs from late October through late April. This is the best time to hike for most backpackers. Outside of this season, facilities are reduced, and potentially hazardous conditions exist along the trail. If you're an experienced hiker, the off-season provides fewer crowds, and the beds in huts are first-come, first-served. If you intend to hike in the off-season, be prepared for winter conditions and have avalanche awareness and necessary equipment.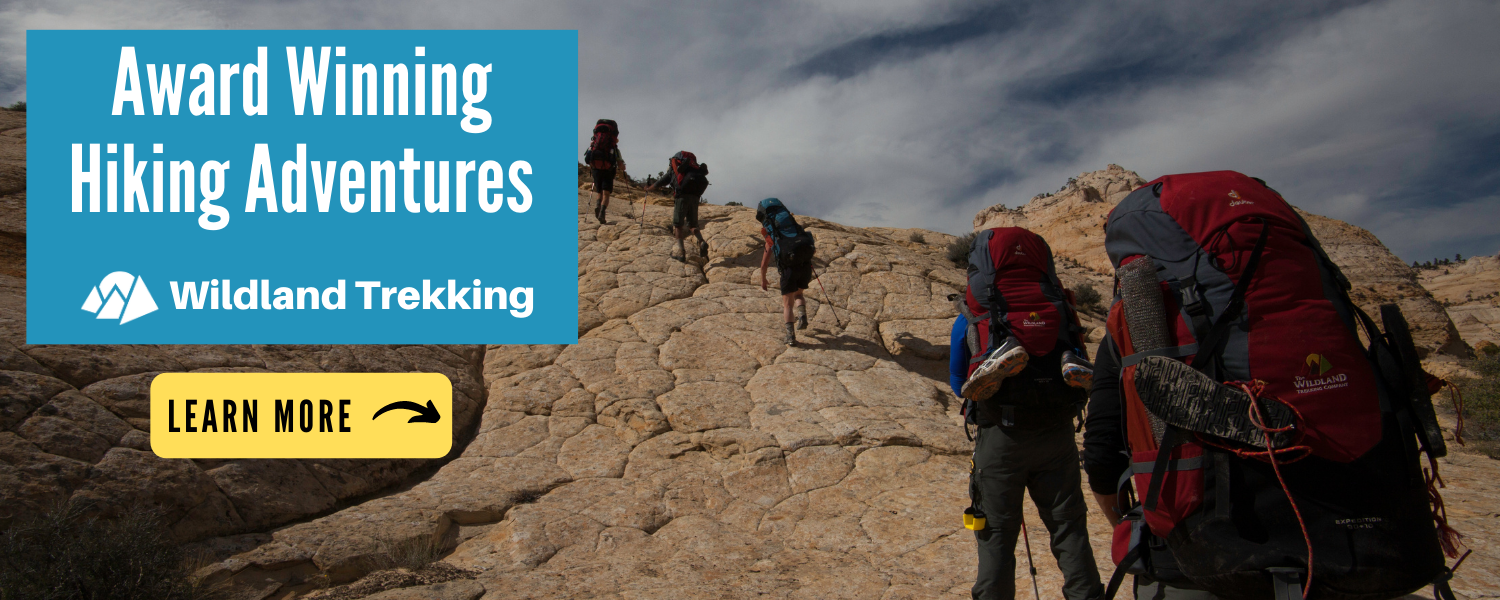 9. Toubkal Circuit, Morocco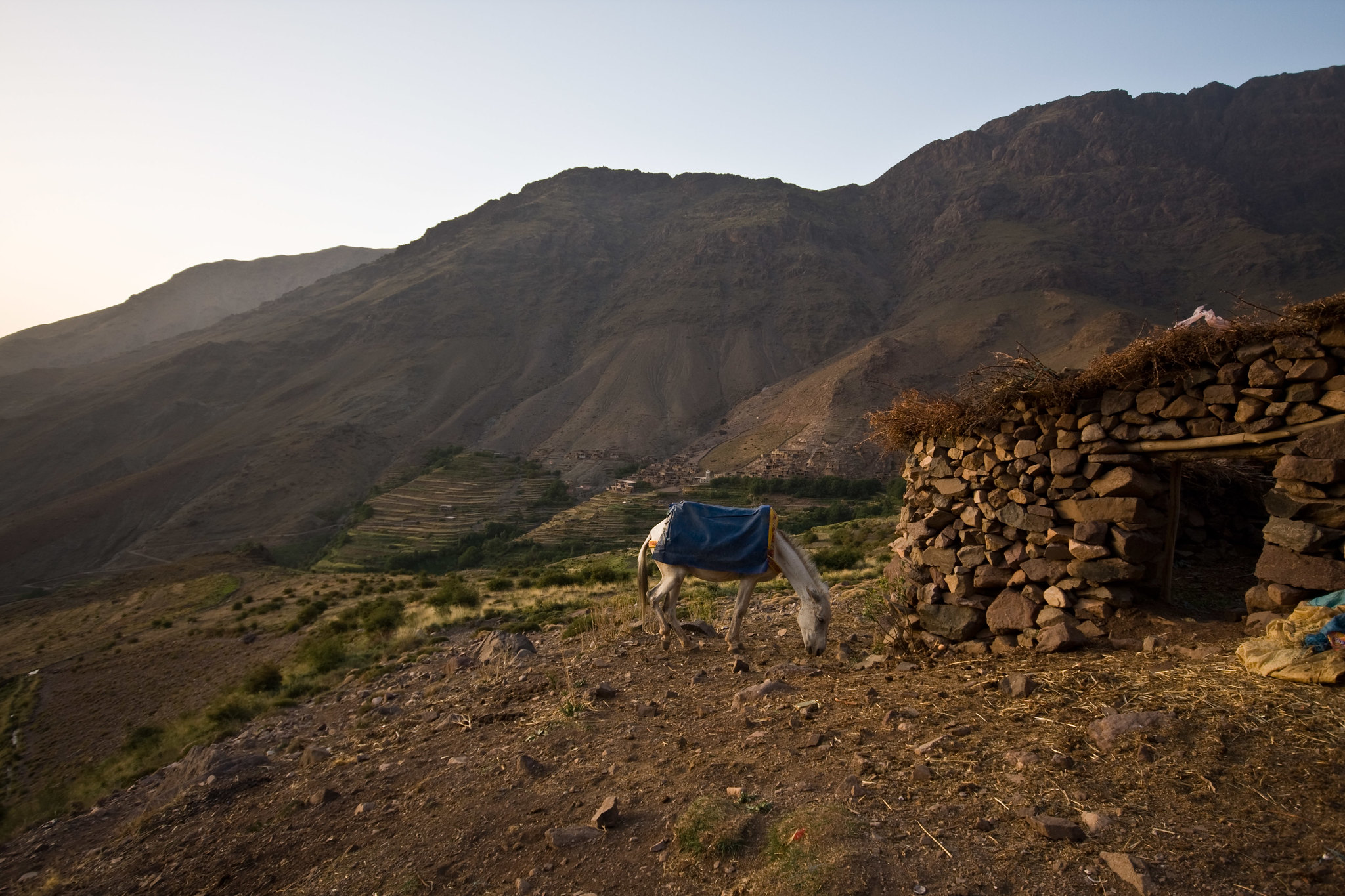 Trail Overview
Mileage: 37.3 miles roundtrip (or 44.7 mi with a peak ascent)  |  Length: 4-6 days  |  Difficulty: Moderate
The Toubkal Circuit takes trekkers across high mountain terrain and through local Berber villages, where mud-brick houses sit perched atop lush terraced fields. This section of the Atlas Mountains is referred to by the local inhabitants by its Berber name—idraren draren, meaning "mountains of mountains." Trails weave over rocky mountain passes and down into river valleys, as Jebel Toubkal—the highest peak in Northern Africa—towers above. Nights spent at camp along a bubbling stream are balanced by nights sipping tea with the locals at gites. On the last night of the trek, hikers have the opportunity to climb to the summit of Mt. Toubkal, where the peaks of the Atlas Mountains and the plains of Marrakech stretch before you.
Logistics
Reservations & Accommodations
It is mandatory to hike in this region with a guide: multiple police checkpoints along the route require you to verify this fact. Multi-day treks should be booked in advance, but can also be booked when you arrive in Imlil.
Hikers generally stay in mountain gites or huts, but some companies offer trips that involve tent camping, as well. There are many opportunities to try local cuisine in villages along the trail.
Place Awareness
As you trek through Berber villages, backpackers should be mindful of respecting the locals and their traditions. Morocco is a fairly conservative country, and hikers should wear modest clothing throughout their stay in the villages. Local trekking companies recommend that both men and women cover their shoulders and above the knee.
Season
Late spring and autumn have lower temperatures ideal for trekking. If you hike early in the season, you may encounter snow in the high mountains until June. Summer brings high temperatures, less water, and more crowds, but it is a popular time to attempt this circuit.
10. West Coast Trail, British Columbia, Canada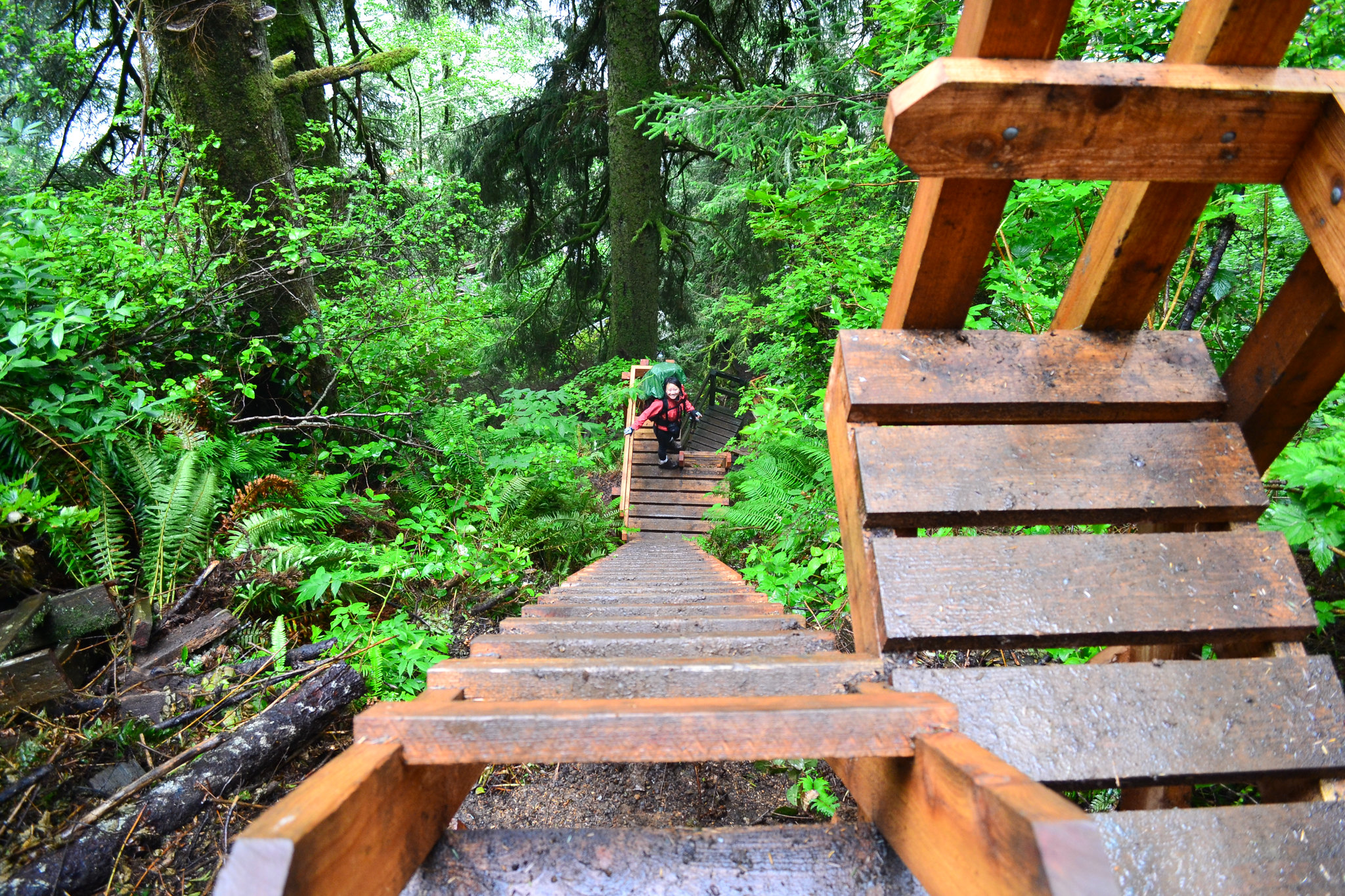 Trail Overview
Mileage: 46.5 miles point-to-point  |  Length: 5-8 days  |  Difficulty: Strenuous  |  Elevation Gain: 5000 – 6000 ft
The West Coast of Vancouver Island is wild, beautiful, remote, and—most importantly—unforgiving. The trail that runs along over 40 miles of this coastline is a rite-of-passage for experienced backpackers. Ladders, knee-high mud, roaring river crossings, and torrential rain showers are just some of the obstacles that hikers face along the route. But year after year, permits continue to fill for the entire season. This trail surely has to have some redeeming qualities, right?
Those with the mental fortitude to brave this tough trail are rewarded by a vast, pristine wilderness. Seals sun themselves on rocks, whales breach in rolling waves, and beach waterfalls plummet directly into the sea. Tidepools full of colorful sea stars, anemones, and scurrying crabs are revealed when the tide is out. The West Coast Trail traces the paths taken by First Nations residents— the Huu-ay-aht, Ditidaht, and Pacheedaht residents who established villages and camps along the shore.
This trail immerses you in an unspoiled ecosystem of temperate rainforests and rugged shorelines. But, one of the biggest takeaways is a sense of empowerment as you learn about yourself and your capabilities.
Logistics
Permits, Fees & Reservations
Permits are required to hike the West Coast Trail and often fill quickly. Make reservations as early as possible; they open for the upcoming season in early January.
Hiking the West Coast Trail is expensive. Fees include a $25 reservation fee per person, a $10/person/day National Park Entry Pass, a $130 Overnight Use permit per person, and a ferry fee of $20 each way.
Orientation Session
Each hiker must attend an orientation session before starting the West Coast Trail. These sessions are offered daily from 10 AM – 2 PM at the WCT Information Centers at Gordon River and Pachena Bay. This process takes an hour and can be completed as early as 2 PM the day before your departure.
Seasons
The West Coast Trail is open from May 1 through September 30th. Weather can be unpredictable even during this season, with heavy rainstorms likely any time of year—especially in May and June.
11. Dana to Petra on the Jordan Trail, Dana Biosphere Reserve, Jordan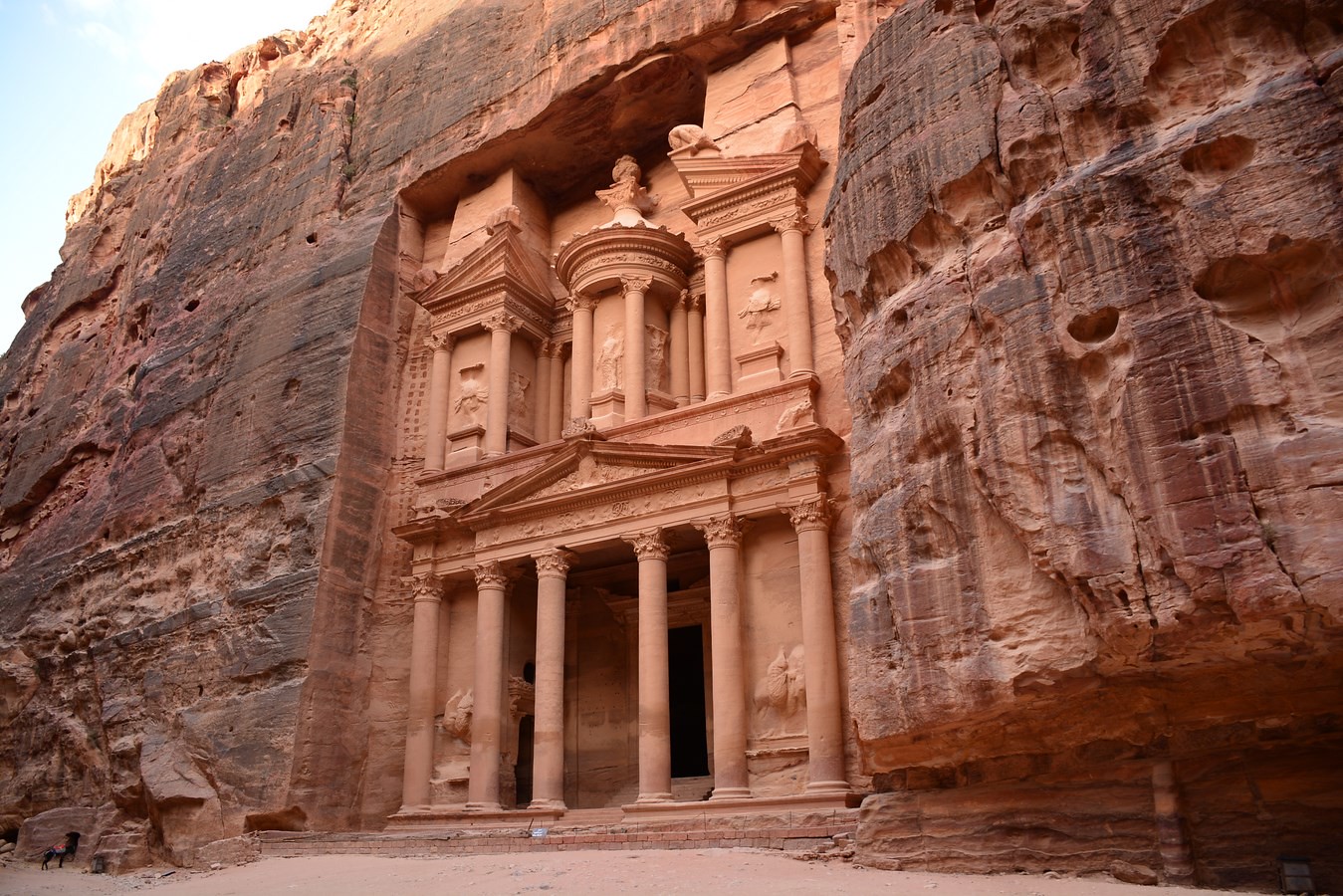 Trail Overview
Mileage: 46.5 miles point-to-point  |  Length: 4-6 days  |  Difficulty: Moderate
You may recognize Petra as a famous archaeological site, with its grand facade of the Treasury carved into a gradient of pink and red sandstone. This impressive civilization created a town of caves and temples, woven in sandstone labyrinths which served as thoroughfares for residents and visitors. But the landscape surrounding this kingdom is equally as impressive, and backpackers can get a more authentic sense of this region's history by accessing it on foot.
This trek through the desert of Jordan is remote and powerful, mixing amazing natural wonders with impressive archaeological remains. A hike through this land of sun and dust will have you rejoicing in the sounds of trickling water or the scurrying steps of blue lizards across the sand. Bedouin shepherds lead their herds across high trails, stopping under lone trees to rest in the shade. After the sun sets, campers catch glimpses of the twinkle of campfires across the flatlands.
Logistics
Permits, Fees & Reservations
The Dana to Petra section of the Jordan Trail traverses through the Dana Biosphere Reserve. Contact the reserve in advance to pay entrance fees.
Permits are not required to hike the Jordan Trail. However, this path is sparsely marked and often hard to follow, so many visitors will want to hire a guide.
Entering Petra requires a pass that must be purchased at the front entrance. However, hikers following the Dana to Petra route will approach from the back entrance, so backpackers will need to buy a pass in advance.
Accommodations
Wild camping is allowed along the route, except in the Dana Biosphere Reserve. These campsites are established and marked on maps of the region. Additionally, locals often operate guesthouses or Bedouin camps.
Season
February and March are the best times to hike this trail, as springtime temperatures are moderate, water is abundant, and the hillsides are lush.
October and November also bring cooler temperatures, but less greenery than in the spring. Winter months are pleasant, but temperatures may fall low at night, and rainfall is more likely.
Generally, late-May through September are too hot to trek comfortably.
12. Arthur Range Traverse, Tasmania, Australia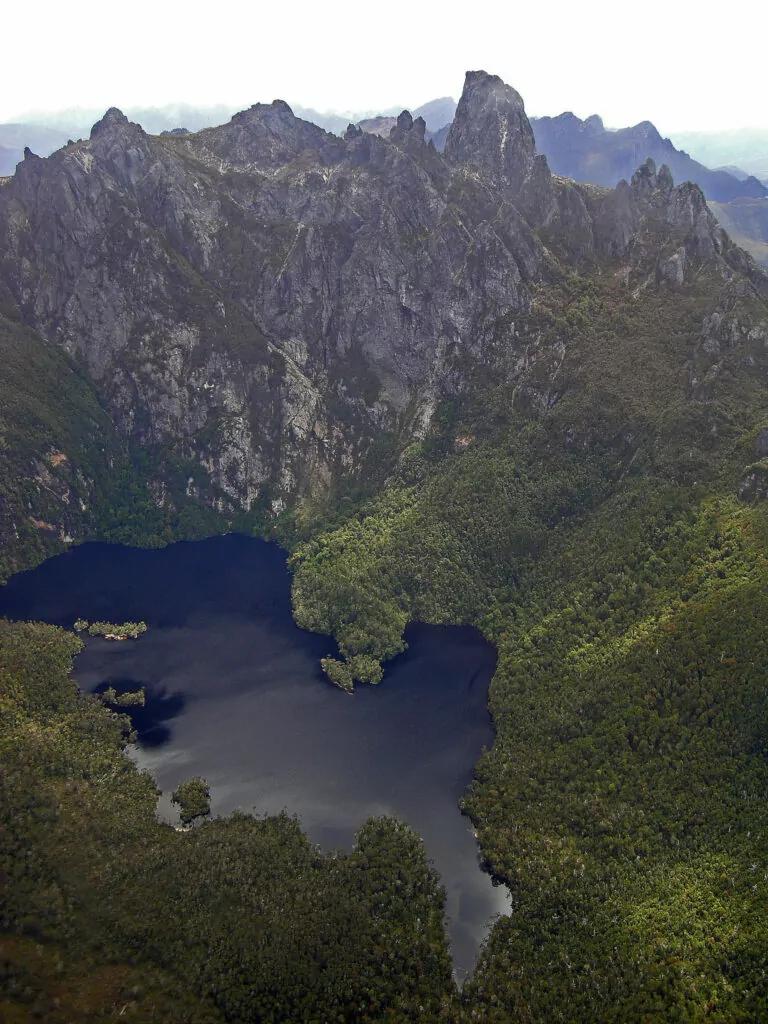 Trail Overview
Mileage: 48.5 miles point-to-point  |  Length: 10 – 14 days  |  Difficulty: Extremely strenuous  |  Elevation Gain: 10,200 ft
The Arthur Range is a rugged, wild spine of mountains that juts from the earth in the Southwest Wilderness in Tasmania. Starting in the button grass plains, you are soon greeted by a sea of serrated quartzite peaks. Scrambling is often required, as you hoist yourself up and over boulders along ridgelines. The miles are slow, yet stunning, and the trail is often vertigo-inducing.
Unpredictable, horrid weather conditions add a touch of spice to this rough trail. When the weather rolls in, hikers should hunker down. Fog sweeps low, rendering the path useless. Torrential rain showers soak weary backpackers, and the roaring forties winds make movements difficult. However, the weather moves quickly. And when the sun shines behind the jagged peaks, illuminating lush valleys, it's easy to forget about the hardships.
The full traverse of the Arthur Range is a demanding hike that should only be attempted by very experienced backpackers. However, for those seeking something a bit more mellow (but still with a hint of masochism), the Western Arthur Traverse is a great alternative. It is more popular, requires less route-finding, and takes up to a week.
Logistics
Permits and Reservations
As of December 2019, no permits are needed to hike this route.
Camping
Established campsites line the route and consist of timber tent pads and backcountry toilets—both of which exist to minimize hiker impact on the alpine ecosystem. Make sure to bring a shelter that can withstand high winds and a whole lot of water.
Seasons
December to March. However, this region is known for unpredictable weather at any time of the year. No matter the forecast, be prepared for snow, heavy rain, and high winds whenever you travel in the Arthur Range. These gale-force winds come from the west. We recommend hiking this traverse from west to east so that the winds are at your back.
13. Laugavegur-Skogar Trail, Iceland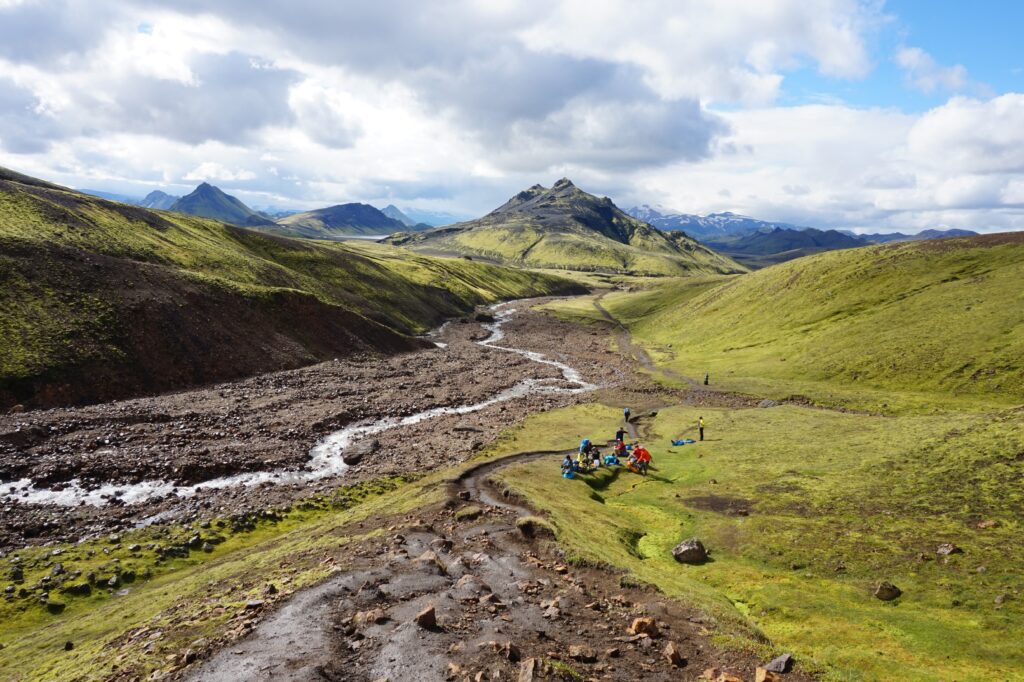 Trail Overview
Mileage: 65 miles point-to-point  |  Length: 7-9 days  |  Difficulty: Moderate  |  Elevation Gain: 5500 feet
In the past few years, Iceland has skyrocketed as a tourist destination. Even if you're a traveler who enjoys a more solitary experience, don't let its popularity deter you. Iceland is home to an incredible landscape of velvety moss-covered mountains, turbulent rivers, and a rainbow of rhyolitic rock. This hut-to-hut hiking trail from Landmannalaugar to Skogar immerses you in otherworldly terrain as you walk between rustic mountain refuges.
Observe geothermal features in action, cross rolling black sand deserts, and watch torrents of water cascade over jagged, green cliffs. Skogafoss, one of the last waterfalls along the trail, produces mesmerizing double rainbows. According to Viking legend, there just might be a treasure chest of gold behind the glistening curtain of water. The magic of this trail is undeniable: the spectacles and memories from this Laugavegur-Skogar backpacking trek are sure to stay with you for years to come.
Logistics
Reservations & Accommodations
Huts are available all along the route and provide shelter for backpackers in often wet, cold mountain conditions. These huts are often fully booked months in advance, so make reservations early. Huts generally cost around $60/night.
Camping is also permitted near the huts for $18/night. Backpackers choosing to camp can pay extra to access the hut kitchens, which can help to reduce pack weight. Camping outside of these designated areas is prohibited. Reservations for campgrounds are optional.
Season
Mid-June through mid-September. All other times, roads may be closed, and buses to trailheads do not run. However, the weather is notoriously unpredictable. You can encounter cold, rainy, and windy weather even during this season. June and July in Iceland stay light at all hours, so make sure to bring a buff or something comparable to aid with your sleep.
Hike the Laugavegur-Skogar Trail with a Guide
Guided Laugavegur-Skogar hut-to-hut treks are available and are a stress-free, exciting way to do this hike. The tour company handles gear, snacks, accommodations, and meals, and provides a professional, knowledgeable guide so you can focus 100% on enjoying your adventure. Read more…
14. Annapurna Circuit, Nepal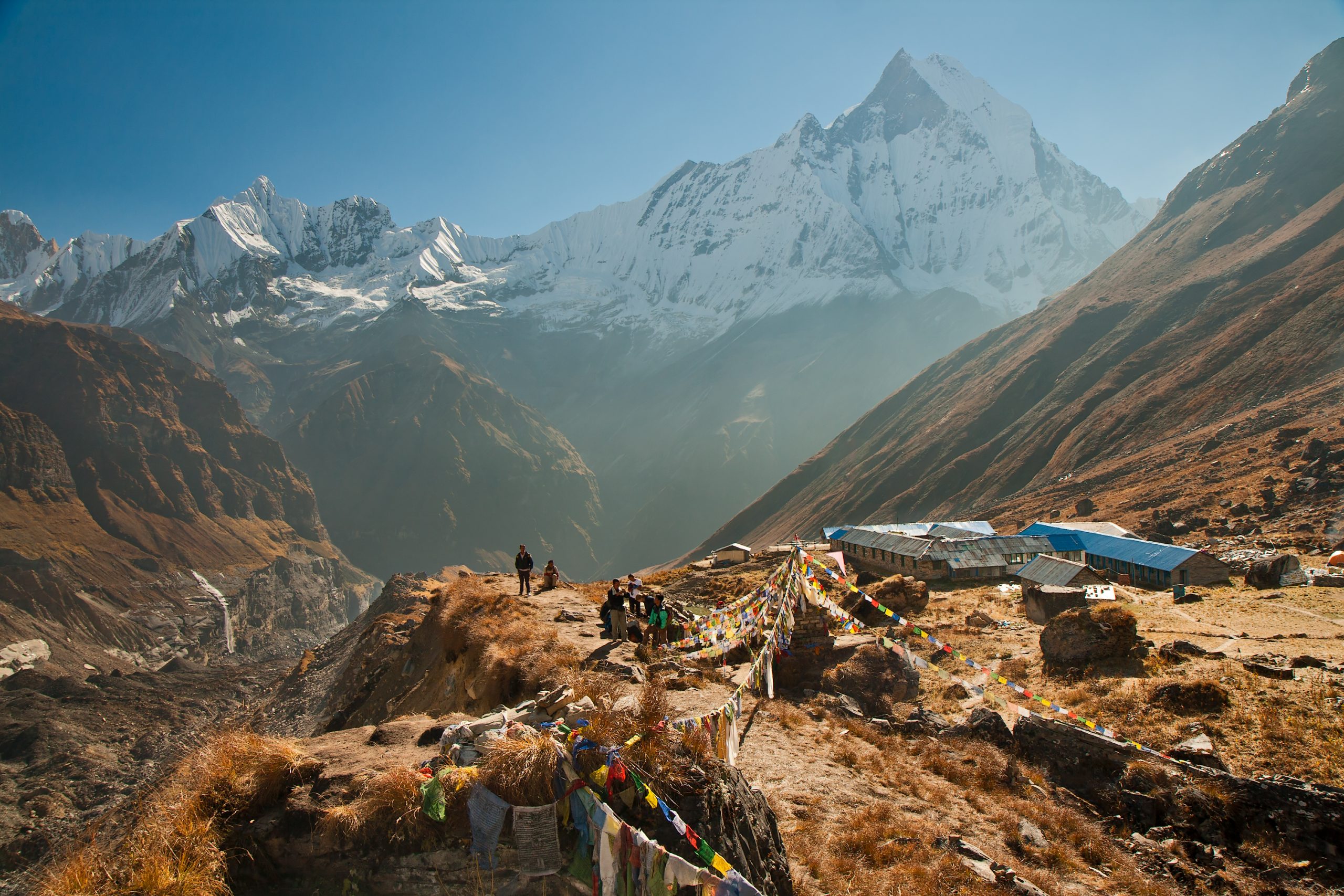 Trail Overview
Mileage: 72 – 143 miles roundtrip depending on the route  |  Length: 9 – 21 days  |  Difficulty: Strenuous
In Central Nepal, there is a chain of peaks, 30 miles long, known as the Annapurna Massif. Trekking in this region combines incredible mountain scenery with rich Nepalese tradition. There are many trails through this region; however, the Annapurna Circuit, which opened in 1977, is one of the finest long-distance trails. Travelers hiking this immensely popular trail must abandon their notions of wilderness trekking. Come prepared to embrace the crowds, eat and sleep in dorm-style housing, and meet other backpackers from all over the world.
This trail begins sub-tropical rainforests, where monkeys dangle from trees. Hikers then travel through terraced fields, over swinging suspension bridges, and into deep gorges before emerging in the heart of the Himalayas. Thorong La Pass—at 17700 feet—will test even the heartiest hiker. However, pack weight can be minimized by eating and sleeping in teahouses along the route.
Alternatively, the Annapurna Base Camp trek is slightly shorter and reaches elevations of up to 13550 feet. This trail takes you to the base camp where you stare straight at the massive, fluted face of Annapurna I.
Logistics
Acclimatization
Sections of this trail weave through alpine terrain that sits at over 17000 ft, so acclimatizing to high elevations is necessary before starting your trek. Guided trips extensively plan rest days and hiking days around proper acclimatization. If you decide to hike this trail without a guide, know the signs and symptoms of acute mountain sickness before you go, and allow yourself sufficient time to acclimatize as you hike higher.
Accommodations
Teahouses along the route provide ideal accommodations for travelers looking to add local flavor to their adventure. These basic shelters are close together, so you never have to travel far to find one. Here, you can dine on dahl bat and fall asleep on a basic bed. However, bring a sleeping bag to ensure that you will be warm enough.
Permits
Backpackers must obtain both an Annapurna Conservation Area Permit ($30) and a TIMS card ($20) to hike in this region. Purchase both at the Nepal Tourism Board Office in Kathmandu or Pokhara before hiking.
Seasons
The fall trekking season runs from October to early-December. Spring trekking is accessible from March through early-May.
Hike to Annapurna Base Camp with a Guide
Joining a guided Annapurna Base Camp trip is a stress-free, exciting way to do this hike. The Annapurna Base Camp hike is a shorter, less strenuous alternative to the Annapurna Circuit. The tour company handles gear, snacks, and lunch, and provides a professional, knowledgeable guide so you can focus 100% on enjoying your adventure.
15. Wind River High Route, Wyoming, USA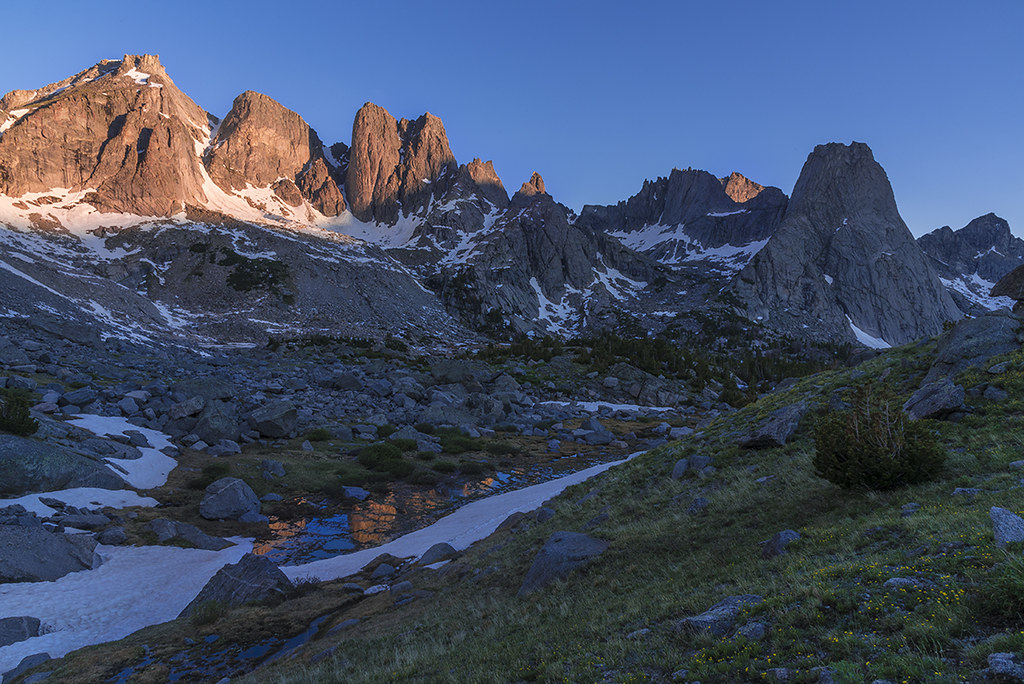 Trail Overview
Mileage: 79 – 100 miles point-to-point  |  Length: 7-18 days  |  Difficulty: Extremely strenuous  |  Elevation Gain: 20,000 – 30,000 ft
The Wind River Range is a fantastically wild range in Western Wyoming. This collection of glacially-sculpted granite monoliths and towers encircles dazzling alpine basins, hosting over 100 lakes. And one of the most adventurous trips in the range is Wind River High Route. This is definitely more "route" than established trail: it follows close to the crest of the Continental Divide, and over half of the trip requires off-trail travel.
But the incredible scenery is worth the effort; hikers bounce through talus fields, across granite slabs, and up and over mountain passes to get an intimate experience of these lofty peaks. Down in the valleys below, sunshine glitters on the surface of icy-blue lakes, while marmots dash across grassy meadows back to their rocky kingdoms. This traverse gets you the best of the best. You get into the heart of the range and see classics, like the majestic Cirque of the Towers, while experiencing equally stunning and less visited parts of the range, like Pronghorn Peak.
Many variations of this route have been proposed and extensively documented; however, this adventure requires the hiker to take some action, look at maps, and plan a lot of logistics.
Logistics
Alternatives
The Wind River High Route should only be attempted by experienced backpackers capable of hiking rugged, off-trail miles for days on end. Scrambling experience is essential, and backpackers should feel comfortable covering rough terrain with a heavy pack. However, many trails take hikers deep into the Wind River Range, without the added excitement of off-trail travel and the class 3 terrain (scrambling) in the High Route. Alternative excursions range from a three-day loop into the Cirque of the Towers to a week-long one-way hike through incredibly remote regions.
Permits & Fees
No permits are needed to hike in the Winds. Know the regulations specific to the Bridger Wilderness, such as campsite usage and food storage, before starting your trip.
Seasons
Late-July to mid-September is the ideal season for this trek. During this time, most of the trails will be snow-free. However, if you attempt the Wind River High Route, expect to encounter snow year-round. Crampons/microspikes and an ice axe can be beneficial, even during late summer.
Hike in the Wind River Range with a Guide
Guided backpacking and llama treks are available in the Wind River Range and are a stress-free, exciting way to explore this region. The tour company handles gear, snacks, and meals, and provides a professional, knowledgeable guide so you can focus 100% on enjoying your adventure.
16. Torres Del Paine 'O' Circuit, Patagonia, Chile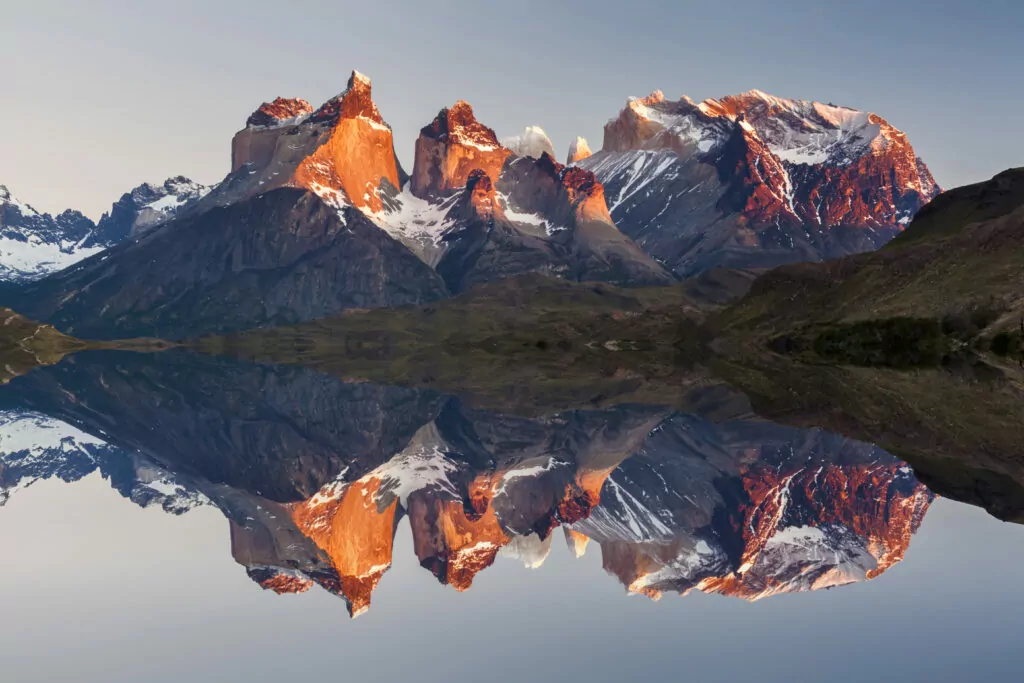 Trail Overview
Mileage: 85-mile loop  |  Length: 6- 11 days  |  Difficulty: Moderate
The Torres del Paine 'O' Circuit in Torres del Paine National Park in Patagonia is a full circumnavigation of the Cordillera Paine, a stunning mountain range of dramatic spires. This 'O' circuit incorporates the famous W Trek while adding extra mileage into the backside of the park. Hikers pass by the iconic rock formations on the W Trek before entering into a vast wilderness of glacial lakes and ice fields.
While the smooth spires of the center of the range are enthralling, the northern portion of this loop makes the 'O' Circuit special. As you hike towards John Gardner Pass, you'll catch views of the Grey Glacier and the Southern Patagonia Ice Field, which stretches over 215 miles and is one of the largest extrapolar ice fields in the world. These sights are breathtaking and chilling, as jagged blue chunks of ice jut up against Lago Grey. You can even hop in a kayak to see this mesmerizing glacier ice up close.
Logistics
Accommodations & Reservations
Accommodation reservations must be made to hike the O Circuit. Refugios and campsites should be booked in advance via Vertice or Fantastico Sur. Backpackers must camp at established campgrounds: wild camping is prohibited. Campsites range from $6 – $20 (with two free campsites along the route), while refugios cost between $60-$80 for a bed. There are no refugios on the northern side of the circuit, so those who wish to hike the entire trail must plan to camp for part of the excursion.
Fees & Permits
A park entrance of about $26/person is required and can only be paid in Chilean pesos. No permits are required to hike the trail, beyond your accommodation reservations.
Seasons
The 'O' Circuit is not accessible from April 15th through November 15th. The peak hiking season is in December through February. March is Autumn in the park, with fewer crowds at the end of the month and lovely colors. However, the weather is less predictable, and rain is more frequent. Spring is in full swing in November, and the latter half of the month can be a great time on the O Circuit.
Hike in Torres del Paines with a Guide
Guided 'O' Circuit treks are available and are a stress-free, exciting way to do this hike. The tour company handles gear, snacks, accommodations, and meals, and provides a professional, knowledgeable guide so you can focus 100% on enjoying your adventure.
17. Alta Via 2, Dolomites, Italy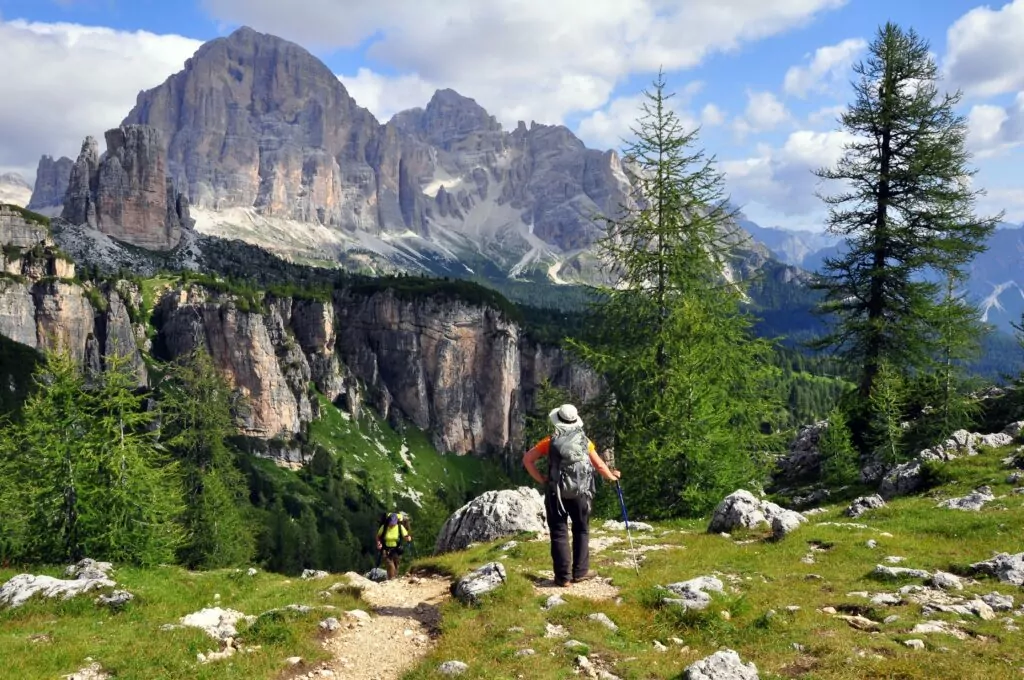 Trail Overview
Mileage: 100 miles point-to-point  |  Length: 11 – 14 days  |  Difficulty: Strenuous  |  Elevation Gain: 39,000 ft
Serrated limestone peaks characterize the landscape in this UNESCO World Heritage Site in Northeast Italy. The Dolomites are a dramatic mountain range speckled with rifugios, idyllic mountain huts set on mountain passes and in verdant meadows. But the trails that weave through this seemingly impassable landscape aren't for the faint of heart. Iron rungs—via ferratas—and cable hand-wires help hikers past exposed terrain and up steep rock faces. These systems speak of the history of this region: WWI troops installed these to function as efficient routes through the mountains.
This trail is long, rough, and technical. If you have a fear of heights and exposed terrain, you may want to opt for the more popular Alta Via 1 or an alternative trip in the Dolomites.
Logistics
Accommodations & Reservations
Rifugios are the classic accommodation for most travelers in the Italian Alps. These mountain huts rest in spectacular settings, and travelers can only access them on foot. They offer both meals and beds, which range from exquisite to simple, depending on your preference.
For this hut-to-hut adventure, we recommend that you book your accommodations in advance during the peak season (July & August). However, if you want the flexibility to change your hiking mileage by the day, you can often find last-minute accommodations.
Seasons
Mid-June through late-September is ideal for all backpackers, as rifugios are open during this time. However, backpackers experienced with snow travel and mountaineering can hike the Alta Via 2 in the off-season, as free, simple bivouac huts are open year-round.
Hike in the Dolomites with a Guide
Wildland Trekking offers an eight-day hiking tour through the Dolomites that covers the best of what the region has to offer, including the Sennes Range, Antorno Lake, and Tre Cime di Lavaredo. We'll also take care of everything during your trip — gear, meals, and accommodations — so that you can spend more time enjoying your vacation.
Perhaps the greatest aspect of our company is our friendly, expert guides. At Wildland Trekking, we're dedicated to providing you with the most enjoyable and memorable experience possible, all while adhering to strict safety protocols.
18. Arctic Circle Trail, Greenland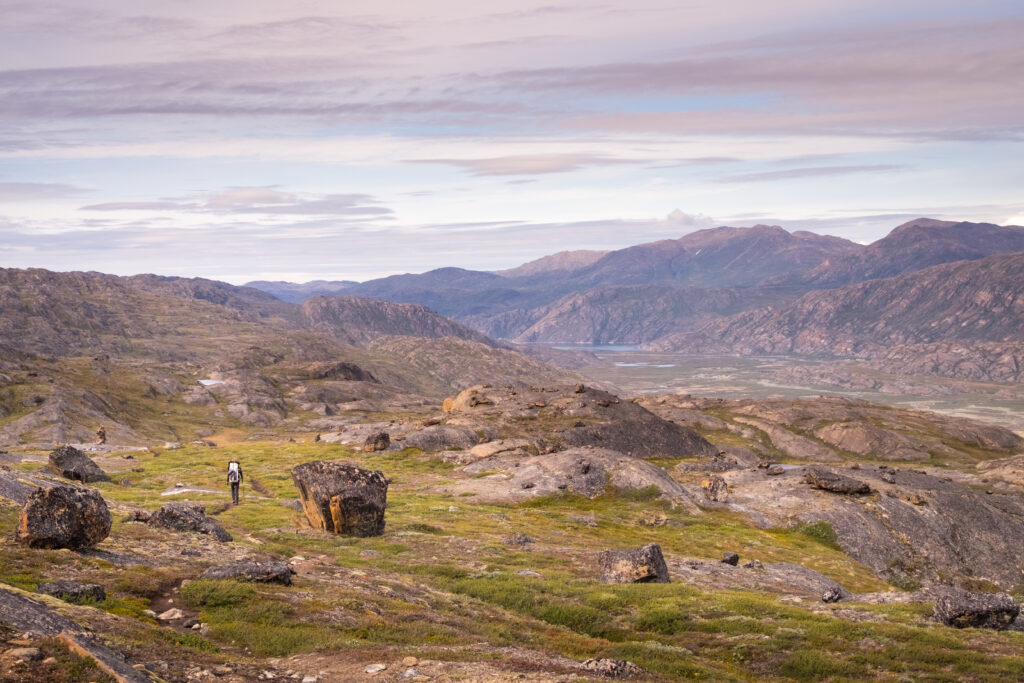 Trail Overview
Mileage: 102 miles  |  Length: 7 – 10 days  |  Difficulty: Moderate
The Arctic Circle Trail traverses magnificent alpine tundra along the Southwestern coast of Greenland. This route immerses hikers in deep wilderness, where navigation skills are crucial. Here, solitude exists in excess. Often, hikers trek for days without seeing another human. The grazing of musk oxen or reindeer—a sign of life!—warms the soul of many ACT hikers.
Along the trail, boggy lowlands make way for rolling mountain-enclosed meadows. Small, red cabins perfectly contrast endless green fields. The few hikers on the trail often congregate at these shelters to swap stories before setting off into solitude once again.
The magic of this trail comes in its wild nature. Pristine landscapes, unique wildlife encounters, and the surprising kaleidoscope of colors along the trail engross those who walk through this landscape.
Logistics
Accommodations
Basic cabins exist along the route where hikers can take refuge for free. There are ten shelters spread along the trail, and they consist of bunks for backpackers. However, pack a tent, as these cabins are first-come, first-served. You can wild camp anywhere along the trail.
Seasons
Hike this trail from June through September, when it is free of snow. June can be challenging, as river levels rise with snowmelt and mosquitos swarm.
19. Walker's Haute Route, French and Swiss Alps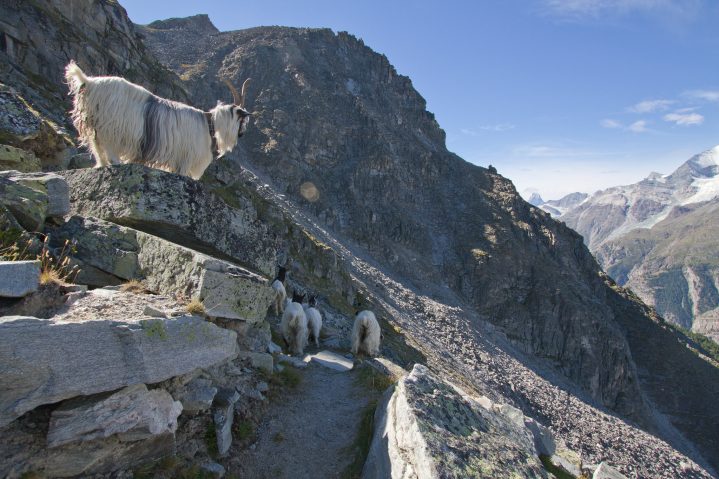 Trail Overview
Mileage: 125 miles  |  Length: 9 – 12 days  |  Difficulty: Moderate to Strenuous  |  Elevation Gain: 39,000 ft
This high alpine route winds from Chamonix, France, to Zermatt, Switzerland, through stunning glaciated peaks in the Alps. The Haute Route links two iconic peaks—Mont Blanc and the Matterhorn—by way of mountain passes and rustic villages.  Alpine huts are perched in otherworldly locales, and host groups of international trekkers.  This European trek requires you to rejoice in the social aspect of hiking. At these welcoming shelters, you will share hearty meals and delicious libations with hikers from all over the world.
This network of trails provides hikers with a wonderland of dazzling mountain scenery and a classic European atmosphere.
Logistics
Alternatives
Various trail options exist as you hike. The Col de Balme to the Chalet du Glacier is one variant. Most remarkably, the Fenetre d'Arpette is an alternative route that provides stunning views of the Trient glacier. However, it should only be attempted in prime weather conditions.
Accommodations & Reservations
Mountain huts are situated along the Walker's Haute Route. Here, hikers can find meals and nightly accommodations. We advise booking your accommodations in advance for the peak season (July & August).
Backpackers can choose to wild camp in higher, less-developed regions along the trail, or at designated campgrounds.
Season
In mid-June through mid-September, the snow has melted from most of the trails (depending on the year). In June, hikers may still encounter stretches of snowfields, so bring along microspikes, just in case. July and August are peak season, meaning accommodations are most likely to be full.
Afternoon thunderstorms are common in the summer, so plan your mileage accordingly.
Go Guided in the European Alps
Wildland Trekking Company offers a Tour de Mont Blanc trek for hikers looking to experience the European Alps in fewer miles. The tour company handles all the logistics—from gear to accommodations—and provides a professional, knowledgeable guide so you can focus 100% on enjoying your adventure.
20. Drakensberg Grand Traverse, South Africa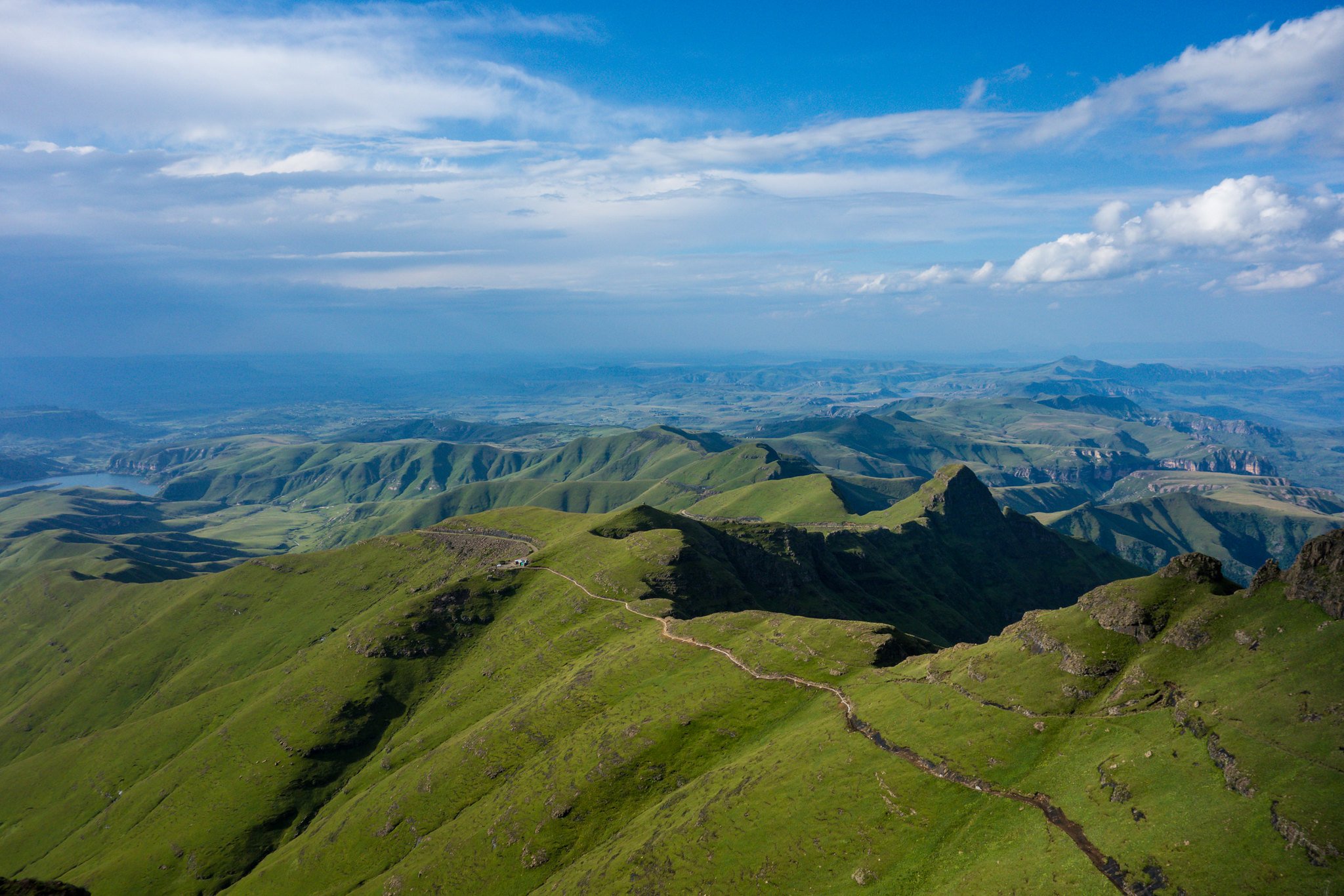 Trail Overview
Mileage: 140 miles point-to-point  |  Length: 10 – 15 days  |  Difficulty: Strenuous & technically challenging  |  Elevation Gain: 30,000 ft
This traverse of grand proportions in South Africa has no established route or trails. Rather, it is a series of checkpoints that adventurers must tick to complete this trek officially. Backpackers must rely on their navigation skills and backcountry savvy.
This escarpment consists of undulating ridgelines and valleys, fresh mountain streams, and spiny summits. As the sun sets on the velvety hills and the stars rise in the midnight-blue sky, the Drakensberg Mountains feel worlds away from civilization. Hikers may encounter Basotho shepherds and their flocks, but will otherwise be in solitude.
For explorers keen to forge their own path, this choose-your-own-adventure route is the ultimate undertaking.
Logistics
Permits & Fees
Hikers need to pay an entrance fee of $3 to Royal Natal National Park. Additionally, backpackers should obtain a permit for any overnight stay before trekking. Permits cost $4/night.
Seasons
April—May or September—November. Hikers should avoid both winter and summer extremes.
21. Sierra High Route, California, USA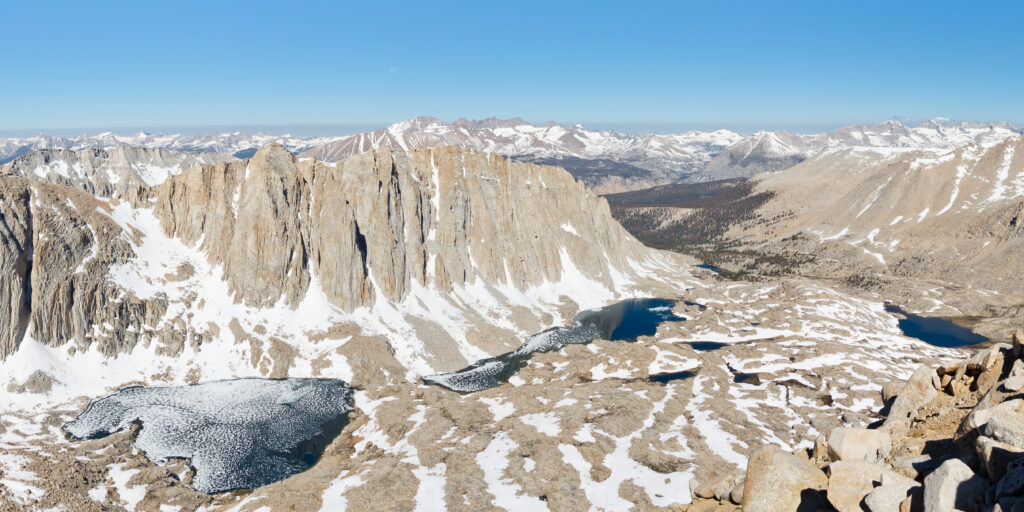 Trail Overview
Mileage: 195 miles  |  Length: 15 – 17 days  |  Difficulty: Extremely strenuous
This rugged, high alpine route parallels the John Muir trail and takes hikers through the most impressive parts of the Sierras. The trail crosses through two national parks—Sequoia-Kings Canyon and Yosemite–as well as the John Muir and Ansel Adams wilderness areas.
And only 40 of the almost 200 miles are on a trail. The rest of the time, you're bumping along on rocky ridgelines, balancing on scree fields, and praying that your feet will touch soft dirt instead of granite just for a minute.
But the rewards come from the sense of adventure that is achieved by traveling through unmarked terrain. Smooth granite spires tower above boulder-strewn meadows. As you curse the talus—and your ankles—on mountain passes, layers of peaks fan out on the horizon. And as the alpenglow casts rich reds and oranges on the polished rocks, you'll have the view all to yourself.
Logistics
Know Before You Go
The Sierra High Route (the SHR) isn't for everyone. This route requires that backpackers be well-versed in mountain travel, extremely comfortable on rocky terrain, and able to make good choices about their abilities. Hikers will encounter class three terrain (scrambling) and should feel confident with their off-trail travel skills.
Beginner and intermediate-level backpacking trails exist en mass in the Eastern Sierras, Sequoia National Park, and Yosemite National Park. Even the famous John Muir Trail is substantially easier than this off-trail trek.
Pick a trail that matches your skills and fitness level, and you won't go wrong with any backpacking trips in this area.
Permits & Reservations
A permit is required to hike the SHR. Pick up your permit through the agency managing the land where you begin your journey.
If you start at the southern terminus at Road's End in Sequoia National Park, obtain a permit through the National Park Service. You can reserve this permit in advance to avoid chancing a walk-up permit. If you start in Yosemite National Park, reserve a permit well in advance, if possible, as backcountry permits there are exceedingly popular. If you start in the north, the Inyo National Forest has both reservation-based and walk-up permits.
You only need one permit for your entire hike. Each land agency charges different fees for park entrance, permits, and overnight trips.
Seasons
Trails will be increasingly snow-free later in the season, so shoot for July through October.  However, backpacking in late-September through October increases the chances you'll encounter early winter weather.
Explore the Sierras on a Guided Trip
If you want to test your hiking comfort zone with the help of a guide, Wildland offers many excursions in the Sierras that include off-trail travel or adventurous components.
The three-day Mount Conness trip includes a thrilling third-class summit attempt, while the Mammoth Crest backpacking trip incorporates off-trail travel. Knowledgeable, trained guides help you to feel safe and empowered as you challenge yourself in the mountains.
In addition, Wildland provides all gear and meals and makes necessary permit arrangements.
22. Camino Primitivo, Spain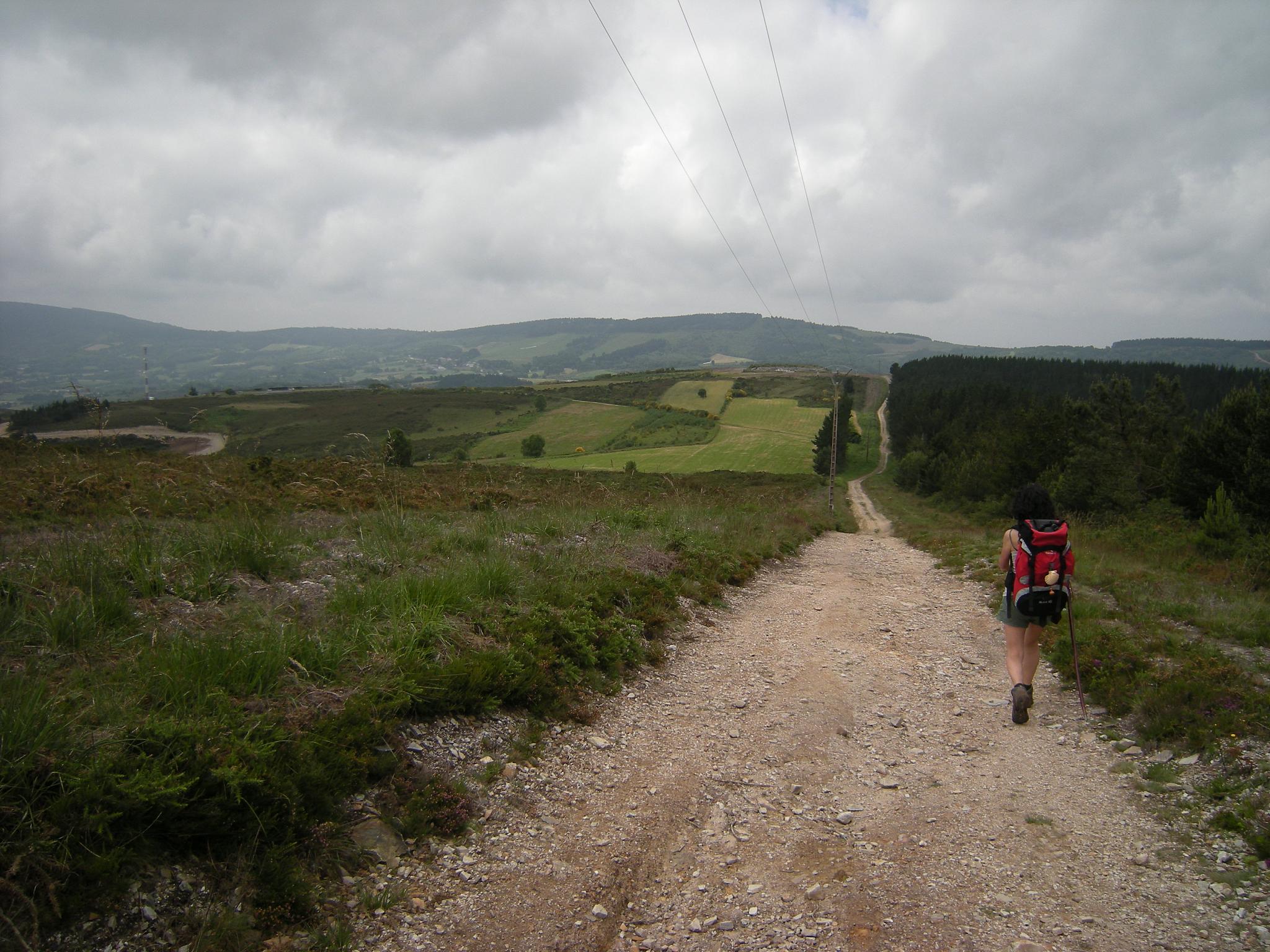 Trail Overview
Mileage: 200 miles  |  Length: 14 days  |  Difficulty: Moderate
The Camino Primitivo, or the "Original Camino," is the oldest of all the Camino de Santiago routes, yet less than 10% of Camino hikers choose this trail. This pilgrimage through Northern Spain takes you through rolling hills, past historic churches, and into charming villages. Hikers of the Camino are called pilgrims, and the "albergues", or hostels, become places to rest and connect with fellow travelers.
This trek begins in the Asturia capital city of Oviedo, marked by beautiful cathedrals and medieval buildings. The first half of the route is steep and rolling. One of the most memorable parts of the trail, the "Hospitales", takes pilgrims high atop a ridgeline for miles of sweeping countryside views.
The half-way point comes at Lugo, a historic city surrounded by Roman walls. Finally, as pilgrims trek south towards Santiago de Compostela, the Camino Primitivo joins with the Camino Frances for the end of the journey.
Keep in mind, this entire route is more challenging than its popular counterpart, the Camino Frances.
Logistics
Credentials
Every pilgrim should have a credential—"passport"—that gets stamped at hostels, churches, and cafes along your route. At the end of your trek, this credential allows you to apply for a "Compostela", or accreditation, at the Cathedral of Santiago.
Obtain your credential through your country's Camino de Santiago organization prior to your trip, or pick one up in Oviedo before setting out.
Accommodations & Meals
Government-run albergues are first-come, first-served and cannot be booked in advance. However, you can book private hostels in advance.
Hikers encounter grocery stores frequently, so pack weight can be minimized by picking up food as you go. Backpackers also pass numerous cafes and restaurants, getting the choice to dine out or cook at the hostels.
Seasons
May through September. Early and late season are more likely to be cold and rainy, but July and August are peak season with the most crowds. However, if you're hiking the primitive route, you may welcome the summer company.
23. Kungsleden Trail, Sweden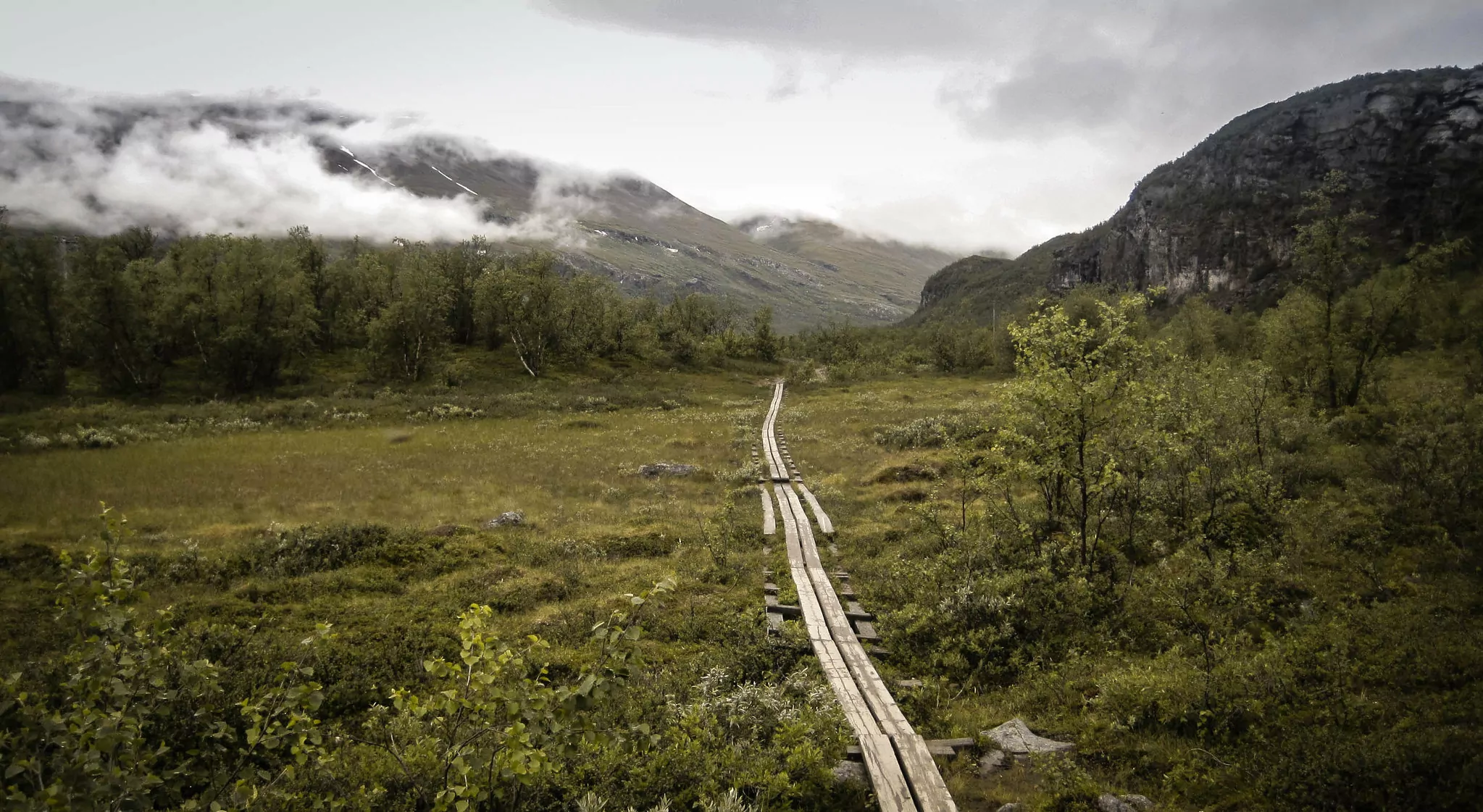 Trail Overview
Mileage: 270 miles  |  Length: About a month for the whole trail, or 3 – 10 day segments  |  Difficulty: Moderate
This long-distance hiking trail crosses the mountains of the Swedish Lapland. It follows fresh mountain streams through moorland and grassy valleys, often with incredible mountain views. The terrain is ever-changing, and the transitions between birch forests, wetlands, and high mountains keep the trail compelling. Low clouds dance around the peaks, casting shadows onto the grasslands.
This trail is part of the Sámi cultural landscape, and indigenous Sámi people have lived with this land for over 7,000 years. Today, they still utilize this trail for reindeer herding. Watch as large herds graze under the low sun, but remember to keep your distance. It is a magnificent place to witness and learn from a living wilderness, where humans and nature symbiotically exist.
Here, water dominates the landscape. Many lakes require passage via boat: some have free rowboats for hikers to use, others require a motorboat ferry.
Stay at the mountain huts or choose to wild camp, but don't forget to enjoy the wood-fired saunas at least once on your adventure.
Logistics
Section Hiking
The 70-mile stretch from Abisko to Nikkaluokta is a great option for backpackers who cannot commit to the full trail. This portion's alpine nature draws travelers to experience a classic Swedish landscape. Hikers can complete this section in a week.
For an even shorter adventure, either the Kebnekaise to Saltoluokta (32 miles) or Saltoluokta to Kvikkjokk (45 miles) sections can be completed in three to six days.
The 97-mile stretch from Kvikkjokk to Ammarnäs is a wild, hut-less section of trail, for those seeking a true backcountry experience. Trekkers generally complete this section in seven to ten days.
Accommodations & Meals
Backpackers and skiers can stay at simple mountain huts along the route. These huts are well-spaced, so hikers don't have to travel far before encountering a shelter.
Dormitory-style beds await weary travelers, but backpackers should bring their own sheets or sleeping bag. Hut wardens assign beds, which cannot be reserved in advance. However, hikers who pay online receive a discount, and can use that advance payment any time in a two-week span.
You can keep your pack weight light and buy food at the small shops at some of the huts. Cabins come equipped with kitchens for backpackers to cook their own food.
If you plan to tackle the entire King's Trail, you must be prepared for the section between Kvikkjokk and Ammarnäs. No huts exist along this stretch, and backpackers must tent camp.
And if you're looking to save money, you can pitch a tent outside the huts for a small fee, or find a remote spot to wild camp.
STF Membership
If you plan to hike a significant portion of the Kungsleden, you should consider getting an STF membership. This membership reduces the cost of overnight stays, as well as allows you to utilize huts for a day visit. In the middle of the day, you can use the kitchen, toilet, and drying room.
Season
Mid-to-late June through mid-to-late September for hiking. The winter season from late-February through late-April or early-May is ideal for ski touring. Huts close in the off-season.
24. Great Divide Trail, Canadian Rockies
Trail Overview
Mileage: 746 miles  |  Length: 40 – 50 days  |  Difficulty: Strenuous
This trail of epic proportions runs along the border between Alberta and British Columbia through the Rocky Mountains. As it currently stands, this bare-bones thru-hike is still in its infancy. While it is mostly singletrack, long stretches of unmarked wilderness travel—complete with the need to navigate and bushwack–make this long-distance trail especially challenging.
For experienced hikers up to the task, this trail immerses you in a vast wilderness spanning five national parks, seven provincial parks, three wilderness areas, and countless unique ecosystems. Grizzly bears scrounge in berry bushes. Glacial ice calves into alpine lakes. Bighorn sheep clamber on rocky slopes. This landscape and its inhabitants are vast, dynamic, and powerful.
Logistics
Section Hiking & Canadian Rockies Backpacking
Beginner hikers will find beauty and challenge in the established trails found in the various national parks along the route. The Canadian Rockies offer all levels of backpacking trips. The Skyline Trail in Jasper National Park is a popular backpacking destination (so it's tough to get permits) but is well worth the effort.
The Great Divide Trail is separated into Sections A – G, with A starting at the Canadian/USA border and running north. Each section runs about 100 miles.
Permits & Reservations
A Parks Canada Discovery Pass will allow you to enter every park on the route. National Park Backcountry permits (around $10/night) are required for all stays in national park backcountry campgrounds. Hikers must reserve these campsites in advance. Wild camping with a random camping permit is allowed along some sections of the trail in the National Parks. To obtain this permit, call the park's visitor centers directly—they are not available online.
Three Provincial parks also require campground reservations, including Mount Assiniboine, Peter Lougheed, and Mount Robson.
All other campgrounds along the route are first-come, first-served.
Season
July through mid-September when the trail is free of snow. In the past few years, wildfires have caused trail closures in the summer months. Check for trail updates before hiking sections of the GDT.
Hike in the Canadian Rockies with a Guide
If you want to explore the majesty of the Canadian Rockies without tackling this strenuous trail, join a guided trek to witness epic wildlife, piercing mountains, and turquoise lakes. Wildland provides all gear, meals, and permits, as well as knowledgeable guides who help you make the most out of your trekking adventure.
25. Via Dinarica, Balkans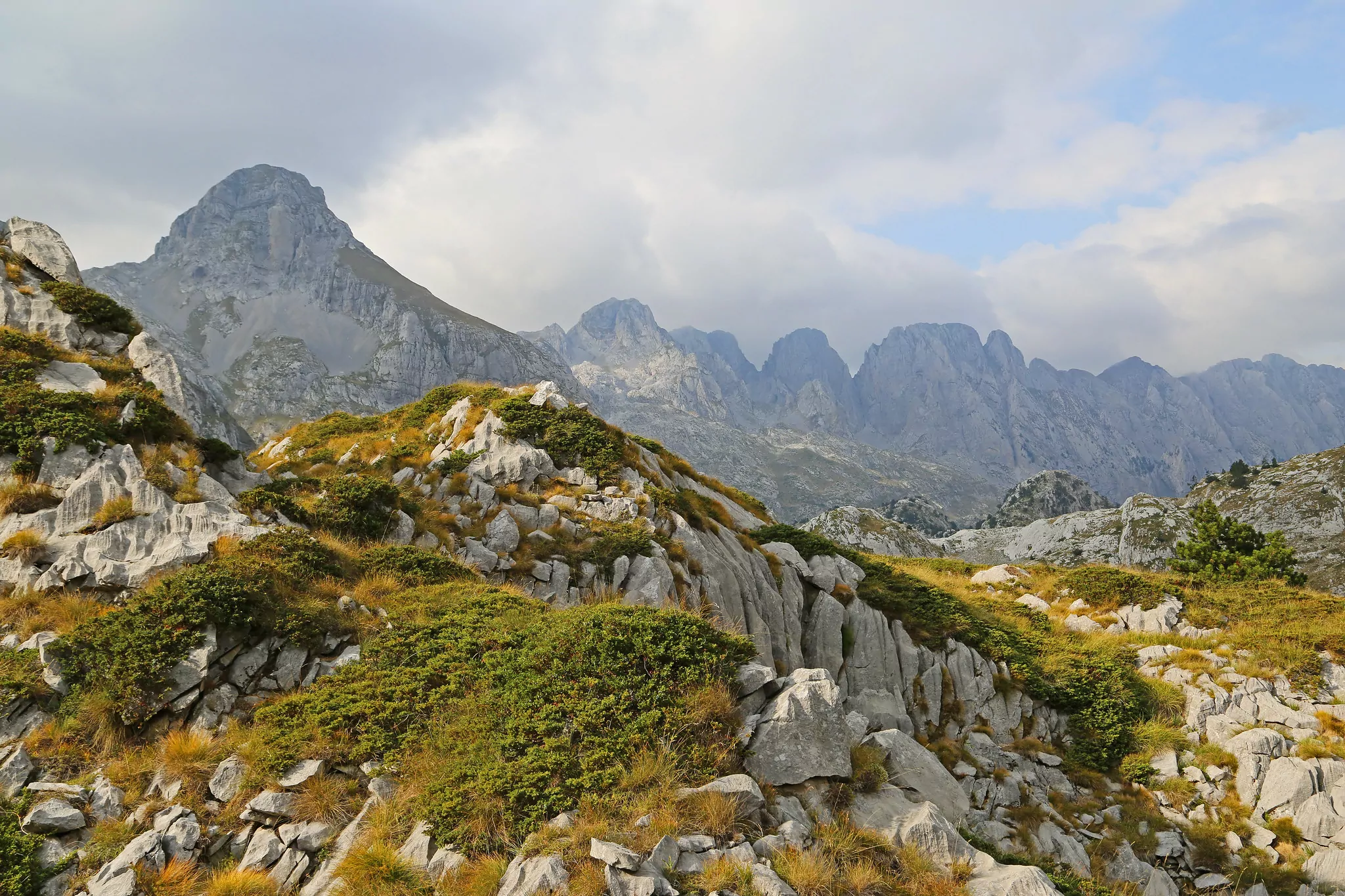 Trail Overview
Mileage: 1200 miles  |  Difficulty: Ranges from moderate to extremely strenuous
The Via Dinarica is a long-distance network of trails that follows the Dinaric Alps, a karst landscape sculpted by years of water flowing over porous limestone. Caverns and deep canyons exist in the wake of ancient rivers. This route is comprised of three main trails across eight countries in the Balkans—Slovenia, Croatia, Bosnia & Herzegovina, Montenegro, Serbia, Kosovo, Albania, and Macedonia.
This in-progress trail system is stitched together with old shepherd routes, modern-day hiking trails, and the paths taken by soldiers in battle. In towns, birds flutter between the bullet holes in the buildings of recent war zones. Back in the mountains, the ring of cowbells sounds across the valley, as hikers trek past stone churches and simple dwellings. Locals offer up hand-made cheese and espresso. A comforting silence rests in the spaces that the mix of languages can't fill.
This trail may be more difficult to navigate and plan than many in Europe, but it rewards you with its authentic charm, staggering limestone, and rural villages. Start researching and find a section of the trail that calls to you.
Logistics
Accommodations & Meals
Hiking the Via Dinarica in its entirety (or in sections) takes a lot of logistical know-how. It is an unpopulated trail that is still in development, and accommodations vary from country to country.
Backpackers will have many options for accommodations along the trail. You can find mountain huts, hostels, guesthouses, and B&Bs in small villages. When possible, book ahead. However, there are stretches along the trail where having camping gear might ease your mind.
Hikers will sporadically encounter small convenience stores to restock supplies. Depending on the country, you may not even need to leave the trail to do your shopping. Do research on each section you intend to hike and figure out whether or not you'll need to send yourself supplies.
Border Crossings
You need to apply for a border crossing permit if you intend to hike from Montenegro to Albania (or the reverse). Find a local tourism agency to assist you with the application forms.
Season
May through October. However, the karst mountains are very dry and exposed, and hikers can be limited by summer temperatures.
Mountain conditions bring unpredictable weather at any time of year, so be prepared for both hot and freezing temperatures while hiking.
Wildland Trekking Hiking Adventures
As the world's premier hiking and trekking company, Wildland believes in connecting people to fantastic environments in amazing ways. Wildland Trekking Company offers an array of incredible hiking and trekking experiences in 9 states and 11 countries. Read more about our world-class destinations.
To learn more about our guided backpacking trips and all of our award-winning hiking vacations, please visit our website or connect with one of our Adventure Consultants: 800-715-HIKE.