Laugavegur to Skogar Backpack
Trip Highlights
Glaciers & Stunning Views
Lava Field from 2010
Cozy Mountain Huts
World Class Trails
Colorful Landscapes
Hot Springs & Thermal Features
Big Waterfalls & Rivers
Guides Choice Trip
Description
This amazing Iceland Hut-based Backpacking Trip combines the two most iconic hiking trails in Iceland: the famous Laugavegur Trail and the Fimmvordurhals mountain pass trail. These trails are iconic for good reason – they feature the best of Iceland on an adventurous, stunningly beautiful trek through classic Iceland landscapes!
The Laugavegur-Skogar Backpack begins at the Laugavegur Trailhead in Landmannalaugar, where we head out across colorful mountains, geothermal features, obsidian lava fields, green mossy hills, black sand deserts and the lush birch forests of the Thorsmork Valley. We will be trekking adjacent to 2 major Icelandic icecaps : Myrdalsjokull and the famous Eyjafjallajokull. From the Thorsmork valley, we continue hiking south, up and over the Fimmvordurhals mountain pass, until we reach an amazingly fresh lava field that was created in March, 2010!
As on all Iceland treks, the weather can be relatively harsh (windy, cold and rainy usually mixed with some sunshine and calm conditions as well). The huts are communal and rustic, and provide wonderful refuge from potentially bad weather in the evenings. Join us and prepare yourself for a very authentic Icelandic hiking experience! Give us a call at 1-800-715-HIKE (4453) to learn more or book your spot today!
$200 SINGLE SUPPLEMENT
On this trip the single supplement includes single rooms in the hotels we stay at before and after the trek. Once on our trek we will not have the ability to put guests in single rooms. Please be prepared to share rooms, huts, teahouse accommodations..etc. with other guests and hikers once we're on the trek. Different sexes will never be asked to share a room unless they are traveling together or we are in communal lodging with several people in one room.
Return Guests get a 10% discount on all Trips!
DIFFICULTY LEVEL 4
Our difficulty ratings are based on a scale of 1-5, tours with a rating of 1 being least difficult, tours with a rating of 5 being most difficult
Backpack Weight:

30-35 pounds

Daily Hiking Distances:

3-11 miles

Most Elevation Loss:

3300 feet

Most Elevation Gain:

2950 feet

Quality of Trails:

The trails on this trip are well-trodden dirt and rock paths.

Additional:

This trip has some long days of hiking (11-14 miles), and two days with significant elevation gain/loss (2950 ft gain, and a 3300 ft loss).
Participants should:
be active and healthy
regularly exercise vigorously
be comfortable hiking, biking, running, or swimming for several hours without many breaks
SOLITUDE LEVEL 2
1 least solitude, 5 most solitude
We rate this Iceland hike a solitude 2. You can expect to have as much as an hour of solitude at a time while hiking.
Travel Info
BOOKING FLIGHTS
For our Iceland treks you will need to fly into Keflavik International Airport on Day 1, no later than 3 P.M. Your guide will rendezvous with you at our hotel (we provide a shuttle voucher for transport from the airport to the hotel). An orientation meeting and accommodations are included on Day 1. Your return flight should be scheduled anytime for the final day of the tour or later.
Flights to and from Keflavik Airport are the guest's responsibility. Multiple airlines operate flights into Keflavik from many U.S. and European international airports. Some of the primary U.S. departure cities include Denver, Portland, Boston, Washington DC, San Francisco, New York and Minneapolis. The duration of nonstop flights is 6-9 hours.
Your flight on the final day of the trip can depart at any time.
Taxes & Fee's
Minimum of 2 Guests
We require a minimum of 2 guests to confirm this trip. If a trip date is not confirmed yet, you can register and will be notified when the trip is officially confirmed. We recommend not making final travel arrangements until your trip meets the minimum number of guests and is confirmed.
In most cases, if a trip does not reach the minimum number of guests, you may choose to transfer to another trip date or another trip, be refunded your payments in full, or you may have the choice to pay a supplemental fee to run the trip with fewer guests. We make the final determination for these trips 45 days before the departure date.
Private Trips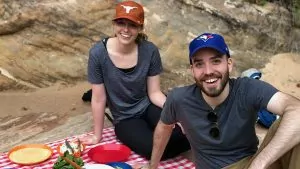 Traveling in perfect company is a wonderful thing! With our private trip offerings you can book a trip exclusively for your group. Whether it's with family, friends or colleagues, private trips are a fun and enriching way to explore the outdoors.
Private trip pricing is based on a sliding scale, depending on the number of people in your party. Rates are per person and do not include sales tax and national park fees (where applicable) or guide gratuity. Give us a call at 800-715-HIKE to get the ball rolling!
Private Rates FOr This Trip
2 People: Rate x 2
3 People: Rate x 1.5
4-5 People: Rate x 1.3
6-7 People: Rate x 1.2
8-10 People: Rate x 1.1
11-12 People: Rate x 1
*all rates are per person and single supplements apply
PDF Trip Itinerary Packet
Book online