Coyote Gulch
Trip Highlights
Remote Wilderness
Arches & Natural Bridges
Enchanting Escalante River
Desert Oases
Cultural History & Petroglyphs
Soaring Canyon Walls
Amazing Night Skies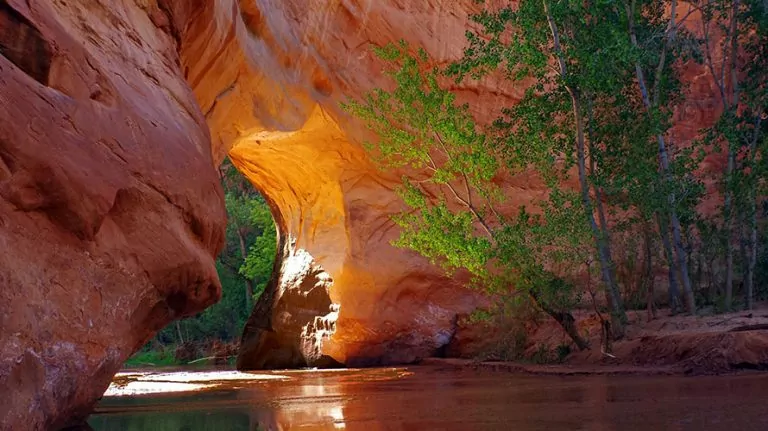 Description
This is our most popular hike in Utah and deservedly so. We give you a glimpse of what Glen Canyon was like before being flooded by Lake Powell, and as such this is a true treasure. Highlights include beautifully sculpted streambeds, intimate cascades and waterfalls, deep overhangs and alcoves, and numerous natural bridges and arches. This hike has incredible diversity, as we finish with an exciting ascent out of the canyon and across a stretch of signature Utah slickrock.
Our backpacking trip begins in St. George, Utah where we get an early start and drive to the remote trailhead. From the trailhead we'll work our way down the Coyote Gulch drainage. For the next four days this dramatic canyon takes us through some of the most beautiful country in the United States. It culminates on Days 3 and 4 with an amazing arch, natural bridge, pictographs, waterfalls, fantastic side canyon exploration, and a memorable ascent out of the canyon. Our guests tend to fall in love with this route but we want to forewarn you, the power of this place awakens strong emotion. People often feel compelled to return again and again throughout their lifetime in search of more "good times!"
Watch a video of Wildland guests describing Coyote Gulch while on the trip!

Need to Know: Waste Regulation
The public agencies that oversee this region require that everyone doing Coyote Gulch pack out all solid waste, including human waste. We provide resources and training to make this manageable and efficient. However, if you'd rather embark on a trip in this region where that isn't required, we recommending checking out the 4-day Boulder Mail Trail.
Read more …
Return Guests get a 10% discount on all Trips!
DIFFICULTY LEVEL 3
Our difficulty ratings are based on a scale of 1-5, tours with a rating of 1 being least difficult, tours with a rating of 5 being most difficult
Backpack Weight:

25-35 pounds

Daily Hiking Distances:

5-10 miles

Most Elevation Loss:

600 feet

Most Elevation Gain:

600 feet

Quality of Trails:

Sandy and rocky, creek hiking, off-trail hiking

Additional:

The hiking on this trip will be on trails, off trails, in sandy washes, across slickrock, and in water. We recommend bringing shoes designed for hiking in water.
Participants should:
be active and healthy
exercise several times per week
be comfortable hiking 6-8 miles per day in hilly or mountainous terrain with a 25-pound backpack
SOLITUDE LEVEL 3
1 least solitude, 5 most solitude
We rate this Utah backpacking trip a Level 3 on solitude. You can expect to see a handful of other groups per day. At certain times of year, such as Spring Break, you can expect to see more people.