Yellowstone National Park Backpacking Permits
Learn about the steps required to secure a backcountry camping permit in Yellowstone National Park.
Yellowstone is home to over 1,000 miles of trails and 300 backcountry campsites. Once you leave the maintained frontcountry, you enter true wilderness—a mountainous and diverse oasis that is a thrill to explore. Permits are required for all overnight backcountry trips; boaters, backpackers and stock parties are all required to obtain permits. For boaters and backpackers, there is a fee of $3 per person per night, and for stock parties, there is a fee of $5 per person per night.
A portion of the 300 backcountry campsites are able to be reserved in advance, and others are available on a walk-in basis. For best luck getting the itinerary that you desire, you'll want to:
1. Have an idea of the itinerary that you want
2. Know your limits and how far you can reasonably hike per day, just in case the available campsites are spaced further apart than your original itinerary.
3. Have a back up plan; there are so many great backcountry routes to choose from, so research a few before you apply for permits.
4. Consider going with a guiding company, that way all the permits are taken care of.
How to Get a Backpacking Permit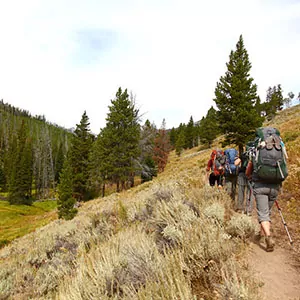 You can apply for a backcountry permit January 1st through October 31st for reservable campsites. For campsites that are not able to be reserved, you can pick up a permit at a backcountry office, in most of the Visitor Centers in the park. Permits must be obtained in person no more than 48 hours before the start of your trip.
For those interested in doing multiple backcountry trips in Yellowstone, the Annual Backcountry Pass is a great option. The pass costs $25 and is valid from Memorial Day to September 10th. It is only to be used for walk-in permits, and cannot be used on advanced reservations.
When to Apply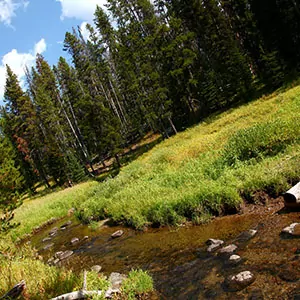 Some campsites may be reserved in advance; you can apply between January 1st and October 31st each year. Reservations received by March 31st are chosen in random order starting April 1st, and those received after April 1st are processed in order after the random lottery is completed. For best luck getting permits in popular areas of the park, apply before March 31st.
Reservations must be completed by fax, mail or in person. A confirmation notice will be emailed to you, and when you arrive at the backcountry office, they will use the code to print out a physical permit that you must have on you in the backcountry. There is a $25 nonrefundable reservation fee that is due when you submit your application. You can find the application online, and fax or mail it to Yellowstone National Park.
Group Sizes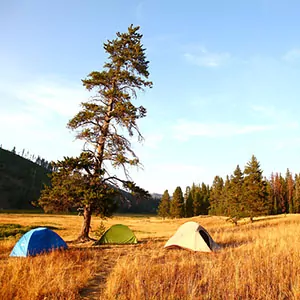 To protect the ecosystem and the amount of usage per area, there is a designated number of people and stock that are allowed to camp at each campsite per night. The maximum length of stay varies from 1 to 3 nights per campsite, and the group size varies from 4 to 12 people. If your group exceeds the limit, you will have to get two campsites, and eat and sleep in separate areas.
How to Camp in Bear Country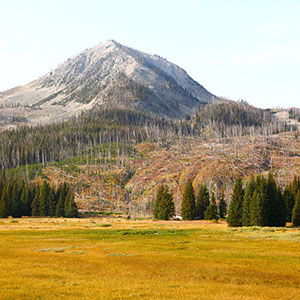 The threat of bears in the backcountry should be taken seriously; but don't let it deter you from having a great experience. Make sure you are always travelling in groups of three or more, and make enough noise for a bear to hear you coming. You never want to catch a bear off guard. Also, carry bear spray at all times in the backcountry, it may save your life. If you need to purchase bear spray, almost every gift shop in the park sells it, and it is available for rental at Canyon Village.
All backcountry campsites have a food storage pole to hang your scented goods, or a bear box. Make sure that all of your products with scents get on the pole of in the box—everything from chap stick to pocket trash could attract a bear. Read more about how to hike in bear country here.