Best Beginner Backpacking Trips in the Southwest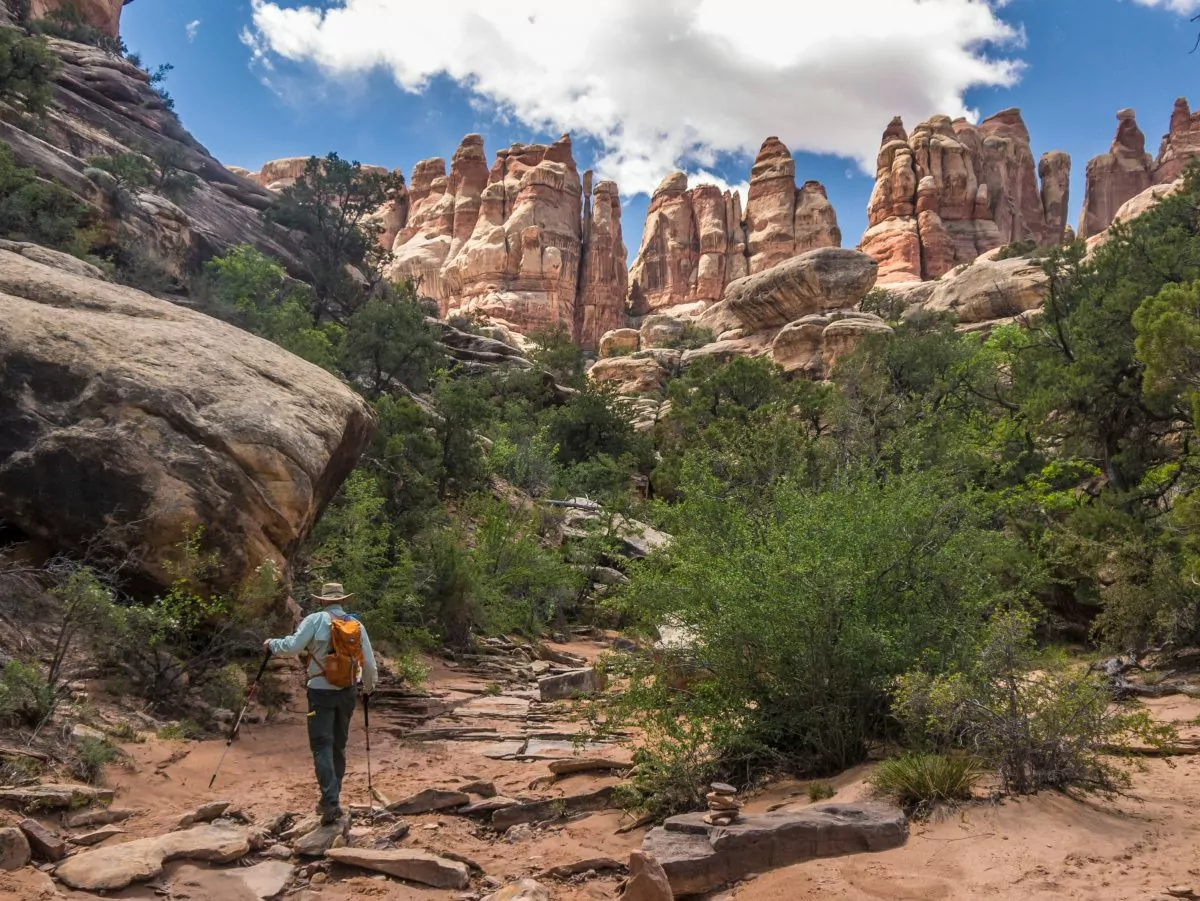 For the beginner backpacker, the Southwest contains some of the best trails in the country. The red rock deserts and rocky mountains contain some of the most remote and vast wildernesses in the country. The canyons and peaks dappling the harsh landscape contain a quiet majesty, waiting for the most patient to discover beauty hidden behind every corner. The southwestern United States is a great place for beginner backpackers, because many of the best trails are straightforward. Plus, you'll find endless destinations to explore.
The Southwest includes a great diversity in landscapes, from rugged peaks to narrow slot canyons. Explore a range of ecosystems from the 14-thousand-foot peaks of southwest Colorado to the bottom of the Grand Canyon with this guide to the best beginner backpacking trips in the Southwest. 
Explore Your World with Award Winning Guides
What is Different about the Southwest?
The Sun
Much of the Southwest consists of desert or high mountains. When you hike in the desert, you'll find very little shade, so the sun feels even hotter than it usually does. Elevation also makes the sun more intense than it would be at lower elevations. Make sure to bring enough water and sun protection to keep yourself safe from the sun's hot rays. 
The Soil
When some people think of the desert, they think nothing can survive. But instead of a barren wasteland, the desert is, in fact, teeming with life. Even the soil is alive! Have you ever been hiking in the desert and seen black or brown bumps on the dirt? This is cryptobiotic soil, which is made up of living organisms like algae and fungi. 
Cryptobiotic soil crusts make up much of the land in the desert southwest. Without the soil crust, the sandy soil would literally disappear — winds would blow it away or flash floods would wash it down into the canyons. Without this soil, no plants would bloom, and without plants, many animals would also be unable to survive. 
Cryptobiotic soil literally makes up the backbone of desert ecosystems, so it is vital to travel and camp on durable surfaces like trails, rocks, roads and established campsites while backpacking in the southwest. Hiking off-trail on delicate cryptobiotic crusts can destroy hundreds of years of growth with only one footstep. 
What is the Best Time of Year to Hike in the Southwest?
Spring and fall are typically the best times of year to backpack in the southwest. The summer can be incredibly hot, and although winter can have prime hiking weather, it is less reliable than March through April and October through November. The temps in the spring and fall hover between 60-70 degrees, although experiencing significantly hotter and colder periods is not out of the question. Make sure to check the weather before planning your hike. Prepare for the possibility of near or below freezing mornings and nights, especially in the early spring and late fall. 
What Gear Should You Bring?
Having proper backpacking equipment makes or breaks your trip. While the gear you need to bring backpacking in the southwest mostly mirrors the gear you would bring on any backpacking trip, be mindful of a few desert specifics: 
Water
When hiking in the desert, the rule of thumb is to have a gallon of water per person per day. Most of the hikes included in this guide have water sources at campsites or along the way, so you don't need to pack in all of your water. But because water sources can be seasonal — as well as few and far between — in the desert, make sure to check that water is flowing at the time of year you will be visiting. Also, bring something to filter or purify water!
Electrolytes
Just like you should carry enough water, you also need to make sure you are making the most of the water you do have! Bringing electrolyte tablets or powders like NUUN helps you replenish your body with vital nutrients. Sweating causes a loss of electrolytes, and without electrolytes, you (and your muscles) cannot hydrate properly. Personally, I have found that drinking water with electrolytes helps me drink less water while staying hydrated.
If you don't want to buy an electrolyte supplement, bring plenty of salty snacks! Sodium is an important electrolyte that the body loses through sweat, so eating salt helps replenish it. 
Sun Protection
Hats, sunglasses, sunscreen, long sleeve shirts, and long pants are all ways to protect yourself from the sun. Seemingly contradictory, wearing long pants and sleeves while hiking keeps you well protected from the sun and heat. Look for lightweight clothing that includes UPF protection. 
how to choose an appropriate trail
While each new backpacker is entering into the sport with a different set of skills and fitness levels, we've crafted a list of trips with all beginner backpackers in mind. These trips fit a few criteria:
You'll hike relatively low mileage for the length of the trip.

The trails don't have extreme elevation gain for the region (However, Washington mountains are known for being steep and rugged due to the intense amount of rainfall, so you can't escape elevation gain here!) 

You'll travel on well-maintained trails and avoid tricky terrain like boulder fields. 

You'll get a lot of bang for your buck, whether in the form of peaks, alpine lakes, or lush meadows. (Many people neglect this crucial factor.)
However, backpacking is never easy (or else we'd never do it!) — so,  if you want to maximize your fun, be sure to train for your backpacking trip.
1. The Narrows, Zion National Park, Utah
Mileage: 16 miles roundtrip| Length: 1 – 2 days | Difficulty: Moderate (depending on water level)
Hiking the Narrows is a must-do backpacking trip for anyone who loves the Southwest. The main difficulty of the trip? You'll be hiking through the water the entire way. The challenge fluctuates depending on the level of the river when you hike it. But the opportunity to explore this beautiful canyon is worth the variable challenge. You can complete this trail as a long day hike, but for a beginner backpacker, this is a perfect overnight trip.
Learn more about hiking the Narrows in our Ultimate Guide to the Zion Narrows Hike, and if you want to hike part of the Narrows as part of a guided trip, check out our Zion Basecamp Hiking Tour. 
logistics and permits
One major risk to avoid is flash floods. When it rains in the desert, canyons are the most dangerous places to be. One of the things that makes the Narrows a good beginner canyon backpacking trip is that it is located in Zion National Park. The Park Service closes the Narrows when there is a risk of flash flooding. However, you should still check the weather forecast while planning your trip.
Permits are necessary for backpacking the Narrows. You can reserve your permit online, but they go very fast. Every month on the 5th at 10 AM Mountain Time, reservations for the next month become available, and often, they disappear within minutes. Half of all permits are kept open for walk-ins on a first-come, first-serve basis. If you're hoping to snag a walk-up permit, you can head to the Zion Wilderness Station the day before your trip (but arrive early!) If you do want to take this chance, make sure you have a backup plan.
2. The Needles District, Canyonlands National Park, Utah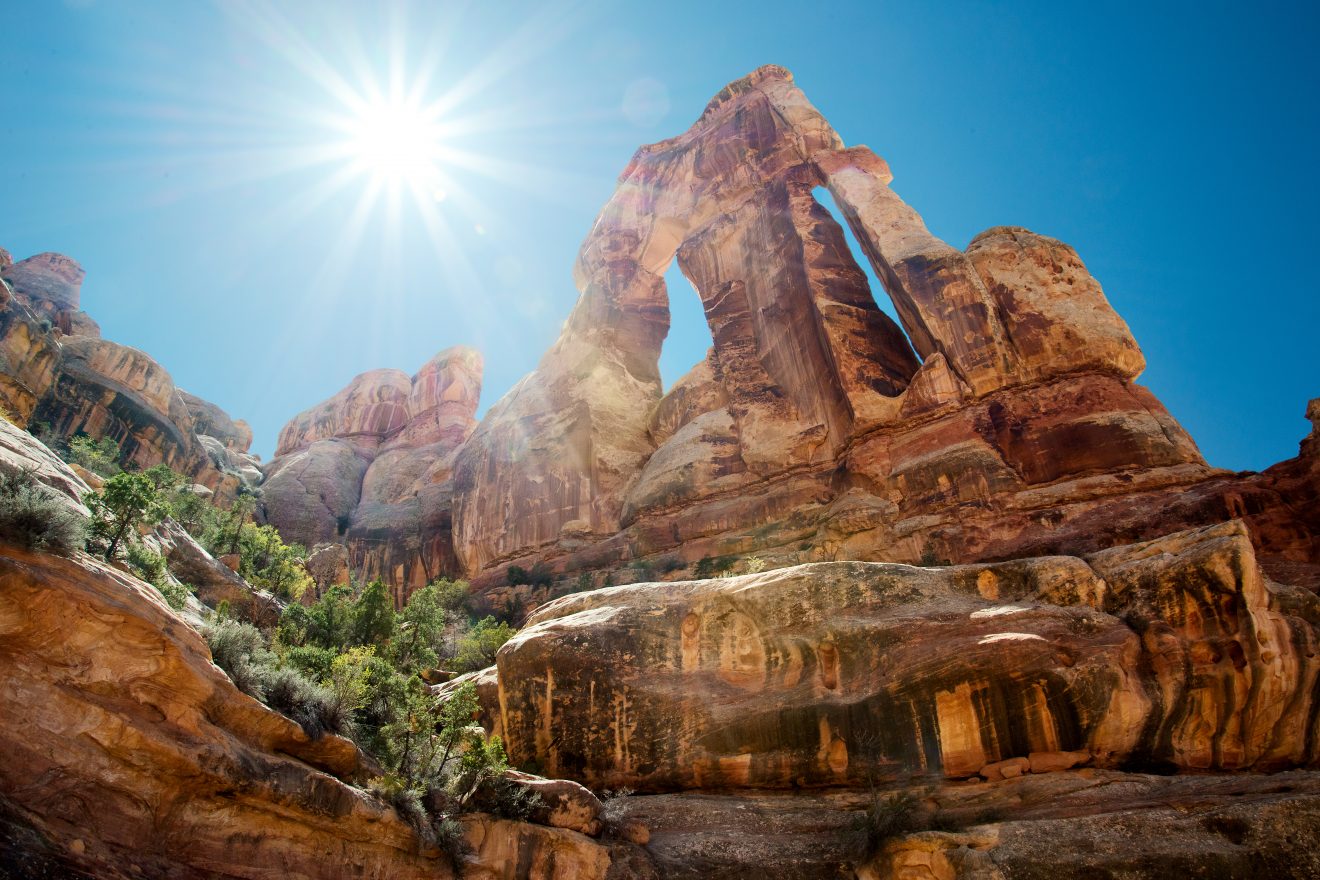 Mileage: varies | Length: 2 – 6 days | Difficulty: Moderate
Canyonlands National Park includes three distinct sections: Island in the Sky (the most accessible from Moab), The Maze (a backcountry-only area full of 4×4 roads and trails), and the Needles (a remote but easily accessible network of trails and backcountry exploration). While backpacking opportunities abound throughout the Park, the Needles District contains many trail options for anything from a two to four-day backpacking trip. The beautiful red rocks dominate your views as you explore trails that weave past towering hoodoos, arches, and canyons.  
When you're planning your adventure, you should consider starting from either Squaw Flat Campground or Elephant Hill trailhead. Plan your route ahead of time to make sure you see Druid Arch (pictured above), Chesler Park, and other interesting sights; part of the fun is choosing your trails and making your own route! Trails in Canyonlands are well marked, but you should still come prepared with a map and a GPS (there are lots of free or cheap mapping apps that provide off-the-grid navigation).
logistics and permits
The Needles backcountry campsites are divided into different resource areas and are identified by letters and numbers (CP1=Chesler Park 1). You'll need to reserve each site on your trip, so choose your preferred campsites while you're crafting your itinerary. Reservations are available four months ahead of time, and do go quickly for the busy spring and fall seasons. However, they are easier to get than in other popular Southwest backcountry areas like Havasu Falls or the Narrows. 
3. Havasu Falls, Havasupai Reservation, Arizona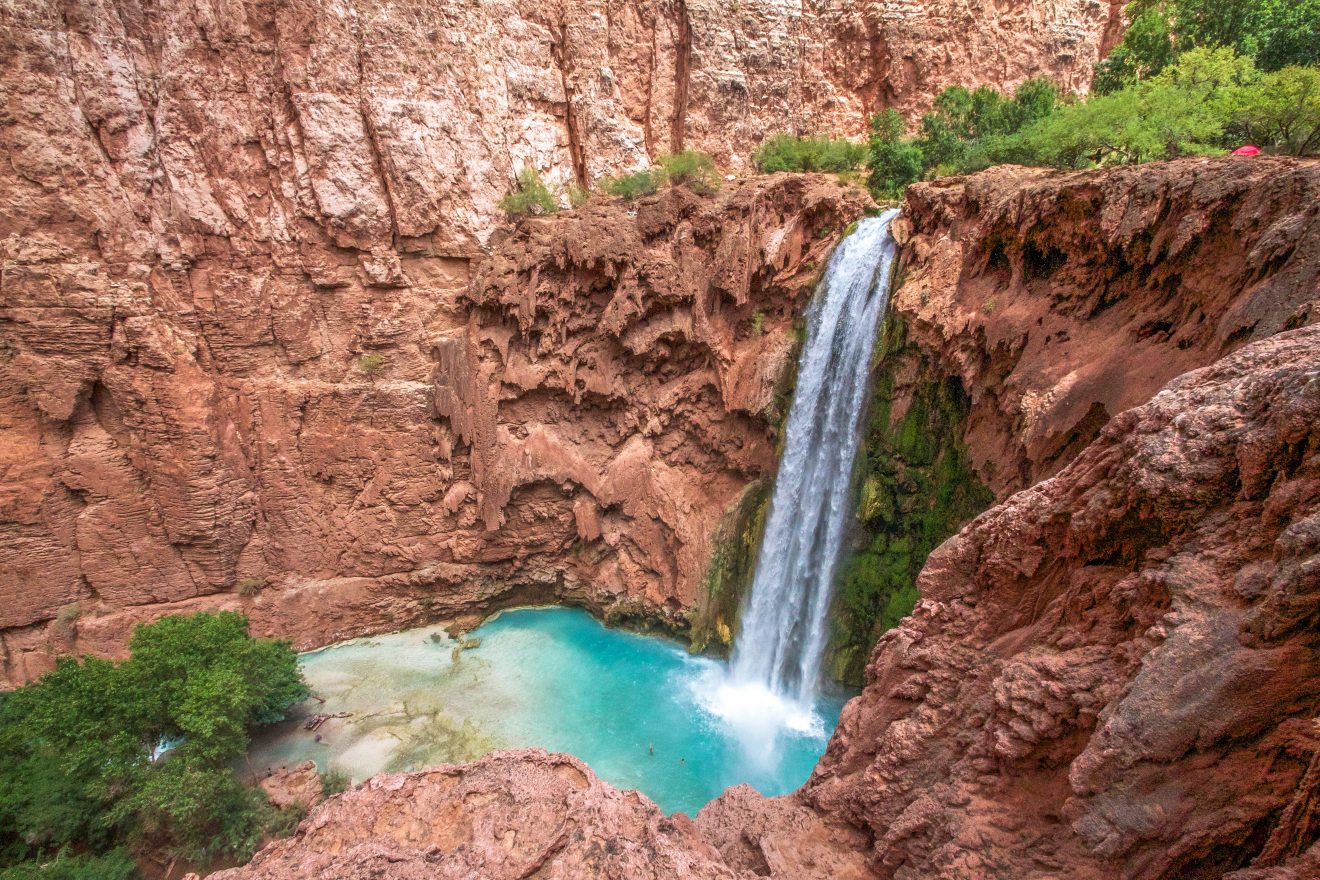 Photo by Daniel Hernandez on Unsplash
Mileage: 25 miles out-and-back | Length: 3 days | Difficulty: Moderate
Backpacking to Havasu Falls transports you to the iconic oasis that has been popularized by social media. The bright blue water cascading over red rocks takes your breath away, and while the photos seem like they must be overedited, it's really just that beautiful. 70 degree water fills the paradise-like pools interspaced between tumbling falls, a welcome refuge from the hot desert hike to get there. 
The first day, you'll hike 10 miles downhill to the campground where you'll stay for the duration of your trip. On this trail, you'll walk through 2500 feet of ancient geologic layers until you get to the bottom of Havasu Canyon. On the second day, explore Mooney and Beaver waterfalls (about five miles roundtrip.) However, you'll only need to carry a day pack and leave the rest of your gear at camp. On the third day, you'll hike back up the way you came on the first day — so you're in for quite a climb. If you want to spend more time in the area, you could camp an extra night and hike to the Colorado River, explore the other surrounding falls, or just relax under the shade of a Cottonwood tree. 
In addition to the serene beauty of Havasu Falls, it also holds cultural significance. The Havasupai (people of the blue-green water) farmed the area around Havasu Falls for centuries before they were forced onto a reservation by miners and ranchers in the 1800s. Today, the reservation has been expanded to include Havasu Falls, and the Havasupai still farm the area around Supai, the village near the falls. 
logistics and permits
Getting a permit to hike to Havasu Falls is one of the most complicated parts about planning your backpacking trip. Currently (as of 2021),  the Havasupai Reservation closed reservations for hiking to Havasu Falls until at least February 2022. But in the past, reservations for February-November opened at 8 am Arizona Time on February 1st. 
If you are interested in a guided trip to the Havasupai Falls, check out our offerings!
4. Coyote Gulch, Glen Canyon Recreation Area, Utah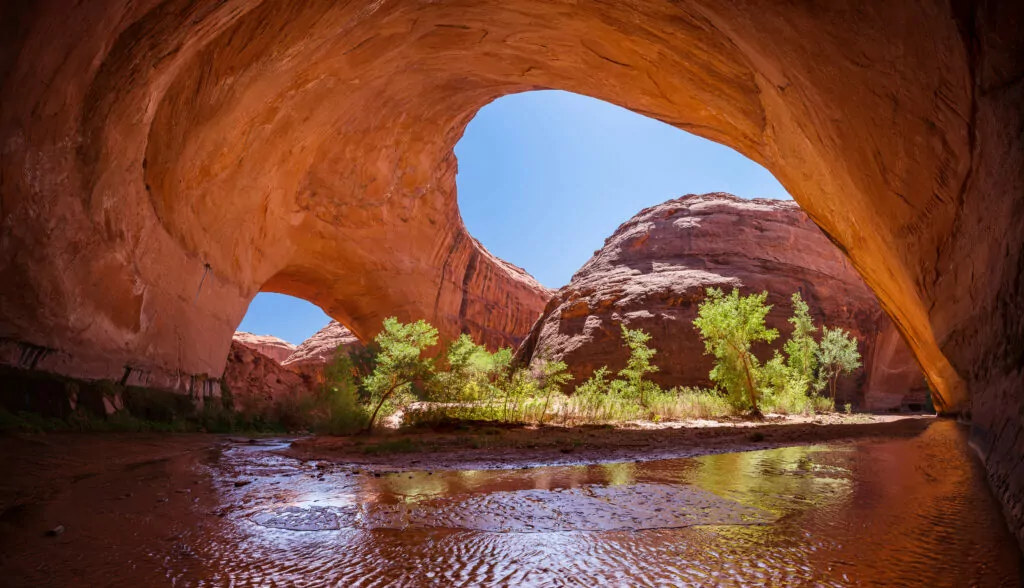 Mileage: 26 miles roundtrip  | Length: 2 – 3 days | Difficulty: Moderate
The Coyote Gulch backpacking trip winds through the desert landscape past arches, natural bridges, and through a fascinating canyon. This area makes for a good beginner backpacking trip because although you'll encounter some difficulties, route finding is more straightforward than on many desert routes. Plus, water is readily available once you get to Coyote Gulch. 
One of the best ways to explore these canyons is with a guide! Guided Coyote Gulch backpacking trips will help you learn the ins and outs of desert backpacking while experiencing this fantastic region as part of a small group. 
LOGISTICS AND PERMITS
If you backpack in this area, you can start at one of four different trailheads. Each trip itinerary provides a slightly different experience and difficulty level. The more simple option is an out and back, but if you have two cars, you can leave one at Red Well or Hurricane Wash trailhead and one at Crack in the Wall trailhead. That way, you can hike through the whole canyon and have a car waiting on the other side. There are also shuttle services in the area to take you or your car from one trailhead to the other, but they can be expensive. 
Campsites are available all throughout the wash, just make sure you are camping in an existing site to avoid damaging sensitive riparian ecosystems! Also, you must pack out all waste (human and otherwise) to avoid contaminating the watershed. Wag Bags or other similar products are available at the Escalante Visitor's Center where you pick up the required backcountry permit. 
5. Ice Lakes Trail, San Juan National Forest, Colorado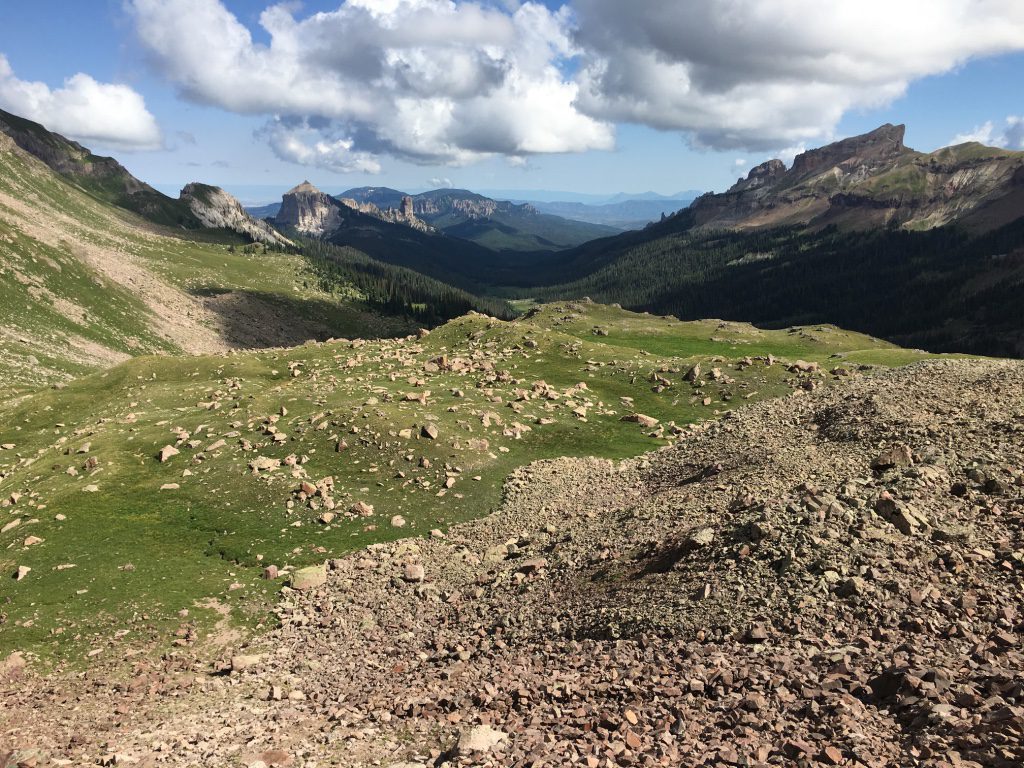 Mileage: 8.5 miles roundtrip | Length: 2 days | Difficulty: Easy to Moderate
Hike to this stunningly blue alpine lake for a short overnighter; it's perfect for dipping your toes into backpacking. The Ice Lakes Trail is a popular day hike but for a beginner backpacker, turning a day hike into an overnight hike can be a great way to learn how to take on longer trails The trail winds its way through forests and alpine tundra, past waterfalls to the Ice Lakes Basin, where the bluest lake you'll ever see sits beneath 13 thousand-foot peaks. 
The challenge of this hike comes in the form of 3000 feet of elevation gain from the trailhead to the lakes. You'll have a pack on, so take it slow and enjoy the journey. Your reward for the hard work? A dip in one of the alpine lakes when you arrive, sweaty and exhausted from the climb!
LOGISTICS AND PERMITS
Note that this is a very popular hike, and the parking area fills up early. If you want to take your time on the hike, arrive early! Or, if you are confident in your hiking skills, you could get to the trailhead later in the day. A late-afternoon start could provide the perfect opportunity for backpackers to snag a parking spot after the day hike crews leave. Also, the Forest Service recommends camping in the lower basin because the upper basin (where the lake is) contains fragile alpine ecosystems that damage easily. Make basecamp down low in the trees, and hike up to enjoy the lakes at sunset!
Ice Lakes Basin is currently closed due to a fire in 2020. It is slated to reopen on September 15th, 2021.