My Favorite Grand Canyon Trip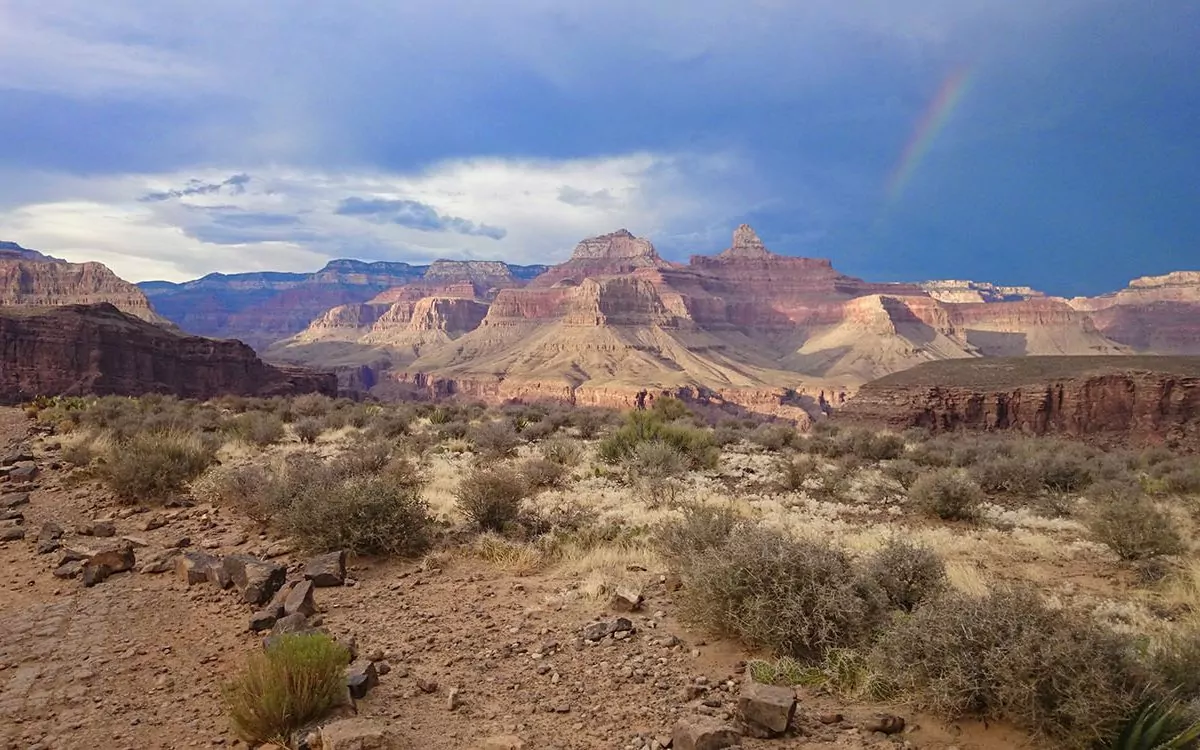 My name is Scott Cundy, and I'm one of the owners and founders of Wildland Trekking. We started this company in 2005 in 3 destinations: Grand Canyon, Southern Utah, and Yellowstone. These three areas remain at the top of my Favorites list, even as we've expanded around the globe and explored amazing new destinations like Patagonia, Vietnam and Iceland. And at the very top of my Favorites list aren't destinations, but specific trips that I have fallen in love with above and beyond all others.
In this post I am detailing my favorite trip in Grand Canyon National Park. And let's be clear – there are A LOT to choose from. We have taken more than 50,000 people into the Grand Canyon since 2005 and operate 28 different itineraries that consist of backpacking trips, inn-based tours, mule-assisted trips, camping-based tours and day hikes.
So, are you ready? Here it comes… My favorite trip in Grand Canyon is our  Hermit Loop backpacking trip. Below here I'm going to give you a detailed explanation why and a play-by-play description of this trip. So read on to learn everything you need to know to book a Hermit Loop trip with us or to strike out and do it on your own.
All Inclusive Backpacking Trips
Why It's My Favorite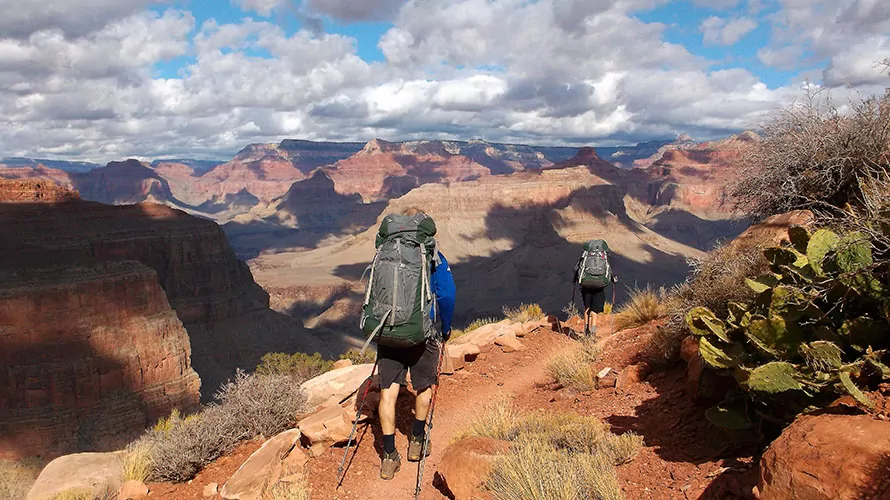 Benefits of a Challenging Trip on a Moderate Route
One of the things I love about the Hermit Loop is that it offers guests a remote-feeling experience of the Canyon on a Difficulty Level 4 trip (backpacking trips fall between 3 and 5, 3 being moderate, 5 being strenuous).
Many of Grand Canyon's most remote and scenic trips are solid Difficulty Level 5 trips that require hiking in extremely rugged terrain with huge elevation gains and losses, dry camping and other very challenging attributes. Not so with the Hermit Loop, which is on the easier side of Level 4 but has the feel of a much more remote and challenging trip.
Extraordinary Views
If you want to soak up phenomenal views (which, let's face it – why else would you come to the Grand Canyon), then this trip is perfect for you. We follow the Tonto Trail along the Tonto Plateau for multiple days. The Plateau is a broad, flat "bench" that sits about 1500 feet above the Colorado River, and about 3000 feet below the South Rim. It offers expansive, uninterrupted 360-degree views of the soaring cliffs and buttes above us, and of the Colorado River and its amazing side canyons below us. For amazing views, look no further – this one is it!
Rapids on the Colorado River
I'm sure you've seen the eye-popping photos of rafts crashing through rapids in the bottom of the Grand Canyon. Well, believe it or not, you don't have to do that to enjoy the more turbulent sections of the Colorado River. Sitting on a sandy beach, with your feet dangling in the refreshing water, is a monumental way to experience the rapids. We visit two sets of rapids on this trip, or if you do the 4-day version then one set. Either way, it's amazing.
History
The routes we take in and out of the Canyon were originally used by Native Americans for centuries before later being turned into hiking trails by European descendants. And our hike along the Tonto Trail was a heavily traveled section of the Canyon by Native Americans, evidenced in part by ancient Agave roasting pits that we can see along the way.
In the early 1900's the Santa Fe Railway came to Grand Canyon and wanted to start a tourism enterprise. The most popular trail – Bright Angel – was controlled by Ralph Cameron, a shrewd business man who used mining claims as the legal justification for his control of the trail. So the Santa Fe Railway looked farther to the west and found what is now the Hermit Trail, which they built and named after Louis Boucher, a solitary man and one of the Canyon's earliest modern day settlers. They built Hermit Camp, which was a tent resort that operated into the 1930's.
Fossils
The Hermit Loop is fantastic for fossils. Grand Canyon's rock layers were, at different times in history, at the bottom of seas, made up of sand dunes or mud flats, high in the mountains, covered with tropical vegetation, and/or far below the earth's surface. As we hike, especially through the limestone layers, we pass shells, outlines of ancient creatures, fossilized sponges and more. And, near the top of the Hermit Trail, on a slab of Coconino Sandstone, is one of my all-time favorite fossils. Etched in the rock are the footprints of an amphibian that walked up an ancient sand dune over 265 million years ago, and we can see its claws and where the sand gathered behind its feet as it walked up the sandy slope. It is astounding!
Check Out Our Hermit Loop Guided Trip
Guided Hermit Loop backpacking trips are available, and are a stress-free, exciting way to do this trip. We handle permits, gear, transportation, meals, and provide a professional guide so you can focus 100% on enjoying your adventure. Read more…
Play-by-Play Description of the Hermit Loop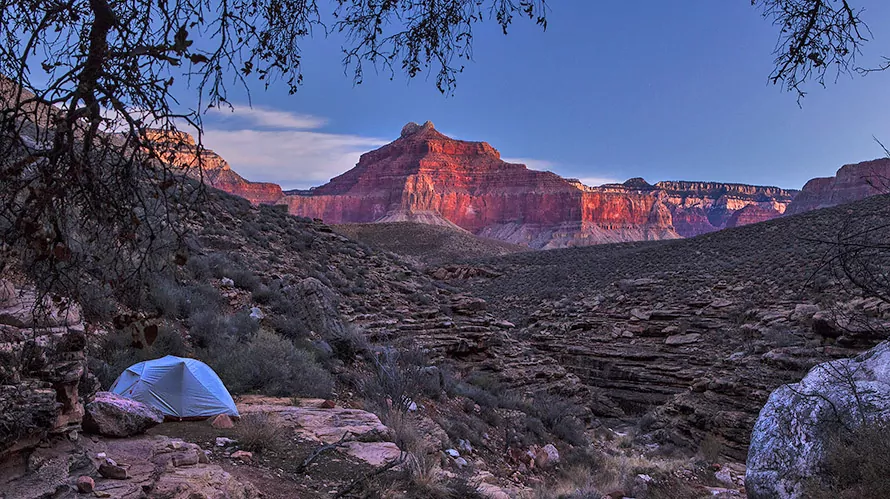 Day 0
All of our Grand Canyon backpacking trips begin in Flagstaff, Arizona with an orientation meeting at 5:00 PM the evening before your trip begins. This meeting normally take place at Little America Hotel and is where you meet your guide and fellow guests, receive your gear for the trip, get a packing lesson, and can ask any questions you have last minute. We are happy to give you a ride to this meeting if you're not staying at Little America and are staying at one of our other recommended hotels.
Day 1
This morning your guide will pick you up at your hotel in Flagstaff and we'll drive to the South Rim of Grand Canyon National Park. Our hike begins on the Bright Angel Trail, where we descend approximately 3000 feet over 4.5 miles to Havasupai Garden, a wonderful shaded oasis. We'll fill up water and relax for a bit before cutting off west on the Tonto Trail. Our campsite is approximately 2 miles farther, and is in a majestic side canyon where we are guaranteed to have the Canyon all to ourselves!
Day 2
Today is our longest hike distance-wise and also one of the most scenic. We'll pack up early and get a pre-dawn start, which means we're on the trail when the sun comes up over the canyon walls. This time of day is truly magical and is an unforgettable experience – to be deep inside the Canyon and watch the day's first light explode onto the cliffs in a dazzling show. It's something you'll never forget. Today is also the most amazing day for views. Our entire hike is on the Tonto Trail, which provides unencumbered, 360-degree views above us and below us for miles up and down canyon. We'll gaze up at the cliffs blocking the South Rim and at rock features like Zoroaster Temple, March of the Lemmings and Angels Gate. And we'll sit on the precipice and stare down into the Inner Gorge, other dizzying side canyons and of course the Colorado River.
As we hike in and out of side canyons, today can be an excellent day for seeing fossils. As we get closer to camp there are fossilized sponges and other ancient remnants that your guide will happily point out.
Eventually we'll arrive at camp, which is at a remote, lovely campground along a spring-fed creek, with towering cliffs and towers above and around us.
Day 3 (skipped on 4-day trip)
Today we leave camp set up and day hike to the Colorado River down a unique and adventurous side canyon. We'll relax on white sand beaches, hopefully watch some rafters brave the rapids, enjoy a picnic lunch, and a relaxing hike back to camp.
Second to Last Day
Today we move camp a short 3 miles to another spring-fed creek, set up camp and again day hike to the Colorado River. Today's destination is another set of rapids, where we'll perch ourselves on giant boulders and allow the power of the river to mesmerize us. Eventually we'll return to camp.
Tonight's camp is not far from the Santa Fe Railways's original Hermit Camp, where they had tents, buildings and even a tram to bring supplies in and out. This camp accommodated tens of thousands of visitors in the early 1900's. The tram only operated for a handful of years in the 1920's. The national park does not allow us to visit the remains of the resort, but we will revel in the fascinating history that surrounds us.
Final Day
Today we break camp and hike out the Hermit Trail. It's approximately 8 miles on a relatively rugged trail. Today is the day that earns this trip a Level 4 difficulty rating (as opposed to level 3). We will make our way up, up, up through the geologic layers, as astounding views of the Canyon drop away below us. We'll eventually come to the second to last layer – the Coconino Sandstone – where we'll keep our eyes out for a very special fossil. Roughly 265 million years ago, an amphibian ambled up a sand dune. Its claws dug into the surface and the loose sand gathered behind its foot as we've all had happen on visits to the beach. This story is perfectly preserved in the sandstone – the creature's footprints, claw marks and the sand that gathered behind its foot are not etched in stone. It's truly amazing.
We'll top out after our long hike out and make our way back to Flagstaff. Showers will be most welcome as you check into your hotel and plan your dinner out, but also on your mind – most likely – will be what next adventure awaits you.
Explore Your World. Award Winning Hiking Guides
Learn More!
This trip is our Guides Favorite in the Grand Canyon and for good reason! If you'd like to learn more, you can watch our video below about this trip, or you can visit the trip page.
Wildland Trekking Hiking Adventures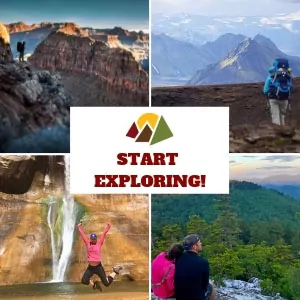 As the world's premier hiking and trekking company, Wildland believes in connecting people to fantastic environments in amazing ways. Grand Canyon National Park offers an array of incredible hiking and trekking experiences. Wildland Trekking provides 22 different multi-day hiking and backpacking adventures in the Canyon. Read more about our Grand Canyon trips.
To learn more about our guided backpacking trips and all of our award-winning hiking vacations, please visit our website or connect with one of our Adventure Consultants: 800-715-HIKE