All About Bringing Your Own Sleeping Bag
Learn about why it can be a good idea to bring your own sleeping bag and how to pick the right one.
We provide top-of-the-line gear (including sleeping bags) from brand name companies on all backpacking and camping-based trips, but many guests prefer to bring their own sleeping bags for a variety of reasons.  We fully support this option as long as the sleeping bag is suitable for the trip. In fact, there can be significant benefits to having and bringing your own sleeping bag, which we expand on below. 5 Benefits of Bringing Your Own Sleeping Bag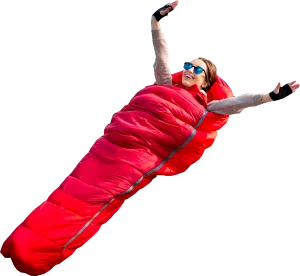 Weight and Packability of Down Sleeping Bags. The most significant benefit is you can supply a lightweight, very compressible down sleeping bag.  Our bags are professionally laundered after every trip, and for this reason we have to supply synthetic-fill bags which are bulkier and heavier than down. (Over-washing goose down destroys the integrity of the fibers over time.)
That Warm and Fuzzy "Blankie" Feeling.

After a long trip there is no better feeling than laying down for a rest in your own bed with your favorite blanket.  But what if you could bring "your bed" with you? This is how our guides feel about their personal sleeping bags; they are an important piece of gear and a touch of home and comfort in the wild!

Long Life and Multiple Uses. A quality down sleeping bag can last for decades, especially if it is laundered infrequently, aired out after each use and stored appropriately. Most avid travelers have a need for a good sleeping bag on occasion, which makes it a piece of gear that will likely see plenty of use over time.
Easy to Travel With. While bringing your own tent, backpack, sleeping pad…etc. would make travel cumbersome, a good down sleeping bag will pack up small and fit easily into a suitcase or even a larger carry-on.
Limited Expense. With more options for purchasing quality outdoor gear now than ever before, some sleeping bag costs (especially on Amazon) have dropped significantly. This change makes bringing your own sleeping bag a much more affordable option than in years past.
Choosing the Right Temperature
Temperature Range Recommendations
| | | |
| --- | --- | --- |
| | Mountains | Deserts/Canyons |
| Spring (Mar-May) | 0-15° F | 15-30°F |
| Summer (June-Aug) | 0-30°F | 30-60°F |
| Fall (Sept-Nov) | 0-15°F | 15-30°F |
| Winter (Dec-Feb) | N/A | 0-15°F |
Narrowing It Down
There are three main questions to ask when narrowing down the exact temperature of bag to purchase:
Do you sleep warm or cold? If you sleep warm, lean toward a cooler (higher temp bag); if you sleep cold, lean toward a warmer (lower temp bag).
What are the average temperatures for when/where you're going? Look at the average temperatures in the exact area/season you're visiting to narrow it down further. On individual trip pages we provide more information about selecting the right temperature.
Weight to warmth ratio? The warmer a bag is, the heavier it is. However, if uncertain we recommend erring toward a warmer bag. Long, cold nights in an inadequate sleeping bag are not fun or safe.
Down Vs. Synthetic
Overview Chart
| | | | | | | | |
| --- | --- | --- | --- | --- | --- | --- | --- |
| | Weight | Bulk | Insulates if Wet | Drying Time | Expense | Long Life | Washability |
| Down Bags | ⇓ | ⇓ | Ø | ⇑ | ⇑ | ⇑ | ⇓ |
| Synthetic Bags | ⇑ | ⇑ | √ | ⇓ | ⇓ | ⇓ | ⇑ |
Packed Size Comparison Chart
Down bags are more compressible than equivalent synthetic bags.
These figures are averages – individual specs will vary by brand and model of sleeping bag.
| | | | | |
| --- | --- | --- | --- | --- |
| | 0° F | 15° F | 30° F | 45° F |
| Down Bags | ~9-11 liters | ~6-8 liters | ~3-4 liters | ~1-2 liters |
| Synthetic Bags | ~14-16 liters | ~11-13 liters | ~6-7 liters | ~4-5 liters |
Weight Comparison Chart
Down bags weight less than equivalent synthetic bags.
These figures are averages – individual specs will vary by brand and model of sleeping bag.
| | | | | |
| --- | --- | --- | --- | --- |
| | 0° F | 15° F | 30° F | 45° F |
| Down Bags | ~2-3lb | ~1.5-2lb | ~1-1.5lb | ~.8-1.2lb |
| Synthetic Bags | ~4-5lb | ~3-4lb | ~2-3lb | ~1-2lb |
Durability
A quality down sleeping bag can

last 10-20 years, especially if properly cared for. Synthetic sleeping bags in comparison often begin to lose insulation in as little as 3-4 years.

Down bags need extra care during cleaning and storage. Synthetic bags, on the other hand, can be laundered easily and often without much short term damage.
Effects of Being Wet
Down: Water is down's kryptonite. A wet down bag loses its insulation and takes longer to dry than synthetic bags. Having a lightweight, waterproof stuff sack is essential in wet environments/conditions.
Synthetic: Synthetic fill can get wet and still provide some insulation value. It also dries much faster than down.
Ethical Standards with Down
The sourcing of goose down can be a brutal affair, or it can be done humanely. It's possible to search out manufacturers and brands that source down from traceable farms that verify the ethical treatment of their animals.
The leading certification and best information source for ethical standards in the down industry is the Responsible Down Standard.