Making Havasupai Reservations
Learn All About Booking Your Trip to the Havasupai Waterfalls in the Grand Canyon
To hike to Havasupai, you'll need reservations. Day trips are not allowed, and the minimum stay is 3 nights if you're camping. You will need either camping reservations to stay in the campground, or you'll need reservations at the lodge. Reservations and permits are difficult to get, and you must plan well in advance to be successful. However, if you are successful, it will be well worth it! Read through the remainder of this page to learn about how to apply for permits, what to expect, costs, and a lot more! HAVASUPAI CAMPING AND RESERVATION FEES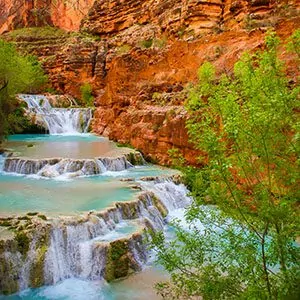 The Havasupai Tribe requires a stay of a minimum of 3 nights. The fee is $100 per person per night Monday-Thursday, and $125/night Friday-Sunday. Rates are normally adjusted on an annual basis. The Havasupai Tribe requires full payment at the time your reservation is made, and there are no refunds allowed.
HOW TO MAKE RESERVATIONS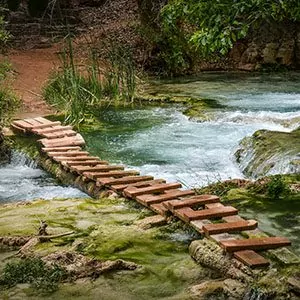 Reservations for an entire calendar year become available at 8 AM Arizona Time on February 1 of the given year. To make your reservations, go to the Havasupai Tribe Website, log in before 8 AM, and be ready to book your reservations online right at 8:00 (they could be sold out for the entire year in just a couple hours). You cannot make reservations by calling in.
STAYING AT THE LODGE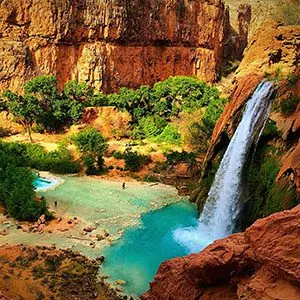 The town of Supai (8 mile hike from the trailhead) has a lodge. Rates are pretty reasonable, but reservations are difficult to get. To make reservations call 928-448-2111.
The town and lodge are approximately 2 miles from the campground, which is situated along the creek between Havasu Falls and Mooney Falls. There are two waterfalls closer to Supai that are only 3/4 of a mile from the lodge – Lil' Navajo Falls and Fifty Foot Falls. They offer some of the best swimming at Havasupai. The hike from the lodge to Beaver Falls (the lowest waterfall) is approximately 5.5 miles each way.
MORE HAVASUPAI INFO
TIPS FOR VISITING HAVASUPAI
MORE GRAND CANYON HIKING ADVENTURES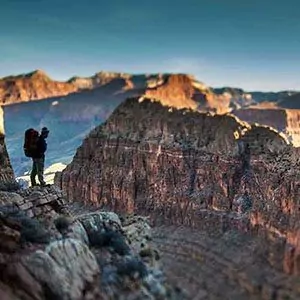 The Grand Canyon is an extraordinary place, and as amazing as the Havasupai waterfalls are, there are many options for adventure in the Canyon beyond Havasupai. Grand Canyon National Park is home to some of the most unique and spectacular backpacking trips in the world. It also offers stunning views, geologic history, and incredible day hikes for people not interested in backpacking.
Guided Grand Canyon treks include permits, local transportation, meals, gear, risk management systems and professional guides, allowing guests to make the most of their visit to the Canyon, focus 100% on enjoying their experience, and do it all with an increased level of safety and comfort.
GRAND CANYON ADVENTURE TOURS