HAVASUPAI VISITOR GUIDE
What and where are the Havasupai Waterfalls?
Deep in the Grand Canyon, west of Grand Canyon National Park, is one of the most stunningly beautiful and wonderfully surprising features of the American Southwest – the Havasupai Waterfalls (also known as simply Havasu Falls). 10 miles into the Canyon – and only accessible by hiking, horseback or helicopter – the waterfalls plunge between 40 and 200 feet off sheer drops into idyllic turquoise pools.
One of the most photographed spots in Grand Canyon, the Havasu Waterfalls feature 5 different falls, each a unique waterfall in an otherwise incredibly unique and arid desert. WHAT'S REQUIRED TO VISIT HAVASUPAI?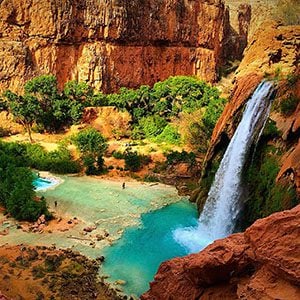 To visit Havasupai, one first must have permits and reservations to camp over night, or to stay at the lodge. Day trips into the waterfalls are not permitted.
In addition, it's important to be physically fit enough to hike the 10 miles to the campground (read more about How to Get to Havasupai.) If you're in doubt, riding a helicopter is an option that reduces the hiking mileage to only 2 miles.
Finally, if camping, you must have all of your own camping gear, food, safety gear…etc. Havasupai guided tours provide all of this for you.
HOW TO GET THERE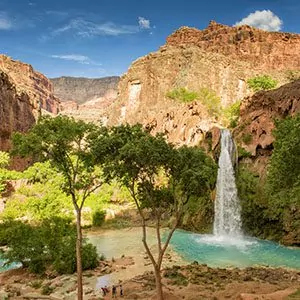 There are three ways to get to Havasupai. You can hike to the Havasupai Waterfalls. You can ride on a helicopter ($85 each way; booked on the spot; no advance reservations; available Sunday, Monday, Thursday and Friday.) Or you can go by horseback, which is booked through the Tourist Office (928-448-2142).
How to Get to Havasupai is the most popular way to get to Havasu Falls. The lines for the helicopter are often very, very long, and the helicopter can stop running when it's windy making it an unreliable method of transportation.
WHEN TO GO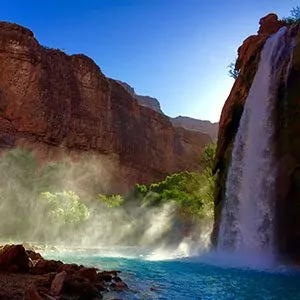 Hiking and camping at Havasupai is enjoyable year round! Each season offers its own advantages and drawbacks. Please note the water is always 70 degrees fahrenheit, and the volume of water is consistent year round except when flooding, so the condition of the creek itself is largely of no concern. The more significant considerations are hiking and sleeping temperatures.
Spring and Fall tend to have cooler hiking (good thing!) and cooler sleeping (good thing!) but chillier swimming. Summer tends to have hot hiking (caution) and the nights don't cool off tremendously making sleeping difficult at times. Also in summer (July and August) the monsoon rains set in, which can lead to flooding. Winter is a stunning time to hike any part of the Grand Canyon, as many areas, including Havasupai, are largely empty. However, the days are short and it can be quite cold.

JOIN A HAVASUPAI TOUR OR DO IT ON YOUR OWN?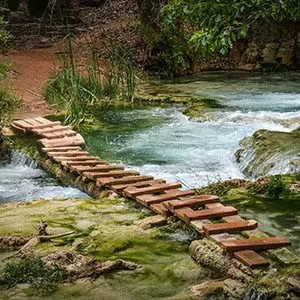 Hiking to the Havasupai waterfalls can be done on a guided tour or on your own, so the first question to answer is which option makes the most sense for you. Visiting Havasu Falls on your own requires having Havasu camping reservations, all of your own camping gear, at least a basic understanding of the challenges of desert hiking, meals, a vehicle to get to the trailhead, and getting your gear down to the campground. On a guided tour all of these things are provided, so you can show up and expect nearly everything to be taken care of for you. If you're flying into Arizona to visit Havasupai or if you don't have the experience or equipment to do it on your own, a guided tour is a fantastic way to maximize your experience. Guided Havasupai tours have variable costs, depending on the duration and style of trip you select.
MORE HAVASUPAI INFO
TIPS FOR VISITING HAVASUPAI
MORE GRAND CANYON HIKING ADVENTURES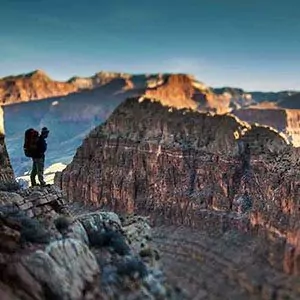 The Grand Canyon is an extraordinary place, and as amazing as the Havasupai waterfalls are, there are many options for adventure in the Canyon beyond Havasupai. Grand Canyon National Park is home to some of the most unique and spectacular backpacking trips in the world. It also offers stunning views, geologic history, and incredible day hikes for people not interested in backpacking.
Guided Grand Canyon treks include permits, local transportation, meals, gear, risk management systems and professional guides, allowing guests to make the most of their visit to the Canyon, focus 100% on enjoying their experience, and do it all with an increased level of safety and comfort.
GRAND CANYON ADVENTURE TOURS