Operational Guidelines & New Booking Terms!
Learn what Wildland trips look like right now, what they will look like in the near future and about our current low risk booking terms!
Since the beginning our commitment has been to provide life-enriching hiking experiences with safety always at the forefront. In this spirit, when we reopened after the 2020 shutdown, we implemented new transportation logistics, behavior guidelines, sanitization practices and booking terms that preserved the core nature of the Wildland experience while increasing safety and reducing risk. We invite you to read on to learn more.
"Trekking can be a low-risk activity for transmission of COVID-19 because it takes place in well-ventilated areas, involves little to no gear, is typically done in small groups, is easy to practice while maintaining social distance, is not technical, and does not require close supervision." – Adventure Travel Trade Association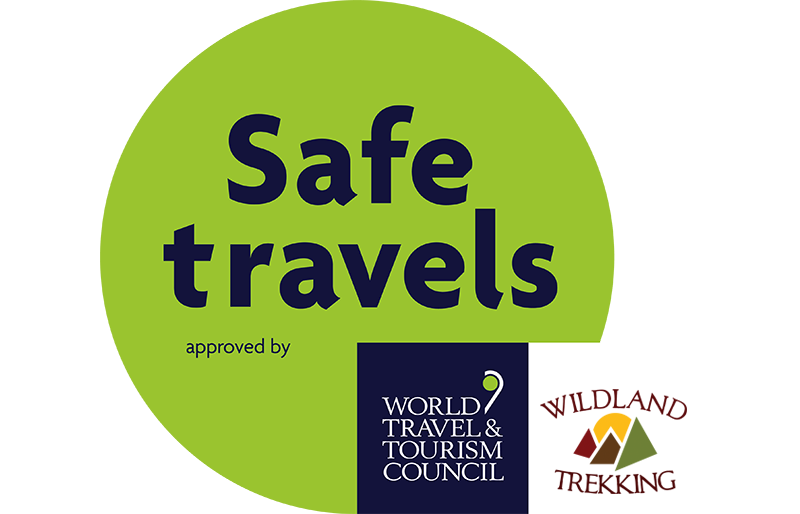 #SAFE TRAVEL APPROVED
Use of the World Travel and Tourism Council's #SafeTravel logo indicates that we are following an accepted standard of health and hygiene protocols in the new Covid-19 world. These protocols are based on medical evidence and guidelines from the Centers for Disease Control and Prevention, World Health Organization, and the World Travel and Tourism Council. With over 1200 travel organizations currently using this badge of safety, it offers travelers an objective, 3rd party verification tool to verify companies have implemented science-driven protocols and are meeting high safety standards.
BOOKING TERMS, TRANSPORTATION PROTOCOLS & TRIP CAPACITIES
NEW BOOKING TERMS
We understand these continue to be extraordinary times, and we want to make it as worry-free and easy as possible for you to plan your next trip! In this spirit, we have permanently reduced our deposit on multi-day trips to $250 per person (previously $500). The balance is due 60 days before the trip. Once the final payment has been made normal terms and conditions apply. (Any trip that includes the Inca Trail has a $300 deposit and Phantom Ranch has $500 deposits).
Current TRANSPORTATION, CAPACITY and Dining PROTOCOLS
All trips that normally include transportation will have transportation provided.
Use of face masks to cover nose and mouth are optional at all times in company vehicles and public transportation.
On inn-based tours, we are dining indoors at restaurants.
International trips outside the USA may have different group sizes, transportation protocols and general COVID-19 policies due to a destination's regional laws and/or current rules.
International Face Mask Policy
International trips outside the USA may have different policies/rules for use of face masks to cover nose and mouth in company vehicles, on public transportation and in any business that requires a mask due to a destination's regional laws and/or current rules. A destination's local laws and rules will always supersede any Wildland policy.
Trip Safety Procedures
Pre-Trip Protocols
PRE-TRIP SAFETY PROTOCOLS
All guests share a responsibility to adhere to the direction of their guide in following the practices stated herein. Non-compliance with guide direction may lead to trip dismissal. All guests will need to read, understand and agree to abide by all current COVID-19 trip practices. These practices are outlined in an agreement during guest registration.
Updated guest packing lists are in effect to include all items from the trip information packet plus facemasks, hand sanitizer, and antibacterial wipes. 2-3 facemasks are recommended for a 3-6 day trip. Staff will carry extra facemasks and sanitizer for those who need them.
Inflatable sleeping pads will still be supplied on all camping trips. Pads will sit for a minimum of 3 days between use, and valves cleaned with alcohol wipes prior to use. If you are uncomfortable with this practice, please bring your own pad.
Increased cleaning and sanitization of company-shared workplace spaces and vehicles has been implemented.
Any guest who has been in close contact with someone known to have COVID-19, or who develops flu-like symptoms (cough, fever, shortness of breath/difficulty breathing, muscle pain, headache, sore throat, body aches/chills, recent loss of taste or smell), or who tests positive for COVID-19 within 14 days of their scheduled trip will not be allowed to join the trip without a negative COVID-19 test result. Timing of test must adhere to CDC guidelines, and a negative test result submitted to Wildland as soon as practicable. Please call 1-800-715-4453 if this becomes pertinent. Note: Acceptable tests include either a PCR test or 2 negative tests from an FDA-approved home kit.
During Trip Protocols
DURING A TRIP SAFETY PROTOCOLS
Trip orientation meetings will occur as usual the evening before the trip leaves for the field, with the exception of some Joshua Tree, Sedona, AZ, Pacific Northwest and Greater Yellowstone area trips which will utilize a combination of pre-trip phone and/or video meetings, and an orientation on the morning of day 1.
Facemasks, regardless of vaccination status, will need to be worn when caring for someone with COVID-19 symptoms, in any business or public transit that requires a mask, and at any other time the guide deems it necessary. Facemasks will also be required when local, state, or federal mandates dictate their use, and according to current CDC recommendations.
Dedicated hand wash stations with soap will be utilized in each camp. Hygiene, as always, will be stressed.
Any guest who develops flu-like symptoms (as defined above) during a trip will be physically distanced- to the extent practicable- from the rest of the group, and from any community spaces or items. Affected individuals will be required to wear a facemask. Staff or a designated person will consult with the local managing agency for guidance on suggested management of the situation and potential evacuation of the affected individual(s). If staff are in the position of providing direct care to an affected guest(s), they will be physically distanced from the rest of the group- to the extend practicable- for the remainder of the trip.
Evacuated guests may be transported from the field by company vehicle, helicopter, or ambulance. All evacuation costs, post-evacuation logistical care, and travel expenses will be the responsibility of the guest. As always, travel insurance is highly recommended.
Healthy guests who may have been exposed to a potential COVID-19 individual will be allowed to continue the trip.
Post-Trip Protocols
POST-TRIP SAFETY PROTOCOLS
Any guest who develops flu-like symptoms (as defined above) 14 days post-trip should contact us at 1-800-715-4453 to inform us of their symptoms. If informed that anyone associated with a trip has experienced any flu-like symptoms, all staff and guests from that trip will be called to inform them.
Field Staff COVID-19 Vaccinations
Wildland Trekking, with the safety of our guests and employees at the forefront, has implemented a COVID-19 vaccine requirement for our front-line staff. All of our warehouse personnel, drivers, porters, program management and guides have been fully vaccinated for COVID-19, unless exempt for medical or religious reasons.
Our new protocols were developed by guidance from public land management agencies, travel industry peers, the U.S. Travel Association, the CDC, and various public health experts. They utilize a layered approach of practices and behaviors which address the entirety of a trip continuum; i.e., actions aimed at minimizing risk before, during, and after a trip. Please know that all staff have been trained in these practices, and that we will adapt or evolve practices as the efficacy and general knowledge of COVID-19 prevention strategies become better understood, or if local, state, or federal mandates dictate something different or additional. Also understand that The Wildland Trekking Company and Wildland Llamas do not guarantee or warranty against the risk of infection, nor do we guarantee that the above practices will be followed in every instance due to unique conditions/circumstances that may prevent us from doing so. For additional information on any of this, or travel with us in general, please call 1-800-715-4453 to speak with one of our Adventure Consultants.