What to Wear Hiking for Beginners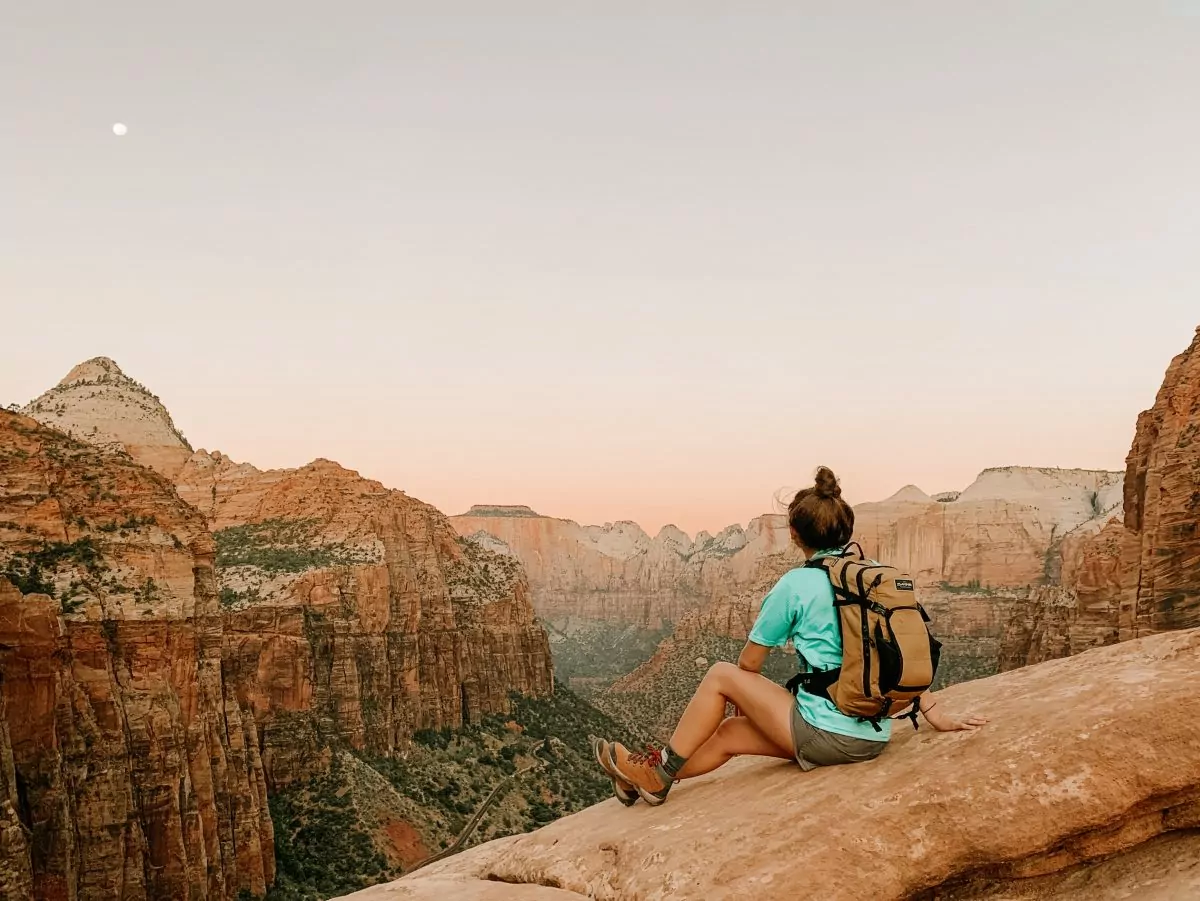 Photo by Katie Polansky on Unsplash
Many new hikers wonder what to wear hiking — and it can be a confusing topic. I've spent years fine-tuning my layering system for hiking. After making about every mistake there is to make, I have plenty of knowledge to share from firsthand experience. Some gnarly sunburns taught me that covering your body in sun-protective clothing even when it's hot does work. A few nights spent shivering in my car on my post-hike drive home helped me learn that extra layers are well worth their weight. It takes a bit of trial and error to find the perfect layering system for you, but hopefully, we can clear up some confusion and help get you started. This guide lays out what to wear hiking for beginners: from what you should look for when buying gear to when to wear each item. 
All Inclusive Hiking Adventures
Budget Shopping Considerations
If you're looking for clothing at brand-name box stores like REI, you can easily spend $500 or more on a basic clothing system. However, there are also cheaper ways to outfit yourself. While clothing from retailers like Target or Amazon may not last as long or perform as well, they're often much cheaper. So, big retailers are great places to look if you're on a budget. Even better, you can find high-quality outdoor clothing for very cheap at secondhand gear stores, consignment shops, and through online resellers.
When you're buying hiking clothes, I recommend picking a couple of items to splurge on (one top and one bottom) while saving on the rest. For example, for a winter day hike, you could pair quality merino wool base layers with a hoodie you already have and an affordable down jacket. Then, once you decide you want to set out on longer hikes into more remote terrain, you can gradually start to purchase more gear. You don't need every single piece of hiking gear to get started; whether you buy new hiking clothing or grab some from the closet, we hope to see you out on the trail! 
Choosing the Right Clothing for Your Everyday Adventures
You'll want to consider a few factors when choosing your hiking clothing. For example, you should strike the balance between having enough protection from sun or other weather while still having room to move and breathe. Here's a general guide for layering systems, but keep in mind: hiking clothing is personal and what works for me may not work for you. 
Hiking Tops and Layers
Hiking Shirts
You generate the majority of your body heat in your core. While it may be tempting to throw on whatever cotton T-shirt you have on hand, you'll be significantly more comfortable wearing a shirt made specifically for all-day activity. Outdoor gear stores like REI have plenty of options for both short and long-sleeved sun-protective and moisture-wicking shirts. However, second-hand stores and box stores like Target also have active clothing. Look for a blend of polyester, nylon, and spandex materials. Bonus points go to shirts with an ultraviolet protection factor (UPF) rating, especially for summer adventures or hikes on snow. If you don't like to hike in a long-sleeve sun shirt, make sure to apply (and reapply) sunscreen to protect your skin during your hike.
BaseLayers
Whenever it's cold enough to layer up, a quality base layer is crucial. Baselayers (also known as long underwear) trap in body heat, while wicking sweat away from your body. Merino wool base layers are very popular because they manage moisture extremely well and also keep you warm. However, wool blends or synthetic base layers are a more affordable option. The best materials to look for here are polyester and nylon, and be sure the description mentions moisture-wicking properties in the materials. 
Fleece Midlayers
Midlayers retain heat so you can stay cozy. Typically, I put my mid-layer on while I'm enjoying a summit or heading back down the trail. I try not to sweat in my mid-layer, so I don't usually wear it when I'm working hard on the uphill section of the hike. New, brand-name mid layers can be pricey, but you can totally use something you already have around your house. A fleece-lined hoodie or fleece zip-up jacket are my two go-to's. 
insulated "Puffy" MidLayer
This mid-layer is crucial for conserving body heat when the temperature drops. A puffy jacket is typically filled with either down or synthetic insulation, both of which have pros and cons. Down fill is warmer and lighter, yet more expensive. On the other hand, synthetic insulation isn't quite as powerful on the warmth to weight scale, yet it's usually more affordable and performs better when wet. A top-of-the-line insulated jacket can cost upwards of $300 and is great for ultralight backpackers who lament over every ounce. However, you can also find cheaper options on Amazon or even at larger stores like Old Navy.  
Shell/Rain Jacket
You can use a nice hardshell jacket as both a rain layer and a windbreaker/outer layer. The ideal weight and materials for this layer are dependent on how you expect to use it. If you're looking for something that offers maximum protection from rain and snow, look for a jacket with three layer Gore-tex fabric. On the other hand, many brands have cheaper and lighter alternatives using their own waterproofing technology. Typically, these won't keep you as dry but may be lighter and more breathable. If you're backpacking in a dry climate, you may need less protection than if you're going on a multi-day excursion in Washington in the spring. I totally splurged on my shell jacket, and I don't regret it. I have the Arc'teryx Beta LT with Gore-Tex and I use it for everything from backpacking to backcountry skiing. 
Hiking Pants and Shorts
Pants
Pants don't have to be hot and uncomfortable. Many quality hiking pants are actually designed for all-season use – they keep you cool in the summer and hold in warmth in colder weather, as well. The most important thing is to find pants that fit you well; try them on and make sure you'll be able to move without restriction. I prefer pants with a flared leg, so I can roll them up into capris for more ventilation. However, you can also choose hiking pants (like joggers) that fit your personal style so you can use them for everyday use. If you don't want to buy new, you're likely to find many pant options at an outdoors-focused consignment store. 
Shorts
If you're a shorts person, I highly recommend investing in a longer pair designated for hiking. All of the 3" inseam shorts that I wear for running do not cut it on longer hikes because I'm exposed to the sun for longer and much more likely to chafe. Look for a 5" or 7" inseam option to protect your inner thighs. You'll also want to look for nylon or polyester materials, and deep pockets. Pockets are great because you can have easy access to chapstick, sunscreen, snacks, and your phone without digging in your pack. 
Leggings
Typically, pants are a better option for hiking than leggings because they're more durable, breathable, and protective. However, a pair of nice leggings can provide extra comfort and warmth, especially in colder temps. Look for polyester and spandex materials in leggings. Polyester naturally repels water and performs well outdoors, while spandex adds stretch and comfort to the pants. 
Baselayer Tights
Hikers use baselayer pants (sometimes called long johns) either under pants for extra warmth or (if they're thicker) on their own. Baselayer pants are typically made with the same materials as base layer tops, providing exceptional warmth and moisture-wicking properties. Merino wool or wool blend layers are great – I love their odor resistance especially for backpacking. However, if you don't have $50-$100 to invest in this layer, you can also use leggings under pants for extra warmth. You can also find budget-friendly alternatives. On the John Muir Trail, I slept in a pair of baselayer pants from Costco, and they worked just fine.
Hiking underwear, Sports Bras, and Socks
If there's one piece on this list that I would invest in, it's the socks. Quality socks prevent blisters, sweating, and general discomfort in your feet while hiking. Look for merino wool or wool blend socks; Smartwool and Darn Tough are two popular choices. For sports bras, I usually use something low impact and breathable. Generally, you don't have to buy a hiking-specific sports bra. I do have a Patagonia bra that I love, but for years beforehand I used a $15 Target bra made out of polyester and spandex. When selecting underwear, look for these same materials and anything labeled as quick-drying/moisture-wicking.
Hiking Footwear
trail runners
Many hikers prefer trail running shoes (or low-top hiking shoes) over traditional hiking boots. They're much lighter, which makes you more agile and speedy. Another pro of trail runners is that they don't require a break-in period because they are comfortable right out of the box. However, while trail running shoes are great for hikers who want extra speed and agility in tricky terrain, they do not last as long as hiking boots, especially if you're backpacking with a heavier load. 
hiking boots
Hiking boots are better for hikers who prefer a more traditional shoe that will last forever. However, most boots require a lengthy break-in period. You should wear them for many short walks or day hikes before taking them on your first backpacking trip. This will help minimize your chance of hot spots or blisters. Boots also offer more support and balance when you're carrying a heavy pack, and will keep your feet protected and happy during long days on the trail. 
Sandals
You've likely seen someone hiking or running in a pair of sandals before. I don't recommend this for everyone, but there are people who swear by this minimalist footwear. Sandals like Chacos or Tevas are great to bring as camp shoes on backpacking trips or long day-hikes, especially if there's water involved. If you need to cross a creek, you can protect your feet while keeping your main hiking shoes dry. Plus, carrying hiking sandals gives you the option to switch up your footwear if your shoes are bothering you. Pro tip: always wear socks when you're hiking in sandals (except for creek crossings). This will keep sweaty feet from slipping around. 
Hiking Accessories
Gloves
For hiking in cooler weather, a pair of lightweight and breathable gloves will keep your hands toasty. A blend of polyester and nylon is a bit more breathable, while wool or merino wool gloves are warmer. If your hands run excessively cold, consider mittens. Keeping your fingers together generates more warmth inside the mitten. 
Sun hats
I never hit the trail in the summer without a hat. It provides extra shade and protection over your face and can keep excessive amounts of sweat from getting in your eyes. There are two main kinds: baseball-style ball caps and full brim hats. Full brim hats are best used in extremely sunny places like the Southern California desert, where you want neck protection as well. For most adventures, I grab a lightweight cap with breathable mesh and a UPF rating of 50. 
Cold Weather Headwear
Keeping your head and ears warm is crucial during the winter. For high-output activities like a strenuous hike, I am cozy wearing a fleece-lined headband around my ears. However, for most colder hikes I always bring a beanie just in case. High-quality and lightweight beanies are great for managing heat and sweat, but a simple wool or polyester beanie will work as well.  
Neck Gaiters/Buffs
These are helpful for both the summer and winter. Summer buffs have UV protection and are very lightweight and breathable. They protect your neck from sun exposure and soak up excess sweat in that area. On the other hand, wool or fleece-lined buffs help trap that crucial heat in your neck during the winter. 
Ankle Gaiters
Hikers use gaiters in both dry, hot deserts and for hiking through snow. Summer gaiters are designed to keep dust, rocks, and debris out of your shoes and socks. They are low-profile, stretchy, and moisture-wicking. While some hikers prefer to wear gaiter in the summers, others don't. Winter gaiters are more of a necessity – they keep your feet, ankles, and low legs dry while hiking through snow. They typically have a higher rise and are made with super waterproof Gore-Tex. 
Seasonal Considerations: How to Build a Layering System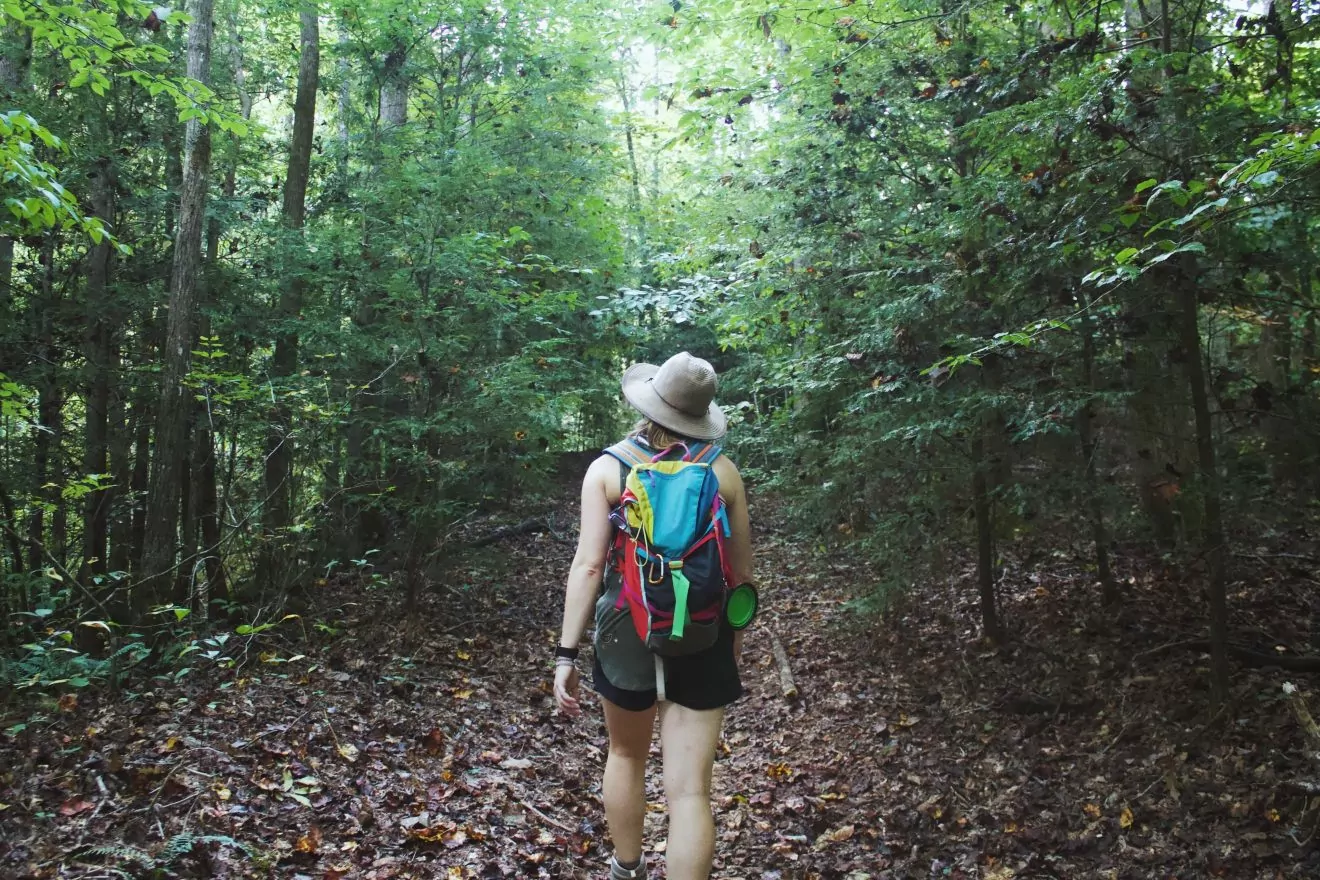 Photo by Elise Zimmerman on Unsplash
Depending on the season, you should tailor your hiking outfit to fit the temperatures and weather conditions. Every person is different, so keep that in mind as you use this rough guide on how to choose layers based on the season. There is no "perfect outfit" for hiking, and we're all still working to fine-tune our clothing systems. 
Summer: ~60 degrees – 100 degrees Fahrenheit
Shirt:

In extreme heat and sun, I prefer a long-sleeved sun hoodie or button-down shirt with UPF protection over short sleeves. This keeps my arms protected so I don't need to worry about reapplying sunscreen. Additionally, a lightweight sun hoodie with a polyester/spandex blend is actually more comfortable (and safer)  than the feeling of the sun directly on skin. 
Lightweight pants or shorts:

Whether you choose pants or shorts, you'll want them to be thin, moisture-wicking, and breathable. A pair of lightweight hiking pants works better than leggings in this scenario. 
Accessories:

Sun protective hat, thin or blister-prevention socks, lightweight neck buff.
Extra layer:

I always carry an extra lightweight shell, even in the summer. This makes windy summits or long descents much more comfortable, especially if I've been working up a sweat. 
Fall/Spring: ~40 degrees – 60 degrees Fahrenheit
Shirt:

In fall weather, you could opt for either a long-sleeved hiking shirt, or a moisture-wicking t-shirt to wear as a base. Especially when you're layering up, you need your bottom layer to handle sweat extremely well. Personally, I love using a running t-shirt as a base under my lightweight puffy jacket. 
Insulated layer:

An insulated layer, like a midweight or puffy, will maximize body heat retention at the beginning of the hike and on the descent, when you aren't working as hard. I like to keep my puffy in an outside or water bottle pocket of my pack, so I can take it on and off as needed. Even if you don't think it's too cold, this layer goes an incredibly long way in the case of temperature swings, unexpected wind, or nightfall. 
Pants or leggings:

Choose these depending on whatever you are more comfortable in, what the temperature calls for, and what you have on hand. Leggings will keep you warmer, while pants will be much more breathable and handle sweat better. 
Accessories:

Lightweight gloves, fleece-lined headband, hat, lightweight neck buff. These accessories will change depending on what temperature it is. 
Shell:

I'll bring a shell in addition to my puffy jacket if there's any chance of rain, wind, or wide temperature swings. It's also great to have the option to wear a shell as an outer layer instead of a heavier jacket. 
Winter: ~20 degrees – 40 degrees Fahrenheit
Winter hiking comes with its own set of considerations for both safety and comfort — here's how to tailor your hiking clothes for the weather:
Base layers:

Winter is when you absolutely need quality base layers. These simultaneously keep you warm while moving sweat away from your body as you start to heat up. I like to start winter hikes with a base layer and shell layer, and then add or remove layers as needed. 
Pants:

I have a few tricks for keeping my legs warm and layered in the winter. I'll either do a pair of thin base layers or leggings under hiking pants, or thicker base layers on their own under a pair of shorts to keep them from slipping. This is also where softshell or insulated pants can be useful. 

Softshell Pants:

Softshell pants are thicker, more durable, warmer, and water-resistant pants that are great for winter hiking. They are also a great addition for hiking in variable weather conditions or wet conditions. These pants will have "softshell" in their name, and are typically made with polyester, nylon, and spandex.
Midlayer:

I tend to save this layer in my pack, especially on ascents, so it stays dry and sweat-free. Then, on cold summits or descents, it keeps me cozy when I'm not working quite as hard. 
Insulated layer:

This layer is absolutely essential for retaining body heat in the winter. 
Accessories:

Midweight gloves or mittens, fleece-lined beanie, wool neck buff, thick wool socks with an extra pair. If there's any snow on the ground, shoe gaiters and microspikes are crucial. 

Shell:

Again, this is a great outer layer option to have when a puffy is too warm or if there's any precipitation. Shells also do an incredible job of blocking wind in more exposed sections. 
Just Get Out There!
Your hiking clothing (or lack thereof) shouldn't stop you from getting outdoors and enjoying nature. If you don't have the proper gear to tackle windy, rainy conditions, start out hiking in fair weather until you can build up your hiking closet. If you're like more tips for dressing for hiking, join a guided backpacking trip and learn the ins and outs from one of our pro guides!