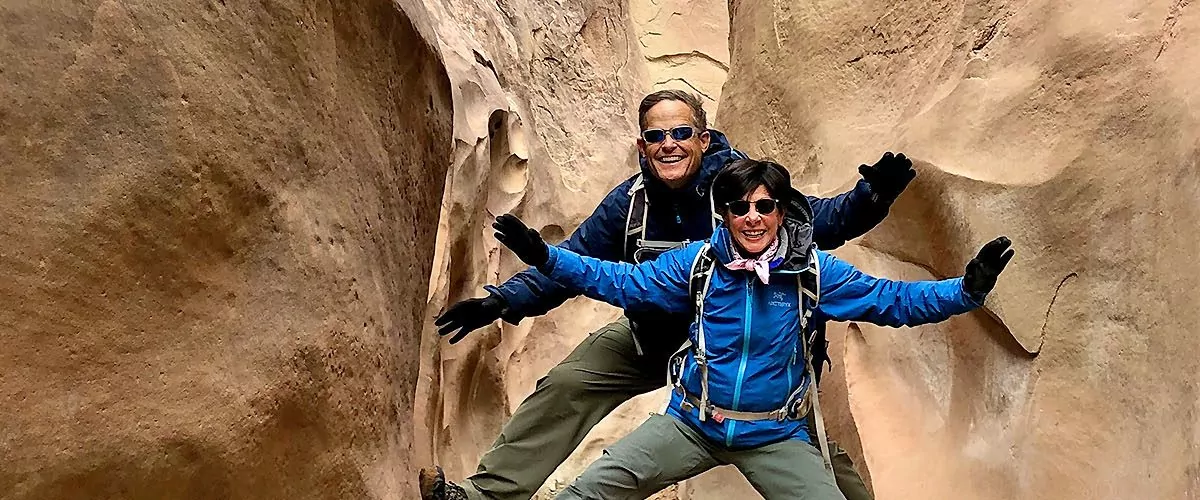 The 9 Best Destinations for Walking and Hiking Holidays
Walking holidays are the perfect opportunity to immerse in nature and escape the bustle of your work life. So, here at Wildland Trekking, we've compiled recommendations for the best walking and hiking holidays! As America's largest and highest-rated hiking adventure company, we know how to find (and plan) exceptional hiking holidays. We have almost two decades of experience leading thousands of guests annually on trips around the USA and the world. Our guided hiking tours have earned solid 5-star ratings on six different Trip Advisor pages, Google, Yelp, and Trust Pilot with over 4,000 reviews. And, we have hired and trained a team of almost 200 of the best hiking guides in the industry. In short, we know hiking and walking holidays.
There are so many potential destinations for a trekking holiday that it can be difficult to narrow down your options. The nine recommendations below are based on our experience leading trips, and the level of satisfaction our guests report with each destination. Certainly, you'll find many more options than these nine, but if you're looking for a place for your next holiday, this list can be a great place to start. Read on to learn more!
All-inclusive Hiking Vacations
1. Grand Canyon
Location: Arizona, USA
Length: 3-7 Days
Ideal Season: Mar-May, Sept-Nov
Guided Grand Canyon Hiking Holiday Options: Inn-based, Camping, Backpacking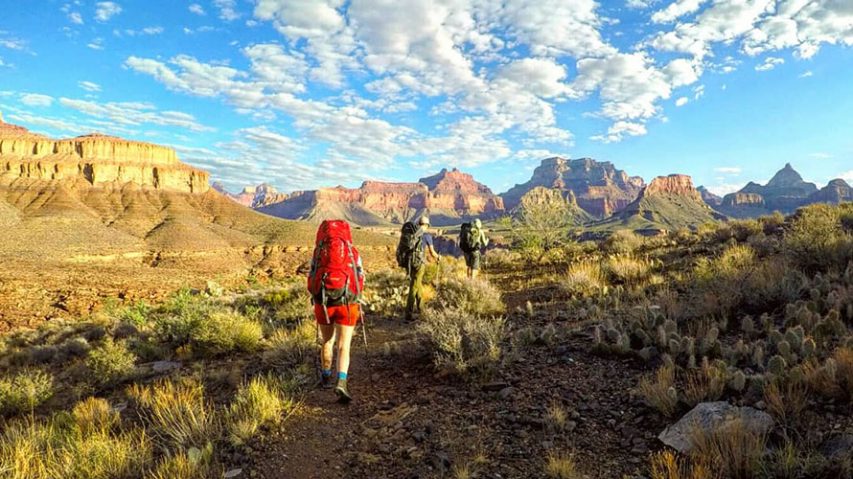 There's literally nowhere like the Grand Canyon. Cutting through almost 300 miles of mountains and deserts, the Canyon is a geological, historical, and recreational phenomenon. Visitors are treated to breathtaking views, unique wildlife and exceptional hiking.
Because the Grand Canyon is located in Northern Arizona, your can easily combine your trip with a visit to Las Vegas, Nevada or Phoenix, Arizona. Most people head to Grand Canyon National Park to hike and explore. Other options are the Hualapai Reservation (location of the Skywalk) and the Havasupai Reservation (location of the Havasupai Waterfalls.)
In Grand Canyon National Park, you have many options for your trekking holiday. You can stay in hotels and day hike, camp under the stars, descend into the Canyon on a backpacking trip, or hike down to the only lodge at the bottom of the Canyon, Phantom Ranch. The most famous hike is the Rim to Rim, which goes all the way across the Canyon, either south to north, or north to south. You can hike Rim to Rim as a backpacking trip, with a stay at Phantom Ranch, or as a strenuous 24-mile day hike.
One important consideration with the Grand Canyon is summer heat. If you're camping on the rim or staying in hotels during the summer, the heat is less of an issue but still an important consideration. Start hiking early, bring plenty of water and snacks, and try to be back to the rim by late morning. If you're backpacking or hiking all the way to the Colorado River, do you research and make sure you're prepared. We strongly recommend joining a guided Grand Canyon hike if you're visiting in the summer time for increased safety and enjoyment.
---
2. Yosemite National Park
Location: California, USA
Length: 3-7 Days
Ideal Season: May-Oct
Guided Yosemite Hiking Holiday Options: Inn-based, Camping, Backpacking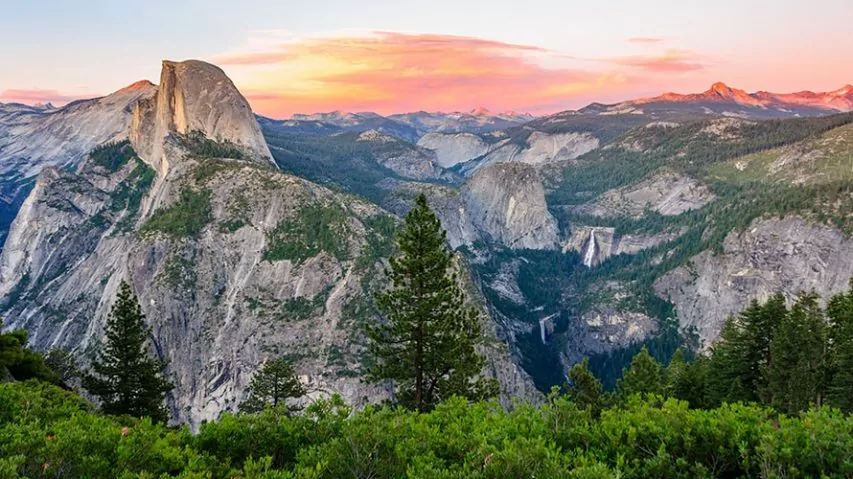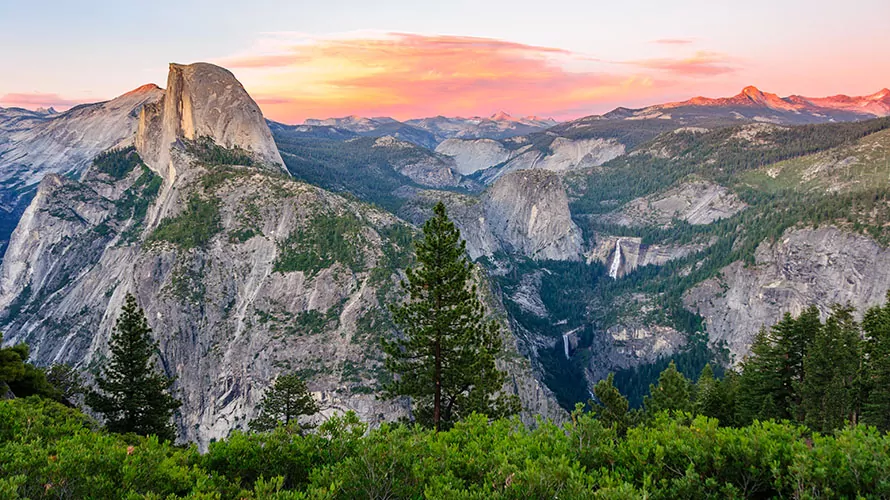 Yosemite National Park is a profoundly unique place, and a wonderland of hiking opportunities. It has over 750 miles of hiking trails to explore! Spend a week in this special park and you'll have the chance to see amazing waterfalls (Yosemite Falls, which runs in the spring, is over 2400′ tall!), towering granite cliffs, wildlife, pristine forests, majestic meadows, and meandering rivers. In the summer, you can also walk in the high country to visit alpine lakes, camp at the edge of breathtaking meadows, and summit peaks as high as 13,000 feet.
One of the most popular hikes in Yosemite is to the top of Half Dome. However, reservations are required for both day hikes and multi-day hikes that summit Half Dome, and the process is extremely competitive. However, there are many fantastic Yosemite backpacking trips besides Half Dome that are very worth doing.
The best gateway cities for Yosemite are San Francisco, CA; Fresno, CA and Sacramento, CA. You can also fly into Reno, NV. Other, worthy destinations within a day of Yosemite are the entire Lake Tahoe area (north) and Sequoia-Kings Canyon National Parks (south).
---
3. Zion National Park
Location: Utah, USA
Length: 2-5 Days
Ideal Season: Mar-May, Sept-Nov
Guided Zion Walking Holiday Options: Inn-based, Camping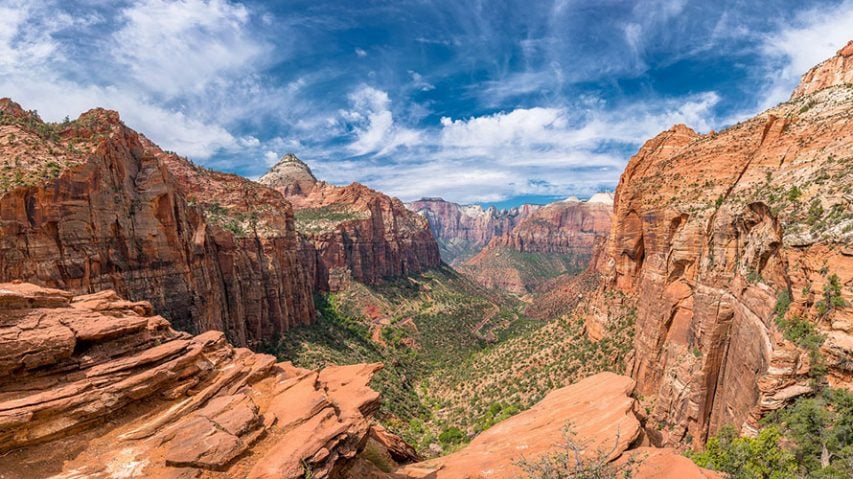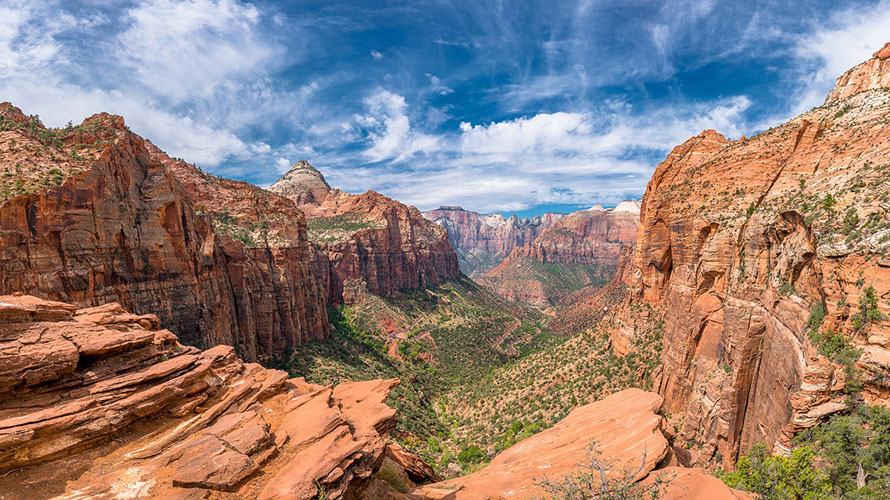 The canyon country of Southern Utah is home to not one, not two, but five amazing national parks: Zion, Bryce, Canyonlands, Arches, and Capitol Reef. However, when it comes to extraordinary hiking holidays, Zion is one of the most unique.
This Utah gem offers hikes to the tops of towering sandstone cliffs, canyon narrows, desert oases, and stunning viewpoints. The cliffs of Zion are famously made of seven layers of different types of sandstone, eroded away by time and weather into soaring, imposing buttresses.
The most famous hike in Zion is the Virgin River Narrows. Another renowned hike is Angels Landing, which requires both a reservation and a hearty tolerance for heights exposure. You can explore Zion by staying in hotels, or camping. Both options are excellent, although in the heat of summer hotels offer a much more comfortable experience.
---
4. Tour Du Mont Blanc
Location: Switzerland, Italy, France
Length: 7-10 days
Ideal Season: June-Sept
Guided Tour Du Mont Blanc Hiking Holiday Options: Inn-based Hiking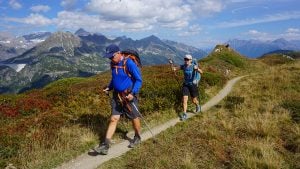 Tour du Mont Blanc is one of the world's most famous hiking holidays, and for good reason. Offering the amazing experience of walking through three countries in one trip, visitors spend time in Switzerland, Italy, and France. Most people do this trip as an inn-based experience, staying in hotels and chalets at night. You can also stay in mountain huts in some places ("huts" in Europe are often full service lodges in stunning locations, but with communal accommodations.)
Some of the key selling points of Tour du Mont Blanc are the incredible days of hill walking, the jaw-dropping scenery, the cultural experience of spending time in historic villages and hamlets, and wonderful local food and wine.
Tour du Mont Blanc is a difficult walking holiday. The days are long and strenuous, so training is important. Many people choose to book hotels on their own and do the trek without assistance; and many visitors choose to join a guided tour. The advantages of a guided tour are having all of the logistics handled for you, hiking with a local expert who can teach you about the ecology and history of the area, increased safety and the opportunity to make new friends.
---
5. Sedona, Arizona
Location: Arizona, USA
Length: 2-5 Days
Ideal Season: Mar-May, Sept-Nov
Guided Sedona Hiking Holiday Options: Inn-based, Camping or Backpacking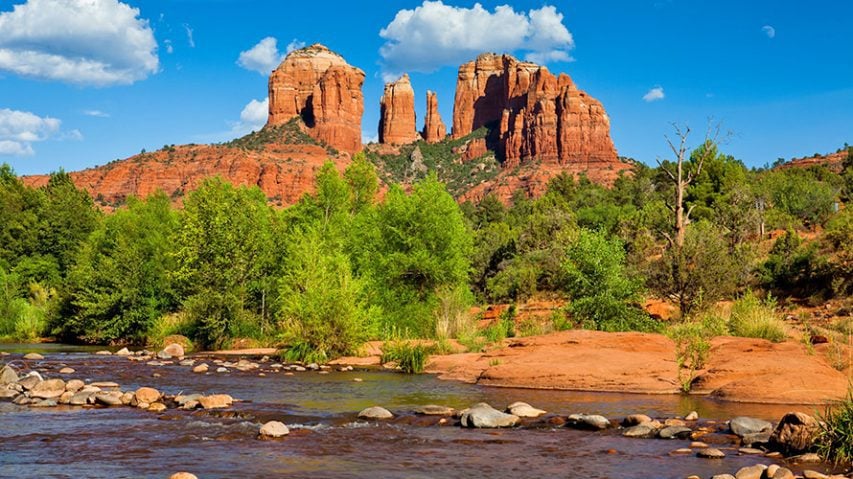 The Red Rock Country of Sedona, Arizona is a national-park-worthy area that unfortunately was never designated a national park. It is empirically one of the most unique and scenic places in the world. Luckily, although not a national park much of the country around Sedona is preserved as public land managed by the United States Forest Service.
Sedona has more than 200 hiking trails covering over 400 miles. Deciding which trails to hike can be a much more difficult dilemma than finding a trail. Ultimately, all trails around Sedona will provide a unique, quality experience.
If you'd like to make the very most of your walking holiday in Sedona, consider joining a guided tour. We offer inn-based tours, camping-based tours, a backpacking trip and day hikes. One great option is to combine Sedona with the Grand Canyon (which is also a tour that is offered), which is only a 2-hour drive away.
---
6. Iceland
Location: Iceland
Length: 7-10 Days
Ideal Season: June-Sept
Guided Iceland Hiking Holiday Options: Inn-based, Camping, Hut-to-hut Trekking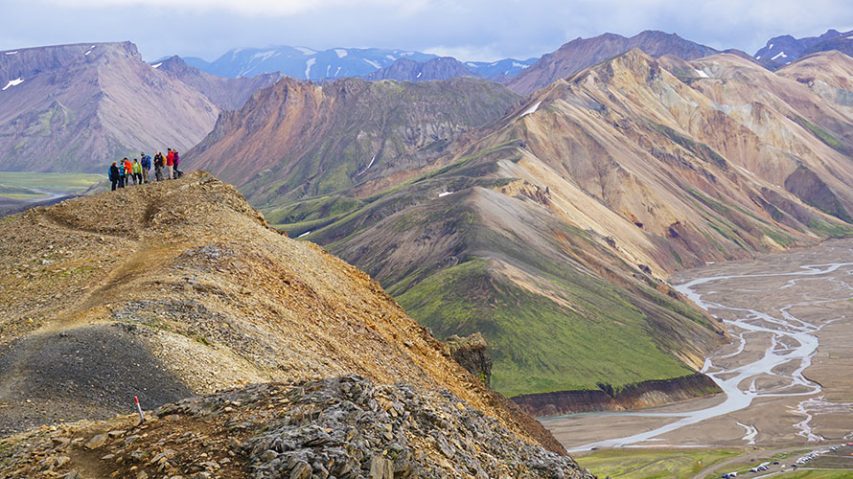 Iceland is a phenomenal location for your next hiking holiday, especially if you're planning a late spring, summer or early fall getaway. The "Land of Fire and Ice" is home to some of the most spectacular treks in the world. With coastlines, glaciers, volcanoes, incredible waterfalls, geothermal features, and fascinating history, Iceland is a hiker's dream destination.
Staying in hotels or camping, and doing day hikes is a great option for exploring Iceland on foot. However, we believe the best way to experience Iceland is on a trek that utilizes the country's fantastic backcountry hut system. The huts are cozy and warm, but they do have communal accommodations.
The Laugavegur Trek is the most famous of Iceland's hikes. It features all of the best aspects of the area. We also offer a longer version – Laugavegur to Skogar Backpacking Trip – that we feel is the gold standard for making the most of your time in Iceland.
---
7. Great Smoky Mountains
Location: North Carolina & Tennessee, USA
Length: 3-7 Days
Ideal Season: Mar-Nov
Guided Great Smoky Mountains Hiking Holiday Options: Inn-based, Backpacking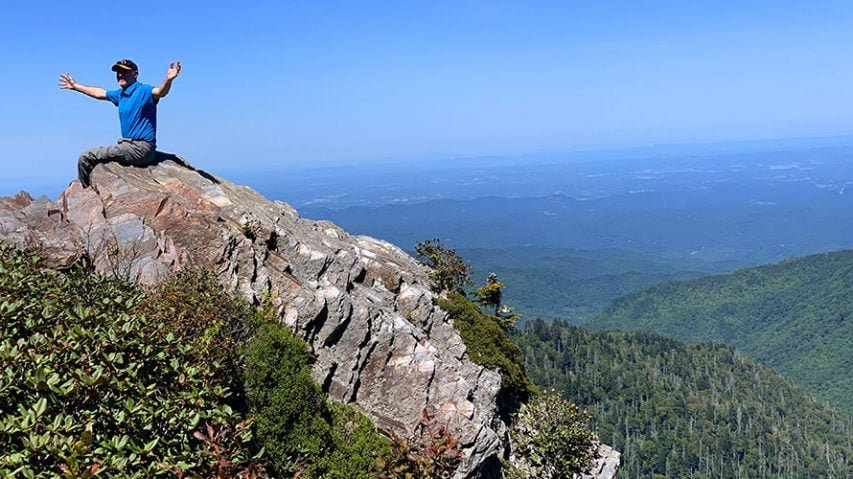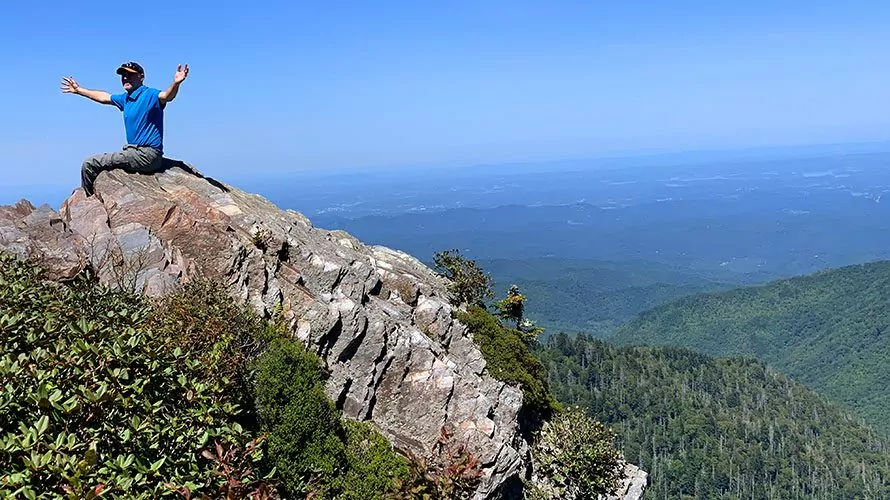 Great Smoky Mountains National Park is America's most popular national park, and for good reason. Although not all visitors to the Smokies are hikers, a significant number are. The Smokies surprise many first-time visitors with their very big elevation gains and losses. Although these mountains are not high in terms of elevation, their vertical relief is significant. It's not uncommon to gain and lose 2,000-3,000 feet on a good Smokies hike.
Options for trips are mostly inn-based or backpacking. If staying in a hotel and day hiking, you can explore on foot and see waterfalls, pristine creeks, pioneer historical sites, grassy balds, wildlife and more. If you want to get away from the roads and crowds completely, a backpacking trip will show you the quiet side of the Smokies, where you have the forests, creeks, and peaks mostly to yourself.
Combining your hiking holiday in the Smokies with some time in Asheville, North Carolina is a great option. Asheville is a hip, active town with great restaurants, music and breweries.
---
8. Patagonia
Location: Southern Regions of Chile and Argentina
Length: 7-12 Days
Ideal Season: Nov-Mar
Guided Patagonia Hiking Holiday Options: Inn-based, Camping or Refugio Treks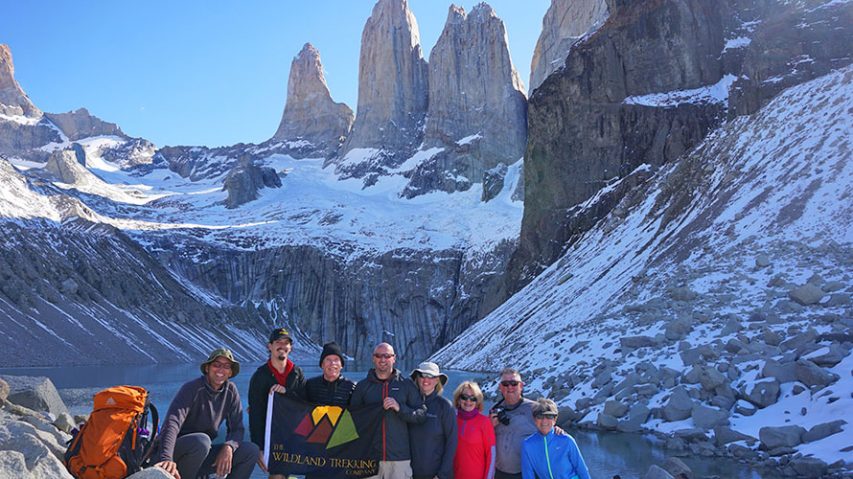 Patagonia is a wild region at the southern  tip of South America and is located in parts of Chile and Argentina. It is sort of like the Alaska of South America. The latitude is far enough south that the weather is harsh and unpredictable, and the landscape is raw and wild. With impossibly vertical spires and massive amounts of wilderness, Patagonia offers hikers and trekkers an almost endless number of options.
The most popular treks are in Torres del Paine National Park. The W Trek and the O Circuit are the two most famous hikes in Torres del Paine, and both are fantastic. They are possible as camping-based hikes or you can stay in the national park refugios, which are backcountry lodges with amenities that vary, but can include cafeterias, bathrooms, showers and communal sleeping arrangements.
Also in Chile is the wild and remote Aysen Region, where the world's largest privately funded conservation effort led to the creation of a new national park. Patagonia National Park – founded by American conservationists Kris and Doug Tompkins and donated to the Chilean government – is roughly the size of Yosemite. We offer one trip in this phenomenal area, the Wild Patagonia Explorer.
---
9. Yellowstone National Park
Location: Wyoming, USA
Length: 3-7 Days
Ideal Season: June-Sept
Guided Yellowstone Hiking Holiday Options: Inn-based, Camping, Backpacking, Llama-supported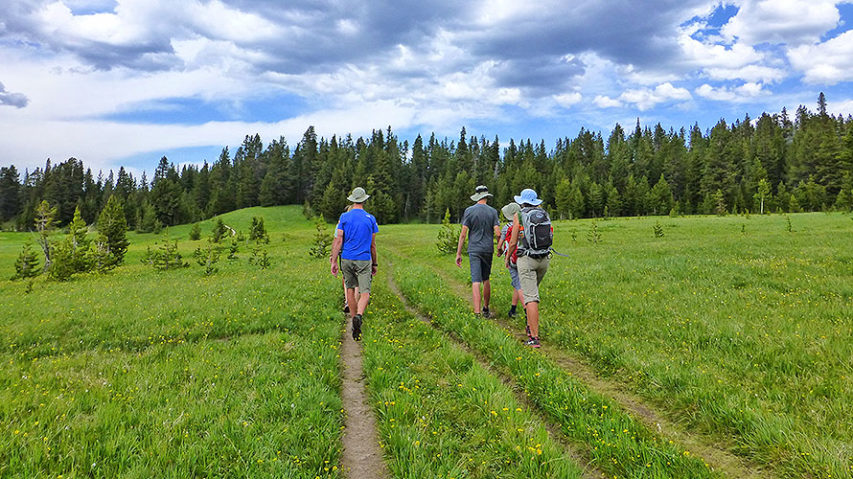 Yellowstone was America's first national park for a reason. Sitting on top of a mega volcano, it is home to the largest accumulation of geysers, mud pots and hot springs in the world. However, the geothermal features are just the beginning. Yellowstone is home to over 2.2 million acres of wilderness and over 900 miles of hiking trails! The wildlife in America's first national park is phenomenal and includes grizzly bears, black bears, wolves, bison and a lot more.
Yellowstone is a crowded national park, but when you get away from the roads, an entirely different experience emerges. The backcountry is pristine, with largely intact ecosystems. In many ways, when you hike through Yellowstone's wilderness you're seeing it as the first European explorers did centuries ago.
When discovering the magic of Yellowstone on a hiking holiday, you can stay in hotels, camp or head into the backcountry on a backpacking trip or llama-supported trek. Guided Yellowstone trips cover all of these options, as well as day hikes.
---
What is a Hiking or Walking Holiday?
Simply put, a "hiking holiday" is a vacation where participants explore the natural world on foot. The setting can be mountains, deserts, canyons, shorelines, jungles or other ecosystems. The activity (i.e. walking in nature) has many names. Some other common terms are trekking, hiking, hill walking, nature walking, tramping, and backpacking.
"Holiday" simply means vacation.
Why a Hiking Holiday?
Hiking and walking is a great way to explore new destinations. Not only is it great exercise, but from a quality of experience perspective, it offers many benefits:
A long hike will get you away from the crowds at busy destinations.
By covering some miles, you can intimately experience a variety of scenery and ecosystems.
A low impact activity, hiking is a sustainable way to explore.