Trip Leader Tuesday: Traci Salisbury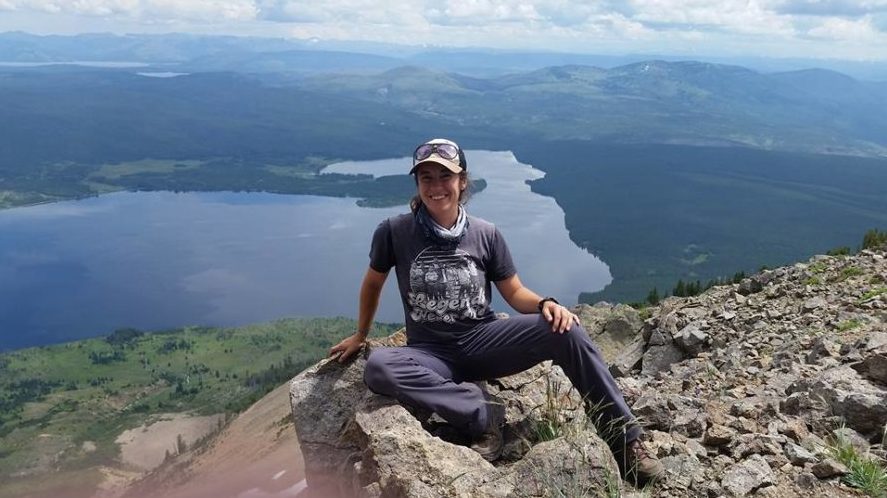 We absolutely love our guides who dedicate their lives to showing people how to see sacred, wild places through their eyes. Our guides, who are passionate, professional, avid advocates for the land and keepers of the wild, are the main facilitators that help make each trip an unforgettable one.
Traci Salisbury is here to share with us her passion and guiding knowledge to offer insight on what it is like to lead treks!
Give us some details about you.
I grew up in Albany, NY, just shy of the Adirondacks.  I did organized sports my whole life (basketball/soccer/softball) and found my way into the outdoor industry while living in New Orleans in 2012.  I worked at a challenge course, facilitating high ropes elements and teaching urban youth to canoe and fish.  In 2016, a friend mentioned Wildland Trekking Company and I have been working for them for two seasons now.  One of my favorite hobbies is learning new things; for example, this past winter I taught myself carpentry and converted a van to live out of full time.
What is your favorite Wildland Trekking trip? Any specific story or memory you can share
Oh man, there are so many memorable Wildland trips!
I really love being out in the Escalante, Utah area, exploring the slot canyons with my guests.  My all time favorite trip was this small group of friends who were all grad students on a break from school.  We spent one of our day's on the Best of Utah Basecamp tour hiking through Spooky and Peek-A-Boo slot canyons.  It was spring and the canyons were full of mud and waist deep cold water in some portions.  I thought the guests wouldn't want to do the canyons due to the conditions, but I was wrong!  Together as a team we all agreed to do the canyons without shoes and help each other through the slippery parts.  By the end, we tumbled out of Peek-A-Boo canyon covered in mud from head to toe.  I have never laughed so hard for so long on the trail!
Where is one place in the world that you haven't been to, but would like to go?
I studied abroad in Europe during my undergrad, so I was fortunate to see much of western Europe.  However one spot I missed and really want to see is Portugal.
Within the U.S., I would like to go to Maine, eat lobster, and explore Acadia National Park.
Any advice or insight you'd like to share as an experienced trip leader for future hikers?
I would offer is that it is never too late to get out and learn to explore the outdoors.  You can do it at your own pace, within your own context of comfort.  The value of being outside, within nature, phone off, is incredibly important in a world that never turns itself off.  Dive into the experience and allow the natural world to recharge you!
Interesting fact about you or the places you love to hike?
An interesting fact about me is that, in addition to being a guide, I am a self-published author.  I wrote my first book, a memoir about a largely unplanned western road trip I took and the subsequent life lessons learned, in 2016.  When not guiding I like to write poetry, practice Transcendental Meditation, and explore interesting coffee shops.    I love to hike/adventure with my tribe of friends in the Salt Lake Area along the Wasatch Front Range.