The Ultimate Guide to Canyonlands National Park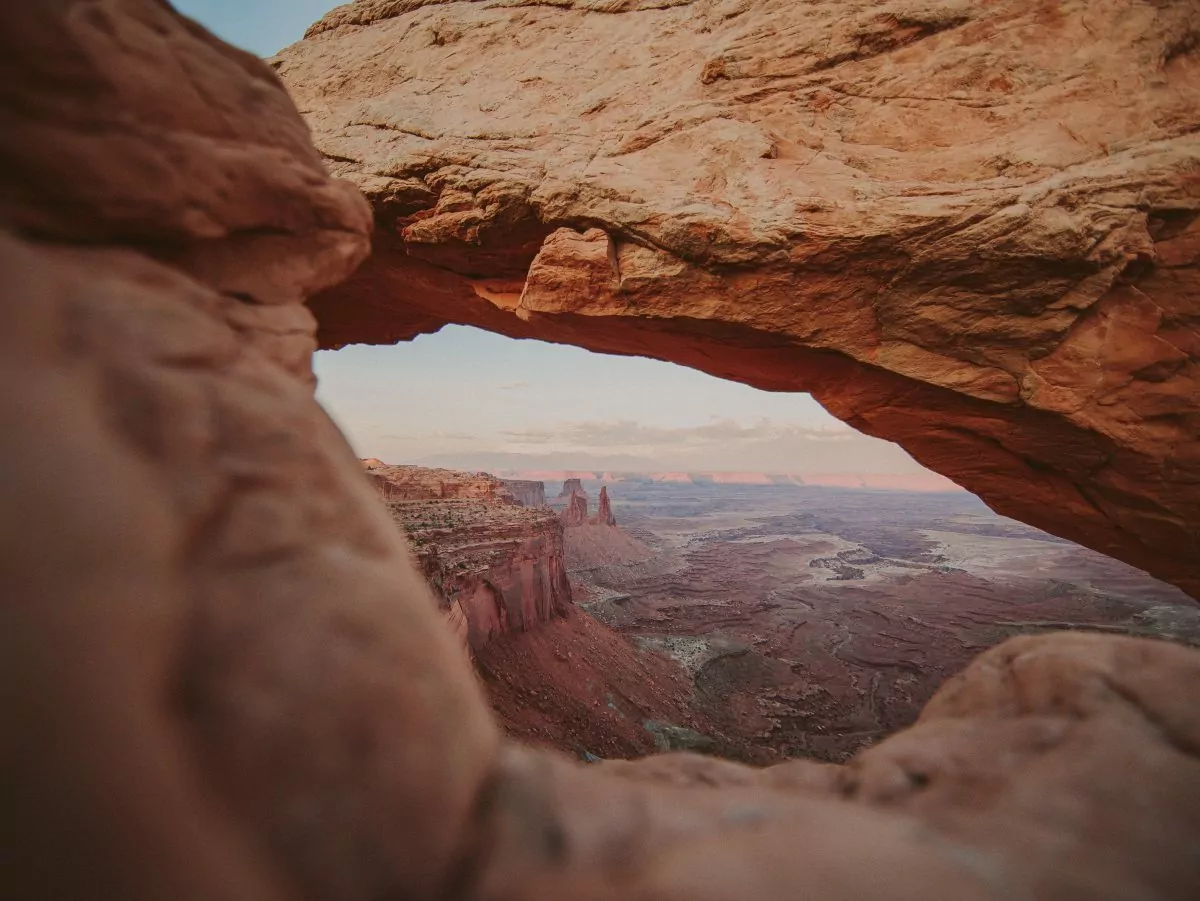 Photo by Dann Petty on Unsplash
The beauty of Canyonlands National Park barely feels real. It's almost hard to comprehend how the desert — a place that many believe to be desolate and empty — contains so much magnificence and depth. 
The area was shaped by rivers that still wind through the park today, reaching a confluence where you can watch the dark water of the Green River mixing with the red silty water of the Colorado River. 
Standing at Grandview Point, staring at hundreds of miles of canyons, towers, and seemingly infinite layers, is an experience everyone should enjoy. And although some parts of the park, Grandview Point included, are easy to access by road, most of Canyonlands is remote and hard to get to except by foot, bike, or 4×4 vehicle. This guide to Canyonlands National Park will give you tips for where to stay, when to go, and what to do.
All Inclusive UTAH HIKING ADVENTURES
Where is Canyonlands National Park?
Canyonlands is in southeastern Utah, on the flanks of Moab. It's a huge national park and includes three distinct sections. Visiting all three is possible but involves some effort, so if you are making a quick trip, you should narrow it down to one destination. 
Island in the Sky
Island in the Sky is the northern-most part of Canyonlands, and the most accessible area from Moab. It is also the most popular part of the park. Visitors love Island in the Sky because it offers views of all the canyons without the need to journey down into them. 
This broad, flat mesa has countless gorgeous overlooks that you can visit from the car or a short hike. However, one of the most popular destinations is Grandview Point (the furthest point on the Island in the Sky Mesa). Many people drive here to gaze over the Park's vast expanses. 
Due to its abundance of short trails, Island in the Sky is a great place to visit if you just have a day or a half a day to visit Canyonlands National Park.
However, it's also a worthwhile destination for visitors looking for more adventure and exploration. You'll find additional possibilities if you have a 4×4 vehicle (NOT AWD) or a bike, such as the White Rim Road.
The Needles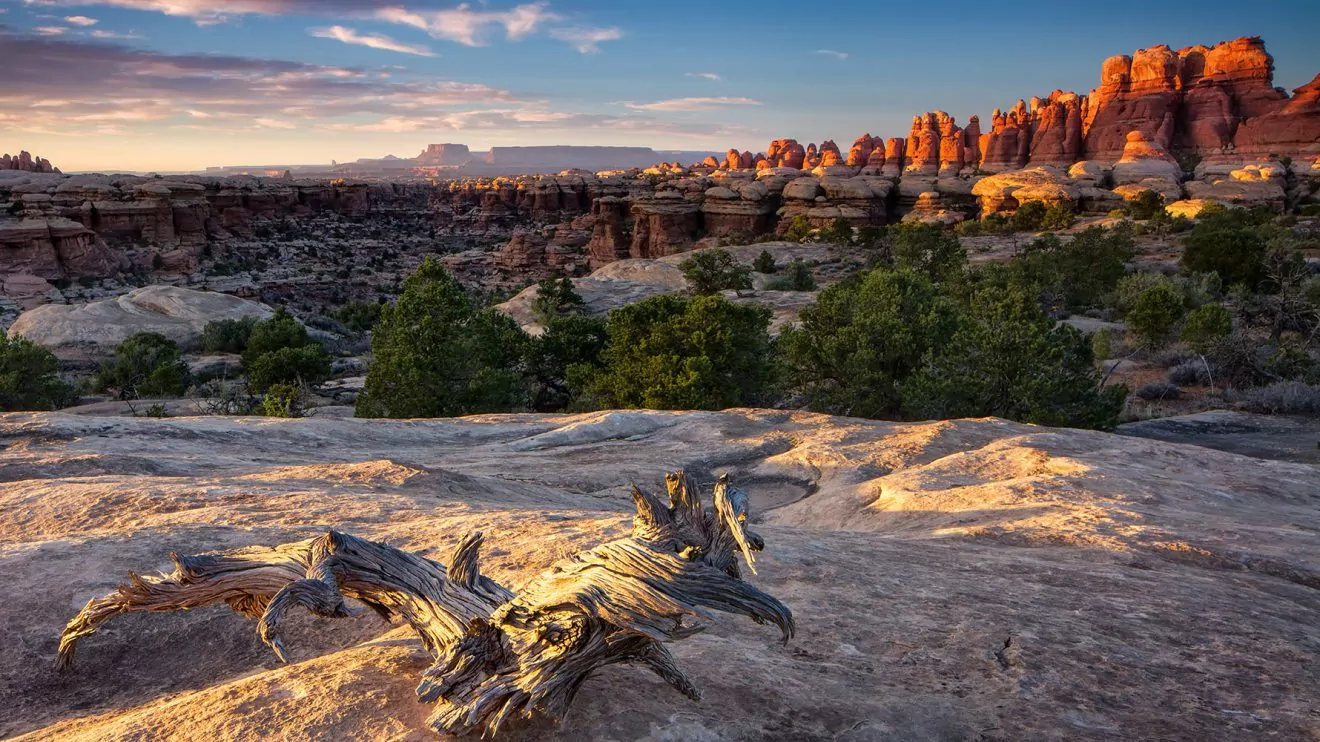 The Needles is the southernmost part of Canyonlands and the second most popular area. To get there, drive south from Moab about 50 miles and then turn onto highway 211. This road takes you through the beautiful cliffs and mesas of Indian Creek Recreation Area — look out for climbers scaling these red walls — and then into the remote and beautiful Needles district. 
The Needles is a fantastic place to embark on short day hikes or lengthy backpacking trips. From the Needles Visitor Center, if you squint, you can even see the mesa of Island in the Sky in the distance, although distinguishing it from all the other mesas is another question entirely! 
Spend a day in the Needles hiking and exploring the slick rock landscape or just taking in the "needles" themselves, a beautiful skyline of thin rocks rising from the red earth. The Colorado and the Green River confluence sits within the Needles district, and an overlook of the confluence is accessible by a five-mile hike. 
The Maze
The most remote part of Canyonlands National Park, the Maze, is located west of the Green and Colorado rivers, only accessible via 50 miles of dirt roads out of Hanksville. After the 2wd dirt roads, you'll reach the Hans Flat Ranger Station. From here, you need a high clearance, 4wd vehicle to drive another three to six hours into the canyons of the Maze.  
If you visit the Maze, you should be completely self-sufficient and experienced in backcountry travel. There are no water, food, gas or cell services. A car breakdown or injury could be catastrophic, as rescue teams can take days to reach you. The Maze is not an area to visit for a day trip; most people spend at least three days in this area and could easily spend a week or more. 
Why Visit Canyonlands National Park?
If you want to experience the true beauty of the Utah desert, in all its red rock and canyon-filled glory, Canyonlands National Park is worth a visit. Visit to stare out at the vast views from Island in the Sky or to walk in the footsteps of the Native Americans who have called these sandstone cliffs and canyons home since time immemorial. 
Many visitors to Moab spend their time in Arches National Park — which is, of course, also worth a visit — but completely overlook the arches, towers, and canyons that grace this diverse and vast National Park right outside of Arches and Moab. 
Also, if you want to visit a National Park but want to get off the beaten path, you could get lost in Canyonlands without seeing another person — anywhere other than Island in the Sky, that is. 
When To Visit Canyonlands
The best times of year to visit Canyonlands National Park are spring and fall because the temperatures are milder, but there's something to be said about every season in this desert park. 
Spring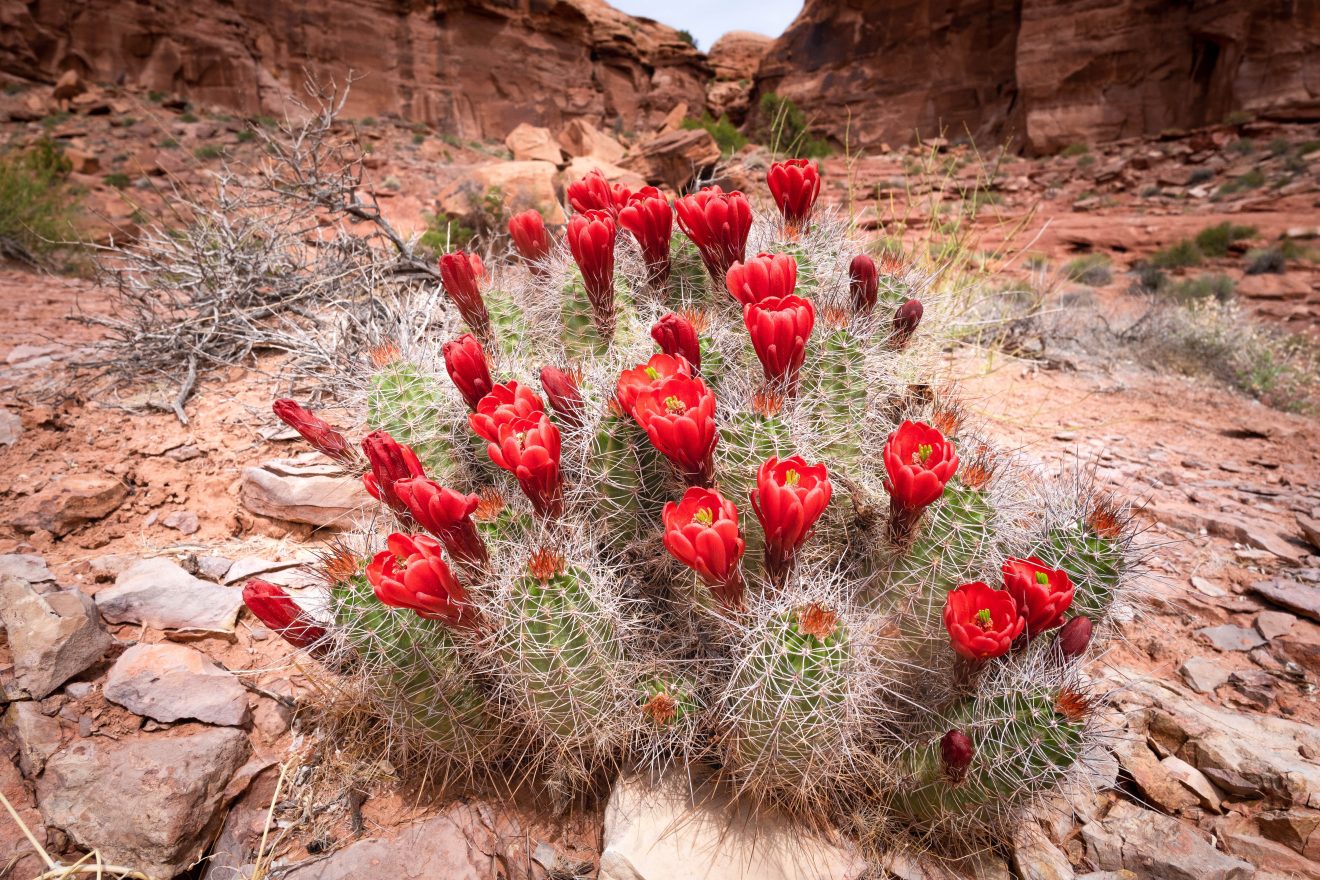 Photo by Lucas Ludwig on Unsplash
Visit Canyonlands during the spring, and you may catch the short-lived and beautiful desert blooms. Cacti and wildflowers grow unique flowers during the spring, and it's an incredible sight. It's also often one of the most pleasant times of the year, with temperatures typically between 60 and 85 during the day. But make sure to bring layers, as nights can be as cold as 25-30 degrees! 
Summer
Summers in Canyonlands are brutally hot, but it's still a popular time to visit — especially for families and those taking summer vacations. Temperatures typically rest over 100 degrees during the day. Remember, you're in the desert — there aren't many natural swimming pools to cool off. (Although there are some hidden swimming holes around Moab!)
Fall
Fall can be the perfect time to visit Canyonlands, as temperatures are cooling down (although days can still be 70-80 degrees and feel very hot in the sun!). In late October and early November, the cottonwoods and other deciduous trees turn yellow, providing a beautiful contrast against the red rocks of the canyons. But similar to spring, nights can be cold, so be prepared!
Winter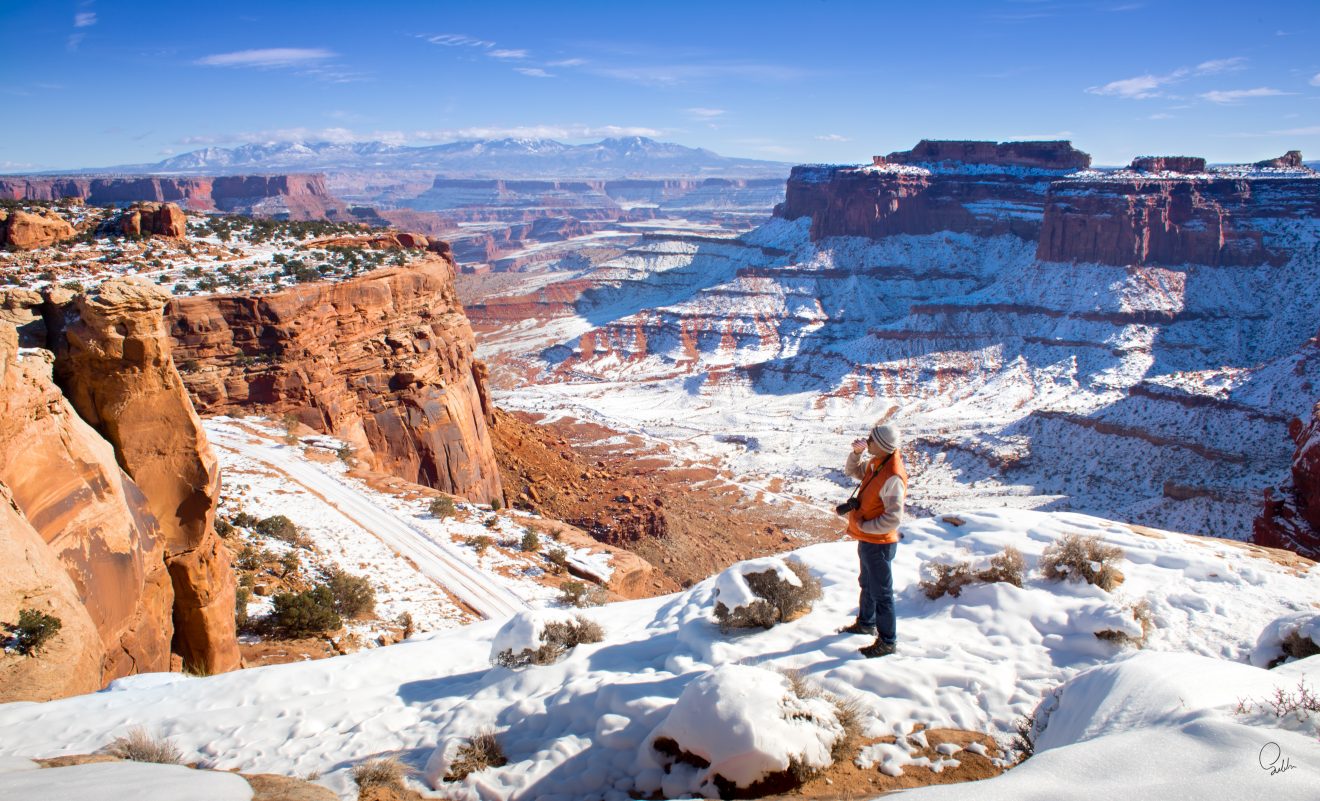 Photo by Subhamoy Basu on Unsplash
Did you know that it does, in fact, snow in the desert? Visit Canyonlands in winter to find the park at its quietest but one of the most beautiful times of the year. Snow and ice can make travel even more complicated, and the low temperatures are not for everyone. But, during the day, the sun can make it feel like t-shirt weather — if there's no wind. Canyonlands in the winter is well worth a visit for those who want to find peace and quiet and don't mind the cold.
Where to Stay in Canyonlands National Park
Depending on which part of the park you visit, you will want to stay in different areas. If you are only planning on visiting Island in the Sky or just want to take a quick trip down to the Needles, Moab is a great location. However, if you're going to base yourself in the south or west, there are a few other options like Hanksville or Monticello. 
Camping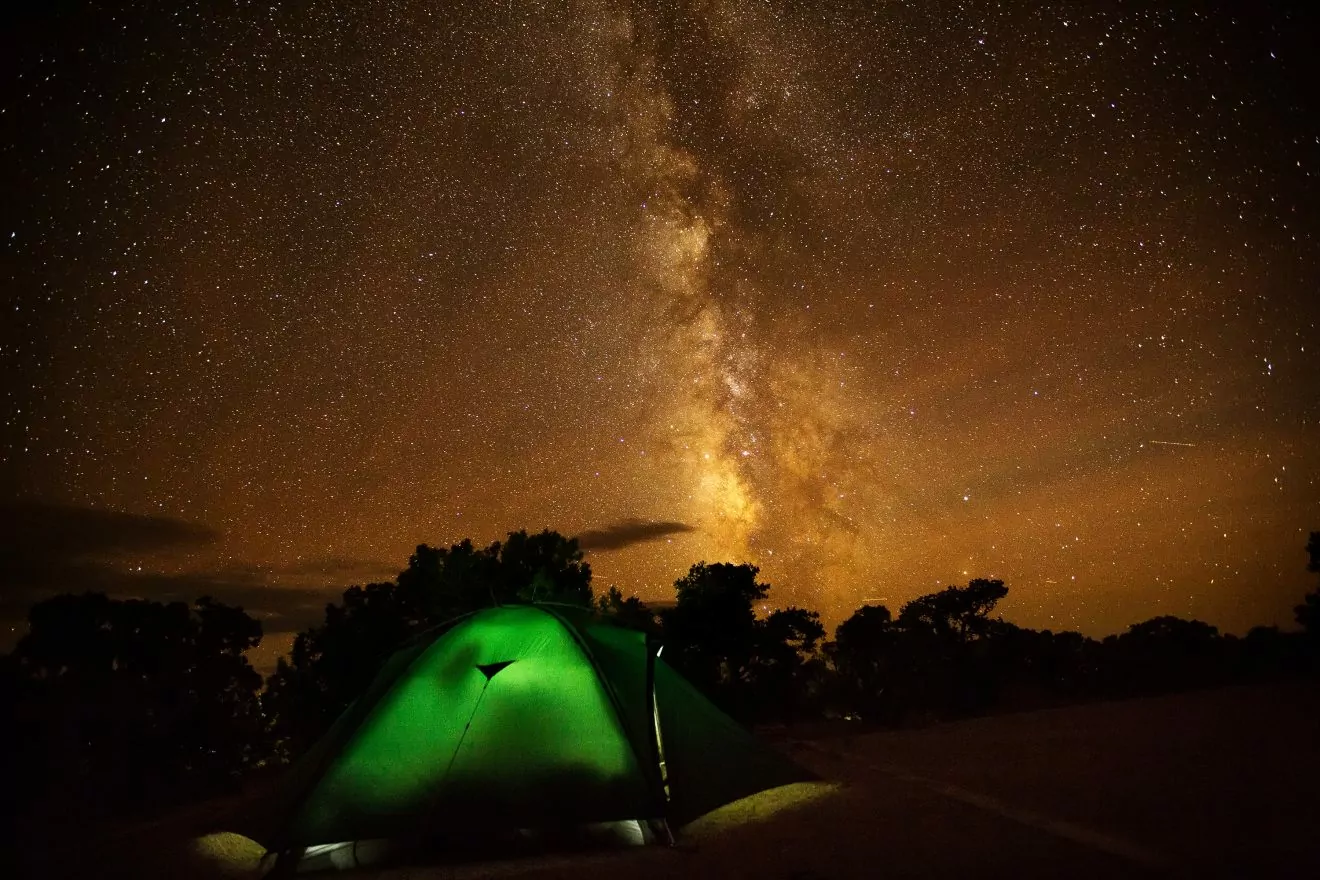 Utah camping trips are an excellent way to explore the magic of the Southwest's most famous high deserts and Canyon Country. They offer an affordable way to enjoy multi-day trips, and they offer an outdoorsy, comfortable experience (if you're good at camping or go with a camping tour company.)
There are two official national park campgrounds in Canyonlands. Island in the Sky (Willow Flat) Campground costs $15 and has 12 sites that are available on a first-come, first-serve basis. The Needles Campground has 26 individual sites available for $20 a night and three group campsites. You can reserve some spots at the Needles Campground during peak season (March 15-May and September-October); otherwise, it is first-come, first-serve. 
There are also countless other places to camp around Canyonlands National Park. You can find paid, privately-owned campgrounds around Moab. Plus, there is ample Bureau of Land Management (BLM) land that offers a variety of free dispersed campsites on the Island in the Sky mesa but outside the park. Some even have spectacular views of the canyons. 
In the south, the entire Indian Creek Recreation Area leading up to the Needles has lots of free and paid camping. Closest to the park, Hamburger Rock is a popular area with a paid campground and dispersed camping. 
For backcountry travel, permits are available in advance for backcountry campsites. In the Needles, designated campsites are available since it is a more heavily traveled area. In Island in the Sky or the Maze, camping is available based on zones, and you choose your campsite. When selecting your campsite, make sure to follow Leave No Trace principles and camp on a durable surface such as bare rock, in a sandy wash, or anywhere without soil crusts. 
In the Park
There are no accommodations in Canyonlands National Park beyond the camping and backpacking options listed above.
Moab
Moab is the largest and closest town to Canyonlands National Park and is also a hub for desert tourism, with visitors from around the world coming to explore the red rock desert that surrounds this quirky town. It's well worth a visit in itself and has some great food spots, a used gear store, and plenty of places to stay. 
The small town does get quite packed during the spring and fall, and it can be challenging to find a place to stay during peak times, so plan ahead if you want to get a hotel in town. Also, be respectful while you visit — people live here, despite it feeling like just a tourist town. Be nice, and tip well! 
Monticello
Moab's younger and more neglected sister, Monticello, has had none of the tourism boom of Moab but also has excellent access to the southern part of Canyonlands National Park and the rest of southeastern Utah. There are a few places to stay, including motels and Airbnb options. Monticello also has some decent food — try the High Desert Cafe or the Thai restaurant (it's got western vibes but surprisingly delicious Pad See Ew!)
Know Before You Go: Biological Soil Crusts
Before you continue planning your desert adventure, there's some vital information you should know before visiting the desert Southwest. As you hike, camp, or generally explore the area, you will find that the loose sandy soils are held together with something known as biological soil crusts. 
Cryptobiotic soil looks like weird black and gray knobby bumps on the ground and consists of living microorganisms, lichens, mosses, algae, and bacterias. And it's one of the most prominent species that maintain the ecosystems in the desert. 
Without soil crusts, the desert's dirt would blow away. The soil crusts also help hold water, allowing plants to grow in the loose sandy soil. Young crusts look dirt-colored and may have some texture, while older crusts have a dark exterior. Some crusts can be thousands of years old!Desert crusts take decades to form and mature. Onene footstep can break it apart and kill the delicate organisms living in the crusts. So it is vital while traveling the desert to stay on durable surfaces such as trails, sandy washes, and slick rock.
What To Do in Canyonlands National Park

Day Hiking
Canyonlands National Park is a hiker's paradise. There are many opportunities to get out of the car and see the park on two feet. Many hikes in the desert follow slick rock paths that can be hard to follow at times. Most have cairns, small rock piles positioned to designate the path. However, make sure to have a map and know where your hike goes before heading out. 
Check out these great hikes to explore the park:
Island in the Sky
Mesa Arch:

This short half-mile hike takes you to an iconic arch with great views down into the canyons. A must-do if you're driving around Island in the Sky and want to stretch your legs.

Grandview Point: This two-mile out-and-back trail traverses the end of the Island in the Sky mesa, giving you sprawling views over the canyons. Worth it, even if you don't have a lot of time!
Syncline Loop: This hike is about 8.5 miles and is primarily an unmaintained trail. It includes very steep sections and areas that are challenging to navigate. Ensure you have plenty of time, water, a GPS map, and know-how to navigate rugged terrain. But the beauty and geologic interest of this loop are unmatched.
The Needles
Pothole Point:

Take this .6-mile hike to watch the sunset or just see great views of the Needles formations. Watch out for the large potholes for which this trail is named!

Druid Arch: Hike to this unique rock formation on an 11-mile trail starting from Elephant Hill trailhead. If you're looking for a longer day hike, this is a perfect option.
Chesler Park: You need 4WD to reach the trailhead, but this 5-mile loop takes you through slot canyons and past beautiful rock features to explore this unique area.
Backpacking
In Canyonlands National Park, you'll find are countless options for backpacking trips ranging from overnight hikes to week-long treks. If you're not ready to plan and execute one on your own, check out our guided trips for an accessible way to get into Canyonlands' spectacular backcountry. Otherwise, get inspired by some of these possibilities, and then get out there!
The Needles
The Needles has such a great network of trails and backcountry campsites. You can combine any day hikes in the park or create a loop using any number of trails. It's an endless backcountry paradise! Make sure to choose your campsites, get permits ahead of time, and map out your path on a GPS or paper map.  
Druid Arch, Chesler Park, Lost Canyon, Angel Arch, and Salt Creek Canyon are all worthy destinations when planning your Needles backpacking trip. Don't worry if you can't fit them all in; there's always next time. 
Island in the Sky
Island in the Sky has backpacking routes that get you off the beaten path of the park's most popular area. You can turn the Syncline Loop( mentioned under day hikes) into a backpacking trip by using the backcountry campground at the halfway point. Other options include the Murphy Trail loop, which descends from the mesa to White Rim Road and loops back, with great views along the way.
The Maze
Like we've talked about, the Maze is all backcountry travel. You can plan a multi-day trip based on your desired campsites. Visit the Harvest Scene, an ancient rock art site, or the Chocolate Drops, rock formations by the Maze Overlook. Or, wander the canyons of this remote area to explore without running into anyone at all.
Rafting
Whether you take a guided trip or head out with your own experience, rafting through Canyonlands National Park is a once-in-a-lifetime experience. Cataract Canyon is the popular multi-day rafting trip through a wild section of the Colorado River. It fluctuates between challenging and chill throughout the season, making it accessible for river rats and beginners alike. However, check the water level and go on a guided trip if you have any doubts about your ability level. Experiencing the park from the water is something you will never forget. 
Scenic Drives
If you only have a day, driving the road through Island in the Sky is the shortest and probably most popular way to visit Canyonlands National Park — and it's well worth it. The road rounds around the edge of the mesa, finally depositing you at Grandview Point. Even from the parking lot, you can look out at both sides of the mesa, making it a perfect place to stop and watch the sunrise, or the sunset, since you can look east or west. 
Join a Guided Utah Hiking Adventure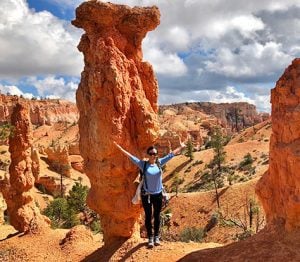 Wildland Trekking is America's premier hiking and backpacking adventure company. Since 2005 we have been helping facilitate wilderness experiences for our guests across the USA and the world. With all-inclusive trips, expert guides, comprehensive risk management systems, exceptional online reviews, and nearly 100,000 guests accommodated, we have something for nearly everyone who likes to travel, explore and hike.
The state of Utah is one of our most popular destinations for camping-based tours, inn-based tours, llama treks and backpacking trips.
UTAH HIKING TOURS
GUIDED UTAH BACKPACKING ADVENTURES: these are for people interested in an authentic wilderness adventures away from roads and crowds.
INN-BASED UTAH HIKING TOURS: these tours are all-inclusive hiking packages with lodging, amazing daily hikes, expert guides, meals, transportation and more!
UTAH CAMPING TOURS: camping-based hiking packages provide all-around hiking experiences of of premier destinations on wonderful outdoor vacations.
UTAH LLAMA TREKS: unique, wilderness-based hiking/camping adventures on which our friendly llama trail companions carry the bulk of the gear and supplies.