Explore Utah with Wildland Trekking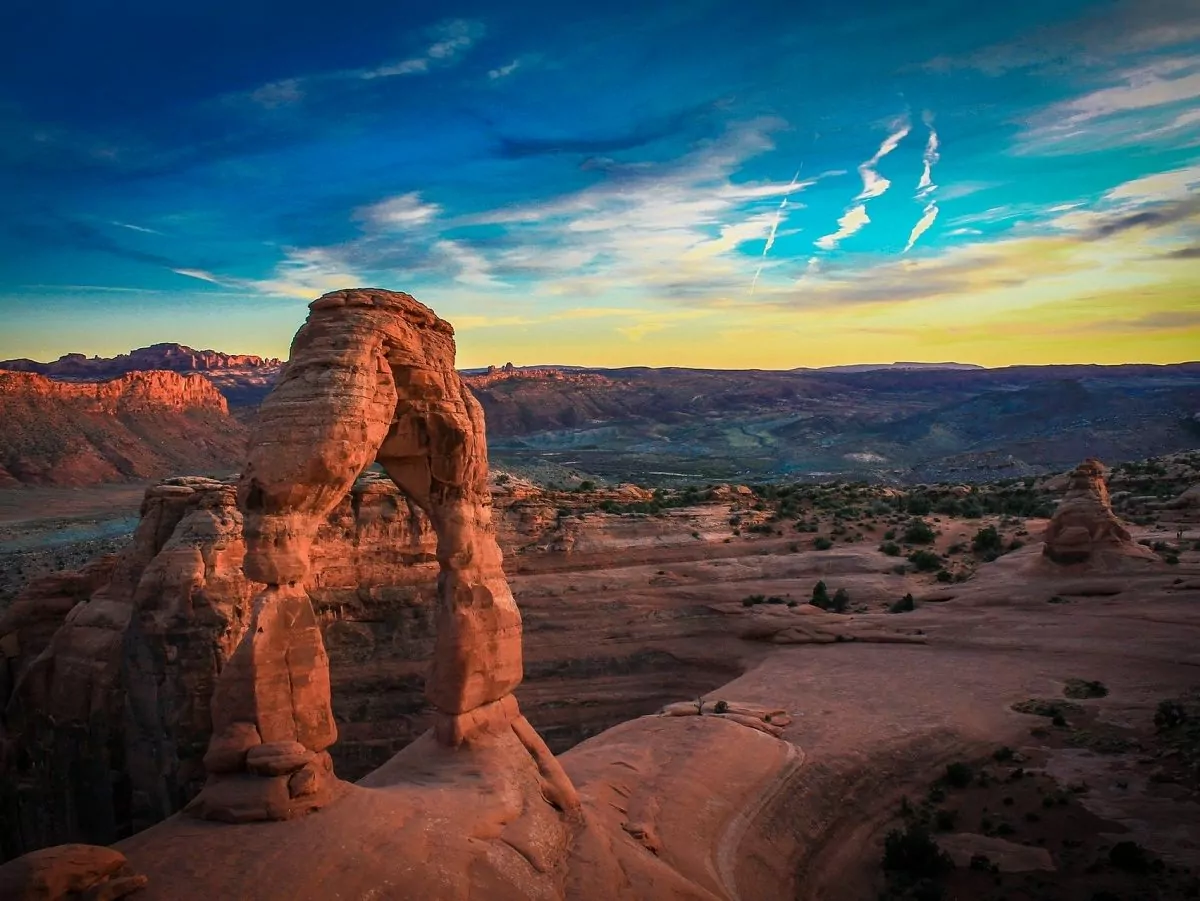 We've already spent some time boasting about Utah's splendor on our Explore Zion, Bryce Canyon, and Grand Staircase with Wildland Trekking page, but Utah is an almost bottomless pit of adventure. With so many public lands and numerous state and national parks to explore, it is no wonder that we have to split up the adventures we offer in this desert wonderland into two pages!
Utah is home to the Mighty 5 National Parks, several national monuments, and plenty of other nooks and crannies to explore. In this installement of exploring Utah with Wildland Trekking, we will be taking a look at a few very special, and some of the less-visited places to discover: Capitol Reef National Park, Canyonlands National Park, Arches National Park, and the Paria Slot Canyons.
When to Go
Visiting Utah is a unique experience, and with each new season, the various corners of the state react differently. The landscape in Utah is largely desert, but there are plenty of mountains too. These variations in climate make an exact time to go bit difficult to pinpoint because visiting Southwest Utah is far too hot to enjoy in the middle of Summer, but that would be optimal for the mountains up north.
Another primary consideration is the type of activities you will be doing while you are there. Utah has a lot to offer when it comes to outdoor recreation, but our main focus will be on the best times of year to visit Utah for backpacking or hiking.
You'll also want to consider your comfort level around large crowds. Utah has become increasingly popular within the last few years, but most visitors tend to stick to the Mighty 5 National Parks. If you don't like crowds, finding time to go in the low or shoulder seasons could be ideal. However, you may have to deal with less than favorable weather.
High Season
Although it is the hottest time of year, June-August (Summer) usually has the most visitors. This is partially due to school being out of session, and planning vacations around when the whole family can visit.
While it may be warm in Utah, compared to other desert regions in the southwestern United States, temperatures are manageable. Average summer temperatures are usually in the mid-80s to mid-90s Fahrenheit. In more recent years, many desert regions like Arches and Canyonlands have seen temperatures upwards of 100 degrees Fahrenheit. Temperatures in that range can make hiking dangerous, especially mid-day.
Still, most of the time, daytime temperatures may be warm, but not unbearable, especially if you can get out in the mornings and evenings. Nighttime temperatures are usually in the 50-60 degree Fahrenheit range, making it perfect for camping. If you aren't on a Wildland Trekking tour in Arches, Canyonlands, and Capitol Reef National Parks, park rangers will often lead guided hiking tours close to dusk each night. This is a safe and inexpensive way to experience the park.
With such a wide range of places to hike in slot canyons, we recommend avoiding hiking in summer showers. Late in the summer, heavy rainfall isn't uncommon. These violent storms frequently cause flash floods, so watch the weather before you hike and ask park rangers for the most recent weather forecasts.
Shoulder Season
The Spring (March-May) and Fall (September-November) are the shoulder seasons for most of Utah. Most of the mountainous areas are still accessible, and many desert parks have fair weather with slightly fewer crowds. Still, there will be areas that will continue to attract a lot of visitors during this time, especially through the Spring.
In Arches, Canyonlands, and Capitol Reef, daytime temperatures are nearly perfect for outdoor activities like hiking. Most days, temperatures will be anywhere between 60-80 degrees Fahrenheit, so there are no worries about having a late start to a day hike other than crowds.
Since both Arches and Canyonlands are located very close to Moab, UT, be aware the Fall can have some busier times. This is because Moab holds several music and arts festivals during that time of year, drawing large crowds to the city and the parks.
Low Season
As with most tourist areas, the winter always seems to be the slowest time of year (except for ski resorts, of course). November-March sees the lowest visitor count in all of the Mighty 5 National Parks and many other popular tourist destinations in Utah. The downtick in tourism has a lot to do with snow throughout most of the state and average temperatures ranging between 30-50 degrees Fahrenheit during the day.
In some areas, not all roads will be accessible, limiting your ability to see all parts of the area. Plus, most rangers programs do not run either. The one good thing about visiting during the winter is that there will be little to no competition for trails or area permits.
All of Utah's parks are extremely special in the winter. More wildlife comes around due to fewer crowds, and the landscape takes on new colors and contrasts. If you are a photographer, visiting in the winter is one of the best times. You will have a chance to experience some of the most famous parts of the parks with a bighorn sheep being the only likely photobomb.
Deeper Dive: More About When to Visit

Trip Dates

To give our trip guests the best possible experience, Wildland Trekking works hard to choose trip dates that best fit seasonal changes and weather conditions. That's why, before booking a trip, be sure to check our Trip Dates page to see what's available during your planned time exploring Utah.

Once on the Trip Dates page, select the month you desire to visit on the left, and then scroll down until you see the section labeled "Utah" with the various areas we visit underneath. If you do not see Utah on the list, that's because we do not run trips in that area during the month you've selected.

Most of our Utah tours will run throughout the warmer months. However, we will have a few inn-based and backpacking tours throughout the winter in certain regions. You can also access the trip dates on each tour webpage. If you've found a tour you like, go to the "trip dates" tab on that tour page. This section will show you all tour dates, including current availability and tours that are fully booked.

For more questions about when to visit or if there is a trip date you want but can't find, call us at 1-800-715-HIKE (4453). We may be able to add new trip dates to fit your travel needs better.

Weather Information

As we mentioned earlier, Utah is mostly desert and has an arid climate. Some parks will have higher elevations than others, causing some differences in seasonal temperature changes. In Arches and Canyonlands, certain areas would be considered "high desert" regions and experience drastic temperature fluctuations, sometimes up to 40 degrees in one day.

Although the climate may seem temperate at times, we must not underestimate the power of the sun and heat, especially in the summer. Being prepared with plenty of water and sun protection is recommended, no matter the time of year you visit, but is even more important during the hottest parts of summer. Also be aware that the sun can be quite strong even in the wintertime, so sun protection is still recommended, no matter the season.

Near the end of summer, mid-July to September, southern Utah, experiences its monsoon season. Monsoons cause somewhat sudden and heavy rainfall that frequently is responsible for flash flooding in canyons. Park rangers in these areas are very educated and aware of the dangers monsoons pose to visitors. So, always check with the local ranger before heading out into the canyons.

It is also always good to monitor the weather right before and during your visit to Utah. Arches National Park, Canyonlands National Park, Capitol Reef National Park, and Paria Slot Canyons all have weather updates and current park conditions on the park websites. You can also use the National Weather Service as a trusted source of information.
Destinations
Deeper Dive: Our Top Trip

Ancient Canyonlands Traverse: Our #1 Recommended Utah Trip

Take a walk traversing one of the only perennial streams in Canyonlands National Park. This iconic 5-day Utah backpacking trip winds through the vast landscape that is the Utah desert. The diverse ecosystems and lush vegetation will surprise you as we pass by towering sandstone walls, arches, and hanging gardens.

Since you'll enjoy an immense amount of solitude on this trek, be prepared to hike on rugged, rarely maintained trails. We will experience some elevation changes when hiking in the canyons, and the entire trip will be moderately strenuous. The daily hiking distance will range from 5-10 miles per day, and you will be expected to carry all of your gear (packs are usually around 35-40 lbs for this trek).

Trip Highlights:

Visit ancient Native American ruins
See Canyonlands' most remote arch
Remote wilderness experience
Towering sandstone canyon walls

Learn more and book your Ancient Canyonlands Traverse adventure today!
Need to Know
All the logistics during your trip are covered from food to transportation. However, it will still be your responsibility to get to your trip meeting place and arrange lodging for before and after your adventure. Therefore, let's take a look at some essential information and tips to make sure your trip with us goes as smoothly as possible!
Primary Starting City
For the most accurate information about where to meet your guide before departing on your desert adventure, visit the specific tour page, and click on "trip logistics." This will detail some of the most frequently asked questions regarding where to fly into, stay before and after your trip, and where pre-trip orientation is held.
For any Arches or Canyonland National Park tours, the primary city for departure is Moab, UT. Be aware that Moab is a somewhat remote city with very few flights in and out. One of the only cities that fly directly to Moab is Denver. It is far more common to fly into Salt Lake City, UT, and drive the 3+ hours to Moab.
Since Capitol Reef National Park and Paria Canyon/Buckskin Gulch are both further South, the primary city for departure is St. George, UT. St, George has an airport and is within a 2-hour drive from the Las Vegas International Airport. You can rent a car to get to St. George or take one of the many daily shuttles that run to and from St. George to the Las Vegas airport.
Booking Advice
Beyond booking your trek with Wildland Trekking, you will also need to consider how you're getting to and from either St. George or Moab, UT before and after your trip. Before you book a flight or hotel, be sure that we have confirmed the trip dates. Then, once those dates are confirmed, you can move on to booking flights, transportation, and hotels.
As mentioned in the last section, depending on which trip you've chosen, you should plan to fly into either Salt Lake City, UT, or Las Vegas, NV. There will be some flights into St. George, but they will be limited.
Additionally, we highly recommend that you include a one-day buffer before and after your hiking trip when booking flights. This means arriving one day early and having an extra day to relax before flying out. While this extra time will hopefully be your opportunity to relax and explore the area, it can become invaluable if a flight is delayed or if we get off the trail a little late.
Lodging
As for lodging, it is best to stay in Moab, UT, if your trip is in Arches or Canyonlands and St. George, UT, if your trip is in Paria Canyon or Capitol Reef. There is always a pre-trip orientation the night before departure, so you will need to be in town for that as well. Your guide will reach out well before your trip start date in order to arrange a meeting place and exact time.
There is an extensive number of lodging options in and around Moab, UT. Just keep in mind that Moab is an extremely popular destination for both in-state and out-of-state visitors. Therefore, booking lodging should be a priority once we have confirmed our trip dates with you. If you wait until the last minute, you likely won't be able to find anything, or prices will be extremely high.
There are plenty of lodging options in St. George as well. If you do stay in town, we recommend the Best Western Coral Hills (20% discount). Let the hotel staff know that you will be traveling with a Wildland Trekking tour, and they will apply the discount during payment.
No matter where you stay, be sure to ask if you can leave any luggage there while you're away on the trek with us. This way, you can bring more comfortable clothes to wear before and after the trekking dates. If you chose an inn-based tour, this will not be an issue.
Deeper Dive: More Need to Know Info

Trip Insurance

Most trip cancelations or mishaps happen before you even hit the trail. That's why trip insurance can help you to have a bit of a safety net when it comes to your finances and planning surrounding life's many unexpected delays.

If you are unable to come on the trip or miss part of the trip for any reason, our trip insurance will not only cover the cost of the tour but the cost of transportation and lodging as well.

Packing List

All Wildland Trekking tours in Utah will see limited rainfall unless you're traveling during monsoon season (July-September). Utah is considered a desert climate, but that does not mean it doesn't get cold either.

If you're unsure of what to bring, don't worry about overpacking. The night before your trek, your guide will go over gear during the orientation. You are expected to bring your entire pack and all of your gear with you that night. If you brought too much, we would let you know. Additionally, you are more than welcome to reach out to your guide ahead of time to ask any questions you may have about packing or any items in particular that you're not sure about. We're here to help!

If you have any more questions about what you may need for your specific tour, please contact us at 1-800-715-HIKE (4453).

Physical Training

While all our Utah hiking trips are phenomenal and exciting, remember that they are all focused on hiking – to different degrees. Therefore, it's very important that you're physically prepared for your adventure before you arrive. This preparation is most important for our backpacking trips, but don't overlook it for our llama or inn-based trips either!

Your starting point in this department will be your trip's difficulty rating. You can find this rating on the trip's main webpage and the value will range from 1 to 5, with 1 being the easiest and 5 the hardest. Please click on the small information button next to this rating for details regarding backpack weight and daily hiking distance. Once you know what to expect, it's time to start training!

We recommend that you start working in several cardio-based exercises per week a couple of months before your trip is scheduled to begin. These can be Stairmaster workouts at your local gym or adding a few pounds of weight to a backpack and finding a few local hills to train on. About three workouts a week ranging from 45 to 60 minutes is ideal. As your trip date approaches, slowly increase the workout time and backpack weight until you're comfortable will the mileage and weight specified on your trip page.

Please refer to our training tips page for more information regarding your training. Also, please remember to tailor the training to your specific needs and capabilities!

Hydration

As all our Utah adventures take place in the desert, hydration is incredibly important both before and during your trip. Your guide will provide specific directions and advice in your pre-trip communication, but let's cover the basics.

First off, please make sure that you drink plenty of water in the days before your trip to ensure that you start out plenty hydrated. Once you're on the trail, ensure that you drink water consistently throughout the day. To this end, please bring plenty of water capacity in either bottle or hydration bladder form! While both methods are completely acceptable, hydration bladders can be very convenient so you can constantly sip your water while hiking.
Gallery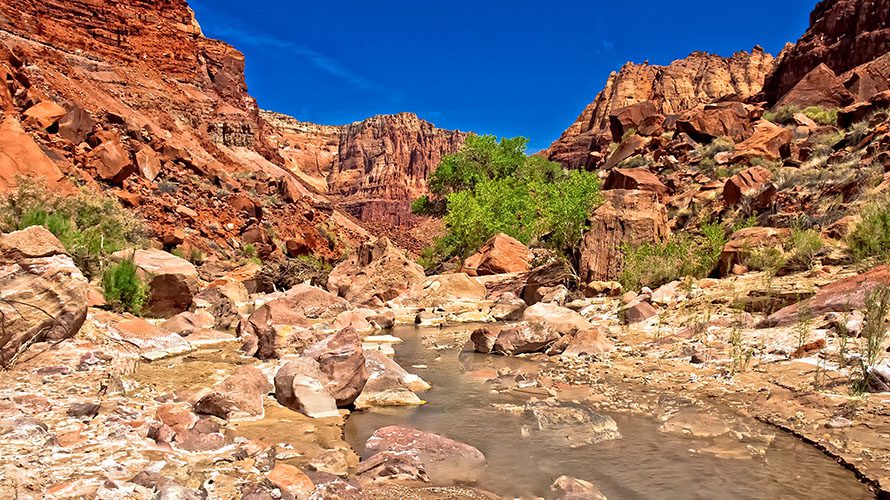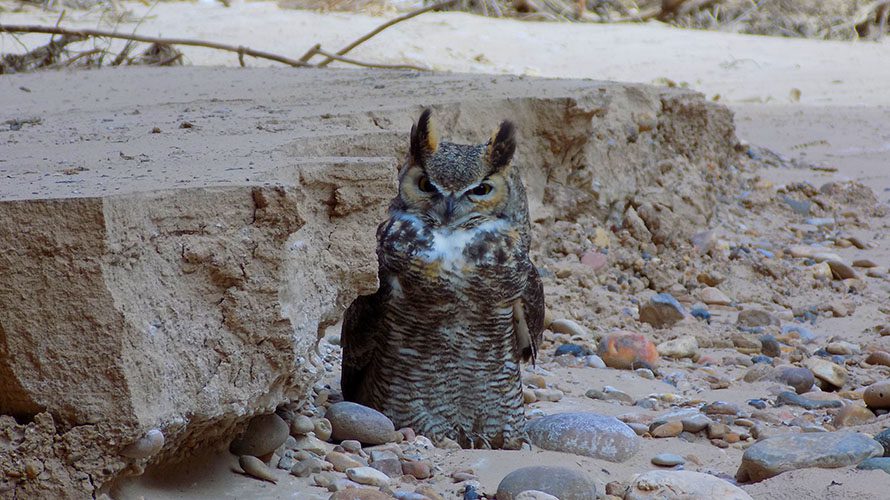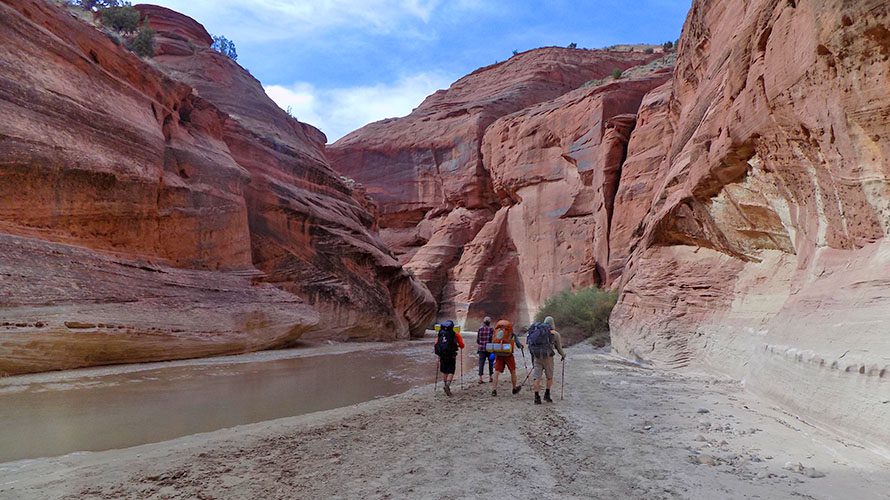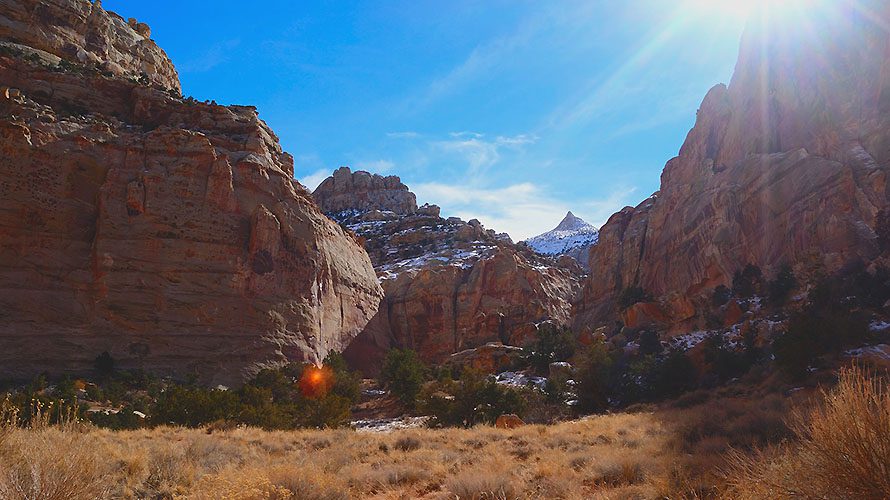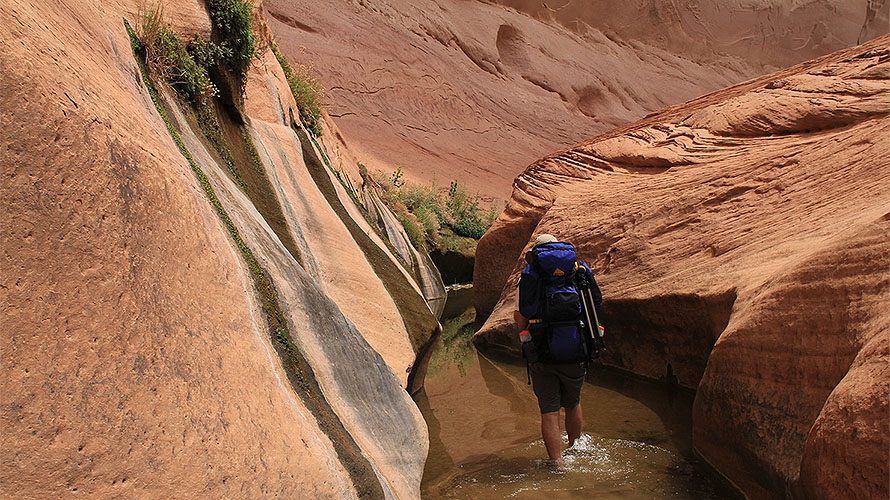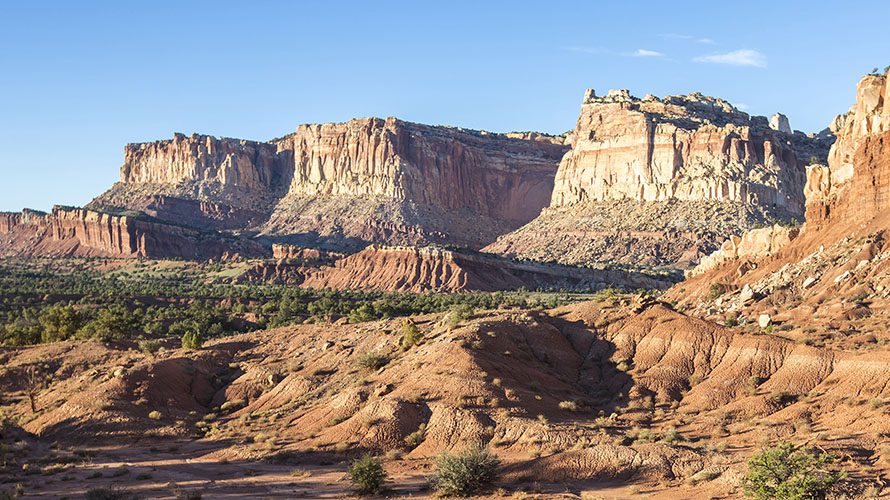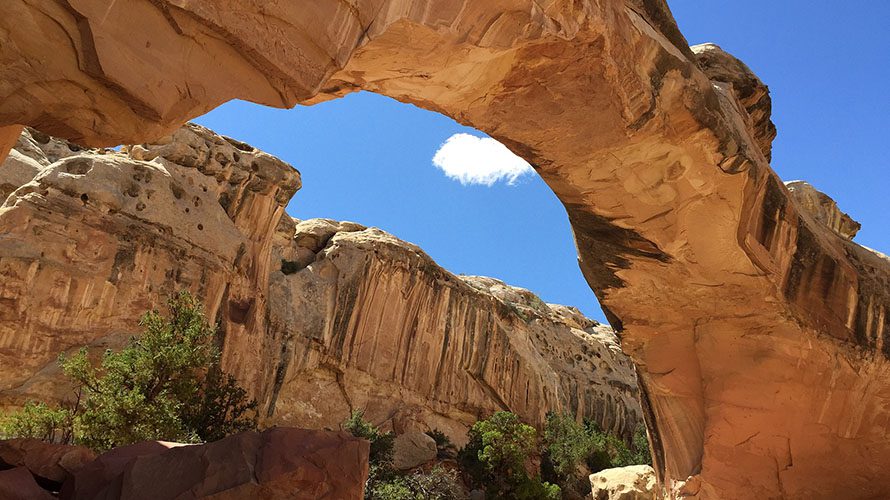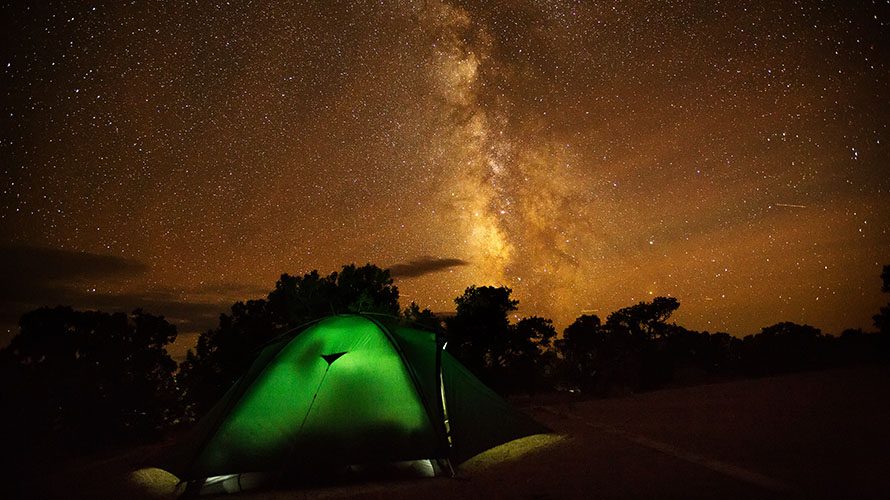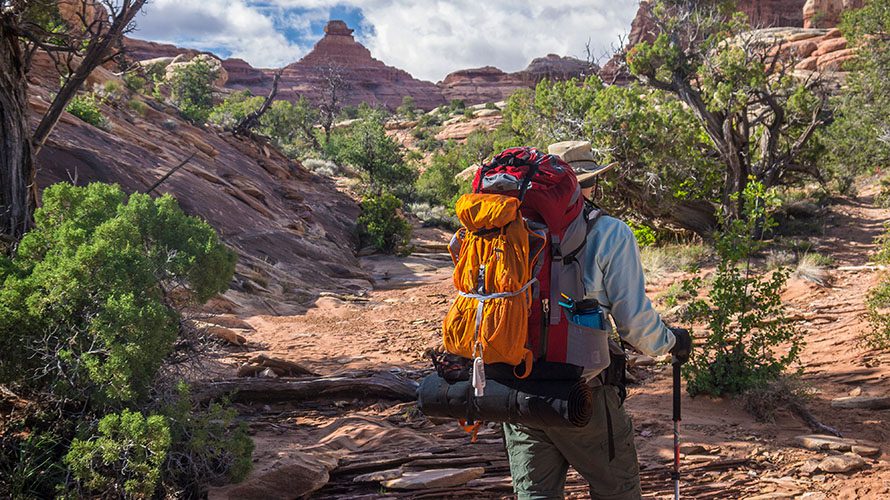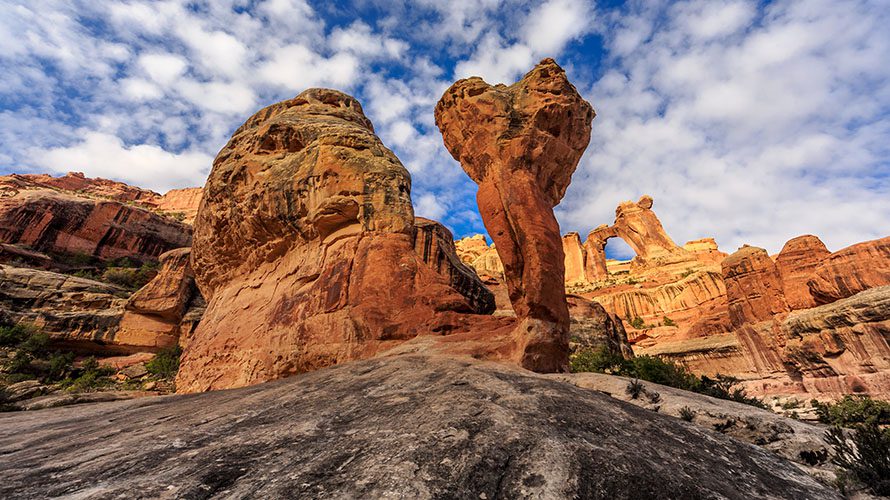 Have Questions?
Have more questions? Send us an email or call us at 800-715-HIKE (4453). We're here 7 days a week from 9:00 to 4:30 Mountain Time to make sure your trip planning goes as smoothly as possible.
Trip Information
For more information about all your options, check out our Utah page on the website with the button below! Individual trip pages have detailed itineraries, trip specifics, travel information, and more.