Explore Sedona With Wildland Trekking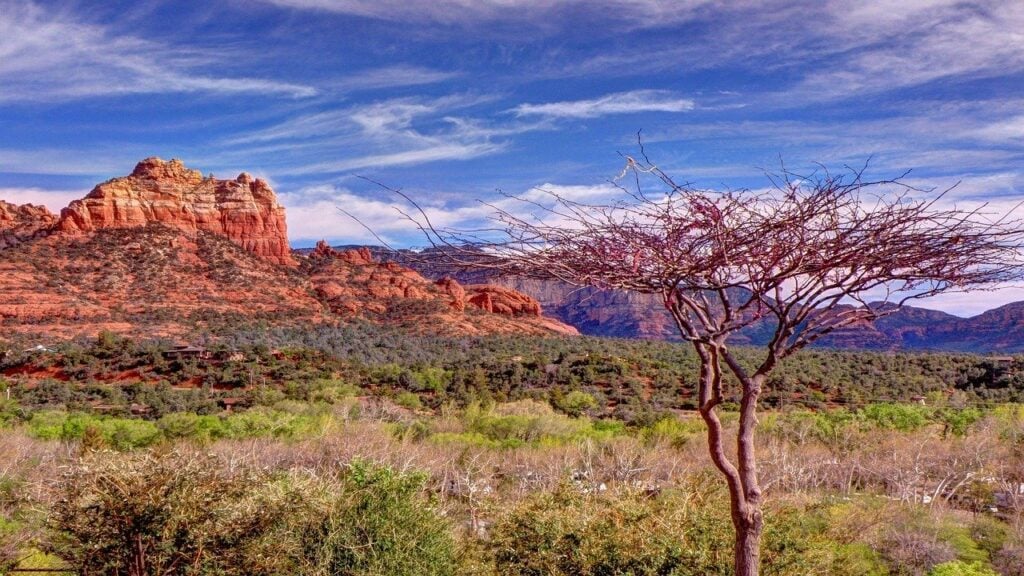 Just 2.5 hours from the Grand Canyon's South Rim is the red rock wonder of Sedona, AZ. Red rock buttes, pine forests, supernatural mysteries, and steep canyon walls surround this quaint, high desert town. The endless number of trails in and around the city of Sedona provides a unique look into towering desert summits and remote canyons.
The stunning red rock backdrop that sprawls across the Sedona landscape creates the perfect space for sightseers, hikers, mountain bikers, and spiritual sojourners alike. The scenery has become widely known and treasured for its unique beauty. Even if you have never set foot on the rust-colored ground of Northern Arizona, you will likely recognize it from images and film. The city of Sedona and the surrounding red rocks have been featured in over 100 Hollywood films since the 1920s. Since then, Sedona has grown in popularity and become a vacation mecca for many forms of outdoor recreation and artistic expression.
The mild winters and hot summers make it a year-round destination that tourists of all ages can enjoy. Even if you aren't off hiking amongst the rocks and canyons, there is plenty to see and do throughout the city. Wildland Trekking offers world-class tours of this distinctive area of the Sonoran Desert. We give everyone an opportunity to enjoy the Sedona area at the level of comfort they prefer by offering day hikes, inn-based tours, as well as basecamp tours.
Wildland Trekking does not offer any Sedona backpacking tour options at this time, but these trips will be an option shortly.
When to Go
Sedona's desert climate allows visitors to enjoy the beauty year-round. However, depending on the activities you enjoy, there may be certain times of year that are more suitable for your visit.
High Season
Spring in Sedona is the busiest time of year to visit – March through May. Average daytime temperatures during this time of year range from the mid-60s to mid-80s degrees Fahrenheit. This temperature makes it perfect for outdoor activities such as hiking, mountain biking, and jeep tours.
The spring is also an ideal time to catch some extra color in the desert. Almost all of the plants are in full bloom during this time of the year. This colorful landscape makes hiking and sightseeing even more enjoyable. With the dramatic contrast between the desert flowers and a rust-colored backdrop, this can also make it a popular time for photographers to visit as well.
With the consistent flow of tourists in the Spring, booking tours and lodging early is a must. Remember, you will be paying more for accommodation during peak season due to the high demand. With the expected number of tourists being high, the city of Sedona also holds several springtime festivals and events. So, you can hike during the day and enjoy the city in the evening. Check out Sedona's calendar of events to stay on top of current happenings.
Shoulder Season
If you're looking for a time with fewer people but still some sunny days, then June to November will be a good time to visit. Both the Summer and Fall seasons still see a high number of tourists, but not as many as in the Springtime.
Summer temperatures in the Sedona area don't often reach triple digits, and daytime temperatures are usually in the 90s (Fahrenheit). So, once it warms up, the number of tourists begins to drop, but only slightly. Many summertime visitors travel up from Southern Arizona to escape triple-digit temperatures. Still, it doesn't fall into the 80s until mid-September. All visitors need to be extremely cautious when completing hikes and other outdoor activities during Sedona's summer months.
July marks the beginning of Arizona's monsoon season. Sudden and heavy rainfall is expected during this time until mid-September. This season brings in many mid-day thunderstorms, high winds, and some days of heavy rainfall. While the storms may help lower temperatures for a short time, frequent rain also makes it difficult to get out for most activities.
In the Fall months, September through November, visitors can enjoy daytime temperatures in the 70s and 80s Faranheight. These lower temperatures can make the Fall slightly more popular than the summer months. This is especially true with the number of festivals the city hosts throughout September and October.
Low Season
As with many Northern Arizona destinations, the winter months usually see the lowest number of visitors. December through February should be considered the slowest tour season in Sedona. It often doesn't snow much in the city, but there will be some snow on top of the iconic red rock features. That said, there be can be occasional snowstorms in the area, blocking roads and making travel difficult. Mid-day temperatures sit around 50 degrees Fahrenheit on average, whereas nighttime temperatures will occasionally drop below freezing.
With fewer people, lodging prices are generally the lowest during this period. This can certainly be to your benefit as the snow-covered rocks can make Sedona an amazingly unique winter destination. Many photographers head here in the winter to catch the stark contrast of snow and red rock. Others enjoy the midday sunshine and solitude on the trails.
Deeper Dive: More About When to Visit

Trip Dates

If you're planning a hiking tour of any kind with Wildland Trekking, you will want to keep the time of year in mind. You'll also need to know which Sedona area tours are operating during your visit. For a deeper look into what tours are offered throughout the year and the dates they run, visit the Trip Dates page. Select which month you're interested in and click on 'Sedona Red Rock Country' to view the relevant information.

Climate Information

Sedona's temperatures vary drastically throughout the year and are known to change quickly due to area storms. Always check the weather prior to leaving for your trip. This will ensure that you pack the proper equipment and are prepared.

If you choose to travel during July and August, you will need to make sure that you are ready for the chance of heavy rain. If you are skipping the crowded trails and lookouts and decide to travel throughout the winter,  be preapred for the possibility of winter conditions. While there is minimal snow, it does rain more often than you would expect for a desert climate. Bring appropriate rain gear if you are planning on hiking during your stay.

No matter the time of year, it is essential that you are prepared for the desert sun. Mid-day rays can be intense, even in the winter months. Always pack a sun hat and sunglasses when traveling to a desert destination. We highly recommend sun shirts and sunblock as well. If you are not from a warm, southern climate, the sun can easily scorch the fun out of your trip if you're not prepared.
Trip Styles
Deeper Dive: Our Top Recommended Trips

Mitten Ridge: Our #1 Recommended Day Hike

Mitten Ridge is our number one recommended day hike. Get to know the Sedona area on a more personal level. You will have a chance to experience old wagon trails and hike up the historic Schnebly Hill. Our guides add to the journey with the history of T.C. Schnebly and his wife, Sedona, who the city is named after. This must-do Sedona hike will take you up rugged trails, sandstone steps, and give you panoramic views.

Mitten Ridge day hike covers 8.6 miles and should be considered moderately difficult. There are some uphill sections on rugged trails and rock surfaces. The trail is well-maintained, and there is a high likelihood of seeing other hikers along the way.

Trip Highlights:

Iconic red rock pinnacles and buttes
Natural and cultural history tour
Desert solitude
Snacks and picnic lunch included
Spectacular vistas of the canyons below

Learn more and book your Mitten Ridge Day Hike today.

Red Rock Adventurer: Our #1 Recommended Inn Based Trip

The Red Rock Adventurer is our number one recommended Inn based trip. During their stay, guests not only get to experience Sedona backcountry, but they also have a chance to enjoy the city of Sedona itself. On these 3-day or 4-day adventures, guests will embark on hikes to experience Sedona's spectacular natural rock features and to see iconic rock formations.

After a day of hiking, guests have a chance to relax and recover at our lodge and then set out on the foodie portion of the trip. We have selected wonderful meals from award-winning Sedona restaurants for guests to enjoy each night.

While all of the hikes on this tour are on well-maintained trails, they do involve strenuous up-hill sections and some summit hikes. The day hike distances vary in length and can be anywhere from 5-9 miles. Our 4-day tour also includes an hour-long horseback ride at sunset.

Trip Highlights:

Iconic and adventurous hikes
Charming local accommodations
Award-winning local restaurants
Historic mining town tour and dinner
Summit Sedona's highest peak

Learn more and book your Red Rock Adventurer Inn-Based Tour today.

Red Rock Basecamp Tour: Our #1 Recommended Base Camp Trip

Our Red Rock Basecamp Tour is the best way to get to know Sedona's backcountry without sacrificing gourmet meals, warm showers, and more. Throughout the day, you will be able to enjoy carefully planned day hikes without having to worry about what's next. Our guides will make sure that you can focus 100% on soaking in the splendor of the surrounding landscape with no distracting thoughts on logistics or transportation.

Most of the hiking will take place in the morning as to leave the afternoon to enjoy the campground and give some recovery time before the next day's adventure. In the evening, we will provide an excellent outdoor meal and still have time to relax around the campfire.

All of the day hikes should be considered moderately difficult. The distances will range anywhere between 5-10 miles, and you will be carrying a daypack. While some trails will be maintained in places, many of them will be rugged, and you will be hiking on mountainous terrain. Be prepared for some steep, rocky sections and summit some of Sedona's most iconic peaks.

Trip Highlights:

Camp along the desert oasis of Oak Creek
Hike through red rock canyons
Wonderful outdoor cuisine
Worry-free camping experience
Several iconic area hikes

Learn more and book your Red Rock Basecamp Tour today.
Need to Know
Before you plan your next vacation to the red rock wonderland of Sedona, you'll need to know where to stay, what to pack, and much more.
Primary Departure Cities For The Grand Canyon
If you are traveling from a distance, you may be flying into the Northern Arizona area for your Sedona tour. The two most popular cities to fly into are Phoenix, AZ, and Las Vegas, NV. We recommend flying into Phoenix, AZ as it is only a short drive away from Sedona.
There are plenty of lodging options in the city of Sedona, and Wildland Trekking tours can pick you up from your Sedona area hotel. Your guide will be in contact well before the trip start to arrange a pre-trip meeting and transportation logistics.
For more information about your tour specific travel arrangements, visit the "trip logistics" tab on your chosen tour's webpage.
Book in Advance
After you've chosen the Sedona adventure that's right for you, book the trip as soon as possible. Depending on the time of year, our tours fill up quickly, as do the hotels in the area. If you want to travel during the Peak Season, March-May, then you will need to make lodging reservations a minimum of 3 months in advance.
Before you make any other travel arrangements, book your tour with Wildland Trekking. Once the trip dates have been confirmed, then go ahead and make your other travel arrangements. These arrangements include flights, transportation to and from Sedona, and pre and post-trip lodging. Remember, your tour will include all lodging and transportation for the duration of the trip.
Transportation
There is no shuttle available if you are traveling from Las Vegas, but there is a transportation shuttle from Phoenix. Although the shuttle company is reliable and affordable, many of our guests choose to rent a car to use when coming to and from the airport. This alleviates some time restrictions and allows for a slightly more flexible schedule.
Lodging
While there are a number of excellent lodging options available in Sedona, our number one recommendation is the Arabella Hotel. This is the primary hotel location for all our Sedona trips, and they allow luggage storage as well as vehicle parking during your tour.
Booking Advice
Planning a Sedona adventure requires proper planning and pre-trip preparation. To ensure that you are able to start your tour on time and you will not miss a return flight, always plan flights or travel days with one day of wiggle room before and after your scheduled trip dates. Our expert guides do a great job of trying to keep our tours on schedule, but sometimes life brings on unexpected travel delays.
If you have any questions or concerns prior to your trip, feel free to contact Wildland Trekking at 1-800-715-HIKE (4453).
That's all! You now have all the information you need to plan an epic Sedona hiking vacation from trip styles to travel advice. Peruse our trips, pick out your favorite, contact us, and we'll work together to make your hiking adventure a wonderful experience.
Deeper Dive: More Need to Know Info

Trip Insurance

There's nothing worse than booking an incredible hiking adventure and then having unforeseen travel delays or illness gum up the works. It could be a missed flight, a freak storm, or that nasty bug going around work. But that's why we have trip insurance. Wildland offers several different insurance plans to make sure that uninvited catastrophe doesn't sink your trip's financial investment.

These plans will cover not only your trip costs, but flights, hotels, and other travel-related costs as well. What's more, our Travel LX plan will allow you to cancel for absolutely any reason if you purchase your insurance plan within 20 days of your initial trip payment.

See Wildland's for range of insurance plans and information on our  Trip Insurance page.

Packing List

Knowing what to bring on your Sedona adventure will be dependent on the time of year you decide to visit. The number one packing tip is to consult the weather beforehand. This will give you a good idea as to the type of gear necessary and how many layers to bring.

Just remember that no matter the time of year, you are traveling to a desert climate. Always pack proper sun protective gear. Though it is a desert, Sedona does see a fair share of rain and some chance of snow. These conditions are seasonally dependent so be aware of your travel dates and plan accordingly.

Conditioning

All our trips are active and involve hiking to some extent. Being in good physical and mental health is, therefore, imperative for your trip's success and enjoyment. We highly recommend you physically prepare yourself for your hiking adventure if you're nervous about the difficulty, or rarely hike.

Our training tips are the perfect starting point to accomplish this. Start easy, tailor the workouts to your particular circumstances, and you'll be ready to enjoy your trekking vacation in no time!
Gallery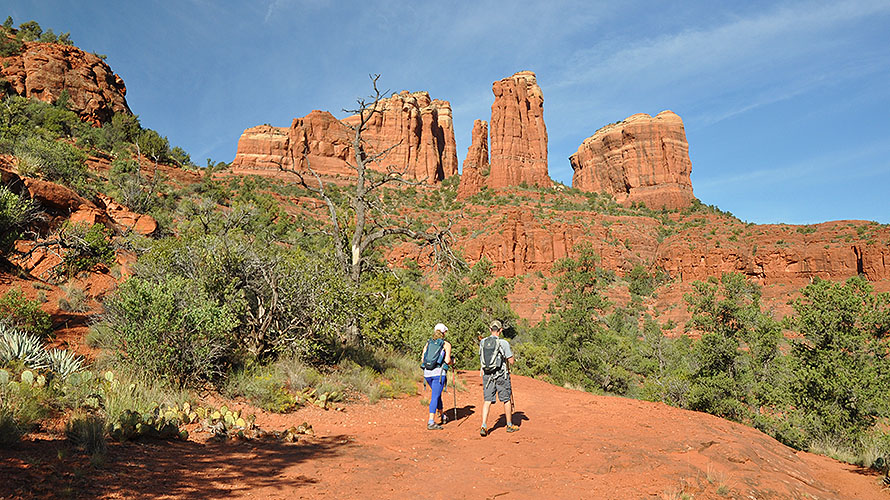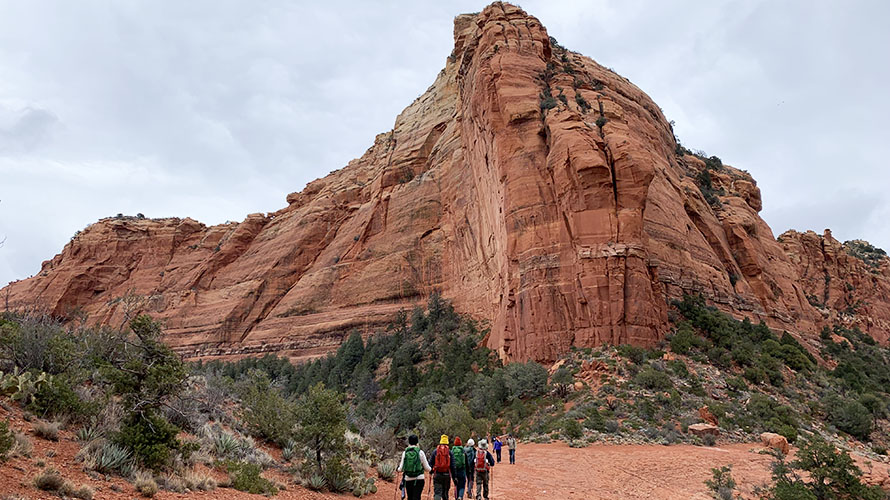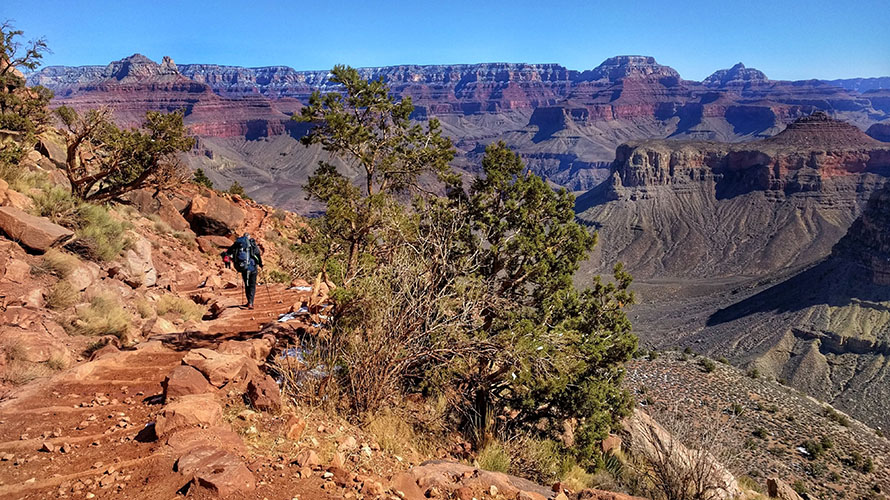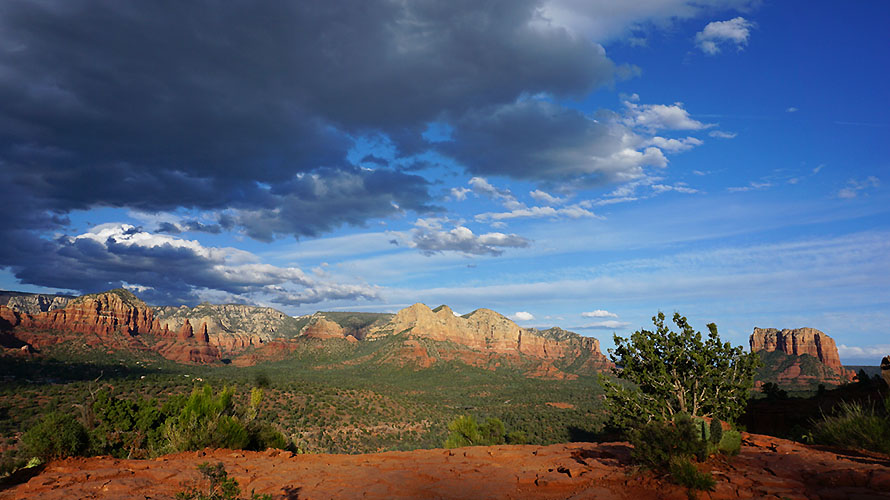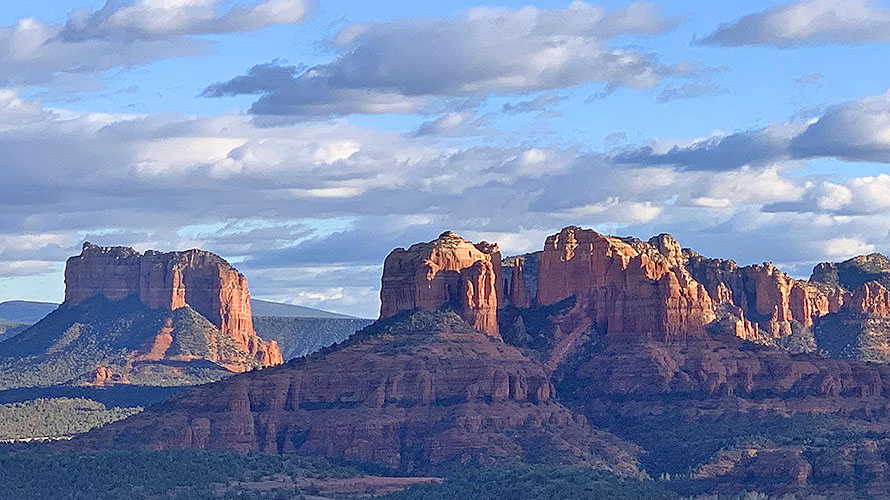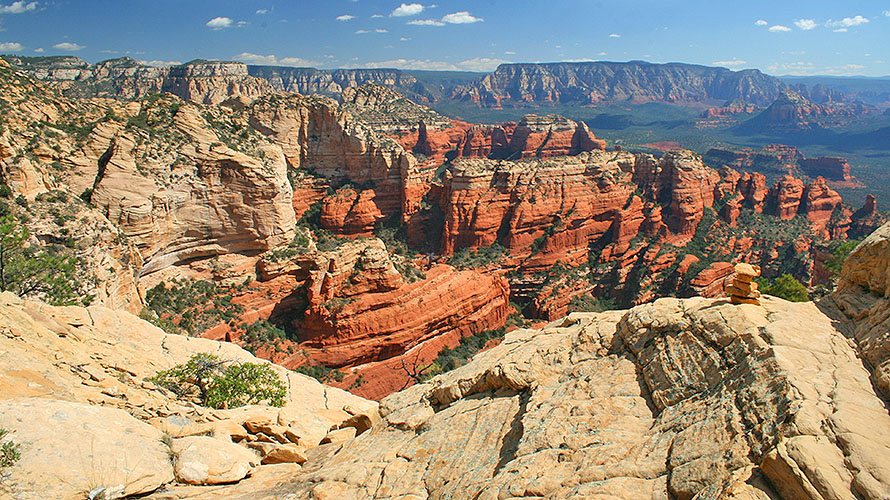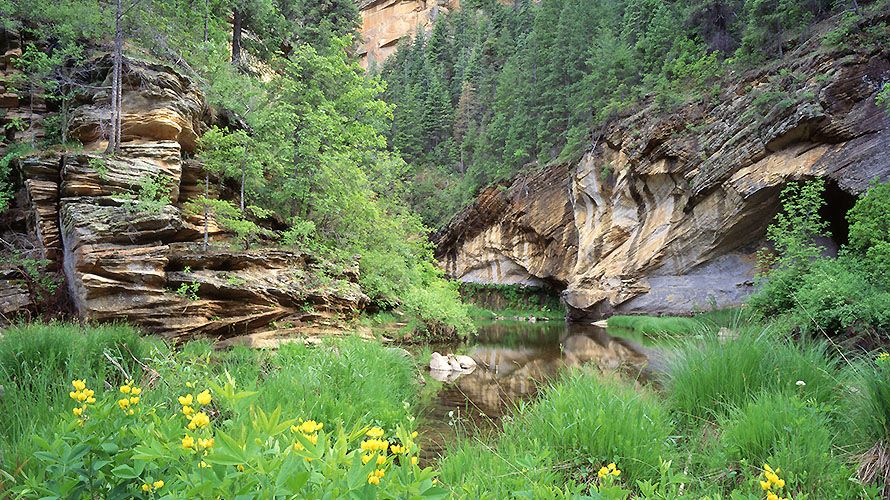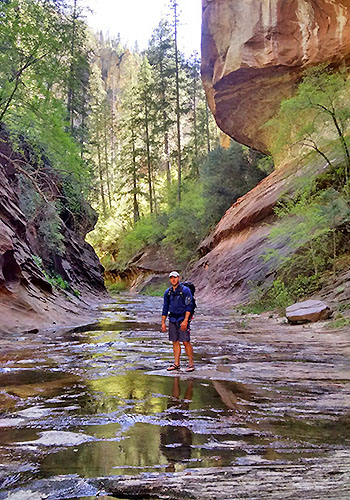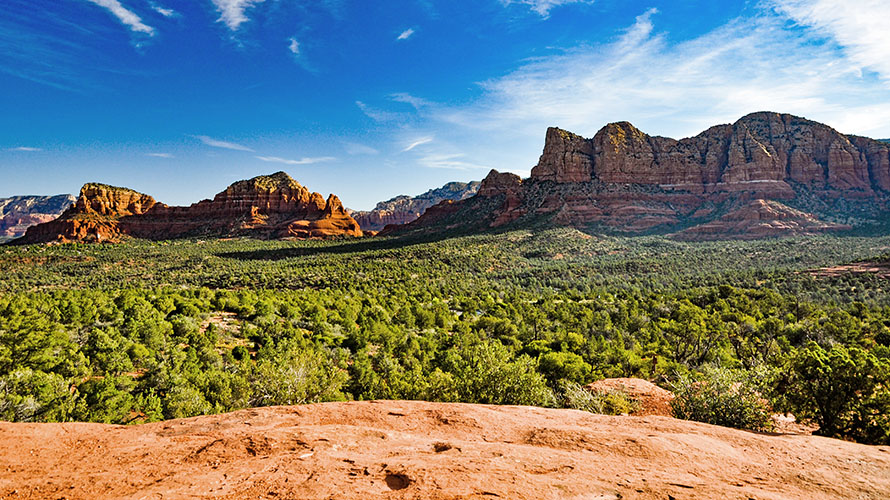 Have Questions?
Have more questions? Send us an email or call us at 800-715-HIKE (4453). We're here 7 days a week from 9:00 to 4:30 Mountain Time to make sure your trip planning goes as smoothly as possible.
Trip Information
For more information about all your options, check out our Sedona page on the website with the button below! Individual trip pages have detailed itineraries, trip specifics, travel information, and more.