Explore Colorado with Wildland Trekking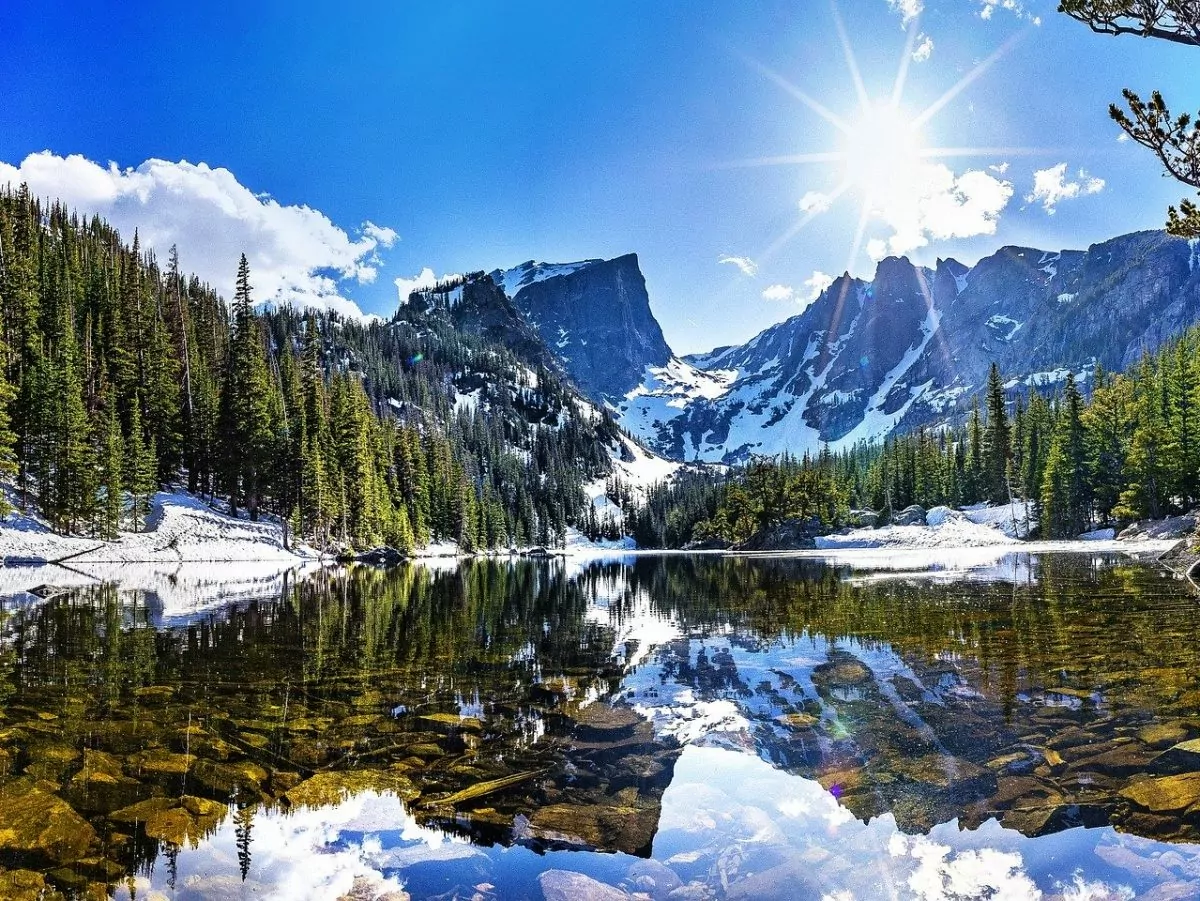 Colorado is home to the Rocky Mountains, and that, in itself, is a basis for exploration! Wildland Trekking offers tours in both Rocky Mountain National Park and the Flat Tops Wilderness in Colorado. With the National Park at the heart of the Rocky Mountains and the Flat Tops Wilderness being one of the most expansive wilderness areas in the state, the scenery is abundant on any Colorado tour you choose!
Depending on the tour area, you will have a chance to see alpine lakes, volcanic peaks, waterfalls, abundant wildlife, clear rivers and streams, and of course, panoramic views of the mountains. Exploring Colorado's backcountry will be an experience you won't soon forget. The exquisite views paired with the right amount of solitude is a trip that you will not easily find traveling to other top Colorado locations.
Colorado's landscape has no shortage of adventures awaiting. All of our tours are all-inclusive and led by our top-rated backpacking guides. Even if you're not going with a guide, Colorado has tons of experiences to offer. For more information about how to book your next Colorado excursion, please contact us.
When to Go
Colorado's Rocky Mountains are a wonderland of adventure year-round. However, if you are planning a trip based around hiking and backpacking, the best times of the year will be chosen based on warmer and drier weather conditions. As we offer snowshoeing tours in Rocky Mountain National Park, trekking can be an option in the winter as well.
High Season
June to August (Summer) is the busiest time of the year in the Colorado Rockies. Luckily, Colorado's mountains thaw out early enough for us to venture into the backcountry as early as June, and the pleasant summer temperatures continue steadily through August.
The early summer season brings forth blooming wildflowers in the plains and then again in the alpine later in the summer. These colorful views, along with near-perfect daytime temperatures, bring in a vast number of visitors each year to the National Park. Many visitors hope to experience the mountains along with views of the area's wildlife and wildflowers, both of which are extensive.
While summer will still be high season in the Flat Tops Wilderness, you can expect to see fewer people on your hikes. Rocky Mountain National Park is a more well-known destination in Colorado than Flat Tops, and naturally draws the majority of visitors. To experience both solitude and fantastic weather, Flat Tops is the perfect backpacking destination.
Shoulder Season
September to mid-November marks the seasonal change to Fall in the mountains. However, this is still a spectacular time of year to visit. Although it is short and temperatures will begin to get colder, you can't beat the Aspen forests turning to deep yellows, oranges, and reds. The Fall is also a popular time to see elk in the mountains as they begin their mating season.
September will remain a busy time of year, especially in Rocky Mountain National Park, but as October rolls around, you will be able to experience a higher level of solitude. Most trails are still accessible throughout the Fall, making it a fantastic time for a backpacking trip.
April and May are also excellent options for a backpacking trip in Colorado. The springtime shimmers with seasonal rejuvenation and cascades of waterfalls from snowmelt. Keep in mind that not all of the snow will have melted in higher parts of the mountains, so not all trails will be accessible. Still, with fewer visitors, Spring can be a great time to find some peace and quiet on the trails.
Low Season
December to March welcomes Colorado's winter enthusiasts as the backpackers seek out warmer climates. Although winter conditions can be unpredictable in the mountains, they're also incredibly rewarding to experience the snow-covered peaks without many other visitors nearby.
If you aren't a skier or snowboarder, don't worry. You can still trek in the Rockies on one of our multi-day or day snowshoeing tours. Experiencing the snow-covered trails with our expert guides can be a fantastic introduction to a new winter hobby. Pair snowshoeing with a background in photography, and you've opened up new worlds!
The only major drawback of visiting during the winter months is that the Trail Ridge Road in Rocky Mountain National Park is closed. It will usually close down in late October and reopen sometime in May. There are still many trails accessible despite this road closure.
Deeper Dive: More About When to Visit

The majority of visitors will visit the Rocky Mountains during the summer months. So, if you are looking for a trip that includes more solitude, you will need to consider other parts of the year as an option. No matter the time of year, however, you can guarantee that both Rocky Mountain National Park and Flat Tops are a nature lover's paradise.

Trip Dates

When you're planning your trek with Wildland Trekking, the time of year will be an essential factor. Decide on the type of trip, weather, and level of solitude you want to experience before choosing a specific date.

You will also need to keep in mind that we preselect dates for our trips. This scheduling means that once you've narrowed down your ideal trip to a few dates, you should check out our Trip Dates Page to make sure that we are offering a tour during that time. On this page, you can choose your desired month, and then select locations listed under Colorado.

Our trip types, dates, and locations will change periodically. So, if you don't find the perfect trip date, check back again for updated information, consider another tour location, or contact us to discuss the best tour options for your needs.

Climate Information

Colorado is a mountainous state, and both Flat Tops Wilderness and Rocky Mountain National Park are expansive landmasses. So, as you move from one area to another, you can experience drastic weather changes. Some days, it can feel like you experience complete seasonal reversals just in a matter of hours!

Overall, you can expect good hiking conditions throughout the summer months (70 to 80 degrees Fahrenheit). The temperatures will cool off quite a bit in the evening, making sleeping comfortable. Still, there is always a chance of afternoon thunderstorms in the mountains, so hikes should begin early in the day.

Your best bet for a successful trip is information. Stay up to date with the Colorado weather leading up to your trip, and ensure you pack appropriate gear.

Rocky Mountain Wildlife

One of the most surprising aspects of visiting the Colorado Rocky Mountains is a chance to see native wildlife in their natural habitat. The best times of year to visit mountains if you are hoping to view wildlife is anytime in the Spring, Summer, or Fall.

The Spring months are when most of the area's larger mammals are giving birth. You will have a high likelihood of seeing baby mule deer, elk, and moose during this time. As beautiful as they are, remember to keep your distance when adult animals are traveling with their calves! There will be many viewpoints in which you can watch them graze and play from afar.

Even though summer is a busy time in Rocky Mountain National Park, many of the animals are not deterred by the crowds. Many of our groups have spotted elk and mule grazing in the meadows or sauntering near the treeline. Moose will be a rare sight in the area, and they are most often seen in the Kawuneeche Valley on the western side of the National Park.

May to mid-September will be the best time to see bighorn sheep, often from a distance. As we continue into the Fall, the peak season of the rut will begin for elk in the area. The typical mating season for the larger mammals in the area will span from mid-September to mid-October. The rut is an amazing time of year for wildlife viewing as you will hear the elk bugles throughout the mountains, see bull elk occasionally fighting to win a mate, and catch sight of large groupings of elk in the meadows.
Trip Styles
Deeper Dive: Our Top Recommended Trips

Continental Divide Loop: Our #1 Recommended Backpacking Trip

On this iconic 5-day Colorado backpacking trip, you will have a chance to experience all Rocky Mountain National Park has to offer. You will begin your journey by driving on the famous Trail Ridge Road. You'll then hike along mountain rivers, lakes, meadows, and passing waterfalls; all of this before you even top out on the Continental Divide.

Traversing the divide, we begin to loop back through new and exciting mountain scenery. This backpacking loop is considered to be a challenging trek. While we will primarily be hiking on well-maintained trails, we will be gaining up to 12,000 feet in elevation. All hikers should be able to hike at least 6-8 miles per day on mountainous terrain while carrying a 25-40lb pack.

Trip Highlights:

Experience the famous Trail Ridge Road
Traverse the Continental Divide
Enjoy a loop through incredibly diverse alpine landscapes
A chance to see elk, moose, and other wildlife

Learn more and book your Continental Divide Loop Backpacking Adventure today.

Thunder Lake Adventure: Our #1 Recommended Llama Trek

Experience the Rocky Mountains a little differently with our Llama Trek. Our Llama friends transport all of our supplies for this 4-day hiking and camping expedition. That gives us a chance to lighten our load to a daypack as we enjoy a hike to our campsite in the Spruce-Fir forest overlooking Thunder Lake.

Thunder Lake sits at the bottom of a cirque that is surrounded by massive mountain peaks, providing an unparalleled vista from our camp. We will spend our mornings and early afternoons enjoying new day hikes to return and our campsite each night to enjoy the view and chatting around a fire. On the last day, Llamas will carry our belongings back out as we take in the final day hiking in the backcountry.

Trip Highlights:

Reach the Continental Divide
Hike and bond with Llamas
Camp on the shores of alpine lakes
Day hike to stunning waterfalls
Enjoy the cirque of mountain peaks surrounding Thunder Lake
See Moomaw Glacier

Learn more and book your Thunder Lake Llama Adventure today. 

Best Of Rocky Mountain Tour: Our #1 Recommended Inn-Based Tour

Based in a carefully selected historic lodging in Estes Park, CO, this 5-day trip gives you an inside look into the ecological and natural history of the Rocky Mountain area. Entering the park each day for a new hike, you will have a first-hand glimpse at the fantastic diversity Colorado has to offer.

After each day of exploring, you will have ample time to shower, eat, and unwind before a new day of hiking splendor. You'll also have a chance to see Rocky Mountain Bighorn Sheep, alpine glaciers, lakes, and high peaks, making each daily adventure unique.

While you will only be hiking with a day pack, this trip is considered moderately difficult. All participants can expect to walk 4-10 miles per day on mountainous terrain. We will reach up to 12,000 feet in elevation, so it is recommended to plan a few days before your first hike to acclimatize.

Trip Highlights: 

HIstoric mountain lodging & gourmet meals
Rocky Mountain wildlife
Five unique and diverse day hikes
Lakeside lodging
Hike high peaks past alpine lakes and waterfalls

Learn more and book your Best of Rocky Mountain Inn-Based Tour today.

More About Flattop Wilderness Backpacking

While most of our Colorado treks focus on Rocky Mountain National Park, we do offer two unique backpacking opportunities in the Flat Tops Wilderness: a peak-bagging explorer expedition and the Chinese Wall Loop.

Both trips are unique in their own right and offer varying backcountry experiences. However, both options provide challenges and isolation. The Flat Tops Wilderness is still a somewhat hidden gem meaning fewer hikers – even in the summer months. The solitude of this area gives you a genuine chance to escape and experience places that are still wild.

Each backpacking trip in the Flat Tops Wilderness should be considered strenuous. All participants will need to be able to hike at least 5-8 miles per day on rugged, mountainous terrain while carrying a 25-40lb pack. You can expect stream crossings, significant elevation gains, and steep terrain.
Need to Know
We take pride in covering all of the logistics for the duration of your tour. However, there are still some items you need to plan for before and after your Colorado Rockies trip with us.
Primary Departure City For Colorado
All Rocky Mountain National Park tours will originate in Estes Park, Colorado, and all Flat Tops Wilderness tours will begin in Denver, Colorado. Estes Park does not have an airport in town, and the most affordable and convenient option will be to fly into Denver International (DIA) and reserve a shuttle or car rental to get to Estes Park.
Each tour will have an orientation and rendezvous point that will be discussed with your guide approximately two weeks before your tour date. For more specific information regarding your chosen Colorado tour, visit the "trip logistics" tab on that tour's specific webpage.
Book in Advance
After you've booked a tour with Wildland Trekking and your dates have been confirmed, you should begin booking your other travel arrangements. Flights and pre/post-trip lodging is not included in the trip price and should be booked well in advance.
For both tour locations, flying into Denver, CO is the best option for those arriving by air. Once you've booked a flight, consider lodging options in the appropriate area. As many of our tours experience significant elevation gain and loss, we recommend that you schedule two extra days before the start of your trip. This extra time will give you more time to acclimatize to the elevation of the area and prevent any altitude-related illnesses along the way.
Lodging
If you have booked a Rocky Mountain National Park tour, you will be lodging in Estes Park, CO. Estes Park has plenty to offer as far as accommodation goes. Still, we recommend staying at the Alpine Trail Ridge Inn, Misty Mountain Lodge, The Estes Park Resort, or Stanley Hotel. Keep in mind that Estes Park is a premier tourist destination. That means that rooms will fill up fast and you should plan to book as early as possible!
All Flat Tops Wilderness tours have a rendezvous point in downtown Denver at Union Station. Both Flat Tops backpacking expeditions experience extensive elevation changes, so you should plan for time to acclimatize to the area. There is plenty of lodging available in Denver, CO, but you will also have to arrange for transport from your hotel to Union Station.
Transportation
As you must fly into Denver for Rocky Mountain National Park tours, you will need to either book a shuttle or rent a car at the airport for the final leg of your journey to Estes Park. There are many different shuttle companies to choose from, but many of our clients choose to rent a car for increased flexibility.
If you're flying into Denver for a Flat Tops backpacking trip, your local post-flight transportation will be dependant on where you are staying before and after the trip. Union Station is located downtown and is accessible via light rail to and from the airport. That being said, with a central location, many lodging options are available within walking distance of Union Station.
General Travel Advice
When booking your flight and hotel stay for your trip with us, keep in mind that you should give yourself ample time before and after your trip dates. We typically recommend scheduling at least one day before and after for all Wildland Trips. For the Colorado trips, however, we recommend two extra days before – for acclimatization – and one after your scheduled dates.
All of our guides do their best to keep the trip moving according to schedule. However, weather and other incidents can impact travel time and cause delays. To avoid missing a flight home, always plan an extra day at the end of the tour. Plus, it's still nice to get a good night's rest before a travel day.
Deeper Dive: More Need to Know Info

Trip Insurance

No matter the type of trip we embark on, life has a funny way of throwing us inconveniences. Things as small as a sprain, head cold, or delayed flight can cause a hiking-based trip to be reconsidered. Don't let life's unpredictable nature get in the way of your financial freedoms, especially if you have to miss out on an adventure already.

Wildland trekking offers and recommends trip insurance to combat those unknown aspects of travel. Not only does our travel insurance cover the full cost of your tour with us, but it will also include your other travel arrangments such as flights and hotels.

To learn more and book Wildland Trekking's trip insurance, visit our Trip Insurance Page.

Packing List

Knowing what to bring on an adventure vacation can be difficult, especially when you're heading into the mountains. Your number one consideration when packing should be the expected weather and trip type you've booked.

One thing to remember is that you will be in a high-altitude area. The altitude can cause dehydration much faster than at sea level, so bring ample hydration supplies. No matter the time of year you travel to Colorado, you should still plan to bring sun protective gear. The lack of tree cover provides direct exposure to the sun and the wind. That exposure mixed with dry air can cause not only sunburns but also cracked lips and skin.

Conditioning

When embarking on an adventure-based vacation, it is essential to be in good physical condition. This means that you should prepare to be exercising multiple days a week, every week, for the months leading up to your tour in Colorado. If your gym has a Stairmaster, take advantage of it and use it often as it's the perfect tool for hikers.

If you don't have access to a gym, try to spend time outdoors hiking, running, biking, and swimming. Having ample cardio and aerobic experience will help you to be better prepared for your trip. You should also prepare for the area's higher altitude. Spend at least two days in Estes Park or Denver before your tour date. These two days will give your body time to acclimatize to the higher altitude.

Just remember that hitting the trail physically prepared means you can enjoy the scenery around you even more!
Gallery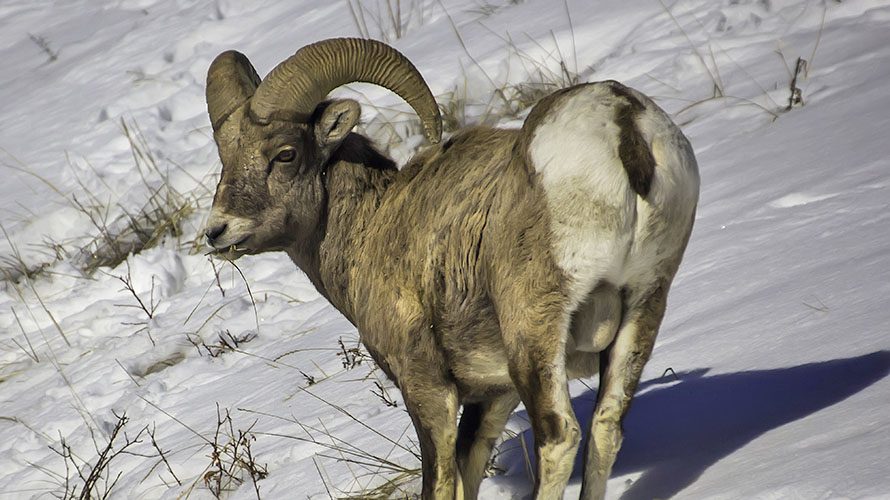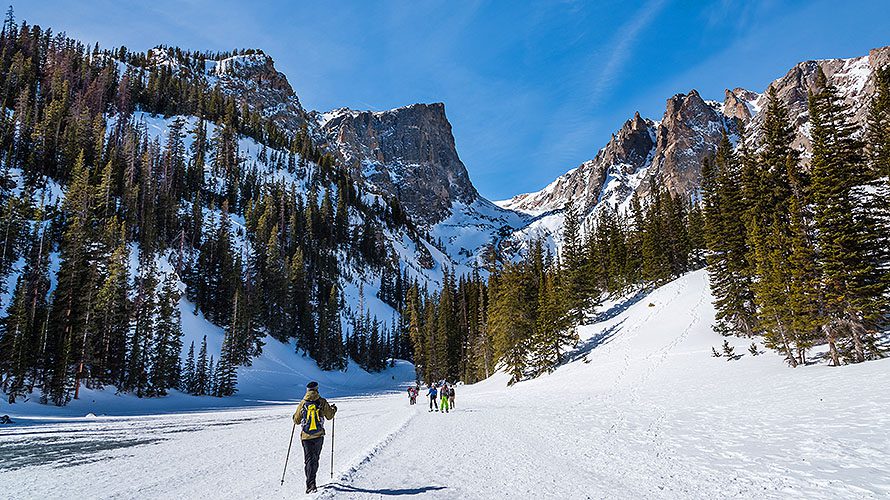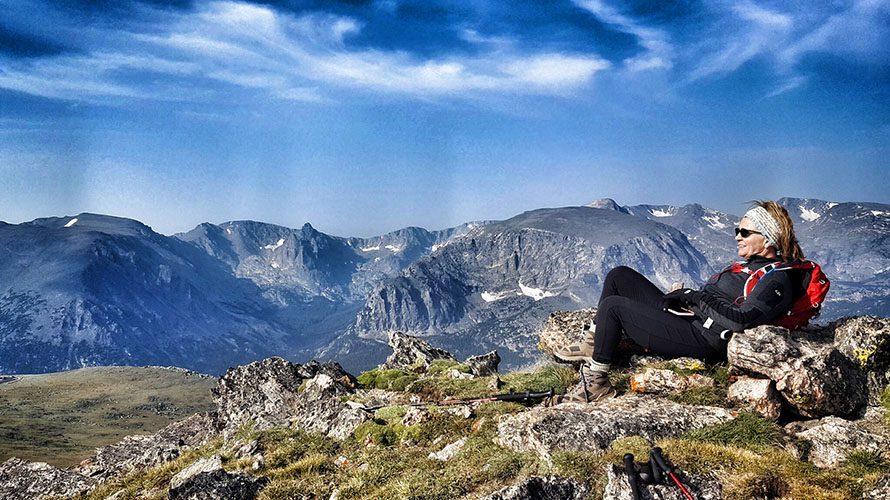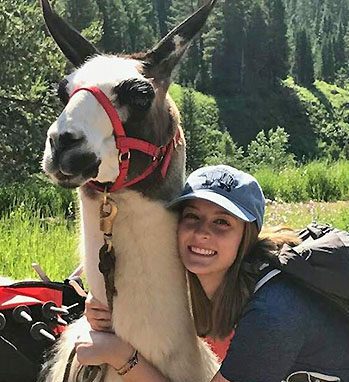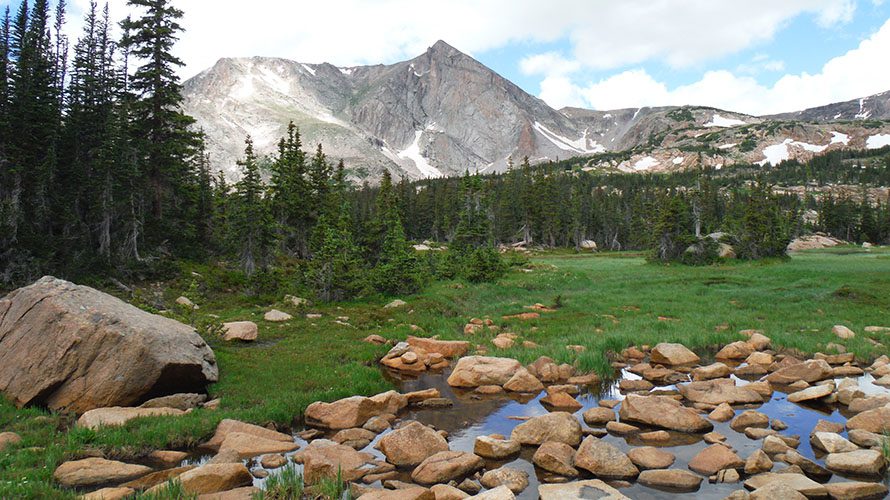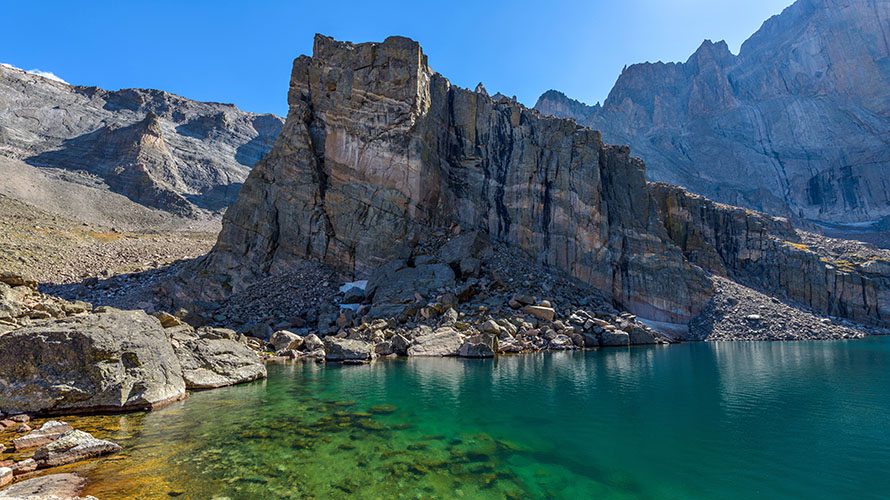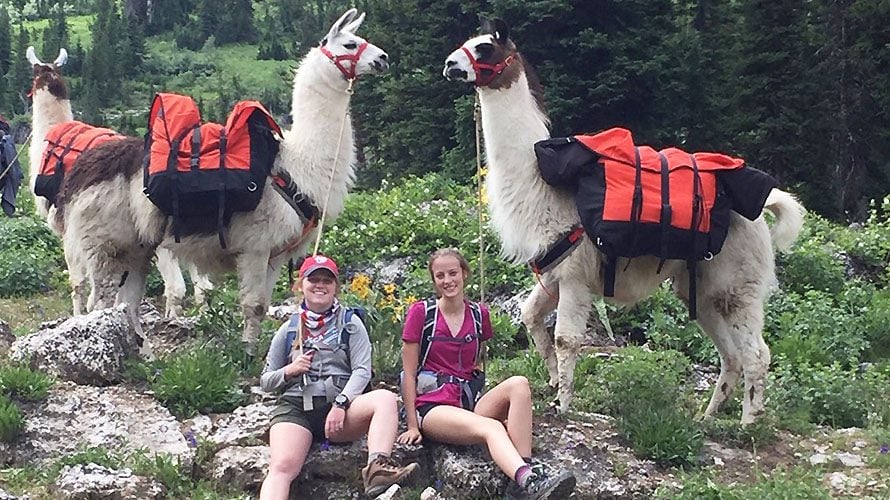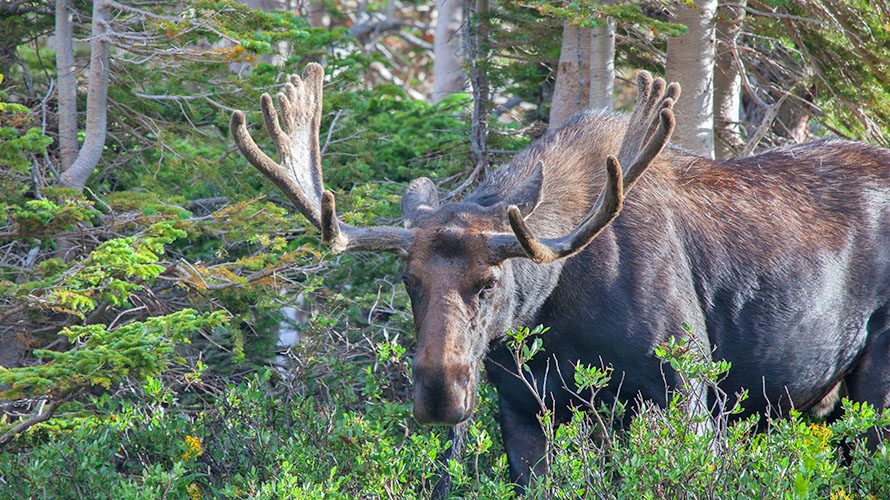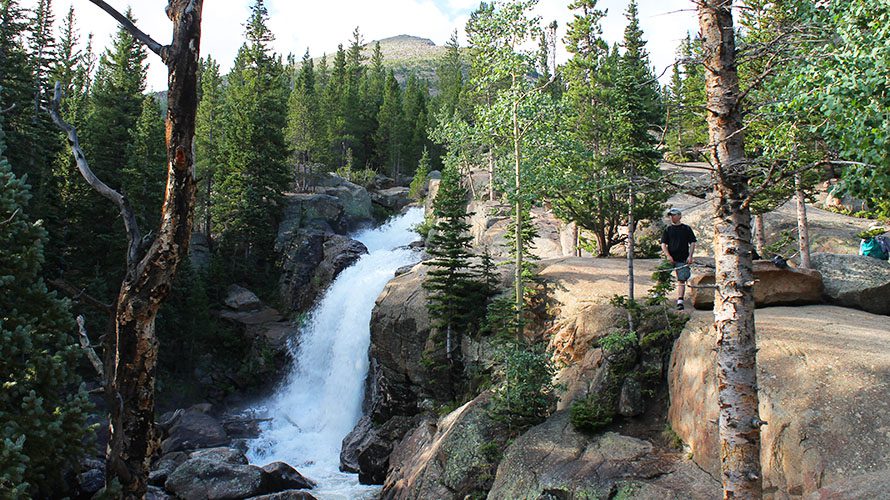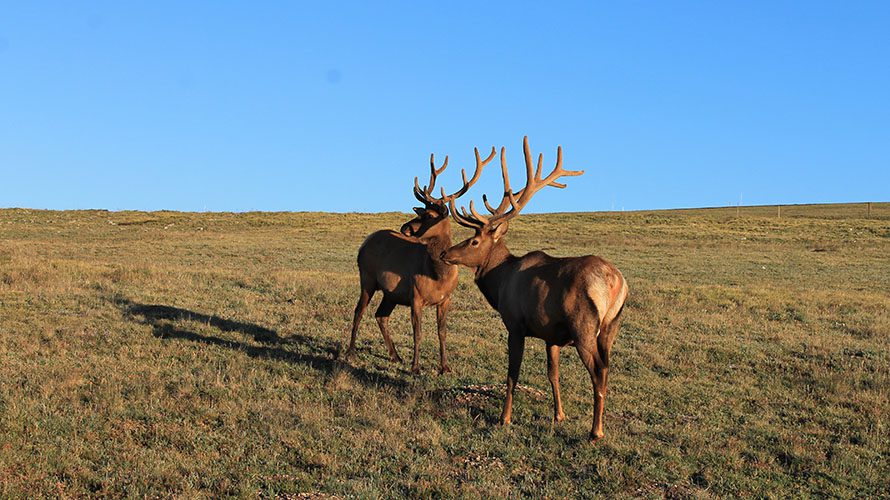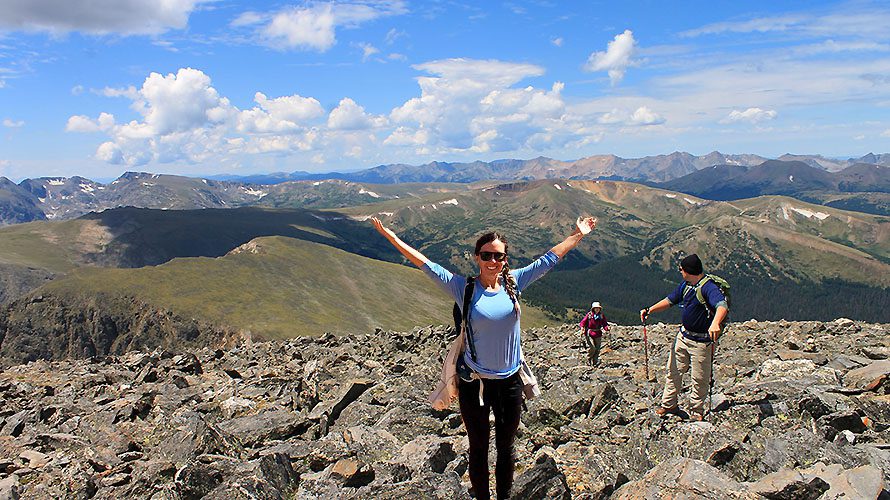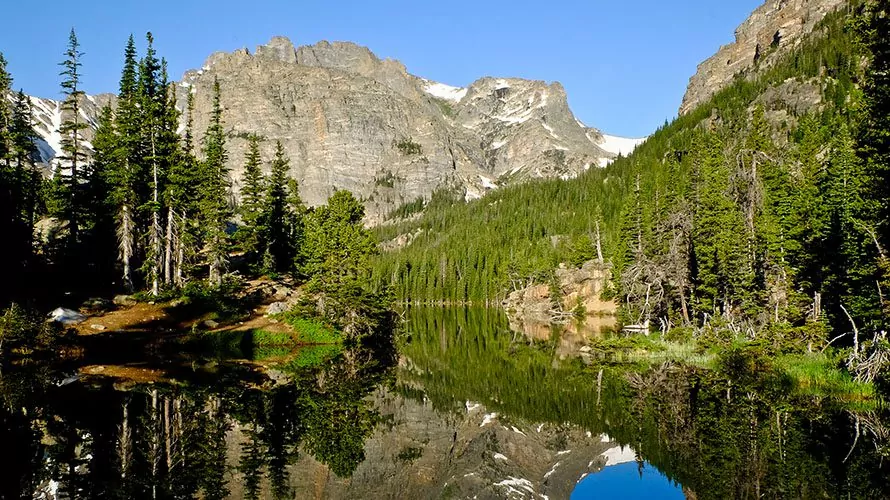 Have Questions?
Have more questions? Send us an email or call us at 800-715-HIKE (4453). We're here 7 days a week from 9:00 to 4:30 Mountain Time to make sure your trip planning goes as smoothly as possible.
Trip Information
For more information about all your options, check out our Colorado page on the website with the button below! Individual trip pages have detailed itineraries, trip specifics, travel information, and more.