9 Adventure Vacations That Will Blow Your Mind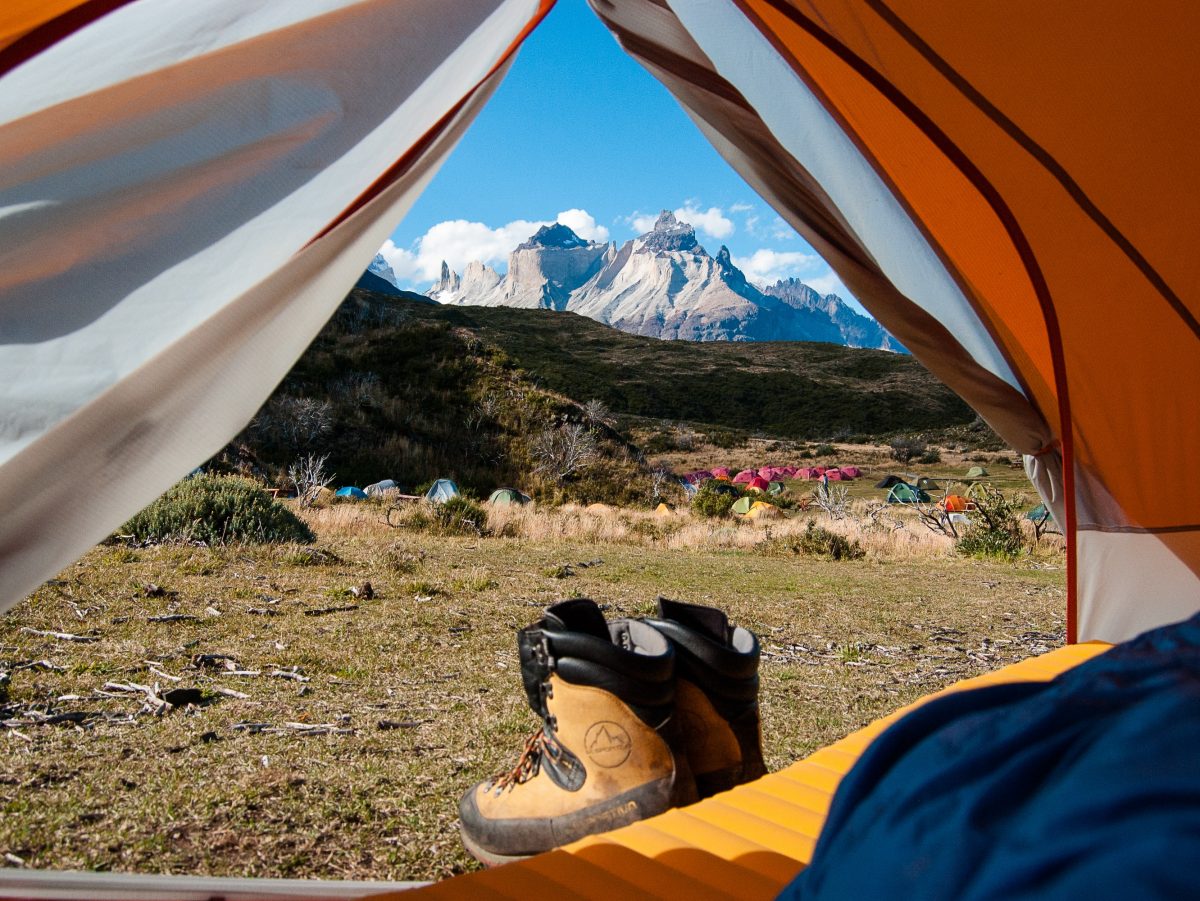 Photo by Frank Holleman on Unsplash
How do you imagine your perfect vacation? Do you picture yourself lounging on a beach for hours on end? Well, you might be in the wrong place. But if you like to be on the move, connect with an area by immersing yourself in the outdoors, and maybe get a little adrenaline pumping, then an adventure vacation is for you.
Growing up, I was always at odds with my family on vacations. The only choice my mom wanted to make on vacation was "beach or pool?" And that is entirely fair! She works a high-paced, stressful job, and she deserves all the relaxation, margs, and beaches-side reading that she wants. 
But, on a family vacation to Mexico (my first trip out of the country), I craved more. I wanted to go hiking or kayaking and wander around town and experience the culture, not just sit by the pool. Now, when I travel with my family, we find a balance. I plan the hiking trips, figure out the best beaches for snorkeling, and choose my must-see locations at our destination. Then, some days, we alternate between the beach, pool, and bar. And it's great. 
If you are someone like me who wants to step out of the norm and try new things while you travel, read on to learn about adventure vacations around the world that might just slide onto your bucket list.
What are Adventure Vacations?
Adventure vacations take various forms, but they often entail getting outside your comfort zone and participating in an outdoor activity. Hanging from the side of a cliff on a 10mm rope, grasping for rock features to move higher and higher up the wall. Floating through the air, paragliding over mountains and rivers. Bombing downhill on a bike, dust floating up all around you. Hiking through glaciated valleys towards the tallest mountains in the world, learning from locals who know the land intimately. 
Adventure vacations are about spending your time outside in all the beautiful discomfort that might entail. While many adventure vacations involve international travel and new cultural experiences, you can also find something new right in your backyard. 
Why Should You Go On An Adventure Vacation?
Adventure travel often involves connecting with a culture or environment on a deeper level than if you had stayed at a hotel and visited the classic sights. Activities like hiking and kayaking take you to places that you may otherwise never visit and allow you to experience things that many people only dream of. 
Get off the beaten path and go deeper, but please remember to be respectful of the people who live in the places that you are visiting. Every adventure vacation is also someone's home. Traveling in small groups allows for less impact on the residents and local environment, and helps mitigate overtourism. 
Where Should I Go For An Adventure Vacation?
There are endless opportunities for adventure vacations across the world. Or, if you can't go far, look in your backyard. You could learn to ice climb in Colorado or Alaska. Go skiing in Vermont or Switzerland. Mountain bike in Utah or Morocco. Whether you want to travel far or stay close, you can find adventure vacations anywhere. 
However, depending on where you want to travel, you'll need to plan for the right season. If you're going to go skiing, make sure it is winter in your destination. (In the southern hemisphere, this means the northern hemisphere's summer!) If you are traveling to the desert, spring and fall are often the mildest and best seasons to visit. 
So what are you waiting for? Make your bucket list trips happen with our list of adventure vacations around the world. 
1. Hike and Kayak the O Circuit in Patagonia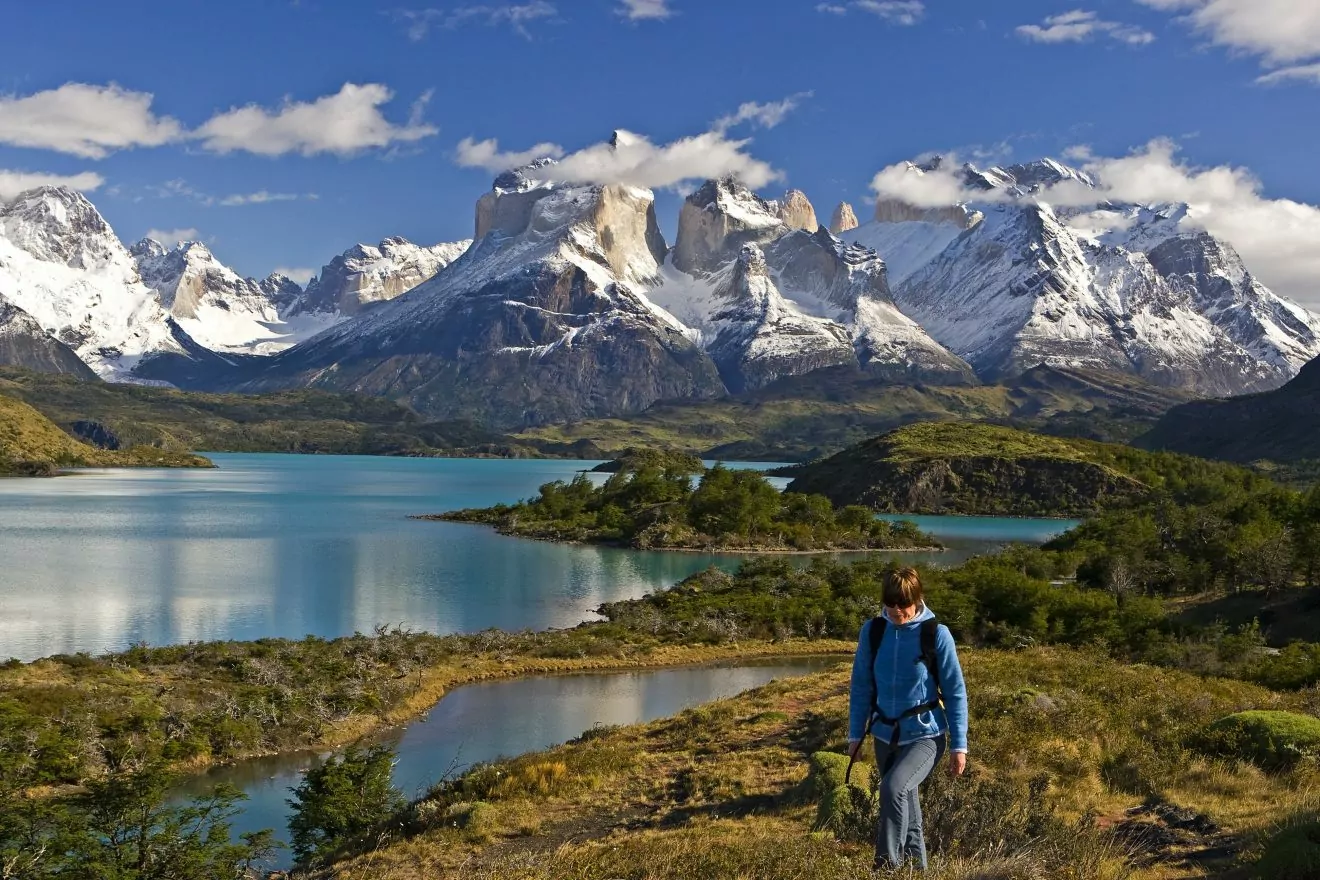 Patagonia is one of those destinations that should be on everyone's bucket list — just traveling to this remote region is an adventure vacation in itself. But no trip to the southern tip of South America is complete without a visit to the Paine Massif. This spectacular mountain range is what brings tourism to Patagonia. 
Sprawling glaciers, turquoise lakes, and granitic peaks cover the landscape in this wild region. And the wind… Anyone who has been to Patagonia will say there is nothing like the wind. It whips across the land pretty much all the time. But getting out of your comfort zone is part of the fun, right? 
Hiking the O Circuit through Torres Del Paines National Park is a must-do adventure vacation for anyone who loves the mountains. Trek past floating icebergs, glacial lakes, and steep peaks on this 100+ kilometer journey. It takes most hikers about 6 to 10 days, and every mile is spectacular. 
To streamline your trip planning, hike Torres del Paine with a guide and you won't have to worry about meals, gear, safety, or lodging. Or, venture off on your own for the ultimate international adventure vacation. If you're traveling solo, just make sure you have the equipment, skills, and experience.
2. Cross-Country Ski in Yellowstone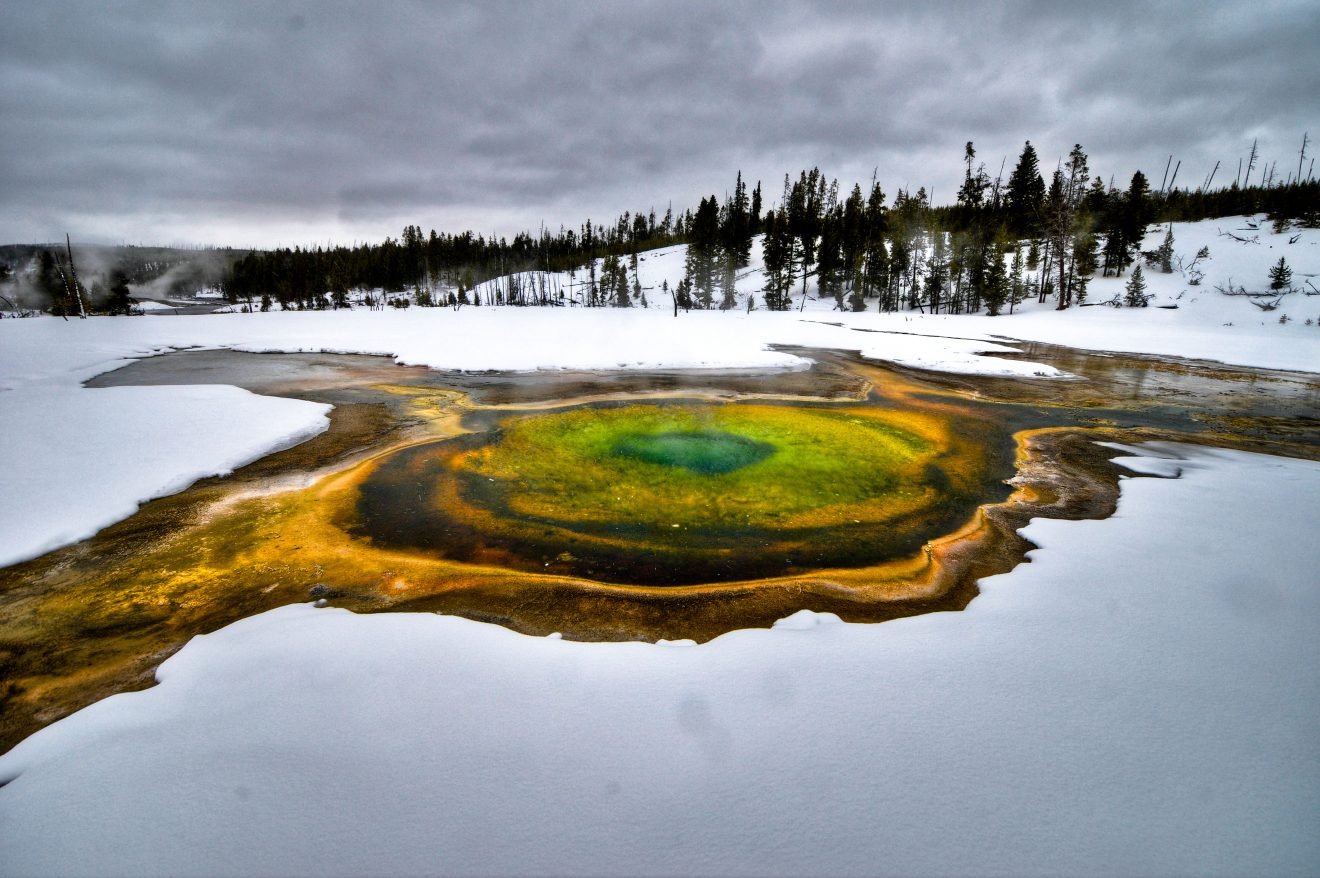 If you're looking for adventure vacations in the US, Yellowstone ranks at the top. And visiting Yellowstone in the winter will only add to the thrill.. Fewer people visit the park this time of the year, adding magic and solitude to this popular National Park experience.
Because of snow, much of the park is closed to vehicles in the winter. But, with the proper equipment, like skis or snowshoes, you can forge a trail through the Yellowstone backcountry and see classic park attractions covered in a quiet white blanket of winter snow. 
Stay at the iconic Old Faithful Snow Lodge, and access ski and snowshoe trails right out of the back door. Or, take a shuttle to the Grand Canyon of the Yellowstone, Mammoth Hot Springs, and more areas to explore on foot. On our guided Yellowstone Snowshoe Tour, we do both.
Yellowstone is great for a family or couple who disagree about what to do on vacation in the winter. Whether you want to relax at the lodge and play board games, read a book bundled by a fire, or snowshoe to a backcountry geyser, they're all great ways to enjoy Yellowstone National Park at this magical time of year.
Winter in Yellowstone Vacations
3. Rock Climb at Railay Beach in Thailand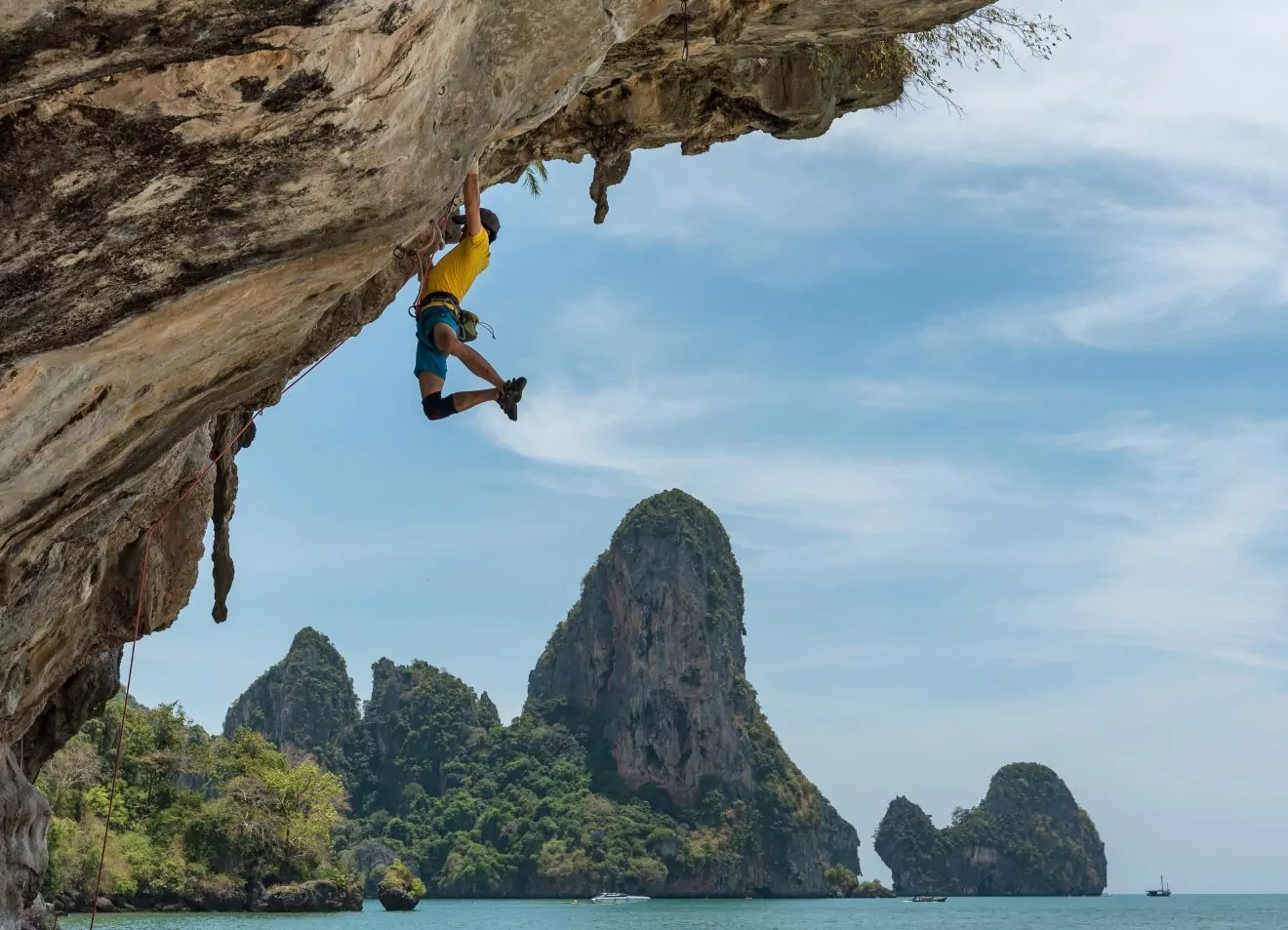 Rock climbing on limestone cliffs overlooking the beach in Thailand? Sign me up! While Thailand hosts an array of adventure opportunities, from ziplining to kayaking to jungle trekking, no one should visit without trying rock climbing. 
Along the beach in Krabi on the southwestern coast, the textured limestone cliffs attract climbers of all levels and abilities. Many climbing shops and guiding companies provide options for beginners or experienced climbers who don't want to travel with all their climbing gear.  
Plus, you can't beat the accessible surroundings. Cheap and comfortable lodging is easy to find in Railay Beach and the surrounding area, and good food abounds. Climbing in Thailand is a fabulous adventure vacation that will get you out of your comfort zone. Who knows — maybe you'll even discover a new passion for the vertical. Or, if you already like climbing, you can do it at one of the most beautiful places on earth!
4. Take a Safari in Tanzania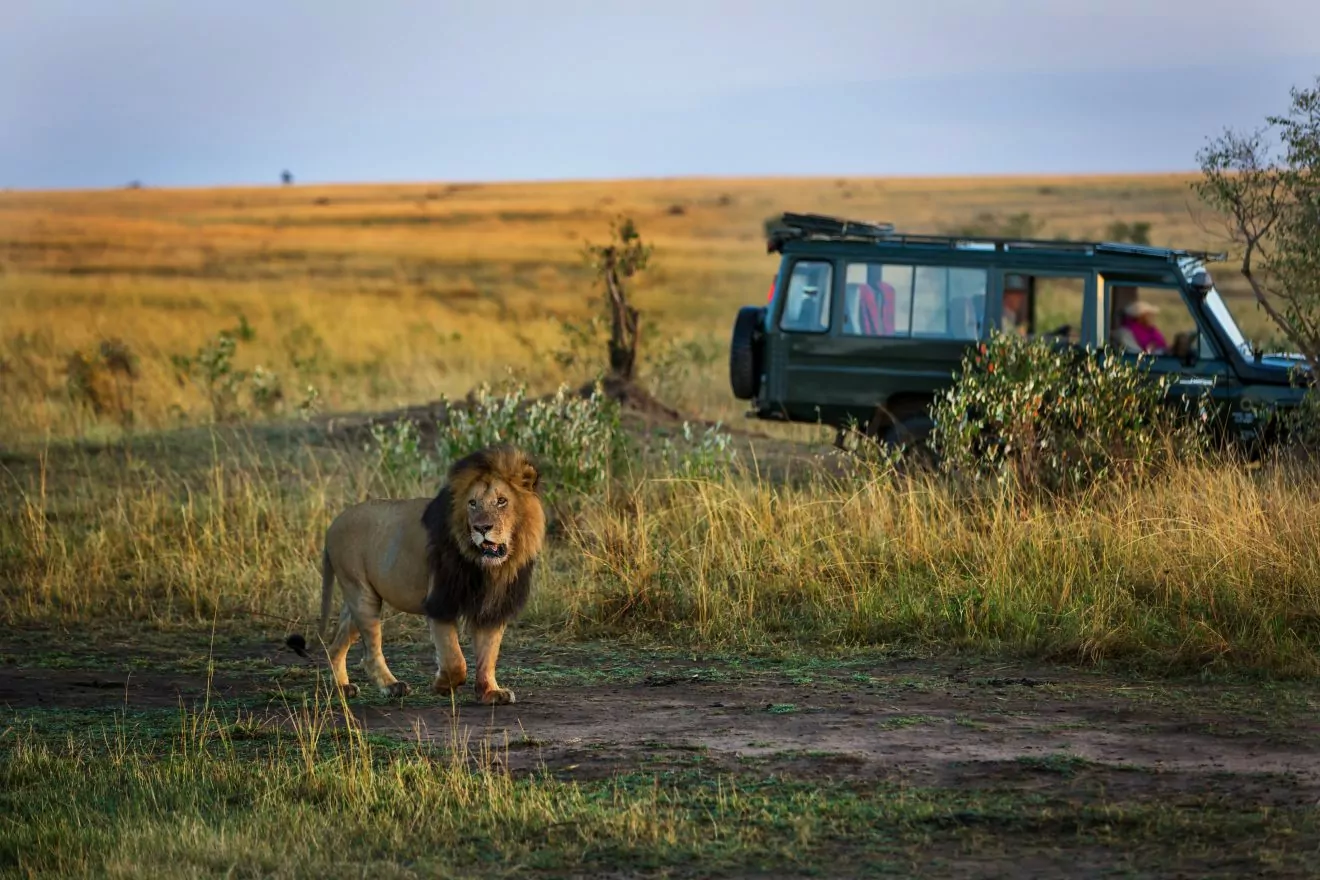 A safari in Tanzania is a bucket list adventure vacation. It doesn't get much cooler than seeing lions, elephants, and zebras up close in real life. Plus, a safari is really hard to organize on your own, and guides greatly enhance the experience and likelihood of seeing wildlife. So, it's worth paying for a tour that will give you cultural, historical, and environmental experiences. As you travel across the plains in a Land Cruiser, you'll have plenty of time to take in the beauty of Tanzania. 
Wildland Trekking's African Safari and Cultural Tour takes you through three national parks and to visit three local tribal communities; the Hazabe, Datoga, and Maasai. You'll top it all off by camping in Serengeti National Park with the opportunity to see hippos, cheetahs, wildebeests, and more animals in their natural habitat. And, if you really want to go for it, add a trek to the top of Kilimanjaro to your trip to Tanzania!
5. Trek to Annapurna Base Camp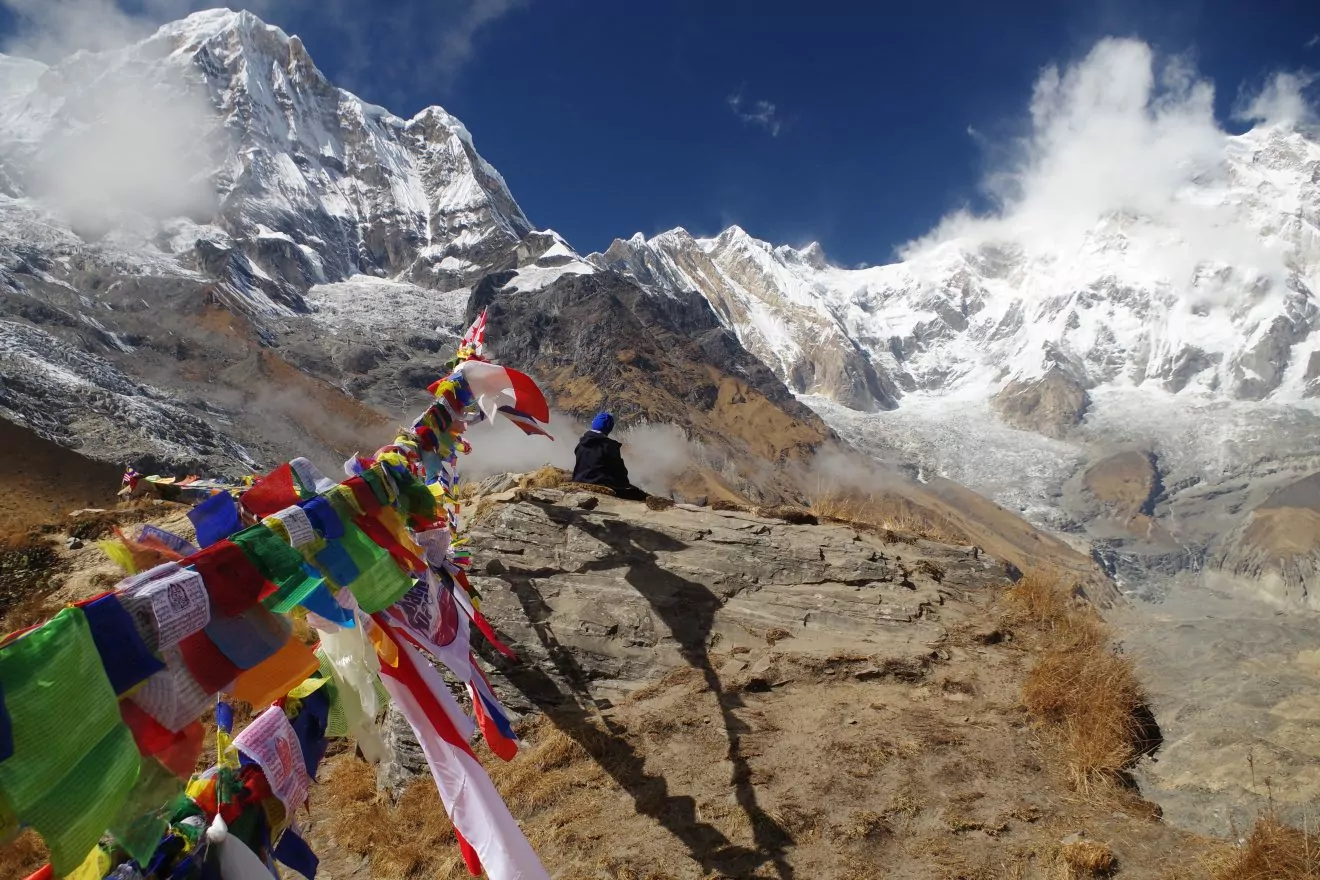 If you love the mountains, a trekking trip to the Himalayas is not to be missed. I will never forget my trip to Nepal, where we trekked through Langtang National Park. Hiking up a grassy ridge surrounded by 7,000-meter peaks brought tears to my eyes. The smiles, stories, and generosity of the Nepali people who live in the mountains taught me much about strength and love. Even simply spending time in Kathmandu experiencing the sights and sounds of the city is worth it. 
Annapurna base camp is a great trekking destination with spectacular views and cultural experiences. Because even Annapurna base camp is at 13,000+ feet, make sure to spend time training for your Annapurna Basecamp trek. And once you arrive in town, spend a few days acclimatizing before you attempt the hike. The first day of my Himalayan trek is the only time I have felt altitude sickness — it felt a little like a hangover! Make sure to drink LOTS of water while you trek to Annapurna Base Camp, as your body is probably not used to the elevation, and elevation dehydrates you. 
This trek usually takes about two weeks if you hike 5 to 6 hours a day. If you go on your own, you will also need to carry all your supplies, including clothes and sleeping bags. If you go on a guided hiking trip, the guiding company will care for some of that for you. Accommodations on the Annapurna Base Camp trek are mountain tea houses that consist of humble, comfortable furnishing. After a long day's hike, these modest abodes are warm and welcome refuges. Make sure to drink lots of milk tea — or if you're feeling adventurous, try the yak butter tea!
6. Hike with Llamas in Peru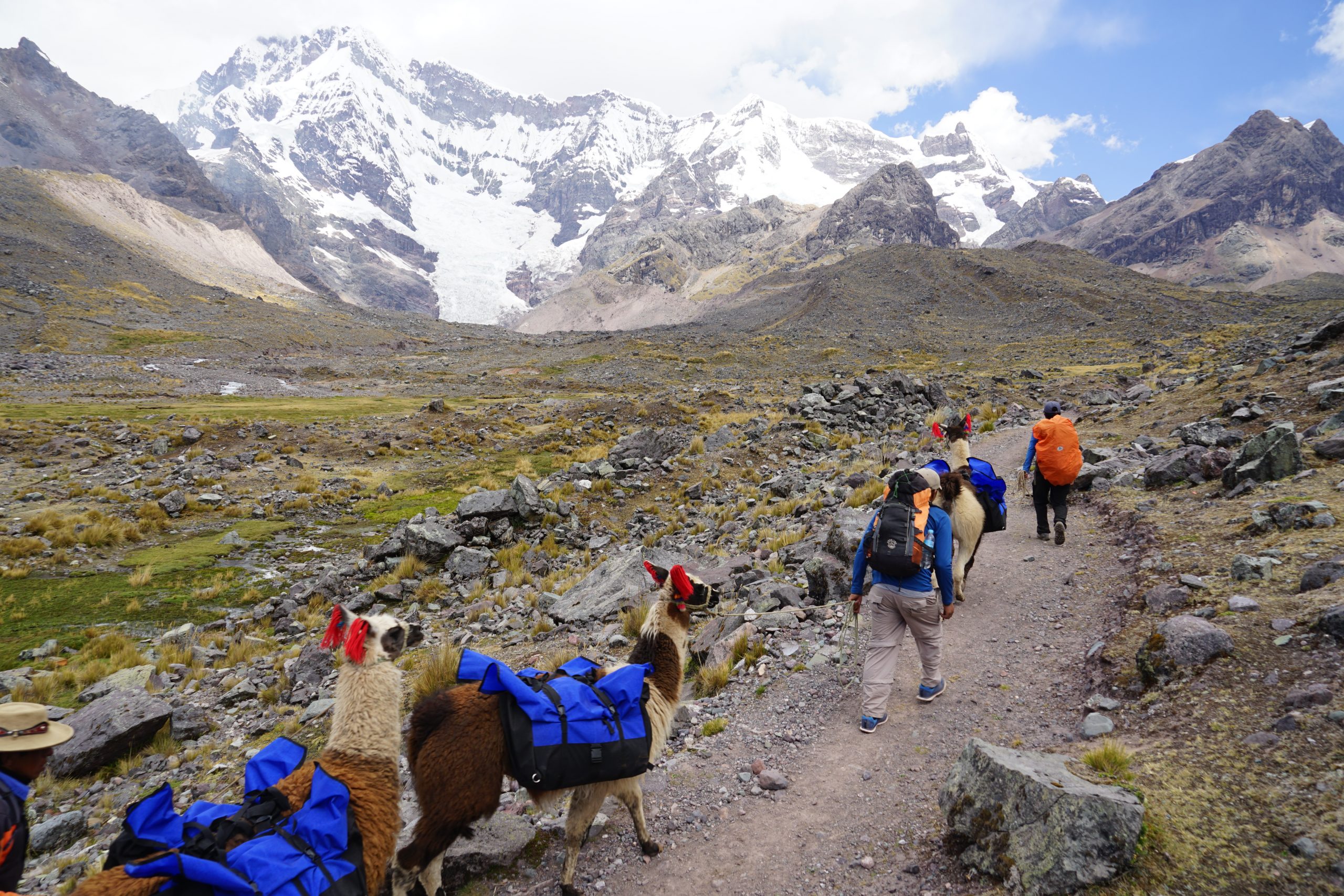 Trekking through the Peruvian mountains is another incredible adventure vacation that should be on any hiker's list. These high mountains and glaciers will take your breath away. Plus, you can combine your mountain trek with a trip to the ancient — and iconic — city of Machu Picchu. 
But what's more fun than hiking in Peru? Hiking with llamas, of course! Adding llamas to your trek brings this adventure vacation to the next level. Llamas are important animals in Peru, so using them as pack animals on this trek has cultural significance. Plus, it's just plain cool to hike with these animals. They carry the majority of the weight, leaving you with just a day pack for most of the hiking. 
Trekking to the magnificent Rainbow Mountain and exploring Machu Picchu takes around five days. Spend a couple of nights camping in the Andes, and then visit the ancient city of Machu Picchu to learn about the history of the Inca people. Like the Himalayas, hiking in the Andes mountains is at a much higher elevation than most Americans live. Make sure to prepare for this Peru hiking vacation by trekking up hills and with packs on.
7. Road Trip around New Zealand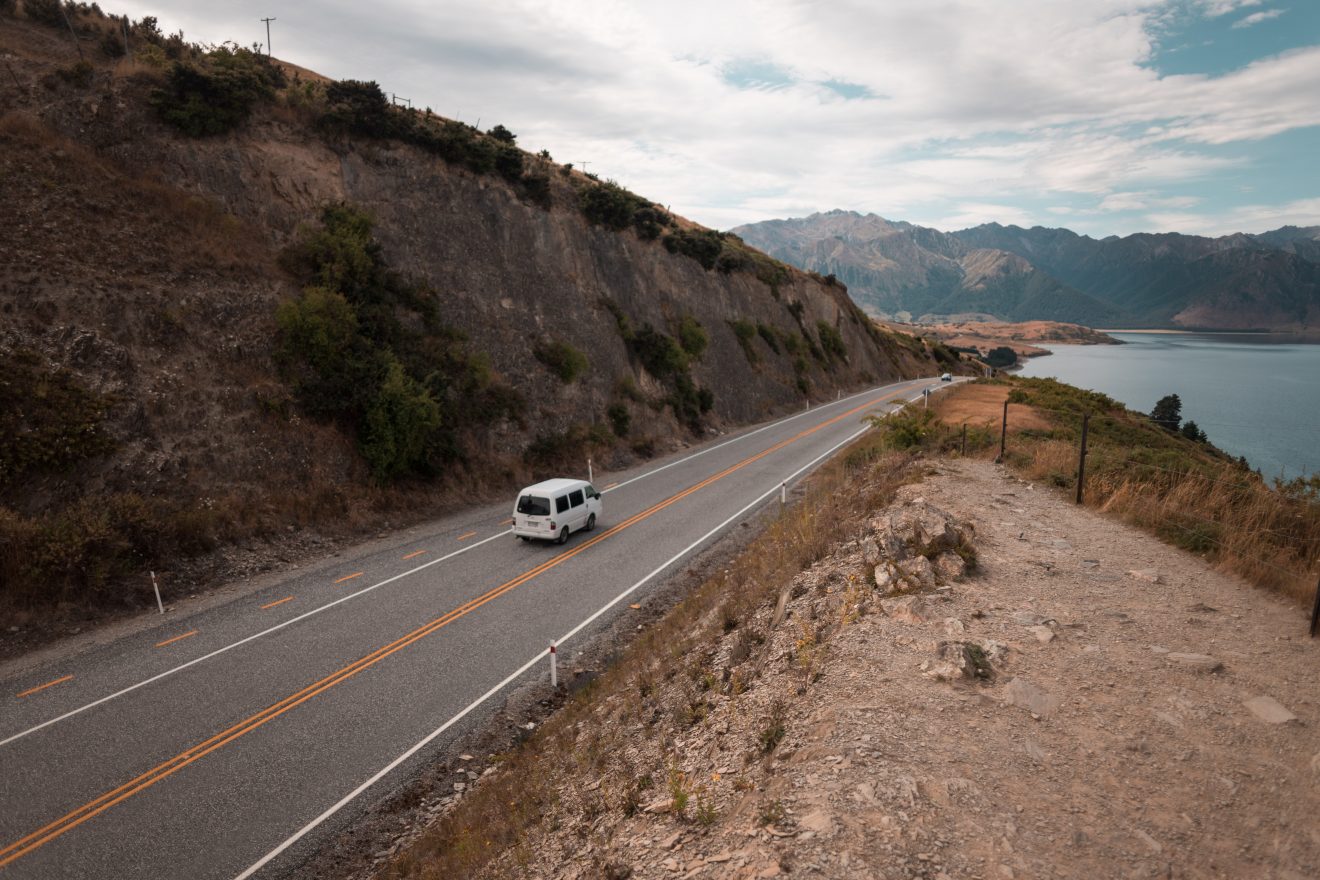 Photo by Yoann Laheurte on Unsplash
New Zealand has it all: beaches, mountains, glaciers, caves, and cities. From trekking on glaciers to bungee jumping to wine tasting, New Zealand provides the ultimate adventure vacation. And traveling in a car or campervan allows you to visit more than you would be able to if you stayed in one location. 
New Zealand is an easy place to road trip, and renting a campervan is a popular way to explore the country. If you just rent a car, you will also have to arrange to stay at hotels or B&Bs, but with a campervan, you can find free and cheap camping sites nearly anywhere on the island. 
If you start in Auckland, you may also want to head over to the South Island to explore the mountainous regions like Aoraki/Mount Cook National Park or Abel Tasman National Park. Jungles, mountains, beaches, and more are ripe for exploration and adventure on the islands of New Zealand. Make sure you take enough time to see it all! 
8. Mountain Bike in British Columbia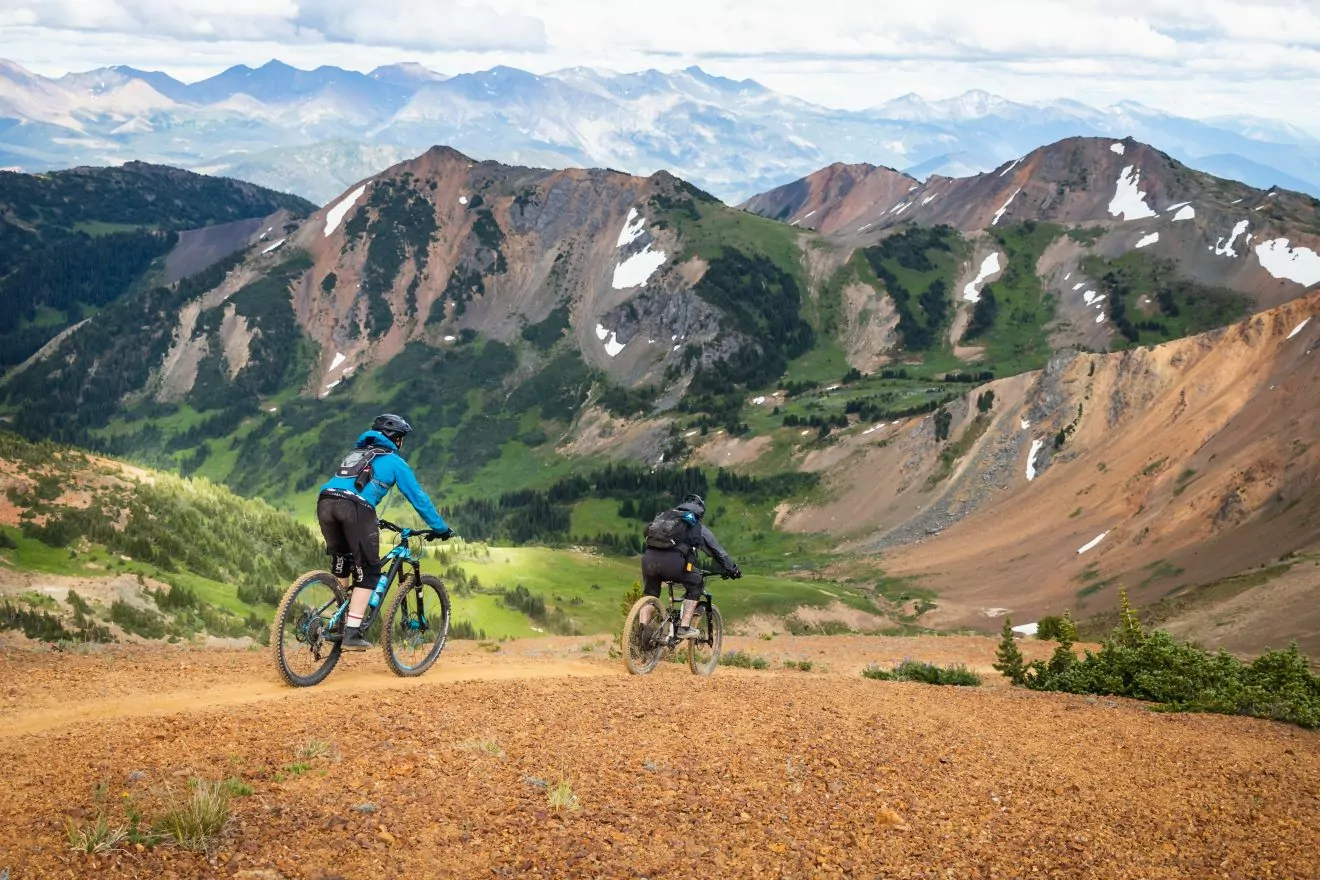 Photo by Greg Rosenke on Unsplash
They say that the dirt in the PNW is the best in the world. It's soft, loamy, and full of pine needles and other debris. Mountain biking abounds in British Columbia, but Whistler Bike Park has some of the best biking that you can find anywhere. The resort has lift-accessed terrain options for everyone — whether you're just hopping on a mountain bike for the first time or you're a seasoned pro looking to send it off everything in sight. 
Plus, Whistler — and the entire BC coast — is one of the most beautiful places on earth. As you drive up the Sea to Sky highway, take in the mountains on one side and the sound on the other. Towering fir trees and mossy trails take you deep into the quiet green of the forests. There's something about the colors, the greys of the granite cliffs, the deep greens of the woods, and the blues of the water that draw you in, time and time again.
Stay in Whistler, or the equally beautiful and lush town of Squamish just a bit further south. Squamish offers world-class rock climbing as well as world-class mountain biking, so there's plenty to keep you busy on your adventure vacation to British Columbia.
9. Paraglide in the Caucasus Mountains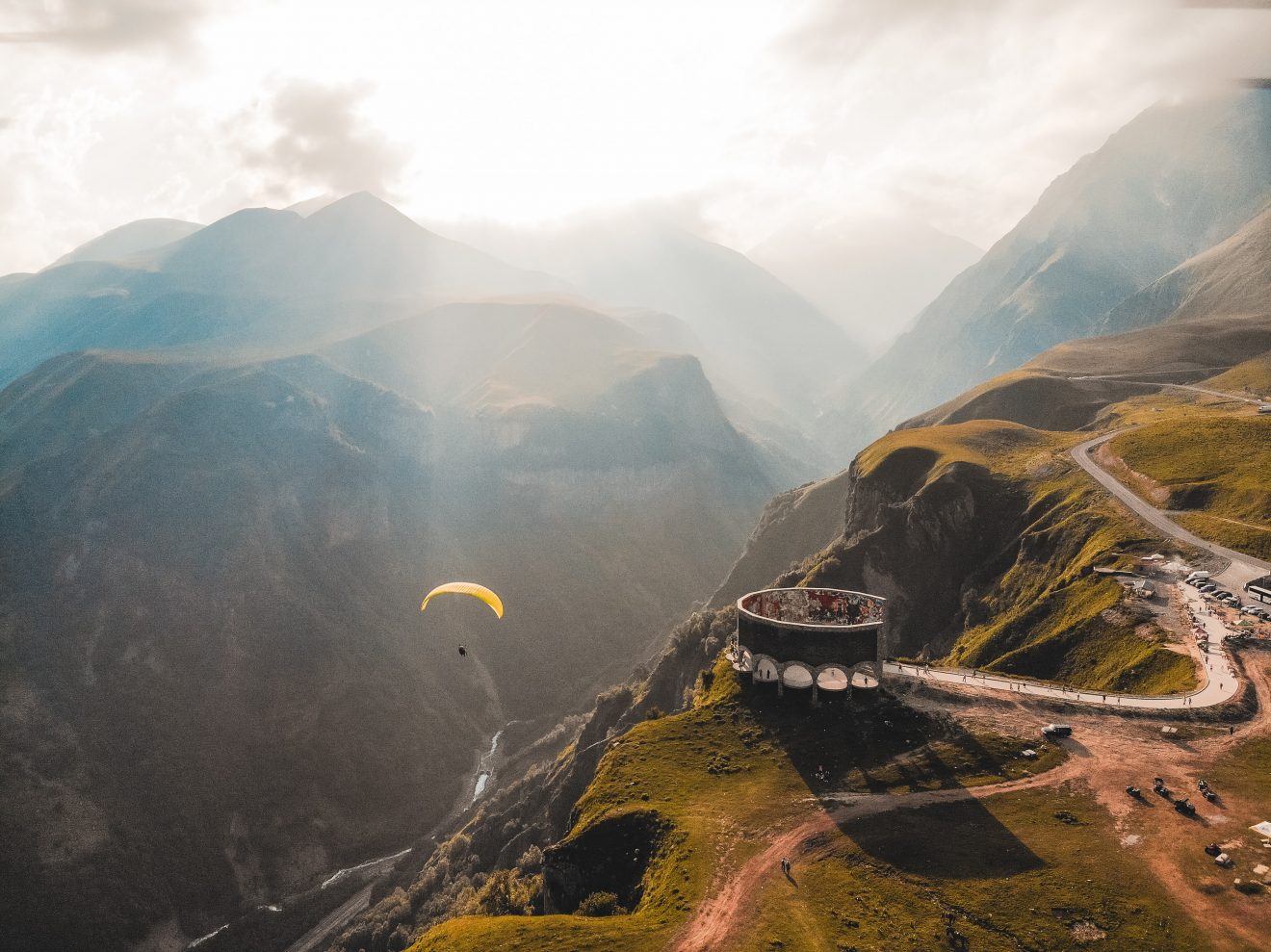 Okay, this one is really off the radar, but the Caucasus mountains are epic, and Georgia is worth visiting on an adventure vacation. The country, located between Turkey and Russia, contains a plethora of gorgeous sights, from the colorful houses and cobblestone streets of the capital city of Tbilisi to the luscious green slopes and glacier-covered mountains. Lounge on the beach on the Black Sea one day and climb snow-covered peaks the next day. Visit Georgia's mysterious cave towns, and learn about the varied history of this country.
While paragliding is just an incredible adventure activity to try out on any adventure vacation, flying over the green mountains of the Gudauri ski resort looks out of this world. Fly Causaus even offers paragliding trips in the winter and the summer, so you could ski one day and then fly over your ski terrain the next! Talk about an adventurous vacation. 
Guided Adventure Vacations Are the Answer!
Adventure vacations are those trips that sit on your bucket list for years. The ones you dream of taking — someday. If you need help making it happen, Wildland Trekking has your back. Going on an adventure vacation with a guide takes the logistical stress out of the equation. Worries about lodging, gear, cultural knowledge and planning is all turned over to your capable and knowledgeable guide. Then you can simply relax and enjoy the trip of a lifetime.
Whether you are looking to go on one of these adventure vacations or looking for something different, check out our trip offerings from Colorado to Iceland to Vietnam.