All about hiking the Under the Rim Trail
Learn more and get some tips for hiking the Bryce Canyon National Park Under the Rim Trail (Written by Erin McCarthy)
Most day trippers to Bryce Canyon National Park stick to the Bryce Amphitheater area. But for those who seek an adventure in the backcountry, there is a stunning trail that runs along rock spires, lush forests, quiet meadows, and through some of the highest elevations in the Park. Enjoy solitude amongst iconic scenery for a challenging 22.9 miles on the Under the Rim Trail.
Begin your journey at either Bryce Point or the southern tip of the Park at Rainbow Point. For an easier elevation profile, start from Rainbow Point. Depending on how much time you have and your fitness level, the Under the Rim Trail can be completed as an overnight excursion, or over the span of three to four days. No matter how long your trip is, always follow Leave No Trace principles to respect the environment and minimize your impact. Below is a complete guide to hiking this trail—learn what to bring and how to travel safely in the backcountry.
best time to hike the under the rim Trail
In order to experience the most pleasant temperatures, it is highly recommended to hike the Under the Rim Trail during the summer months— June through September. However, keep in mind that severe afternoon thunderstorms can occur at this time of year in Bryce Canyon, so flash flooding is possible. Always check the latest weather conditions in the Park before you set out on trail. If you want to do this hike in the spring (April or May) make sure the snowpack allows for it first. It is risky to try this hike past September as snow storms can occur as early as October.
start from bryce point or rainbow point?
One of the important first steps of planning your backcountry trip is deciding where to start. Beginning at Rainbow Point is an easier option because you will start at the highest elevation in the Park (9,100 ft) and descend down. Beginning at Bryce Point will have you ending your journey with a significant ascent up to Rainbow Point. Either route will be beautiful, it's just a matter of how much you want to climb.
Additionally, there's no hitchhiking allowed in Bryce Canyon National Park so you'll have to figure out how to get back to your vehicle once you're done with your hike. Unfortunately, the free park shuttle doesn't run south of Bryce Point, so you'll have to arrange your own "shuttle" with two vehicles. Since it is always safest to hike with others, leave one vehicle at Bryce Point, and one vehicle at Rainbow Point. At the end of the hike, your group can retrieve both vehicles.
how to get a permit
In order to camp overnight in Bryce Canyon National Park, you must obtain a backcountry permit. Permits are $5 per person and are available at the Visitor Center from 9am to one hour before close. Permits can only be purchased in person, with cash, up to two days in advance of your trip. They are valid for 14 days.
There are seven designated campsites on the Under the Rim Trail. Do not camp anywhere else on this trail; it is illegal and it causes undue damage to the landscape. Six people are allowed to camp at a regular (non-group) campsite.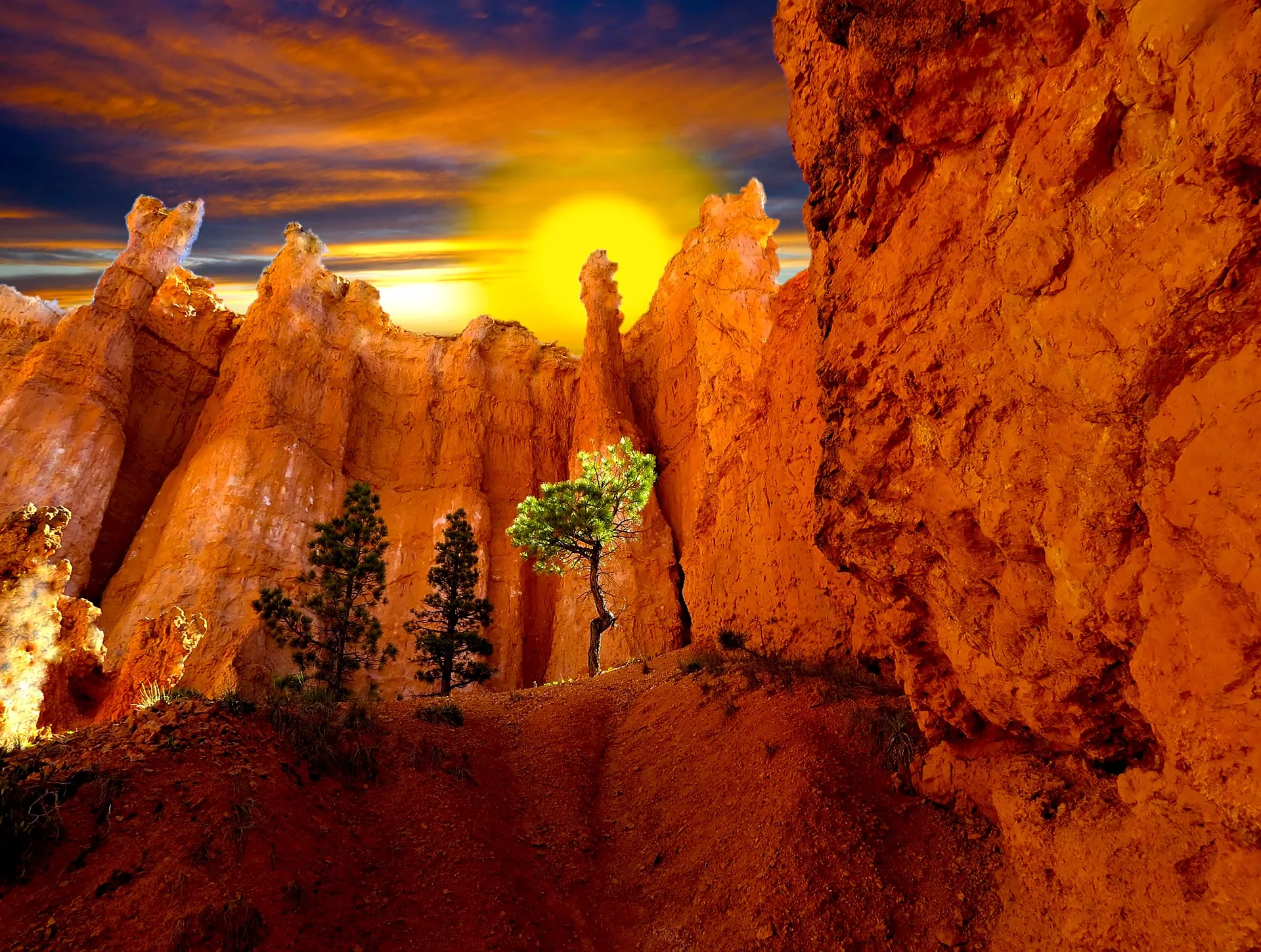 where to camp
Depending on your fitness level and how much time you have, there are varying options for itineraries for the Under the Rim Trail. It is always a good idea to plan out your route and decide where you want to camp before you begin. Due to the location of the seven designated campsites, it is difficult to break the 22.9 mile trail into an equal three days. However, there is one route that comes close (option 4 below). If you have more time, four days will allow you to really enjoy the quiet backcountry. If you're into hiking big miles, you can complete this as an overnight trip.
Here are four suggested itineraries for the Under the Rim Trail:
From Bryce Point (2 days): Hike 10.5 miles to Right Fork Swamp Canyon. Hike 12.4 miles to Rainbow Point.
From Bryce Point (4 days): Hike 5.2 miles to Yellow Creek. Hike 6.9 miles to Swamp Canyon. Hike 6.9 miles to Iron Spring. Hike 3.9 miles to Rainbow Point.
From Rainbow Point (2 days): Hike 10.8 miles to Swamp Canyon. Hike 12.1 miles to Bryce Point.
From Rainbow Point (3 days): Hike 7.8 miles to Natural Bridge. Hike 9.9 miles to Yellow Creek. Hike 5.2 miles to Bryce Point.
what to bring on your trip
It is extremely important to be prepared for a backcountry camping trip. Gear, food, and water should be planned out ahead of time so you can enjoy your adventure in Bryce Canyon. Below are some guidelines for essential backcountry items:
Water – Bring 4 liters of water per person per day. Depending on how long you decide to be on trail, you may need to purify your water. Bring a water filter just in case. Water can be collected at the follow locations: Yellow Creek campsites, Sheep Creek (near campsite; note that at this time the campsite is closed  and Iron Spring.
Food – The recommended food for a backpacking trip is high-calorie: think high protein, and high-carbohydrate. Decide whether you want to take freeze-dried meals or plan out easy dinner such as pasta. Protein bars and trail mix make good snacks.
Bear-resistant canister – Bryce Canyon National Park is in bear country and it is highly recommended that you store your food properly in a bear canister. If you don't have one, you can loan one for free at the Visitor Center.
Sun protection – When you're hiking in southern Utah in the summer, you will be in strong sunlight with temperatures creeping into the 90s. It is highly recommended to bring a hat, sunscreen, and even a shirt with SPF and long sleeves.
Rain gear – Afternoon thunderstorms are possible in the summer, so be prepared just in case and pack a rain jacket. Wear synthetic clothes instead of cotton, which will dry much faster.
staying safe in the backcountry
Be sure to check in with the Park rangers before heading out on your trip. They will advise you of the latest weather and trail updates to keep your journey as safe as possible.
Other ways to stay safe are trail are as follows:
Bring a first aid kit – Most small injuries can be treated with the use of a first aid kit. Designate one for the group.
Pack a water filter – It is very unsafe to drink water without treating it. Even if you think you have enough water for your trip, it is a good idea to pack a water filter. They are extremely light and relatively inexpensive.
Tell someone your itinerary- Tell someone in the front country where you are going and when you will be back.
Be found– Do not hit the trail without a topographic map of the area. These are available at the Visitor Center. Take a compass with you too.
Be warm – Temperatures dip into the 50s at night in the summer, so make sure to pack warm layers.
join a guided hiking adventure
Booking a trip to Bryce Canyon National Park is the opportunity to experience one of the most scenic hiking vacations in the United States. The biggest advantage to booking a guided tour is that it will allow you to focus your energy entirely on enjoying this iconic area. Permits, local transportation (excluded on some day tours), meals, and gear are all figured out for you on a Wildland Trekking tour.
Wildland Trekking offers several options for guided inn-based and camping tours in the southern Utah area. You'll have the chance to see magnificent rock formations, learn about the cultural and natural history of the area, and enjoy some solitude all while having the adventure of a lifetime.
BRYCE CANYON ADVENTURE TOURS
About the Author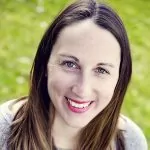 Erin McCarthy is a freelance writer and former Colgate University Outdoor Education Leader. When Erin isn't writing, she is exploring the mountains and rivers of the Greater Yellowstone Ecosystem. You can view her complete portfolio at www.erinannmccarthy.com.