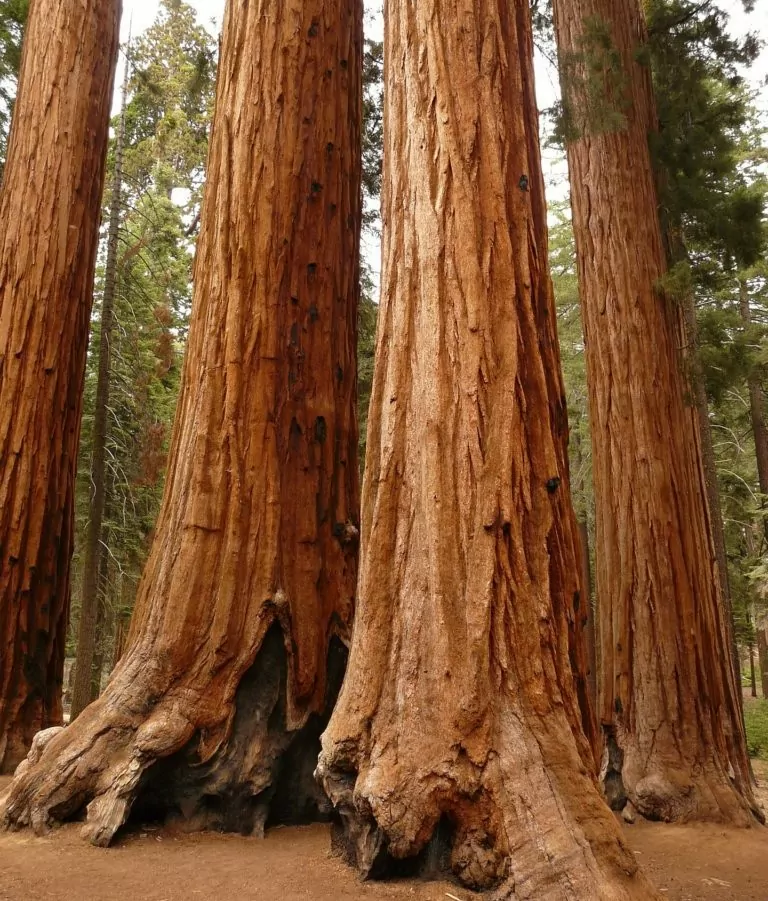 Tuolumne Grove Trail
General Description
The Tuolumne Grove of Giant Sequoia's is located on the Tioga rd. just east of Crane Flat.  It contains about 2 dozen mature Sequoia Trees, most of which are visible within a mile of the parking lot.  This mile involves a 500ft decent to get into the grove, keep in mind you will have to climb back up to get back.  The Tuolumne Grove is fairly quiet in the early morning but the parking area is small and can fill up quick later in the day.  There is a bathroom in the parking area but no drinking water, best to come prepared.  It is a great little grove and accessible for most, including families and children.
Explore Yosemite with Expert Guides
Getting to the Tuolumne Grove Trailhead
From Yosemite Valley follow the Northside drive heading west toward the junction of Highway 120.  You will take a right turn at the junction and start climbing uphill.  Drive just over 10 until you get to Crane Flat.  There is a gas station on the right.  Follow 120 east and the Trailhead is on the left hand side about a 1/4 mile from the Gas Station.
From Highway 120 coming into the park, continue past the Yosemite entrance station about 7 miles and take a left hand turn following Highway 120.  Crane Flat gas station will be on your left.  Keep following 120 for about a 1/4 mile past the gas station and the grove will be on your left hand side.  For an official park map click here
History of the Tuolumne Grove Trail
Tuolumne Grove was one of the stops along the old "Big Oak Flat" road, the second road to ever enter into Yosemite.  Originally built as a toll road in a race for what was to be the first road into Yosemite Valley.  It carried most of the traffic coming into the park from the central valley of California.  The Big Oak Flat road dates back to the late 1800's and has now been replaced with Highway 120, a popular route into the park for folks coming from the San Francisco area.  With only 2 dozen Sequoia trees in the grove. the Tuolumne grove is a very small and quaint grove compared to the much larger Mariposa Grove.  Noteworthy trees include "Big Red" and the "Tunnel Tree", which was part of the Big Oak flat road and used to direct attention and bring people to the park.  Most folks in those days found it fascinating there was tree you could drive through.

Best Day Hikes on the Tuolumne Grove Trail
There is only one way in to the Tuolumne Grove from Highway 120 and that is from he trailhead.  There is another way in from Hodgdon Meadow to the northwest but for simplicity the trailhead off of 120 near Crane Flat is best.
Below is the primary option for day hiking the Tuolumne Grove Trail:
| | | | | | |
| --- | --- | --- | --- | --- | --- |
| | Destination | Miles | Elev | Difficulty | Style |
| | Tuolumne Grove | 2.4 | 500ft | Moderate | Out and Back |
1. Tuolumne Grove Day Hike
This hike starts off Highway 120 near Crane Flat at the Tuolumne Grove trailhead.  You can park at the trailhead for free.  From the parking lot head toward the Tuolumne Grove sign and start on a relatively flat road.  The old Big Oak Flat rd winds down 2 miles and roughly 500 ft before you reach the Tuolumne Grove.  At this point there is a small .5 mile loop that will take you in either direction you choose through the grove.  You will likely see "Big Red" from this point and deeding on which way you chose to do the loop you will reach the "Tunnel Tree."  Other notable trees include many mature Sequoia's, and a fallen one where one can observe the massive root system.  Simply retrace your steps from the loop back to the road and climb 500ft back to the trailhead.
Maximize Your Visit to Yosemite National Park on Hiking Tour
Guided day hike tours and multi-day packages allow visitors the opportunity to make the most of their time in Rocky Mountain National Park and to do it hassle-free. Guided tours include gear (backpack, trekking poles, crampons in winter), meals, accommodations on multi-day tours, local transportation, and a professional Colorado hiking guide. Through their knowledge, stories, and personal passion, guides can bring a place to life in a way that's much more difficult to do on your own. Read more about Yosemite National Park Hiking Tours.
Award Winning USA Hiking Vacations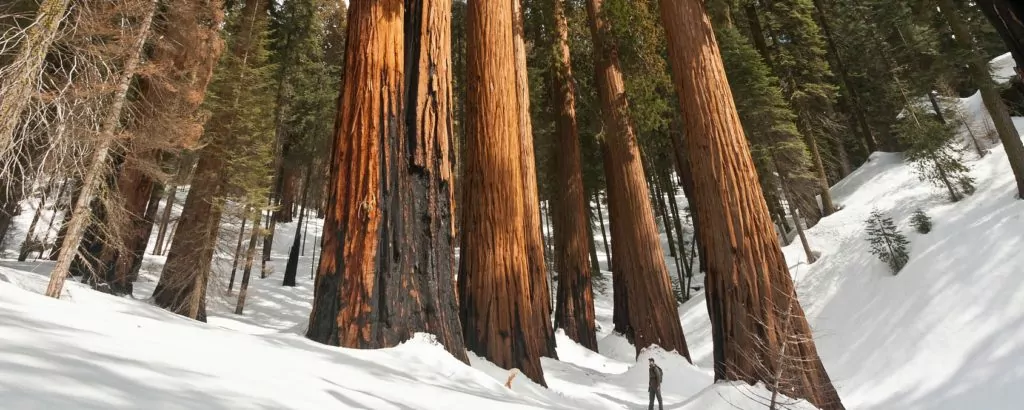 Join a Guided Yosemite Backpacking Trip
Joining a Yosemite backpacking tour is a worry-free, adventurous way to experience Yosemite National Park. With your gear, meals, local transportation, permits, and fees taken care of for you, you can travel light and focus 100% on enjoying the hiking experience, while the guide company takes care of everything else. Also, by going with local experts you'll enjoy a greater level of safety and gain a much better understanding of the history and ecology of this remarkable region. Read more about guided Yosemite backpacking trips.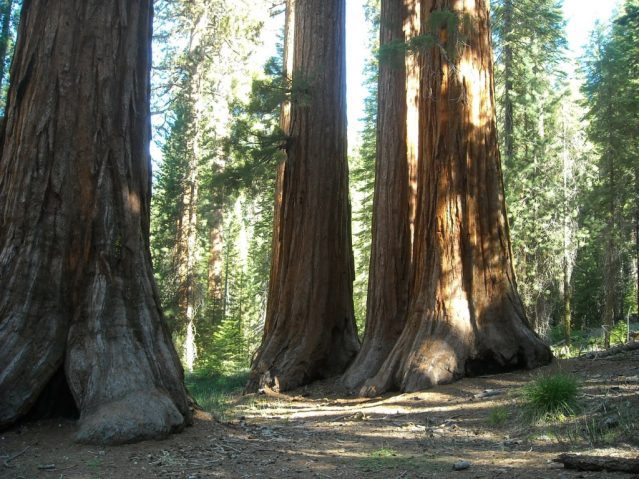 When to Hike and Seasonal Considerations
The best time to visit The Tuolumne Grove is anytime.  The month's of May-Oct are ideal for weather.  The days can be hot (70-90F) with cool nights (40-50F).  There is little rain in the summer months although the Sierra Nevada is known for unpredictable weather so best to always be prepared.  Winter is cold and temps during the day can range from 10-30 degrees F.   Sierra Nevada translates to the "Snowy Range" in Spanish, so you can expect there to be snow if visiting in wintertime.  Despite the cold and the wet, winter is a lot quieter than the busy summer months with a lot less people.
Necessary Permits
Day Hike Permits
You do not need a permit to Day Hike in Yosemite.
Backpacking Permits
You will need to secure a permit to backpack in Yosemite National Park.  Permits are reservable 6 months in advance to the date you wish to start hiking.  You can also try and secure a permit the day before your trek in person at any wilderness permit center before 11 am.  For more information on Yosemite's permit system, click here.
Suggested Packing List
Day Hike Packing List
3-6 liters of water (more in summer)
Salty, calorie-rich snacks
lunch
backpack
trekking poles
crampons (in winter)
wide-brimmed hat
sunscreen, sunglasses
cotton t-shirt (spring-fall)
non-cotton t-shirt (winter)
rain jacket
warm non-cotton layer
1st-aid kit
Backpacking Packing List
all items listed for day hikes PLUS
multi-day backpack
3-season tent
sleeping bag
sleeping pad
backpacking stove and fuel
backpacking meals
3 pairs wool socks
extra t-shirts
Please Respect Our National Parks – Leave No Trace
We strongly recommend abiding by all Leave No Trace ethics guidelines and practices so that our national parks and public lands are preserved for the enjoyment of future generations and for the people and animals who call these places home. Simple things like packing out your trash, obeying national park rules, and respecting the peace and quiet of our national park trails is a great start. If you're going on a backpacking trip, you can read about more about the 7 Leave No Trace Principles.