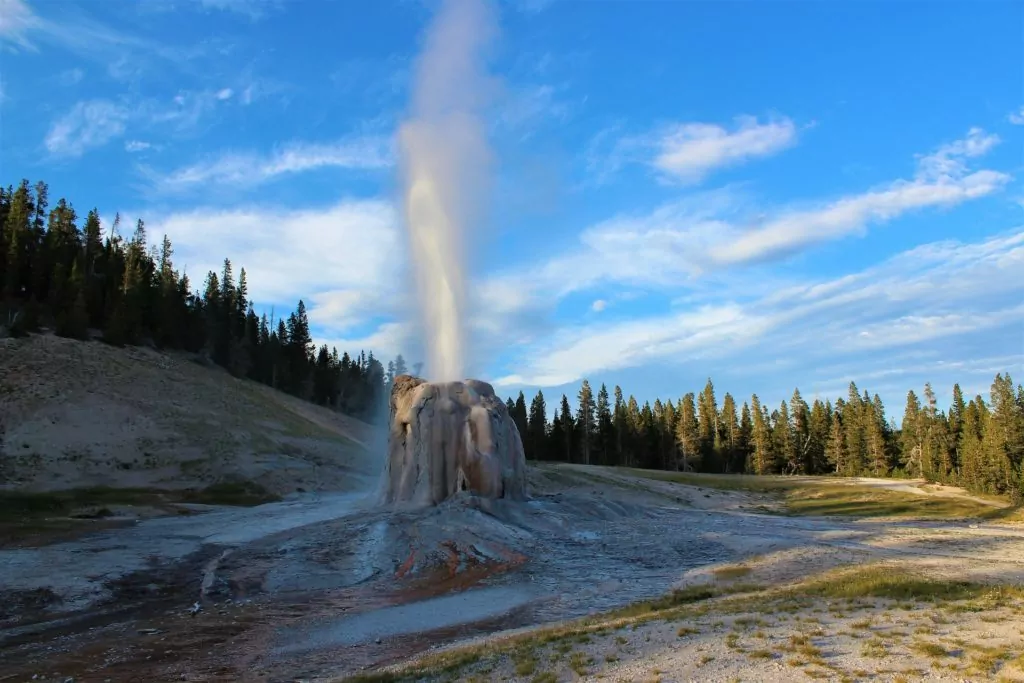 Lone Star Geyser Trail
General Description
This is a flat paved path that follows the Firehole river to a clearing in the forest bearing one impressive thermal feature, Lone Star Geyser. The highlight of this journey stands as a 12-foot tall mound of geyserite with subtle ribbons of thermophilic runoff adding to its grey and cream-colored palette. The enormous cone geyser is even more impressive if you can catch one of its regular 30 to 45-foot eruptions.
Explore Yellowstone with Expert Guides
Getting to the Lone Star Trailhead
The Lone Star trailhead is located 3.5 miles south of the Old Faithful intersection on Grand Loop Road. It is just beyond the Kepler Cascades parking lot, which offers good overflow parking should the Lone Star lot be full. There is a composting toilet located at the trailhead. The nearest potable water is located at the Old Faithful Visitor Center. Follow this link for directions to the Lone Star Trailhead.
History of the Lone Star Trail
The geyser and trail were named as such because the area is technically part of the Upper Geyser Basin yet lies a couple miles away all on its lonesome. Like many features discovered during the Hayden Expeditions, the original given name didn't stick. Lone Star was originally dubbed Solitary Geyser, a name that was eventually transferred to another feature along the boardwalks of Old Faithful.
Like many of the wider trails we find in Yellowstone, the path to Lone Star used to be a service road. It started off as a wagon road and was eventually paved to accommodate automobiles. Thankfully, cars are no longer permitted. However, it is one of the few trails where bicycles are allowed.

3 Best Day Hikes on the Lone Star Trail
Below are the primary options for day hiking the Lone Star Trail:
| | | | | | |
| --- | --- | --- | --- | --- | --- |
| | Destination | Miles | Elev | Difficulty | Style |
| | Lone Star Geyser | 5.4 mi | +/-75 ft | Easy | Out and Back |
| | Old Faithful to Lone Star Geyser | 8.5 mi | +/-350 ft | Moderate | Loop |
| | Shoshone Lake and Geyser Basin | 18.6 mi | +/-400 ft | Strenuous | Out and Back |
1. Lone Star Trail to Lone Star Geyser
The rewards well out-weigh the difficulty of this pleasant, non-strenuous hike. From the Lone Star Trailhead, you will head South along the wide paved path. A dense Lodgepole pine forest stands tall on your left and the Firehole River glimmers on your right. Keep your eyes peeled for pockets of steam representing the thermal vents along the river bed that earned the Firehole its name. After half a mile you will cross a bridge with serene views in both directions. The river will now meander on your left side and offer photo worthy views and diverse riparian plant life along the way. 1.6 miles in you will pass the sign for the Spring Creek trail. Continue straight for about another mile.
You'll reach the end of the pavement just before the ground turns white with silica. At this point, any cyclists must dismount to continue on to the thermal basin. Continue toward the huge cone geyser emerging ahead of you, taking care to remain where the trail is well-traveled. The ground around thermal features can be deceptively thin in areas. You never know what step will give way to the scalding water below unless you stay on trail. Also avoid stepping in the thermal runoff as there are delicate microorganisms living in it.
The geyser's vent is often gurgling water and steam, especially before and after an eruption. Check the visitor's log to find the last eruption time. Lone Star's major eruption is on an approximate 3 hour cycle, can blast up to 45 feet in the air and last for 20 minutes. One minor eruption will occur about 45 minutes prior to each finale reaching 15 to 20 feet in height. The clearing, river, and surrounding forest make this a great place to lounge as you wait for the performance. If you'd like to limit your wait time, check out this online log before starting your hike. Once you've had your fill, turn back the way you came. This hike can take 2-4 hours, not including eruption wait time.
2. Old Faithful to Lone Star Geyser
This option allows you to enjoy Old Faithful Geyser basin, the largest concentration of geysers in the world, and then escape the crowds with a loop hike to Lone Star Geyser. From the South East end of the Old Faithful Village parking lot (near the Old Faithful Lodge and Cabins), start along the beaten path heading for the Firehole river. Shortly after crossing the river via bridge you will reach a junction with the Mallard Lake trail on the left and the Kepler Cascades trail on the right. Choose the Kepler route heading Southwest. The path runs parallel with Grand Loop Road as a narrow, heavily wooded trail with many hills. After 1.1 miles you will cross Grand Loop Road to reach the Kepler Cascades parking lot. Round the corner on the East side of the lot to reach the Lone Star trailhead. Follow the path to the geyser as described above.
When you're ready to head back, continue past the geyser by crossing the small log bridge to avoid stepping in the thermal runoff. Follow the beaten path heading Southwest through the trees. In less than a quarter mile you will reach a junction offering the Shoshone Lake trail on the left and the Howard Eaton trail on the right. Turn right and follow this for 3 miles to reach Old Faithful Village. The path will be similar to the Kepler Cascades trail but with even bigger hills. This is an old growth forest where more spruces and firs thrive amongst the Lodgepole pines. You will reach the Howard Eaton trailhead sign just before crossing Grand Loop Road. Orange trail markers highlight the route across the way. You will emerge near the Ranger Station and the Old Faithful Snowlodge. This loop can take 4-6 hours not including waiting for Lone Star to erupt. Time and mileage listed does not include walking Old Faithful Geyser basin before your hike.
3. Lone Star Trail to Shoshone Lake and Geyser Basin
Not only is the Lone Star geyser trail the most rewarding route to Shoshone Lake, it's the only one that leads directly to Shoshone Geyser Basin, the lake's adjacent Martian-like landscape. Starting from the Lone Star trailhead, hike to the geyser as described above.
Then continue straight along the beaten path through the trees until you reach the junction with the Howard Eaton and Shoshone Lake trails. Turn left, heading Southwest along the Shoshone Lake Trail, a portion of the famous Continental Divide through-hike. This forest is beautiful, offering wildflower variety in the Summer and Fall foliage in September. There are several slight hills and bogged out or muddy areas along the way. The trail will bend Southeast and drop elevation as you get closer to the lake.
After 3.8 miles you will reach the junction with the Bechler River trail. Stay left to continue toward Shoshone Lake. After another mile you will reach a junction with the stock bypass trail. Stay left again to head directly to the lake. One more mile and you will hit a spur trail to the lake shore with a spectacular view of Yellowstone's second largest lake.
If you head from the shore back to the trail, you can continue South along it to explore the geyser basin. Most of the features cannot be viewed from the trail, but great care is necessary when traveling closer. Stay on the most worn path, furthest from any features. Sights include many vibrant springs, steam vents, and geysers that erupt every 5-20 minutes. When you've had your fill of the lake and thermal basin, reverse your route back to the trailhead. Although the trail is not difficult, we've rated it as strenuous due to significant mileage. This hike can take 8-12 or more.
Maximize Your Visit to Yellowstone National Park on a Hiking Tour
Guided day hike tours and multi-day packages allow visitors the opportunity to make the most of their time in Yellowstone National Park and to do it hassle-free. Guided tours include gear (backpack, trekking poles, crampons in winter), meals, accommodations on multi-day tours, local transportation, and a professional Yellowstone hiking guide. Through their knowledge, stories, and personal passion, guides can bring a place to life in a way that's much more difficult to do on your own. Read more about Yellowstone Hiking Tours.
Award Winning USA Hiking Vacations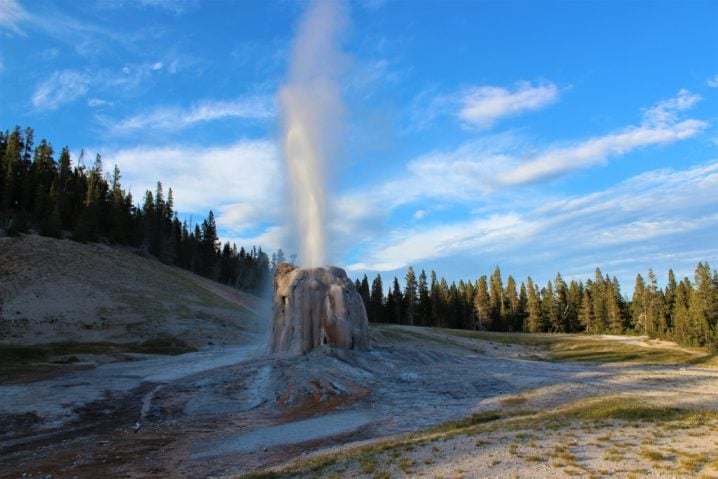 3 Lone Star Trail Backpacking Trips
Lone Star Geyser, while a great attraction on its own, is the gateway to some of the best backcountry hiking in Yellowstone. These routes include such diverse sights as an enormous lake, a lush canyon, several waterfalls, and a slew of thermal features including 2 that are safe in which to soak.
1. Shoshone Lake Circuit (4-5 days)
This backpacking trip is all about Shoshone Lake. With an area of 8,050 acres it is believed to be the largest backcountry lake in the continental U.S. It is the same route as our Shoshone Lake day hike with a loop around the entire lake in between the out and back trails.
Start off by connecting the Lone Star trail to the Shoshone Lake trail. When you reach the lake, head East along the North Shore Shoshone Lake trail for 8 miles. You will turn right heading South at the junction with the Delacy Creek trail. This 4.2-mile portion will hug tightly along the eastern rim of the lake until you reach the junction with the Dogshead trail and South Shore Shoshone Lake trail. Choose the Shoshone Lake trail to head back West for 8.3 miles. You will reach the spectacular Shoshone Geyser Basin, the largest backcountry geyser area in the park. If you head North to explore the basin, you are back on the original Shoshone Lake trail. Continue North and you will retrace your steps back to the trailhead.
The loop can be done in reverse, but the substantial elevation loss along the South Shore trail will be traded for elevation gain. The North and South Shore trails are mostly far from the shore. Parts of them will be traded for walks directly along the shore depending on which campsites you have. These variations will add mileage to our approximation. There are so many great campsites along this route, just aim for the ones closest to your ideal mileage.
2. Lone Star to "Mr Bubbles" Backpacking Trip (3-4 days)
This trip allows you to enjoy some of the best highlights along the Bechler River as an out and back route. Starting from the Lone Star trailhead, connect the Lone Star trail to the Shoshone Lake trail. When you reach the junction with the Bechler River trail, you will ultimately head South along it. Depending on your campsites and stamina however, we recommend making time for a visit to the lake either on your way in or out. There are campsites nearly every mile along this route to suit your daily mileage preferences. Including one night along the West shore of Shoshone Lake is superb. 
Soon along the Bechler trail you will tackle a strenuous climb of over 500 feet in less than a mile. You will continue past iconic meadows and the great hill, Douglas Knob, to reach the mouth of Bechler Canyon. It is here, exactly 7.1 miles South along the Bechler River trail, that you will find the path to Mr. Bubbles hot spring on your left. It is a half mile along the Ferris Fork of the Bechler River until you reach a very obvious hot tub-sized bubbling pool along the bank. This thermal pool is safe and legal to soak in because cool river water runs through it to even out the temperature. This natural hot tub is a fabulous highlight and ideal turn around point. 
3. Lone Star to Bechler Ranger Station Backpacking Trip (4-6 days)
This is one of the best backpacking trips in Yellowstone. The variety of the highlights it offers is unbeatable. Its only down side is that it is point to point, starting at the Lone Star Geyser trailhead and ending at the Bechler Ranger Station. This requires either a shuttle or vehicle drop 3 hours away from your trailhead. If you can arrange those logistics, this backpacking trip is a must. By linking 3.8 miles of the Lone Star trail, 3.8 miles of the Shoshone Lake trail, 15.2 miles of the Bechler River trail, and 5.6 miles of the Bechler Meadows trail you have the classic route. Without any side trips, you'll enjoy Lone Star Geyser, the huge waterfalls of Bechler Canyon, and loads of diverse scenery.
If you can, we strongly recommend adding an excursion to Dunanda Falls to your itinerary. It's a beautiful waterfall with several safe-to-soak hot springs at the bottom of it. After you emerge from Bechler canyon and make one last ford across the Bechler River, take the Bechler Meadows Cutoff trail to the Boundary Creek trail and turn right. Dunanda Falls is 1.6 miles North from there near campsite 9A3. Follow the trail to the creek, cross it via an enormous tree trunk, and turn right. The falls and hot springs will be around the corner. Making time to enjoy Mr. Bubbles and Shoshone Lake and Geyser Basin are also worthwhile additions. 
This backpacking trip requires great physical fitness. The route includes 3 serious river fords. Review Yellowstone's Backcountry Situation Report before your trip to make sure water levels are low enough to cross. Check out these pro tips to learn how to ford a river safely.
Join a Guided Yellowstone National Park Backpacking Trip
Joining a Yellowstone backpacking tour is a worry-free, adventurous way to experience Yellowstone. With your gear, meals, local transportation, permits, and fees taken care of for you, you can travel light and focus 100% on enjoying the hiking experience, while the guide company takes care of everything else. Also, by going with local experts you'll enjoy a greater level of safety and gain a much better understanding of the history and ecology of this remarkable region. Read more about a guided Yellowstone backpacking trips.
All-Inclusive Yellowstone Backpacking Adventures

When to Hike and Seasonal Considerations
The Lone Star trail can be hiked mid-April through early November, with the best months being August and September. Depending on the amount of snowfall over the winter, snow can remain on the trail until June. Snowshoes might be helpful if you plan to hike in the spring time. The months of June and July are mosquito season in Yellowstone. If you plan on hiking during these months remember to pack insect repellent!
The Lone Star trail is also groomed for cross-country skiing and snowshoeing in the winter time. If you are interested in hiking in the mountains during extreme winter conditions, make sure to educate yourself on how to travel in avalanche terrain. A good resource for this is "Know Before You Go". kbyg.org
For more information on guided Yellowstone winter tours click here.
Traveling Around Geyser Basins
Thermal features, though fascinating, can easily scald or kill people who underestimate them. Even what appears to be solid ground in a thermal basin can give way to scalding water below. Backcountry basins require visitors to be even more educated as there are no boardwalks and safety boundaries are not as clearly defined. Thermal environments and the precious microorganisms that inhabit them are also extremely sensitive. Both biology and geology can be irreparably damaged by human contact. Follow these guidelines around thermal basins of any kind.
Always stay on boardwalks and designated trails

Do not touch thermal features

Do not touch or step on thermal runoff

Swimming or soaking in hot springs is prohibited and likely fatal

Pets are not allowed in thermal areas

Do not throw objects in features

Toxic gases can build to great intensity in some areas. If you feel sick, leave immediately. 
Animal Safety 
Wildlife is one of the best reasons to visit Yellowstone. With the privilege of hiking through their habitat comes great responsibility to uphold respect and safety. Becoming accustomed to humans is not good for the well-being of any wild animal. Even our docile herbivores can maim or kill people. The key to these guidelines is to just let the animals be.
Never feed wildlife (Not even a squirrel)
Do not approach wildlife
Stay at least 100 yards away from bears and wolves
Stay at least 25 yards away from all other animals
Do not shout, whistle, or otherwise harass wildlife
If you want to view wildlife from the road, always stop in a designated pull out.
Bear Safety
Yellowstone is black and grizzly bear country. Special practices are necessary to improve the safety of yourself, other visitors, and the animals. Most of these tactics aim to avoid making a bear react defensively. A bear will feel threatened if we surprise it, approach its cubs, or encroach on its food source. We must also do everything in our power to prevent a bear from eating human food or smelling an attractant where we sleep.
While Hiking
All of the following practices are necessary whether you are hiking in bear country for 5 minutes or 5 days.
Don't hike alone (At least 3 people is best)
Always be alert
Make noise
Carry bear spray and know how to use it
Never feed a bear
Do not leave packs or any food unattended
Stay on maintained trails
Avoid carcasses
Avoid hiking at dawn, dusk, or night
Stay out of areas closed for bear management
While Camping
All of the following practices are necessary if you are sleeping outside in bear country.
Sleep away from where you cook and eat (100 yds in backcountry)
Do not sleep in clothing that smells like food
Keep all sleeping gear away from food odors
Strain your dishwater, putting particles in trash
Keep camp clean and free of trash

Store all attractants in a bear proof container or hang from food pole. (This includes: food, garbage, toiletries, stoves and fuel bottles, utensils, food containers, and anything scented)
Bear Encounters
As the park service says, safety cannot be guaranteed in these wild places. These are best practices to lower the risks of an aggressive bear encounter.
Do not run
Slowly back away (taking any food with you)
Speak calmly, do not shout
Group together, make yourselves look large
When necessary, use bear spray
Report conflicts to park rangers
Check out Yellowstone National Park's great reference on how and when to use bear spray.  
Necessary Permits
Day Hike Permits
There are no permits required to do any day hiking in Yellowstone National Park. However, some areas can be closed to due high bear activity. Before you head out, you can check to see which Bear Management Areas are closed by clicking here.
Backpacking Permits
All overnight stays inside Yellowstone require an overnight camping permit. Actual permits must be picked up in person no more than 48 hours before a trip. Most sites can be reserved in advance by mail, fax, or in person. Requests received before April will be granted by random lottery. When the lottery is complete, all requests submitted after April 1st are processed in the order they are received. For more information on Yellowstone's permit system, click here.  
Suggested Packing List
Day Hike Packing List
bear spray
2-3 liters of water
salty, calorie-rich snacks
lunch
backpack
trekking poles
wide-brimmed hat
sunscreen, sunglasses
bug spray
non-cotton hiking shirt
rain jacket
warm non-cotton layer
1st-aid kit
Backpacking Packing List
all items listed for day hikes PLUS
multi-day backpack
3-season tent
sleeping bag
sleeping pad
rope for hanging food (at least 35 feet)
backpacking stove and fuel
eating utensils and straining device
backpacking meals
3 pairs wool socks
extra t-shirts
warm layers
sandals or water shoes
trowel, toilet paper, ziplocks
water filter or purification method
Please Respect Our National Parks – Leave No Trace
We strongly recommend abiding by all Leave No Trace ethics guidelines and practices so that our national parks and public lands are preserved for the enjoyment of future generations and for the people and animals who call these places home. Simple things like packing out your trash, obeying national park rules, and respecting the peace and quiet of our national park trails is a great start. If you're going on a backpacking trip, you can read about more about the 7 Leave No Trace Principles.